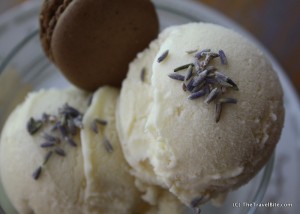 This vanilla lavender gelato recipe is inspired by a trip to France. While in Paris, I pretty much walked every single neighborhood from my little B&B off of Boulevard de Grenelle to the Louvre to Latin Quarter. Because I felt there was so much to see in my own self-guided walking tour, most of my meals were quick to-go type fare of street-cart crepes and baguettes with pate. Except for coffee. I think the French would be appalled at our American notion of "watered down coffee" served in a paper cup. Even though it was the size of an espresso and three times as strong, coffee in Paris was a sip and savor sit-down affair.
And then there were the macaroons.  Those delectable melt-in-your-mouth petite French cookies.  I might have to try to make them at home next. But for now, since it's still above 90 degrees outside, I'll settle for something sweet and cold, like lavender gelato.
I've been experimenting with all kinds of gelato recipes this summer, from lemon basil to nutella, and I was inspired to create one that reminded me of France. The result was this vanilla lavender gelato recipe.  It's so easy to make, and so delicious, I'm sure it will soon be one of your favorite summer recipes.
Vanilla Lavender Gelato
Ingredients
2 1/2 cups whole milk
1/2 cup heavy cream
4 egg yolks (brought to room temperature)
3/4 cup sugar
1 teaspoon lavender
1 tablespoon vanilla extract
Directions
Using a fork, whisk together egg yolks and sugar in a medium-sized bowl until the volume doubles (becomes frothy) and the color becomes a light yellow.  Set aside.
Add the milk and cream to a medium saucepan on low-to-medium heat. Blend the milk and cream by slowly mixing using a wooden spoon or whisk until a foam forms around the edges.
Next, add the egg and sugar mixture to the saucepan with milk and cream.  Continually stir until well blended and the mixture coats the back of a wooden spoon.  Add the lavender buds by hand, pinching the buds between your thumb and index finger to release the aroma.  Add the vanilla and stir for 2 to 3 minutes to allow the flavors to infuse.
Pour the mixture through a sieve or fine strainer into a bowl.  This will remove any solid pieces of egg or lavender buds and create a more smooth even texture.  Cover and chill the gelato mixture for a minimum of four hours or let it set overnight in the refrigerator.
Finally, add the gelato mixture to an ice cream maker and freeze according to the manufacturer's instructions.  Serve straight from the ice cream maker or spoon into a container, cover and freeze.
Makes 1 pint