Is it possible to do a safari on a budget? I used to think exploring South Africa and traipsing around in a Land Rover to find lions, zebras, and giraffes was a trip-of-a-lifetime that would cost $10,000+. Turns out, one can go on safari for as little as $128 a day, including safari, lodging, and meals!
Now, I must confess, my recent trip to South Africa was sponsored. However, while I was there I did some research to find out what affordable options might be available (so I could come back to visit and take my friends!). What I discovered is that South Africa actually does live up to its tourism board's headline … "It's Possible!"
While there are plenty of options for luxury safaris, it doesn't have to cost a fortune to realize this dream. Check out my travel tips for a budget-friendly safari below.
GETTING TO SOUTH AFRICA

Flights will probably be your biggest budget expense, but with some advance research and planning you can discover some cost savings. Typically, round trip airfare to South Africa runs between $1100 and $1400 per person, but I have found them as low as $735 per person.
Here are some helpful tips for flights:
— TRAVEL DURING THE OFF SEASON: Summertime in South Africa is considered the off-season and since it's winter in the US, who wouldn't want to escape the cold to visit an exotic destination?
— WATCH FOR DEALS ON AIRFARE: Sign up for email price change alerts on FareCompare.com and check TripAdvisor.com. Also, follow South African Airways on Twitter and Facebook for regular updates.
— USE SKYMILES: South African Airways is a Star Alliance Member, so you may use sky miles earned on participating US carriers.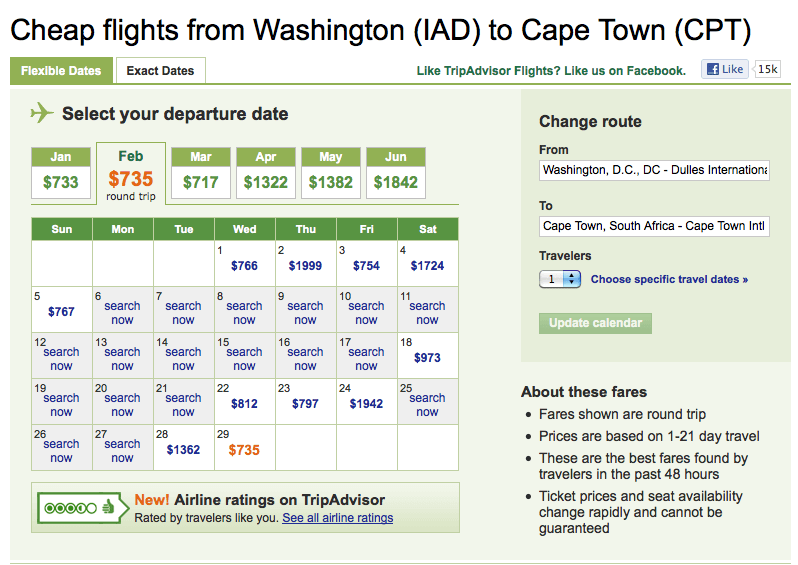 SAFARI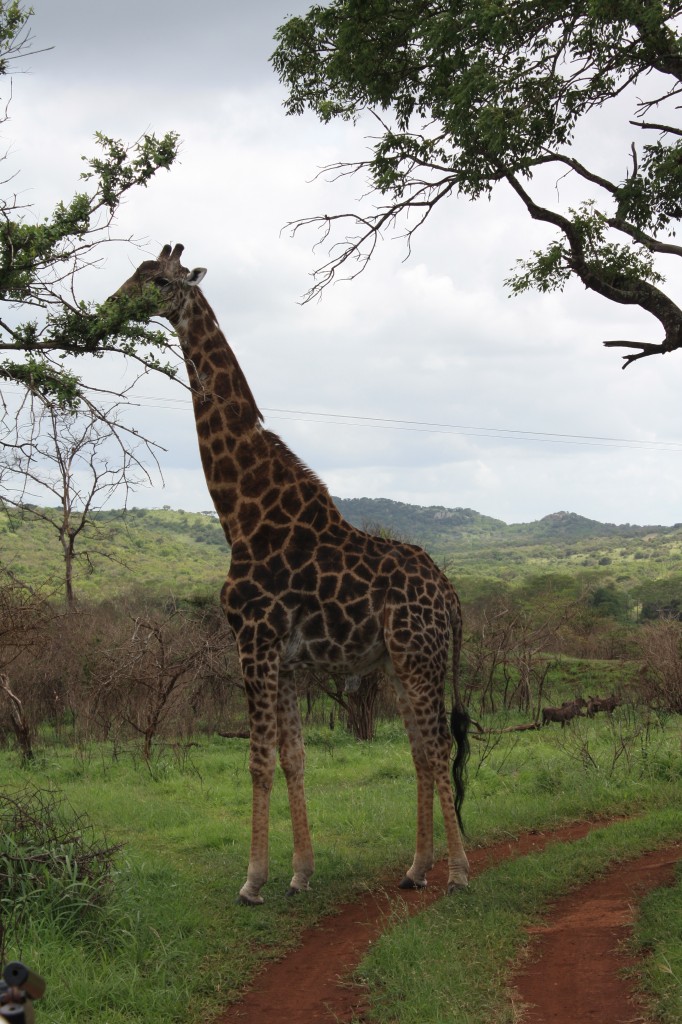 While in South Africa, I stayed in the quaint little town of St. Lucia located on the edge of iSimangaliso Wetlands Park. Located near the coast, wetlands, and several game reserves, a town like St. Lucia is ideally situated to experience every type of animal safari activity imaginable including half-day and full-day guided all-terrain vehicle tours as well as kayaking, snorkeling, boating, night safaris, and turtle watches.
For an example of safari pricing, Heritage Tours has single day safari excursions ranging from R310 to R785, roughly the equivalent of $40 to $105 US dollars. They also have a pretty affordable multi-day package with their Hluhluwe 3 Day Big 5 Safari which includes 2 nights lodging, meals, and three full days of animal viewing safari excursions such as a sunset boat cruise in St. Lucia estuary, night safari drive, game drive through Hluhluwe Umfolozi Game Reserve, visit to Cape Vidal, and snorkeling all for R2990 which is equivalent to about $389 US dollars.
FOOD & LODGING
There are plenty of affordable options available for accommodations. When you have your destination picked, search for local B&B's and lodges as the prices tend to be reasonable, breakfast is usually included, and the innkeeper will be able to provide you with advice on the local area. While in St. Lucia, we stayed at the Umlilo Lodge which averages $72 a night per person. There are also camping options available at the wetlands park.
When it comes to food, you definitely won't go hungry in South Africa. From baking bread over an open fire and enjoying a 'braai' or barbeque with the locals, to dining out at some of South Africa's popular eateries such as Braza or Moyo, you'll find delicious local fare at reasonable prices.
SAMPLE ITINERARY AND COST PER PERSON
Disclosure: This is for information purposes only. Costs may vary due to exchange rates and prices below do not include taxes and service fees.
$ 1000.00 – Round-Trip Flight from Washington (Dulles) to Johannesburg (JNB) with connection to Durban (DUR)
$ 140.00 – Airport transfer to St. Lucia
$ 1020.00 – 5 Day/4 Night Exploration Safari Package
Highlights: 4 nights in 4 star lodging. Most meals including breakfast and dinner at the lodge with a traditional South African barbeque lunch in the bush. Big 5 Safari in Hluhluwe Umfolozi Game Reserve. Safari drive in Isimangaliso Wetlands. St. Lucia Estuary Boat Tour to see hippos. Night Game Drive, Visit to Cape Vidal with optional snorkeling.
$ 144.00 – Two additional nights stay at Umlilo Lodge for first and last day of trip to rest after flight,
visiting town of St. Lucia at leisure, etc. Breakfast included.
$ 75.00 – Additional meals on your own outside of 5 Day Package
$2379.00 – TOTAL ESTIMATED COST PER PERSON
See! It's nowhere near $10,000+ to experience an authentic South African safari. With all of those savings, consider adding an extra week to your trip and visiting Cape Town and the winelands! The examples listed above are based on actual tours and lodging I experienced while in South Africa. Looking for something different? Take a peak at South African Tourism's list of packages and deals as well.
Interested in going? Here's some links to flights, tours, and lodging to get you started.
South African Airways: www.flysaa.com
Heritage Tours And Safaris: www.heritagetoursandsafaris.com
iSimangaliso Wetland Park: www.isimangaliso.com
Umlilo Lodge: www.umlilolodge.co.za
St. Lucia Tours: www.stlucia.co.za
EuroZulu Tours www.eurozulu.com
South African Tourism: www.southafrica.net
Moyo African Restaurant: www.moyo.co.za
Braza: www.braza.co.za