Running has always been my sport of choice as I love the freedom of throwing on a pair of sneakers and exploring the outdoors by foot.  And ever since running the New York City Marathon in 2010, I've been hooked on long distance races and have signed up for one or two half marathons a year ever since.  Race training not only keeps me motivated to stay active and healthy, but it's also a fun social activity where I get to catch up with my friends as we log the miles.  Over the years, I've picked up quite a few travel tips for marathon runners (and half marathons too!) from friends and fellow runners. Here's a list of those tips to help you make sure your race day runs smoothly.
11 Travel Tips For Marathon Runners
1 – Arrive Early And Stay Late
When planning your flights and accommodations around a race day, plan to arrive at least 2 to 3 days before the race to account for flight delays and to get acclimated.  Things like a new time zone, elevation, temperature, and humidity levels will all effect the way you feel when you run.  If any of these are drastically different from where you live and have been training, you'll need a couple of days to get used to it.  Just don't be tempted to schedule your pre-race days full of sight-seeing. Take it leisurely, so for a brisk walk or short run, and get acclimated to a new city.
Also, plan a few extra days at the end of the race for recovery as you don't want to hop on a plane with sore legs pumped full of lactic acid.  Post-race days are also the perfect time for some leisurely sight-seeing and celebrating your accomplishment.
2 – Consider A Vacation Rental
Most races will have fabulous deals with a host hotel, but if you're traveling with a group of running pals, consider renting an apparent instead through sites like HomeAway.com or AirBnB.com.  Not only will it save you money, but you'll also be able to better manage your pre-race meals (see why this is important in tip #9).  Plus, it's more fun!  When my friends and I ran the Flying Pig Half Marathon in Cincinnati, we rented a brownstone across the river and had a ball utilizing the kitchen to cook and share our meals together.  It was much more luxurious than the hotels in the area and provided all the comforts of home.  The only mistake we made is that it was four stories, and those stairs were a hilarious challenge after the race (imagine us scooting up or down several flights butt-first since our shaky post-race legs couldn't handle the stairs — ha!).
Besides being aware of multi-story units, also look for places that are close or within walking distance to the start line.  It makes race-day morning so much easier.
3 – Carry-On Your Running Clothes And Race Essentials
If you've been training to run a half or full marathon, you know the importance of wearing clothes and shoes that are already broken in to avoid chafing and blisters.  Treat these items like gold and pack them in your carry-on.  That way, in case your luggage is lost or delayed, you'll have your essentials.  You can always go buy a post-race outfit or some shampoo, but you'll be hurting on race day without your personal running gear.  To make planning a bit easier, I've included a downloadable Runner's Carry-On Packing List.
4 – Hydrate
I know this tip is repeated over and over, but I'm going to say it again — hydrate.  This is important anytime you fly, not just for pre-race days.  I always pack an empty water bottle and refill it constantly as it's more convenient (and cheaper … and more eco-friendly) than constantly having to go and buy bottled water.  Personally, I really like Vapur water bottles since they pack flat and are easy to stash in a carry-on.  There also bottles that come with a built in filter if you don't like the taste of tap water.  Once I'm through security, I find a water fountain and fill it up.
5 – Wear Comfy Clothes On Your Travel Day
Whether you're flying or driving, it's best to wear loose fitting clothing when you're having to sit for long periods of time.  Plus, you'll feel more comfortable stretching and moving around more often to prevent cramping.  If you're driving a long distance, stop for breaks often so you can move around and stretch at least once an hour.  I know you road warriors out there might like to see how far you can drive without stopping, but it might lead to leg cramps or even sciatica, so do yourself a favor and pause for a stretch or two (Even the Activity App on the Apple Watch will buzz you if you don't stand up every hour!)  If you're on a flight, book an aisle seat so you can stand up and walk around when it's safe to do so.
6 – Pamper And Stretch
You've been training hard for this day, so be kind to your body and pamper yourself a bit.  Do some yoga or stretching, go for a brisk walk, or get a relaxing massage.  I used to use a foam roller for reducing tightness in my quads and hamstrings, but gave up on it since it's too big to pack.  Instead, I now bring T Spheres with me.  They're a roller ball that's great for working out any tight leg muscles and they've become a regular part of my training routine. Ever walk like an old lady down a set of stairs because you overdid a set of squats or just finished a long training run?  They're great for working that out that kind of soreness.
I also use them for tension points on my back.  Whenever I have a long travel day hustling through airports with my carry-on, or even a writing day at home camped out in front of my computer,  I'll roll the T Spheres along my upper shoulders and middle back to work out any knots.  (Here's a video I've used as a guide on how to use T Spheres as well as an acupressure diagram if you want to take a deeper look at certain pressure points.)  My favorite one is pressure point B38 as it seems to be where I hold a lot of tension.  Bonus that it's also good for relaxation!
7 – Pack Snacks
Nutrition is so important when running long distance, so don't depend on finding your favorite snacks or fuel gels when traveling to a new city.  Local grocery stores might carry a few things, but I find it easier and more convenient to have everything ready to-go and pre pack them in ziplock baggies.  My pre-race snacks typically include almonds, pistachios, or Kind Bars.  For longer races, I skip the goo and sports blocks and instead pack a mix of peanut butter pretzels and peanut M&Ms in a snack sized ziplock to carry with me in my gear pouch throughout the race.  Popping a handful of these every mile is just enough protein, salt, and sugar to keep me fueled throughout the race so I don't bonk.
8 – Wear Compression Socks Or Leggings
Compression socks are great for long flights, whether you're running a race or not.  I always slip on a pair once I'm on my flight and I've completely let go of looking like a dork wearing knee-high socks — because they work!  Otherwise, sitting for long lengths of time and the change in cabin pressure can leave your feet swollen like sausages.  I find they're great for post-run recovery too as they give your tired feet and calves just the little bit of extra support they need.
9 – Get Your Poop On
Yes, we're going to talk about poo.  I know we all like to pretend that we don't do it, but talking about it pretty much elevates us to BFF status.  Travel can sometimes, how shall I say, stop you up.  My running friends are my BFFs and they'll look me straight in the face on race day morning and ask, "did you poop?"  That let's me know they care, because you don't want to run into any tummy surprises during your half or full marathon.  I don't know about you, but I do my best to avoid the port-o-potties along the race route.  If you've been training to run a half or full marathon, you're probably in tune with your body and have a "regular" time in your schedule, but a different time zone and new foods can muck that up.  As tempting as it is to try new foods when you're visiting a new destination — don't.  Not until after your race.
Also, I'll typically sip a cleansing herbal tea four or five days before a race to, how shall I say, clear the track.  If you're interested in trying it, it's called Laci Le Beau.  I get it at my local supermarket, but they also have it on Amazon.  (I feel like you know all my dirty little secrets now, but believe me, this one is important!)
10 – Prepare For A Restful Night's Sleep
This is easier said than done in a new destination, especially when you've got pre-race nerves.  After I pick up my race packet, I'll head back to our hotel or apartment and start prepping everything I need for race day in order to reduce any added stress.  I lay out my clothes and gear, prep my snacks, and set three alarms for the morning so that I don't worry about not waking up on time (how many of you have had that nightmare?).  To take even more stress out of things, I'll walk to the start line just so I know where it is how how to get there.  Once I've prepped, I can relax.  Then I do some sort of calm activity that night after dinner, like reading a book or watching a movie in room to help me fall asleep.
11 – Have Fun
After the race — celebrate!  You deserve it!  As tempting as it might be to want to fill your schedule with fun activites the day after the race, I'd take it easy that first day.  You'll probably be a little sore (don't forget to keep hydrating), so plan a spa day or a slow-paced sight-seeing walk to stretch out your sore musles.
Those are my top travel tips for marathon runners!  Preparing for an upcoming race?  Be sure to download our printable Carry-On Packing List For Runners.  Got any other tips you've picked up along your race travels?  Comment and let us know below.
Want to save it?  Pin the photos below! 🙂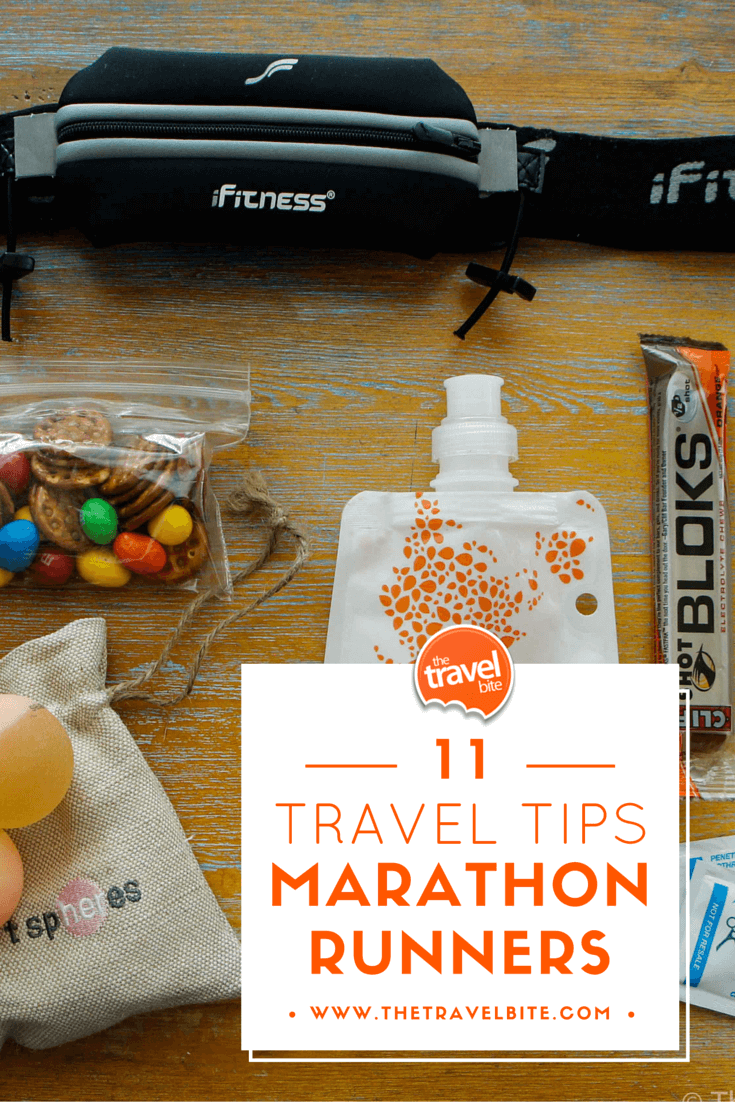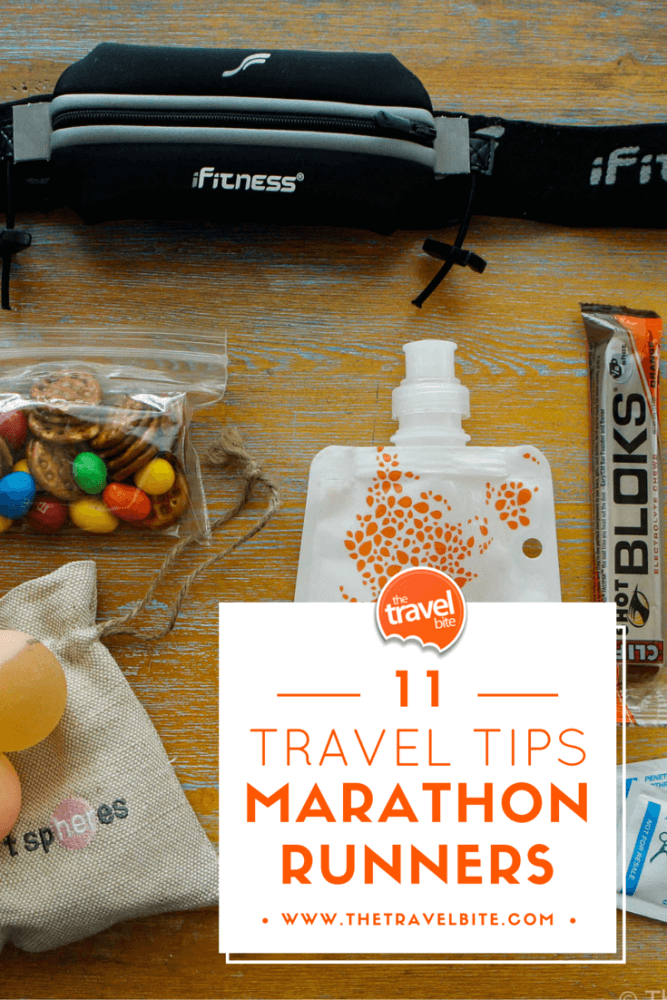 Disclosure: We collaborated with T Spheres for this post and enjoy working with brands we love!