If you're a gin person, you're going to love all this trivia.  And if you're not, you might be convinced to give it another try. Personally, it's my favorite spirit, and a G&T is my go-to cocktail. As a foodie, I love the aromatic scent of all the botanicals and the refined spirit tastes refreshing without the usual headaches left over by alcohol.  For me it feels medicinal, like a fine herbal tea with kick.
I recently spent a week in Great Britain exploring all the finer facts about gin (and tasting quite a few too!) and I'm excited to share them with you.  From the history of gin, to different flavors and other trivia, here are some fun facts you can use to impress friends at your next cocktail party.
7 Things You Didn't Know About Gin
1 – Juniper Is What Makes It A Gin
Gin is a versatile spirit, with a variety of origins and types of distillation processes, but the one thing they all have in common is juniper.  There's no law requiring a certain percentage of this pine-flavored berry, it's just vaguely stated as "predominant juniper flavor."  And while it might look like a berry, Juniper is actually a pinecone with fleshy scales that make it look like a berry.  (I know, mind blown!)  Juniper is foraged in the wild and hand picked in North America, Europe, and parts of Asia, but I wouldn't go picking the berries in your backyard tree any time soon as a few varieties are very poisonous.  Better to leave harvesting to the experts.
Now, if you say you're "not a gin person" because of its classic pine 'Christmas tree' flavor caused by the juniper, I'd say give it another try and taste a few different kinds of gin.  While juniper is the main ingredient required, there are dozens of other botanicals used in various recipes by craft distillers — everything from lemon and orange peel, cinnamon, coriander, licorice, elderflowers, rose petals, cassia, angelica root, and cardamom to name a few. And depending on the recipe, a gin can taste herbal, floral, savory, spicy, and even fruity.  If you're interested in trying something different, I'd sip the cardamom-forward Oriental spiced Opihr Gin, or William's Gin made with organically grown cider apples.
2 – Origin Story:  Holland vs England
In some circles, this can be a hotly debated topic.  On the one hand, the Dutch were making a juniper-flavored spirit in the 1600s called jenever that was used for medicinal purposes.  It was more of a foul tasting malt wine and the botanicals were used to mask the rough flavor.  Jenever still exists today, and the Dutch may have thought to add juniper, but it was the British who refined the spirit and made it popular as the gin we know today.
3 – Gin & Tonics Started In India
The classic gin and tonic cocktail was invented by the British East India Company to ward off malaria.  It was a  combination of quinine for medicinal purposes, a little sugar to sweeten it up, and gin to make it appealing.  The G&T's we have today are not nearly as bitter as the original, but if you don't like the taste of tonic there are a few other options.  Instead, try ordering a Gin Rickey, which is just soda water, gin, and lime juice.  Or you could try a Gin Fizz made with gin, soda water, lemon juice, and sugar.  Both are just slight variations with the same refreshing citrus taste.
In Spain, gin and tonics are simply known as a "gin tonic" (without the 'and') and are served in a large goblet-sized wine glass that typically takes two hands to hold (you gotta love the Spanish).  While visiting Spain, I noticed that they'll also add frozen rocks to the glass instead of ice in order to bring out more of the mineral aromas in the gin.  It's become so popular in the Catalan and Costa Brava region that there are plenty of gin tonic bars popping up where you can try their take on this classic gin cocktail.
4 – London Dry Gin Doesn't Have To Be Made In London
London Dry Gin is the most popular type made, and ironically, it doesn't have to be made in London.  In order for a spirit to be called a London Dry Gin, the flavors have to be distilled from all natural ingredients, as opposed to flavorings being added after the distillation process.
A few other styles of gin to note:  Navy Strength Gin is an exceptionally strong spirit with a minimum of 57% alcohol, as opposed to the typical 40-50% alcohol level of regular gin and London Dry.  It's called 'Navy strength' because it's alcohol level guaranteed that a ship's gun powder would still ignite if the gin was accidentally spilled on it.  How's that for planning ahead!
Then there's the more refined, Old Tom Gin, such as the one made by Hayman's.  It's a Victorian style recipe that was popular in 18th century Victorian England with a more juniper heavy flavor and smooth finish.
5 – Sloe Gin Isn't Slow, It's Sweet
I was first introduced to sloe gin while visiting London, and I have to confess, I kept thinking everyone was saying "slow" and referring to a cocktail.  So I went to Sipsmith, one of the first small batch copper pot based distillers to open in London in nearly 189 years, to try this sweet style gin.  It's a gin infused with sloes, a type of blackthorn berry picked during autumn and winter.  The flavor is a lucsious blend of almond, marzipan, and berry, and it's just sweet enough to sip neat as a winter warming drink.  The ruby red color also makes it festive to use as a cocktail mixer when blended with a splash of  Champagne to celebrate New Year's Eve.
6 – Gin Is Produced All Around The World 
There is a bar in Belfast, Northern Ireland, that has won my heart as my favorite bar in the world — Muriels Cafe and Bar.  Their love of gin surpasses mine, so much so that they started a Juniper Club.  If you join, you get a special passport that will take you around the world in 80 gins.  With that many different cocktails, it's hard to choose which one to try first.  So they took the guesswork out of it by filling a vintage suitcase with colorful luggage tags, and on each tag is the name of a country, the gin that is produced there, and the recommended cocktail with a few aromatic notes.  I now have a new life goal, but I'd have to move to Belfast to complete it.  Since I was in Belfast, I thought it appropriate to choose an Irish gin, so I sipped a Shortcross Signature G&T, made with Shortcross Gin (distilled with handpicked wild clovers and elderflowers), then garnished with frozen oranges, mint, and elderflower tonic.  Yes, it's as amazing as it sounds.
So if practically every country in the world makes their own gin, can you guess which country consumes the most?  It's not Great Britain, and it's not the United States, it is actually the Philippines with an estimated 25 million cases consumed annually.
7 – Over 40 Cocktails Are Made With Gin
While the classic G&T might be the most popular gin drink, there are actually over 40 cocktails made with gin including some fun ones like the Aviation, My Fair Lady, French 75, and the Singapore Sling.  There are a few  hotel bartenders famous for creating the majority of these cocktails, and as you probably guessed, they're all British.
Let's start with Joe Gilmore at The Savoy who created cocktails over 20 cocktails, some in honor of royalty and a few for politicians and public figures too.  His contributions to gin included The Royal Arrival, created to mark the birth of HRH The Prince Andrew, and My Fair Lady in honor of Julie Andrew's first night in the musical.
Another must-try cocktail is The Bowler Hat at St. Ermins, made with the hotel's very own honey (sourced from a beehive on their rooftop) and a splash of Champagne.  I'd say that's a recipe to cure whatever travel ails you might have.
What's your favorite cocktail?  Comment below and let us know.
Want to save it?  Pin it. 🙂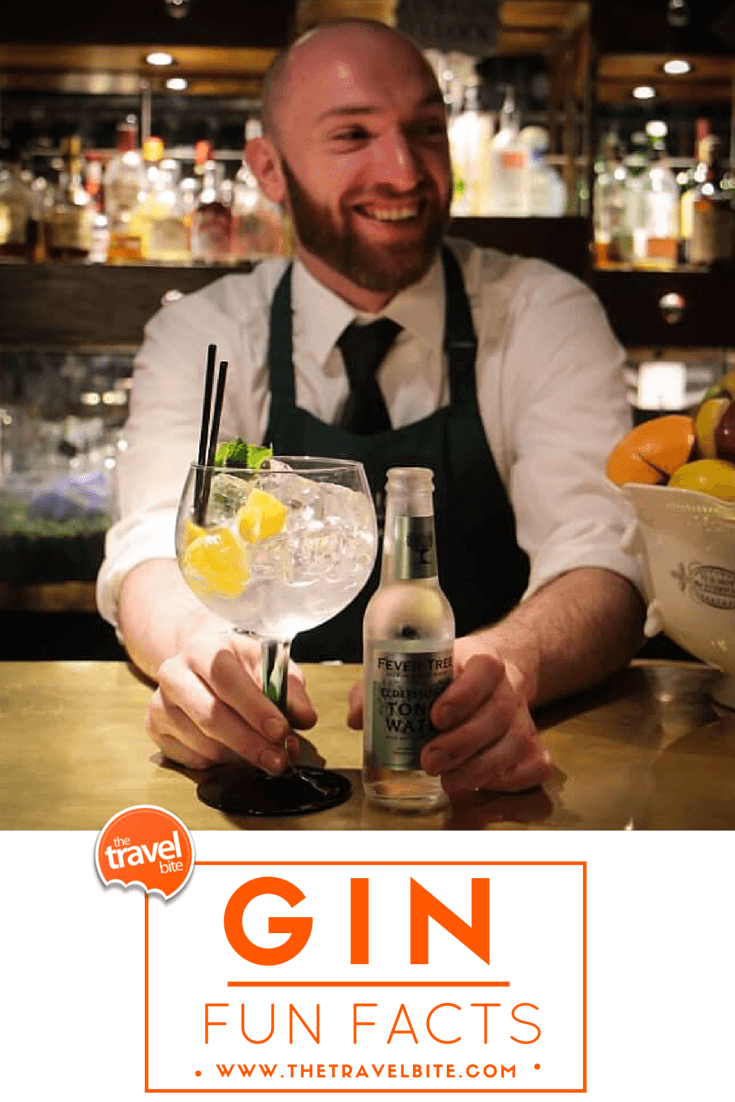 This campaign was created and sponsored by UK Trade & Investment in partnership with iAmbassador. The Travel Bite retains all editorial control of what is published and all thoughts, opinions, and enthusiasm for gin and tonics are entirely my own.