Pete and I spent a week up in Alberta on a culinary road trip that ended with a bucket list dream — spending a weekend at Lake Louise. We were there during the autumn season and it was perfect weather for hiking and enjoying the changing colors of the fall leaves. Browse through our journey in this series of photos and at the end of the post I have a sample Weekend In Lake Louise Itinerary for you.
A Weekend In Lake Louise
Our road trip up to Lake Louise began with a scenic drive up the Bow Valley Parkway from Banff.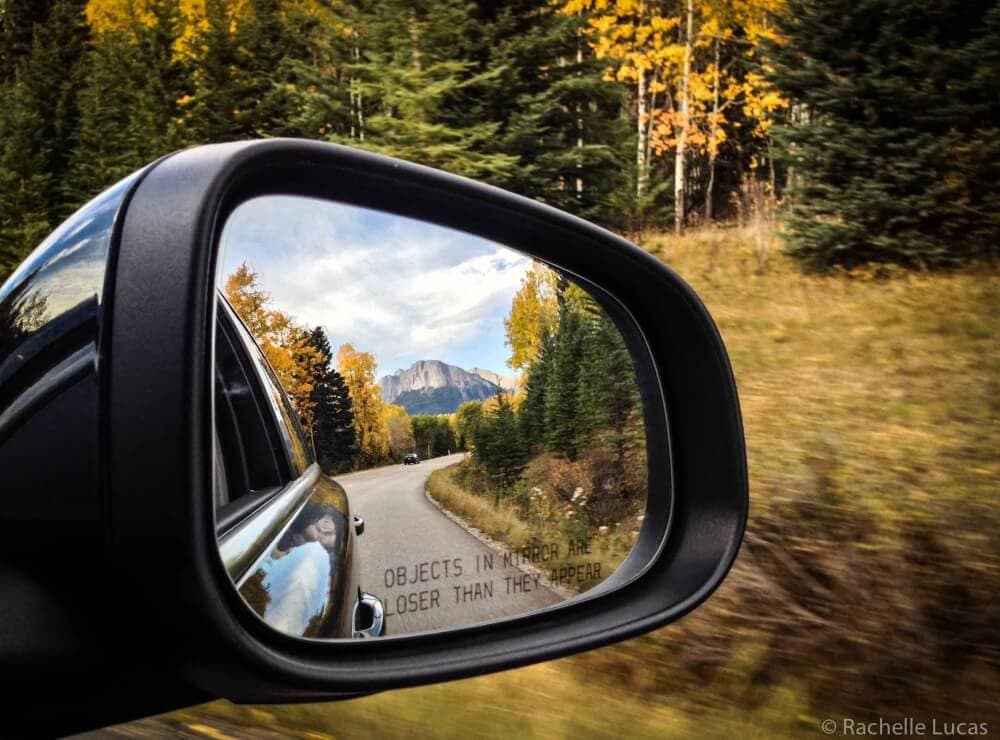 The Aspen leaves had started to turn into a brilliant yellow and the larches, about the only type of pine to seasonally shed it's needles, had dusted the mountain ridge line with a golden hue.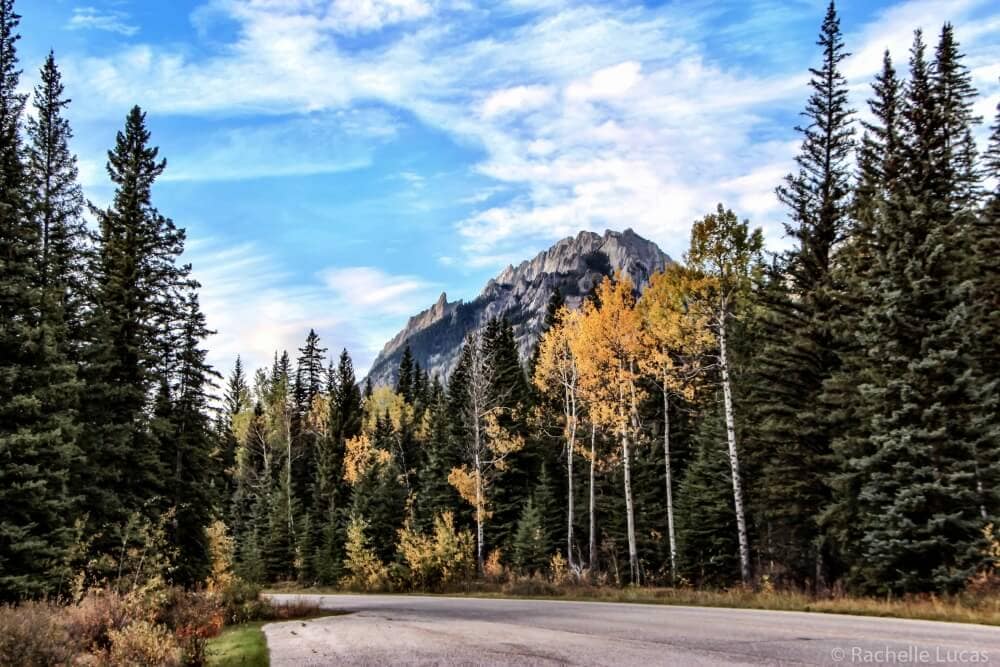 Traffic was light, except for the occasional bear sighting in which everyone would slow down to a stop to take pictures from the safety of their vehicle.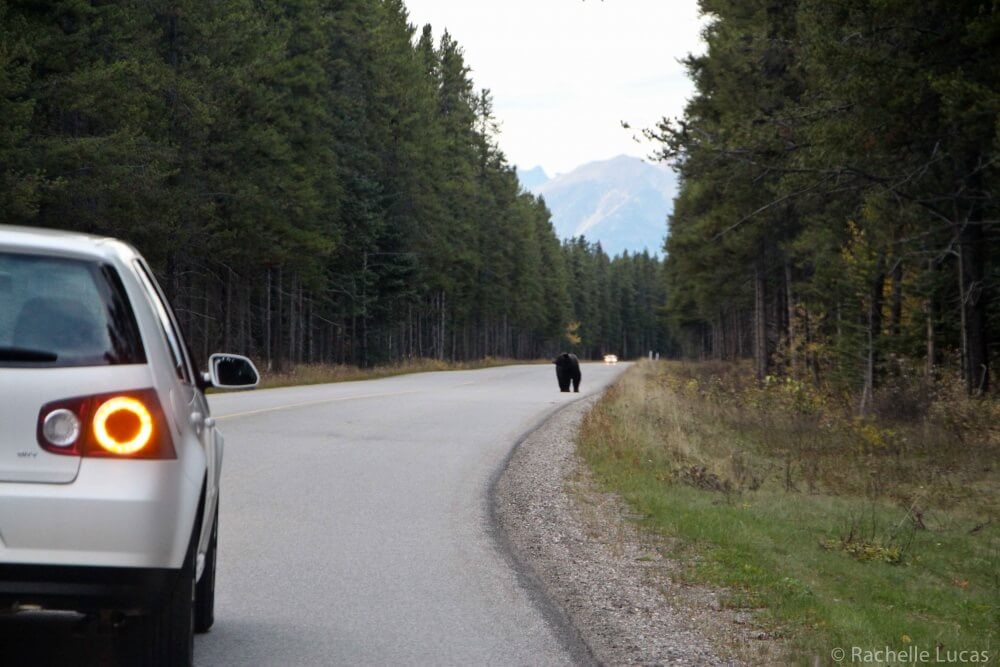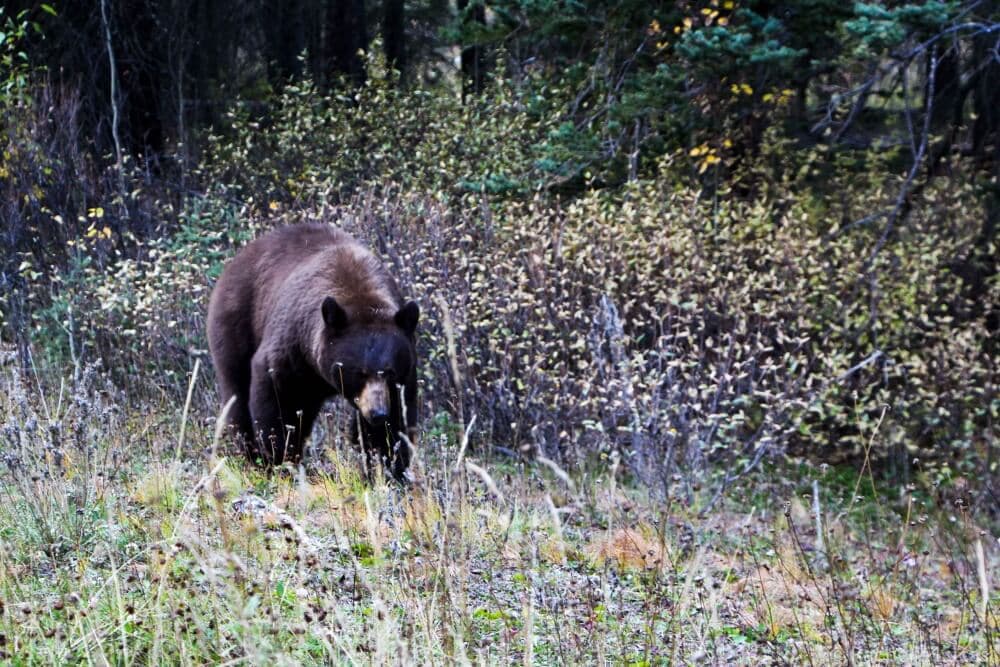 We stayed at Deer Lodge, a rustic historic inn that used to be a tearoom for mountaineers. It's right across the street from the Fairmont at Lake Louise and perfect for a cozy stay within walking distance to some great hiking trails and Lake Louise.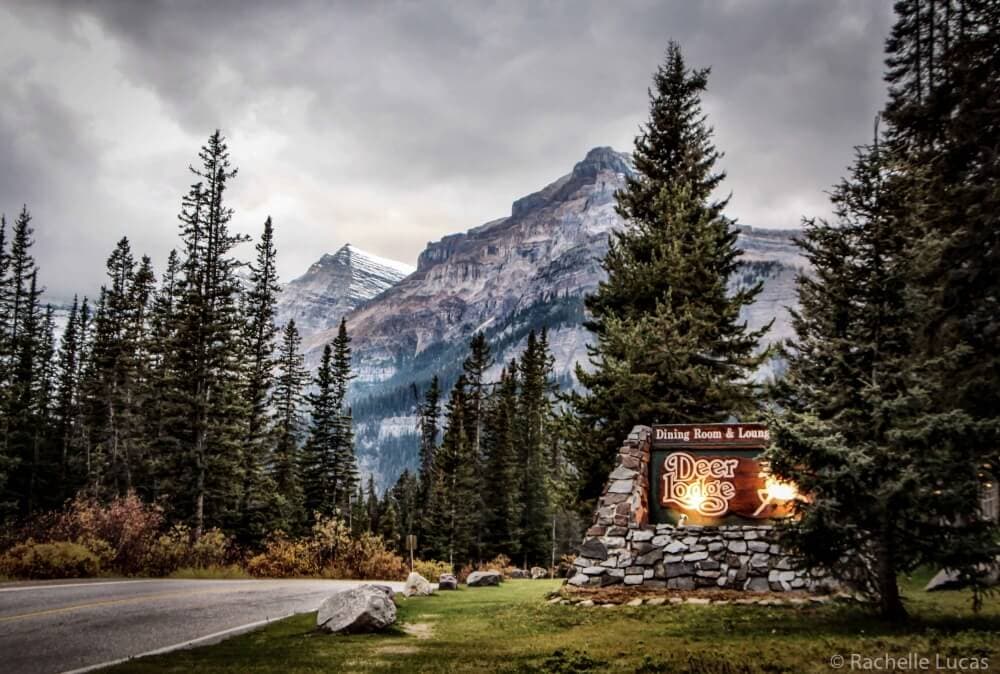 Plus, they have the most epic hot tub view we've ever seen. Two of my must-haves … in-room coffee and a balcony with a view!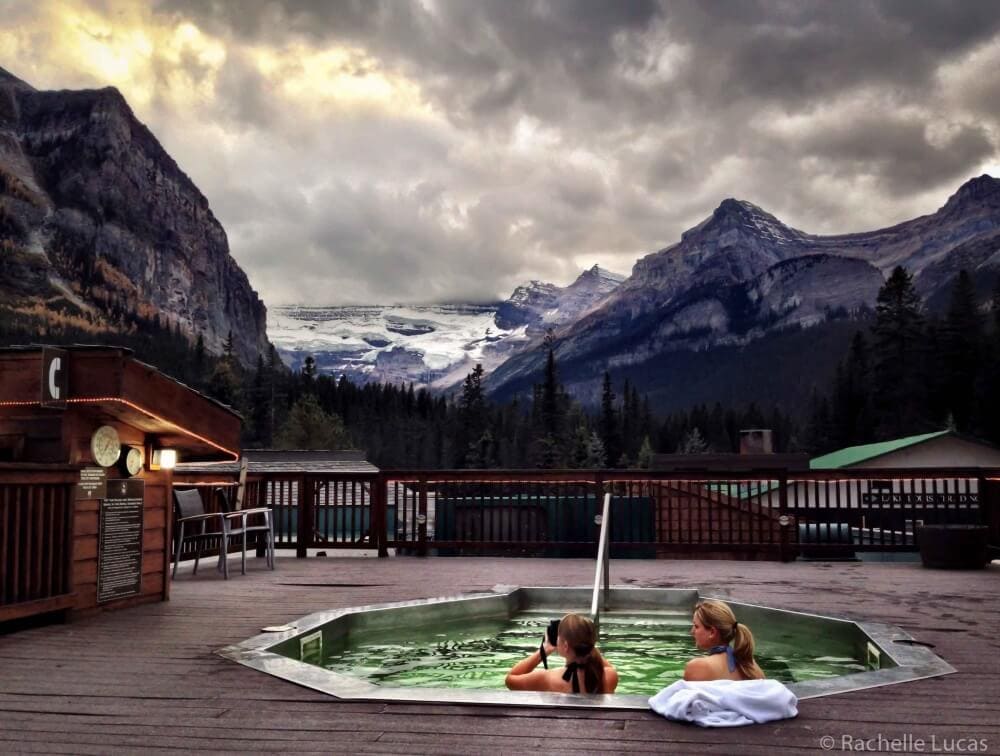 For our first night in Lake Louise, we had dinner at the Lake Louise Station Restaurant. It's an old railway station that's been carefully restored to preserve it's historic atmosphere and rustic mountain charm while also having modern amenities. Sitting by the fireplace in these giant wood chairs felt really cozy after a day outdoors breathing in crisp mountain air.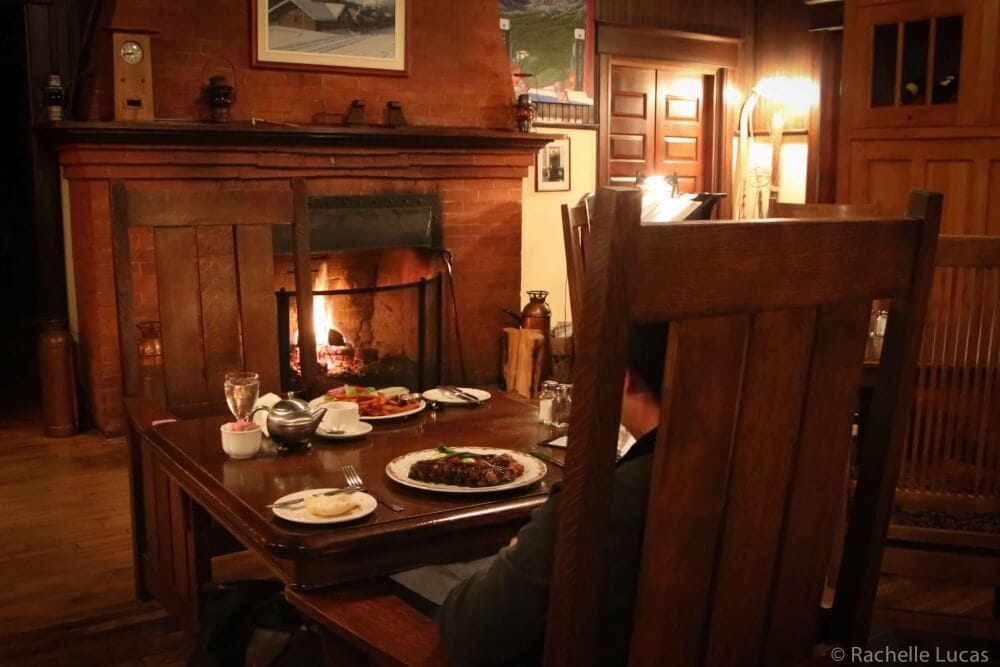 The menu was surprisingly local with Alberta Elk Burgers and Alberta Bison Burgers topped with Canadian cheddar. While I couldn't help but indulge in a burger, Pete chose the slow cooked Alberta Pork Short Rib with homemade apple cider glaze and fresh garden vegetables.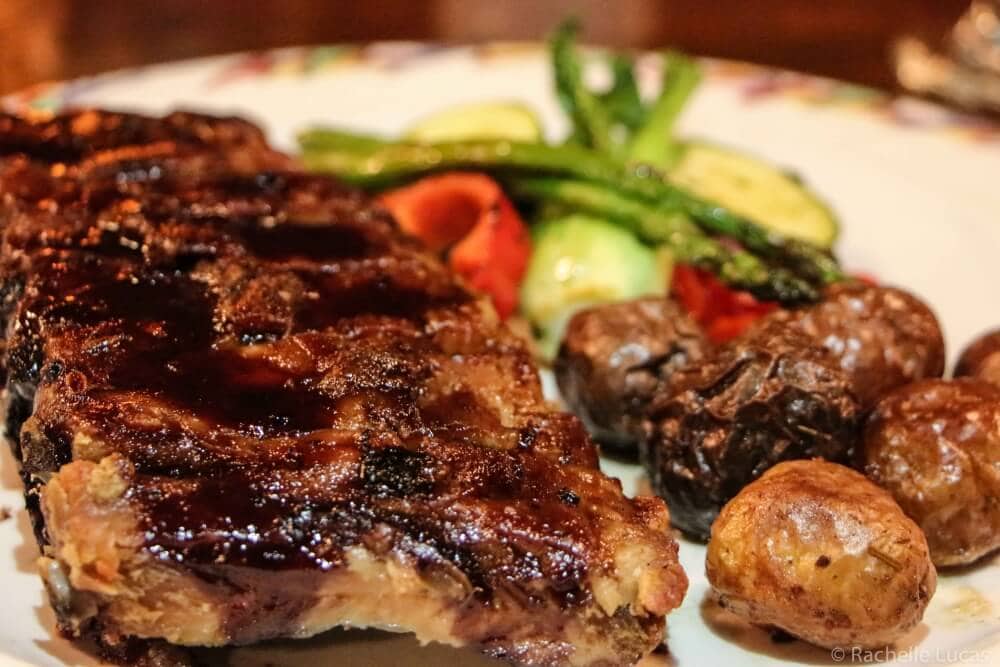 The next morning we enjoyed a coffee on our balcony with a view of Victoria Glacier, then had a hearty breakfast at Deer Lodge. Their breakfast is amazing! With mountain granola, blueberry pancakes, and ranch elk cranberry sausage. I love all the game meats available in Alberta, and after having visited Rocky Mountain Ranch the year prior, it really felt like a farm-to-table experience.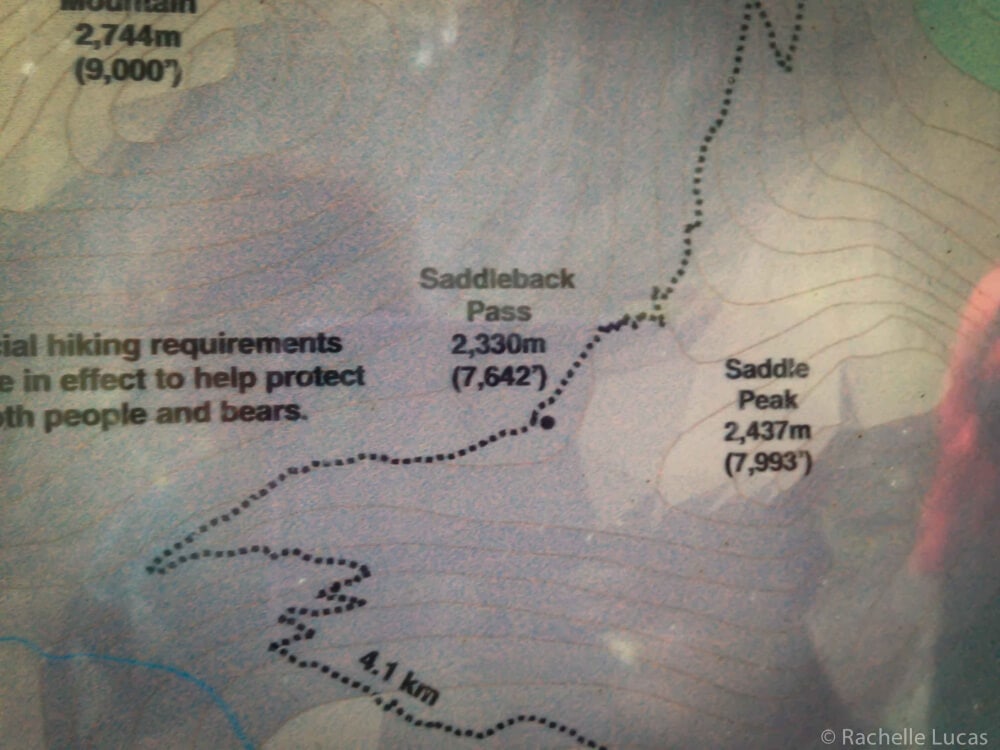 After breakfast, we walked over to meet our guide at the Fairmont for a guided hike to Saddleback Pass. The Fairmont has a Mountain Guides Program where you can choose between half-day or full-day guided hikes, and also between a leisurely stroll to something a bit more adventurous. I also really appreciated that they have hiking gear for rent if you don't have the equipment with you. Being a Florida girl, this was good news. I didn't have proper hiking shoes or rain gear to cover up since the weather had been misting a bit in the morning. We checked in at the Guide's Cabin in the lobby of the hotel, and after we suited up in boots with rain pants over our clothes (I learned that hiking is all about dressing in layers) we went out for a vigorous hike to see the Golden Larches around Saddleback Pass.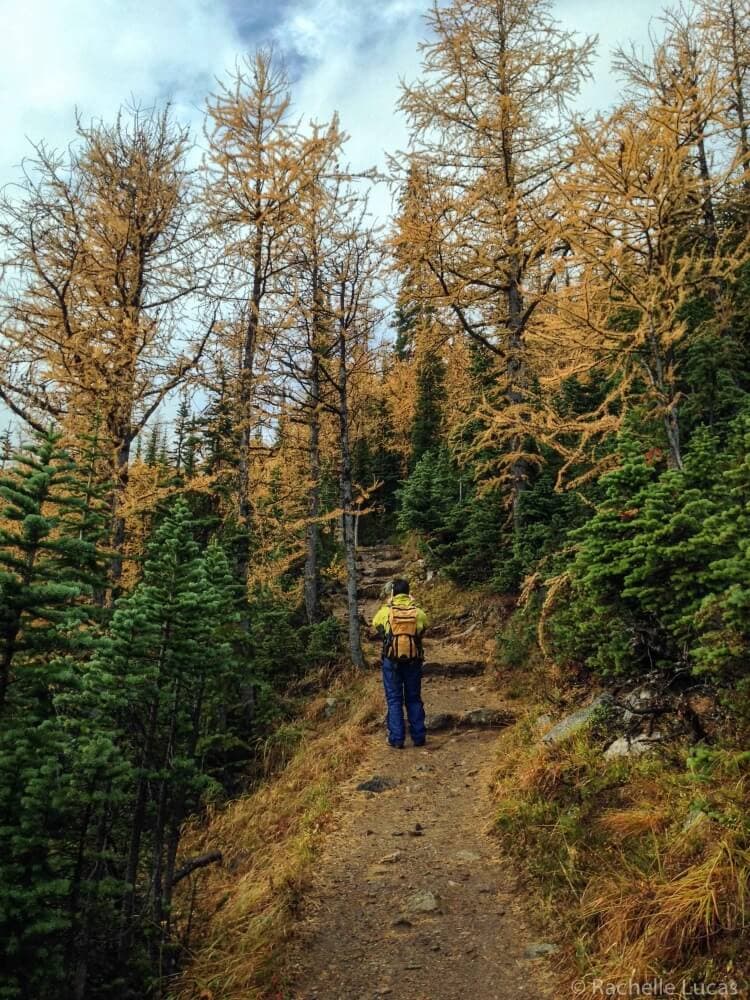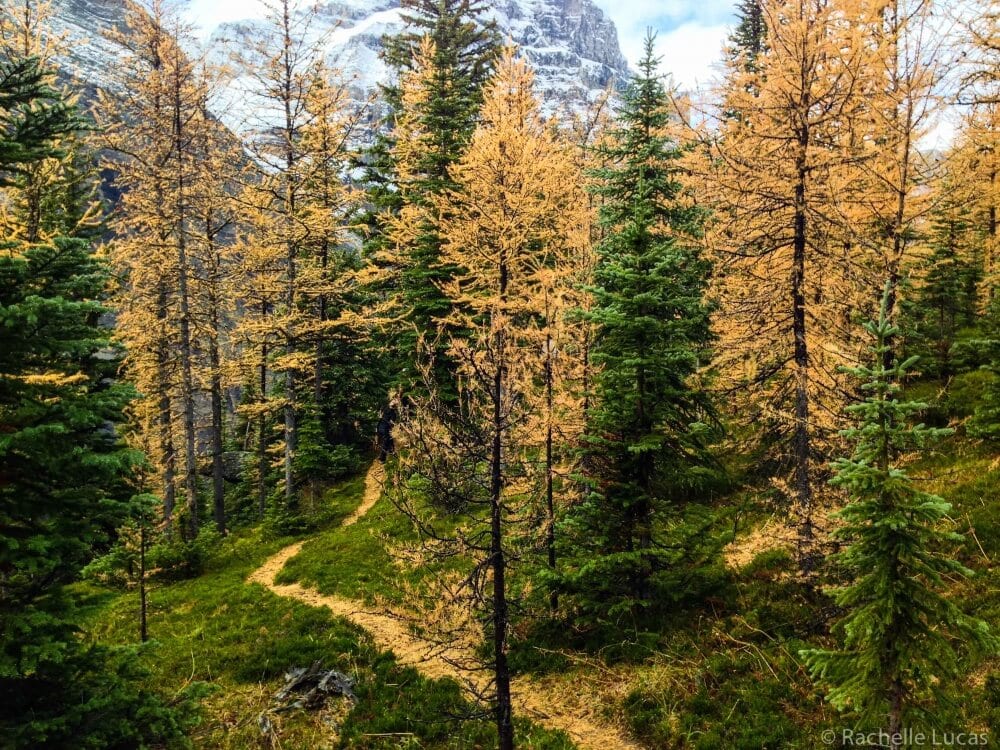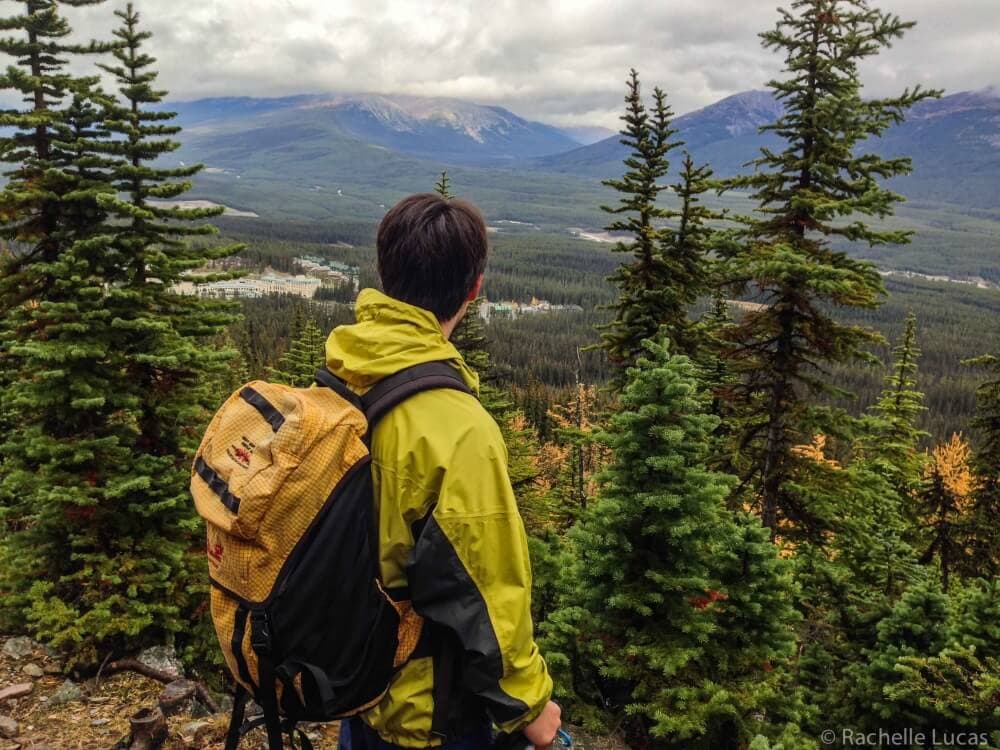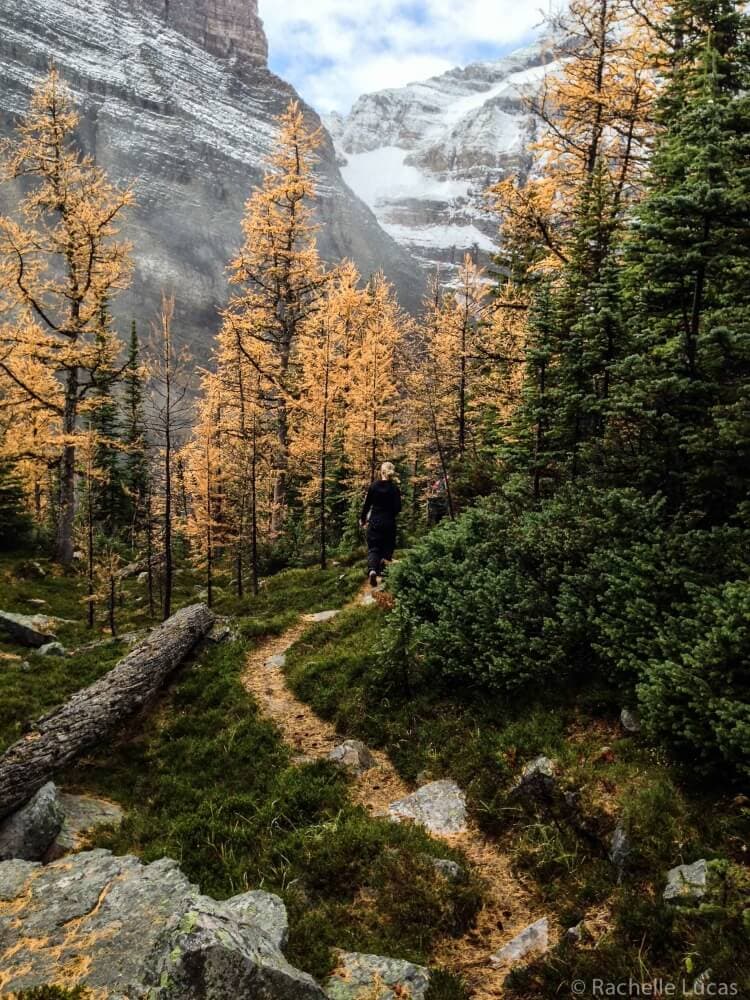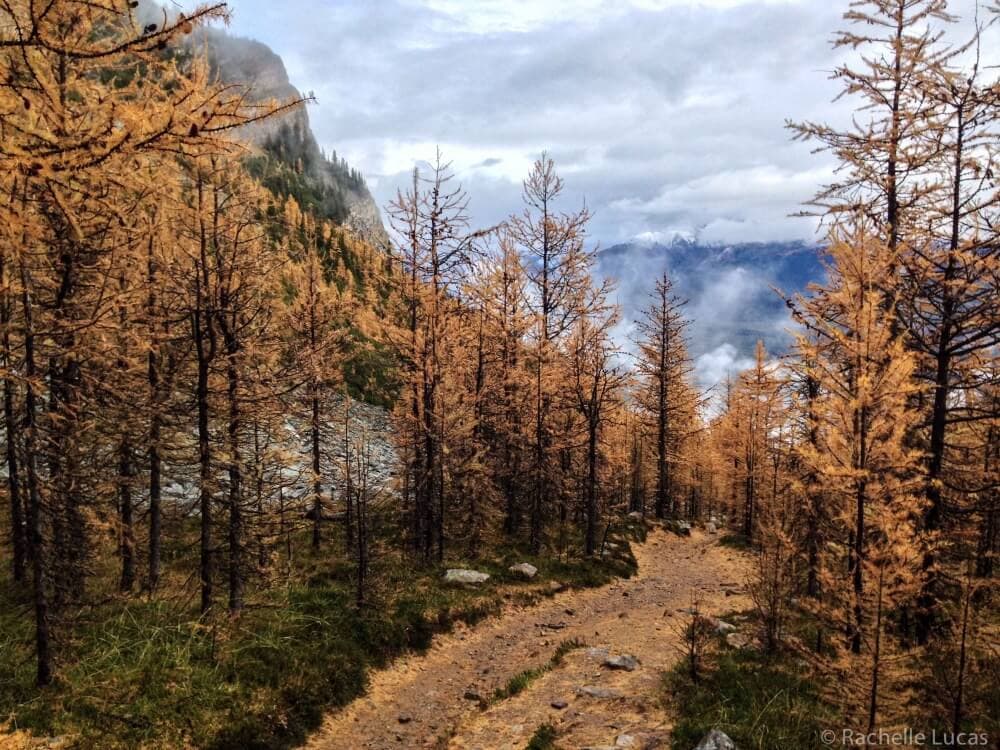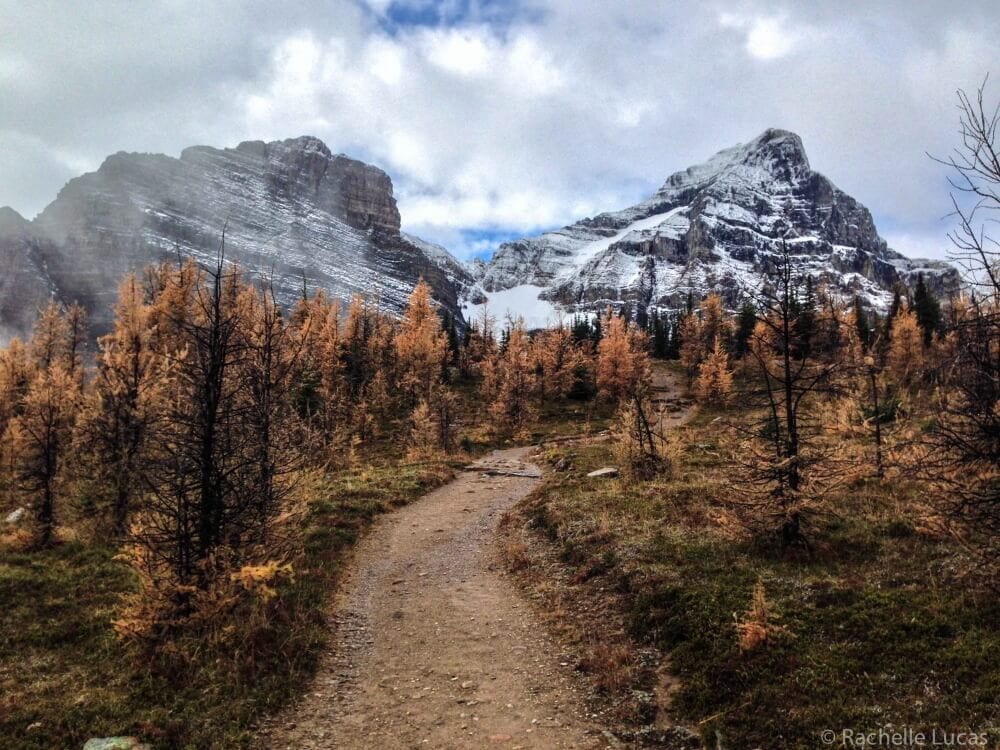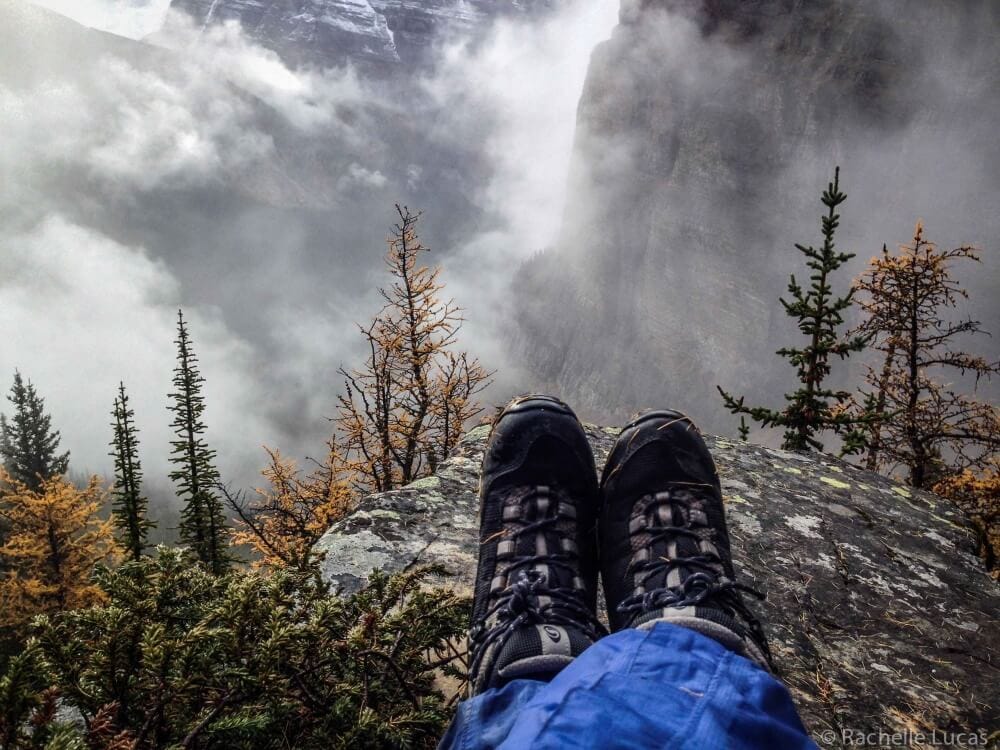 When we reached the top, we took a break sitting on a bolder with an incredible view above the clouds. We had climbed 2000 feet in 2 hours to an elevation of 7642. It was breathtaking (in more ways than one) and thankfully it was downhill the whole way back to the Fairmont.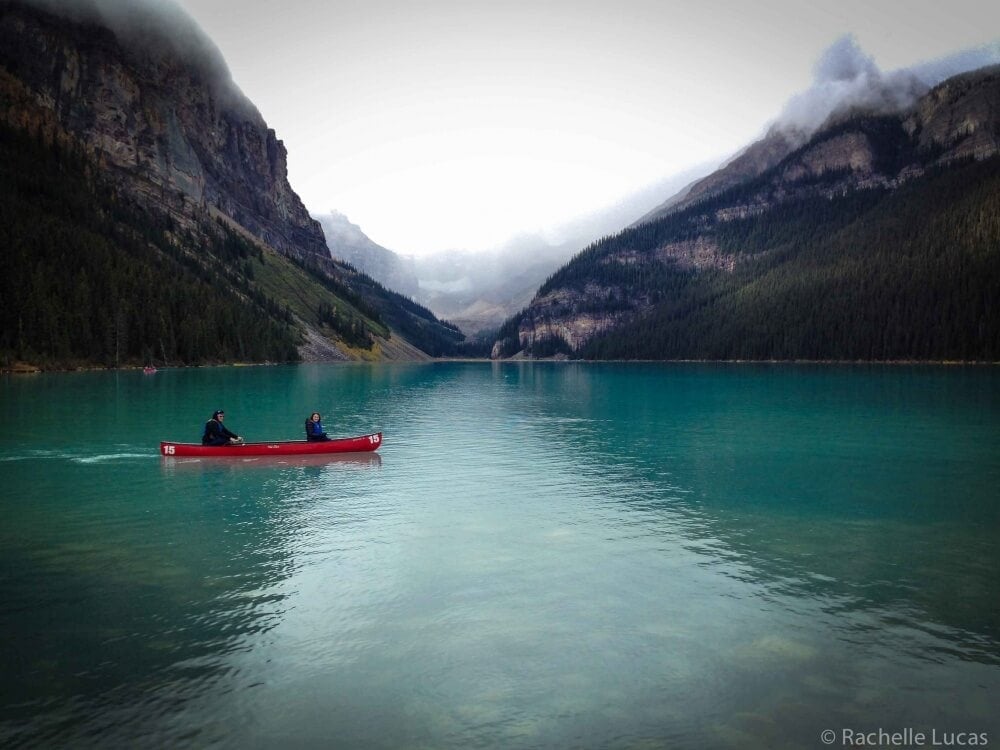 Once back at the bottom of the trail, we were able to shed our hiking layers and relax with high tea. No need to change into a fancy dress for afternoon tea at the Fairmont Lake Louise, because despite how fancy it looks, Canadians really embrace the outdoor lifestyle. I fit right in with my boots and hair pulled back into a pony tail. Relaxing with a fresh cup of tea, finger sandwiches, and sweets while taking in this view was a perfect way to spend the afternoon after a morning of hiking. Even Pete loved it.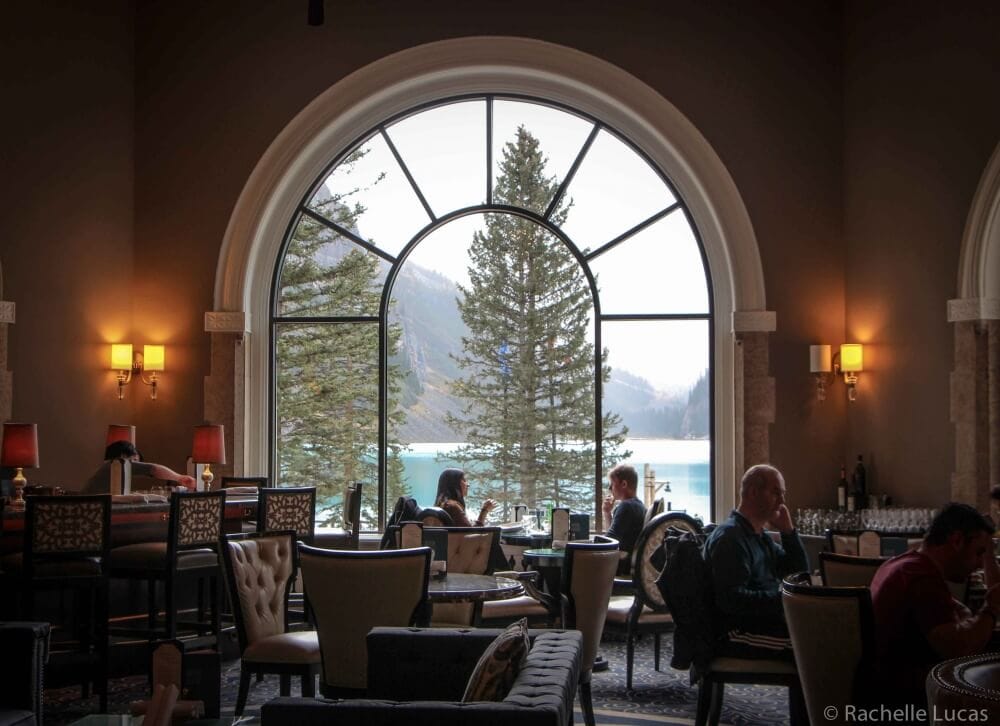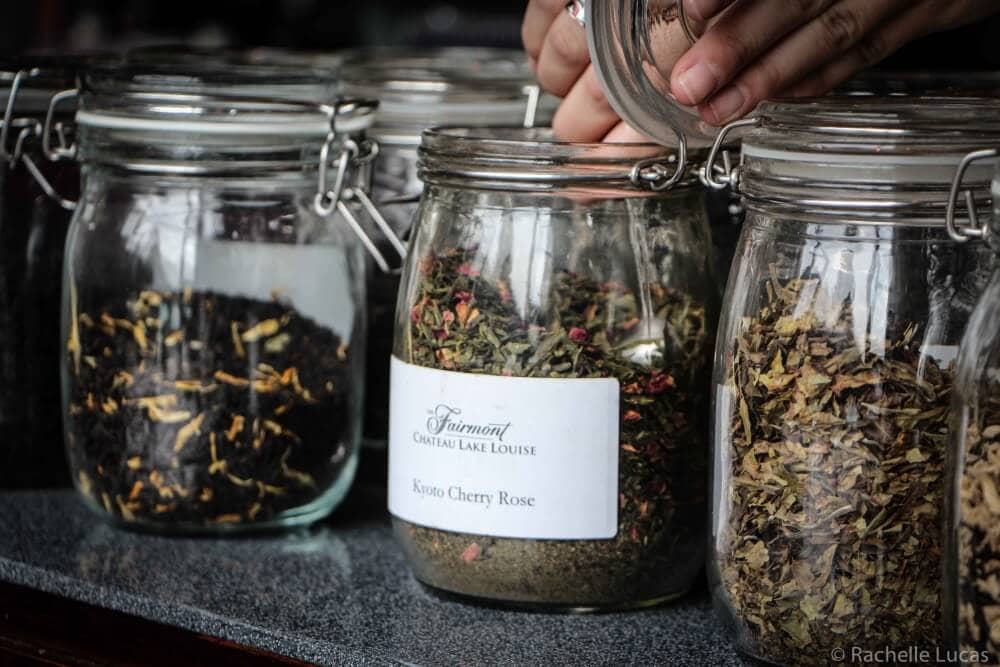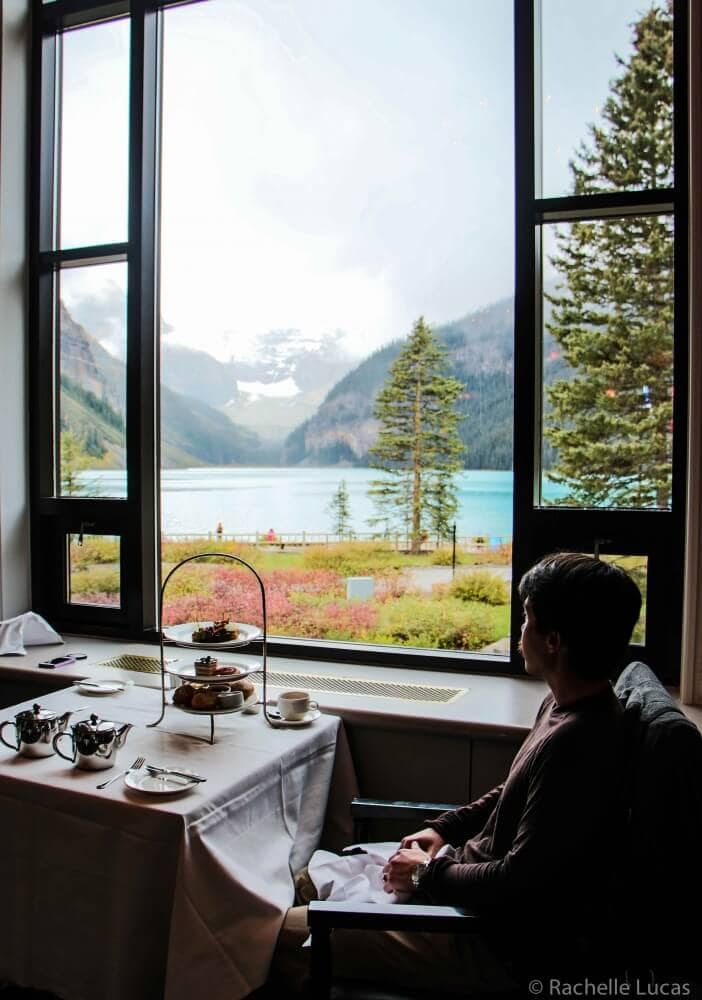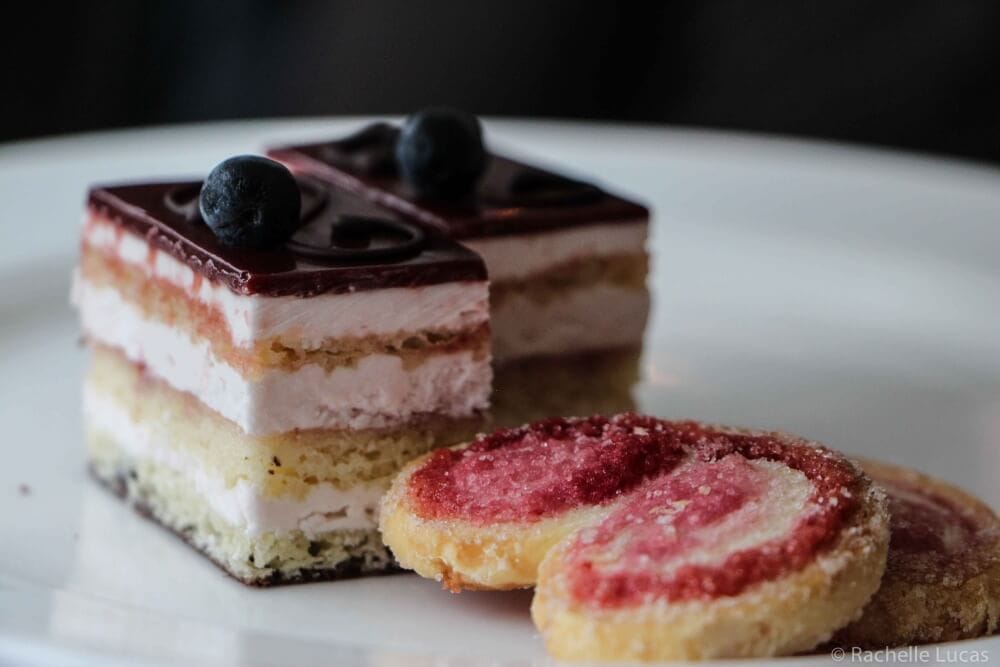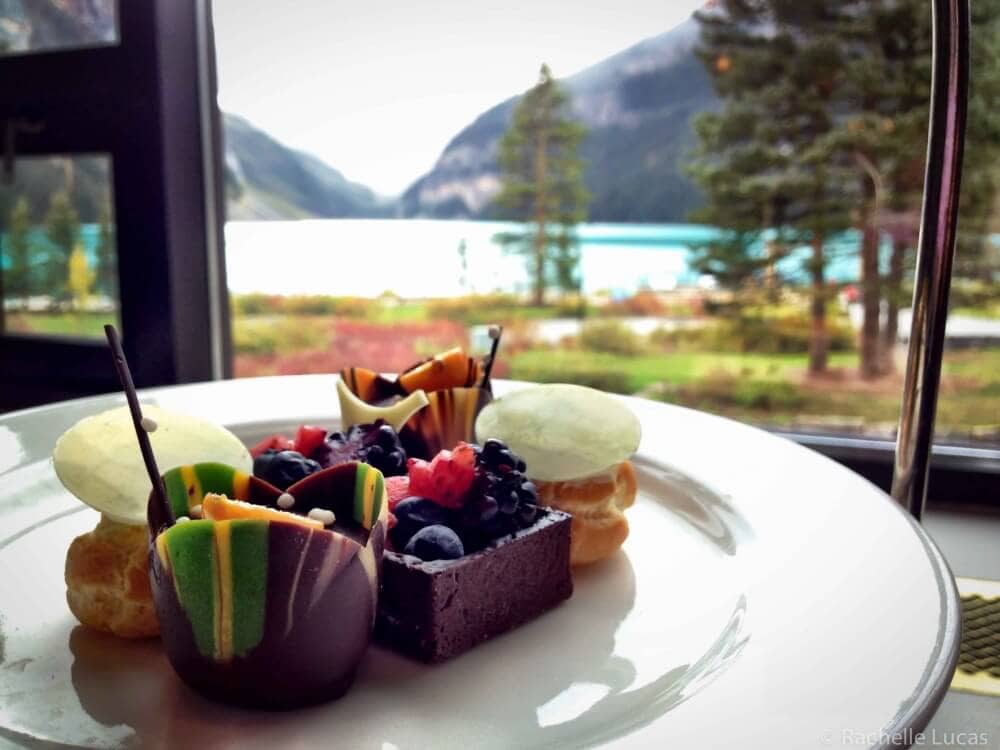 After a much needed nap and a shower, we headed down to dinner in the Caribou Lounge at Deer Lodge. Again, we are really impressed with the amount of local foods featured on the menu in true ranch-to-table style. It was probably one of the best charcuterie plates I've ever had with air dried buffalo, proscuitto, smoked duck breast, Sylvan Star Gouda, mustard melons (I need to post the recipe for this one), cranberry relish, and olives.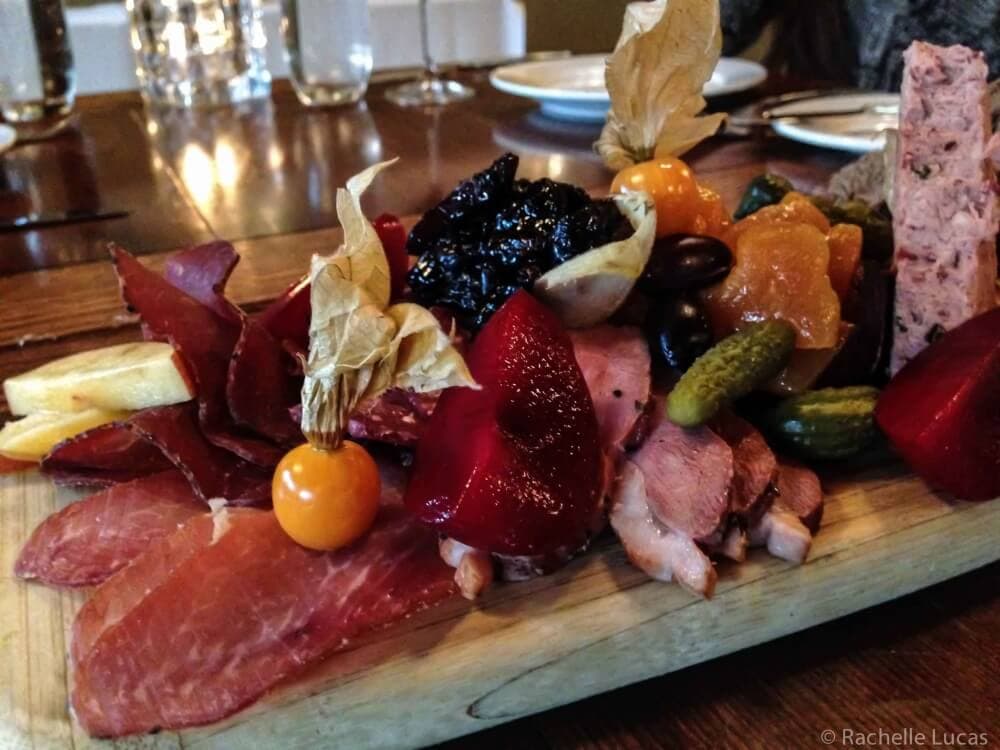 Dinner included Caribou medallions, Yukon Gold gnocchi, and blueberry maple jus.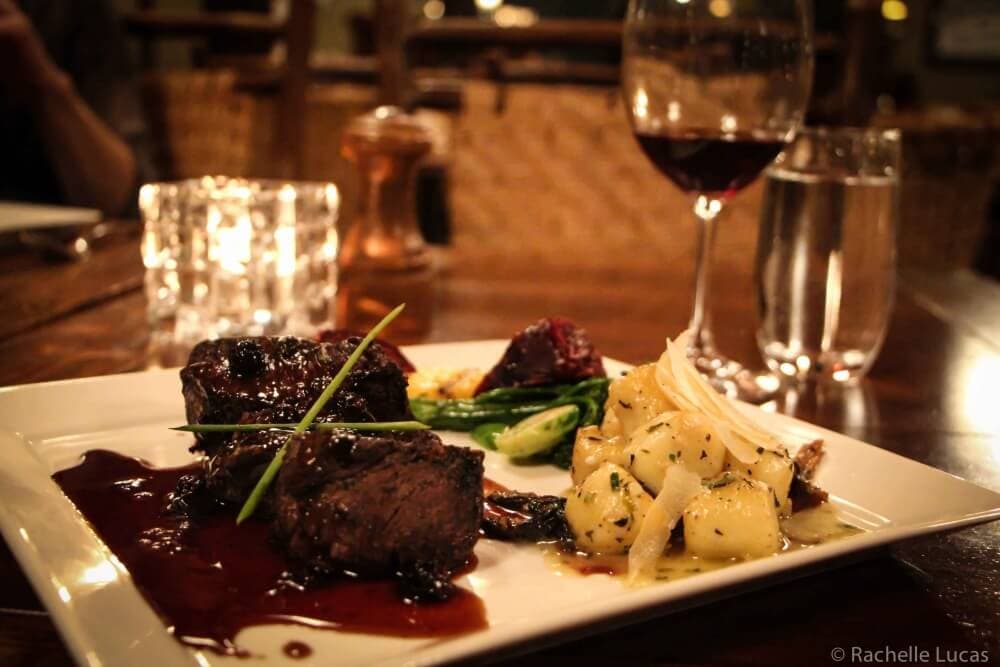 On our final day, we had one more famous lake to visit — Moraine Lake. It's smaller than Lake Louise and a little more remote, but just as stunning. The weather seemed to change quickly, from overcast, to some blue sky peeking out, to a light snow.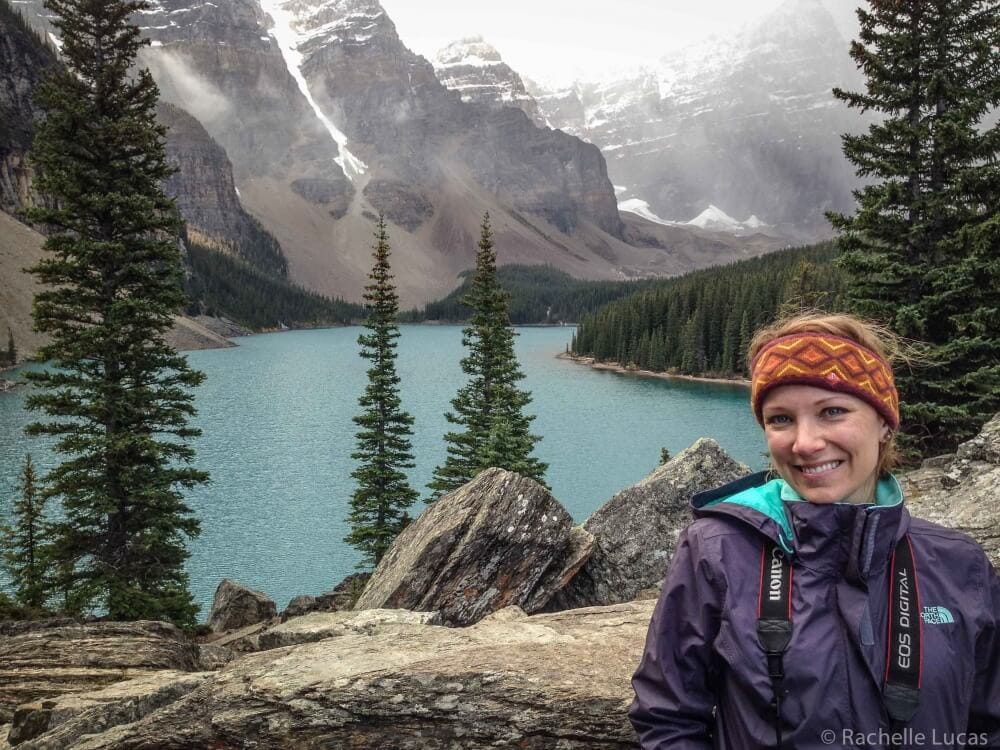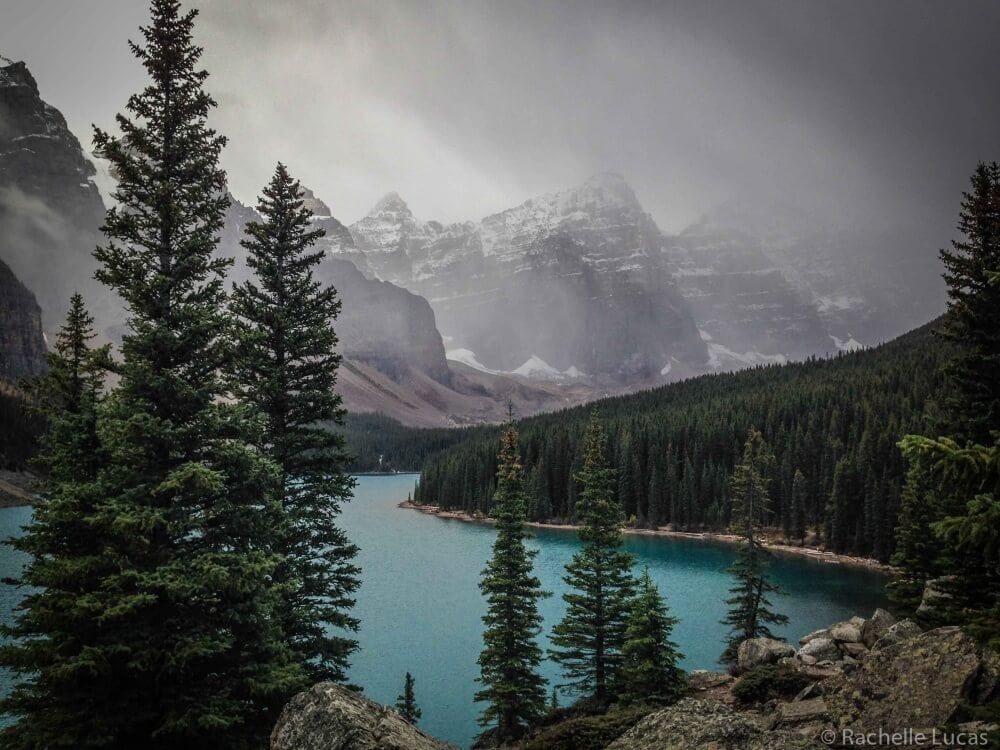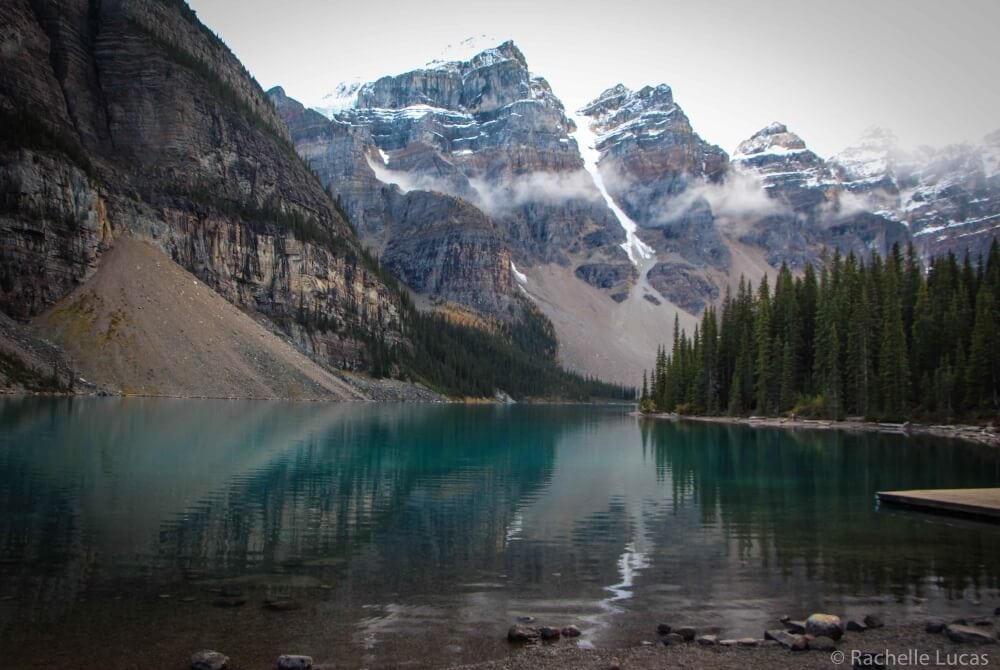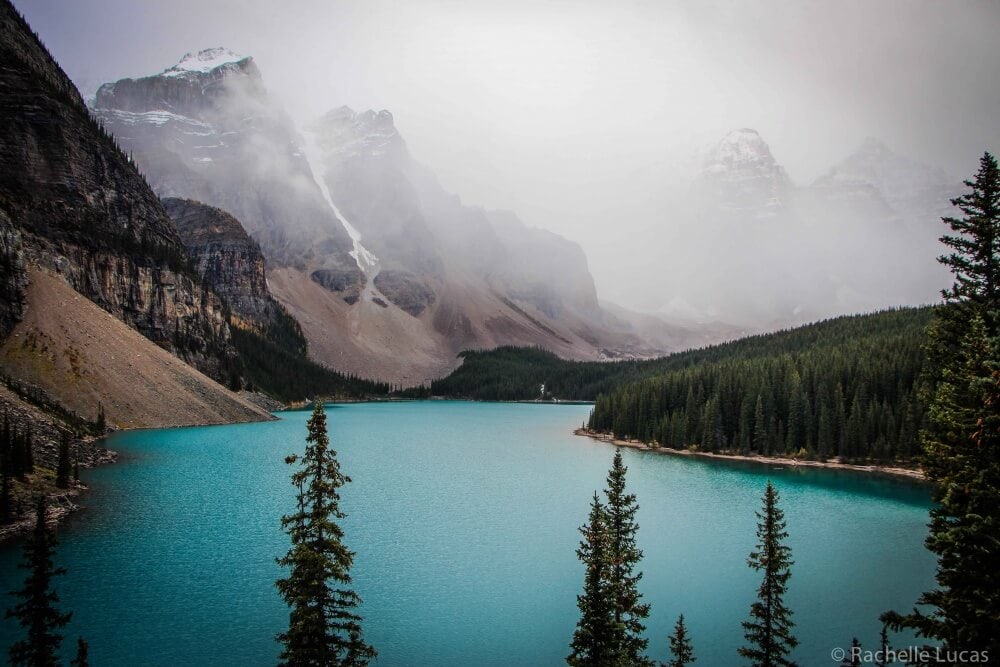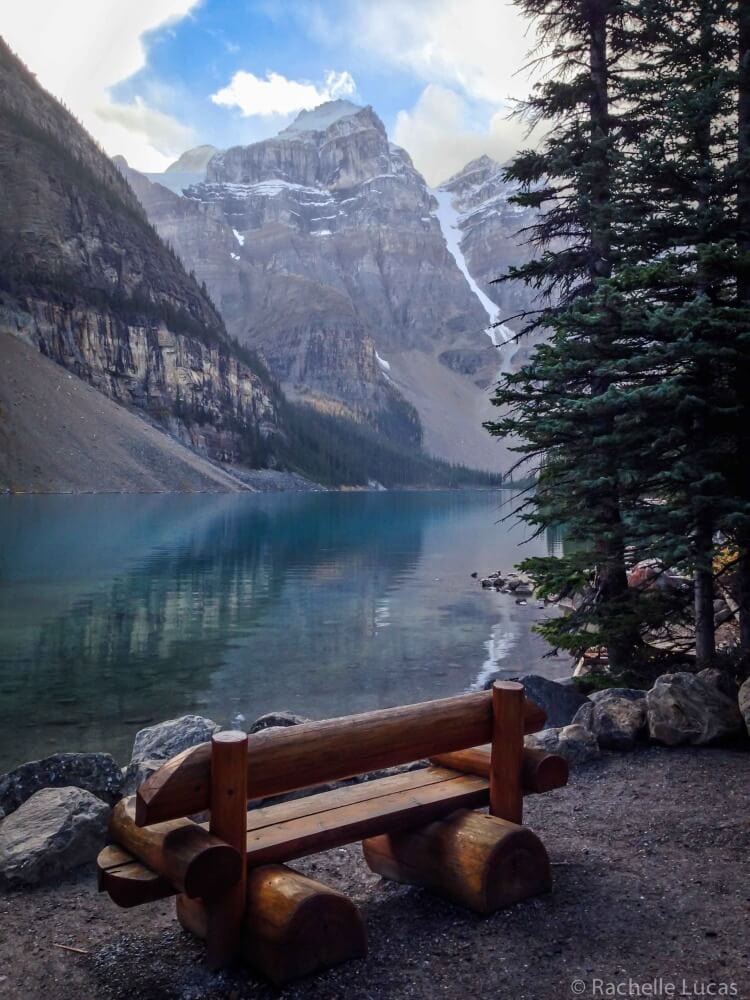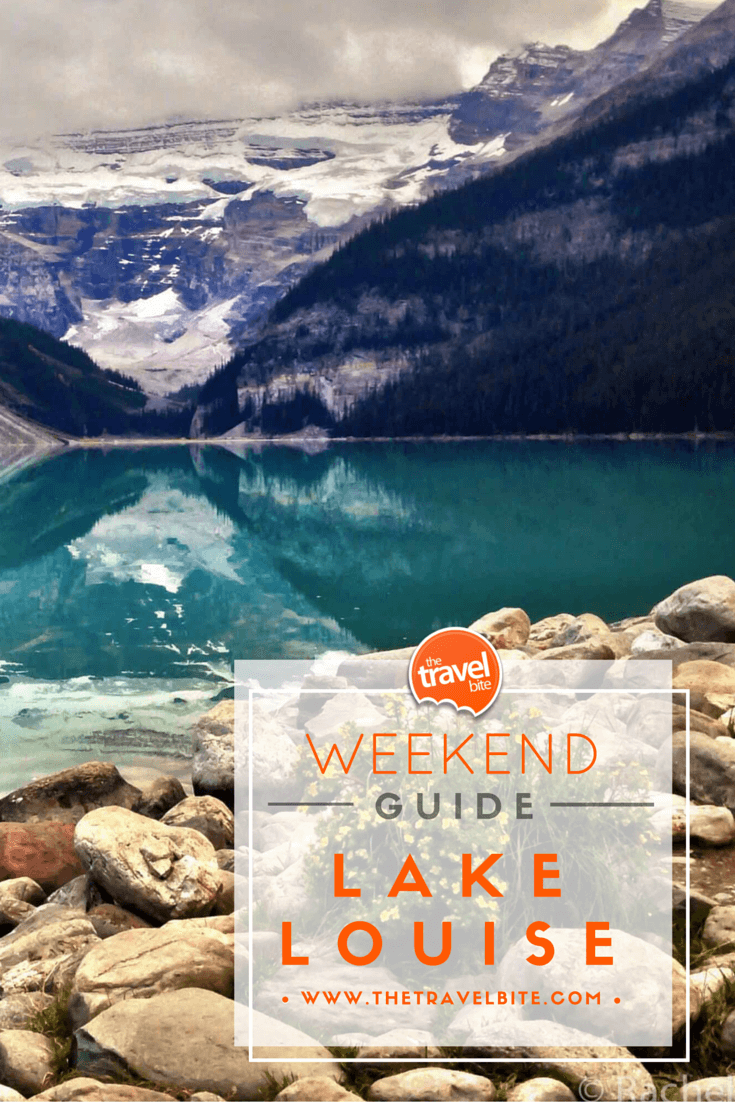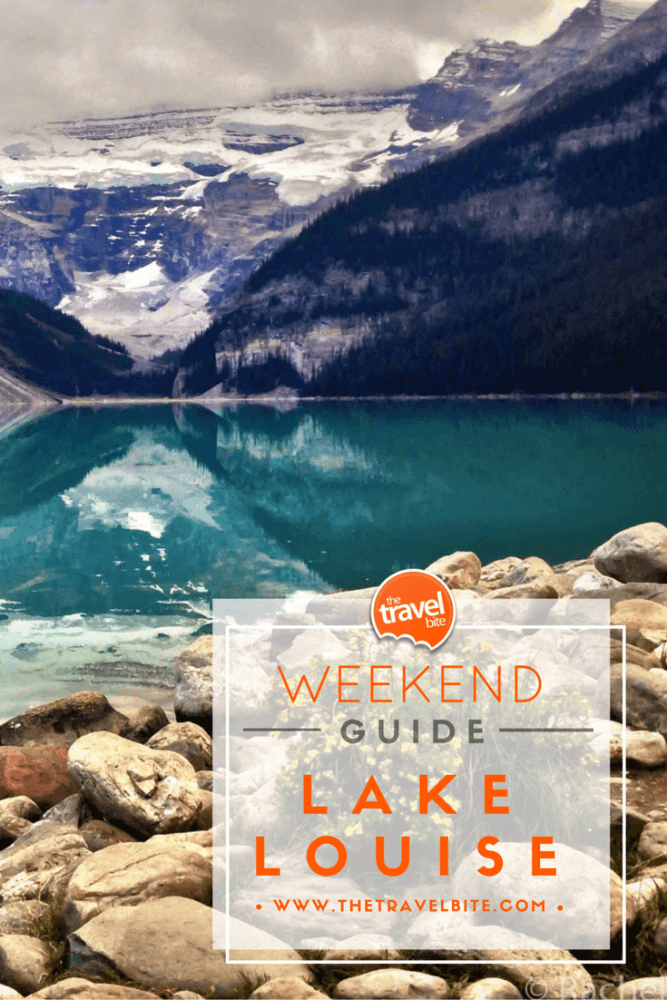 Want to plan a weekend at Lake Louise? Here's our itinerary:
Day 1 — Banff to Bow Valley
— Drive from Banff to Lake Louise along the Bow Valley Parkway. The distance isn't far and would only take an hour non-stop, but build in some time for scenic photo opportunities. We stopped for a bit at Johnston Canyon on our way. And, of course, we stopped to watch bears!
— Arrive in Lake Louise and check in at Deer Lodge. Stretch your legs and get some fresh air by going for a short walk over to Lake Louise to see this spectacular site for the first time.
— After some rest, head over to Lake Louise Station Restaurant for Dinner.
Day 2 — Hiking and High Tea
— Morning hike up to Saddleback Pass with Fairmont's Mountain Guide Program. Pack your hiking shoes, camera, and a bottled water. They'll outfit you with everything else you need. And if you forget your hiking boots, they have those too.
— Afternoon Tea at the Fairmont Chateau Lake Louise.
— Canadian Rocky Mountain Ranch Dinner at Deer Lodge.
Day 3 — Exploring Lake Moraine
— Drive out to explore Lake Morraine, just a short drive away from Lake Louise and worth it for more incredible mountain landscapes and turquoise blue water tinted by glaciers and rock flour.
— Brunch at Juniper Hotel in Banff on your way to the airport or to your next destination. They have the best brunch with view in Banff.