When I lived in Mount Dora, I remember rocking on my front porch and admiring the expansive craftsman style home across the street. The brick façade, wide screened-in porch, the garden-lined sidewalk, the way the lights reflected from the square attic windows onto the tin roof. It reminded me of New England like no other building in town. My new neighbors came outside and invited us over for a glass of wine, introduced us to their playful Salukis and we talked all night. That evening that turned into our first "Dinner at the Inn" experience and the beginning of a great friendship with our neighbors, John and Arthur.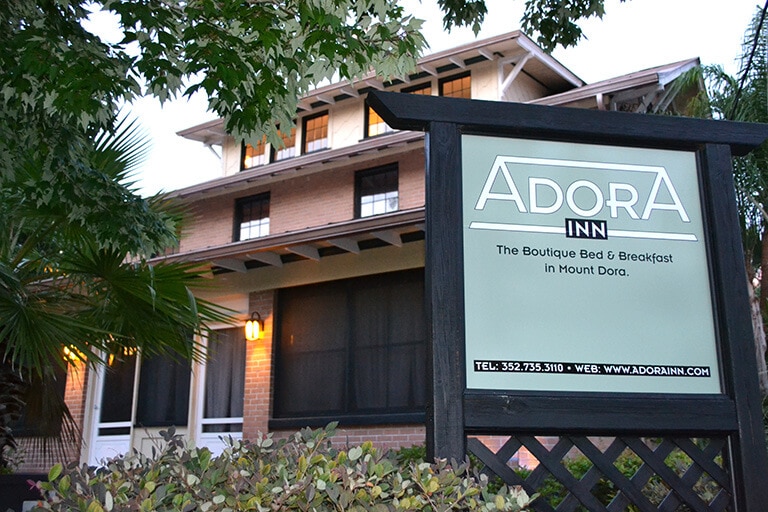 John and Arthur own and manage the Adora Inn, an early 1900's Arts & Crafts style home blended with their touch of modern simplicity and elegance. Walking through the spacious living and into the adjoining dining room, you'll notice the traditional Persian rugs gracing the hardwood floors, a candlelit fireplace accented with modern shaped furniture, and Arthur's very own artwork adorning the walls. All the guest rooms are named after the natural earth-inspired tones that color them. However my favorite, the Treehouse, is named for the playful feeling it invokes. This spacious suite is tucked away in the attic and provides a fantastic treetop view of the town.
John's background is in hospitality management on the beaches of Miami as well as culinary school at the Culinary Institute of America. Arthur's past experience includes art and design in NYC. Interestingly though, Arthur is the Chef. He brings into the kitchen the same philosophy that started the Arts & Crafts movement that constructed their home; a revolt to mass-production and an appreciation for simplicity, artisanship, and hand made personal touches. Slow Food. A term John enlightened me with during a gastronomic trip to Italy last year to celebrate a birthday milestone for his partner, Arthur. Slow Food is actually a real term; an International movement towards local, fresh, simple ingredients combined with a dining experience meant to actually allow you to enjoy cuisine rather than merely quickly inhaling it to satiate your hunger.
My time in the kitchen with Arthur was more of a spectator sport as he is quite the Olympian when it comes to moving around a kitchen with the quick and deliberate movements of a well practiced chef.
As I sipped on a cin cin and watched our dinner experience unfold in the kitchen, I asked Arthur what he enjoyed most about cooking. His immediate reply was, "Eating, of course!" Isn't that everyone's favorite part? I laughed and gave him a look that let him know that I was being serious and he said, "Being an artist, I love the mixture of colors, scents and textures. For example, the contrast with the purple and green here in the artichoke. Cooking really is a melding of art & science in bringing ingredients together into new flavors."
So, how did Arthur become a chef? While putting the last finishing touches on our meal, Arthur told a story of being an art student in New York during the 1970s, working as a bus boy in an upscale art-inspired restaurant in SoHo. He was friends with the owner's daughter and received an invitation to a party at their house one weekend. At the house, Arthur experimented in the kitchen making some dishes for he and his friends to snack on. His friend's parents came home and found the left-overs of Arthur's creation in the refrigerator and loved what they tasted. They couldn't believe he was just a bus boy and quickly promoted him. As they always say, the rest is history. He prepared dishes for a variety of well-known and famous artists including Claes Oldenburg, Marisol, Warhol, and even famous food critic Craig Claiborne. His favorite memory, however, was when he prepared a Bouillabaisse from a Toulouse Lautrec recipe and a small group of Frenchmen in the restaurant stood up and applauded.
Lost in conversation with Arthur, I didn't even realize how hungry I was until we finally sat down to eat. Arthur had prepared a three course meal starting off with artichokes drizzled with warm Dijon vinaigrette leading into the main course of grilled lamb with a lemon white wine reduction and Provencal herbs, accompanied with simply fried eggplant, middle eastern spiced potatoes and carrots. A beautiful peach and blueberry country tart created the perfect finish. With all his international sophisticated culinary tricks and recipes, Arthur says he still prefers the simplicity of country style meals, mixing formal with informal.
Breakfast may be what a traveler typically thinks of when it comes to B&B's, but with monthly International wine tastings and exotic cuisine, dinner at the Adora Inn is truly a unique experience. Whether you are looking for a quiet intimate dinner alone or an interactive cooking demonstration, your palate and senses are sure to be pleased. John and Arthur offer upscale service and gourmet cuisine in a relaxed and casual environment.
–Rachelle