Nothing says "lunch in France" like a simple French baguette sandwich. And while we might not be able to hop on a plane to Paris, we can certainly pretend to getaway with a pretty little picnic. Since butter boards are popular, I thought making a baguette board would be a fun way to host a picnic or lunch with friends.
Inspired by the baguette sandwiches we tasted in France, we created this baguette board below to inspire you to elevate your lunch game.
Scroll through below for some ideas on different kinds of baguette sandwiches as well as how to put together a baguette board.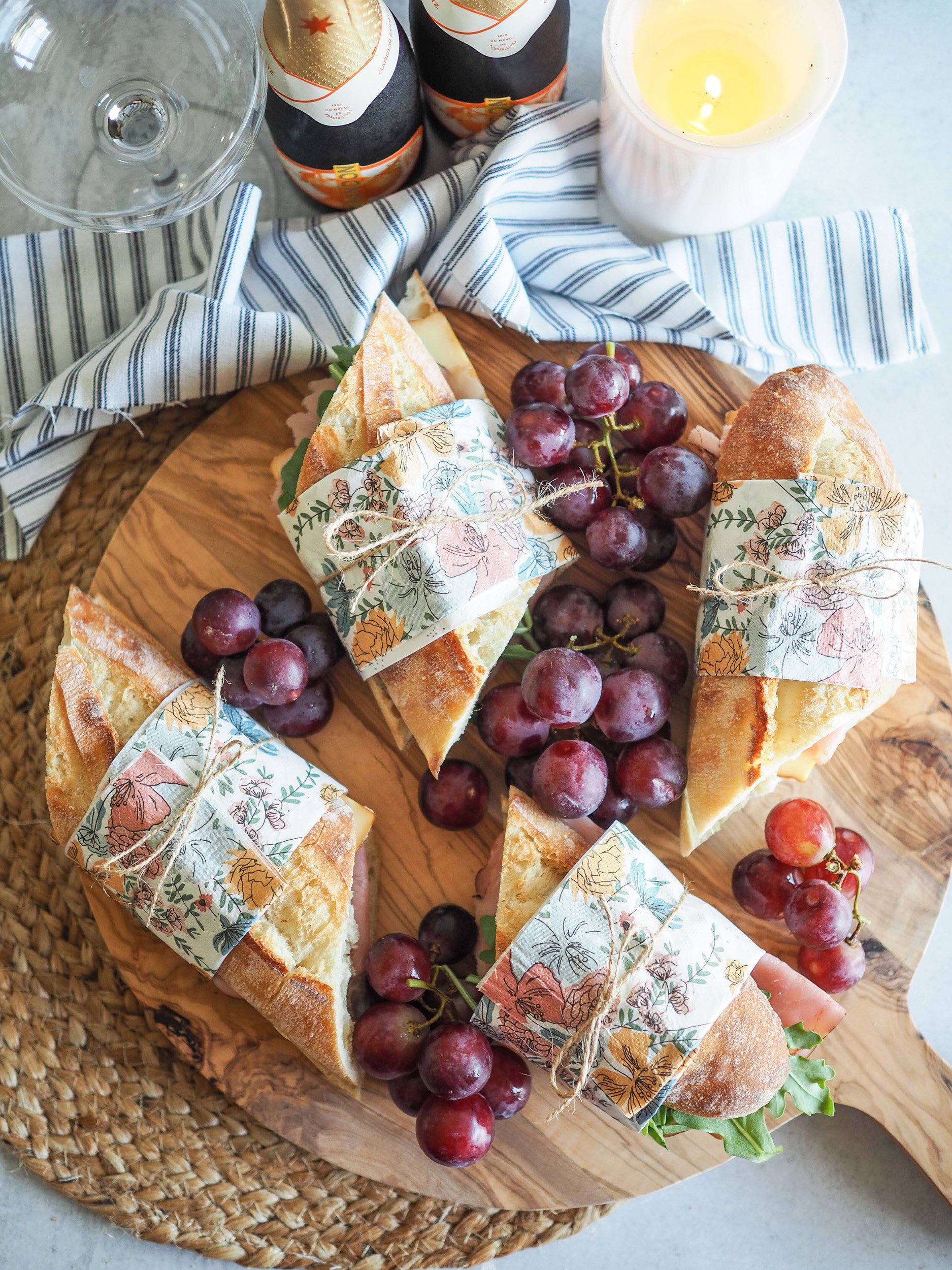 HOW TO CUT A BAGUETTE FOR A SANDWICH
Most baguette sandwiches are pretty simple and rustic. The secret is in using really good fresh baked bread. I recommend picking up a fresh loaf first thing in the morning from your local baker or even the grocery store.
Also, there are different sizes of baguettes you can buy. One is called a demi-baguette. It's a smaller, single serving sized baguette and it is pefect for a single sandwich or two. These are typically what you'd find baguette sandwiches made with in France.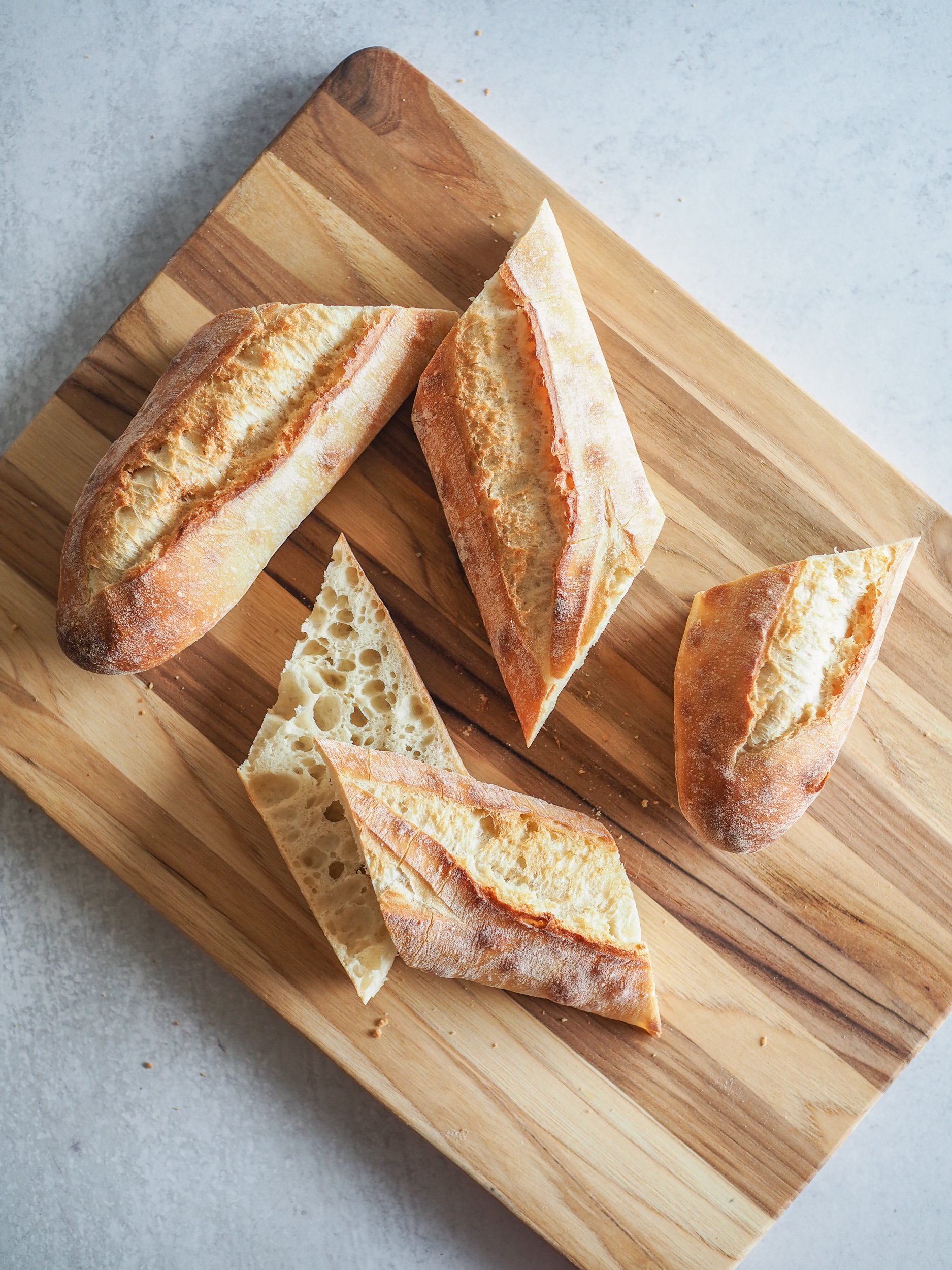 For the the larger, regular sized baguette, start by cutting the loaf into smaller pieces in 5″ to 7″ increments. You should be able to easily get four to six servies per baguette. Also, I like to cut them at a 45 degree angle to make a pointy end. Once you have your sandwich sized pieces, carefully cut them in half lenghtwise to make your sandwiches.
BAGUETTE SANDWICH RECIPES
These baguette sandwiches below are inspired by the jamon-buerre (ham and butter) sandwiches we enjoyed while visiting Paris and Nice. In addition to ham and butter, I also added dijon mustard, gruyere, and a little arugula too.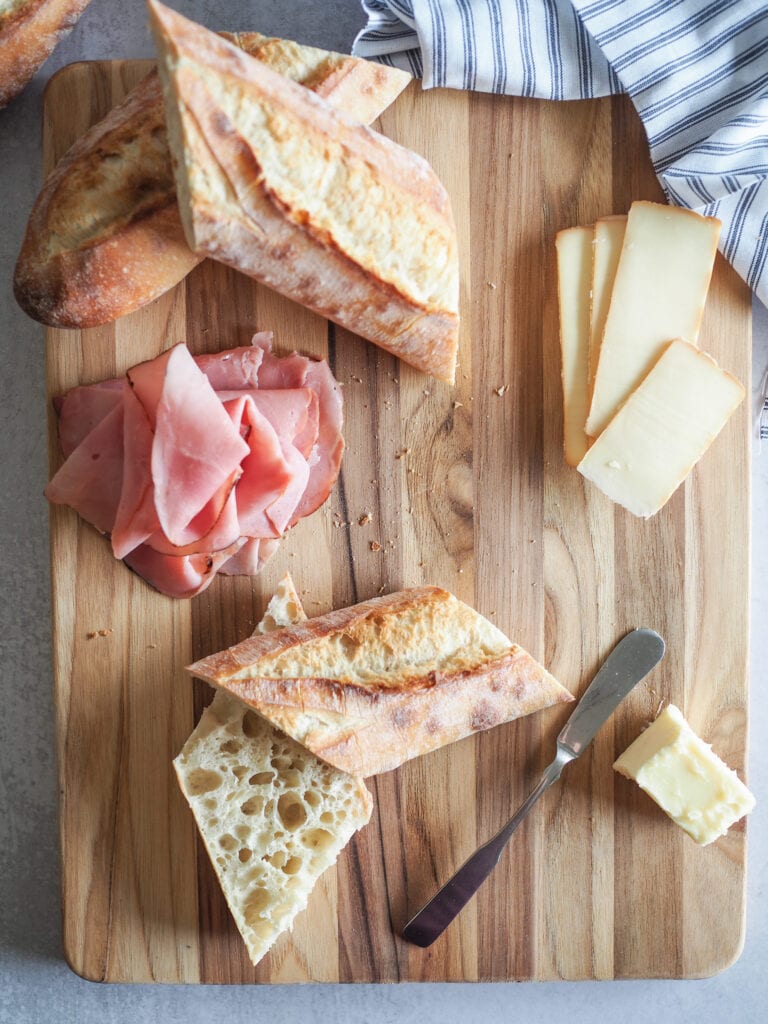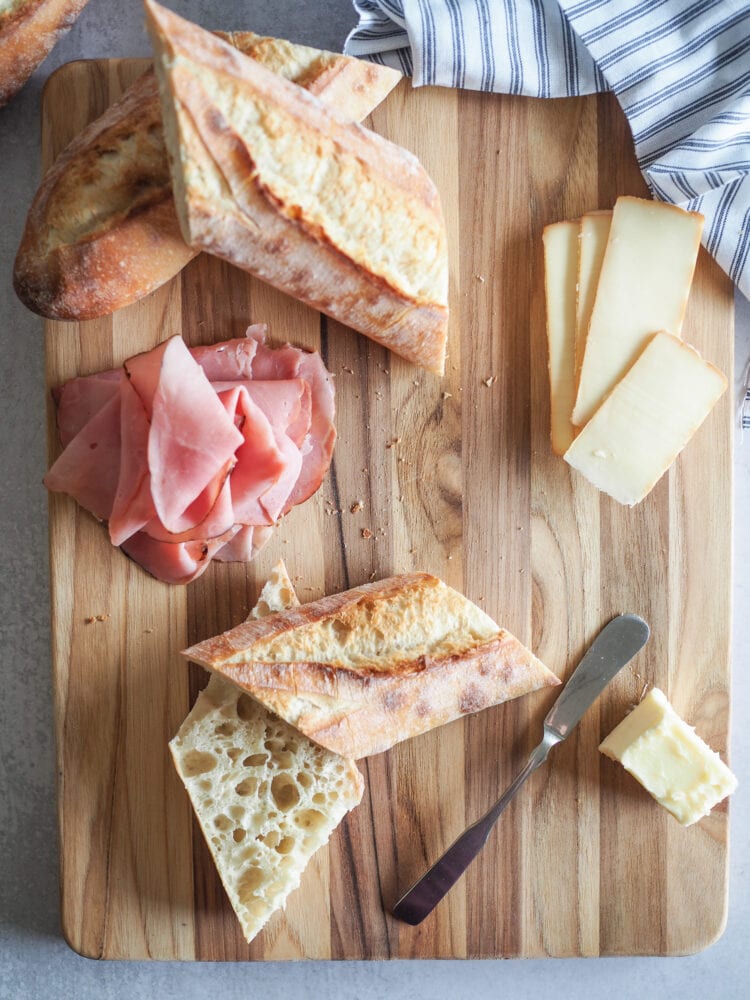 But there's a variety of ways you can make a baguette sandwich. In addition to the traditional jamon-buerre, you could also simply use your own favorite cured meats and cheeses. And, of course, make a vegetarian sandwich too with arugula, tomato, and cucumber.
As for condiments, the French usually simply use butter, or depending on the region, Dijon mustard. Here are some ideas to get you started:
ham and butter
ham and cheese
arugula, tomato, and cucumber
lettuce, tomato, and cheese
cucumber and butter
curred meates
pâté
tuna salad
goat cheese and roasted red pepper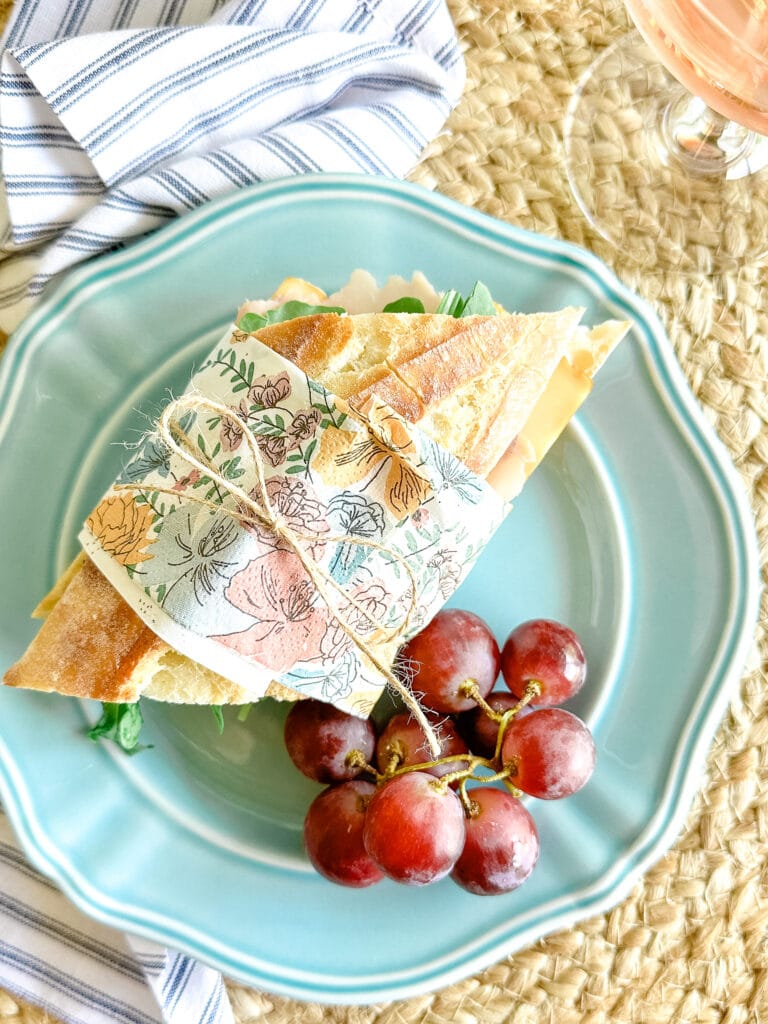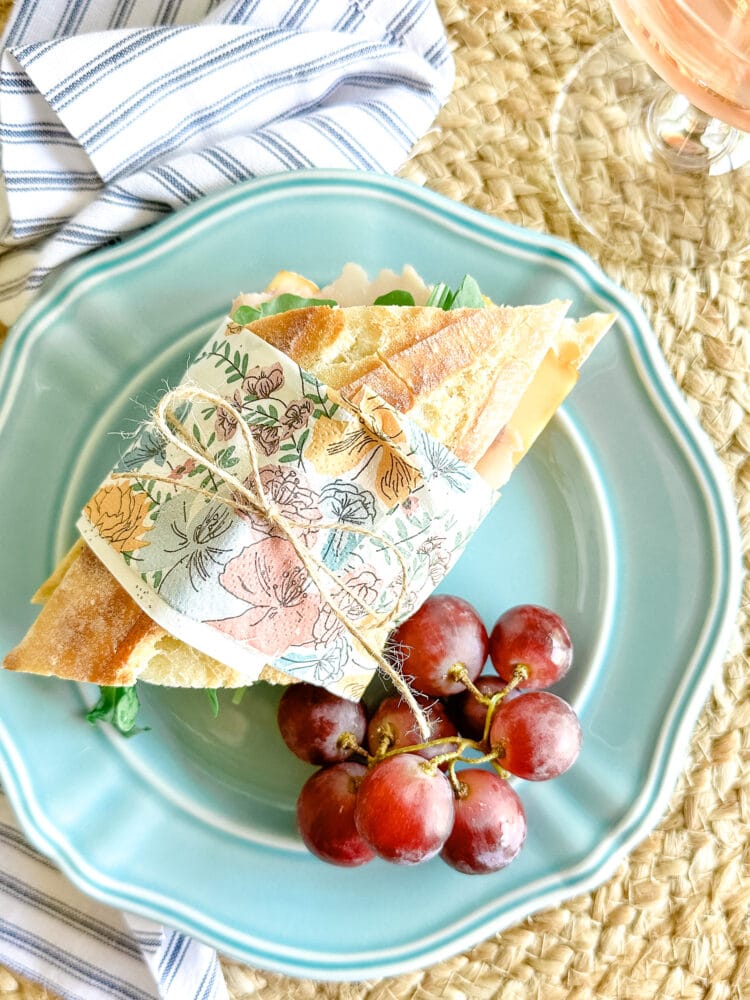 WHAT TO SERVE WITH A BAGUETTE BOARD
Once you've made your baguette sandwiches, wrap them in a folded paper napkin and tie them together with kitchen twine. Not only does it look pretty, but it also makes it easy to serve and the napkin is handy too.
If you're making a baguette board, you'll want to fill the gaps between the sandwiches with something delicious. Grapes are a good choice as they're easy to eat with your hands. Mixed berries and nuts are another good filler.
As for beverages, pick something bubbly! Perrier with lemon for something non-alcoholic. And Champagne or sparkling wine for a celebration.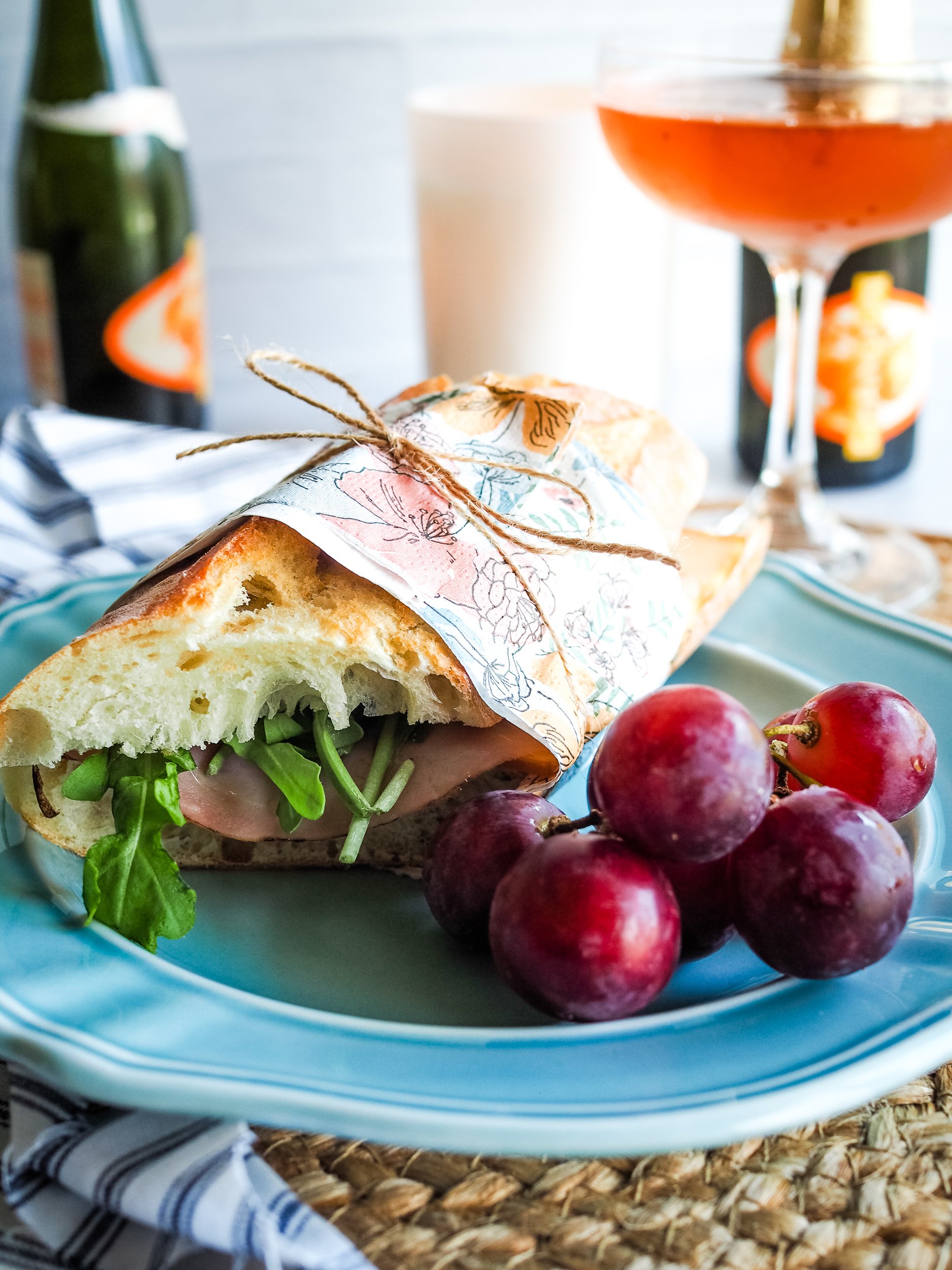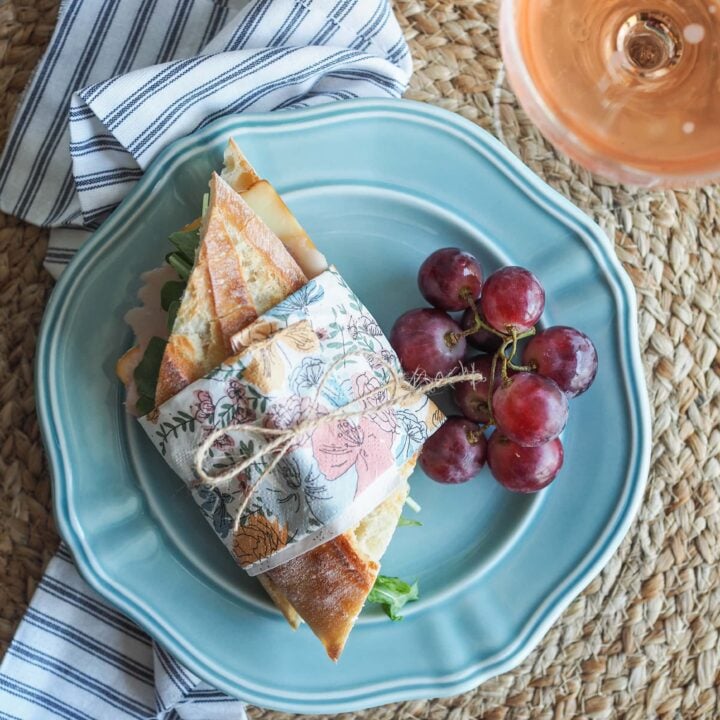 Baguette Sandwich
Ingredients
1 French baguette
2 Tbsp butter, softened to room temperature
2 Tbsp Dijon mustard
8 ounces deli sliced ham
4 ounces Gruyère cheese
1 bunch arugula
Instructions
Cut baguette into 4 pieces, then cut each piece in half lengthwise.
Spread butter on slice of baguette, and Dijon mustard on the other. Repeat for all four sandwiches.
Place one to two slices of ham, and two slice of cheese in each sandwich.
Top with arugla, tie baguette sandwich together with twine, and enjoy!