Whenever we travel, we're always on the hunt to find some of the best coffee shops around the world. Perhaps it's just being perpetually jet-lagged, or perhaps it's just the lure of a steamy comforting cup of something that tastes dreamy like chocolate without the calories — I'm hooked.
Where ever I travel, I'm always hunting down the best coffee shops in the cities that I visit, and so I've compiled this list of my favorite coffee shops around the world for you below. Some are elegant and beautiful, others are rustic with a bit of charm, and there's even one that has a bit of a steam punk edge to it that leaves you feeling like you've stepped into some futuristic movie. One thing they all have in common, though, is quality coffee and a memorable experience.
A few coffee shops I have here are listed in some "Top 10 In The World" lists by major publications, but most are undiscovered little gems. You'll notice I didn't label this with a click-baity type title like *10 Best coffee shops* because, quite frankly, I'm sure there's still a ton more I need to experience. So, if you've got a coffee shop suggestion you think I need to add to my bucket list, please share it in the comments below!  And if you find yourself in one of these cities around the world, make some time to relax and enjoy a cuppa joe.
Best Coffee Shops Around The World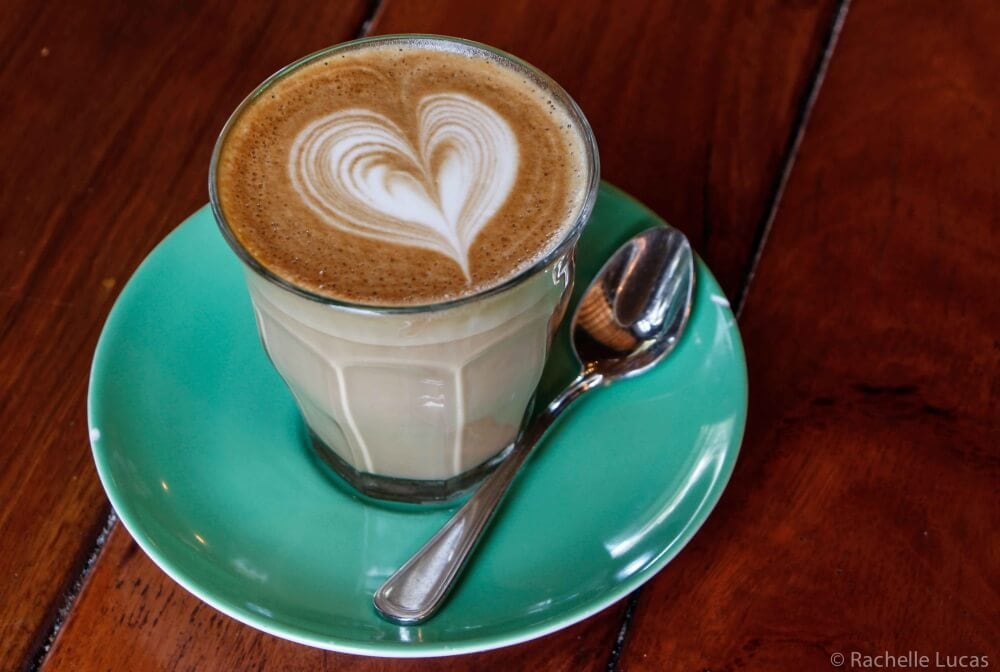 WHERE:  Sydney, Australia
WHO:  The Grounds Of Alexandria
WHY:  The Grounds of Alexandria is a bit of an oasis in a big city. Tucked away in an industrial district is a bountiful garden and rustic building, it's the kind of place you'd want to linger in all day with a good book. More than just coffee, their menu includes wonderfully colorful salads and other delicious farm-to-table gems created with locally sourced produce. There's a hen house within the garden and the chickens with their funny names are sort of local celebrities. Fresh eggs, and amazing menu, in-house bakery and patisserie, juice bar, everything made-from-scratch — pretty much a foodie heaven. They even have a car-pool and bike program to help get you there. I just took a cab.
MUST TRY:  A perfectly made cappuccino, or the Coffee Tasting Board For Two to sample a selection of their coffee.
Photos of Grounds of Alexandria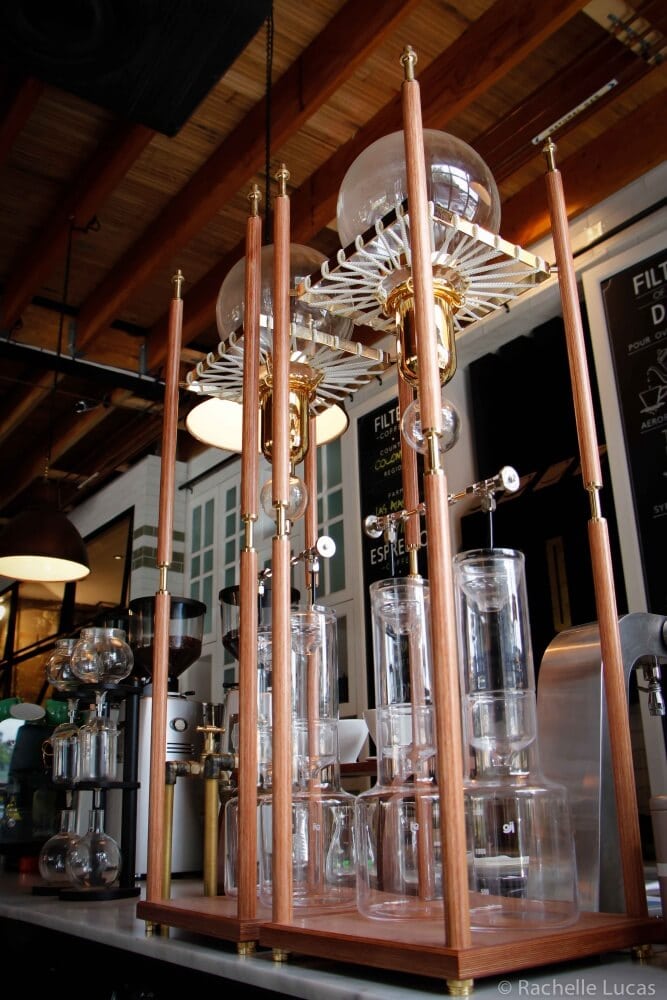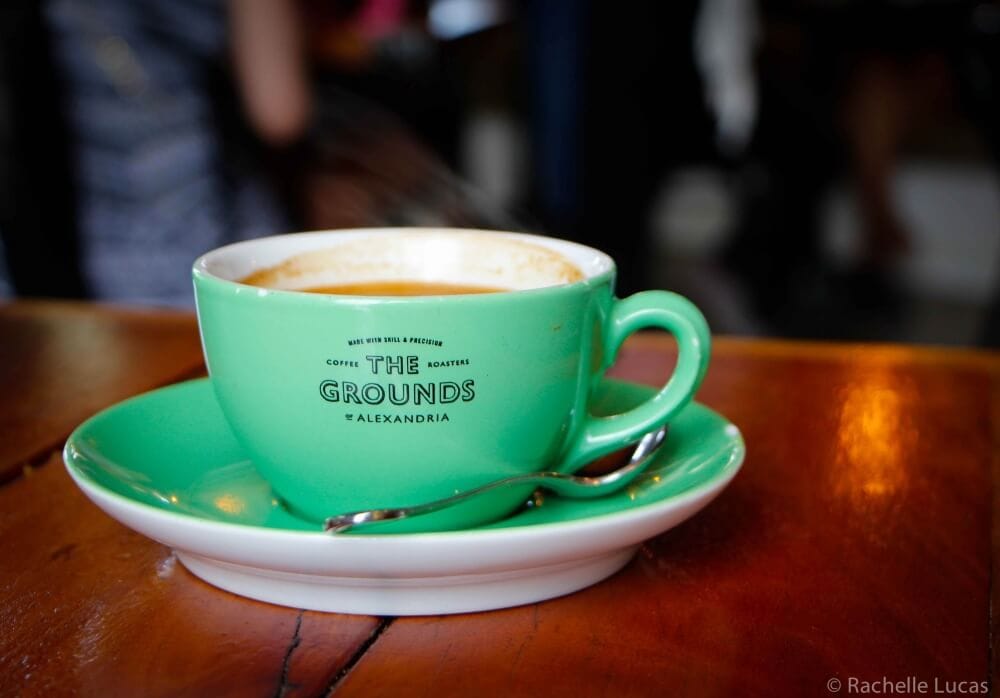 WHERE:   Cape Town, South Africa
WHO:  Truth Coffee
WHY:  When I first visited truth and ordered a plain black coffee, the barista's reply was, "Just the way we like it too. We offer cream and sugar, but you won't need it." Truth Coffee appreciates perfectly roasted coffee that doesn't taste burnt.  And their coffee culture spills over into the ambiance of their Cape Town shop. Located in a multi-story Victorian warehouse, you kind of get the feeling that you've stepped into the coffee version of Willy Wonka's chocolate factory. They were instantly on my list of coffee shops around the world! There's a big medal steam punk style machine (fully functioning, by the way), stacks of burlap bags filled with coffee beans,  and friendly faces eager to share their story and passion for coffee.  The decor is representative of their innovation as South Africa is definitely ahead of the game when it comes to coffee trends. They were making a Flat White years before it became popular in the US.  And now they're doing shots of espresso with a splash of orange juice and "red" cappuccinos with rooibos tea.  But while they offer all these creative coffee drinks,  I'm going to encourage you to try their coffee black, pure and simple.  Only then will you appreciate the flavor and the artistry of their roasting techniques.
MUST TRY:  Their Resurrection blend, straight up with no cream or sugar.
Photos of Truth Coffee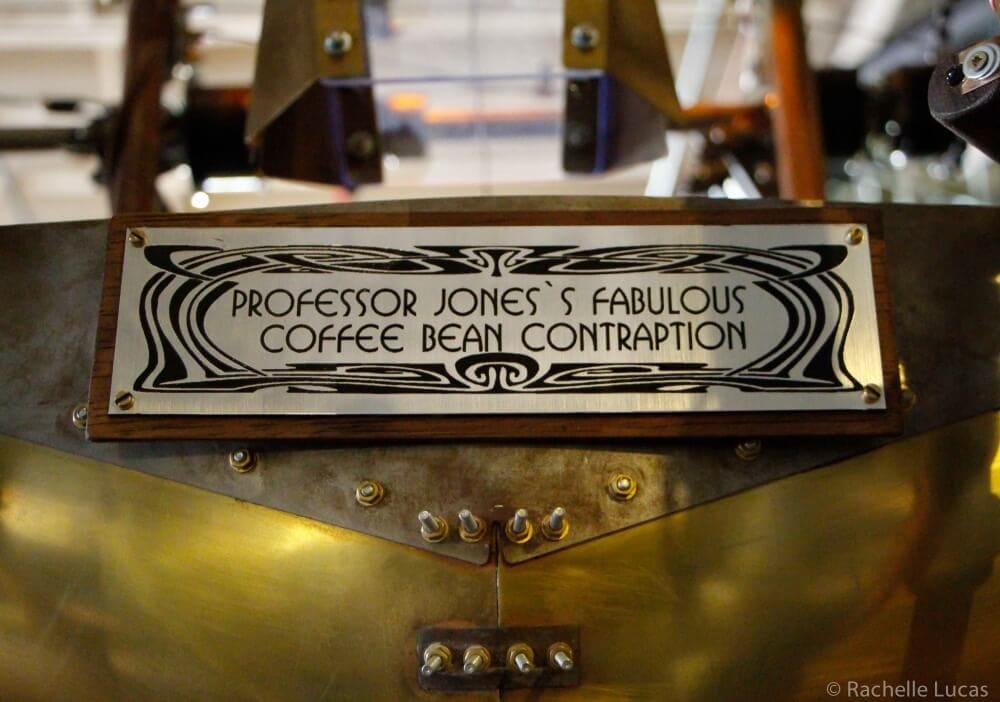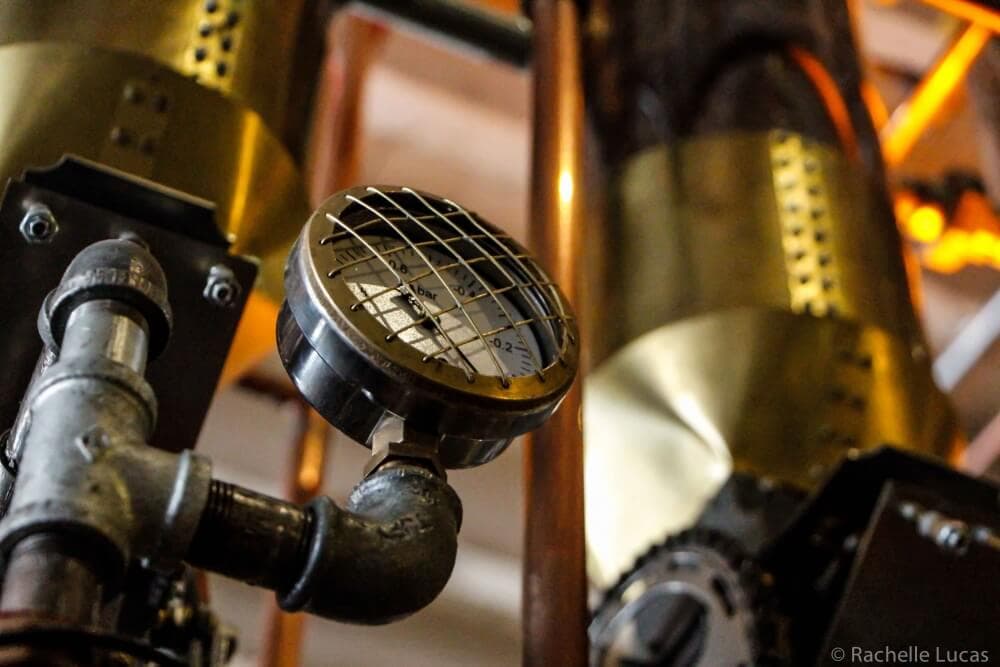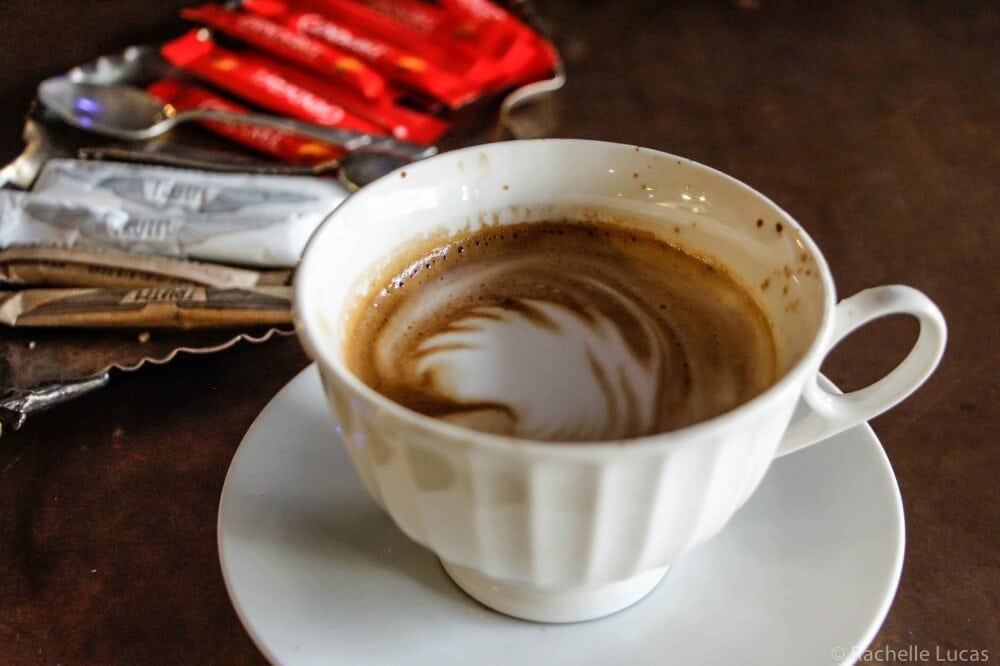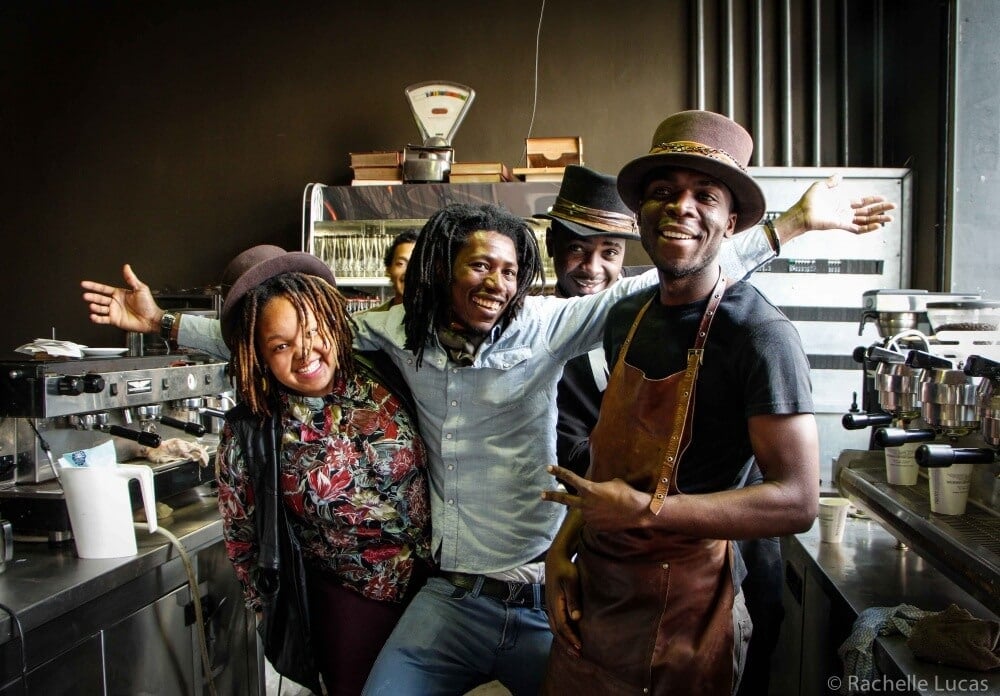 WHERE: Budapest, Hungary
WHO:  Gerbeaud
WHY:  Founded in the mid 1800s by a family known for their famous confectionaries, sipping a coffee in this elegant cafe and glancing around at the opulent chandeliers and warm wood fixtures will give you a sense of what it was like what it was like when it was first opened.  Their chocolate and cakes are legendary and the coffee is just as good.  It's the place to see and be seen while visiting Budapest and it's also a great place to pick up gifts to take home.
MUST TRY:  A cappuccino and one of their original cognac cherry bonbons.
Photos from Gerbeaud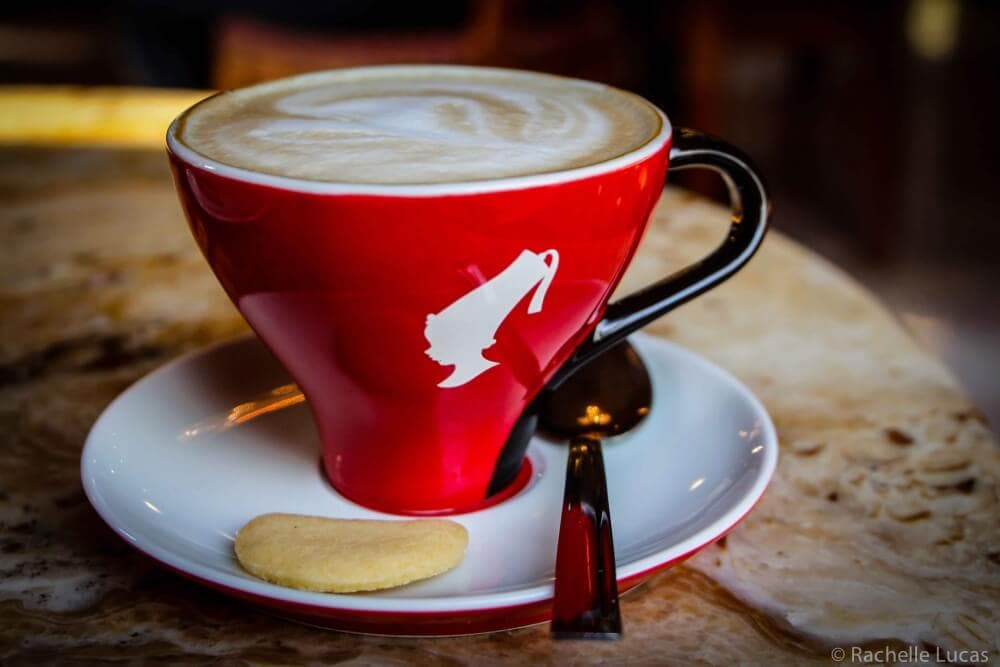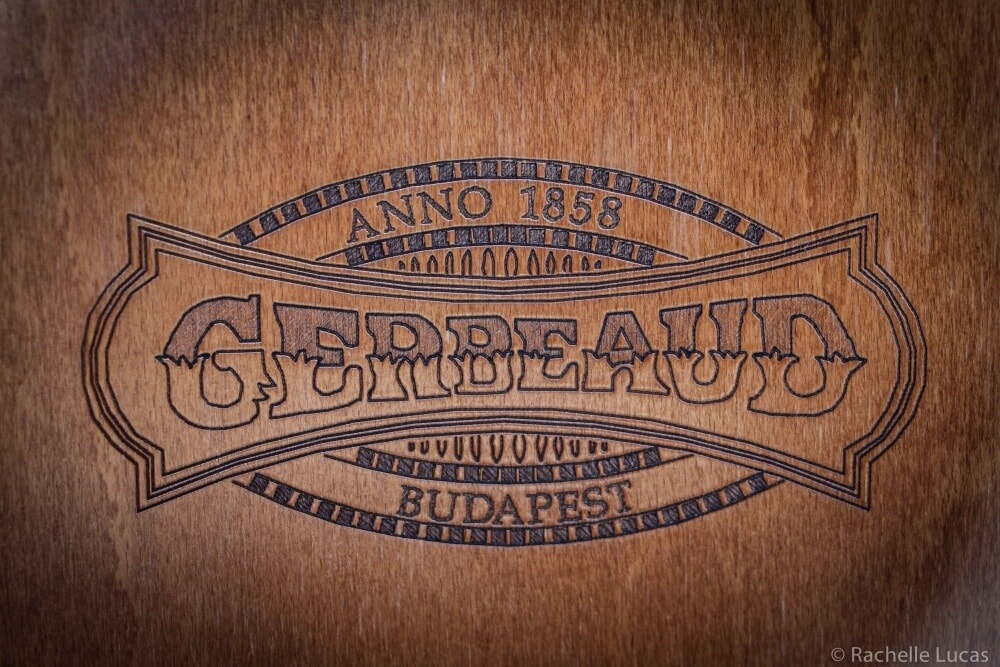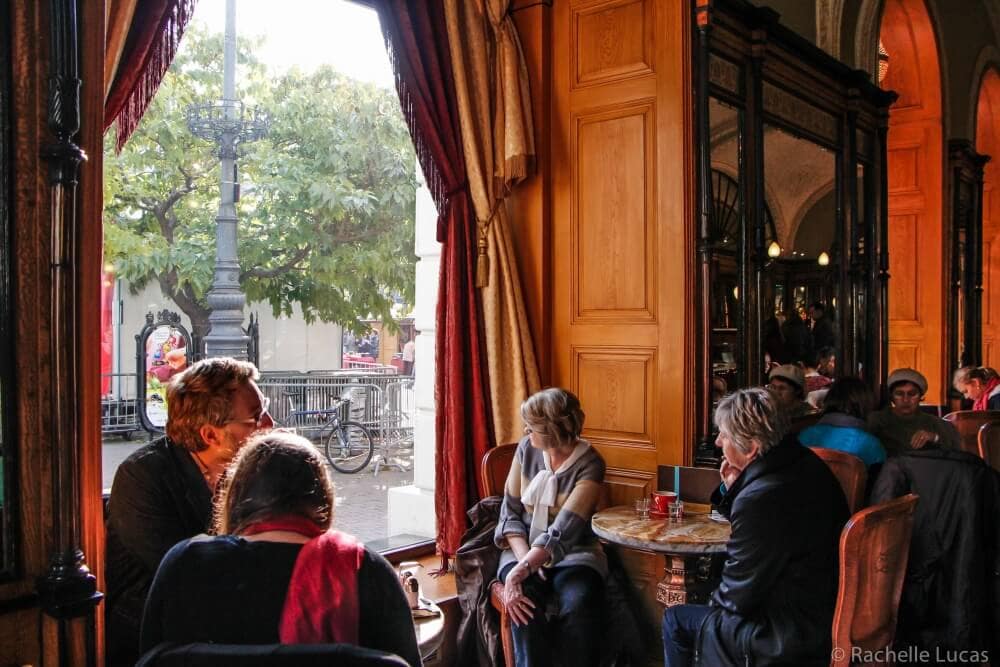 WHERE:  Zagreb, Croatia
WHO:  Eli's Cafe
WHY:  Award winning coffee roasted by a barista champion, this is by far one of the best coffee bars in Europe. The menu is simple, but just like their coffee cups say, you don't need a logo, just good taste.  And taste you must!  If you're in Zagreb it's worth several visits so that you can try several of their handcrafted coffees, from a classic espresso to a chemex pour.
MUST TRY: A marocchino.  Because there's nothing better than fine coffee, other than fine coffee with chocolate.
Photos of Elis Caffe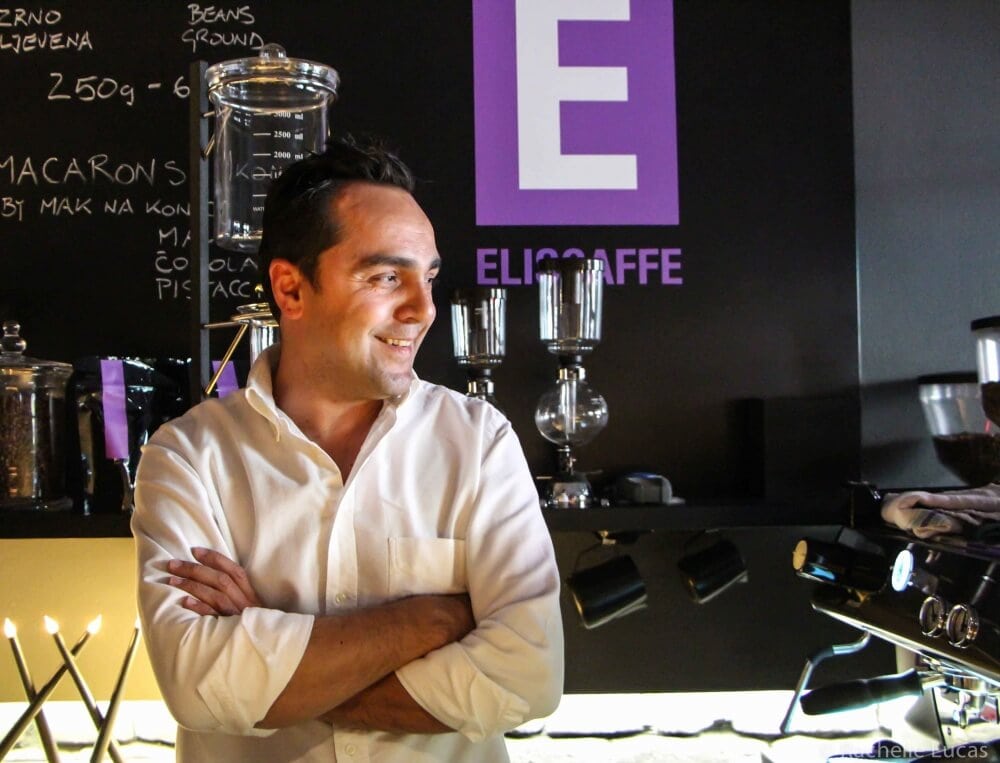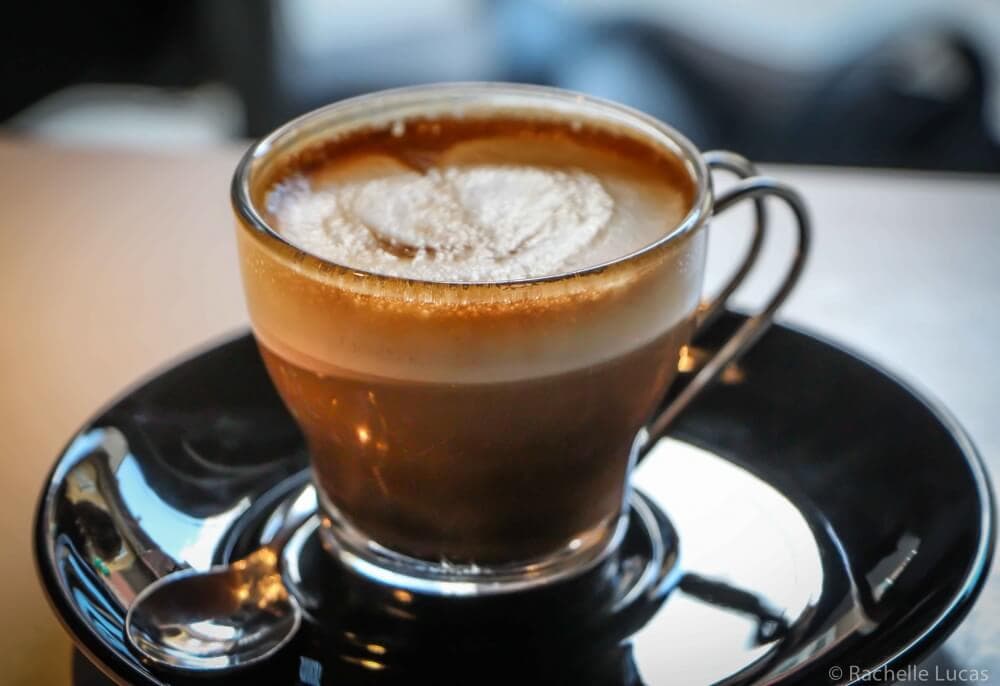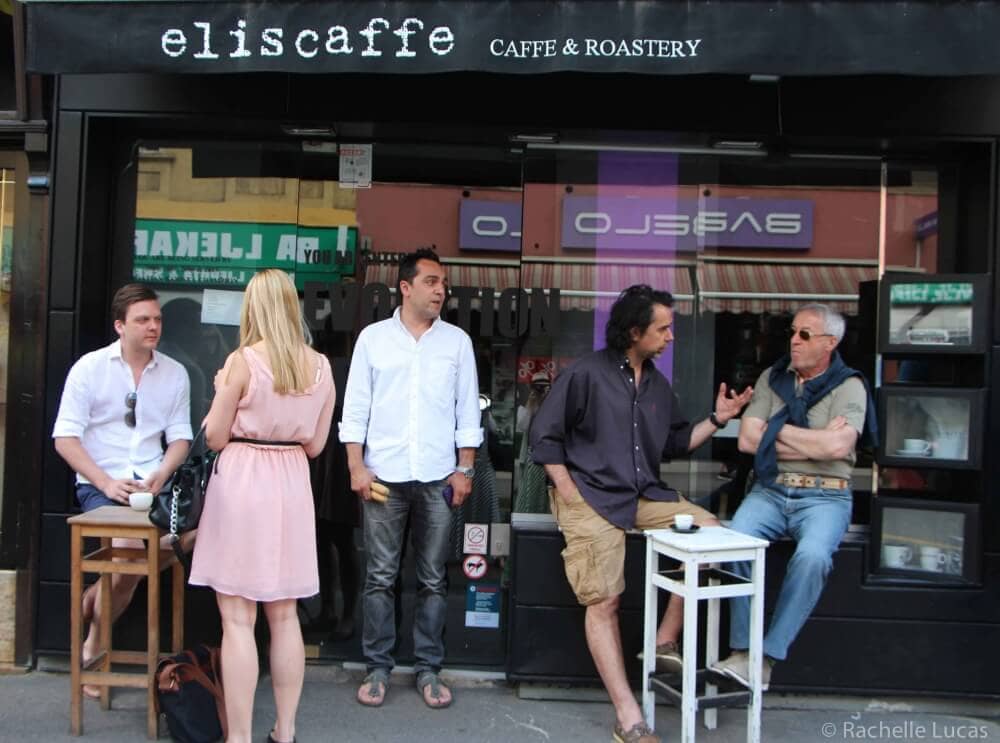 WHERE:  Bologna, Italy
WHO:  Cafe Terzi
WHY:  This elegant gem is off the beaten path, but close enough to the city's famous towers that you must stop by for a hand crafted coffee when visiting Bologna.  With its marble countertops, gold trimmed accents, and delicate china, Cafe Terzi is one of the most elegant cafes that I've visited.  But don't let the decor and barista awards on the wall make you feel intimidated as the baristas are quite friendly and helpful.  As with most cafes in Italy, it is set up more like a bar with standing room only.  However, if you go midmorning after the pre-work caffeine rush and before the lunchtime crowd, you might find an available seat at one of their limited booths tucked away in a small room in the back of the cafe.  Head there first to grab a seat and then take your time perusing through their inch-thick coffee menu including specially roasted beans from around the world and gourmet coffee drinks. Be sure to check out (even print!) our guide to ordering coffee in Italy to help you with the menu. And if you want to try your hand at making something similar at home, we have a recipe for an easy to make Nutella Macchiato.
MUST TRY: Cappucino con Chocolate, Caffè Pistacchio, or Caffè d'Autunno with chestnut creme.
Photos of Cafe Terzi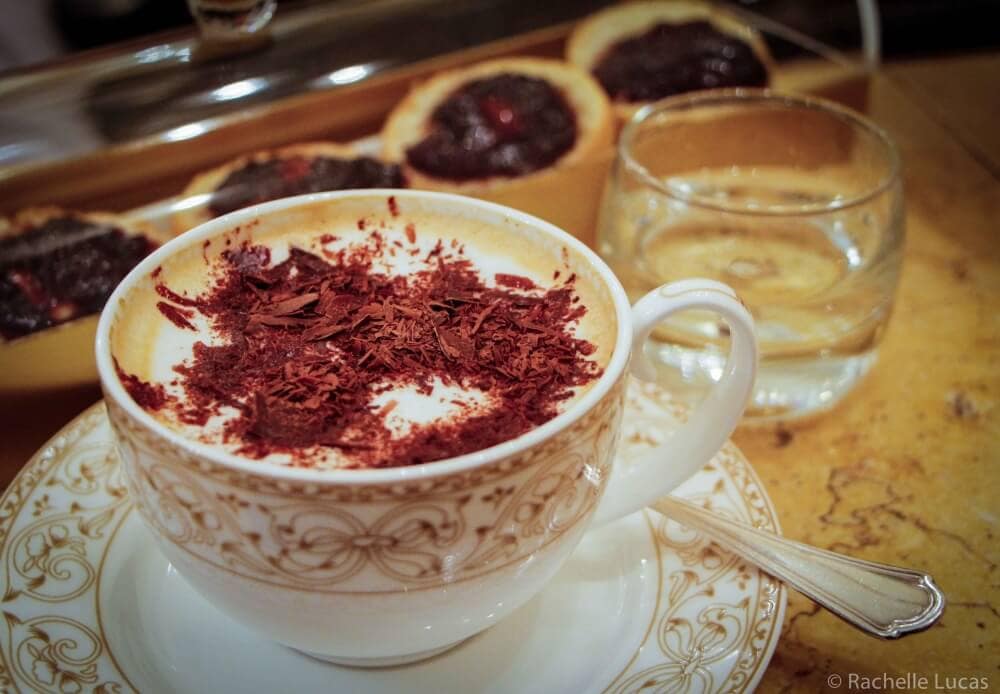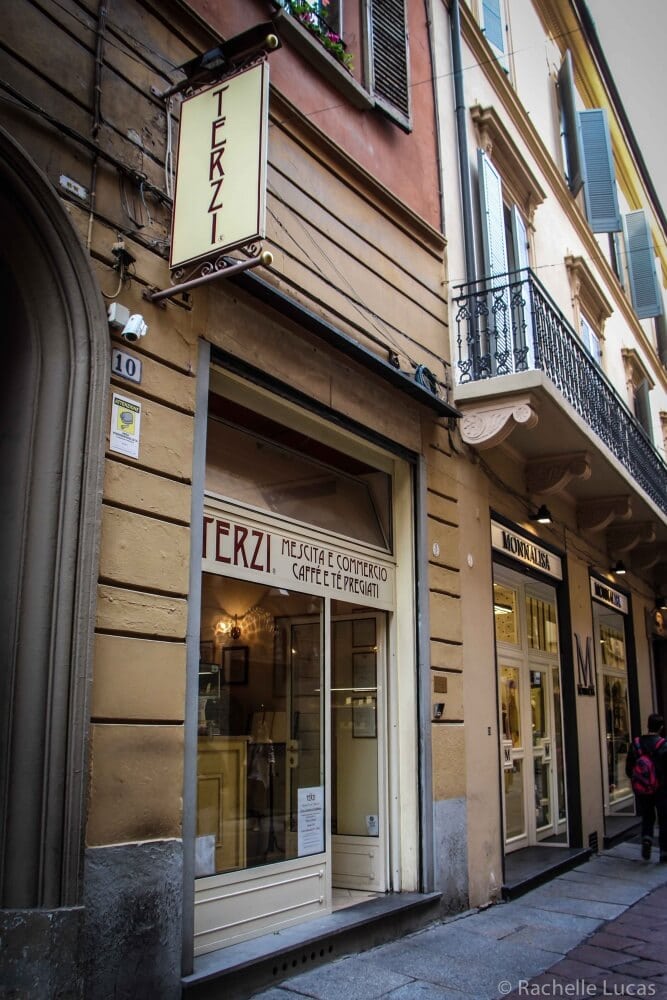 WHERE:  Portland, Maine
WHO:  Coffee By Design
WHY:  Portland is full of enticing independently owned coffee shops, but what I loved about Coffee By Design is that you can watch their micro roasting coffee production at their Diamond Street location.  It's just on the edge of town in a trendy industrial neighborhood that also has a brewer and distillery, so it's worth the long walk or drive.  They also have coffee cuppings (tastings) and workshops to teach visitors about the history and production of coffee.  Plus, their signage is really fun.  (Check out the restroom signs below).
MUST TRY:  Cold brews on tap.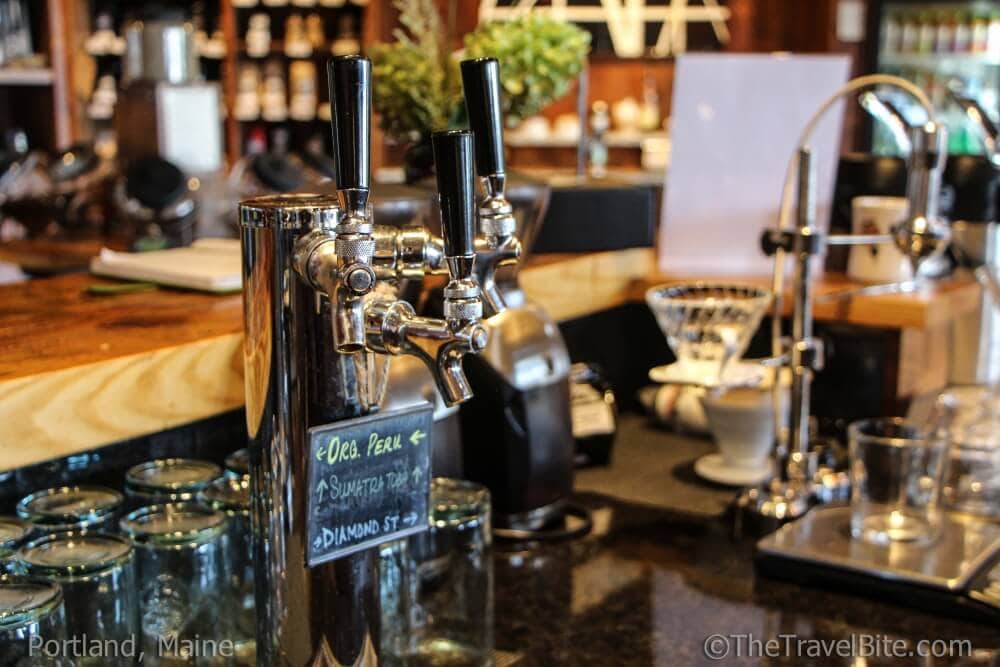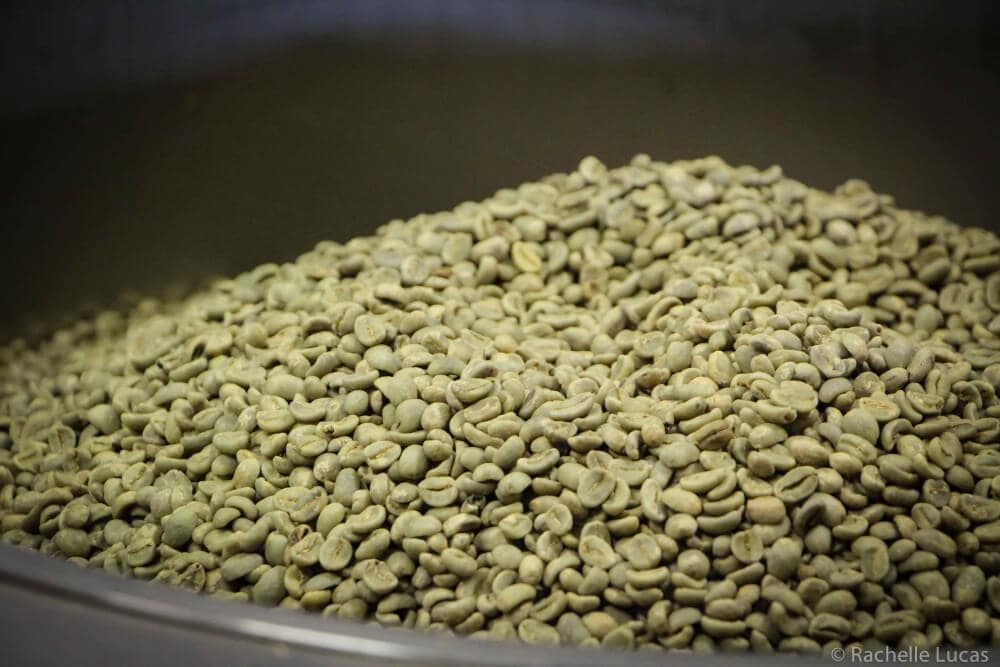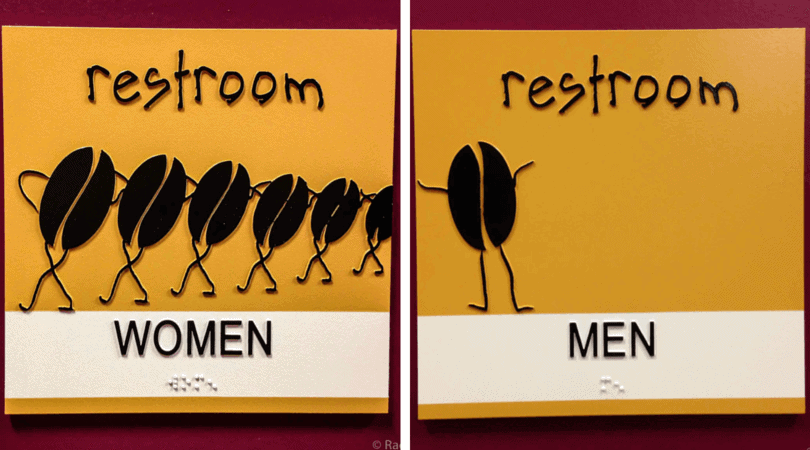 WHERE:  Porto, Portugal
WHO:  The Majestic
WHY:  In the 1920's, this cafe was the place to see and be seen, while spying on socialites by viewing their reflection in the gilded mirrors covering the walls.  It still has a lively vibe, and The Majestic definitely lives up to it's name with its marble facade and Art Nouveau style room.  Located on Rue Santa Catarina, a beautiful white and black cobblestone street filled with shops, The Majestic is a great place to stop for a coffee and a rest while taking in the scenery of one of the most beautiful cafes in the world.
MUST TRY:  An espresso and Portuguese egg custard tart
Photos of The Majestic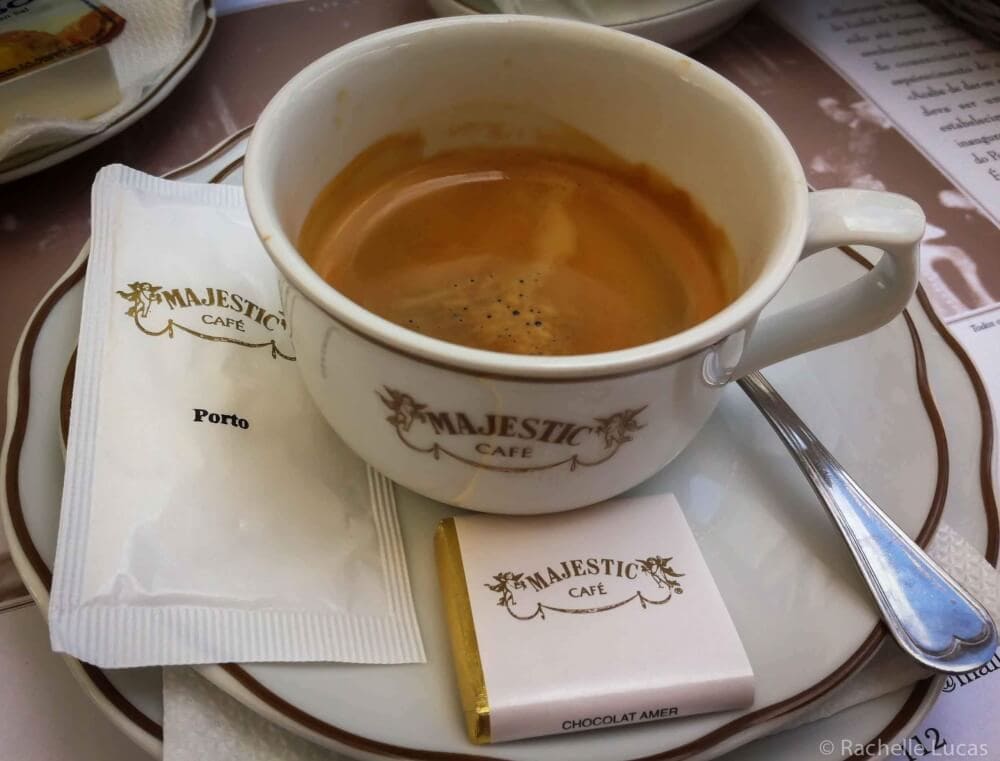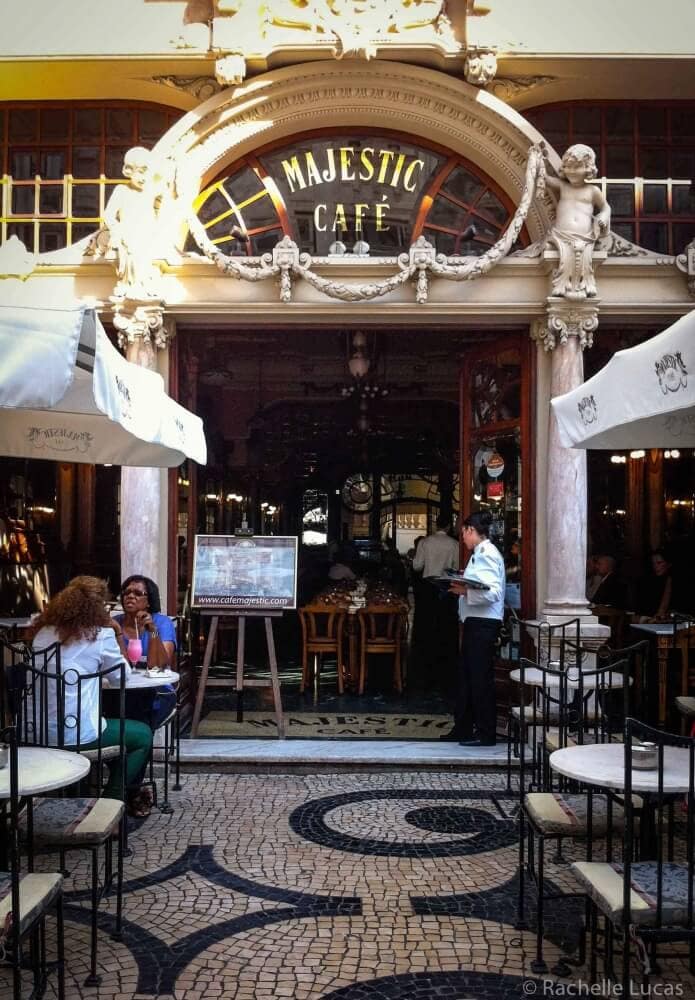 WHERE:  San Juan, Puerto Rico
WHO:  Cuatro Sombras
WHY:  Does it get any better than sipping a single origin coffee in the place where it's grown?  Located in Old San Juan, Cuatro Sombras serves single origin coffee from Yauco, Puerto Rico.  It's hand picked, sun dried, and then roasted right in the store.  When you walk into the cafe, the scent of freshly roasted coffee is as inviting as the relaxed atmosphere.  You could sit here all day with a book and sip their smooth blend, but they also offer coffee cupping workshops and tasting tours if you'd like to learn more.
MUST TRY:  Guava Sticks and an Espresso
Photos from Cuatro Sombras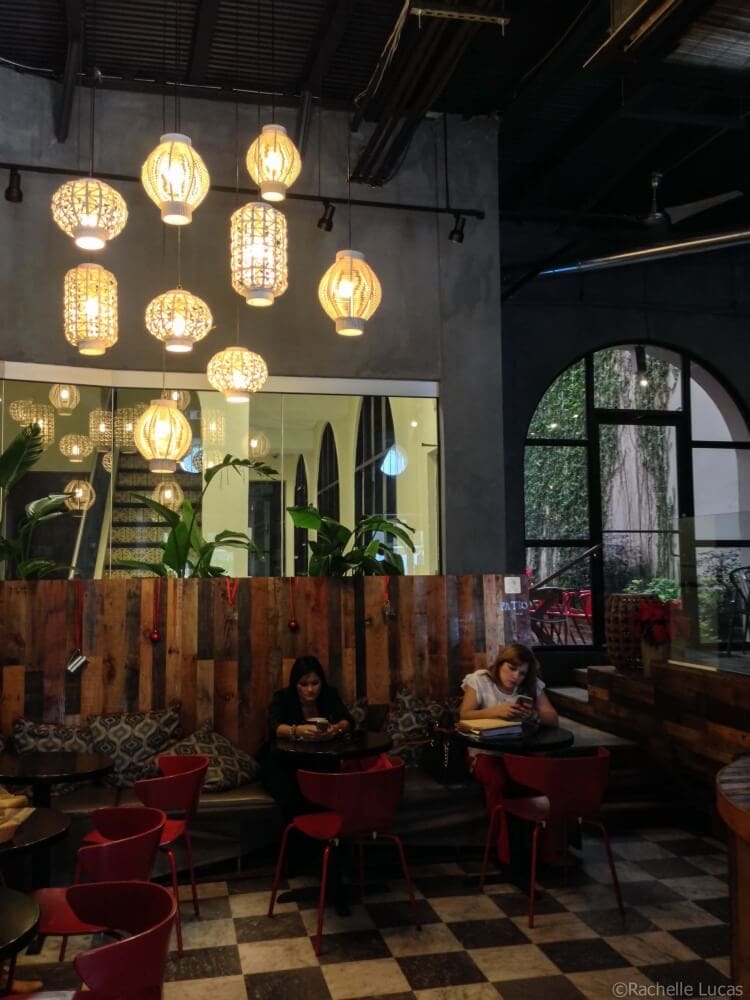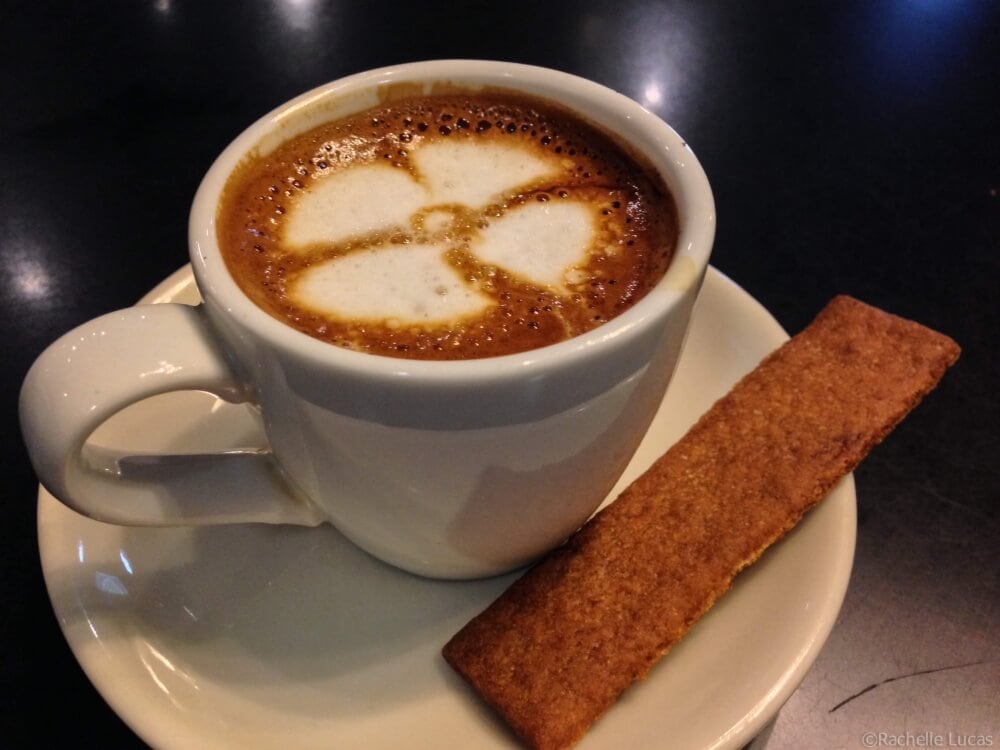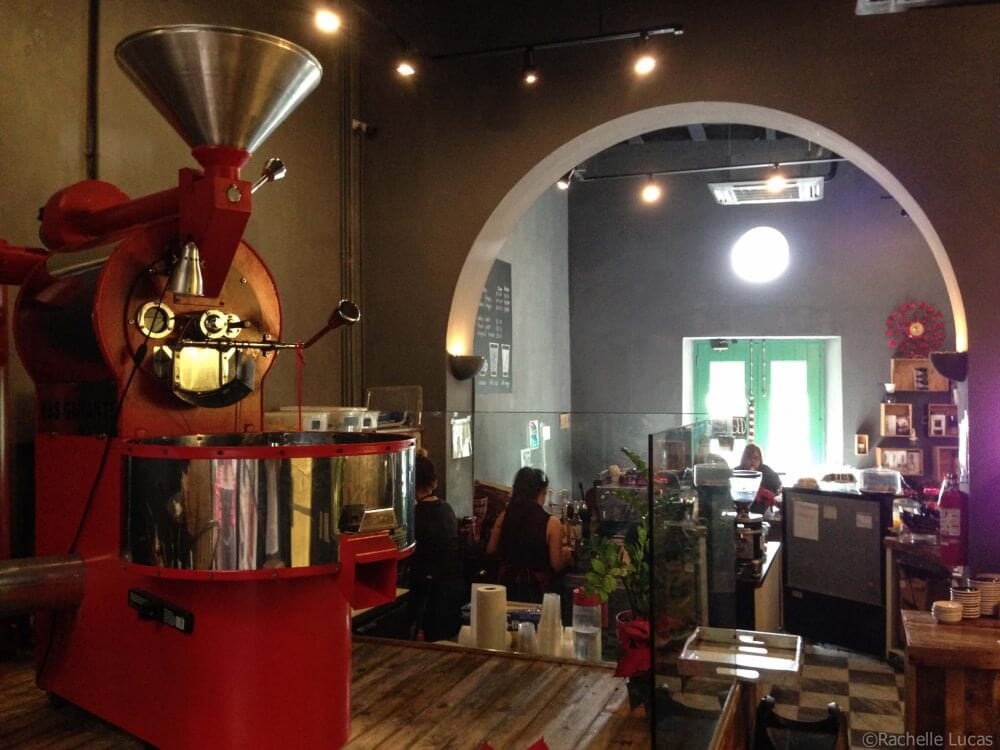 WHERE: Orlando, Florida
WHO: Barnie's CoffeeKitchen
WHY:  This is my hometown coffee and the place I love to visit when I'm home.  Their Winter Park cafe location has marble tables shaded by oak trees and green market umbrellas in a beautiful brick courtyard that reminds me of cafe culture in Europe.  It's where I go when I need some inspiration and is an unexpected find for visitors to Orlando.  I grew up drinking Barnie's Coffee and have had the benefit of watching them evolve to now offering a delightfully international inspired menu to pair with their coffees.
MUST TRY: Turkish Latte or Santa's White Christmas 
A Turkish Latte At Barnie's Coffee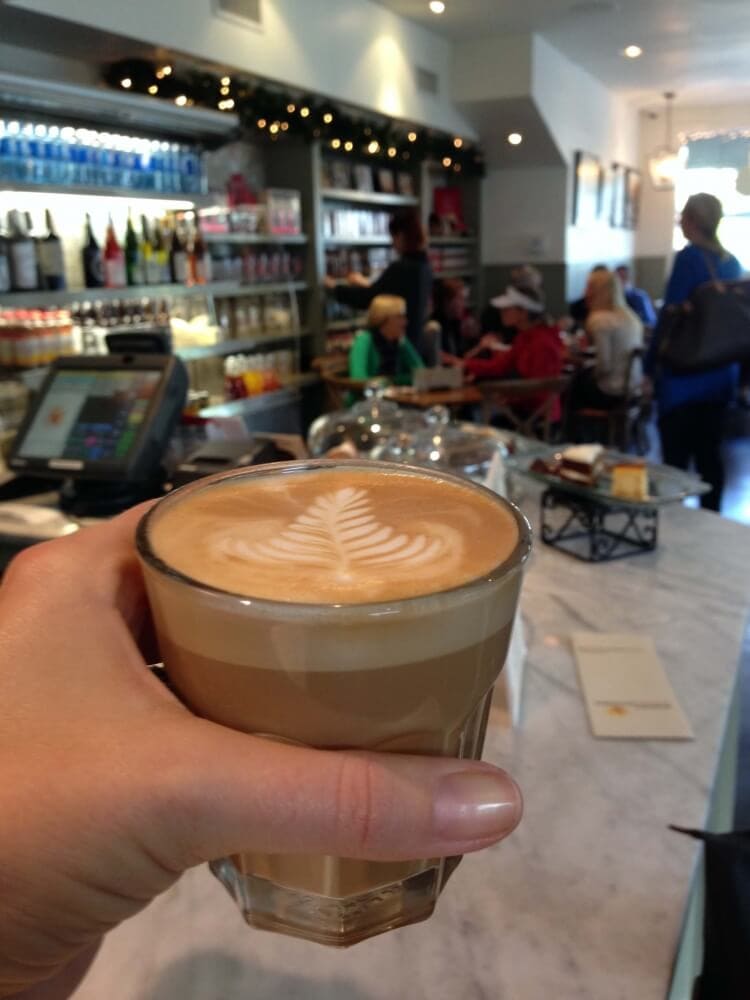 WHERE:  Nova Scotia
WHO:  Just Us Coffee Roasters, Grand Pre Location
WHY:  During a road trip through Nova Scotia, my husband and I made a stop just off the highway and discovered this lovely roastery that truly embodies a passion for local sustainability. The milk was from a local farm. The seasonal flavored syrups were all handmade in house using organic ingredients.  They even had solar paneling outside and a mini museum of coffee to help educate on farming and fair trade practices. The pumpkin spice latte was the best I've ever tasted, proving that the right ingredients do make a difference.
MUST TRY: One of their seasonal lattes, like the pumpkin spice latte.  They make all of their syrups from scratch.
Photos of Just Us Coffee Roasters