I must confess,  I love jewelry. While walking past window displays and open markets, I'm like a magpie attracted to anything colorful, glittery, or shimmering — I can't help but stop and look. Sure, earrings and bracelets make great souvenirs since they're small and easy to pack. But let's be honest here, I'm just using that as an excuse for a pretty purchase.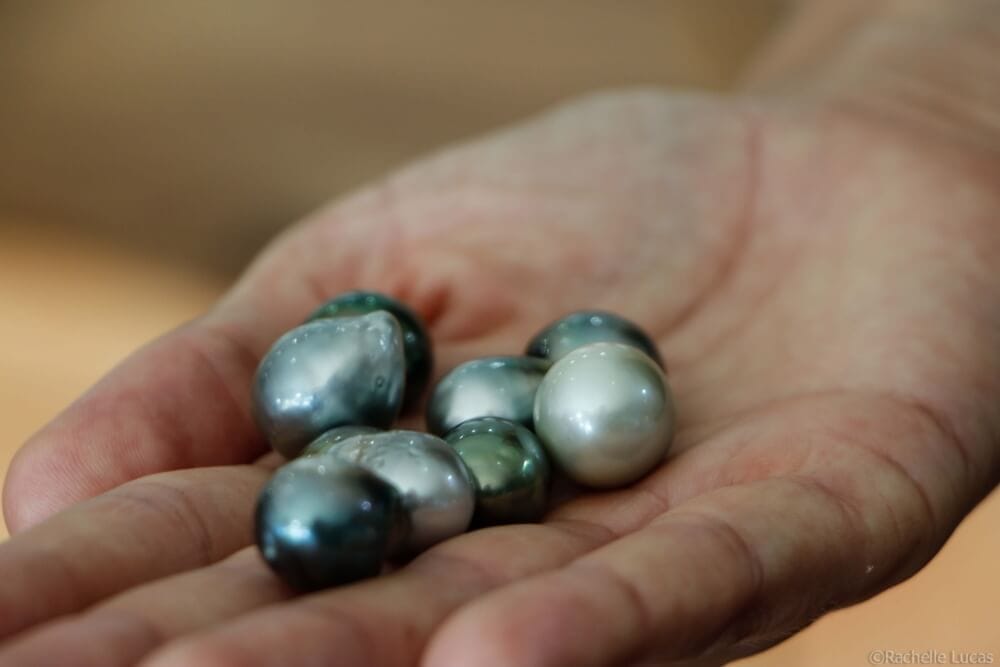 While in Bora Bora on assignment for the Four Seasons Private Jet Experience, the lustre of Bora Bora's black pearls lured me in. It's hard not to find their dark iridescence intriguing. White pearls are certainly a classic, but their greyish silver cousin makes the fresh water pearls seem uptight and conservative by comparison.
Also called Tahitian pearls, black pearls are produced by black-lipped oysters, which thrive in waters surrounding the French Polynesian islands, Including Bora Bora.  Seeking to demystify the Tahitian black pearl, I spent some time with pearl expert Dominique Li-Oi Petra at The Black Pearl Lounge at Four Seasons Resort Bora Bora.  Here's an excerpt from our conversation.
Q:  What makes Tahitian pearls special?
Dominique:  They're known for the wide range of colors that we offer including rare hues such as blue, pink, and green.  They're protected by law for their natural color and are GIA certified and guaranteed to be natural.  Diamonds might have four value factors, but for black pearls, there are seven:  size, shape, color, surface quality, luster, matching, and nacre.
Q:  How do they develop their color?  Are they all considered black pearls?
Dominique:  Yes, they're all black pearls and they develop their natural color from several factors, from the individual oyster to the water temperatures. What's magic about the pearl is that it's all mother nature's decision.
Q: What can guests expect to experience at The Black Pearl Lounge?
Dominique:  What is most important for us is to educate people.  When they start loving the pearl and researching it online, they realize it's not an expense, but an investment. There is a sort of communication of feeling and discovering the pearls that makes it a very sensual gem.  You can get addicted to them!
Disclosure: This trip was part of an exciting work assignment for Four Seasons Magazine where I was invited on the inaugural flight for the Around The World Four Seasons Private Jet Experience.
Want to save this story for later? Pin it! 🙂