If you're a coffee enthusiast looking to explore new horizons in the world of coffee, cardamom coffee is a journey worth taking. It's a delicious blend of tradition, culture, and flavor. With each sip, you'll be transported to lands where coffee isn't just a beverage; it's an experience, a story waiting to be told.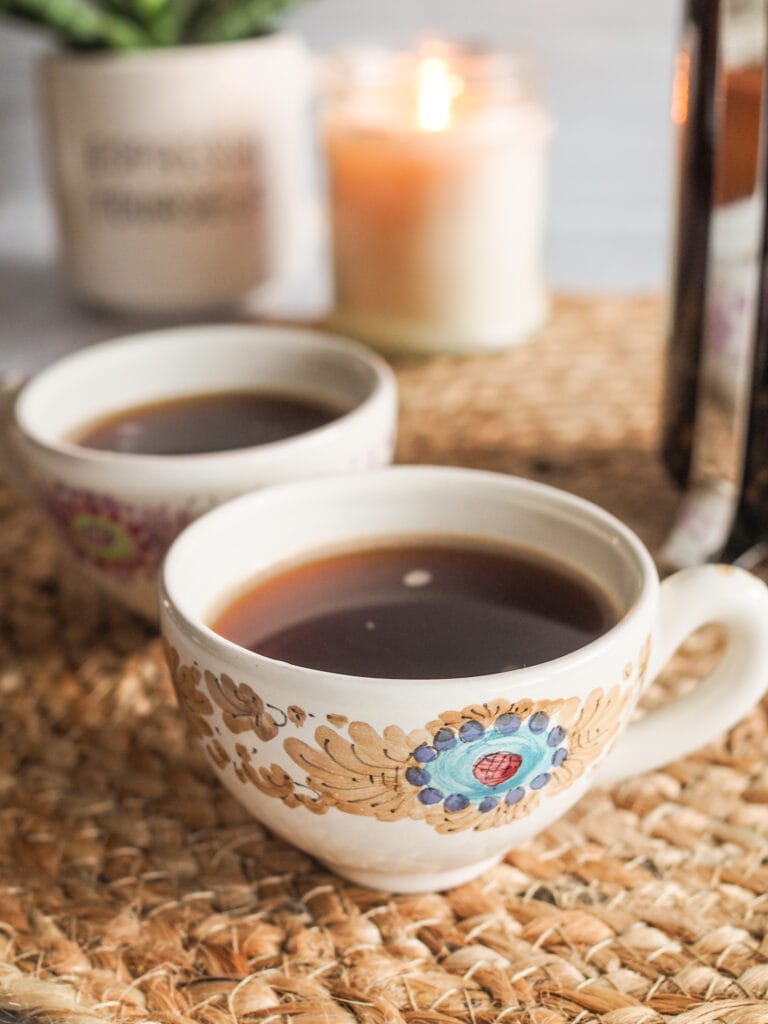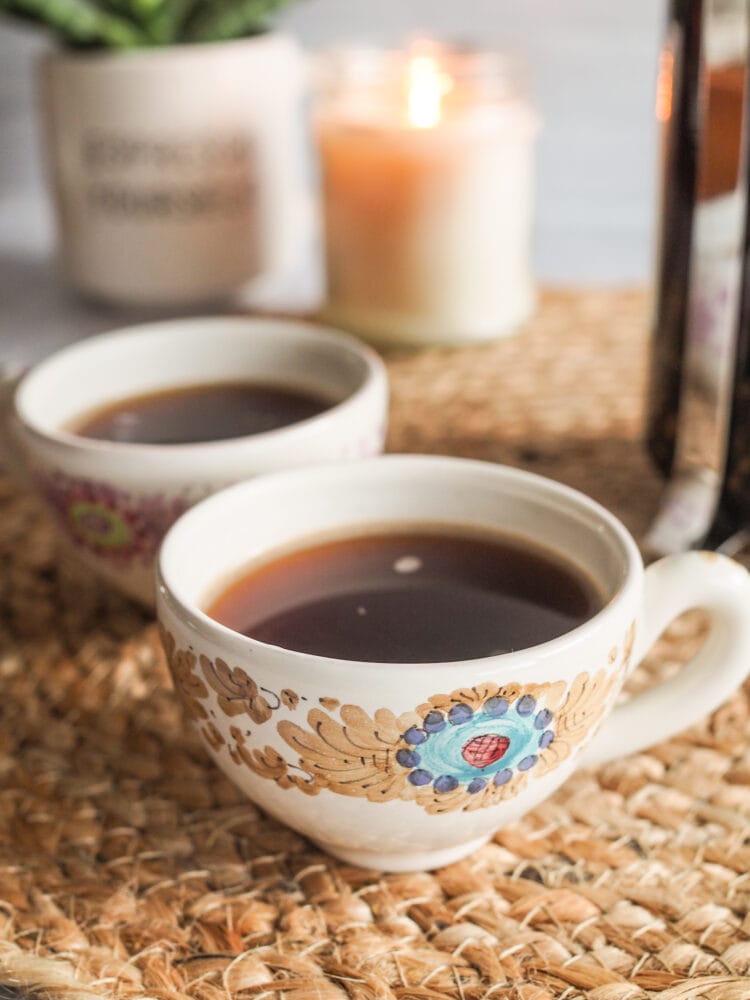 The Origin of Cardamom Coffee
Cardamom coffee has its roots firmly planted in the rich traditions of the Middle East and India. It's a beverage that weaves together the bold flavors of coffee with the warm and slightly spicy notes of cardamom. The marriage of these two distinct elements creates a brew that's both aromatic and flavorful, making it a favorite among those who seek unique and sophisticated coffee experiences.
I tried my first sip of cardamom coffee while visiting Jordan. It seems every shop keeper would hand us a little espresso cup filled with the thick spicy liquid. I couldn't help but pick up a bag of cardamom coffee when visiting the spice market in Amman. It was a blend of both dark and light roast coffee beans with whole cardamom pods.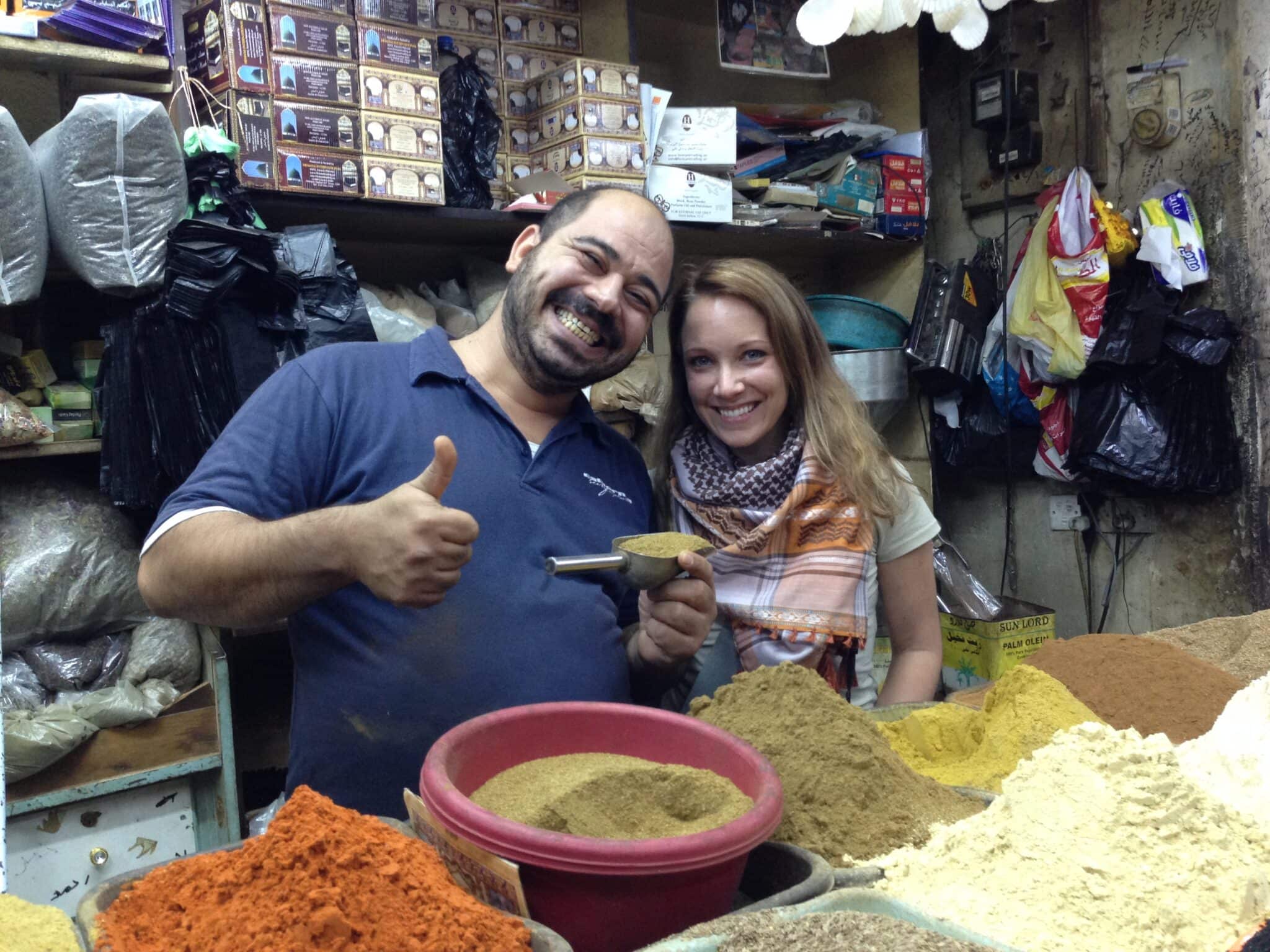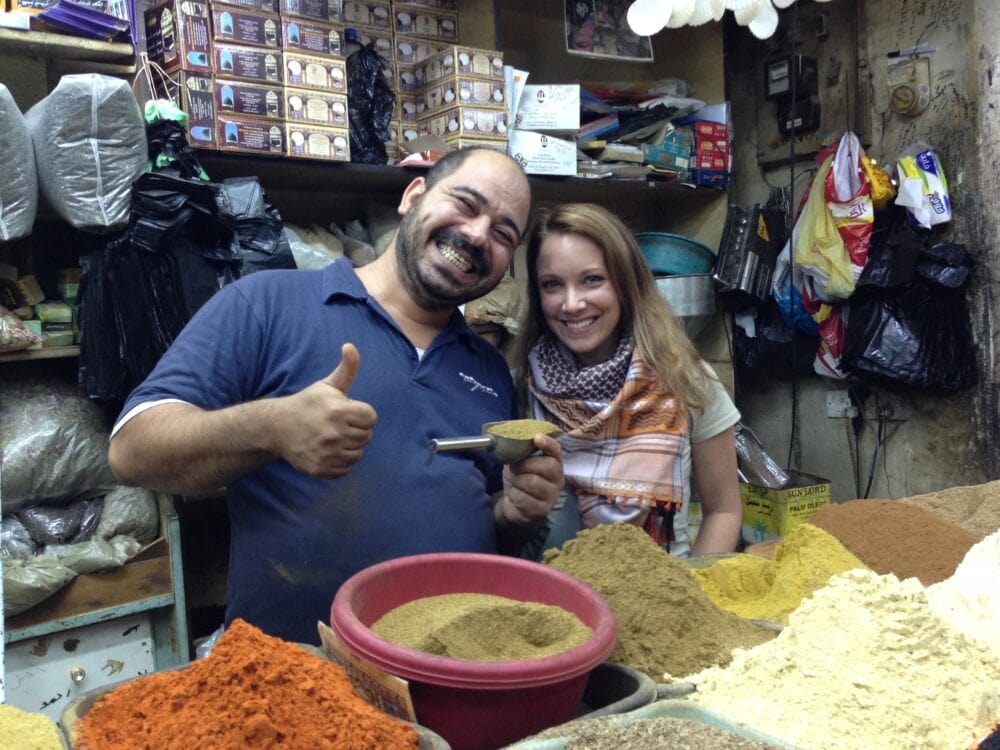 Cultural Significance
Cardamom coffee isn't just about the flavor; it's also deeply rooted in cultural traditions. In many Middle Eastern households, coffee is a cherished ritual. It's a way to bond with family and friends over aromatic cups of coffee, where stories are shared, and time seems to slow down. This tradition is about more than just caffeine; it's about creating a warm and welcoming environment for connection and conversation.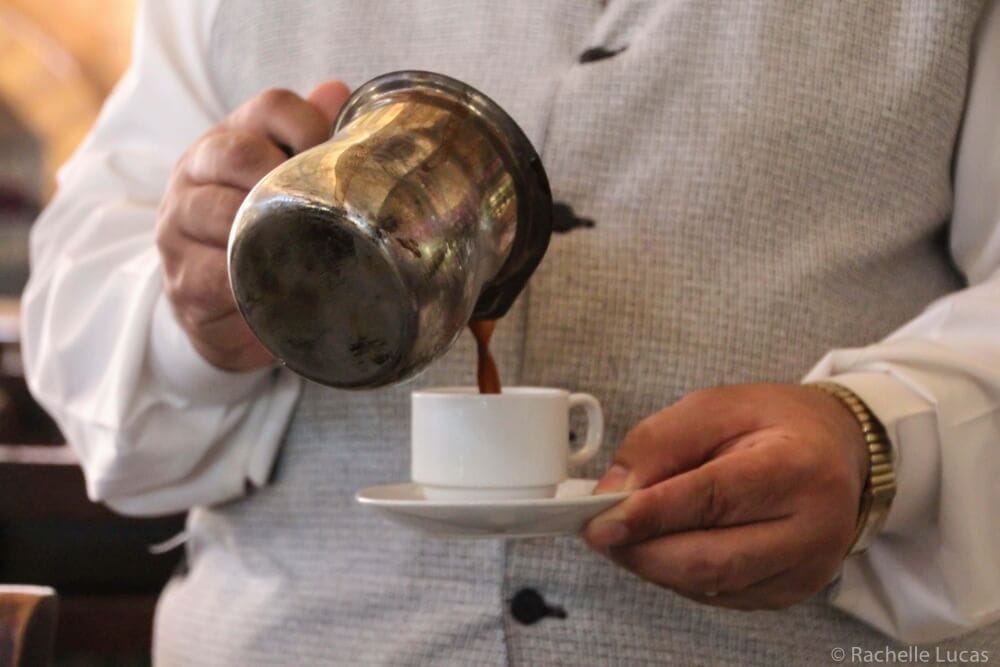 What Is Cardamom Coffee Called?
Coffee with cardamom is commonly referred to as Turkish or Arabic Coffee. But it goes by various names depending on the region and the cultural traditions. Here are some of the names it goes by:
Arabic Coffee: A staple in Arabic coffee culture, it's typically served in a small espresso-sized cup and is thick and strong in flavor.
Turkish Coffee: Cardamom is often added to Turkish coffee, but not always. Turkish coffee is brewed in a cezve using very finely ground coffee beans without filtering, so the texture is thick and the flavor is strong.
Chukku Kappi: Cardamom is primarily grown in India where it is known as the "Queen of Spices." But coffee in India is typically made with dried ginger instead. Sometimes, ground chicory or cinnamon is also added.
Cardamom-Infused Coffee: In some Western coffee shops and cafes, you might find it listed as infused coffee or spiced coffee.
The name can vary, but the experience of sipping coffee with cardamom remains a fragrant and flavorful journey that's appreciated in various cultures around the world.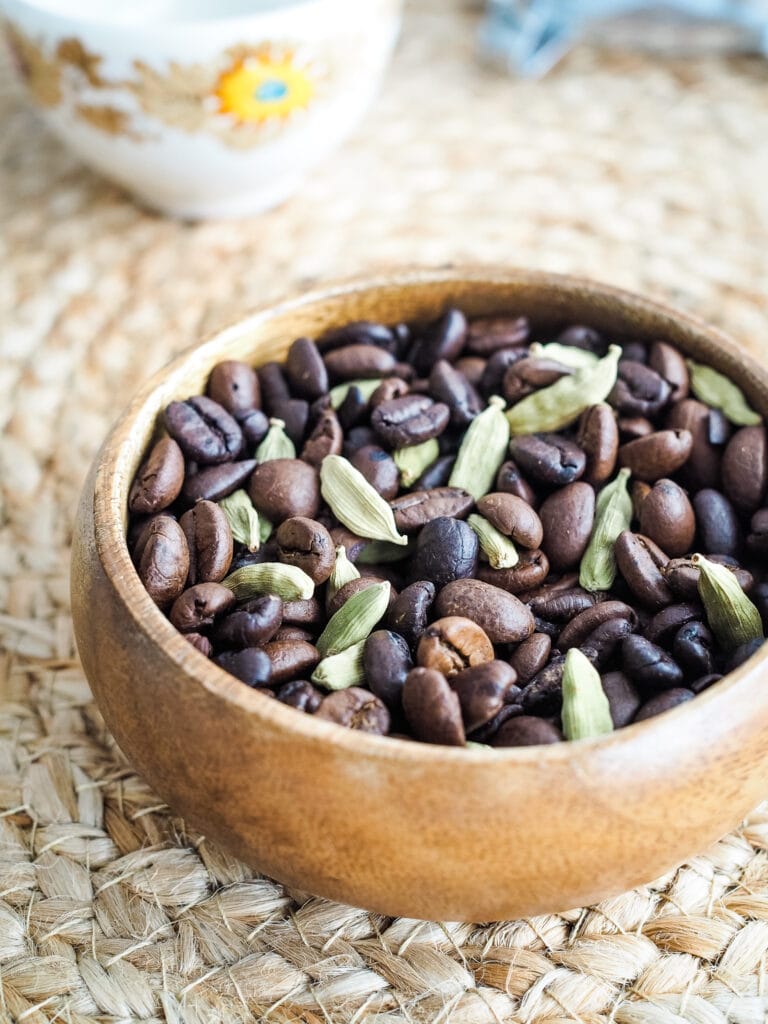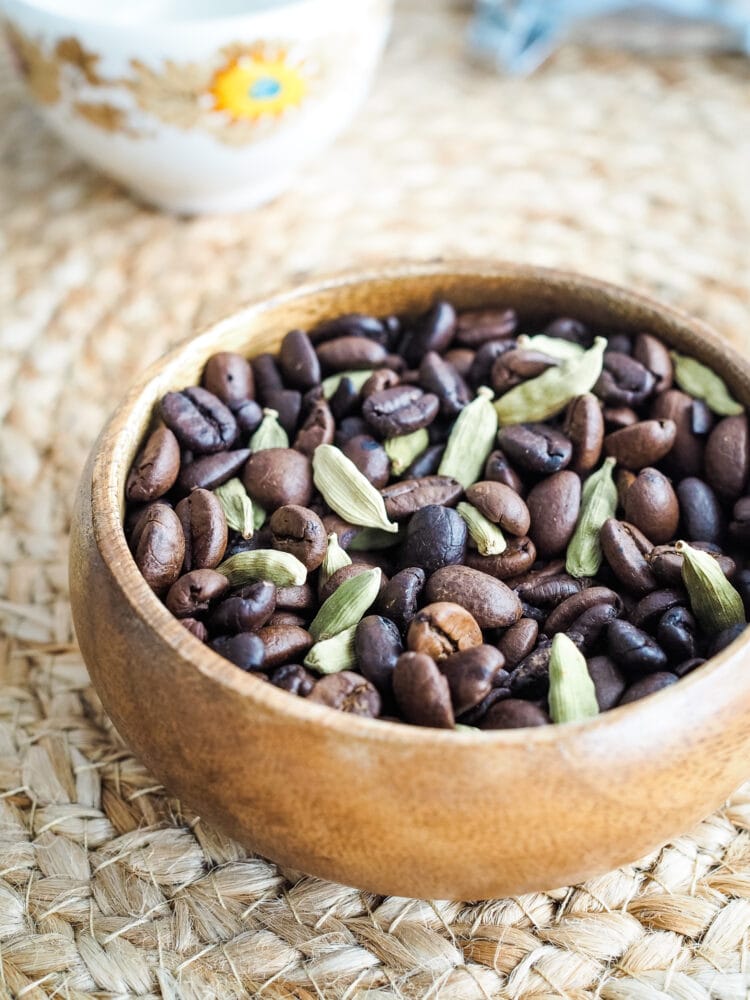 Brewing the Perfect Cup
The process of making cardamom coffee is pretty straigtforward. To begin, crush a few cardamom pods to release their flavor. You can use a mortar and pestle or the back of a spoon, which allows the fragrant oils to escape. I like add a teaspoon of whole cardamom pods to a blend of dark and light roasted coffee beans. Then I grind them both together in a coffee grinder.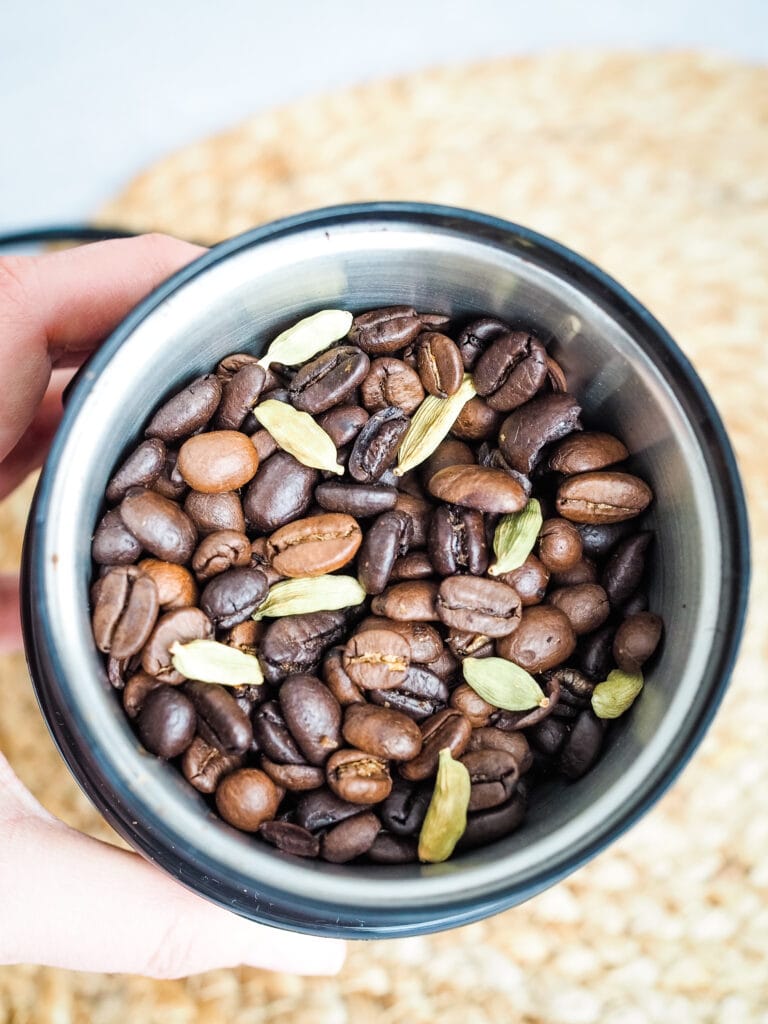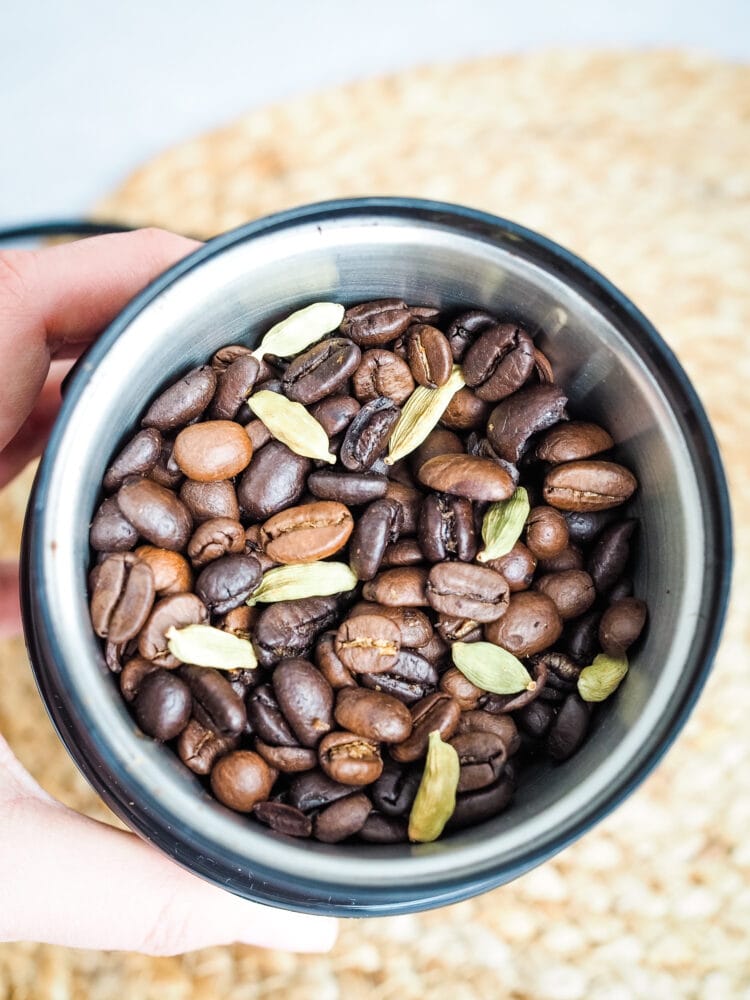 The amount of cardamom to to add is matter of personal preference. But a good starting point is approximately 1/4 to 1/2 teaspoon of crushed cardamom per cup of coffee.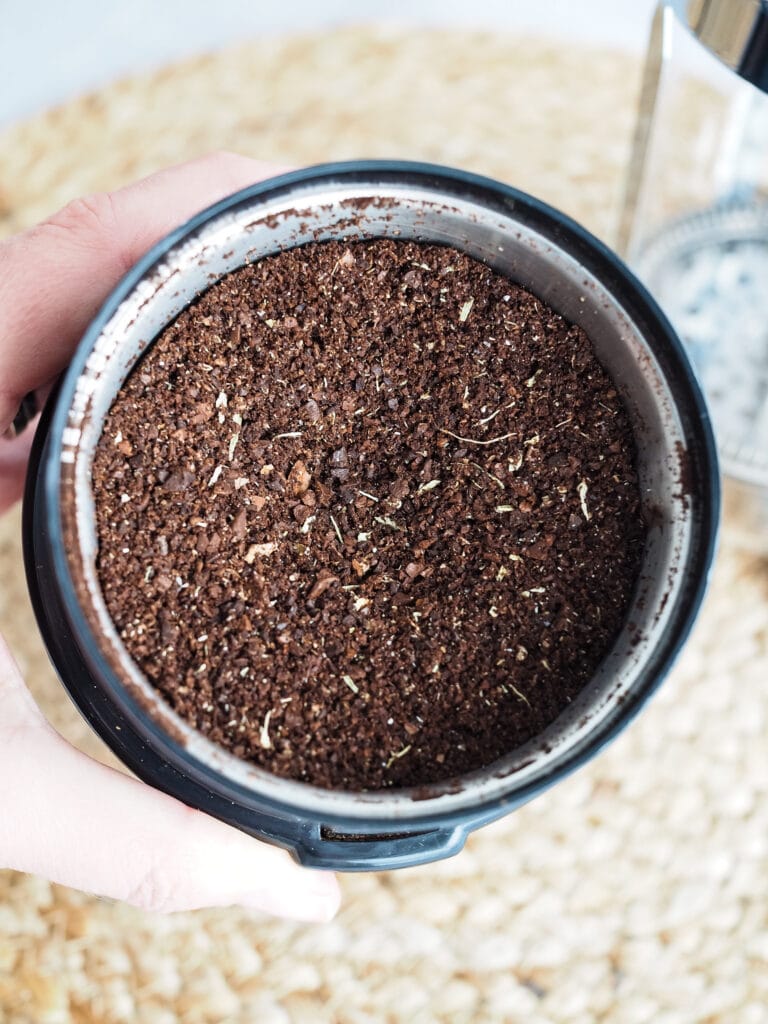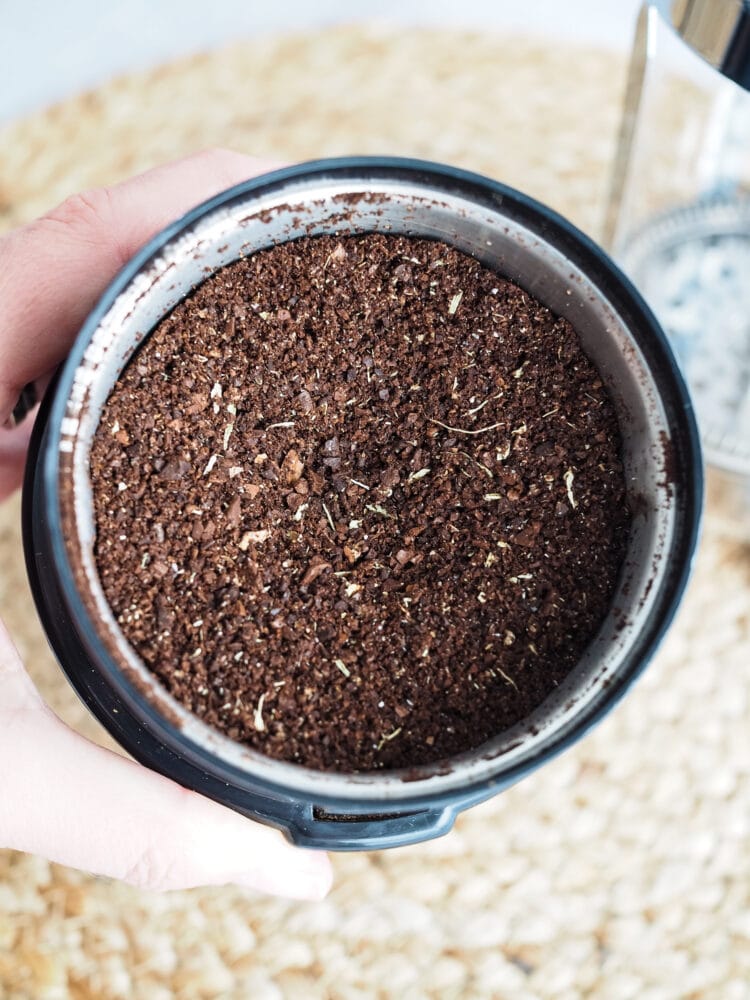 Next, brew your coffee as you typically would, whether it's through a drip coffee maker, a French press, moka pot, or any other method you prefer. The hot water will extract the flavors of both the coffee and the cardamom, resulting in a cup of coffee that's not only delicious but also exquisitely aromatic and layered in its flavor profile.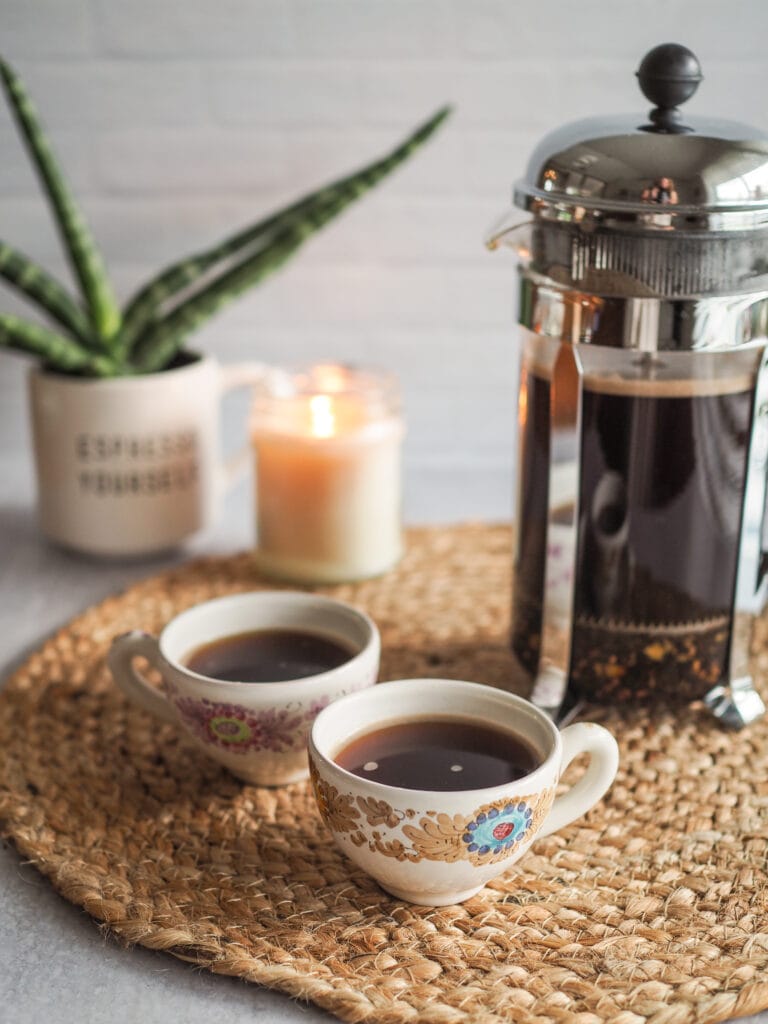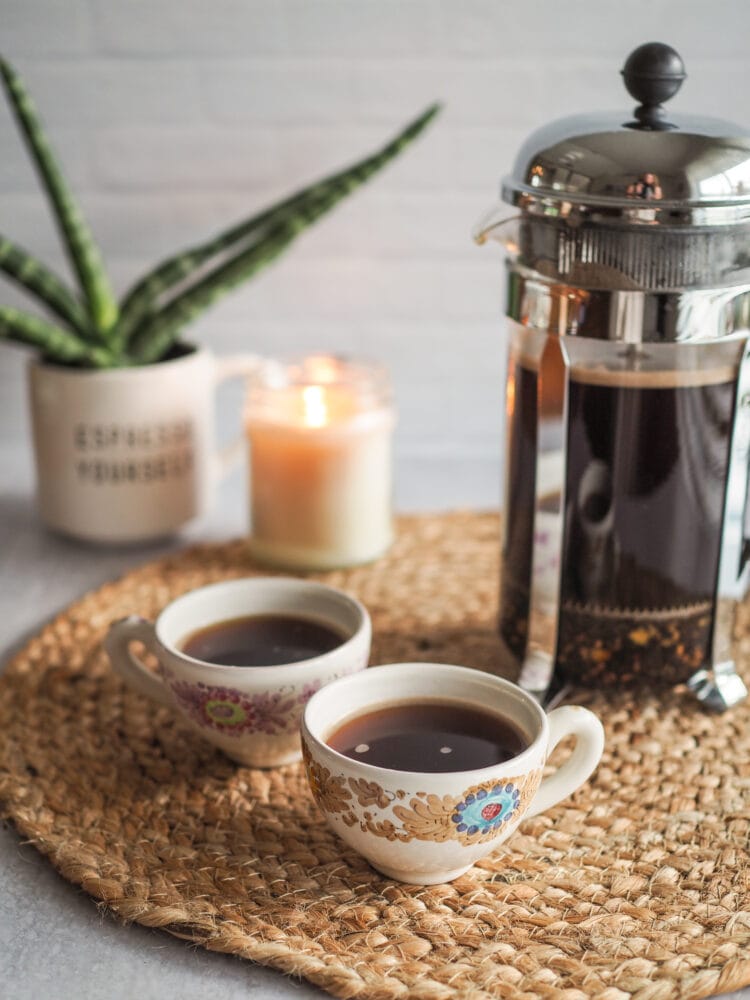 If I have any left over, I store it in a mason jar and drink it iced. It is so good!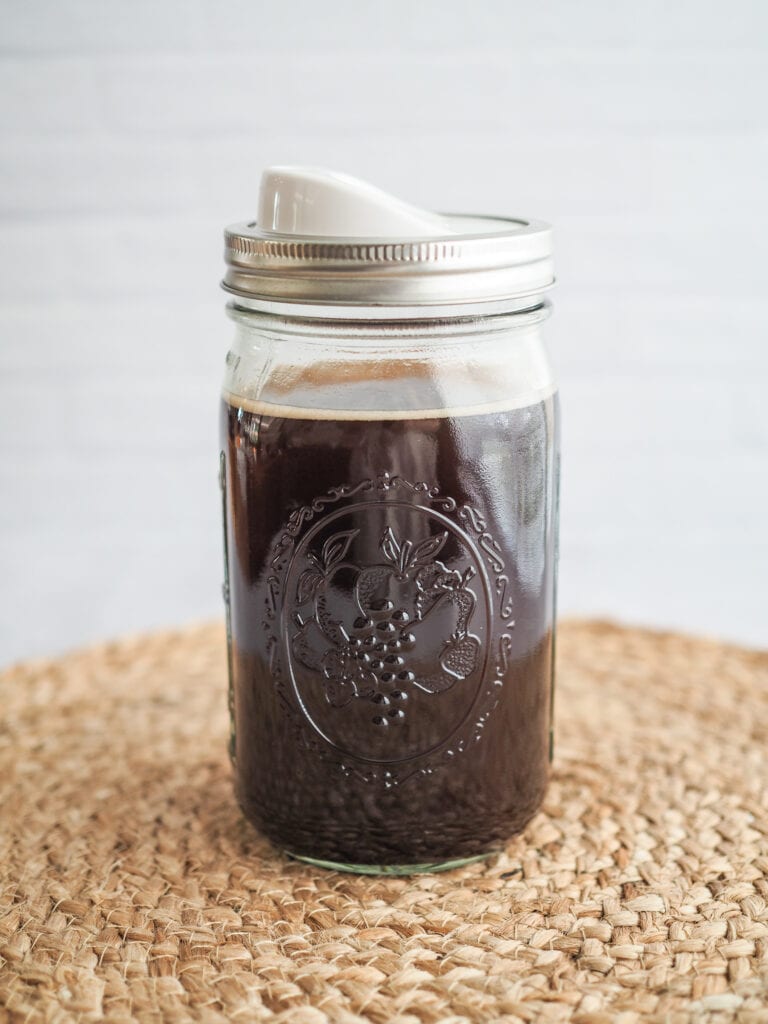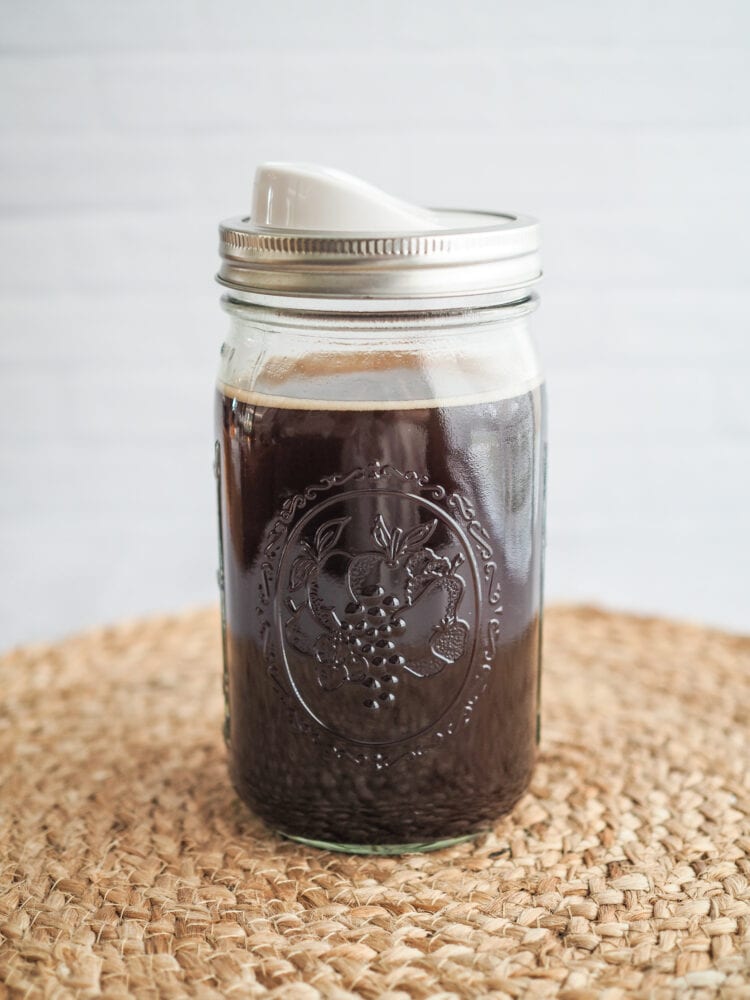 What Does Cardamom With Coffee Taste Like
The flavor of cardamom coffee largely depends on how it is brewed, but overall it has a nice warm spiciness to it. If brewed in a mokapot, it can be really strong, with a velvety thick texture and bitterness that makes you pucker. Personally, I like to brew cardamom coffee in a French press where you still taste the robust flavor of cardamom, but it's a much smoother drink to sip.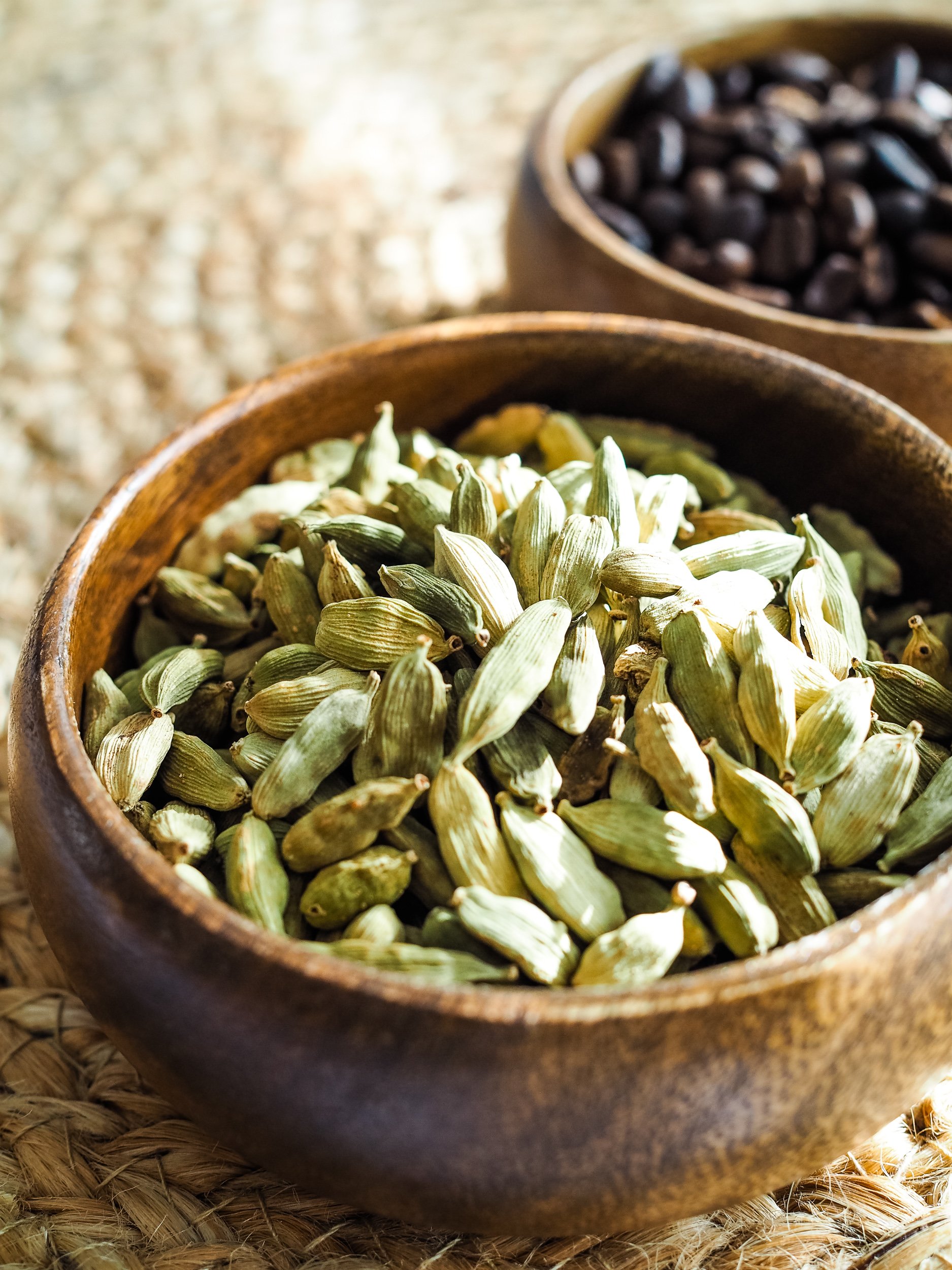 Overall, though, here are the flavor undertones of cardamom spice:
Citrusy Freshness: Adds a touch of citrusy brightness, akin to hints of lemon or eucalyptus. This freshness can be incredibly invigorating in your morning brew.
Minty Coolness: The spice brings a very subtle minty quality that bestows a refreshing aspect to your coffee.
Spicy Undertones: Just a hint of spiciness, almost like a mild pepperiness that adds depth and complexity to the overall flavor.
Herbal Layers: There's an earthy and herbal depth that contributes to a more layered and intriguing taste.
The combination of these flavors is a journey for your taste buds, and a coffee experience that's anything but ordinary!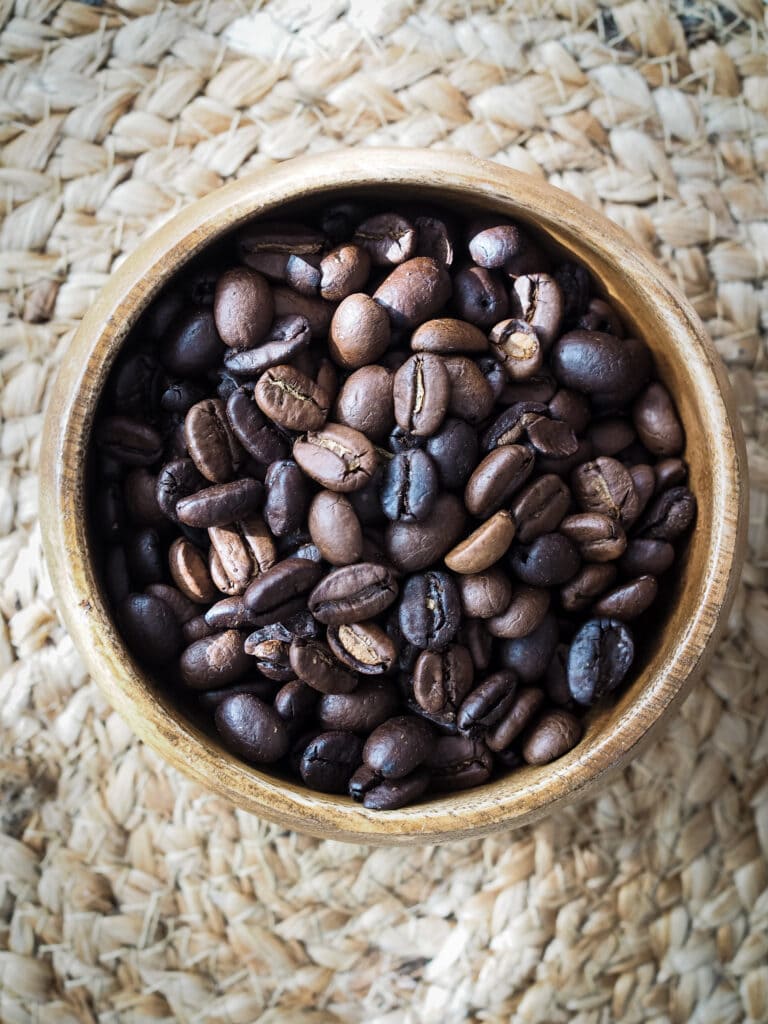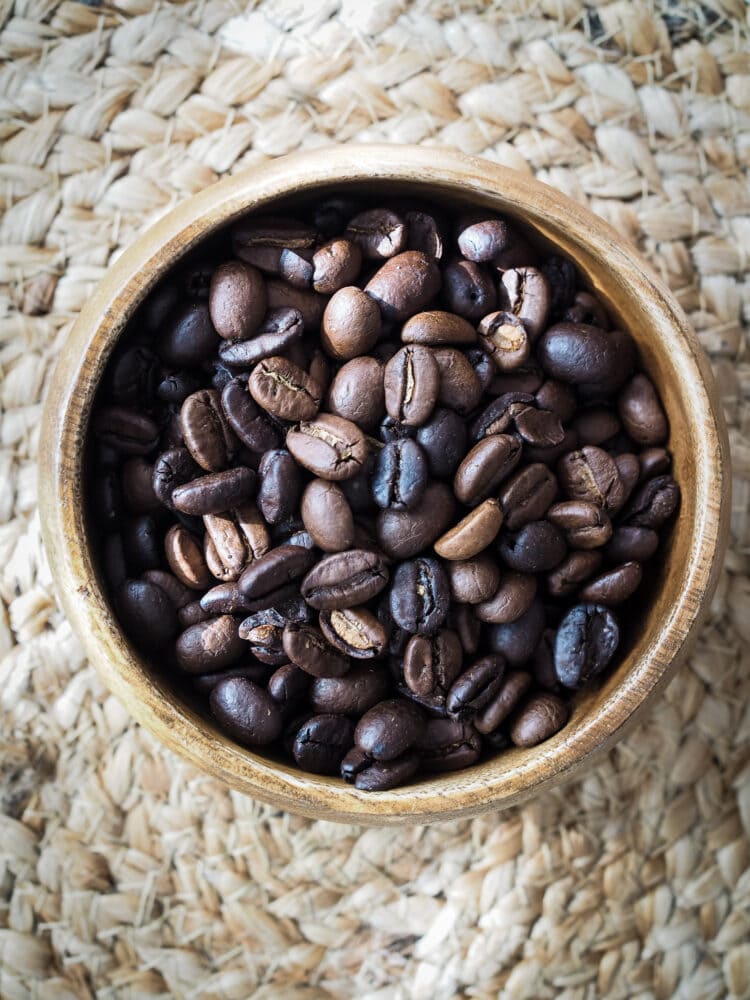 Does Cardamom Reduce Coffee Acidity?
Cardamom is believed by some to have potential digestive benefits, and it is often used in various cuisines for this purpose. It might help ease any stomach discomfort or acidity that strong coffee could produce in some individuals. So, while cardamom may not directly reduce coffee's acidity, it could potentially make it more stomach-friendly for those who are sensitive to acidic beverages.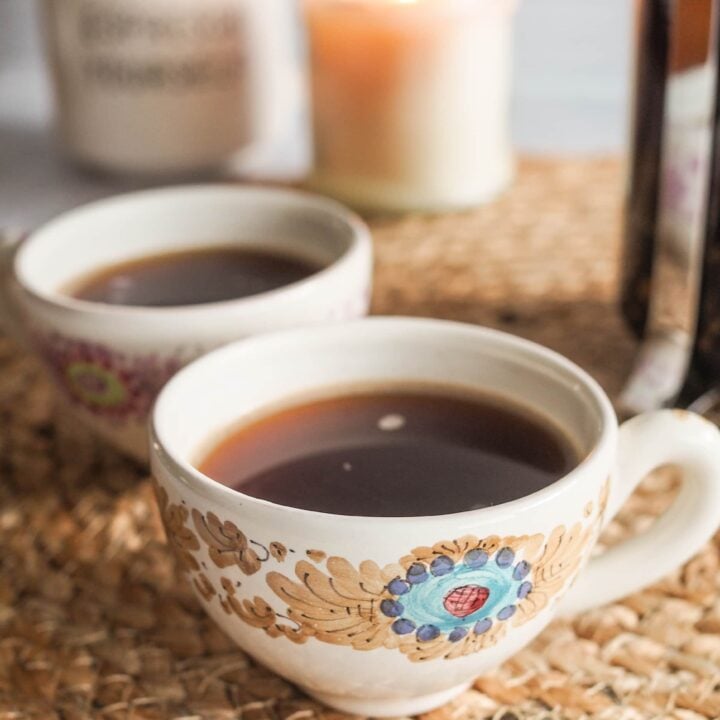 Cardamom Coffee
An easy method for brewing cardamom coffee.
Ingredients
1/4 cup whole coffee beans (blend of dark and light roast)
1 Tablespoon whole cardamom pods
4 cups hot water
4-6 sugar cubes
Instructions
Add the coffee beans and cardamom pods to a grinder and blend until coursely ground.
Pour the ground coffee and cardamom into a French Press.
Add hot water and allow the cardamom coffee to brew for 4 minutes before plunging the French Press.
Serve with sugar and enjoy!
Notes
Alternatively, you can add the ground coffee and cardamom pods to a moka pot for a richer espresso-style roast. You'll need 1-2 tablespoons of ground cardamom coffee per 6 ounces of water.
The amount of cardamom to add is matter of personal preference. But a good starting point is approximately 1/4 to 1/2 teaspoon of crushed cardamom per cup of coffee.
If you have any left over coffee in the French press, you can store it in a glass jar in the refrigerator for up to a week. Iced cardamom coffee is a delicous treat!