I ate my way through Croatia.  Really, I did.   The waistline in most of my shorts now squeezes my midsection as a reminder of all the Pag cheese, risotto, and other delicious things I consumed.  I even wrote a list of "must tries in croatia" that I drool over frequently.
But there was just one food I couldn't do – oysters.
I can do strange, bizarre, and weird.  I can do fried, crunchy, sweet, and sour.  But I just can't do gelatinous or slimy.  No way, no how.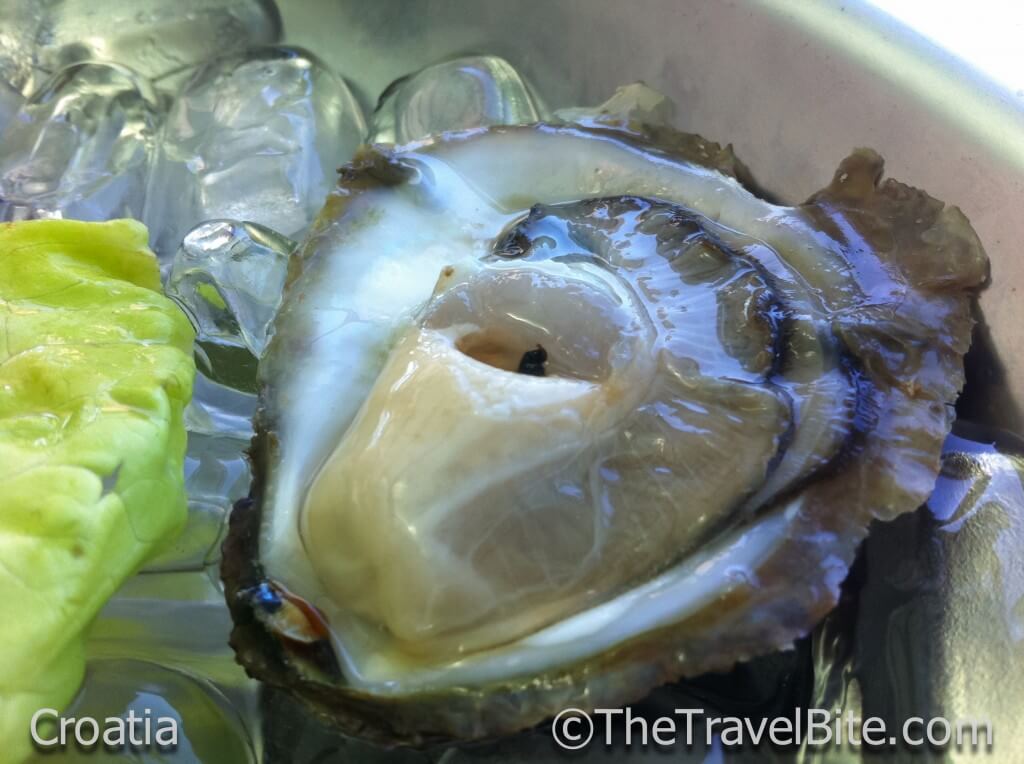 During our #EssentialCroatia tour of this beautiful country, we stopped in a small medieval looking town called Ston.  It's named after a rather large fortress-like wall that was built to protect the city and it's valuable salt stores in the Middle Ages.  There are large mountains cradling fields of sea salt as well as the most beautiful blue water you've ever seen.  Within these pristine waters are the best oysters in the world.  The best.
We walked the wall to get some pictures and the summer heat radiating from the stone really left me famished and looking forward to relaxing at lunch.  The restaurant we went to,
Vila Koruna
, was right beside the water with a great view and cool breeze coming through the open windows.   As we were seated, the owner came to greet. A classy gentlemen wearing nice dress pants and a button down shirt, all starchily pressed and immaculate.  He proudly served us our first course, his world-famous raw oysters on the half shell.  And they're huge.  "Dobar tek," he says.  The Croatian equivalent to "bon appetite."
I look around the table and the only condiments are sea salt and olive oil.  Both of which Croatia makes really well.  But I typically need a shot of tequila, a saltine, and a lot of hot sauce to get down an oyster.  This is going to be fun.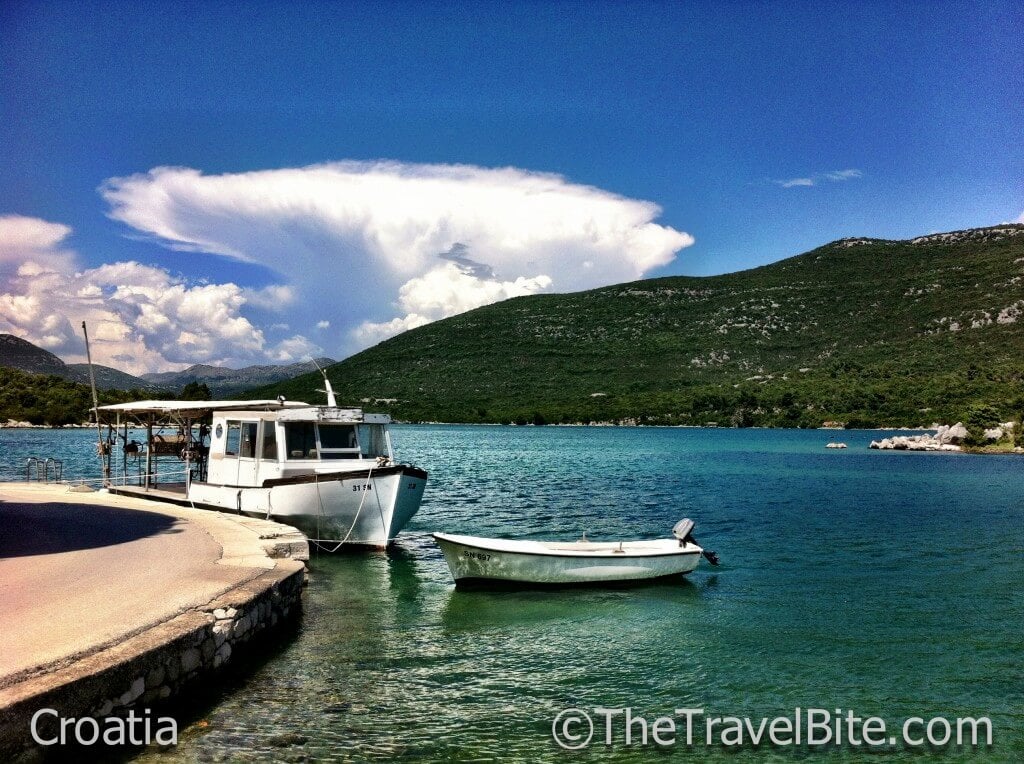 Not wanting to offend my host, I pick up a little wedge of lemon and squeezed some citric acid on the thing hoping that will beat it into submission before it enters my mouth.  I pick up the shell and place it on my bottom lip, quickly lifting up the edge and sliding the oyster into my mouth.  Down it goes.  Not too bad.  A bit briny, like I just took a big gulp of ocean snot.   I look at the plate again.  Consuming only one out of a dozen oysters might give the impression that I don't think the food is good.  It's not that the food isn't good, it's just not my palate's preference.  And since I was the only "foodie" on this trip, I thought it was important to suck-it-up (pun intended) and try and eat at least three or four and then come up with some excuse about not eating too many so that I can save room for dessert.  After all, the people here in Ston didn't see how I had scarfed down a plate Pag risotto in Zagreb that was really a meal made for four.  Nope, I'd play dainty dieter at this meal.  I pick up another oyster.  It's big.  If I liked oysters, it would probably be the best one I've ever seen.  I thought of my step father and his love of oysters.  I thought of my other seafood-loving friends.  This one is for them.   A squeeze of lemon, shell to the lips, and …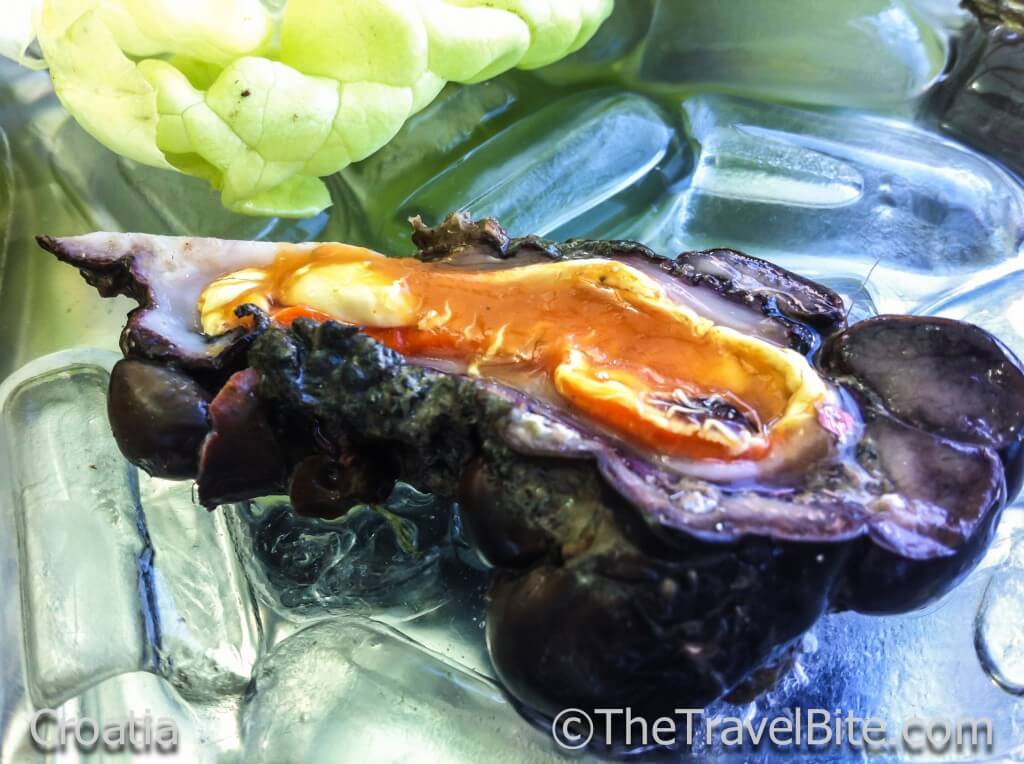 … it exploded.  In my mouth.  A big gush of salty goo.  In my mouth.  Bleh!  It wasn't there for long since my instant reaction was to shake my head the way a dog shakes it's toy when he's trying to kill it.  I'm surprised the oyster didn't fly between my lips and onto the table next to us from the centrifugal force.  It landed with a plop on my plate.  And I made a face that I'm sure looked somewhat similar to this …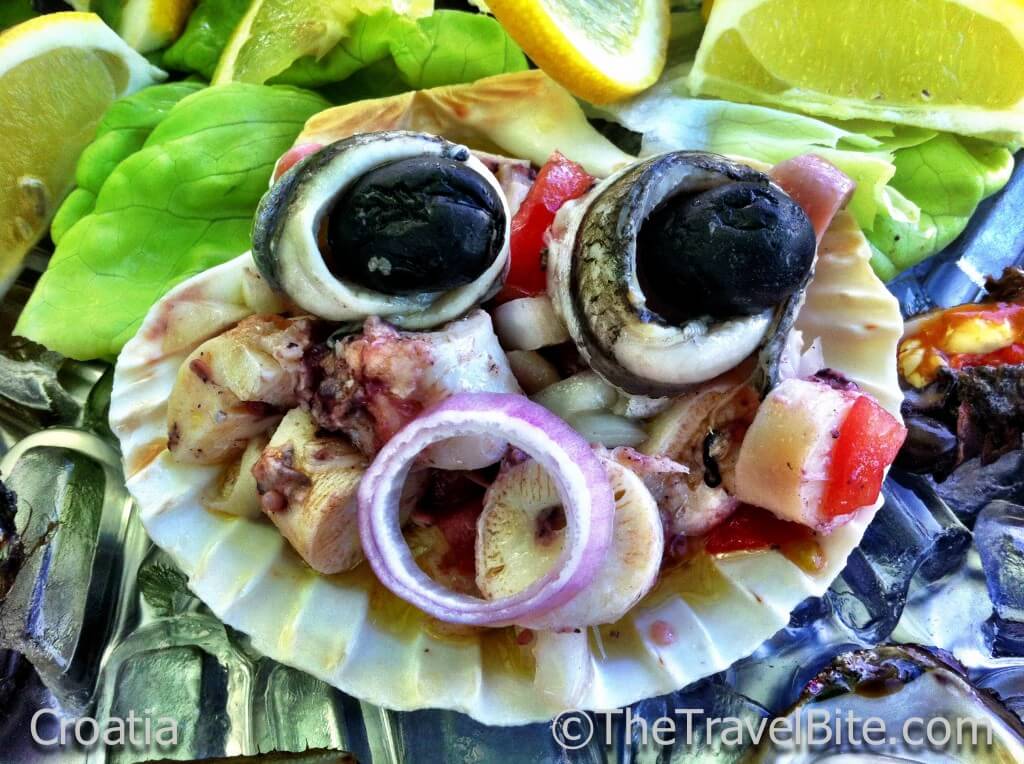 Embarrassed, I quickly looked around to see who saw me violently eject an oyster.  The owner is no where to be seen (thankfully.)  The rest of the diners were casually eating and going about their business as if nothing had happened.  Only my companions across the table were wheezing and laughing so hard that I knew I had made an expression similar to a circus clown.  Wanting to make amends for my transgression, I plucked a few more shells from the ice and scooped out the wiggly blob of a sea creature onto my plate with a fork, mashing them and moving them around to make it look like I had eaten them.  This trick used to work with veggies when I was a kid.  Thankfully, I think it worked again.
This story does have a happy ending though.  The rest of our meal was fabulous.  Let me correct that, the whole meal was fabulous.  I just don't have an appreciation for oysters.