I just got back from a Carnival cruise and have a whole list of notes of things I want to remember to bring next time, as well as a few things I brought along that I now know I can't live without.
If you're headed out on a cruise soon, here's are some helpful tips for packing and planning to make the most out of your vacation.
PACKING
Pack A Lanyard
You know all those of those lanyards you get at conventions and meetings that you don't know what to do with?  Bring one on your cruise!  Even if you don't have a lanyard at home, they sell them on board in the gift shop.  Everything from sporty ones to blingy ones.  It's useful for carrying your Sail & Sign card when you're walking around the ship.  We brought a hole punch for ours, but after cruising I discovered it would be better to have a lanyard with one of those clear plastic pouches so that way you can add your driver's license too for ID when getting on and off the ship in ports.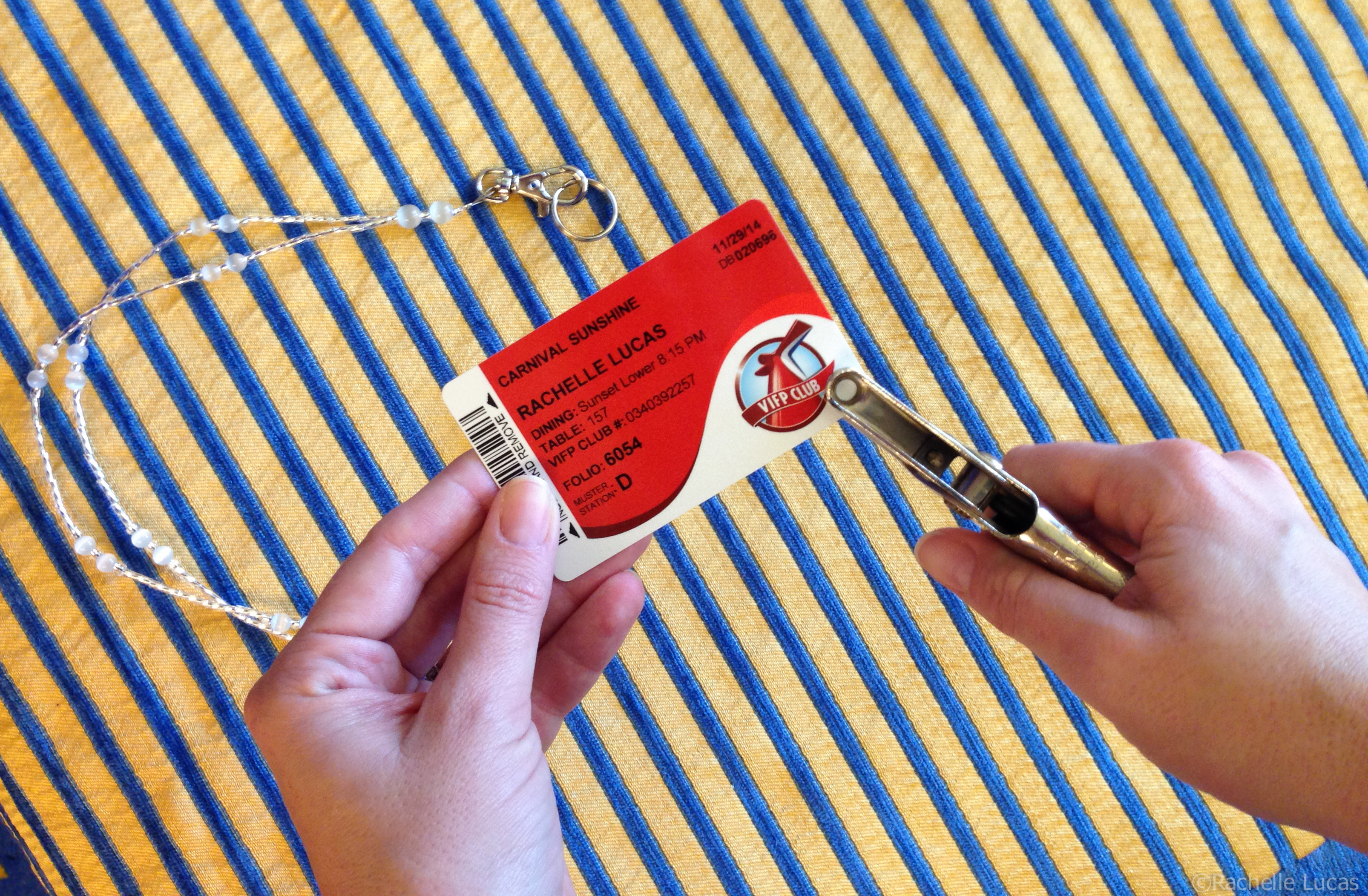 Pack Extra Conditioner
There are no 3 ounce liquid restrictions on a cruise like there are when flying (though, if you're flying in for your cruise, you'll have to put these in your checked luggage).  While this tip might just be for the ladies, I have to say, the one thing I wish I had more of was extra hair conditioner. The ocean wind, sun, and salt water all take a toll on long locks, so I ran out of my 3 ounce conditioner on the third day. They do have some sundries in the gift shop (including conditioner) if you forget anything at home.  But they're typically priced at a premium since you're at sea ($5 for White Rain, $14 for Pantene) and not a deal like the items you find in the Duty Free shop.
Pack A Water Bottle And Travel Coffee Mug
In the Marketplace on board the ship you'll find a filtered water machine as well as a coffee, tea, and hot chocolate available 24 hours a day to keep you hydrated and caffeinated. Bring your own water bottle and travel coffee mug to take advantage of the unlimited refills and to make it easy to walk around the ship without spilling your beverage.  If you forget your coffee mug, don't worry, they have a coffee shop on board with specialty coffees too.  Be sure to get their coffee card to get a stamp with each purchase toward a free beverage.
Pack These Must-Haves
While I included a few packing tips above, here are few more things I recommend bringing to make your vacation even more awesome:
 — zip-lock bags for keeping your stuff organized and dry when you're at the pool or on shore at the beach
— a few sweaters for when it gets a little chilly at night
— note pads for doors and walkie talkies to communicate with your friends and family when your cell phones don't work at sea
— decorations to personalize your cabin door so you can easily find your room
PLANNING
Wake Up To The Sunrise
Choose a stateroom that will have the sunrise when you're headed out to sea, and the sunset when you're returning home.  This can change depending on your route, but for us, it was the port side.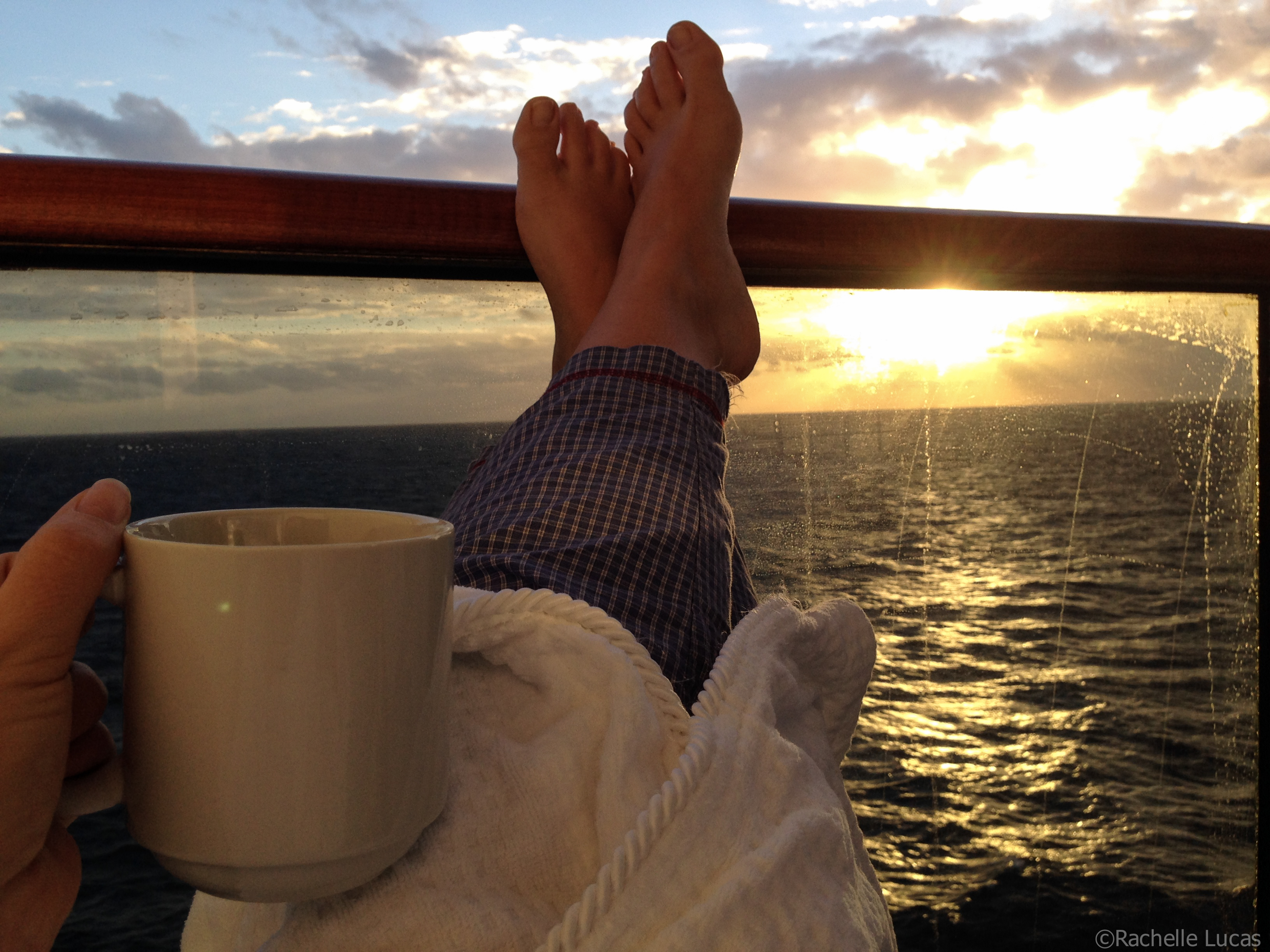 Check Your Cell Coverage
Check with your cell phone carrier to find out what your coverage is in some Caribbean islands.  With my cell phone plan, the US Virgin Islands and Puerto Rico were included for data and cell phone usage. If you do use your phone on the islands, don't forget to turn it off or switch it to airplane mode when you're back on the ship so you don't get any extra international charges while at sea.
Stay on Ship's Time
Depending on your departure port and some cruise itineraries, your ship's time may change. This can get a little confusing when you go on shore (and if, like me, you check time on your phone instead of wearing a watch), especially if you're exploring on your own instead of going on a cruise excursion. When on board, you can always check the ship's time on your stateroom TV. If there's a difference between ship's time and local time in an upcoming port, it will be noted in the daily Carnival Fun Times, as well as announced repeatedly the night before arriving in port and the morning of arrival and during debarkation.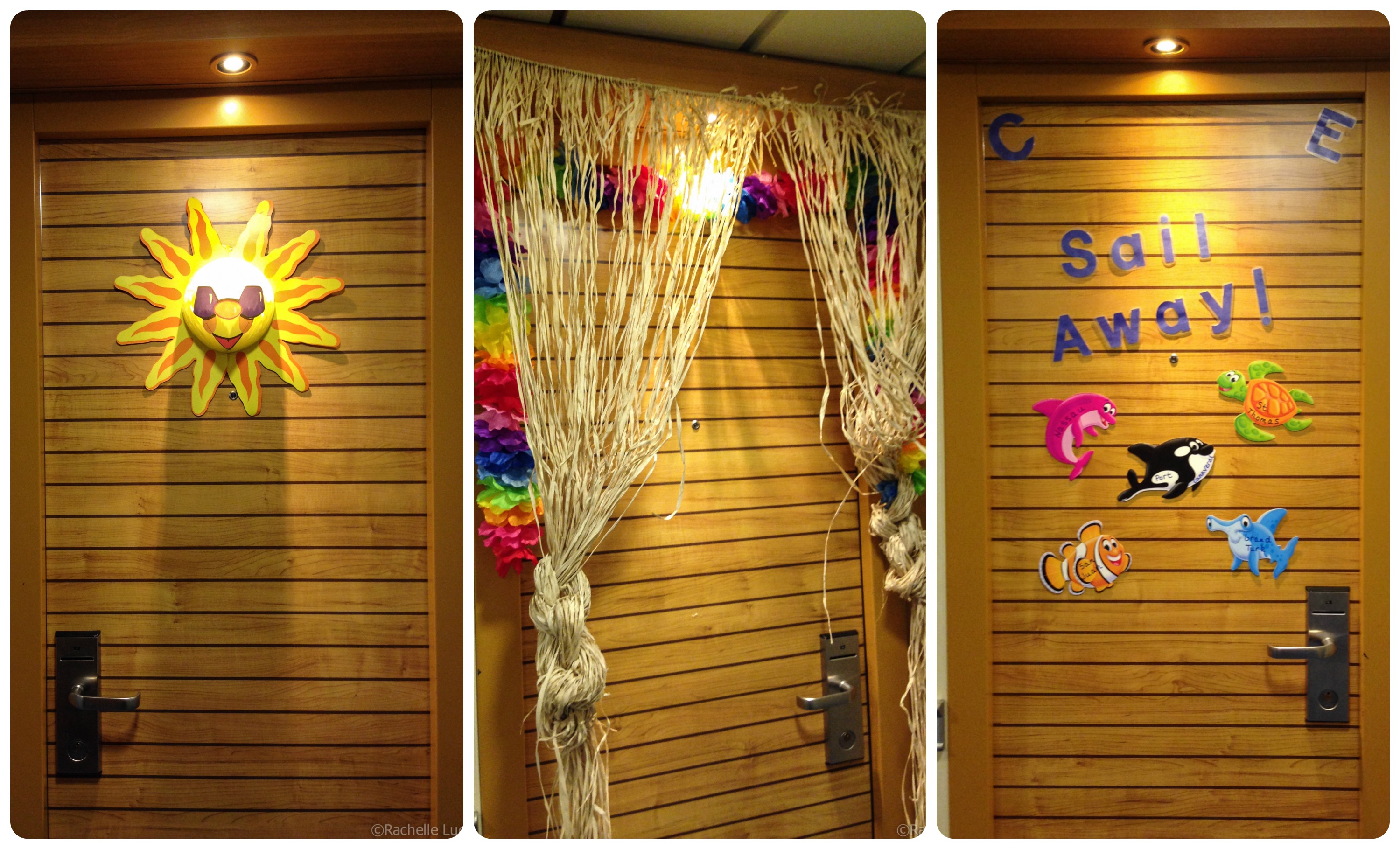 Decorate Your Door & Play Games With Your Towel Animals
One thing I wish we had done was decorate our door.  With a long hallway full of wood paneled doors, it's not surprising how many times I tried to walk into the wrong room.  We saw some really fun decorations done by other passengers that could easily be accomplished with a pre-cruise trip to the party store. The other nice thing I noticed is they were mostly paper decorations, making them light and easy to pack.
We might not have decorated our door, but we did decorate our room with the towel animals, re-posing them with a friendly note to surprise our cabin steward each day.  It's a fun way to show your appreciation for your cabin steward, especially since tips are automatically added to your Sail & Sign card.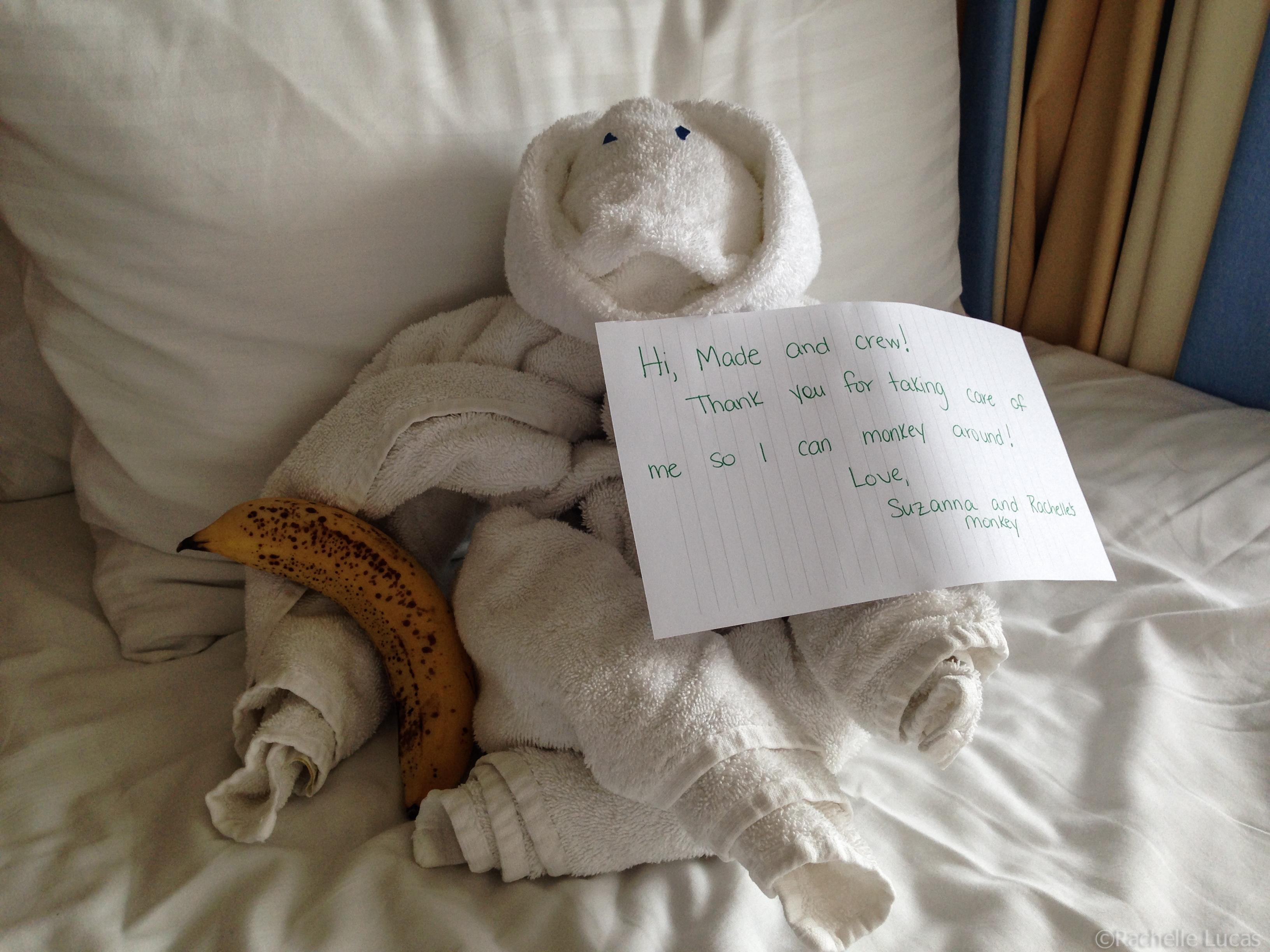 Budget For A Special Dining Experience
While all your food is included with the cruise and 24 hour buffets, pizza, and ice cream still live up to their reputation, the one thing that surprised me the most about cruising on a new ship is the number of restaurant options on board.  We dined at a different location every night, from sushi, to a steakhouse, and even a Chef's Table experience with a tour of the kitchen and private dining with wine pairings.  Most of these upscale experiences cost a little extra, but are heavily discounted compared to what you'd pay on shore.  For instance, our four course steakhouse dinner was only $35 per person, while something comparable back home in Orlando might be around $80-$100 per person.  Take a tour of these on your first night at sea, then make a reservation to treat yourself to a wonderful dining experience. We couldn't decide on one, so we tried them all — guess I'm just a foodie at heart.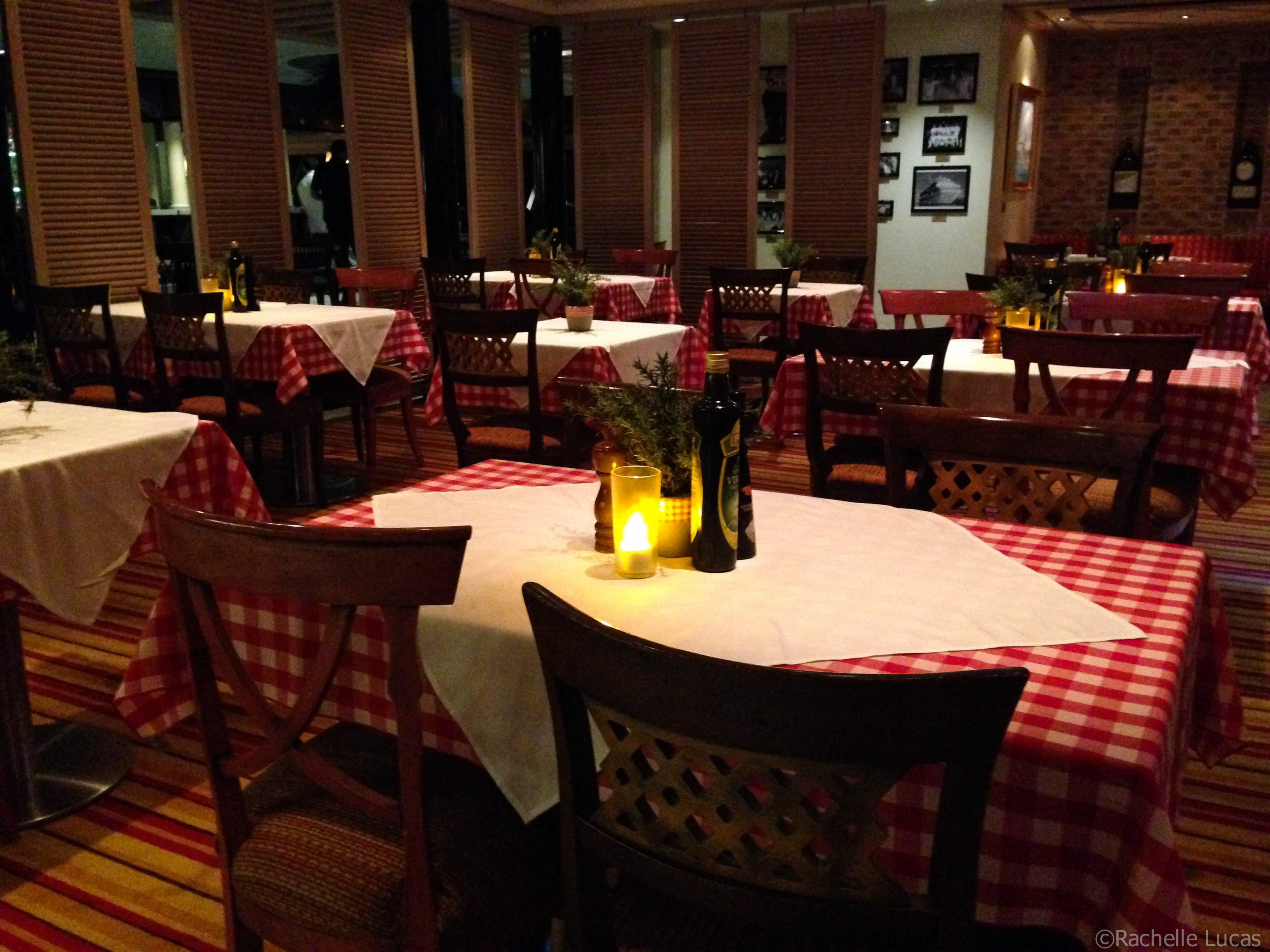 Splurge On The Spa Without Breaking The Bank
Each day the spa will run special promotions offering significant discounts on certain spa treatments.  However, the one thing that isn't included with your treatment is access to the relaxation and steam rooms and Thermal Suite.  A day pass to the spa to use these rooms is only $20 — definitely go for it.  We spent our "Day At Sea" lounging around in the Thermal Suite drifting in and out of a nap while pretending to read a book.  It was one of the most relaxing days on our vacation and worth the splurge.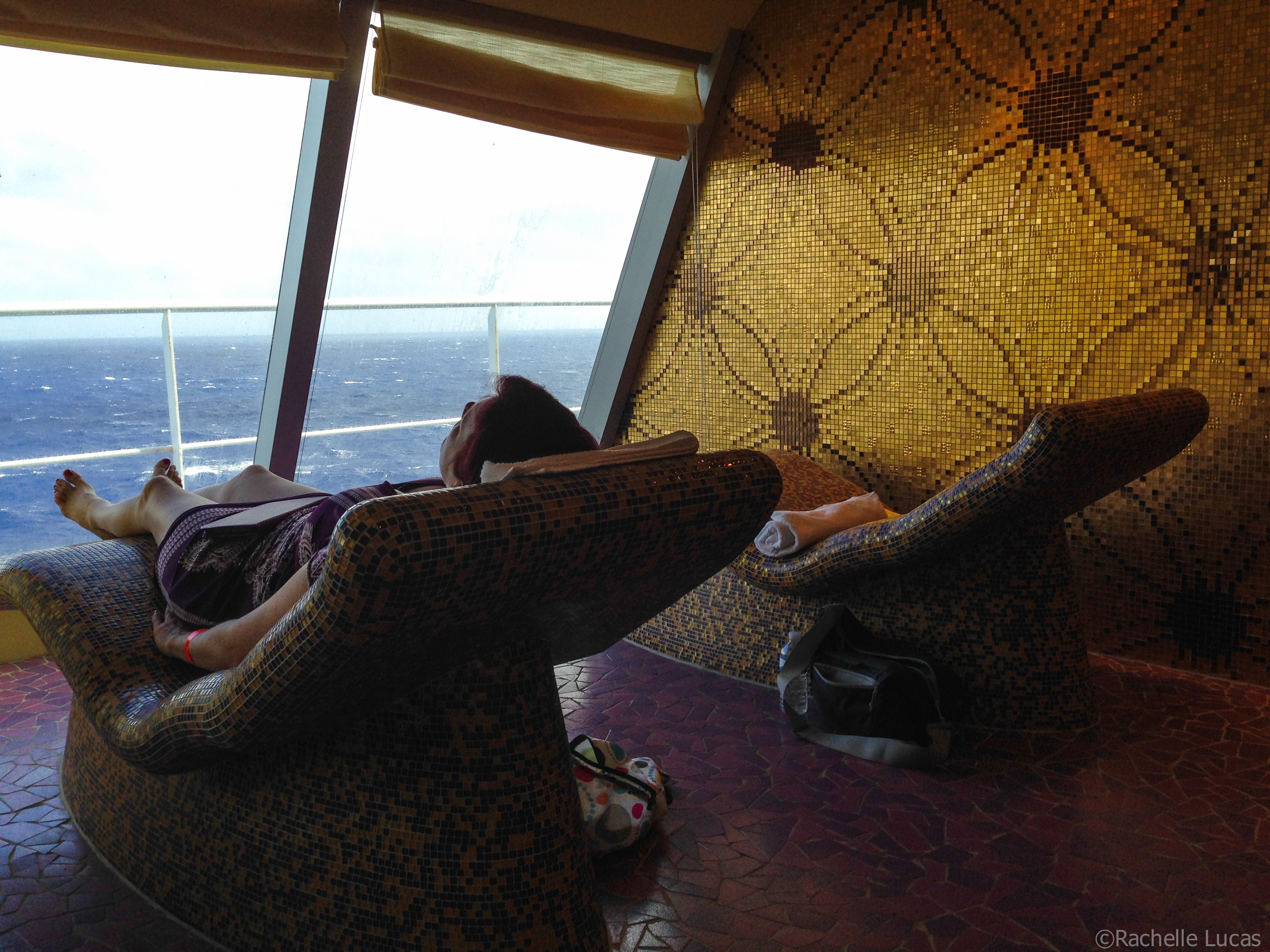 A couple of extra tips for the spa:
— Most of the rooms are co-ed, so wear your bathing suit and bring the robe from your room.
— Bring your iPod and earbuds full of your favorite music or audio books.
— Also bring a book, your favorite teas (hot water is provided), and anything else you need to get your relaxation on.
This post was created as part of my collaboration with Carnival. As always, all of the opinions, thoughts, and ideas in this post are my own.