From Europe, to Australia, to Scandinavia, to Asia and Mexico, you can taste your way around the world at the EPCOT International Food & Wine Festival. Here are my are my top tips for getting the most out of your EPCOT International Food & Wine Festival experience.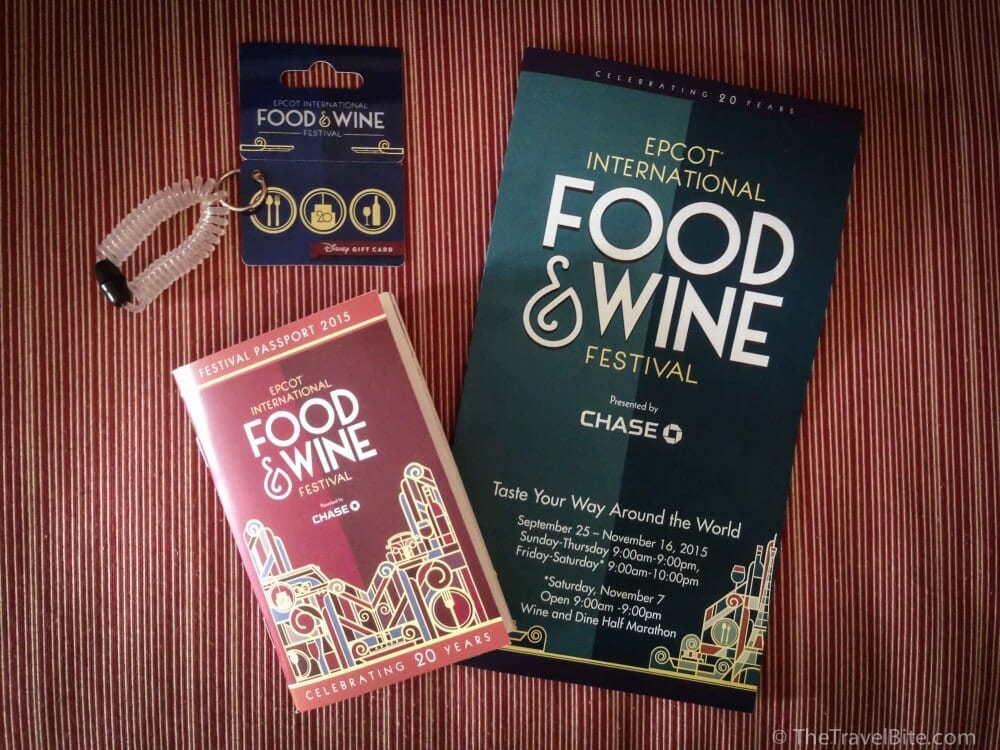 Travel Tips For The EPCOT Food And Wine Festival
1 – WHAT TO BRING
Dress comfortably. It may be the fall season, but here in Florida the temperatures still may feel like summer. Since you'll be walking around the World Showcase, I recommend wearing sneakers and light clothing. In addition, you may want to carry a canvas bag or backpack for any recipes, giveaways or gift items you may pick up at the festival. Here's a little packing list …
Hat and Sunglasses
Sunscreen
Umbrella (for rain or shade)
Hand Fan
Empty Water Bottle (endless free refills at water fountains)
Hand Sanitizing Wipes
A Light Shawl or Sweater (for covering up in air conditioned buildings)

2 – WHERE TO START
Start at the welcome center near the entrance of the park. Located between The Universe of Energy and Mission: SPACE, you'll find a large golden dome. That's the Festival Welcome Center. Here you'll discover all kinds of helpful brochures and maps to help navigate your culinary adventure. In addition, if you plan on attending any cooking demonstrations or wine and beverage seminars, this is where they will be held.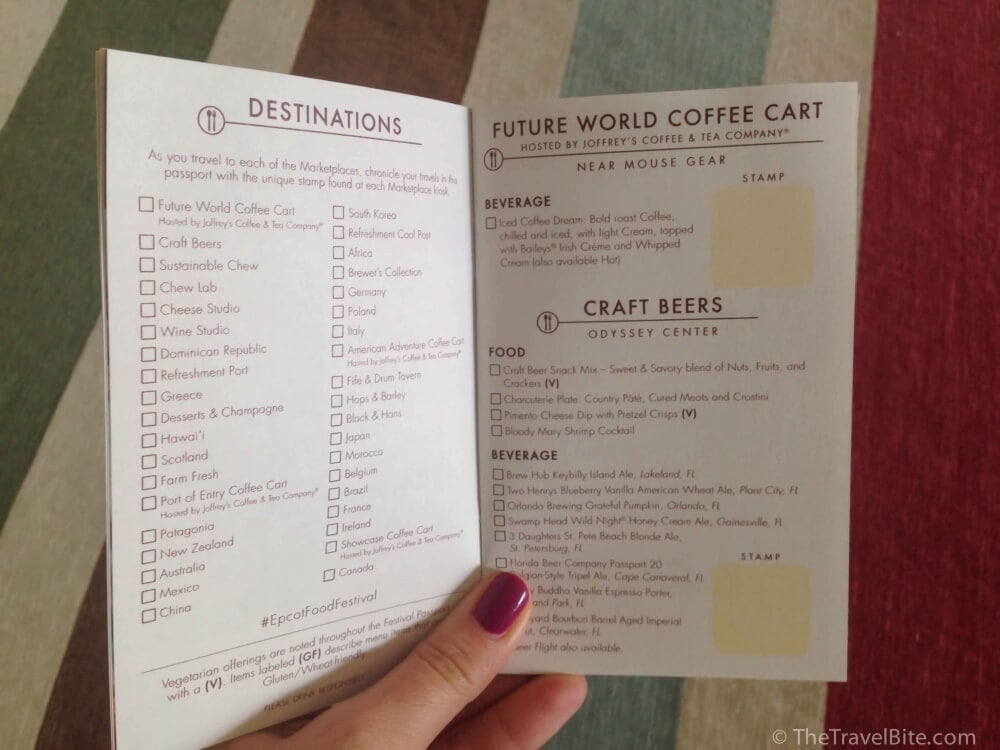 3 – PICK UP A PASSPORT
At the Festival Welcome Center, pick up a free 'Discovery Passport' with a list of countries represented as well as their menu. Use this to track your delicious destinations, food pairings and notes. Plus it's a fun little souvenir! Now, there is no humanly possible way you could taste/experience it all in just one day, so go through and pick your favorites to start with first. My recommendation is to share with friends and just have one bite from each kiosk around the International Marketplace.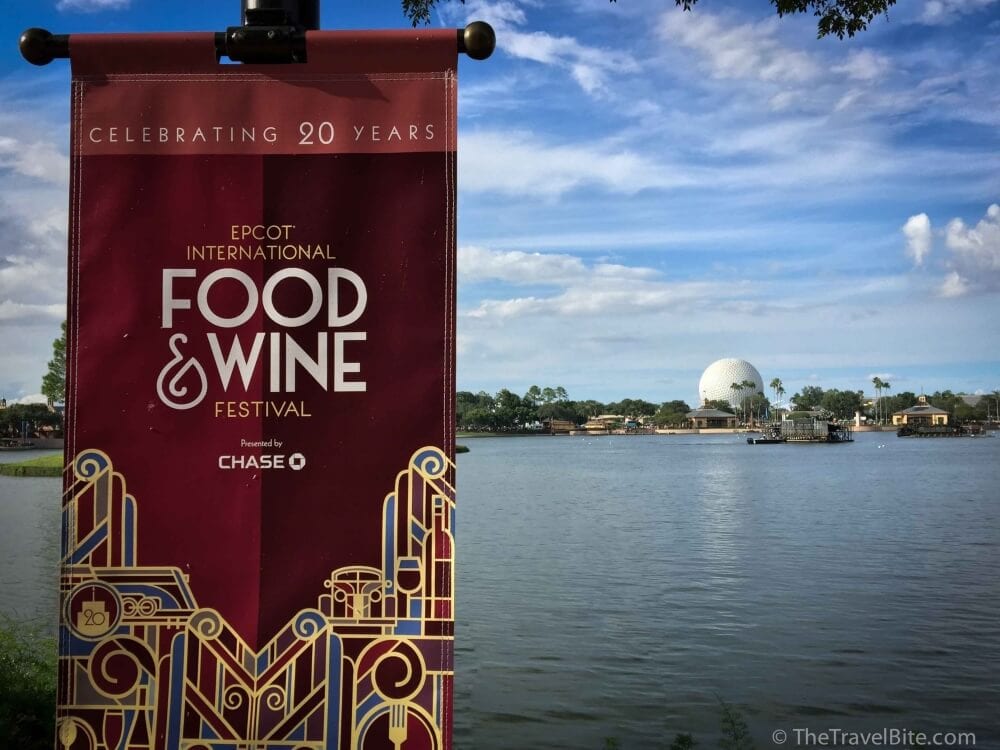 4 – PLAN YOUR ROUTE
In addition to the Discovery Passport, grab a festival brochure where you'll find a schedule of events and map of the International Marketplace. Check the show times for culinary demonstrations, wine and beverage seminars and the Eat To The Beat concert series. Some of these are for a nominal extra fee, but you'll typically get to meet celebrity chefs and have a little take away souvenir and recipe. Be sure to check out all the menus at the Global Food & Drink Marketplaces in advance to pick out your must-taste dishes.
5 – PURCHASE A GIFT CARD WRISTBAND
Since each of the EPCOT Food and Wine Festival tapas-style portions range from $3 to $8, and easy way to track your spending is to purchase a Disney Gift Card to swipe at each kiosk. That way, you can load it with the amount you want to spend and will more easily know when you've reached the end of your budget. EPCOT has made this even more convenient and fun with a festival themed gift card wrist band.  Of course, it can also be reloaded throughout the park.  (See the photo below.)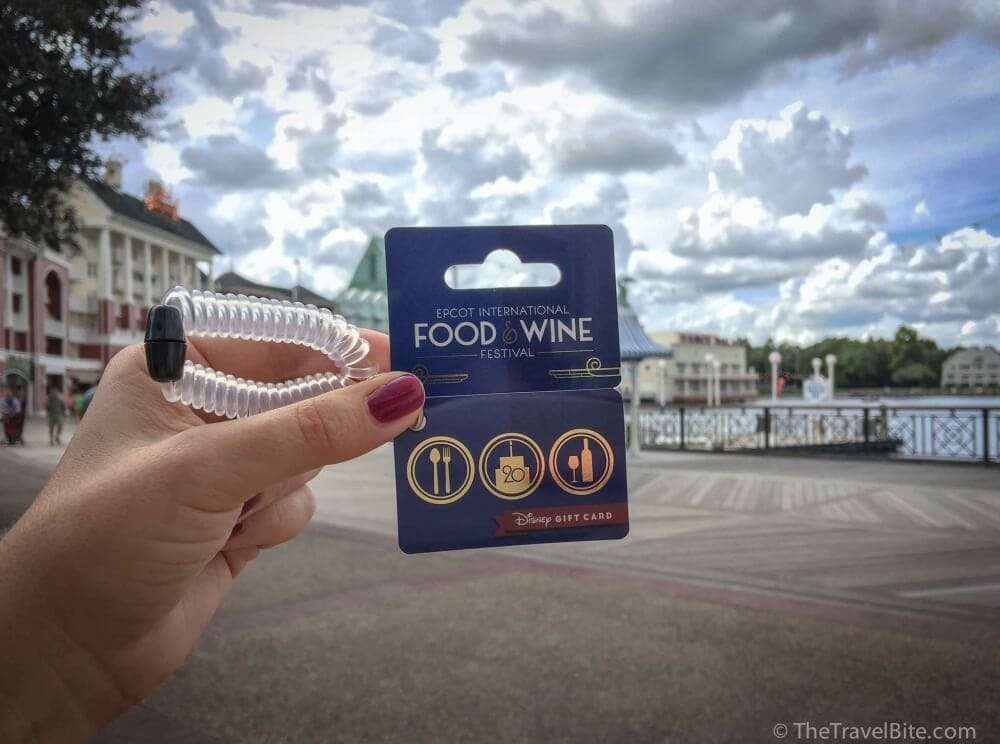 6 – EAT TO THE BEAT CONCERT SERIES
The Eat To The Beat concert series is included with admission to EPCOT and there are 90's pop icons and music legends performing throughout the month.  You might even want to check out the concert series lineup to plan your visit around seeing your favorite musician or band.  This year, that includes the likes of Wilson Phillips, 38 Special, Boys II Men, and Chaka Khan.  Typically, show times are around 5:30, 6:45 and 8:00 pm. Performances are held at the American Garden Theatre which is directly across the lagoon. Plan your dining around the world to arrive at the theatre with enough time to grab a good seat.
7 – STAY FOR THE FIREWORKS
EPCOT's fireworks and light show, Illuminations: Reflections of Earth, is spectacular. Plan to finish your evening at the festival around the lagoon to witness this amazing pyrotechnic performance. It's the perfect ending to a perfect day!
8 – SLEEP ON SITE
Did you know there was a 'secret' back entrance to EPCOT? Yes, you can skip the parking lots and long lines and just walk right in at the Paris Pavillion. There is nothing better than waking up in the morning, getting dressed, and walking right out to the festival. And then, ending a day of wining and dining by walking right back up to your hotel room. Disney's Beach Club and Yacht Club resorts as well as Disney's BoardWalk Inn are the closet to EPCOTS 'secret' park entrance.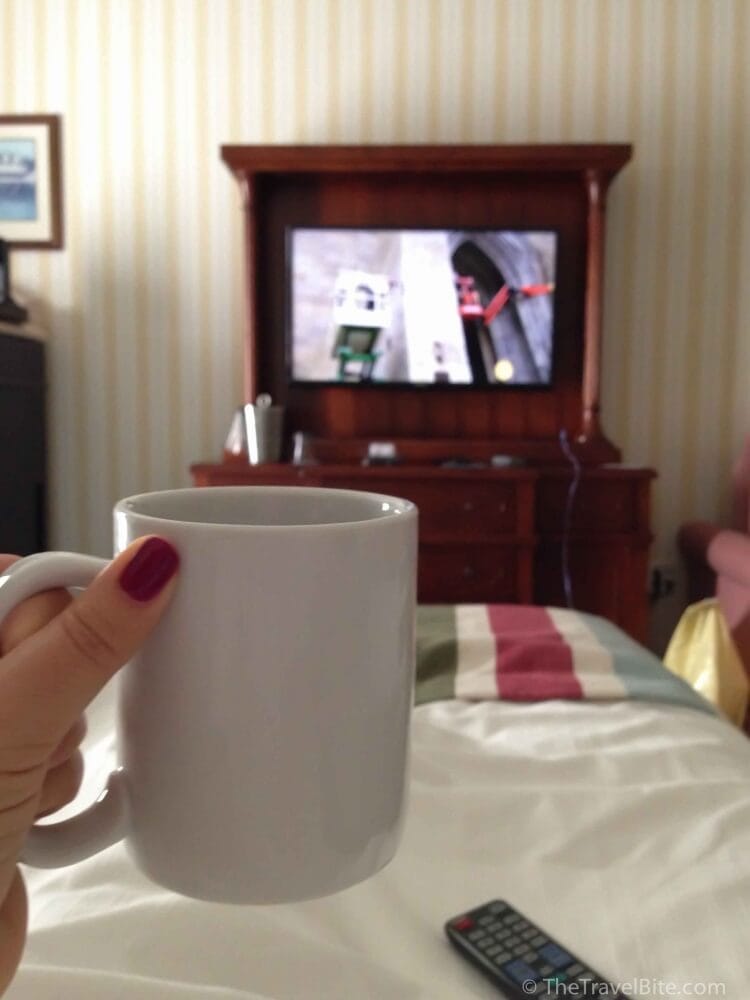 A Few More Tips And Things Not To Miss …
Special Events – There are loads of special events throughout the festival including wine and cheese seminars, a beverage boot camp, wine pairing dinners, and Party For The Senses.
After 4pm Pass – Are you a Florida resident? Consider purchasing the EPCOT After 4 p.m. Pass, which costs around $199 for adults and gets you a year of admission to Epcot everyday after 4 p.m. There is so much to taste at this festival that you'll definitely want to come back for multiple days, and the late afternoons and evenings are the best time to visit for the concerts and the cooler weather.
Spice Road Table – Spice Road Table is my favorite place to escape the crowds and weather to enjoy a pitcher of sangria and some Mediterranean style tapas like hummus, grape leaves, and lamb sausages. It's typically easy to find a seat in their dining area without a wait in-between normal mealtimes (2:00-5:00pm).  The view is excellent, the air conditioning refreshing, and they have the best creme brûlée I've ever tasted.  Seriously.  If nothing else, just go for the creme brûlée and some mint tea.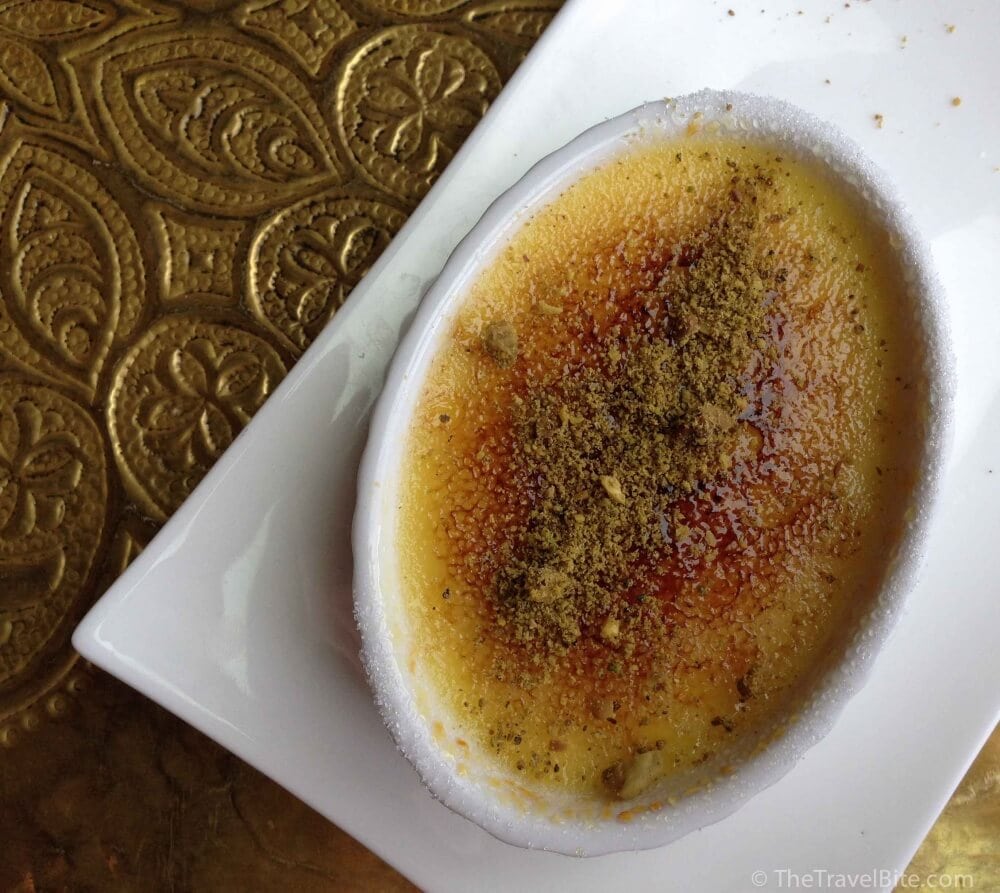 Highlights From The 2015 EPCOT Food And Wine Festival
Asian street foods seem to be the most popular as the lines were the longest around the South Korea, Japan, and China Marketplaces.  There's even a Japanese Craft Beer Tasting.
The Chew – Chew Lab was a new Marketplace (in conjunction with the show The Chew) where farm-to-table meets molecular gastronomy with recipes that keep sustainability in mind.  Artistically presented plates include Olive oil poached salmon with fresh corn, bacon and pepper jam, New York strip, parsnip silk, balsamic glaze and arugula foam, and for dessert — Liquid nitro chocolate almond truffle with warm whiskey caramel.  For cocktails, you have to check out their Smoking Hibiscus featuring Montelobos® Mezcal Joven.  It looks like magic and tastes like bacon.
Festival Wines  – There are two festival wines celebrating the 20th year of the festival, a Chardonnay from Napa Valley and a Cabernet Sauvignon from Paso Robles.
Stay tuned for more updates!  In the meantime, here are the dates to add to your calendar…
Important Information
DATES: September 14 – November 14, 2016 (62 festival days!)
VISIT: www.disneyworld.com/foodandwine
CALL: 407/WDW-FEST (939-3378)
Hashtag For Social Media: #EpcotFoodFestival
**Regular admission to Epcot includes Eat To The Beat Concert Series and the International Marketplace tapas-style tastings run from $3 to $10 per plate.  Additional Culinary Demonstrations by celebrity chefs and Wine/Beverage Seminars are an additional cost.
**Photos by Peter Wallace and Rachelle Lucas.
Disclosure:  We were invited to attend the EPCOT Food & Wine Festival media day to experience the event for ourselves.  All tips and opinions are entirely our own and The Travel Bite maintains full editorial control.