From Europe, to Australia, to Scandinavia, to Asia and Mexico, you can taste your way around the world at the EPCOT International Food & Wine Festival. Here are my are my top tips for getting the most out of your EPCOT International Food & Wine Festival experience.
Travel Tips For The EPCOT Food And Wine Festival
1 – WHAT TO PACK
First of all, dress comfortably. It may be the fall season, but here in Florida the temperatures still may feel like summer. Since you'll be walking around the World Showcase, I recommend wearing sneakers and light clothing. In addition, you may want to carry a canvas bag or backpack for any recipes, giveaways or gift items you may pick up at the festival. Here's a little packing list of my festival must-haves:
Hat and Sunglasses
Sunscreen
Umbrella (for rain or shade)
Hand Fan
Empty Water Bottle (endless free refills at water fountains!)
Hand Sanitizing Wipes
A Light Shawl or Raincoat (for covering up in air conditioned buildings)
Pro Tip: If you like taking photos of food, a white umbrella will not only shield you from the rain, but it also makes a nice sunlight filter to reduce shadows and provide more even light for food photography. That's a tip I got from my friend Julius at Droolius!
2 – WHERE TO START – PICK UP A PASSPORT!
Pick up a Festival Passport at the park entrance and take a moment to plan your day. There's a lot to see and EAT and it will feel less overwhelming if you go into with a tentative plan. There's global cuisines at over 40 "destinations" throughout the world showcase, so grab a pen and mark which ones sound the most intriguing to you!
Next to each food listed, you'll also find food allergy indicators which are really helpful for planning if you have someone in your family or group with any food sensitivities or preferences.
If you're more visual, there are color pictures throughout the passport of some of the food items. And you'll also find photos at each of the world pavillion food booths too. Also, the festival passport does go in order of the showcase, so once you're on your way you won't have to flip through to find things.
There are stickers in the center of the passport that you can use to mark which destinations you've visited, and it's such a fun souvenir to keep at the end of the day.
Also look at the schedule for the Eat To The Beat concert series so you can plan to be near the American Pavillion and show stage. She shows are FREE and included with your admission to EPCOT. But you'll want to get there about a half hour before showtime to line up to get a good seat.
3 – PLAN YOUR ROUTE
In addition to the Festival Passport, grab a brochure where you'll find a schedule of events and map of the International Marketplace. Check the show times for culinary demonstrations, wine and beverage seminars and the Eat To The Beat concert series I mentioned above.
Some events are for a nominal extra fee, but you'll typically get to meet celebrity chefs and have a little take away souvenir and recipe. Be sure to check out all the menus at the Global Food & Drink Marketplaces in advance to pick out your must-taste dishes.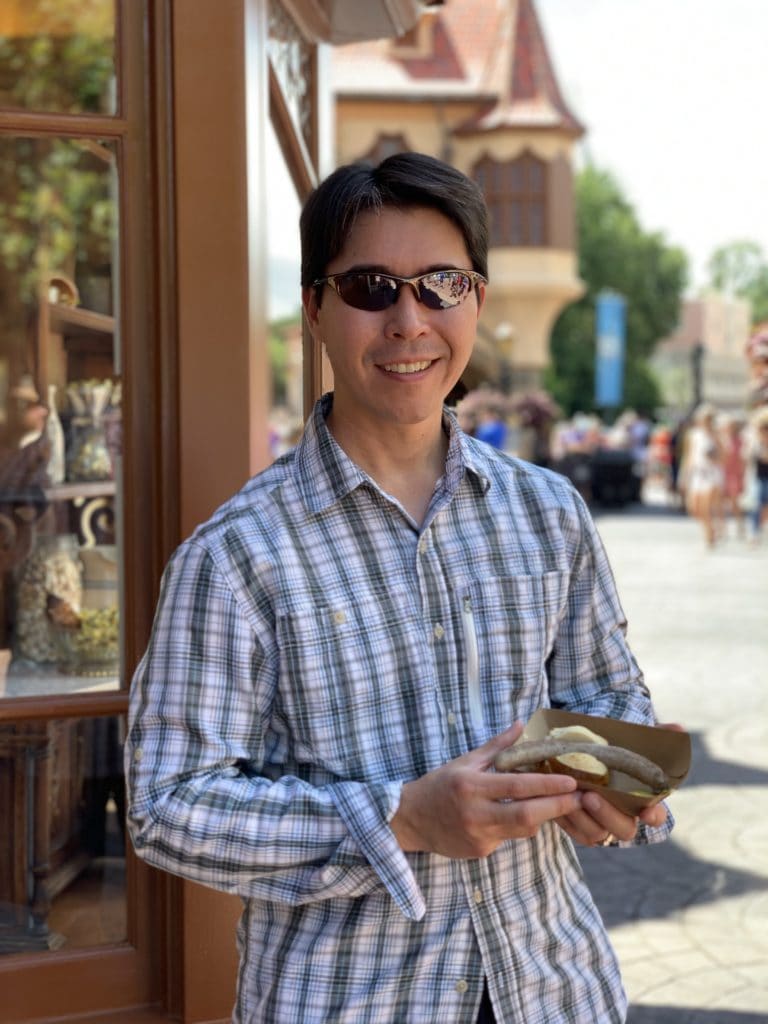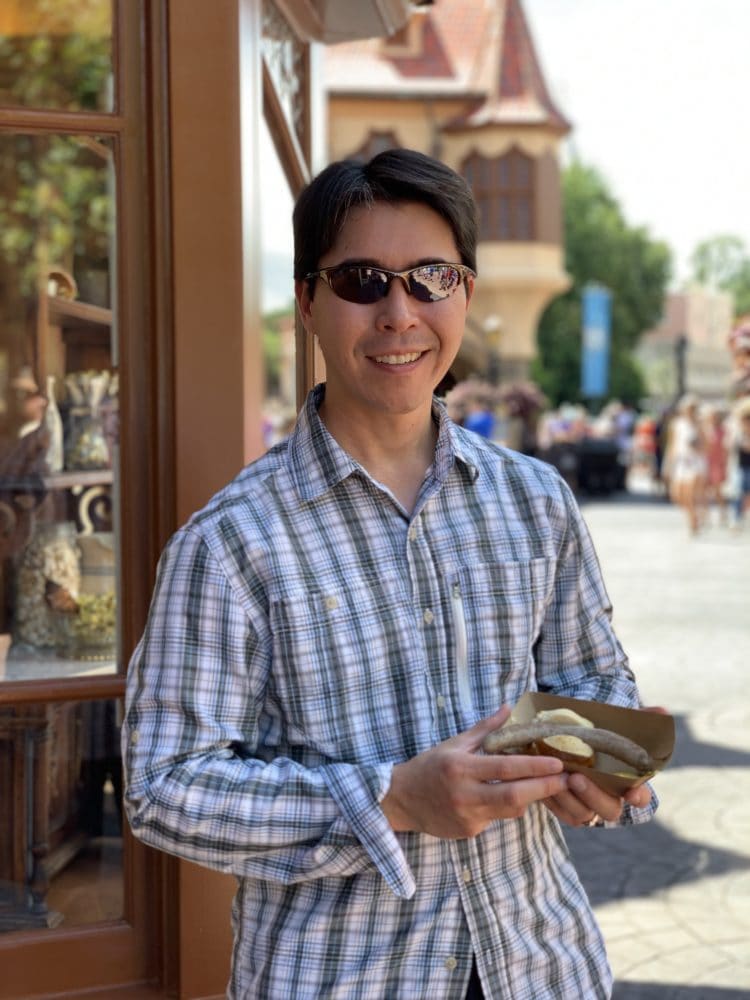 4 – PURCHASE A GIFT CARD WRISTBAND
Since each of the EPCOT Food and Wine Festival tapas-style portions range from $3 to $8, an easy way to track your spending is to purchase a Disney Gift Card to swipe at each kiosk. That way, you can load it with the amount you want to spend and will more easily know when you've reached the end of your budget. EPCOT has made this even more convenient and fun with a festival themed gift card wrist band. Of course, it can also be reloaded throughout the park. (See the photo below.)
You can also just purchase a regular gift card if you want to keep it in your pocket or wallet as opposed to having a wearable. This year, for 2019, I had a gift card I used and just kept in the pocket of my leggings so I didn't have to pull out my wallet each time we went to a new marketplace.
5 – EAT TO THE BEAT CONCERT SERIES
The Eat To The Beat concert series is included with admission to EPCOT and there are 90's pop icons and music legends performing throughout the month. You might even want to check out the concert series lineup to plan your visit around seeing your favorite musician or band. This year, that includes 98 Degrees, 38 Special, Hanson, Billy Ocean, Boyz II Men, and Bid Bad Voodoo Daddy.
Show times are at 5:30, 6:45 and 8:00 pm on weekdays, and 6:30, 7:45, and 9:00 pm on Friday and Saturday. Performances are held at the American Garden Theatre which is directly across the lagoon near the America Pavillion. Plan your dining around the world to arrive at the theatre with enough time to grab a good seat.
6 – STAY FOR THE FIREWORKS
EPCOT's fireworks and light show, Illuminations: Reflections of Earth, is spectacular. And it is ending in 2019! So catch it while it's still here. Plan to finish your evening at the festival around the lagoon to see the fireworks show. It's the perfect ending to a perfect day!
7 – SLEEP ON SITE
Did you know there was a 'secret' back entrance to EPCOT? Yes, you can skip the parking lots and long lines and just walk right in near the Paris Pavilion.
There is nothing better than waking up in the morning, getting dressed, and walking right out to the festival. And then, ending a day walking right back up to your hotel room. Disney's Beach Club and Yacht Club resorts as well as Disney's BoardWalk Inn are the closet to EPCOTS 'secret' park entrance.
A Few More Tips And Things Not To Miss …
Special Events – There are loads of special events throughout the festival including wine and cheese seminars, a beverage boot camp, wine pairing dinners, and Party For The Senses.
After 4pm Pass – Are you a Florida resident? Consider purchasing the EPCOT After 4 p.m. Pass, which costs around $309 for adults, gets you a year of admission to EPCOT everyday after 4 p.m. There is so much to taste at this festival that you'll definitely want to come back for multiple days, and the late afternoons and evenings are the best time to visit for the concerts and the cooler weather.
Spice Road Table – Spice Road Table is my favorite place to escape the crowds (and sometimes the heat) to enjoy a pitcher of sangria and some Mediterranean style tapas like hummus, grape leaves, and lamb sausages. It's typically easy to find a seat in their dining area without a wait in-between normal mealtimes (2:00-5:00pm). The view is excellent, the air conditioning refreshing, and they have the best creme brûlée I've ever tasted. Seriously. If nothing else, just go for the creme brûlée and some mint tea.
OUR FOOD FAVORITES FOR 2019
With so many delicious options, dining around the world at EPCOT's International Food & Wine Festival can feel overwhelming! Here's a list of our festival picks below to help you narrow down some of the choices. These were our personal favorites based on flavor and value.
MEXICO – Tostada de Carne with Braised Beef on a Corn Tostada with Mole Oaxaqueno and Chicharron Dust
FLAVORS FROM FIRE – Smoked Corned Beef with Crispy Potatoes, Cheese Curds, Pickled Onions, and Beer-Cheese Fondue
INDIA – Warm Indian Bread (naan) with Mango Salsa and Coriander Pesto Dips
AFRICA – Kenyan Coffee Barbecue Beef Tenderloin with Sweet Potato and Corn Mealie Pap and Kachumbari Slaw
SPAIN – Charcuterie In A Cone with imported Spanish meats, cheeses, and olives
ITALY – Chocolate-Hazelnut Cake with Vanilla Cake, Chocolate-Hazelnut Mascarpone Cream, dipped in Chocolate
MOROCCO – Spicy Hummus Fries with Cucumber, Tomatoes, Onions, and Tzatziki
IRELAND – Roasted Irish Sausage with Colcannon Potatoes and Onion Gravy
APPLESEED ORCHARD – Apple Blossom Sky Ginger Beer Cocktail with Maple and Brandy
THE CHEESE STUDIO – Maple Bourbon Cheesecake with Pecan Crunch
Important Information
DATES: August 29 – November 23, 2019
VISIT: www.disneyworld.com/foodandwine
CALL: 407/WDW-FEST (939-3378)
Hashtag For Social Media: #TASTEEPCOT
**Regular admission to Epcot includes Eat To The Beat Concert Series and the International Marketplace tapas-style tastings run from $3 to $10 per plate. Additional Culinary Demonstrations by celebrity chefs and Wine/Beverage Seminars are an additional cost.
Disclosure: We were invited to attend the EPCOT Food & Wine Festival media day to experience the event for ourselves. All tips and opinions are entirely our own and The Travel Bite maintains full editorial control.