During this episode, Rachelle chats with Thibault Lemierre about Bordeaux's Urban Wine Trail, a guy everyone in town calls the "wine magician," and a few tips about where to go to taste some of Bordeaux's best wines by the glass. For more information about Bordeaux and the wine bars talked about during the podcast, visit www.bordeaux-tourism.co.uk.
Also, be sure to check out the map for Bordeaux's Urban Wine Trail which features 14 different stops. Most are within walking distance in the downtown area and there are a few featured that are out in the vineyard. The wine bars we discuss during this episode are Le Wine Bar, Aux 4 Coins du Vin, La Ligne Rouge, and Max Bordeaux Wine Gallery.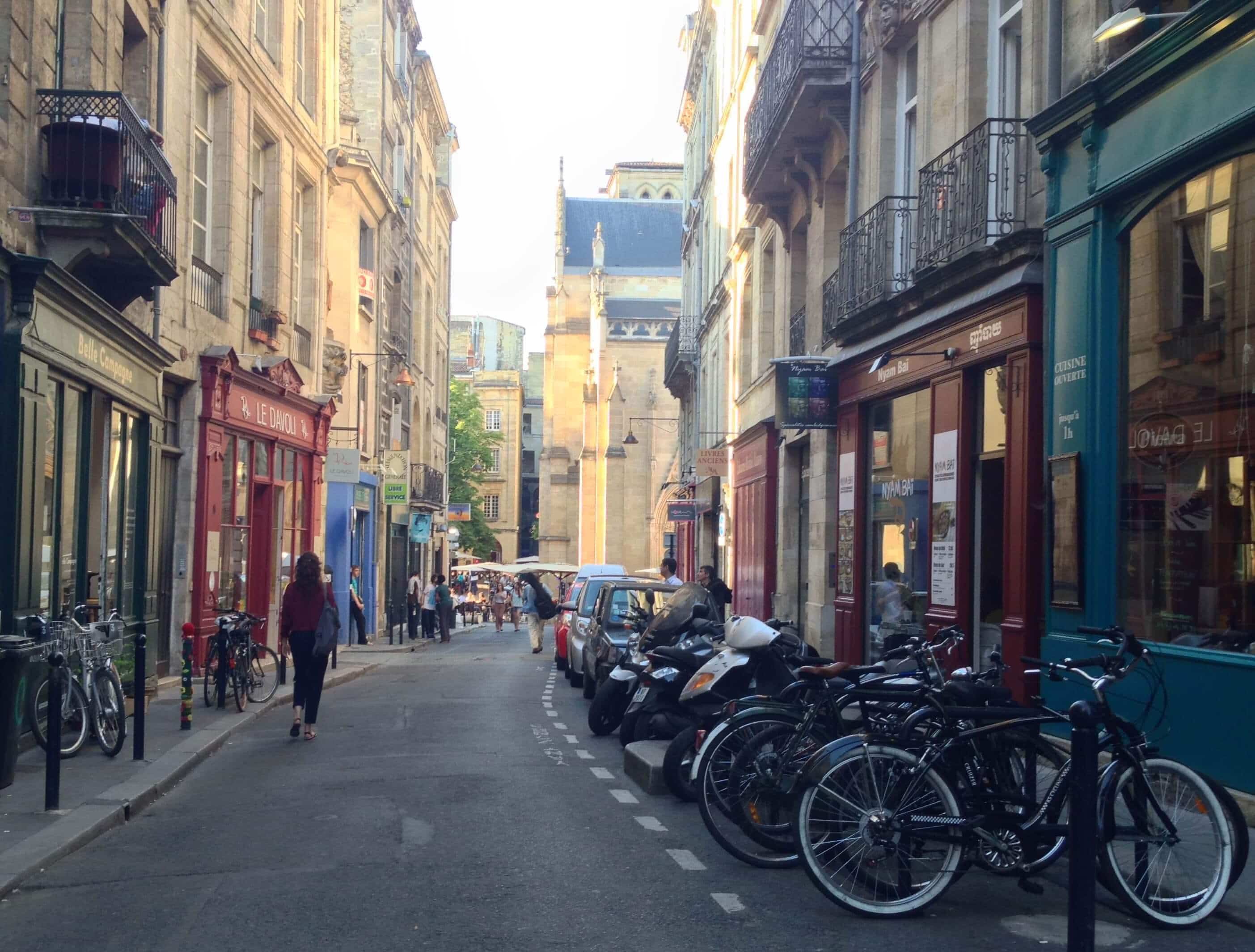 Bordeaux's Urban Wine Trail: In This Episode You Will Learn
How to navigate Bordeaux's Urban Wine Trail
Where to taste some of Bordeaux's top wines by the glass
A bit of history and lore behind the village of St. Emilion
Rachelle Lucas: Hello and welcome back to the Travel Bite, a show for foodies who love to travel. I'm your host Rachelle Lucas. Today's episode is coming to you from Bordeaux, France where I've got the inside scoop about their new urban Wine Trail. I also learn about a gentleman they call the Wine Magician since a lot of winemakers go to him for inspiration. We also get a few tips about places where you can go to taste some of Bordeaux's best wines by the glass. So grab your favorite vino that you have in your house right now, kick back and enjoy listening to the show all about Bordeaux.
Rachelle Lucas: I am in downtown Bordeaux now today and talking to my new friend Tebow. Am I pronouncing your name correctly? Because English it looks different, I would say like Tebow.
Tebow: You do pronounce it very well.
Rachelle Lucas: And Tebow and I went on a sort of wine stroll last night, it's something new here in Bordeaux, it's a urban wine trail and it's this cool map that he's helped put together with the Tourism Board here that where you can go around and go to different wine bars and taste wine. So why don't you explain to me or explain to us the kind of the background behind the trail?
Tebow: Oh actually, a lot of people were asking us for the past few years we would like to enjoy a terrace, I mean a nice wine a glass of wine terrace and we didn't have any I mean things which could answer to this demand. So finally we ended up with some help let's say from a different hostel, now people who wanted to provide some help and through this process. Sso we decided to go and select a few of the the wine bars, because we have a quite a good selection strict selection, we didn't want to have restaurants but pure concept of wine bar.
Rachelle Lucas: Specifically a wine bar. And I loved it because so last night we met and you chose three, there's how many are there on the map?
Tebow: Yeah, we have 14.
Rachelle Lucas: 14. So you'd almost need a week here to kind of taste them all, you know we do go to two or three a night.
Tebow: Oh yeah. You decide to go through the road, I mean though you can make it up in two days.
Rachelle Lucas: Yeah, we started in the morning. So we went to three completely different ones last night. I really enjoyed it. We started at the first one and the owner there was super friendly and kind of a joker, he's really funny. We had some amazing charcuterie and some local wines compared with them I think we had some ham, some Parma ham with truffle, [crosstalk] with local cheeses, it's delicious. I'll put a picture up on the blog so people can see but it was really good. But tell me a little bit about that wine bar, it was just called the liwine bar, so you can find it easily but tell me about that wine bar and why you chose that one?
Tebow: This is very specific because it is like in a nice area very if I located in the center of the old city of Bordeaux and this is a wine bar who is offering like a wide selection of glasses of wine which is particularly impressive because generally speaking they are offering like Max 10. Max 10 wines that you can take in a glass. So this one was amazing also because they are specialized in Italian specialties and so they have a good selection of Italian wine not just Bordeaux but still they are just quite a high level of quality.
Rachelle Lucas: I saw that because he had some Amarone there I noticed on the menu and that was a kind of a surprise for me too because I thought Bordeaux would just be all Bordeaux wines and we actually tried wines from a couple other countries actually on our tour last night.
Tebow: Afterwards [04:15 inaudible]. On the last one I think we had…
Rachelle Lucas: So this is a good story, I'll start and then you have to lead in and tell us a little bit about the gentlemen we met at that third bar. So we're gonna skip from the first bar to the third bar because what was really cool about this experience is he is known, you said it's kind of like a wine magician.
Tebow: That's the way I call him.
Rachelle Lucas: And he's very good about pairing people with wine. So they say I like a wine that has floral aromas or berry aroma, I always say I like a meaty wine that you know it's like seeking mushrooms which sounds weird but people that know, I know what I'm asking for and so we were talking about wines and he asked what my most memorable glass of wine was not necessarily the best, because I think there are other factors in there in what you like in wine, so it's very subjective, it's the night, it's the atmosphere, it's the company that you keep true it's all of those things that make it memorable for you. So the most number one I had was in Croatia. So I pulled up the photo of the wine that I had in Croatia, he had the wine, he knew the winemaker but then he wanted a 1-up and he's like oh well he like this winemaker which he knew he had another wine for us to try in other Croatian Zinfandel which was fun because Croatia is known for Zinfandel and then I'm like, but wait a minute we're in Bordeaux.
Tebow: You could have provided some reference above. What I like to do is like find in the region wine region, I mean the original wines, I mean the one which are not conforming to a specific requirements linked to an appellation, I think you could another in the US. So what we've seen yes there was like one which for example Bordeaux we just showed us which was nothing linked to what you can imagine a picture about Bordeaux wine. That's what you come and look for when you you get in his wine bar.
Rachelle Lucas: It's true and described you had a nice tasting there once, didn't you with some different Bordeaux wines that were kind of breaking the rules a bit, tell us about that.
Tebow: Yeah, actually we ease organizing once a month I guess, yes, a special wine tasting. So I together 10 people max so that he can get close to them and explain three to four different wines and what's interesting is generally speaking they are quite complex so you have different kind of wine grapes. So there are I mean the tastes, the very little taste of each of the grapes is coming step by step, so we're surprised waits a bit of time and after 15 minutes you're not even close to what you tasted like 15 minutes before. I mean its entertaining a lot I mean the tasting. The guy it's himself he's an attraction.
Rachelle Lucas: What's his name?
Tebow: He is called wind algae go.
Rachelle Lucas: Okay and he is a character. I also enjoyed that you said there's a lot of winemakers that go there for inspiration, it's kind of where the winemakers hang out, yeah?
Tebow: Yeah, definitely.
Rachelle Lucas: It's very cool.
Tebow: Because he has such wide reference worldwide references of wine and get pretty good I mean allocations where normally people are struggling to get serve the wine. So he has quite a good community of people from, I mean the wine business who are coming to find out about some references.
Rachelle Lucas: Yeah, from different references from around the world and get some inspiration. I mean I loved that one. He pulled out that Bordeaux and I think you tasted it, maybe you can describe it. It was a white Bordeaux blend but it it had to have a different kind of label because it completely broke all the rules and it was like four different grapes I've never heard of but maybe here locally you would have, but you know they weren't, you know they were definitely something unique, something different and funky and it's sounded cool.
Tebow: That was as one hector's of production if I remember well at the top of Medoc, so normally Medoc is more a beautiful there were red wines. So first this is [08:32 inaudible] and so you're like full, you had like gray Sauvignon, so it's not so unusual in Bordeaux, you get [08:42 inaudible] so the eastern parts of France in the mountains you had a bit upper in the [08:51 inaudible], the name of the wine grape I cannot remember let me tell you it's sevenia, which is reputed for tasting like nuts, deep nut and evaluating in chewy. So that was interesting.
Rachelle Lucas: Yeah, but I thought it was fascinating because I think we always assume you know the United States that in Bordeaux it's very strict and you found it really fun to learn that there's these winemakers out there breaking the rules, do different blends.
Tebow: It's breaking the rules, yes and no because it's breaking the rules because it's not conforming himself to I mean what you expect a regular Bordeaux, but it doesn't get to be called Bordeaux even if it's produced within Bordeaux.
Rachelle Lucas: Yeah, it was just a whiner friends. But still high-quality, still very high-quality.
Tebow: And that's all it's challenge is making you discover someone that you wouldn't have considered as qualitative because when you look at it and when you look at the etiquette, you will see Wonderfalls which is perhaps the less…
Rachelle Lucas: Usually people think that's table wine.
Tebow: Yeah, this is what you don't have too much requirements imposed on this appellation. So you can produce wonderfalls anywhere. And so what is interesting when you get surprised and you get surprised when you taste a wine like that so this is what when I say is a Gold searcher, this is what I mean is always looking for the nice little vineyards where you have production which is original and that's good.
Rachelle Lucas: What it tastes like? I didn't get a chance to taste it, I mean you've tasted it.
Tebow: So I think it's difficult to answer because it first tasted as lemon or grapefruits and there was a good acidity and good attack I we would say. Afterwards you get an evolution on if I remember well yes normally you should just feel 15 minutes later the Sevenia so the 15% of sevenia are basically linked to these nuts which is quite Prisons at the Richer of olfaction. It ends up with after one hour with the wind having quite a lot of fats, it's not having problem. I mean was fats like the burgundy wine [crosstalk].
Rachelle Lucas: Nice. I love a wine that evolves like that. We were talking about this last night and that I was describing my favorite kind of wine is one that's like Willy Wonka's Gobstopper where it's like every time you take a sniff of the glass there's something different to discover and it just kind of evolved some changes over time and it's just beautiful.
Tebow: This is to try for you then.
Rachelle Lucas: Yeah, I have to try it. So we skipped the middle bar. Let's talk about that one. So that one was a cool bar and that they have the machines there where you can have wine either one ounce three ounce or full glass and so it's really interesting because you get an opportunity to taste all different kinds of wine again they had all kinds of wines from France, from Rouen, from you know all of these different appellations but we also got to try some of Bordeaux's Rockstar wines. You never get to see these by the glass.
Tebow: Normally, [12:04 inaudible].
Rachelle Lucas: No, no. [Inaudible].
Tebow: We can't they both.
Rachelle Lucas: I've heard both that's why I was confused. [Inaudible] and one ounce pour of that which is the most beautiful Saturn I think I've tasted.
Tebow: Weight concentrated.
Rachelle Lucas: It lived up to a certain reputation. I think that one was 1982?
Tebow: Actually you mention that as I've not seen it, I've seen it in your glass.
Rachelle Lucas: I didn't share. I was terrible. I didn't share. It was 1982, it was just was rich and honey and honeysuckle and caramelized and marmalade, just all of it. And then I also tried the Mouton Rothschild that was 2001, it was an expensive pour. But you know I would I really think I really appreciate is that usually with these wines you have to buy the whole bottle or you would only get a chance to taste them at a fine-dining restaurant and so I found it really cool that there's this neat little bar in downtown Bordeaux where you can go and take these wines by the glass or just an ounce just to try it.
Tebow: I mean that's quite specifically, you also have another opportunity to taste it by the glass, there's wine max gallery, it was pub actually on there of the urban wind trail. They are spatialize actually in the concrete great growth of Bordeaux, so you have the full team, you have all of them, you have everything but this is specialized in this, we also have Sigyn great growth but I mean if you want just basically an idea about that you go straight there.
Rachelle Lucas: And what's that one called again?
Tebow: Max gallery.
Rachelle Lucas: Max gallery and where would people find it? What's may be the street corner?
Tebow: You can go on the Codel internals which is the very center of Bordeaux, so you go up to the plaza and only way you will have I mean the left side you will find it.
Rachelle Lucas: That was nice. And what I also enjoyed too in the I think the third bar we went to is, they organize some vineyard tours, and I think that's special to you. So you can stay in the city and you can go out into the vineyards and the chateaus and see them experience being in the middle of the grapes and seeing how wine is made but then come back to the city and I think experience more and taste more.
Welcome to play it, a new podcast network featuring radio and TV personalities talking business, sports, tech, entertainment and more play it at play.it.
Sharing her adventures from around the world. This is food and travel blogger Rachelle Lucas with the Travel Bite.
Rachelle Lucas: Do you have a favorite vineyard maybe or chateau? Are you allowed to say?
Tebow: Actually I [crosstalk]. yeah, there are different ones that actually my preference goes not to the top ones because they are very reputed and very qualitative but I like is to find out elite somewhere and you have an exchange with the winemaker and the family and we do have wine choice which are just offering you both of the experience. That's good I mean that's actually the mission of the tourist offices to over you to cover the full wine treason experience, [inaudible] linked to family properties shows which are focusing on the great Appalachians, to locomotives [inaudible], but not only you have the best offshore who is just focusing on the castles who just got awarded for in different sections like environmental practices or family in children.
Rachelle Lucas: Oh family friendly, okay.
Tebow: Yes, different categories actually. So we gather I mean the last ceremony or in the the laureates of the last ceremony and so we try to make them together them on the tour. So the people will have a chance to take a car and the tourist office take a bus to be gated through the vineyard for the full day, three different places.
Rachelle Lucas: Yeah, I've really enjoyed to I think just like you said the the smaller wineries, the boutique wineries, the family wineries, it's really hard to taste a bad Bordeaux like they're all delicious and it's and it's interesting to get away from some of the more well-known ones and find some of the smaller ones like you said and then it go into Grove and then there was another one too that someone was saying is really trendy yesterday. We were there just outside of the city. I don't remember the name. I think it starts with a P.
Tebow: You mean a wine bar?
Rachelle Lucas: No, a region like an area. We went to a chateau there yesterday and it's supposed to be up-and-coming in trendy among people in Bordeaux not necessarily around the world yet.
Tebow: Sorry, to be honest I can't really remember.
Rachelle Lucas: I have to look at a map it's like oh my French is bad I don't even want to try. It is like a Pisac?
Tebow: Pisac.
Rachelle Lucas: Yeah that one, yes.
Tebow: So this is one region we have here and the south of Bordeaux, so there's a lot of different I mean Castle I mean which have very, very good value there so you have like one big ones, you have classified ones. So I can't remember whether or not there would be one.
Rachelle Lucas: I think it was just generally the region people were saying it's kind of trendy and one-third of all the wines that they produce are actually staying here in Bordeaux and so people Bordeaux are kind of leaning towards those wines right now. I guess they're like younger winemakers.
Tebow: Yeah getting more and more famous, I mean because they produce very good wines, but the most renown I mean no not lists regions the Médoc because of the you know classification…
Rachelle Lucas: Everyone knows Médoc, yeah.
Tebow: I mean you also which is very well known because they have also a classification not the same at all, but so they are very requested or demanded by public. [18:37 inaudible] is getting more and famous also and you have [18:41 inaudible] also. That's very good.
Rachelle Lucas: Yeah and sent to me on was beautiful. I had the chance to go there my first day, how far is it here from the city centre maybe? 45 minutes, an hour by train?
Tebow: By train 30 to 40 minutes.
Rachelle Lucas: So it's quicker than I thought.
Tebow: Which means by car you have approximately same like 40 to 45 minutes.
Rachelle Lucas: It's a different experience because it's so small and rural and the town is beautiful. it's very picturesque and it's a UNESCO World Heritage now. So somebody pointed out to me, they're like look around the roof and on the roofs of the houses do you see anything and you don't, there's no antennas or discs or anything, it just it keeps that kind of old-world charm.
Tebow: That's I mean they told you the story of [19:24 inaudible].
Rachelle Lucas: Go ahead and tell it. I'll let you tell it.
Tebow: I wouldn't be the best person to tell. Actually there's a place I mean in [inaudible] I think it's called it's in English crypts.
Rachelle Lucas: Yes.
Tebow: Well apparently you remain for a while living out like an air meets, and remember funny story that there's like seats, stone made, it's not so comfortable like this is very redeeming Terry I would say. And so apparently the woman who gets in us sitting on this seats, they should get pregnant something year to come.
Rachelle Lucas: And then I just walked through [inaudible] I don't think I sat down anywhere.
Tebow: That's close enough for the magic to happen.
Rachelle Lucas: I've heard that too. Something else I appreciated too is the history of the macaron the cookies because I think in the United States we always think of them as the beautiful, colorful, little sandwich cookies from lottery and these were more simple and just almond and so I got the opportunity to watch them make them one morning and so there was one gentleman, he was peeling the almonds that they had soaked overnight and then there was two other ladies and they were grinding the almonds and making the fresh paste and then mixing it with sugar and egg whites so it's just three ingredients, it's very simple. Have you tried these cookies? Very delicious.
I was trying to get the recipe from them but it's a secret, I know the three ingredients, I don't know the quantities of each of you so I'll have to test it out when I'm at home and see if I can try making it.
Tebow: Have you ever tried I mean the specialty cake, canelé?
Rachelle Lucas: Oh describe them. I'll let you describe them because I did try them and they're delicious.
Tebow: That's very hard for me to explain the form they have because there's a lot of curves.
Rachelle Lucas: It kind of looks like a flower to me, or in the United States I guess it would be similar to a little miniature bundt cake, it's like a teeny little bundt cake, it's tall and it's fluted it has little…
Tebow: Caramelized bits I mean this is brown outside but this is totally white and not creamy but this is soft inside. A good story about that. The good story is like back in the past when the vineyards were owned by monks and covent, I mean to make wine you're supposed to back in the pub that were usually used using the white of the eggs to clarify it, the yellow part of the egg, the yolk, they were sent out. So I mean the monks and the I mean and decided to use I mean how did you call it again?
Rachelle Lucas: Yolks.
Tebow: Yolks.
Rachelle Lucas: You can call it the yellow part, I will know what you're talking about, yeah the yellow part of the egg is fine.
Tebow: And they decided in order not to waste, I mean this production to make something out of it. So the this is the way. I mean they created then the canelé was born because this is one of the major [inaudible] and you get a crumb in it, and you get this is supposed to be a long preparation because of fluff, you are supposed to remain to rest before if I don't say like at least 48 hours. So even perhaps 72 hours, I'm not sure. So it takes time and you have to really plan for it.
Rachelle Lucas: Everything that is delicious takes time. So that's expected. So yeah they're delicious little cakes I've been noticing that might be where there's a little shops and stuff around Bordeaux and you can try, you can store to one or you can have a little box of them and they're small, they're like the size of a little cake or a little cookie but really delicious. I think there you know I would describe maybe the flavors a little bit, like you're right it's almost kind of not custardy but like a like a crepe may be. It's very like egg ford I would say. More eggs and flour, yeah.
Tebow: Yeah, much more egg and flour. Yes, and bit of rum depending on the recipe used by the different persons.
Rachelle Lucas: The rum surprised me because I would think wine, but rum how did rum get to Bordeaux?
Tebow: That's a good, I mean that's a probably [inaudible], there was a lot of exportation exchanging them in the Caribbean. So most probably that's coming from the Caribbean. So yeah. We used it nicely.
Rachelle Lucas: Nice. I heard one of those little shops is getting ready to open outside of your office here.
Tebow: You mean [inaudible].
Rachelle Lucas: The cakes, and you said the cannolis. Yeah I heard one's opening soon right downstairs like right next door.
Tebow: Oh yeah, They will, that will happen. We're waiting because we can kind of I mean we kind of leave without that, that's morning for breakfast.
Rachelle Lucas: That would be dangerous for me to have that right outside of my office. I would only think I'd have to have one every afternoon because it's a nice little pick-me-up with your coffee, it's perfect.
Tebow: That's why we hired, I am a decorator.
Rachelle Lucas: Well we've talked so much about wine and food and all of these great things. So maybe let's end with what's the website where people can go to find out more about the wine trail if they're planning their vacation here.
Tebow: Okay. So there's two way to find out about the wine trail. The urban wine trail in front [inaudible], the Bordeaux. So either you can go on the website [inaudible]. and .com soon and you will find out in wine gastronomy in to see to do to see okay section and then you you will see it written there the roots of the wine bars, you click on it.
Rachelle Lucas: Urban wine trail. Perfect, I highly recommend it. I need to come back because there's several more I need to try. I only had to try three so far.
Tebow: Perhaps next year.
Rachelle Lucas: I have more!
Tebow: If they flourish.
Rachelle Lucas: Yes, I'll have come back next year, spend a week just in town and finish the wine trail.
Tebow: You'll be most welcome.
Rachelle Lucas: Well thank you for your time today and definitely I'll put the website there in the show notes so people can find it.
Tebow: Yeah, okay. Oh probes can I had something?
Rachelle Lucas: Sure, absolutely.
Tebow: There's a wine tour brochure, we deliver at the tourist office. So you have everything written then at the end of it. So this is something you can help if you have it with you, you just have to show it.
Rachelle Lucas: I do, I remember seeing that. So if you stopped by the tourism office here that will give you a book and inside the book there's a map and a listing of all the wineries and their phone numbers too and their address so you can easily find them.
Tebow: Easily and they offering or so specific I wouldn't say menu but specific each item they selected for the urban winter also they're generally speaking let's say one glass of wine when I say offering, they're proposing for price which is a good price, one glass of wine plus [crosstalk].
Rachelle Lucas: Or some other little tasting menu to go with it. So a little wine, a little food, a little tasting through Bordeaux, it's nice.
Tebow: Exactly.
Rachelle Lucas: Well thank you so much and let's go try and find another bar. Another one of the wine trail bars. Thank you.
I hope you enjoyed today's episode from Bordeaux and I'd love to ask you for a favor. Can you go over to iTunes and rate the podcast. It'll only take you 30 seconds and it will really help the show get to more people who enjoy stories about food and travel. Thank you so much in advance and be sure to tune in next week for more food and wine stories from my summer in Europe.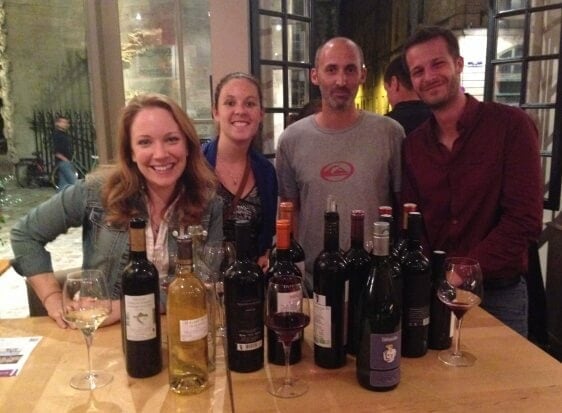 The Travel Bite Podcast is an audio program for foodies who love to travel. During each show, I share stories from my adventures around the world — From chatting with top chefs and winemakers, to talking with other travelers about unique eats and experiences, we'll tempt your tastebuds and take your imagination on a culinary journey across the globe.
Save this podcast to listen to later … pin it! 🙂