Just outside the metropolis of Mumbai is Elephanta Island, where visitors can find a quiet reprieve from the noise and chaos of the city and perhaps even experience spiritual sense of peace. From the Gateway To India, we hopped on board a rickety wooden boat and out into the silvery bay, unable to see where the water ends and the horizon begins.  After about an hour long journey, a sliver of land appeared through the haze … we'd finally arrived to Elephanta Island.
Oddly enough, there are no elephants on the island.  But we did find curious monkeys ready to snag a snack or two from any willing visitors.  The island received it's name after a sculpture of an elephant was discovered amid the rocks. Though the elephant is now in a museum, the temple caves carved into the boulders still remain.
Along the ancient stone walls are depictions of the god, Shiva, in various roles.  From creator, preserver, and destroyer, to yoga shiva and even dancing shiva.  Our guide said these represented the range of emotions within each one of us.  At that moment, I only felt one emotion, awe.
How To Get To Elephanta Island:  Navigating Mumbai is a bit, how should I say, tricky.  I'd highly recommend visiting Elephanta Island on an organized tour such as Viator or something similar.  That way you have trusted transportation and a guide to let you know about the history of the island and caves.
And here's a photo journey of our day on Elephanta Island: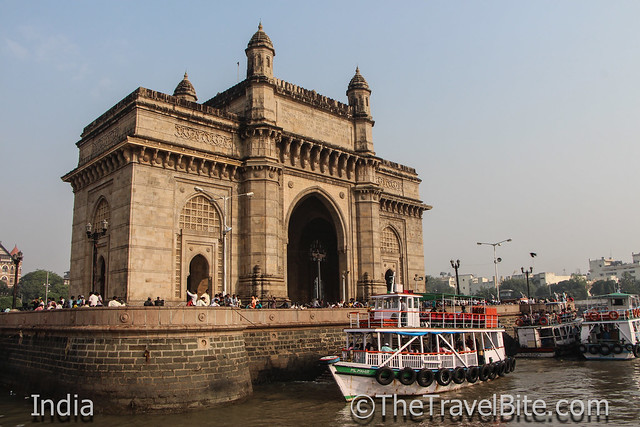 Disclosure: This trip was part of an exciting work assignment for Four Seasons Magazine where I was invited on the inaugural flight for the Around The World Four Seasons Private Jet Experience.
Want to save this travel tip for later?  Pin it! 🙂