If there was ever a luxe way to get scared the dickens out of for Halloween, it would be Halloween Horror Nights at Universal Studios Orlando.  I'm not usually one for thrillers and gore, but I do love a good ghost story and have been on a few spooky walking tours in historic cities.  But one of the biggest Halloween events in the world happens to be in my own backyard and I've never been to it … until now.
I finally got the nudge to go, scaredy cat that I am, as part of the new Universal Orlando Blog Squad.  And after having an incredible time spending an evening going through all nine of the haunted houses at Halloween Horror Nights, I can't believe it took me this long to give it a try!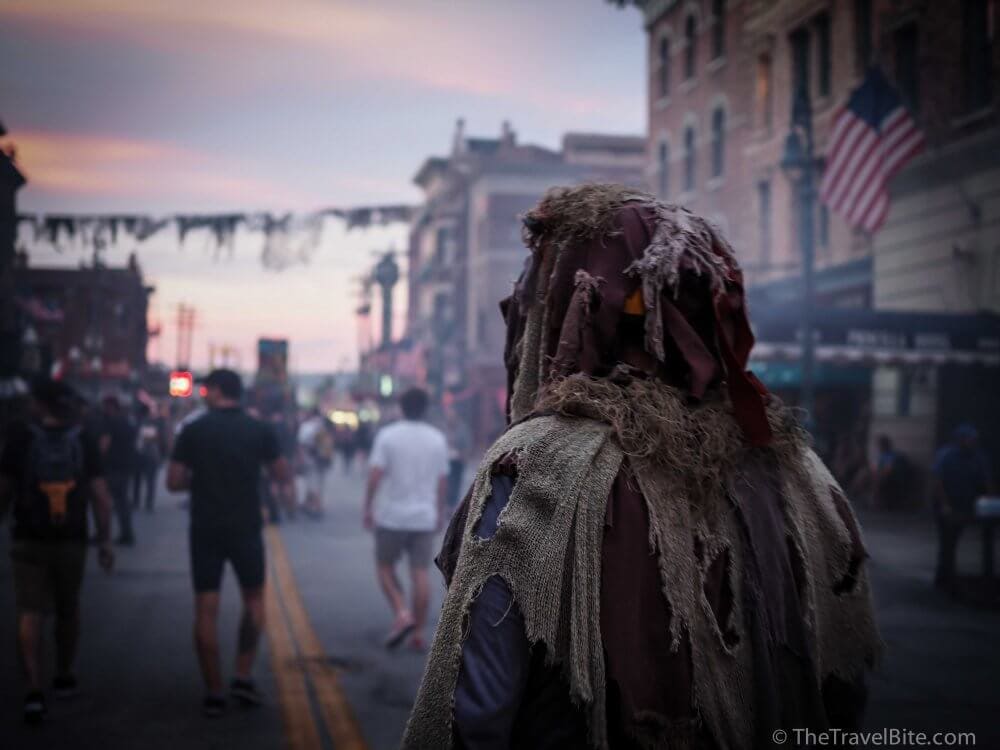 If you're unfamiliar with the event, Halloween Horror Nights (or HHN as the locals call it) is a nighttime Halloween themed event that runs from late September though October.  There are nine haunted houses throughout the theme park that are designed to immerse you in frighteningly real details in such a way that only a film company like Universal Studios could produce.  The costumes, the sets, the make-up on the actors, it all looks so unbelievably real.  As part of the Universal Orlando Blog Squad, we got to go behind the scenes to see how the makeup is done.  What do you think of my bruise and vampire marks below?  Crazy, huh?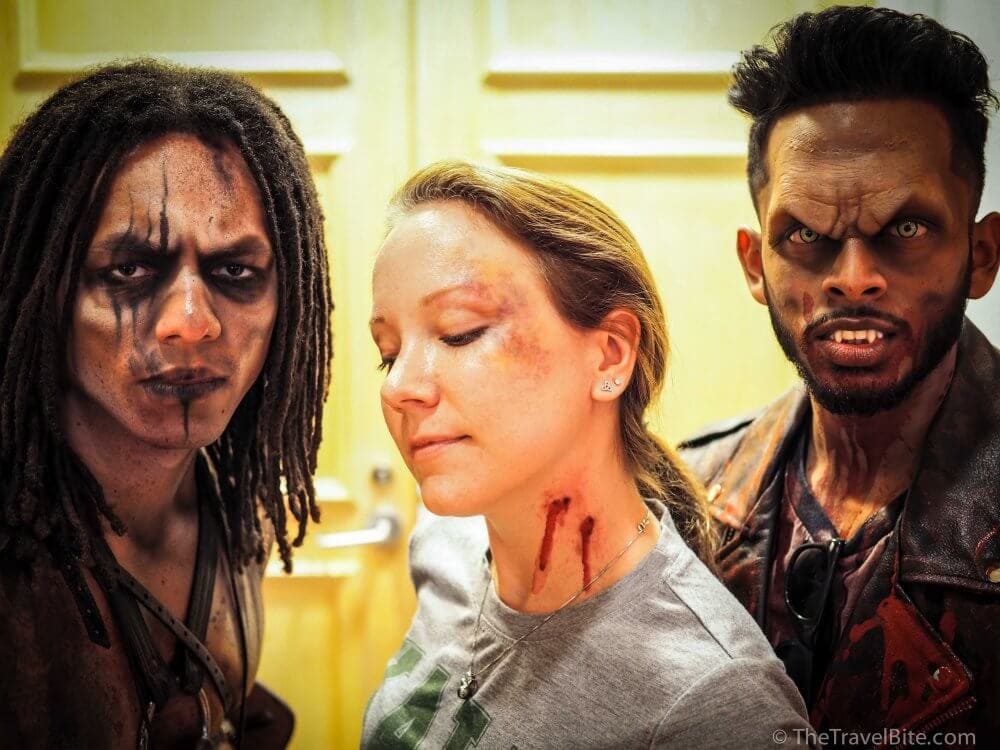 Now, about how to make this a more "luxe" experience as I mentioned before.  Instead of being a VIP, you've got to go R.I.P.  Their R.I.P. tours include a guided walking tour of Halloween Horror Nights and will save you time by putting you ahead in the lines.  Plus, there's a private area to share some delicious food and drinks with your friends on tour with you.  Here's my top 3 reasons to consider a R.I.P. Tour:
Skip The Lines — Your tour credential gets you Priority VIP Entry to all the haunted houses, so you don't have to wait in line.  Not only is this a time-saving perk, but you'll be able to experience all the haunted houses in just one night.  Normally, I think it would take a couple of visits to see them all.
Take A Break — When your heart is pounding and you need a moment to catch your breath in-between scares, drinks and appetizers will do just the trick.  Or in my case, coffee and cupcakes!  With the R.I.P. Tour you get exclusive access to Cafe La Bamba which includes appetizers, desserts, drinks, and a cash bar.
Get Center Stage — As an RIP Tour guest, you'll have reserved seating at Bill & Ted's Excellent Halloween Adventure, so you don't have to worry about getting in line early to get a good seat.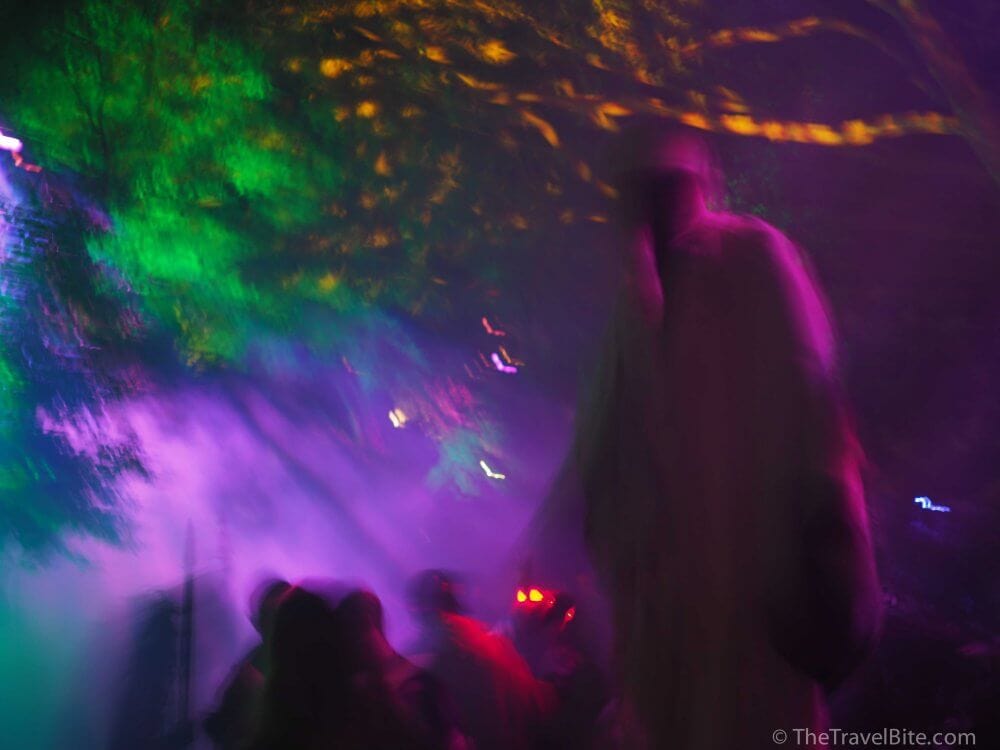 Other R.I.P. perks include complimentary standard valet parking, Exclusive VIP entrance to Universal Studios Florida™and Universal Express™ ride access to participating regular theme park attractions.  There's also a separate daytime "Behind-The-Screams" Tour that will take you through some of the haunted houses with the lights on to show you how the design team works their magic.
More About Halloween Horror Nights RIP Tours:
RIP Tours start at $179.99. The Halloween Horror Nights R.I.P. Tour ticket is NOT valid for admission to Halloween Horror Nights event. A separate event ticket for Halloween Horror Nights 2016 must be purchased for entry.  For more information, check out HalloweenHorrorNights.com.
Check out a few more of my pics from our fun night below!  And in the spirit of disclosure, as I mentioned above, I attended Halloween Horror Nights as part of Universal Orlando Resort's Blog Squad.  However, all thoughts and opinions are entirely my own.