There's nothing like celebrating Chinese New Year in Hong Kong. This year is the Year Of The Pig! (Can you say yummy pork dumplings?) I had the opportunity to visit during this festive time of year and out of all the things we did that week, I've narrowed it down to 5 activities not to miss while in Hong Kong for Chinese New Year.
1 – Visit the Lam Tseun Wishing Trees to make a New Year's Wish.
We all have wishes and dreams for the new year, right? Well, in Hong Kong, everyone goes to the Lam Tseun Wishing Trees to cast their aspirations for luck.
Located near the Tin Hau Temple in Fong Po Village, there are two banyan trees where locals would hang their wishes. Writing them down on a piece of red joss paper (red is auspicious), they'd tie the paper to an orange and throw it high into the branches of the trees.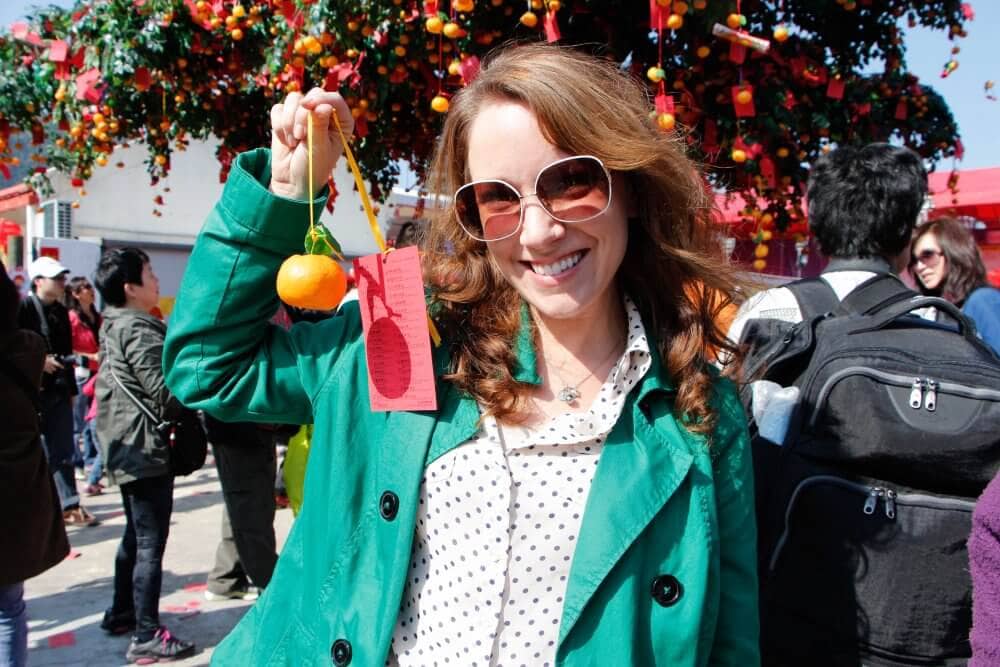 It's believed that if your paper stayed put on one of the branches and didn't fall, your wishes will come true.  And, the higher your note landed, the more likely all your wishes would come true.
The tradition still continues today, but in order to conserve the aging banyon trees, an artificial tree is created to bear the wishes.  It's just as leafy green and as big as originals.  For a small fee, you can buy the joss paper and mandarin orange to toss your wishes onto the tree.
2 – Lunar New Year Fireworks Over Victoria Harbour
It's impossible to miss this fireworks show as it's one of the largest in the world. You will want to pick out a great spot for viewing though. We ended up at the top of a parking garage at Victoria Harbour Mall. But, two other great spots are either in the lobby bar at the Intercontinental Hotel or on the Avenue of Stars Promenade in front of the hotel.
3 – Climb To The Big Budda
This is definitely a pilgrimage all visitors to Hong Kong must make. The Tian Tan Buddha, affectionately called The Big Buddha by locals, sits 34 meters (111 feet) high on top of a lotus. Climbing the stairs to this enormous statue is no small feat, but is definitely worth the views.
Afterwards, visit the Po Lin Monastery and light some incense during quiet reflection.
They also have a fabulous vegetarian lunch where you can rest and refuel for the rest of your day.
4 – Ride A Red-Sail Chinese Junk
Ever see pictures of those exotic looking boats with a red sail? This is one of those. Don't be fooled by the name. A "junk" is just the name for a type of boat with a fully battened sail. Aqua Luna does evening harbor cruises where you can lounge on the boat's deck, sip a cocktail, and enjoy the view of the harbor lights show. A world beat, acid-jazz type of vibe welcomes you on board and is sure to make your senses feel like you've stepped into another world.
5 – Celebratory dinner and drinks at The Intercontinental
The Intercontinental has floor-to-ceiling glass windows overlooking a panoramic view of Victoria Harbour.
Order some drinks in their Lobby Lounge, then head to dinner later at Spoon, a 2 Michelin Star restaurant offering contemporary French cuisine.  I know, Hong Kong is not where you'd normally think of to indulge in French foods, but this world city offers over 11,000 fantastic restaurants.  This is one that scores for flavor and fantastic view.
Happy Lunar New Year!
Disclosure:  My trip to Hong Kong was sponsored by Discover Hong Kong.  As always, my opinions and enthusiasm for travel and food are entirely my own. Originally published in 2014, updated for 2019.
YOU MIGHT ALSO LIKE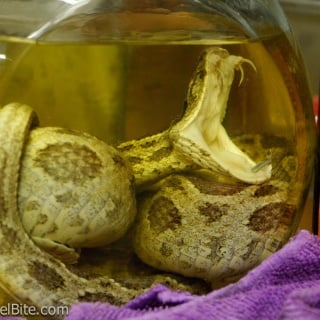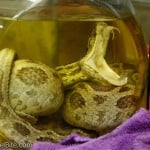 Confessions Of  A Foodie:  Hong Kong Edition
Sometimes, being on a food tour is not as deliciously rewarding as it sounds.  Take, for instance, my visit to Hong Kong for Chinese New Year; the Year of The Snake. Do you think I found snake on the menu … you know … for good luck?  You betchya. It was only a (Read more …)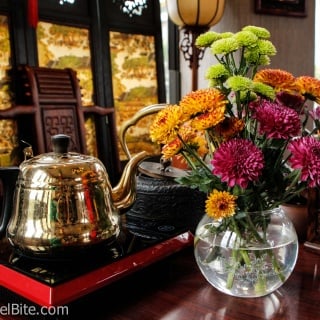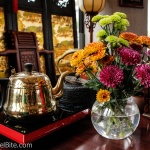 Sai Kung Pineapple Buns And A Proper Chinese Tea
Strolling through the streets of Hong Kong, there's no shortage of fun foods to try.  Travelers can dig their chopsticks into traditional street foods such as rice noodle rolls and fish balls in tangy red sauce, or, for the adventurous gourmand, there's slimy snake soup or gelatinous steamed tripe.  (Foodie confession here … I can't stomach the slimy foods.)  Personally, my favorite were the sweets. (Read more …)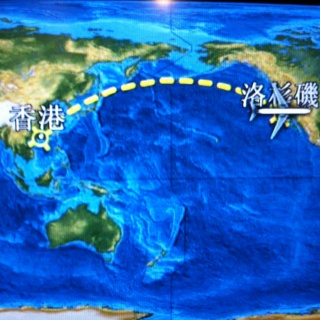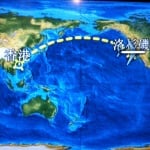 3 Simple Ways To Survive A Long Flight
Do long flights hold you back from booking the trip of your dreams?  They shouldn't.  I actually prefer longer flights to cross-country since you actually have time to rest and reset your internal clock to a new time zone.  But if you're not traveling first class, there are still a few discomforts to work around. Here are my tips for enjoying a long flight. (Read more … )