As much as I love the autumn season, back home in Florida we still have the air conditioning cranked and we're just pretending it is fall by decorating everything in orange. Forget pumpkin spice lattes, we're still sipping iced coffee and fighting off hurricanes and tropical storms. And while I love the idea of pumpkin spice, all the ones I've tried just taste like perfume to me. So, my fall go-to drink is typically my Autumn Sangria, or an iced dirty chai which has all the flavorful spices of pumpkin pie with a shot of espresso. That was until my mind was blown during dinner one night at an Orlando taqueria, The Black Rooster. They had an Iced Coffee on their menu (of course, because, Florida) that consisted of orange, Mexican cinnamon, and sweetened with sugar.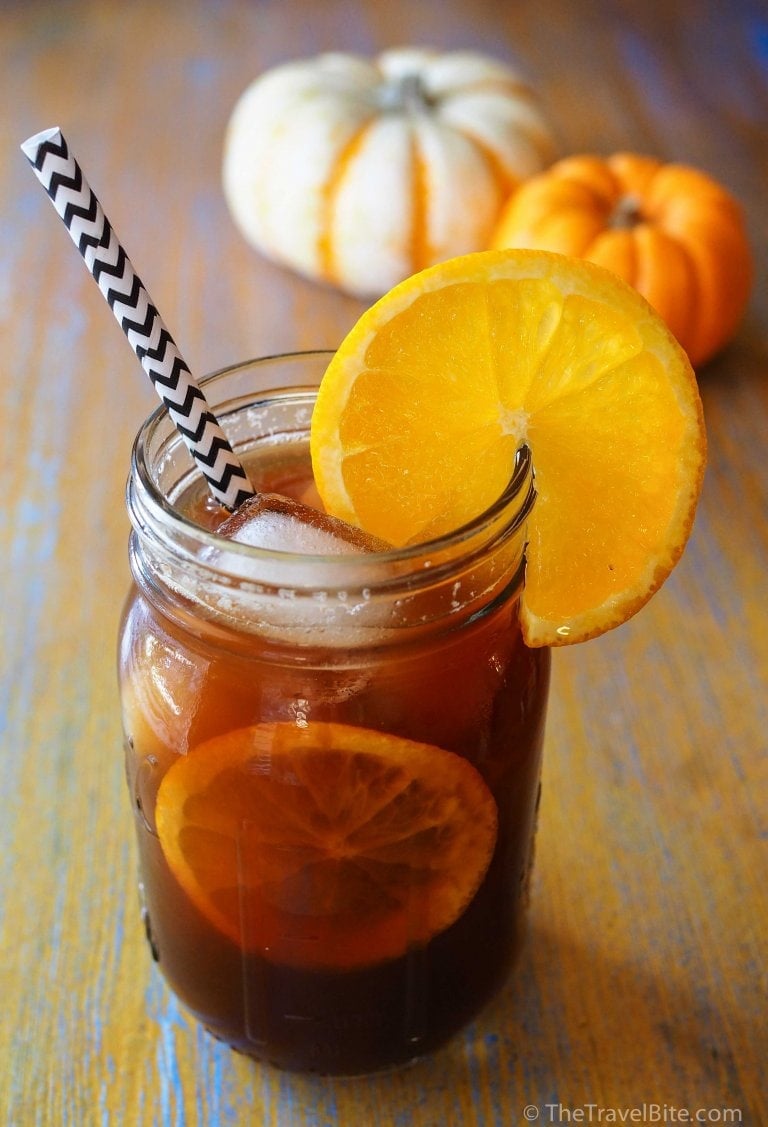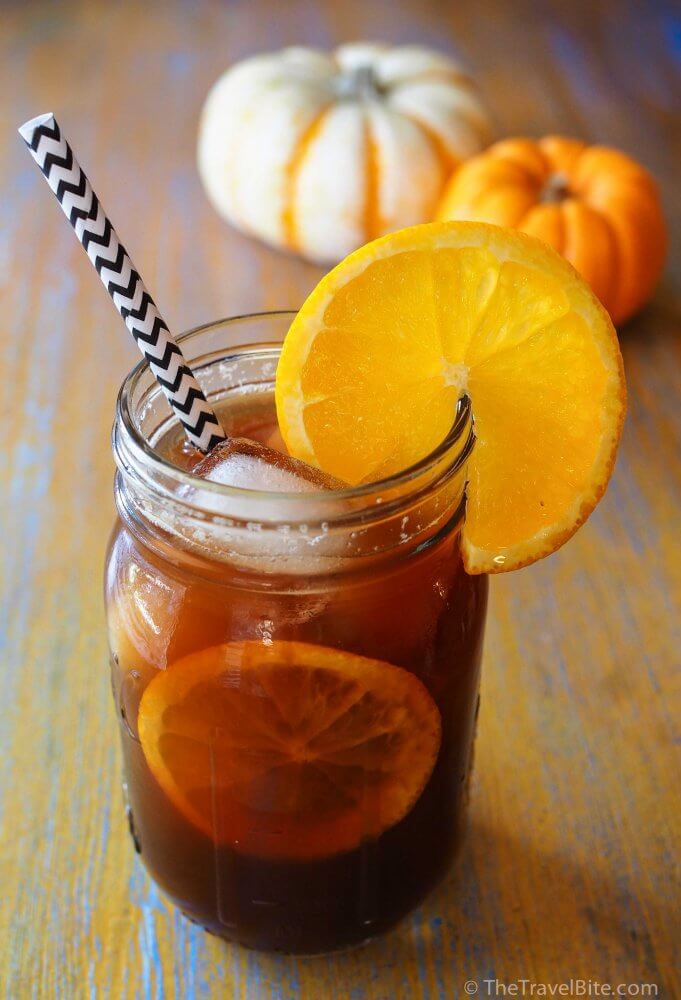 I remember Starbucks once had an orange spiced iced coffee and don't know why this perfect flavor combo didn't remain on their menu. So, I decided to give it a go at home. And after 3 batches of iced coffee (I was really wired that week), I got the combo down just right. So, here it is, a quick and easy recipe for an orange spiced iced coffee.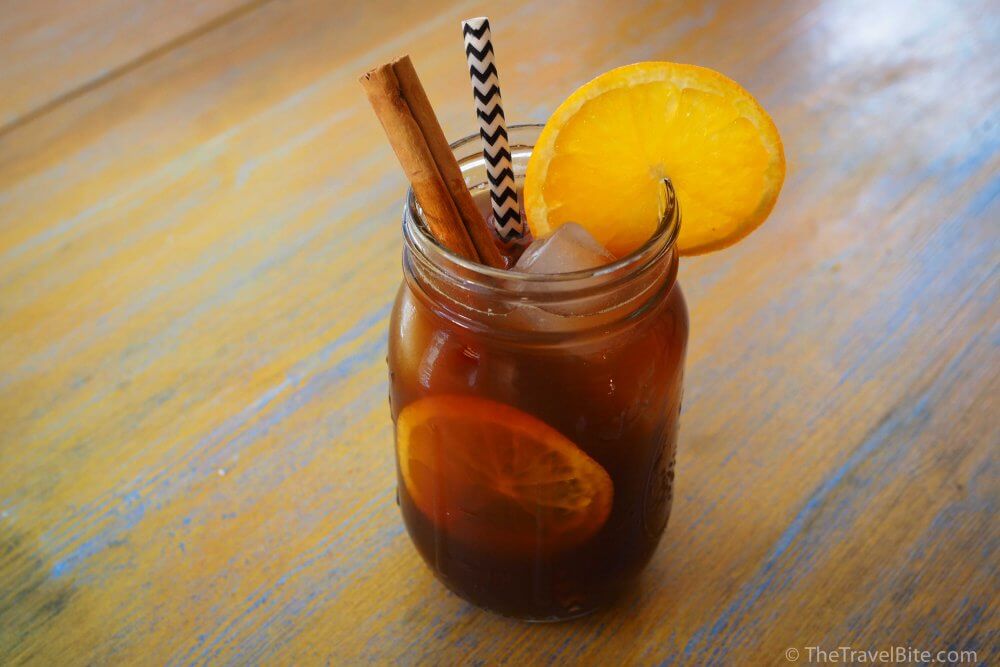 Orange Spiced Iced Coffee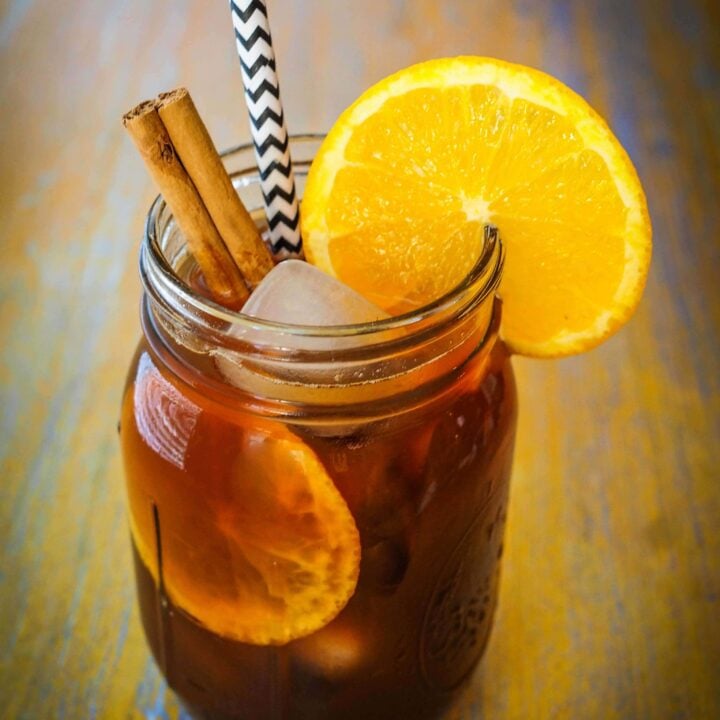 Orange Spiced Iced Coffee
Ingredients
zest from one orange
1 tbsp cinnamon
1/4 cup brown sugar
4 tbsp ground coffee
34 oz boiling water
French Press
Instructions
Add coffee grounds and cinnamon to French Press.
Zest one orange over the press, mixing the zest with the grounds.
Pour boiling water into French Press and brew for 6 minutes.
While you're waiting for it to brew, add brown sugar to another glass pitcher.
Once coffee is done brewing, pour through a sieve (to catch any loose bits of cinnamon or orange zest) into pitcher with sugar and stir until sugar is dissolved.
Serve hot, or let coffee cool for 10-15 minutes and serve over ice.
Add a slice of orange and cinnamon stick for garnish.
Nutrition Information:
Yield:

4
Serving Size:

1
Amount Per Serving:
Calories:

65
Total Fat:

0g
Saturated Fat:

0g
Trans Fat:

0g
Unsaturated Fat:

0g
Cholesterol:

0mg
Sodium:

14mg
Carbohydrates:

17g
Fiber:

2g
Sugar:

14g
Protein:

0g
Nutrition information provided is only an estimate.
Just A Note:
if you make a batch and store some overnight (who has coffee leftovers?) the cinnamon might form a sludge. This is perfectly normal as the fiber in cinnamon is water soluble. In order to prevent it, filter the coffee through a paper filter in addition to the sieve mentioned above.
Second Note: You can also make this as a cold brew. Simply mix cold water with the orange zest, coffee, cinnamon, and sugar in a large mason jar or glass pitcher and allow it to sit overnight for at least 8 hours, or up to 12 hours. In the morning, filter it through a sieve, and voila. Cold brew orange spiced iced coffee. The coffee flavor on this one will be more mild and the caffeine content will be much higher.