With the lasting chill in the air this winter season, I've been craving hot comfort foods. And while there's no shortage of yummy recipes to warm up the heart and soul, it is January so I'm trying to stick to a healthy glutton-free, dairy-free diet. Jody, with Legal Nomads, has been posting all kinds of yummy soup pics from Vietnam on her Instagram feed, and so it inspired me to make an Asian style chicken noodle soup.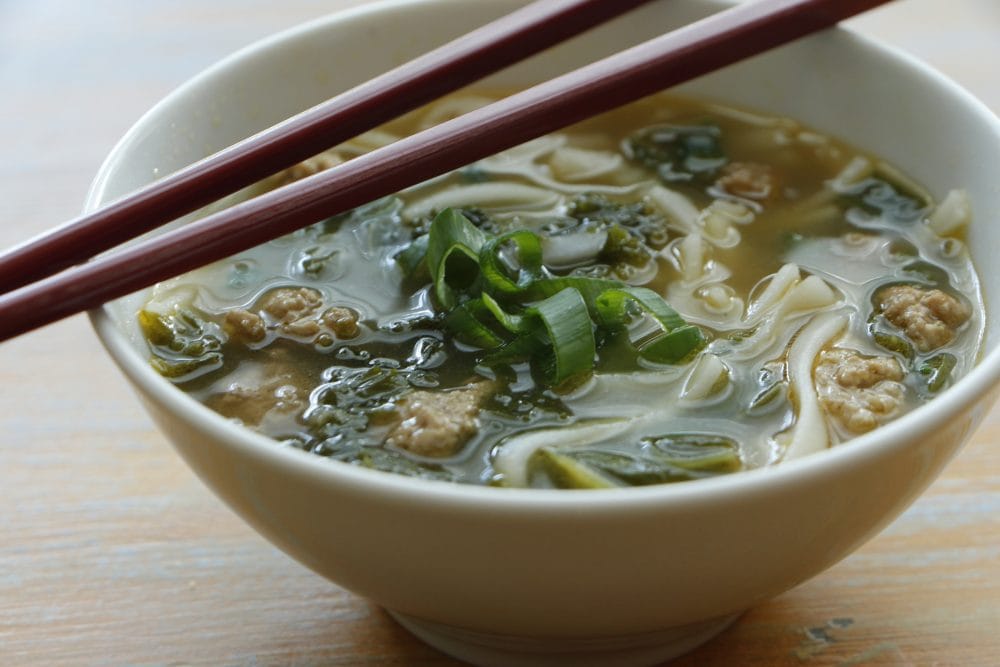 I've adapted it from a recipe in Bon Appetit magazine, toning down the spices and subbing the pork for organic free-range ground chicken. It's still pretty spicy as fresh ginger packs a lot of heat and my reason for using chicken is just a person choice since there was no heritage or pasture raised pork available at my local grocer.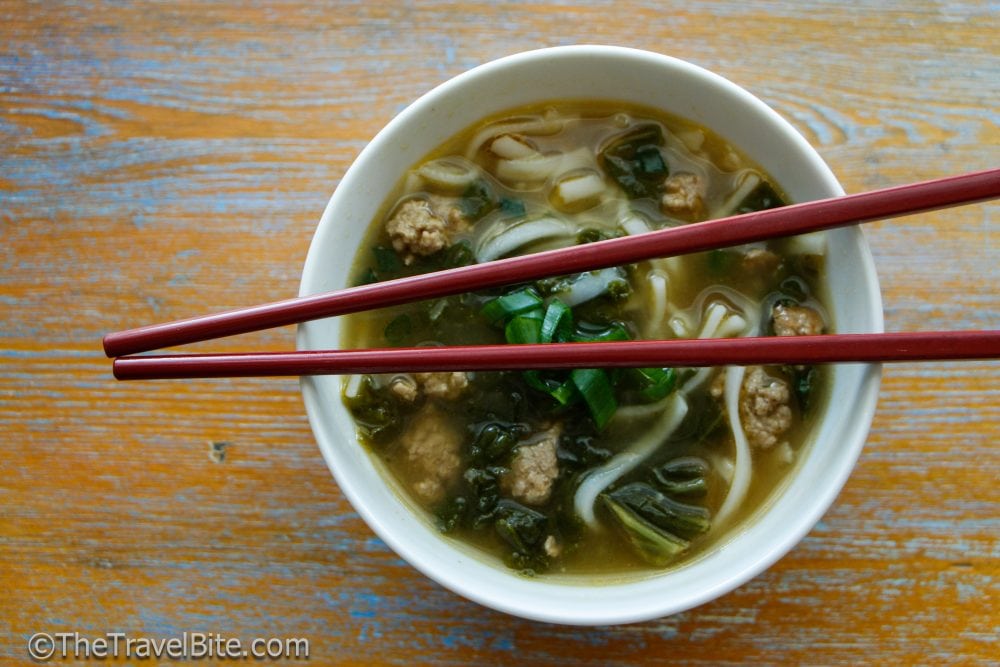 A note about fish sauce. If you've never used it before, let me warn you, it stinks. And not even like fish the way you'd expect it too. No, the smell is a cross between stinky feet and a public restroom. But don't let that deter you. When cooked, it doesn't taste the way it smells and it's the super "secret" ingredient that makes most Asian dishes awesome.
The rice noodles make it gluten free and the ginger and garlic satisfy that good-for-you, stay healthy during cold season craving. Enjoy!
Asian Style Chicken Noodle Soup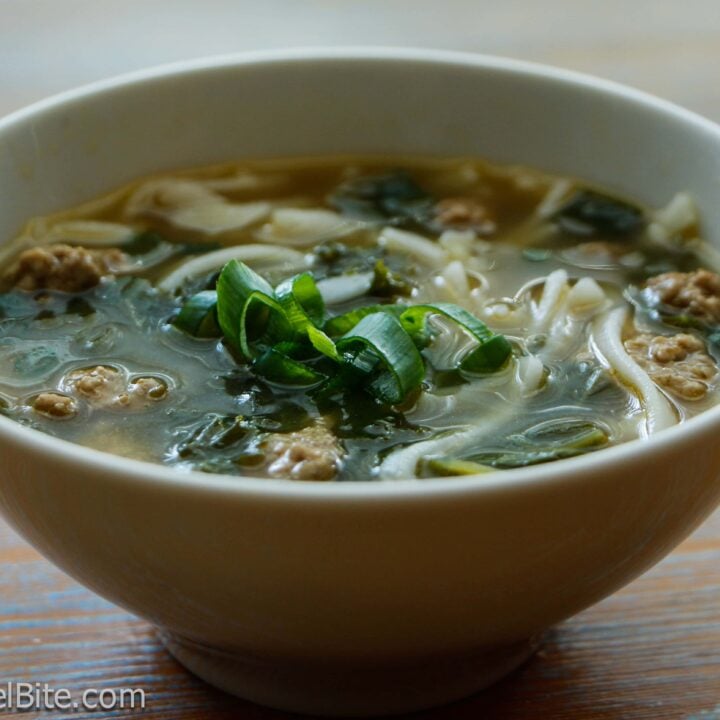 Spicy Chicken and Rice Noodle Soup
Ingredients
1 lb ground chicken
2 garlic cloves, finely chopped or pressed
2 tsp fresh grated ginger
1 tsp red pepper flakes
1 tbsp olive oil
4 cups organic vegetable broth
2 cups water
2 tbsp soy sauce
1 tsp fish sauce
4 cups mustard greens
4 scallions, sliced thin
1 package of wide rice noodles
Instructions
Start by prepping your ginger and scallions. For the ginger, cut off the peel with a sharp knife, then grate the ginger using a fine grater (similar to what you might use for cheese). For the scallions, I save time by using kitchen scissors to cut them into the size I want.
In a medium sized bowl, mash together chicken, ginger, and red pepper flakes using a fork until it's well blended. Season with salt and pepper.
Heat olive oil in a large pot over medium heat, then add the chicken mixture and cook until browned, stirring occasionally to break up the meat.
Once the meat is cooked thoroughly, add the vegetable broth and water and bring to a boil. Reduce the heat and let it simmer for 8-10 minutes.
While the soup is simmering, cook the rice noodles according to package directions, drain and set aside.
After the chicken and broth mixture has simmered, add the soy sauce, fish sauce, scallions, and mustard greens and cook until the greens are tender.
Add about a half cup of noodles to each bowl and ladle the chicken soup over the noodles. Enjoy!
Nutrition Information:
Yield:

6
Serving Size:

1
Amount Per Serving:
Calories:

223
Total Fat:

11g
Saturated Fat:

3g
Trans Fat:

0g
Unsaturated Fat:

7g
Cholesterol:

81mg
Sodium:

891mg
Carbohydrates:

12g
Fiber:

2g
Sugar:

2g
Protein:

20g
Nutritional information provided is only an estimate.
Want to save it for later? Pin it! 🙂


YOU MIGHT ALSO LIKE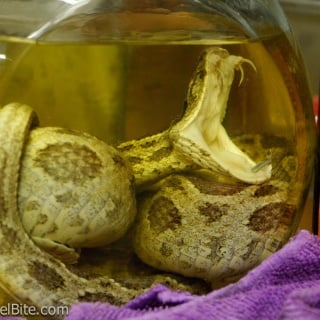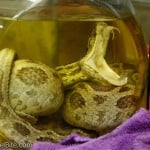 Confessions Of A Foodie: Hong Kong Edition
Sometimes, being on a food tour is not as deliciously rewarding as it sounds. Take, for instance, my visit to Hong Kong for Chinese New Year last year; the Year of The Snake. Do you think I found snake on the menu … you know … for good luck? You betchya. It was only a (Read more …)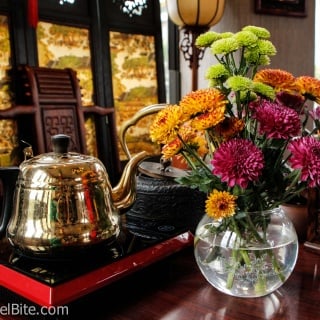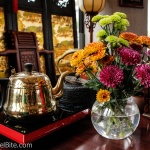 Sai Kung Pineapple Buns And A Proper Chinese Tea
Strolling through the streets of Hong Kong, there's no shortage of fun foods to try. Travelers can dig their chopsticks into traditional street foods such as rice noodle rolls and fish balls in tangy red sauce, or, for the adventurous gourmand, there's slimy snake soup or gelatinous steamed tripe. (Foodie confession here … I can't stomach the slimy foods.) Personally, my favorite were the sweets. (Read more …)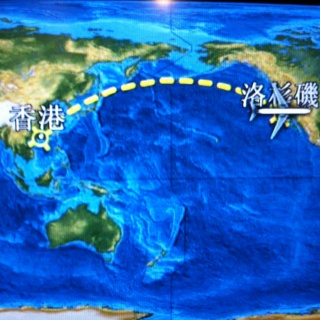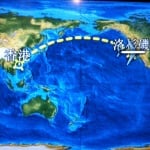 3 Simple Ways To Survive A Long Flight
Do long flights hold you back from booking the trip of your dreams? They shouldn't. I actually prefer longer flights to cross-country since you actually have time to rest and reset your internal clock to a new time zone. But if you're not traveling first class, there are still a few discomforts to work around. Here are my tips for enjoying a long flight. (Read more … )