Thoughts of South Africa bring to mind driving through the bush in a khaki painted Land Rover while spotting exotic wild animals like lions and cheetahs. So, while I knew of (and had tasted) several South African wines, I had no vision of what to expect when it came to their wine region. I was in for a pleasant surprise …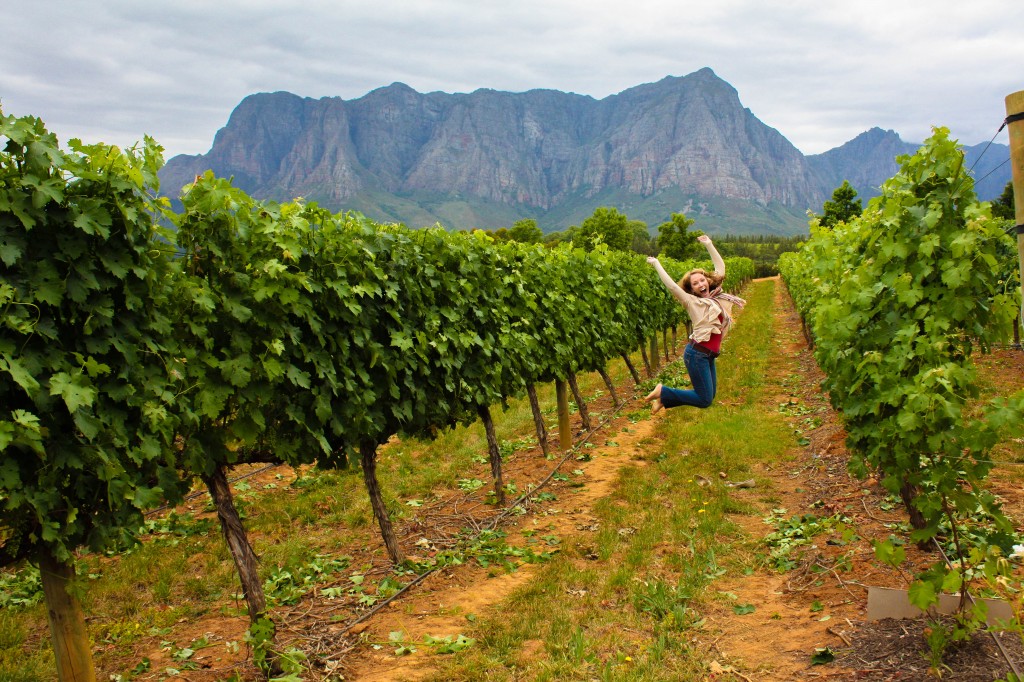 Driving up to Stellenbosch from Cape Town was a relaxing ride, the flat land and freeway slowly developing into lush green rolling hills and country roads. It was very similar to the drive from San Fransisco to Napa. But as soon as we crested over a hill and I caught my first glimpse of the valley, I startled the driver by yelling STOP THE CAR! STOP THE CAR! It was beyond breathtaking, something you'd only expect to see on a movie set. I just had to step out and take it all in. So, standing on the side of the road, I went all paparazzi, taking about a dozen photos of the same scene. It's as if I wanted to keep capturing the moment, just in case I blinked and the stunning beauty before me went away.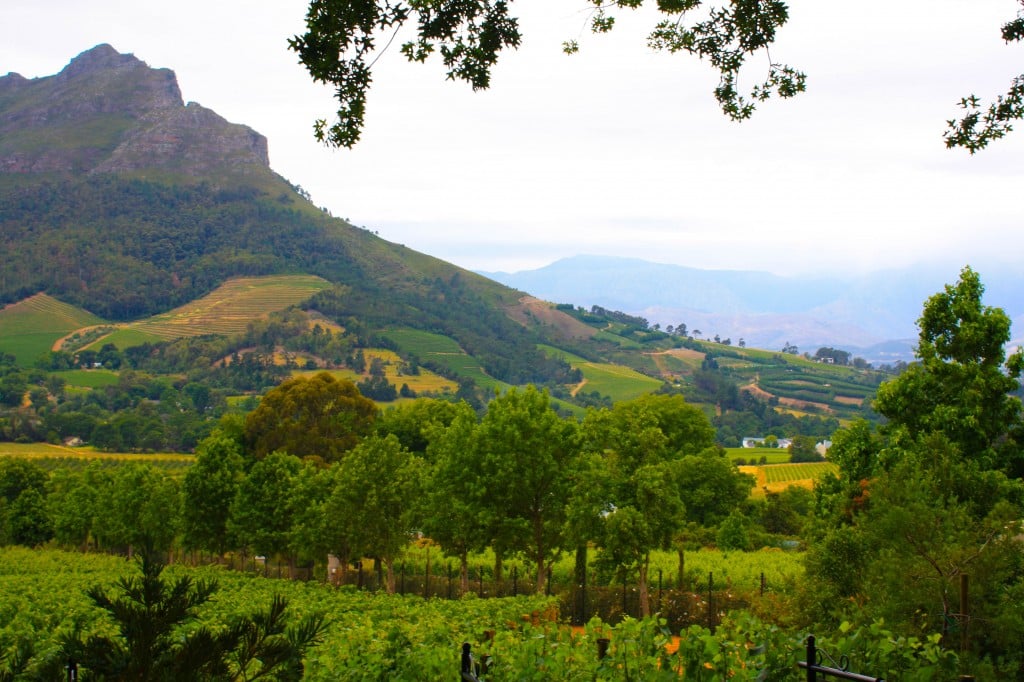 Our first stop was at the Delaire Graff Estate for lunch. Whoa. Owned and run by a diamond purveyor, no expense is spared in the creation of this wine experience.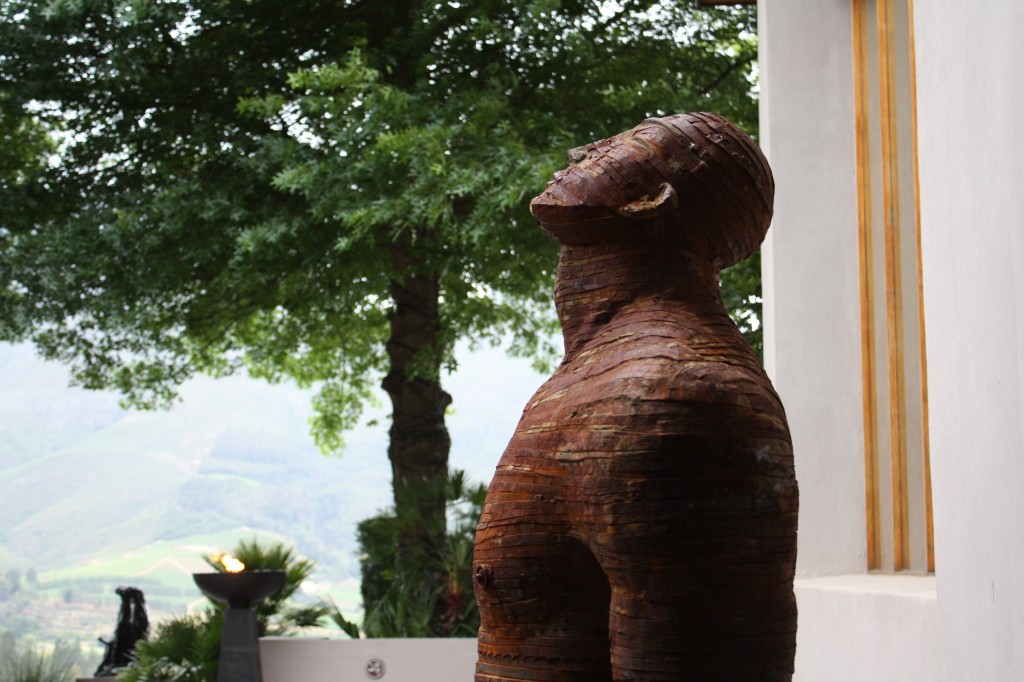 Modern sculptures harmoniously blend in with the landscape while the architecture, accented with wood and stone, complements the estate's natural surroundings.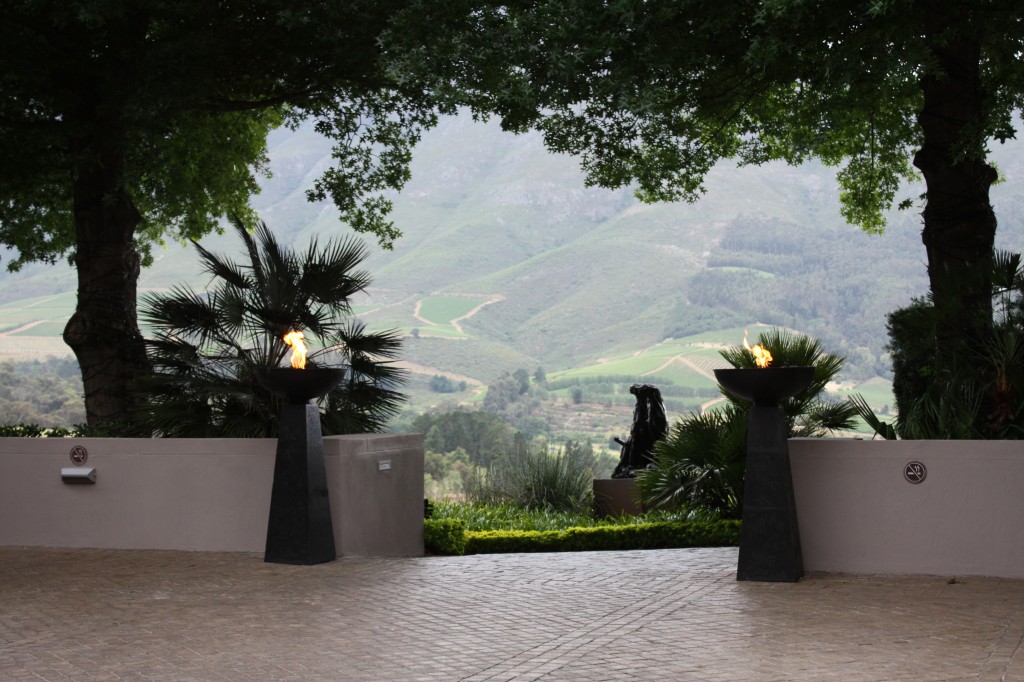 After taking about 100 more pictures of the valley full of vineyards (really, I couldn't stop myself), we ventured inside. As much as I resisted leaving all this outdoor beauty, I was relieved to discover floor-to-ceiling windows framing the dining room. I could sip wine AND gaze panoramic view.
Just outside the kitchen were a couple of chalkboards with fun food quotes such as:
"Ask not what you can do for your country, ask, 'what's for lunch?'" – Orson Welles
So, what exactly IS for lunch? How about some springbok loin with beetroot (that's the fun schwizzle), spatzle, shiitake mushrooms, molasses, and star anise?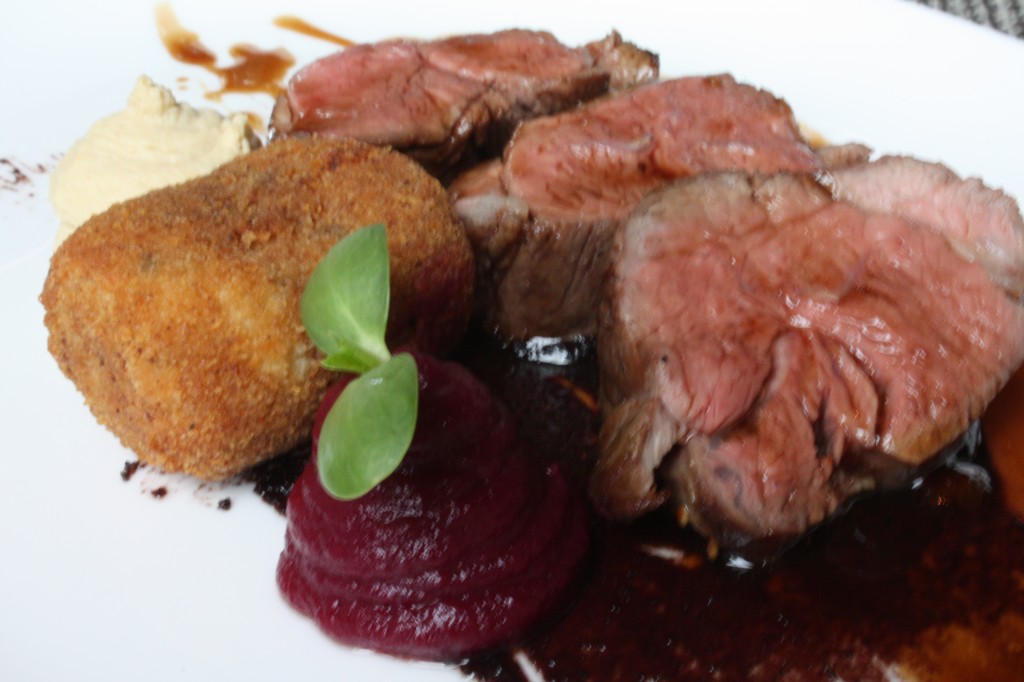 I don't remember what this one was. But damn it looks delicious.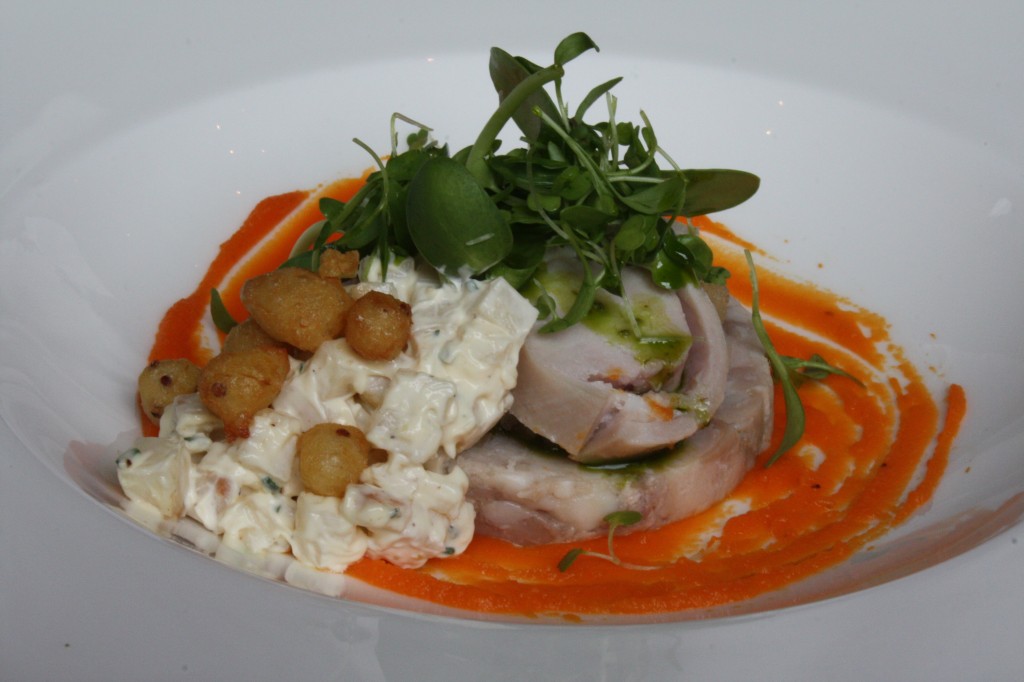 And the wines! Oh. My. Gawd. The wines! My favorite quote of the day was from my friend Jessica (pictured here) who said: "I do love wines that require an enormous glass." Pop on over to her blog, Jessica Travels, and ask her about the salted caramels we tasted after lunch. Actually, don't. She might faint and fall out of her chair.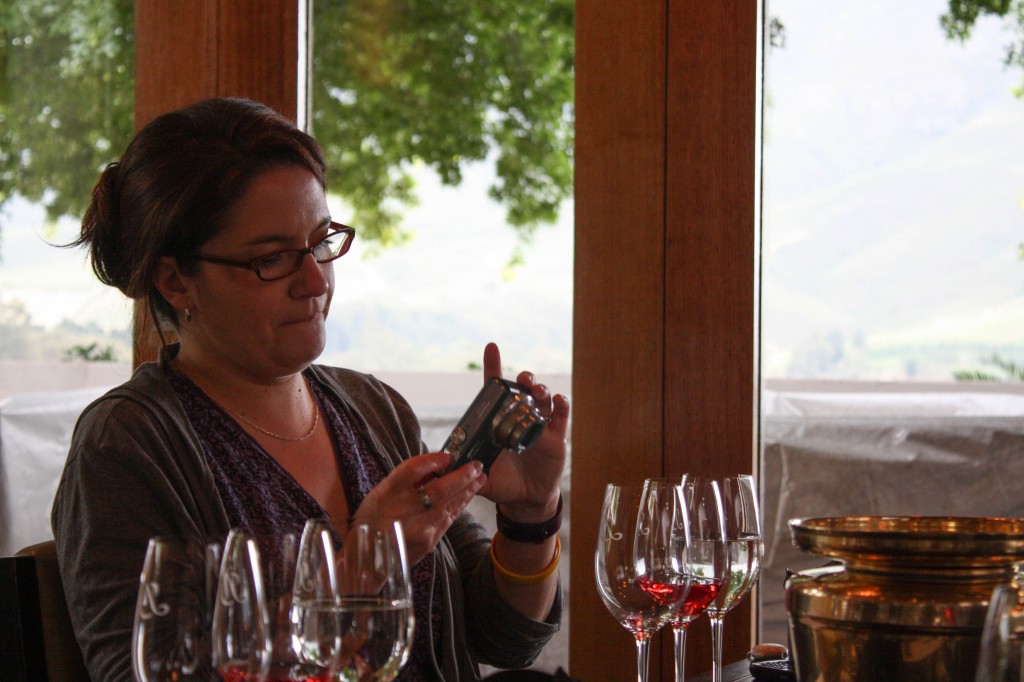 My favorite of all the wines we tasted? The Delaire Graff Botmaskop. It was bold. Jammy. I could probably slowly sip away a whole bottle of it just by myself. I'm wishing I had bought several cases of it and had it shipped because I can't find it here in the states. The name Botmaskop means "boat mans head" and was named after the highest nearby mountain peak which was a lookout for boats in Cape Town.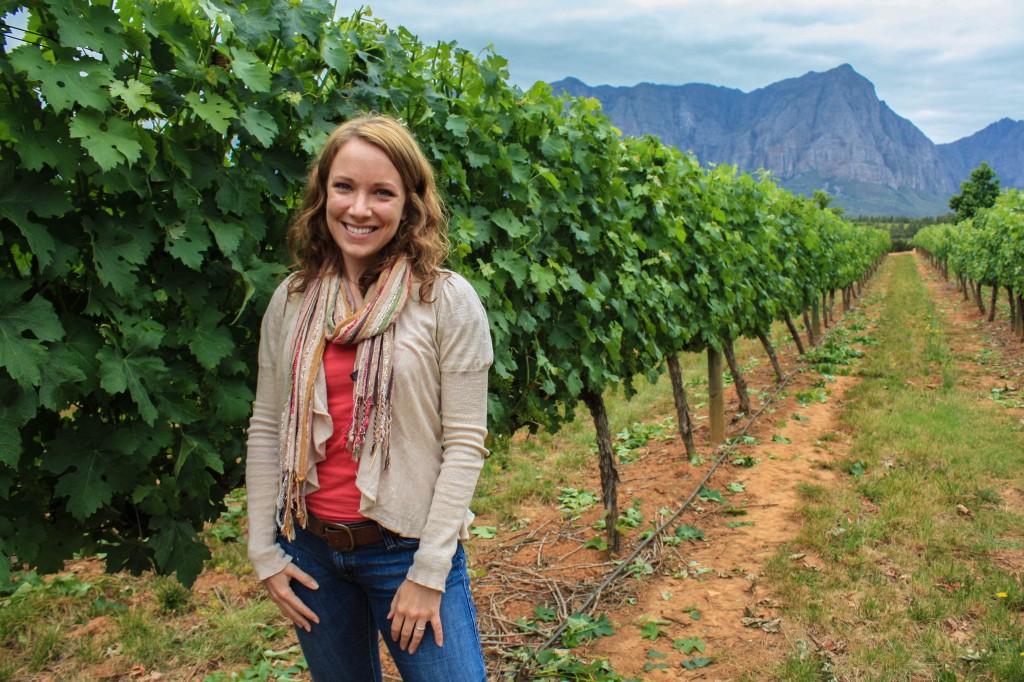 Stay tuned for my next post where we drive to Francshock for an afternoon wine tasting at Vrede En Lush. Oops. I mean Lust.
Either way, that sounds bad, doesn't it? It truly is "Vrede en Lust," which means Freedom and Passion in Africaans. In the meantime, check out more photos from Delaire Graff Estate.