Ever want to take a career break and try doing something new and completely different? I recently stepped outside of my comfort zone of food and classic cultural experiences to roll up my sleeves and be a zookeeper for a day at Wild Florida.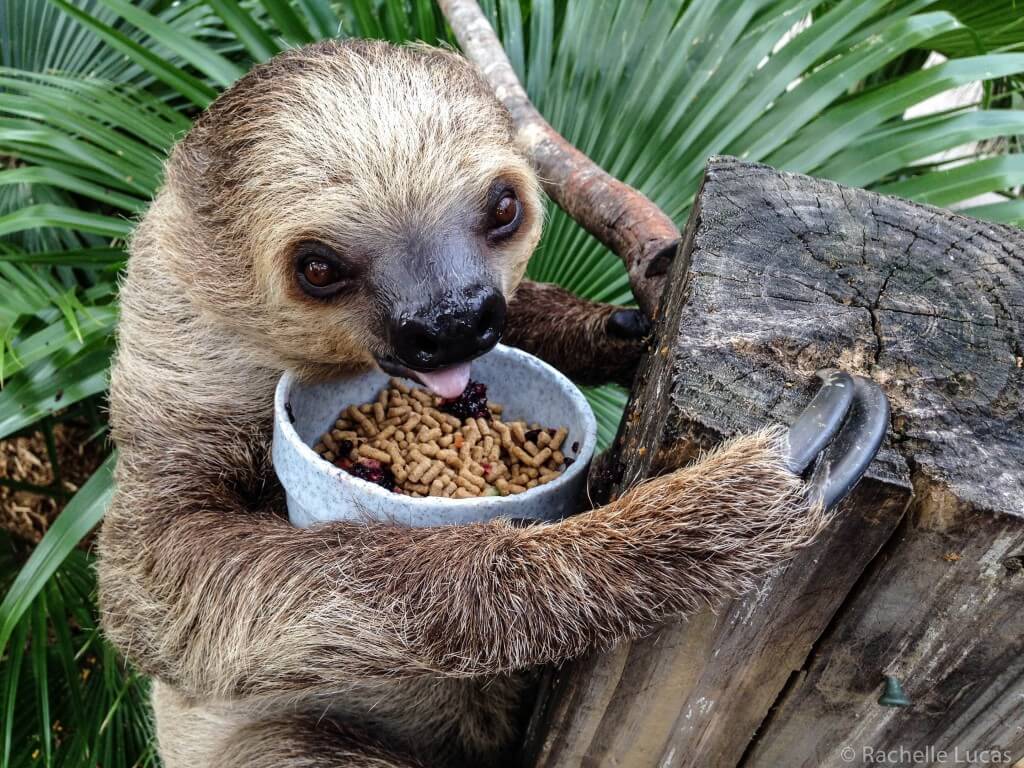 WILD FLORIDA ADVENTURE BEGINS
On the morning of my outdoor animal adventure, I got up at the crack of dawn, threw on a pair of old jeans and a t-shirt, stuffed my hair into a ball cap, and with a large cup of coffee in hand, began my drive to Kenansville. Located just outside of Orlando, it's hard to believe there's a place that feels this remote and yet is still so close to Disney and downtown.
After turning off the turnpike, I went down a bumpy country road that was barely wide enough for a car and came face-to-face with a tractor puttering it's way to the next pasture. To my right there was a sign that read, "Middle of nowhere — 2 miles ahead" with a Wild Florida logo below it. At least I knew I was close.
FEEDING THE ANIMALS AT WILD FLORIDA ORLANDO
When I finally arrived, I met with one of the animal trainers and we immediately went to work. It was peaceful walking trough the park before anyone arrived and all the animals were pretty active and excitedly moving about inside their habitats in anticipation of breakfast. I watched as the trainers filled a wagon full of grains, seeds, meaty pellets, sliced grapes, blueberries, carrots, pieces of mango, whole eggs, heads of romaine lettuce, zucchini, yellow squash, and big buckets of water. It looks as though we just made a trip to Whole Foods and I realized these animals eat more healthy than I do.
Our first stop was at the South America habitat. We walked through the double doored entry into a lush tropical enclosure where colorful aracari (a type of toucan) eagerly greeted us. They couldn't wait to dig in to the seeds and blueberries we brought with us. High above them on a platform, the sloths were living up to their name, laying about on their backs all curled up in a basket underneath the warmth of a heat lamp. That was, until we pulled out some mango.
Then they really got moving! Like a stealthy gymnast swinging upside down, they manuvered down the tree branches for a sweet slice of fruit.  When we offered them a piece of sweet potato, they took a bite, and then tossed it aside and moved on further to finish off the blueberries and other sweets the aracari had left behind.  I think sloths might be my new favorite animal and this was worth waking up early and getting a little dirty for.
Throughout the day, I had the opportunity to interact with lots of exotic animals including a spunky porcupine named Stella and wild-looking cow-like creatures called watusis. Have you ever seen such a thing? I mean, just look at those horns!
Just as I was starting to get the hang of it with the animal feedings and morning greetings, the cleaning buckets and rakes came out. Ooooooooh yuck. Thankfully, I didn't have to roll up my sleeves and get up close and personal with animal poo. There was a new guy training that took over for the dirty work.  Instead I went on a nice airboat ride, enjoyed a barbecue lunch by Lake Cypress, and then mosied around the rest of the park and watched as the goats each tried to claim the resident tortoise at their mountain.
Overall, it was a fun day! I've always loved animals and I now have a new appreciation for the dedicated folks that care for, train, and work with animals on a daily basis. Though it's dirty, it's also very rewarding to look at these sweet furry and feathery faces every day. Here's a few more adorable animal pics from my day …
Is there a different career or job you've always wanted to try? Would you ever take a vacation to try out a new career? Comment below and let us know!
This post was created as part of my collaboration with Viator. However, The Travel Bite maintains full editorial control of the content published on this site. As always, all thoughts, opinions, and enthusiasm for travel and food are entirely my own.