[This post done in collaboration with RaceTrac]
RaceTrac is making summertime more fun with a 1-in-3 chance to WIN every time you make a purchase with the new RaceTrac app! What does that mean? For me, it means more opportunities for free iced coffee and froyo — two things I can't live without during the summer.
Plus, on weekends we like to plan trips out to the coast, so finding a RaceTrac via their app is a great time saver as we only have to make one stop for everything we need while on a road trip — healthy snacks, fruity fro-yo, and iced coffee (and potty breaks too, amiright?).
Here are a few of our favorite things to pick up at RaceTrac when we're on-the-go, plus more details on how to participate in their summertime Wintastic Rewards program.
Crazy Good Coffee
I have to say, I'm really impressed with RaceTrac's new barista-style coffee machines. You can pick your preferred bean, then watch it grind fresh for the most flavorful cup of joe. Fresh ground coffee beans definitely have the best aroma too. Personally, my favorite coffee bean that RaceTrac offers is the Guatemalan Rain Forrest Alliance roast. It's nutty and perfectly smooth. My husband Pete always chooses Hazelnut for it's natural sweetness. And did I mention you can get fresh ground coffee iced? It makes such a difference in flavor. When the coffee is this good, we drink it black (why doctor up something that tastes great?). But, if you want whipped topping or fun creamers, they have those too.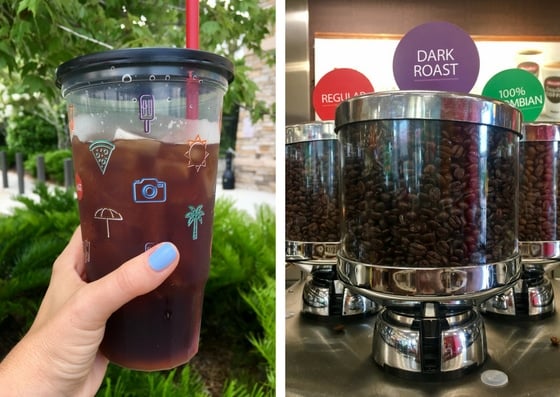 Swirl World Froyo
My other favorite treat at RaceTrac is their Swirl World frozen yogurt. I like to make mine in a classic waffle cone dazzled up with a single raspberry, or a cup loaded with fresh fruit like blackberries, strawberries, and maybe a few chocolate chips for good measure. My husband Pete loves all the candy toppings. Pete will make what I call a "s'mores" frozen yogurt cup with hot fudge and marshmallows, or one loaded up with chocolate chips, brownies, and peanut butter. Do you have a favorite frozen yogurt topping combo?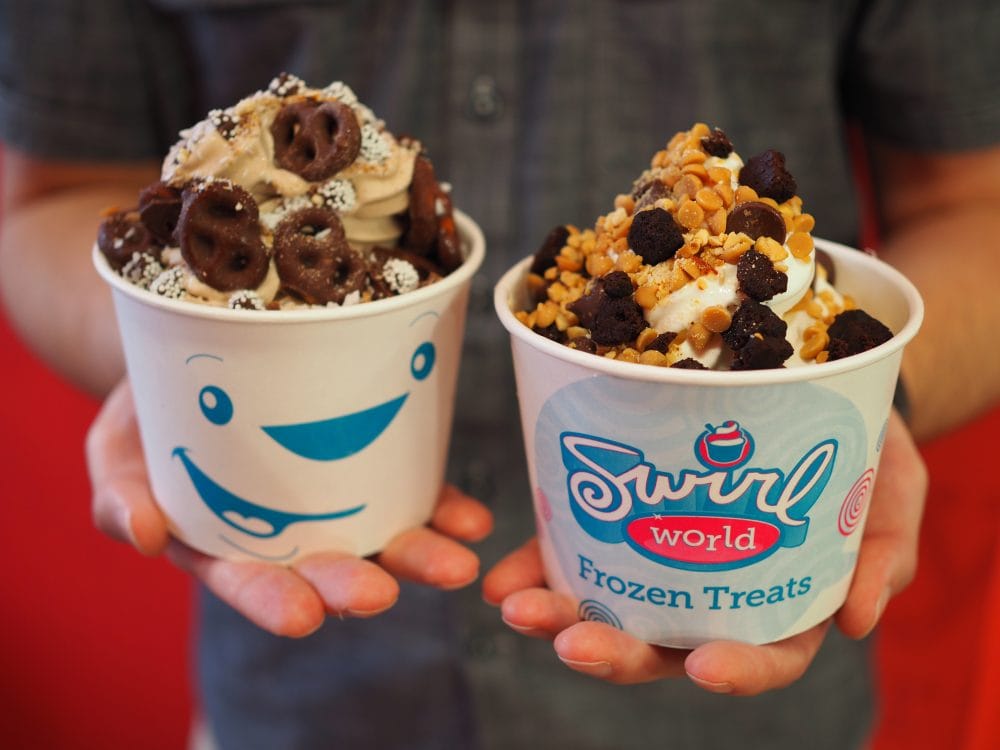 Healthy Picnic Foods To-Go
Sometimes it's so hard to find healthy food choices when traveling, which is why I love all the fresh foods in RaceTrac's sandwich cooler. There are deli style sandwiches like Turkey & Swiss with Tomato, protein snack boxes with cheese and fruit, and gourmet meat and cheese plates too.
How To Participate In RaceTrac Wintastic Rewards
So how do you participate in this summer's Wintastic Rewards program? Here's the whole scoop:
— Download the free RaceTrac Rewards app via any iOS or Android phone by following instructions on the App Store or Google Play.
— Make a qualifying purchase, scan the loyalty barcode in the app, get a 1-in-3 chance to win a digital coupon for an in-store offer.
— Redeem offer during your next visit or a new transaction! Easy, right?
— Wintastic Rewards runs through September 2018, so get get the app and get in the game!
For more information on Wintastic Rewards and other RaceTrac initiatives, follow RaceTrac on Facebook, Twitter, Instagram. Visit RaceTrac.com to get news straight to your inbox, as well as giveaways and coupons throughout the year.