During our cruise with Holland America we booked a Santorini cooking class as one of our shore excursions. It was one of my favorite experiences on the cruise! We learned about Aegean cuisine and local island ingredients during a delicious lunch at hilltop taverna with an amazing view. And, of course, we got the recipes to take home.
If you see the Oia Village and Cooking Class available on your cruise itinerary, book it fast as it tends to fill up! Here's our complete review of our day in Santorini.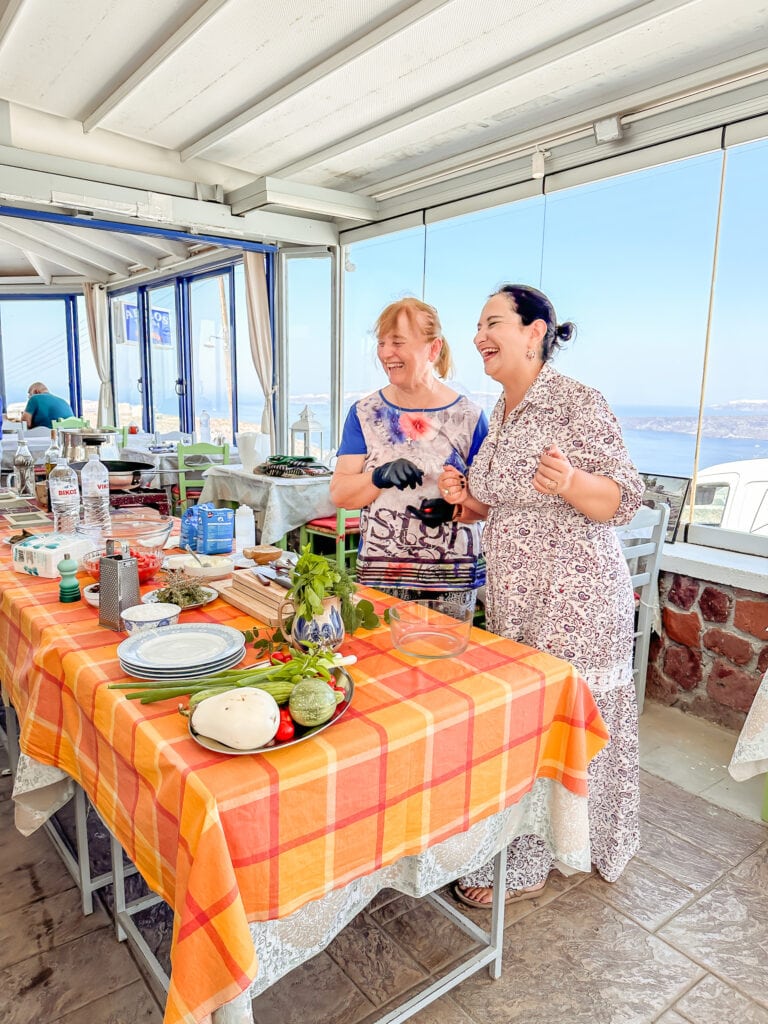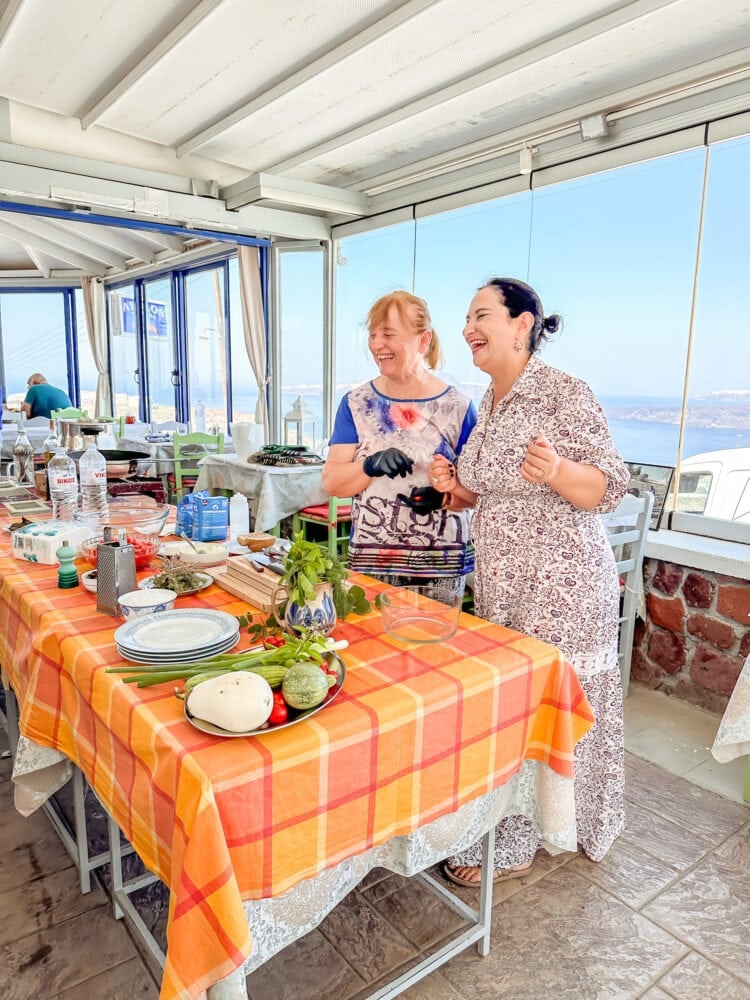 Getting Onto Santorini
Getting onto the island is a bit of an adventure. Holland America is well-organized, though, in moving guests. We started the morning boarding a tender boat that took us to a dock where we got onto a bus labeled for our excursion, and then zig-zagged our way up the cliffside to the top of Santorini.
Our guide, Rena, was knowlegable and humorous. One of the first things she jokingly shared was that Santorini has more wine than water, more churches than houses, and more donkeys than people. The reason for the wine and the churches is to pray for the earthquakes, the volcano, and also for driving along that zig-zag road.
Once we made it to the top of the island away from the rocky shore, the drive was much more smooth and relaxed. Rena pointed things out along the way to Oia, like the stubby vineyards that looked like bushes, the pistachio and olive trees, prickly pears cactus, and capers. And through it all she managaged to sprinkle in a bit of the island's history too. Including how the island got its nickname, Santorini, from its patron saint, Saint Irene of Thessaloniki. Officially on maps, though, it is called Thira.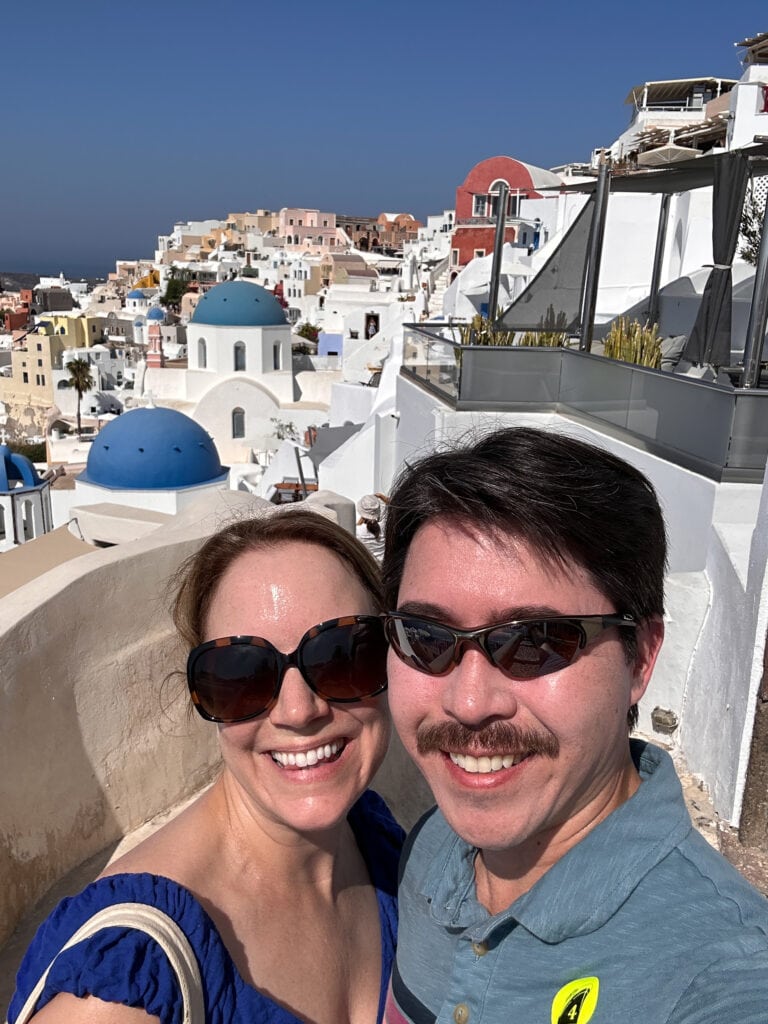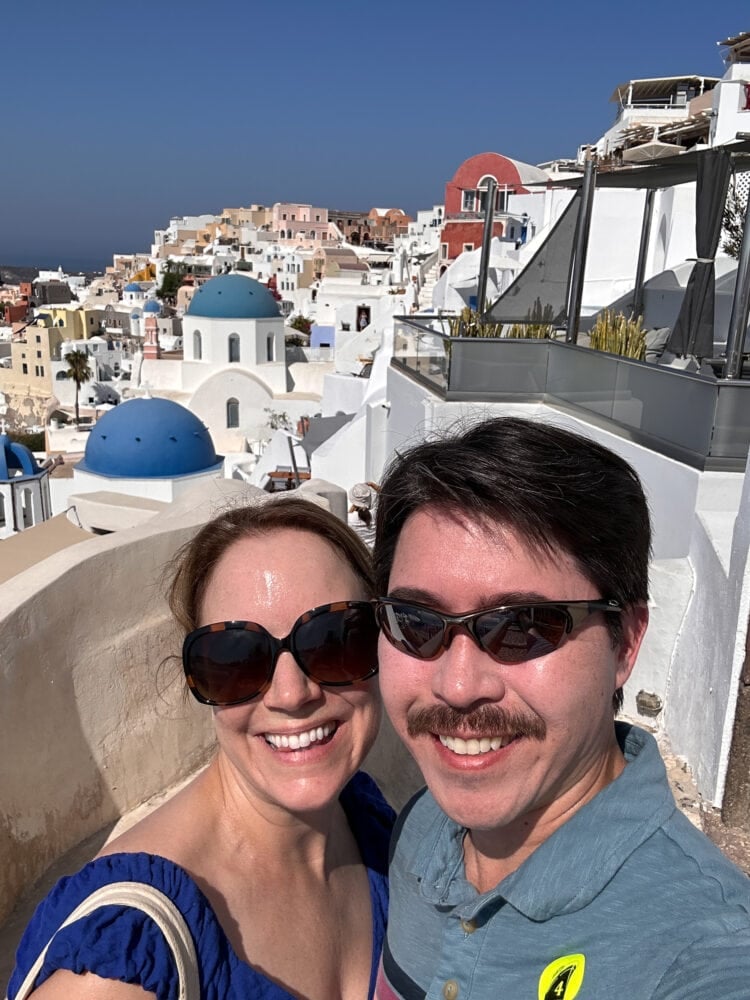 Oia Village
Our first stop was to Oia village. Pronounced "Eee-yah," Oia is the terraced village overlooking the ocean with Greece's iconic white-washed buildings and blue domed churches. It is quite picturesque with the mininmalist style Cycladic architecture, and hot-pink bougenvillias framing deep blue painted doors over an entire village painted white. If you see it, you'd easily recognize Oia as the image made famous on postcards and advertisements for Greece.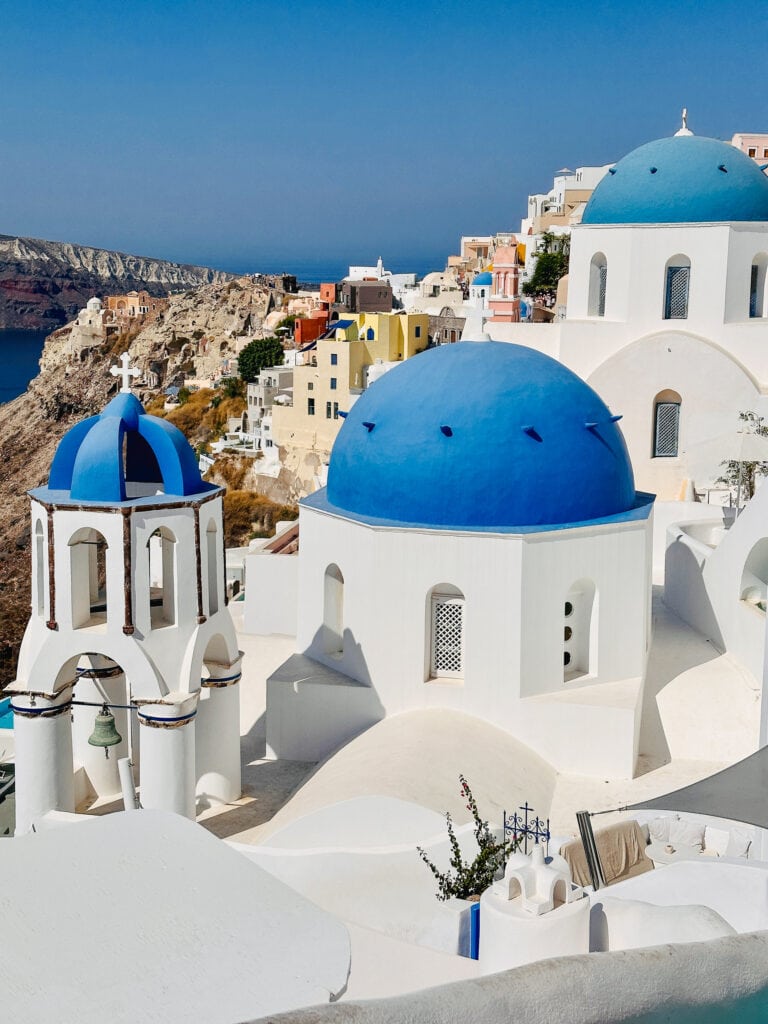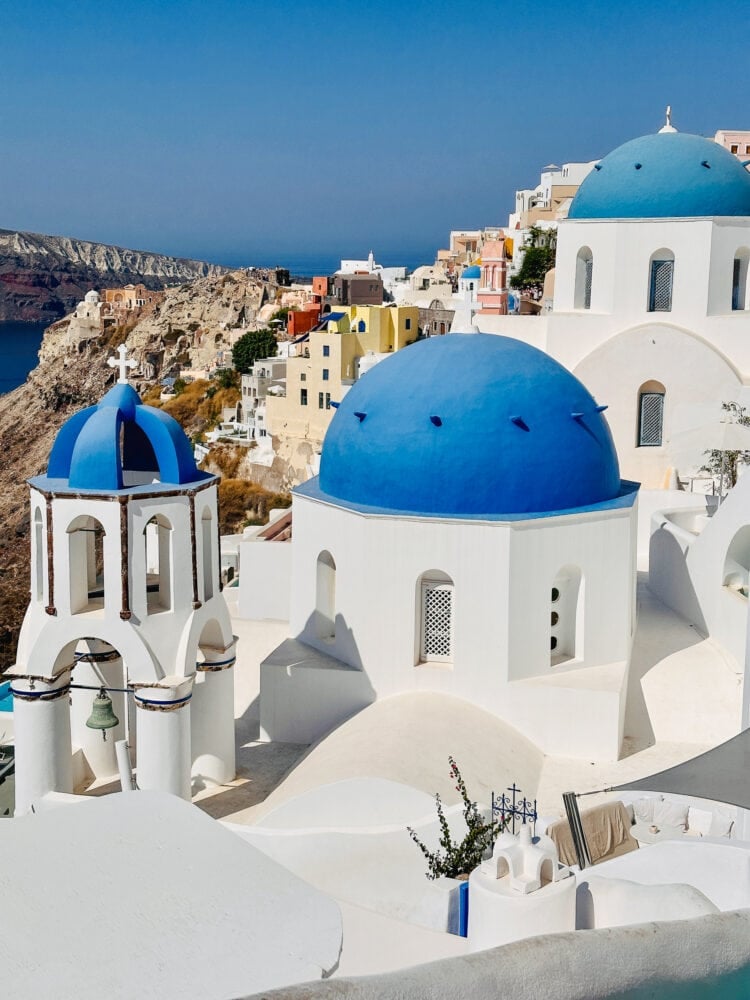 Because of Oia's postcard-perfect charm, it is popular. Which is to say, crowded. Very crowded. It's a bit of a victim of its own beauty. I had heard about the summer crowds in Santorini, but experiencing it in person still left me feeling claustrophobic. Thankfully, though, we had a whole afternoon of Greek food to look forward too during our Santorini cooking class.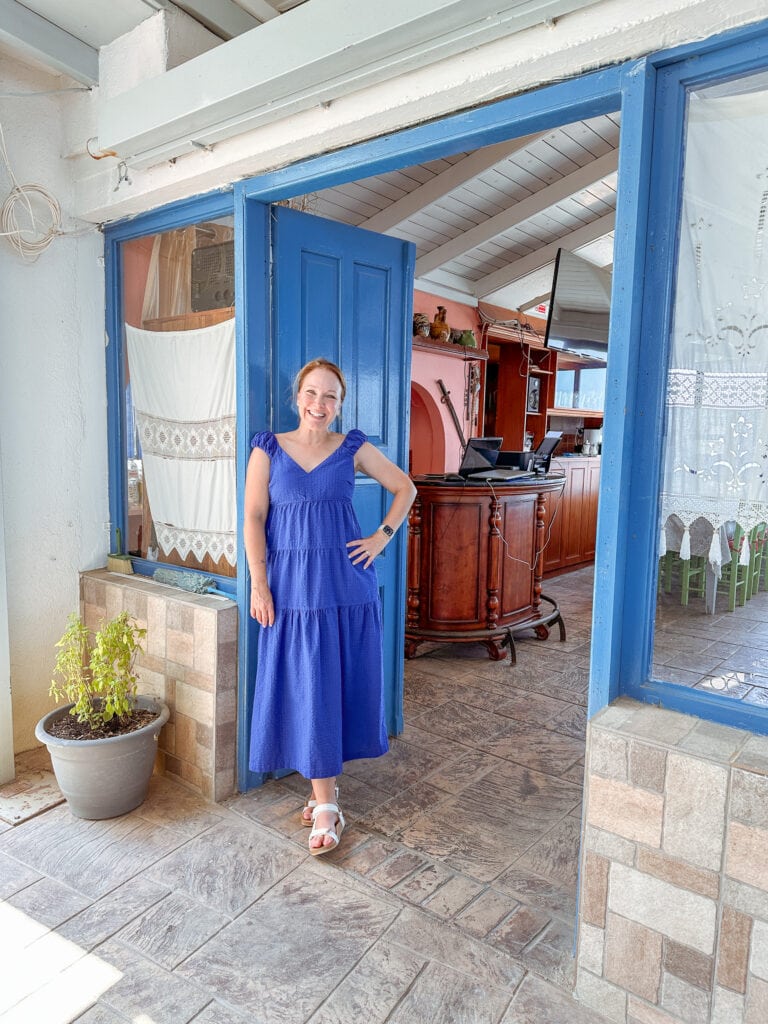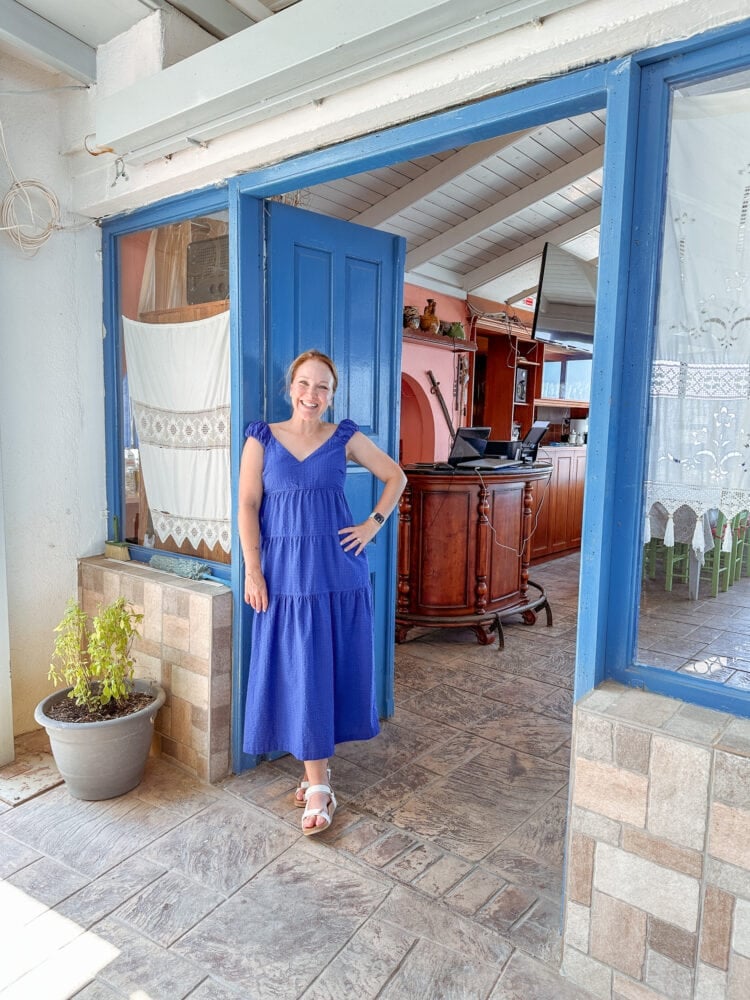 During our tour, we had some time here on our own to walk the cobblestone streets and shop for souveniers. Rena gave us a tip on where to walk to for photos of the blue domed churches which was helpful.
Santorini Cooking Class
After we left Oia, the rest of the island of Santorini felt much more relaxed. We drove out to the other side of the island to a small family restaurant, Aeolos Tavern, named for the Greek god of wind due to it's location on top of a hill. The view was stunning, and the delicious scents coming from the kitchen made my stomach growl with anticipation. Rena introduced us to our host, Ms. Lista, who warmly welcomed us with a glass of ouzo and taught us a toast in Greek, "Yiamas," to our health.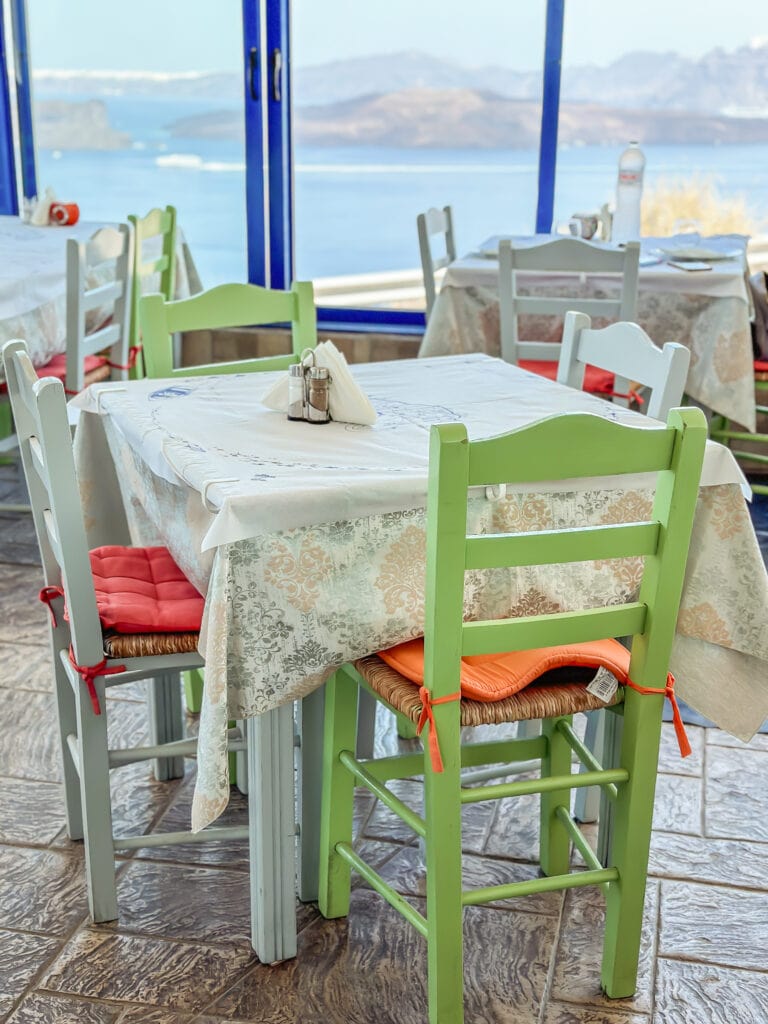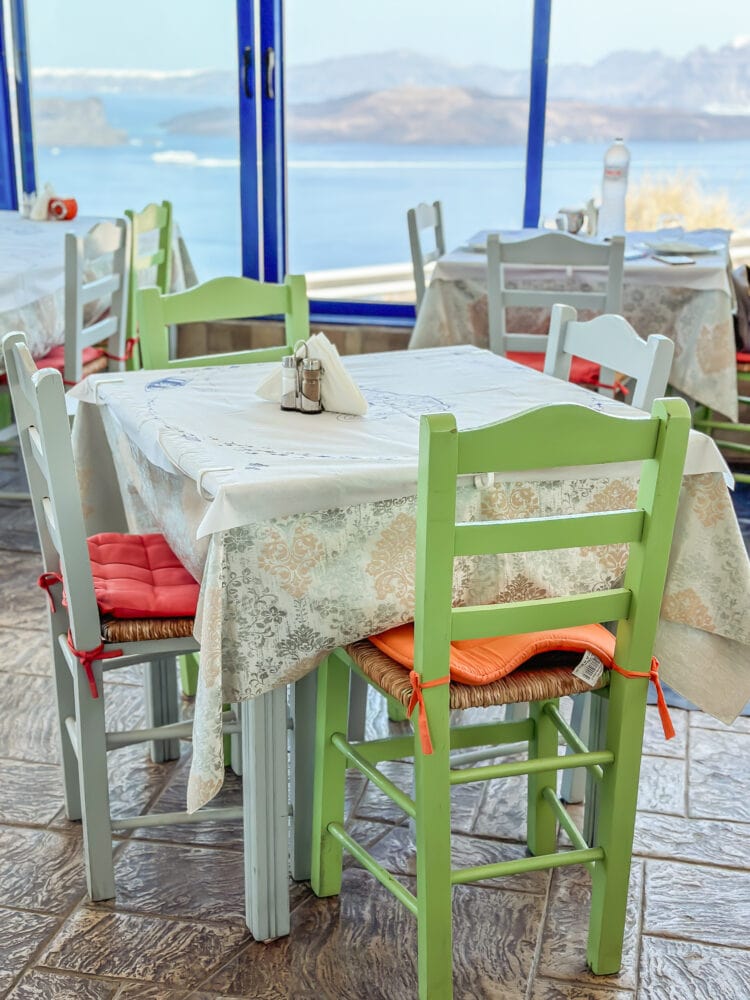 The tables were arranged in rows with Ms. Lista and our guide, Rena, at the front of the restaurant teaching and demonstrating the Greek dishes we'd be tasting. It was more of a "watch and learn" demonstration, rather than a hands-on cooking class, but very entertaining and fun.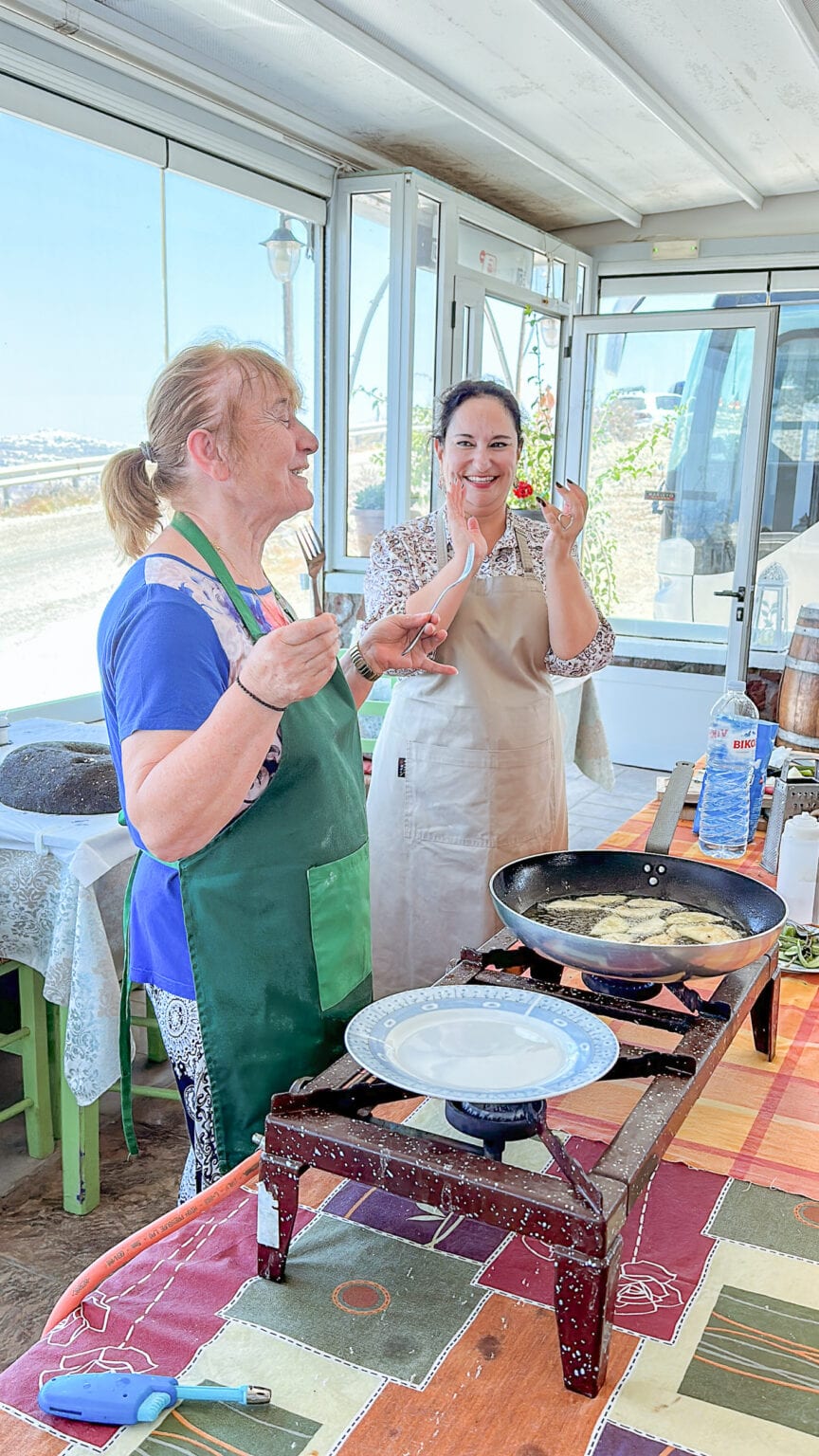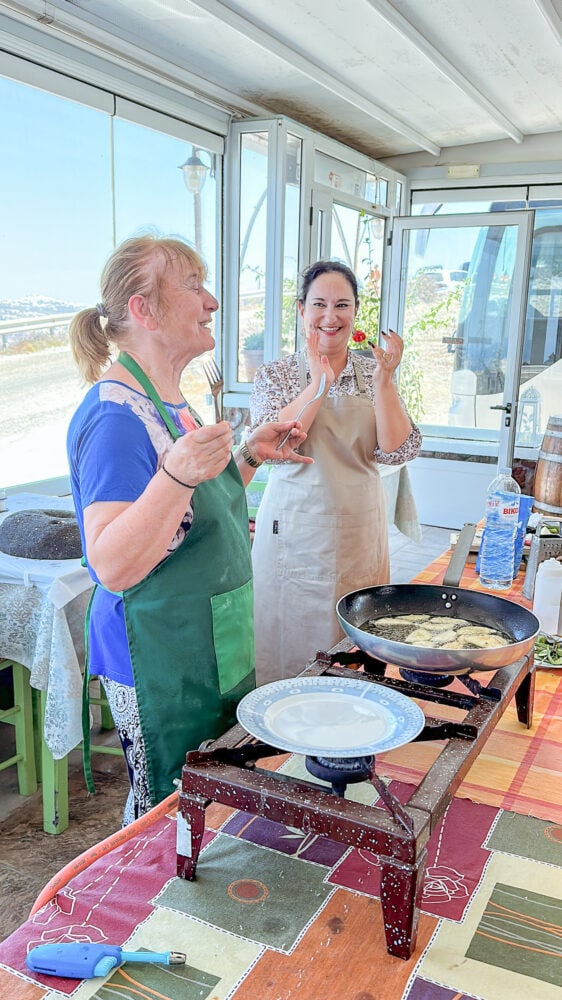 We got to taste so many things, starting with a fava bean dip similar in taste and texture to polenta that we learned was called "greek gold." Then came a hearty Greek salad called dakos, with crusty bread drizzled in a homemade dressing, loaded with olives, sun-dried tomatoes, and a Santorini goat cheese called chloro that means "fresh one." As we were diving into the dakos salad, tasty fried tomato fritters were passed around. As a foodie, this afternoon in Santorini was pure heaven.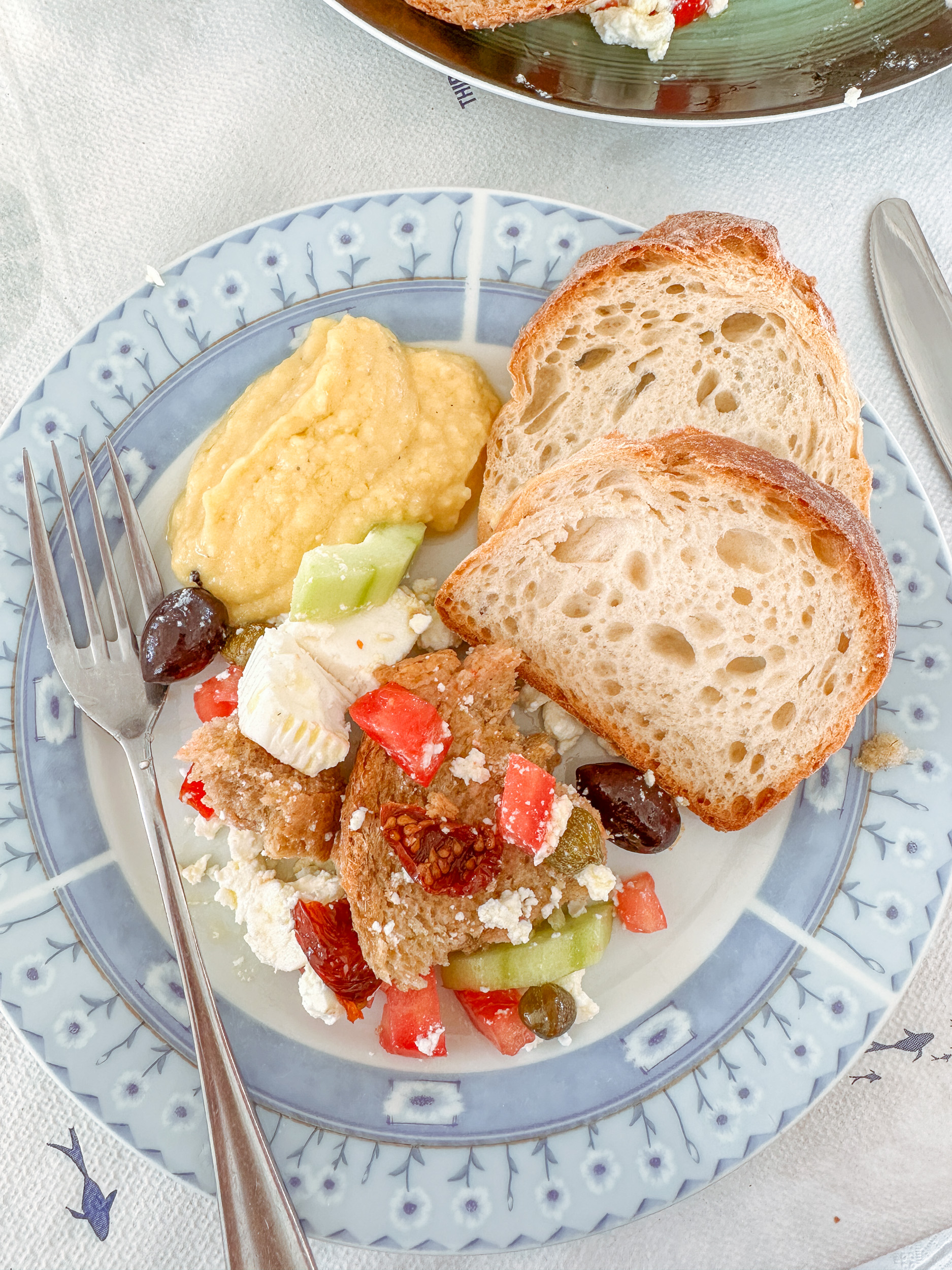 But Wait, There's More!
We thought that was the whole meal, since at this point we were stuffed, but there was more! Ms. Lista and Rena shared that the Greek's have a saying that means they, "feed their guests until they explode. Then feed them some more until they explode again." That got plenty of laughs around the table as more plates were passed around including white eggplant, whole stuffed tomatoes, steak filets, and endless pours of Greek wine.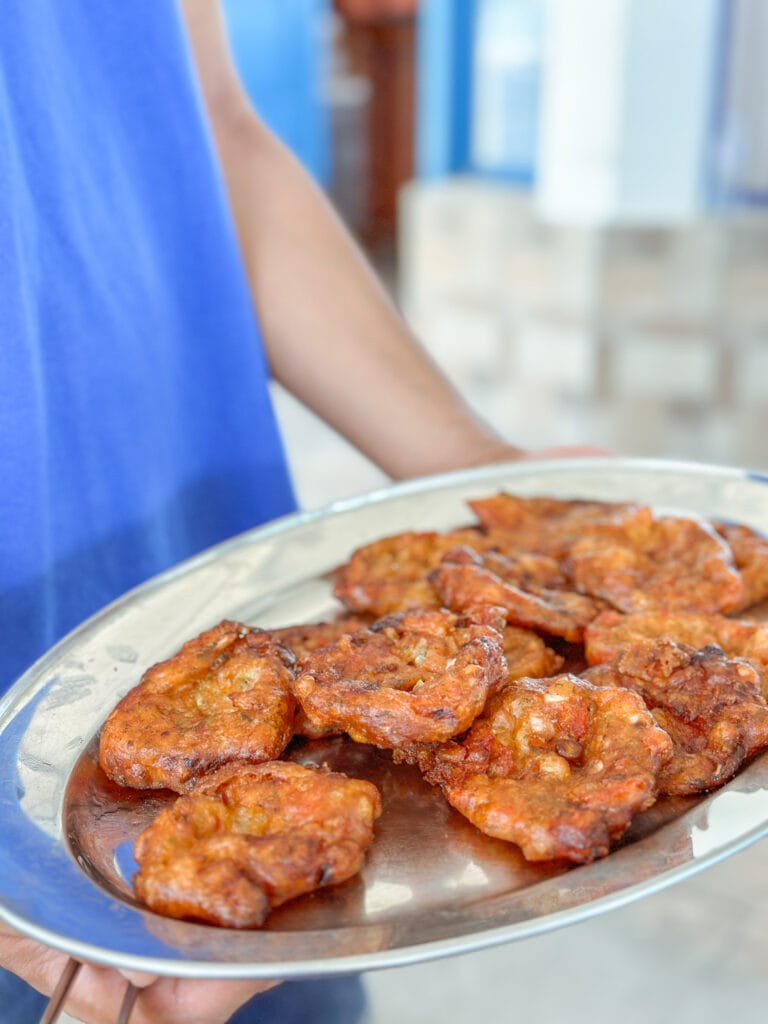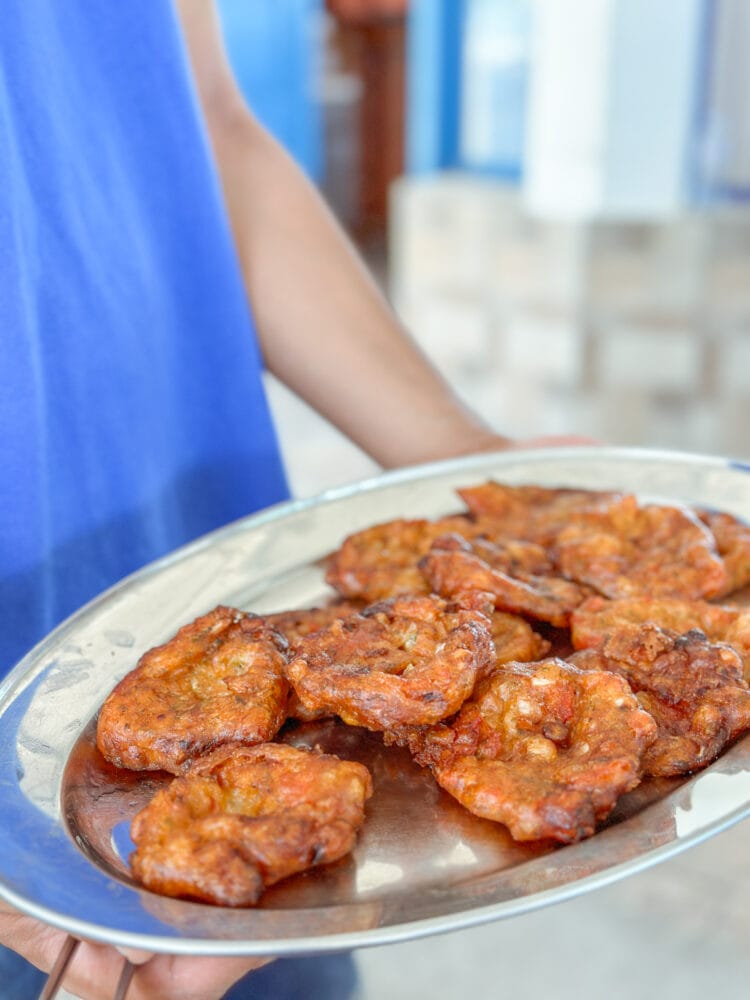 Once the meal started winding down, I wandered around to take some photos as I often do. Ms. Lista followed me out, and I thought I was in trouble, but instead she wanted to show me the back patio where she was drying tomatoes and figs in the Greek sun. Homemade sun-dried tomatoes and figs. Now that's not something you see every day.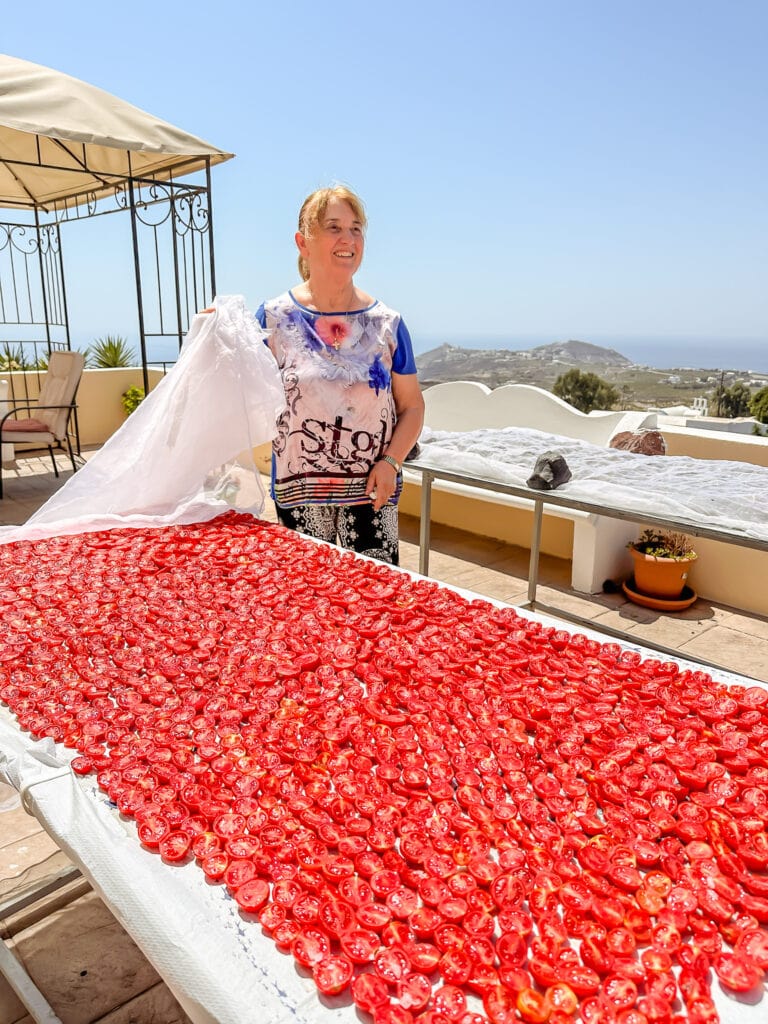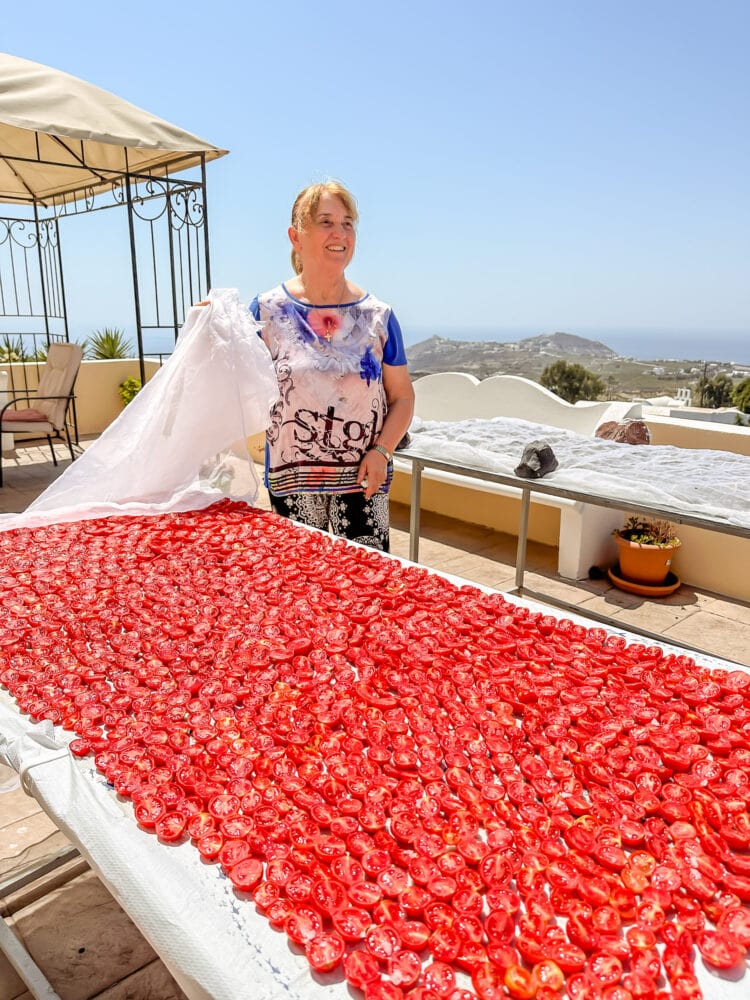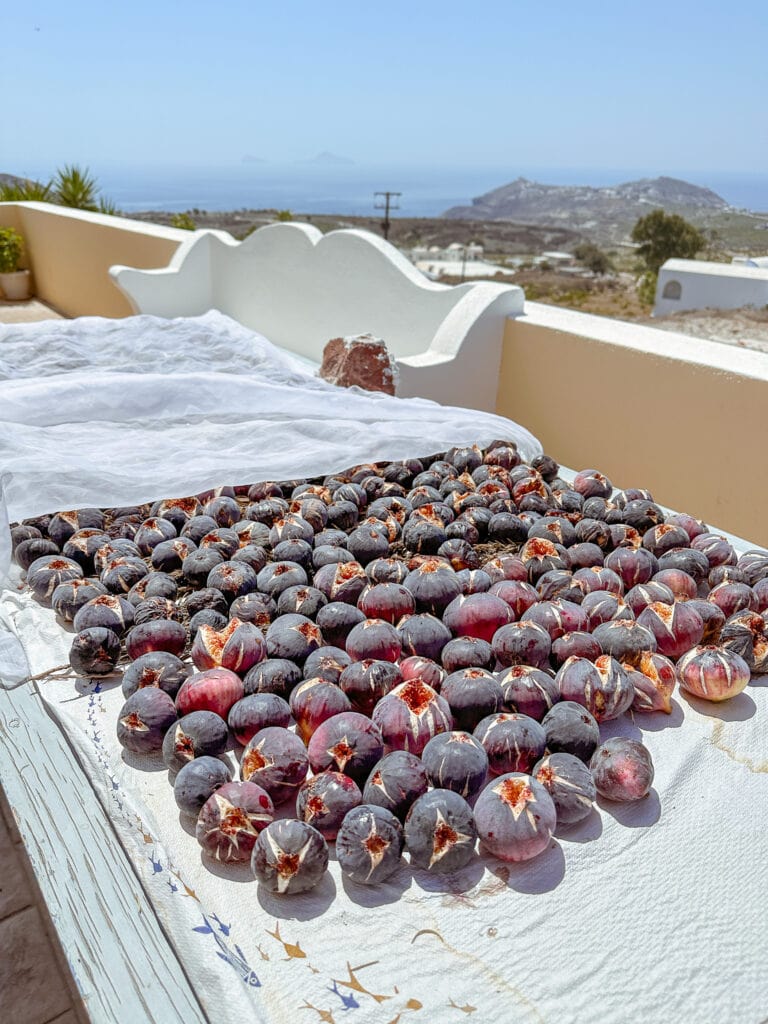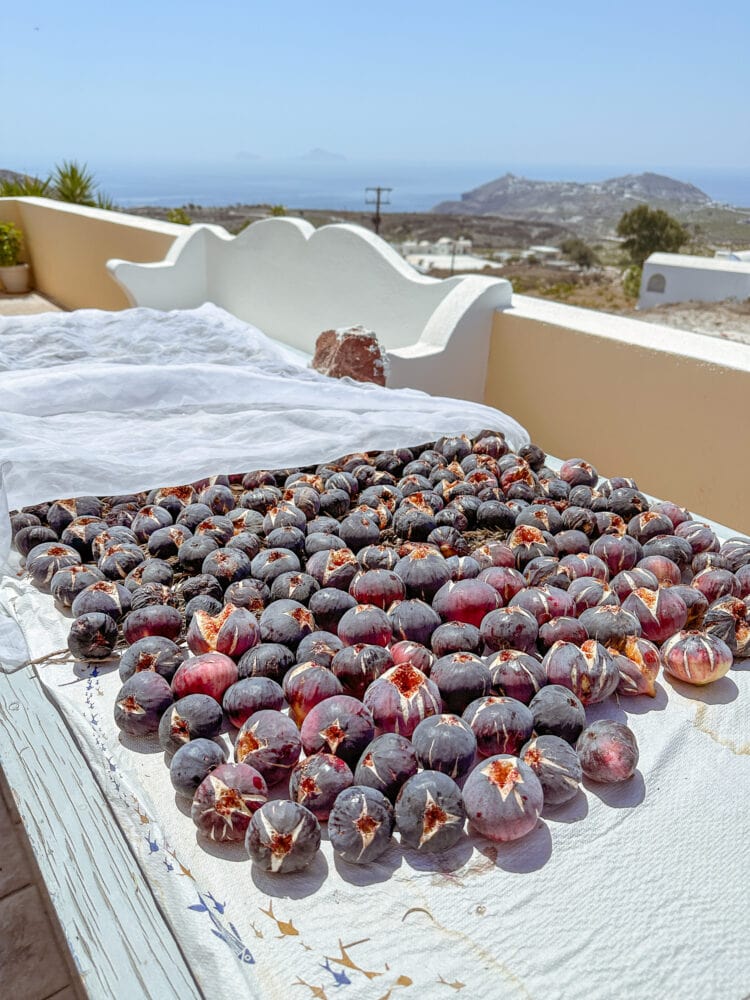 A Day Well Spent Ending In Fira
After our Santorini cooking class, we were brought to Fira, the capitol of Santorini, for some free time to explore before heading back to the ship. We rested for a bit at a beautiful cafe with a view, then did some shopping for souveniers before walking to the finicular (which is really more like a ski gondola) that took us back down to the docks to board our Holland America cruise for the evening.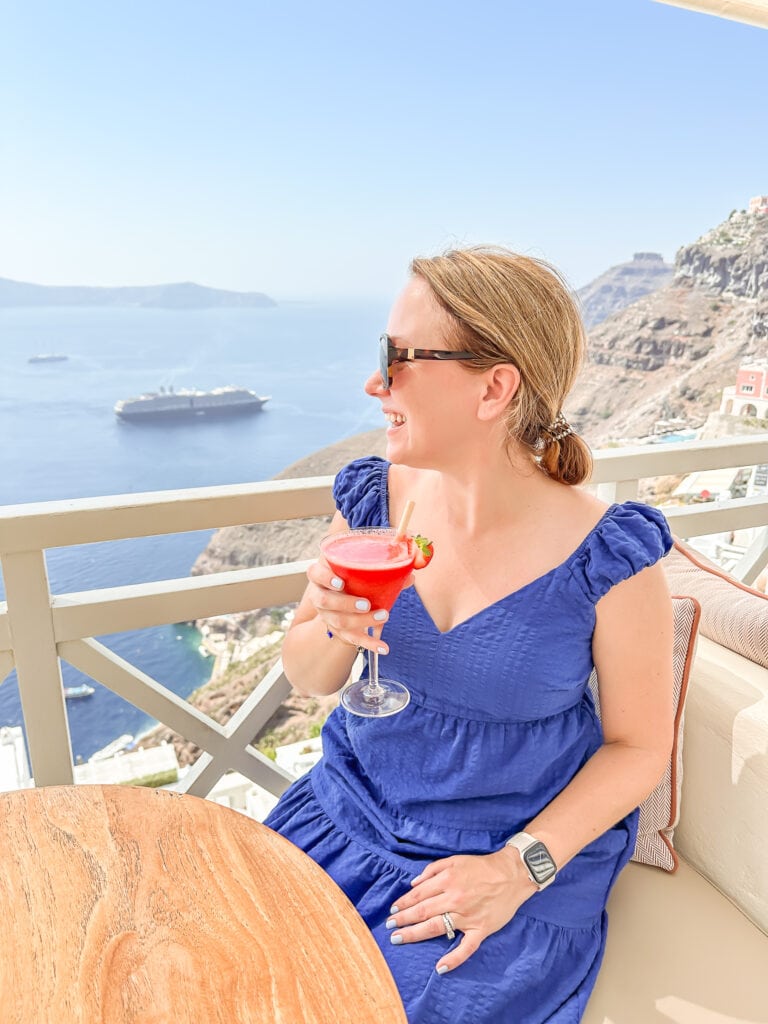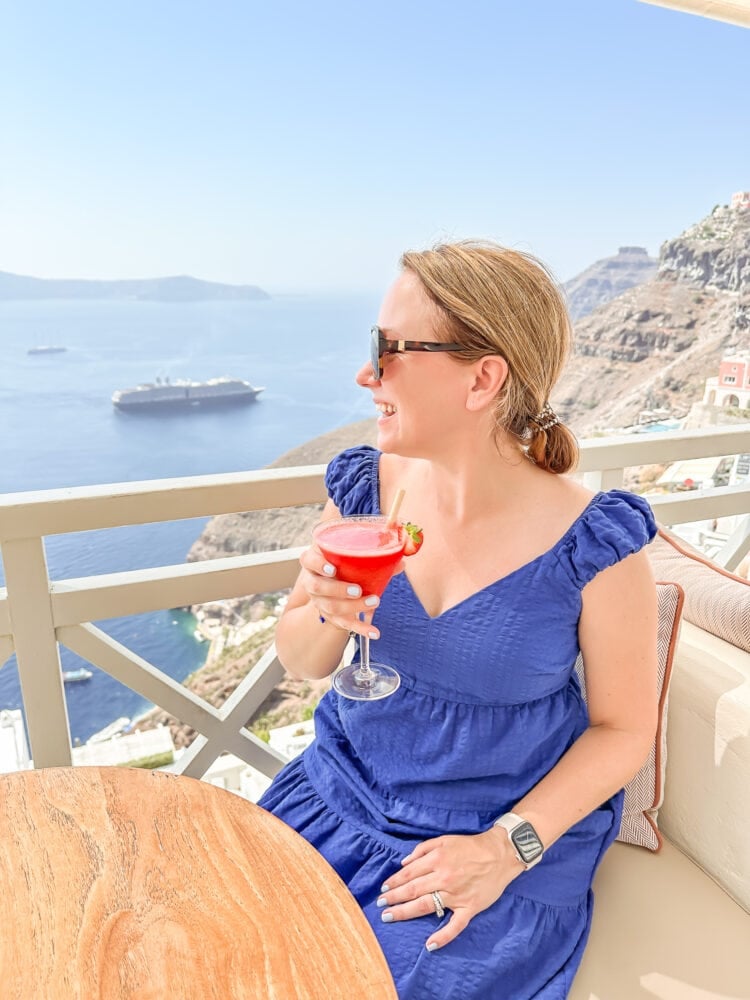 Overall, the experience was a perfect day spent in Santorini savoring the freshest Mediterranean ingredients, sipping local wines, and making new friends around a dining table.
** Pete and I were hosted by Holland America, but as always, our thoughts and opinions are our own **