When it comes to Mediterranean cuisine, the vibrant flavors, fresh ingredients, and simple yet delicious recipes are what make it so beloved. Among the many delightful dishes this region offers, one stands out for its unique blend of taste and texture: Dakos Salad. Hailing from the picturesque island of Crete, Dakos is a rustic Greek salad that embodies the essence of Mediterranean cooking. We actually learned to make dakos salad during a cooking class in Santorini on a Holland America cruise. I loved the fresh, simple flavors and it reminds me of an Italian panzanella salad.
If you're ready to make it, simply hit the "jump to recipe" button. Or, scroll through to learn about the history of Dakos salad, ingredients, and how you can make this scrumptious salad in your very own kitchen.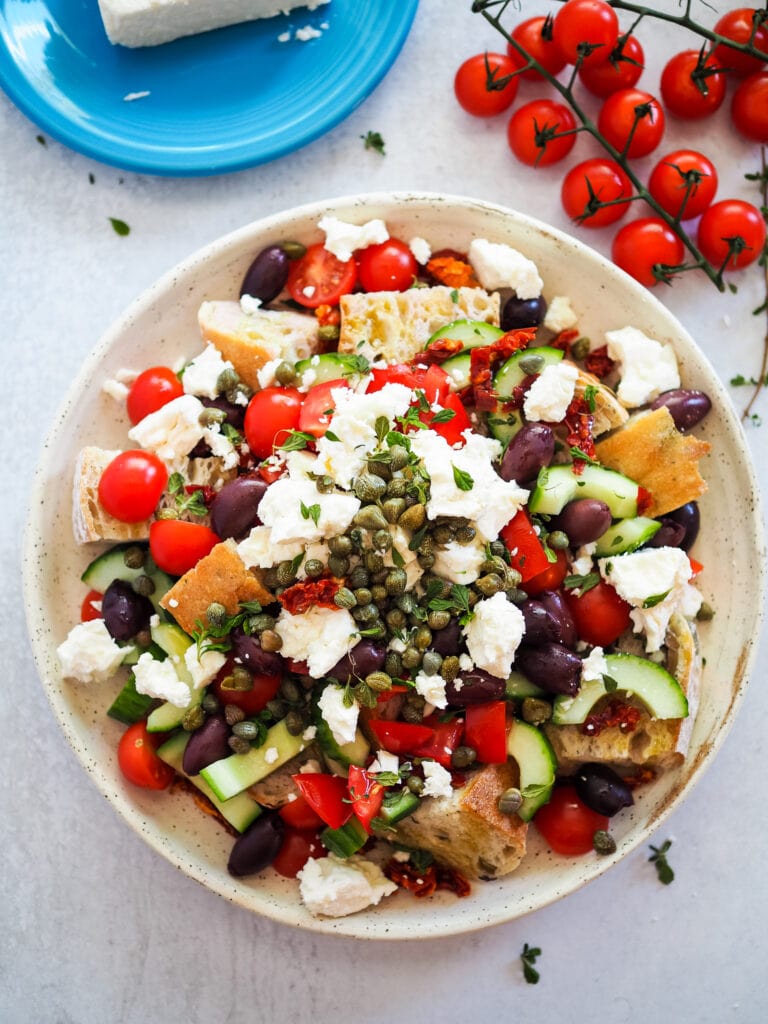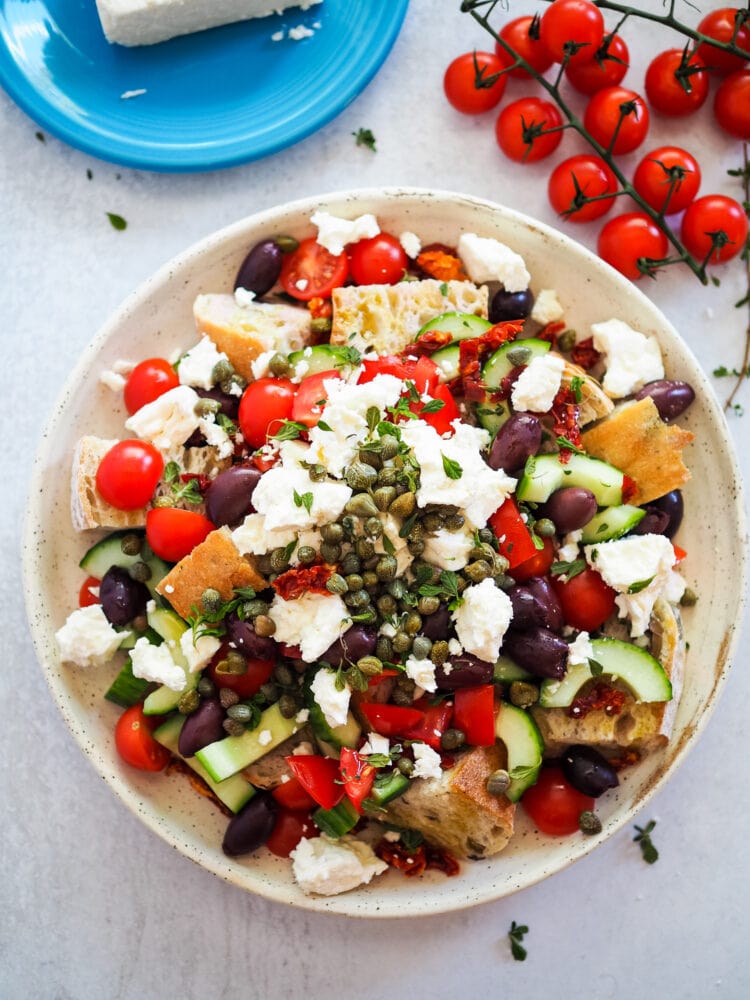 What Is Dakos Salad?
Dakos was originally created as a way to use up stale bread. Greeks, being resourceful as they are, didn't want to waste anything, so they'd take leftover bread, let it dry out, and then rehydrate it with juicy tomatoes, olives, and olive oil. Over time, it evolved into the delicious dish we know today.
The key ingredients of dakos, like tomatoes and olives, have been staples in Mediterranean cuisine for centuries. And the use of olive oil is no surprise, given that Greece is renowned for its high-quality olive oil. So, dakos is a tasty example of how simple, local ingredients can come together to create something wonderful. It's also a reminder of the Mediterranean's focus on fresh, seasonal products.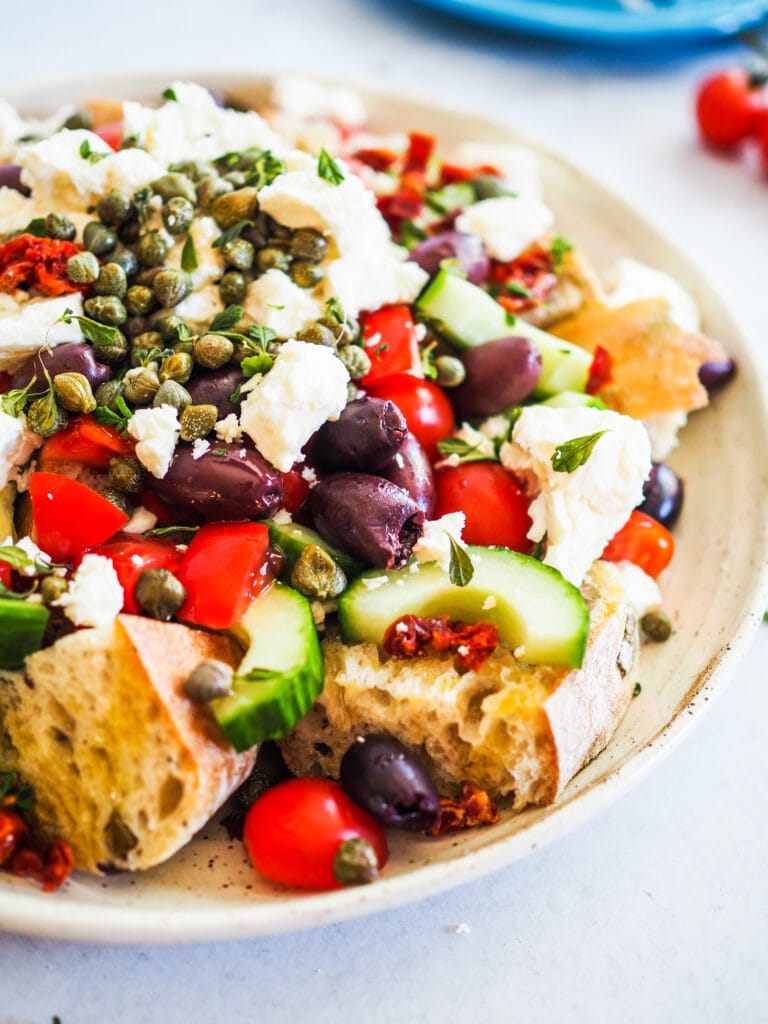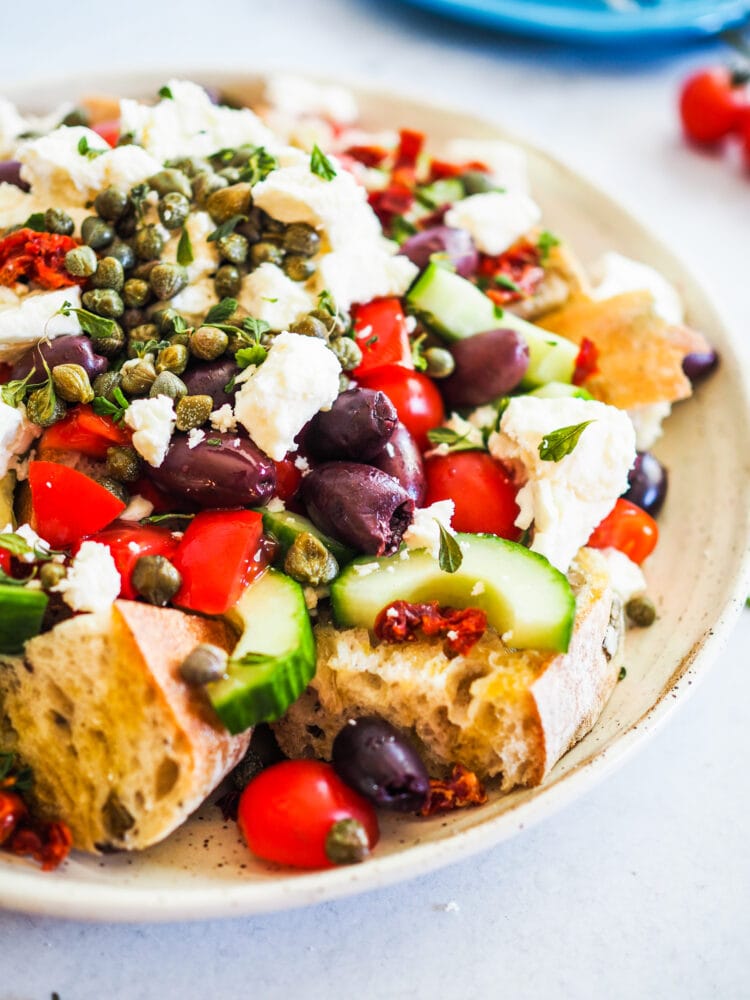 Dakos: A Brief History
Like many traditional dishes, it has humble beginnings rooted in necessity and resourcefulness. Cretans, renowned for their frugality, found a way to transform stale bread into a mouthwatering masterpiece.
Dakos was born as a solution to avoid wasting leftover bread. Instead of discarding it, they allowed it to dry out and become hard. This dried bread, known as "paximadi," became the foundation of Dakos.
The recipe has evolved over centuries, incorporating flavors and ingredients native to Greece. Tomatoes, olives, feta cheese, onions, and olive oil, all essential components of Dakos, reflect the agricultural richness of the Greek islands. Olive oil, in particular, plays a significant role, considering Greece's reputation for producing some of the world's finest olive oils.
Ingredients To Make Dakos Greek Salad
The ingredients to make dakos salad are super simple. It usually consists of day old bread, then topped with diced tomatoes, feta cheese, olives, onions, and drizzled with olive oil. Sometimes they also add capers or oregano for extra flavor. It's a tasty, refreshing dish with that Mediterranean flair.
Here's a breakdown of what goes into this deliciously rustic salad: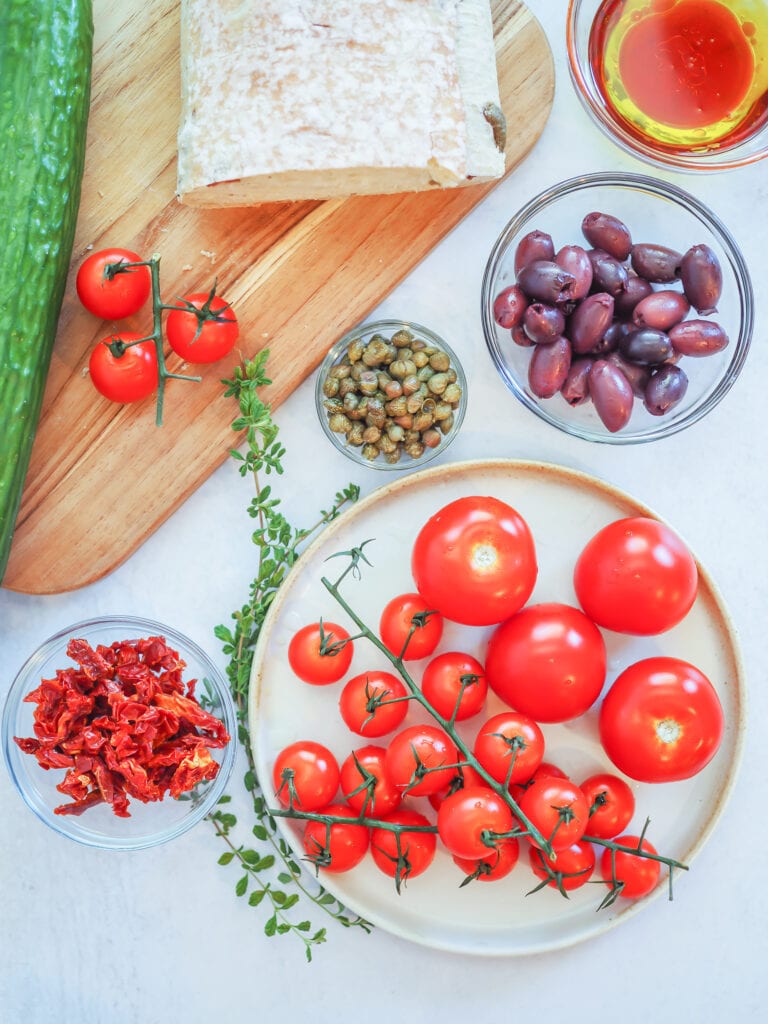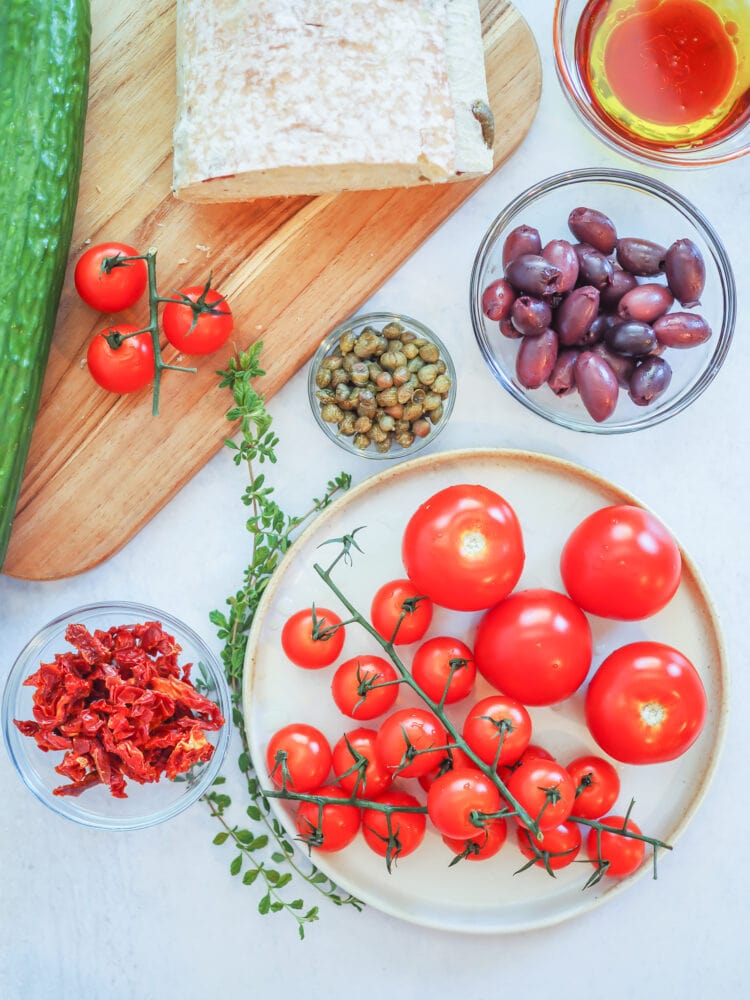 Crusty Bread
Traditionally, dakos is made with a Greek bread called paximadi. When making this at home, you can use any rustic country bread, barley rusks, or even pita bread. The key is to pick a bread with a satisfying crunch that's still able to soak up all the delicious tomato juices and olive oil.
Tomatoes
The star of the show! Ripe, juicy tomatoes are a must. During our cooking class in Santorini, the restaurant owner used three types of tomatoes, whole tomatoes, cherry tomatoes, and even sun-dried tomatoes. The whole tomatoes were diced and the cherry tomatoes were cut in half to release their sweet, tangy juices that infuse the rusks.
Feta Cheese
Feta, the beloved Greek cheese, adds creaminess and a touch of briney saltiness to the salad. I recommend buying an imported Greek feta that comes as a whole, not pre-crumbled. Break the feta apart with your hands and crumble it over the top for a delicious contrast to the other ingredients.
Olives
Greek olives are a staple in Dakos. Their briny, slightly bitter notes complement the sweetness of the tomatoes. Kalamata are the most common variety to find at your local grocer outside of Greece. You can choose pitted, or un-pitted, though I find the pitted easier to eat in the salad.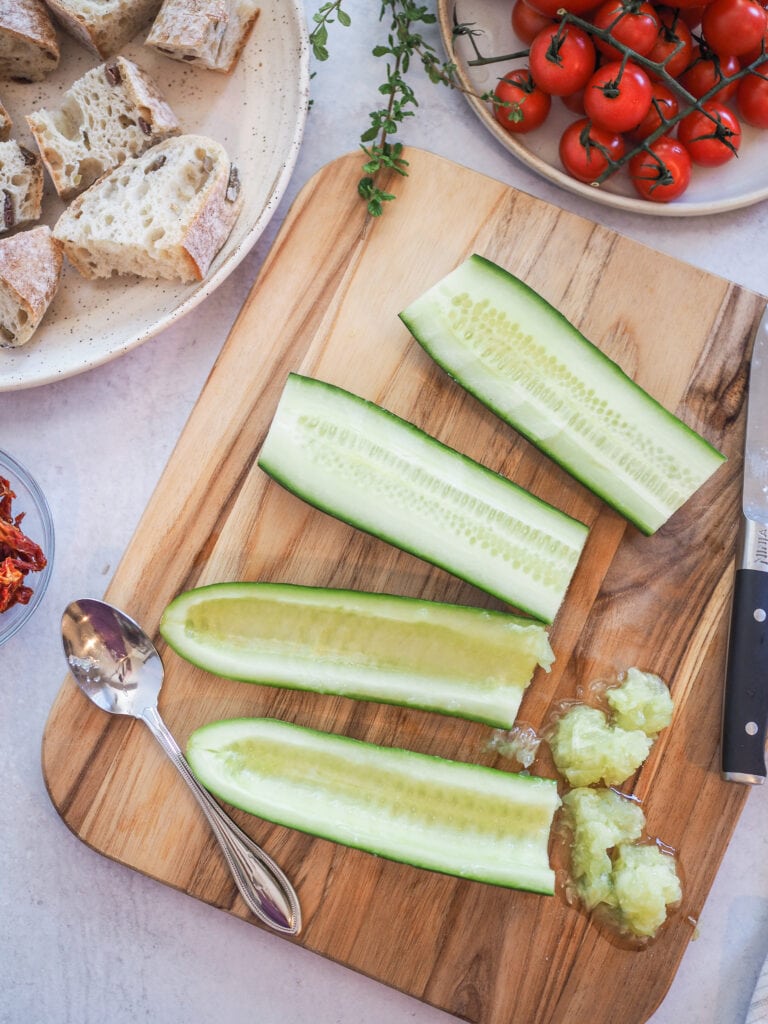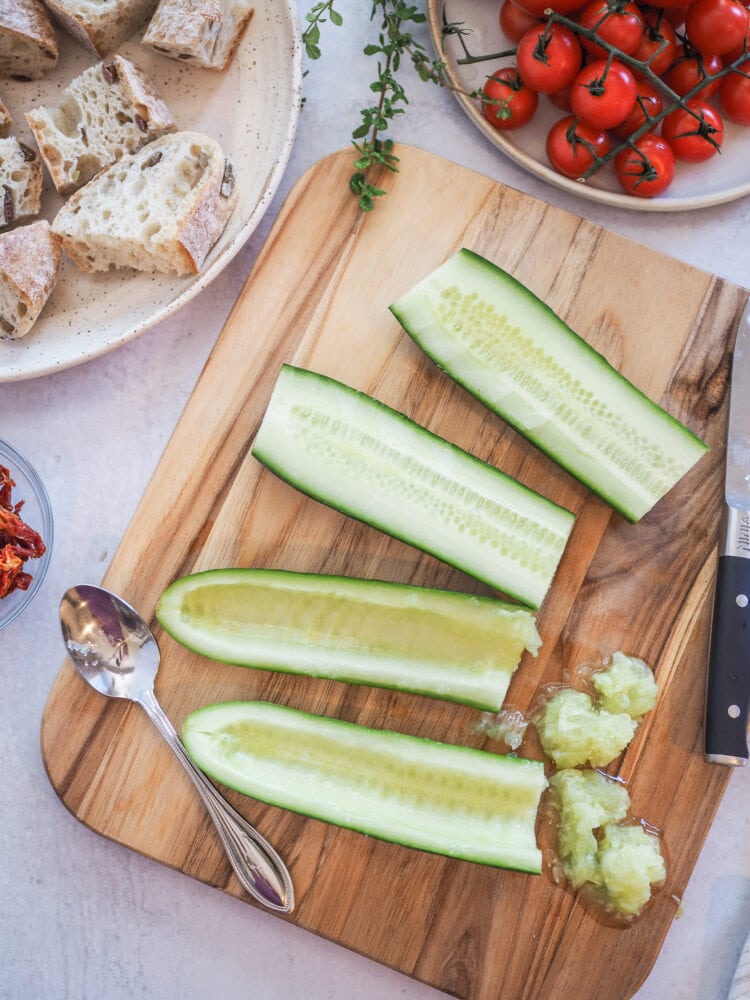 Onions
Red onions, thinly sliced, provide a gentle, crisp bite and a hint of pungency. Plus it adds a nice pop of color and crunch to the other dakos salad ingredients.
Cucumbers
Cucumbers are not traditionally included in dakos salad in Crete, but they were in our cooking class in Santorini. This slight regional variation of including cucumbers add a refreshing crunch to the salad, contrasting with the softer texture of tomatoes and rusks. Plus, cucumbers have a high water content, which can provide a cooling effect, making the salad even more refreshing, especially on hot summer days.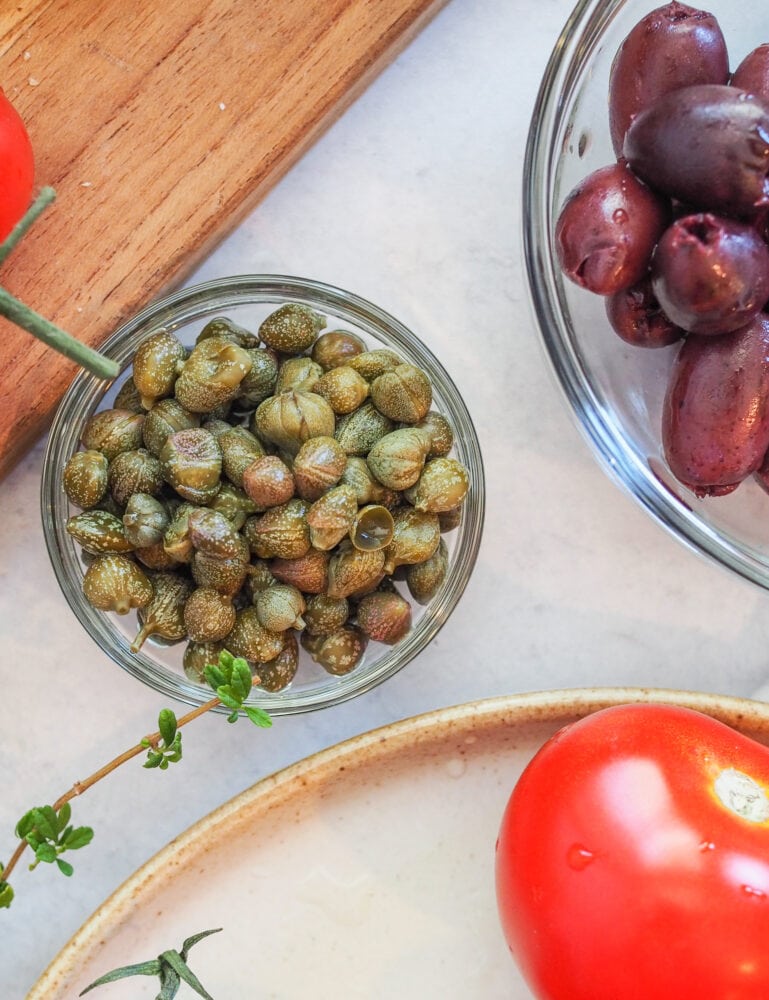 Olive Oil
High-quality extra virgin olive oil ties everything together. Its butter, peppery notes enhance the flavors of the salad and soften the crusy bread.
Capers
Some variations of Dakos include capers, adding a touch of brininess and a burst of flavor. During our time in Santorini, the dakos salad we tried had both capers as well as pickled caper leaves.
Oregano
A sprinkle of dried oregano or fresh oregano leaves imparts a Mediterranean aroma and depth of flavor.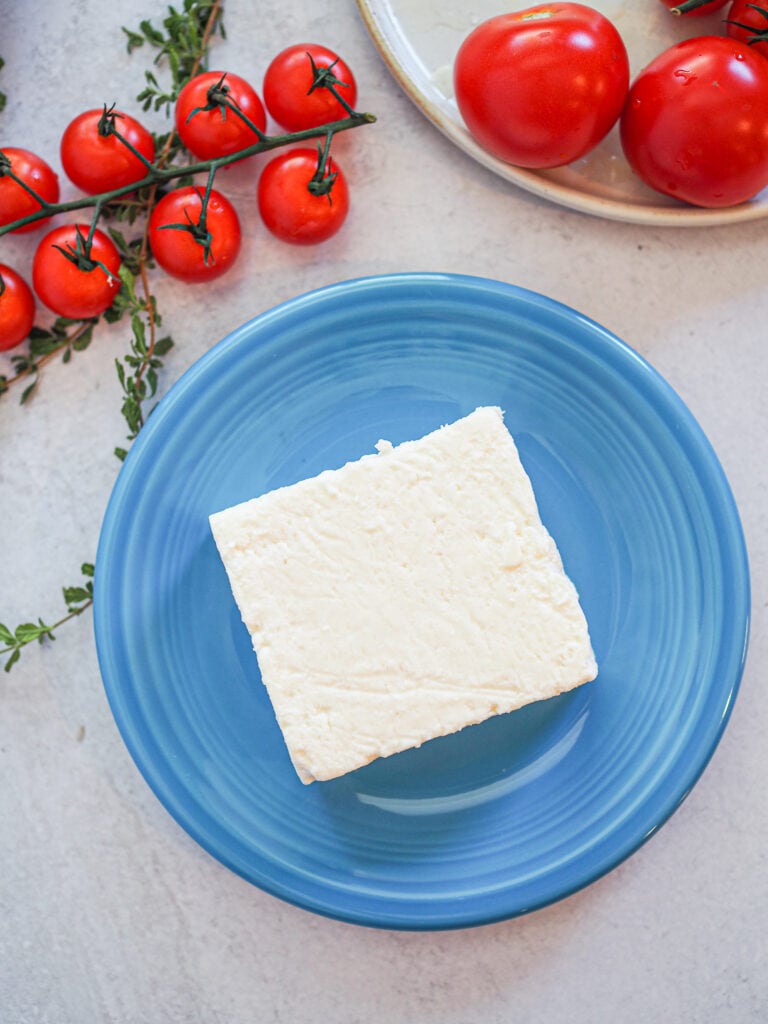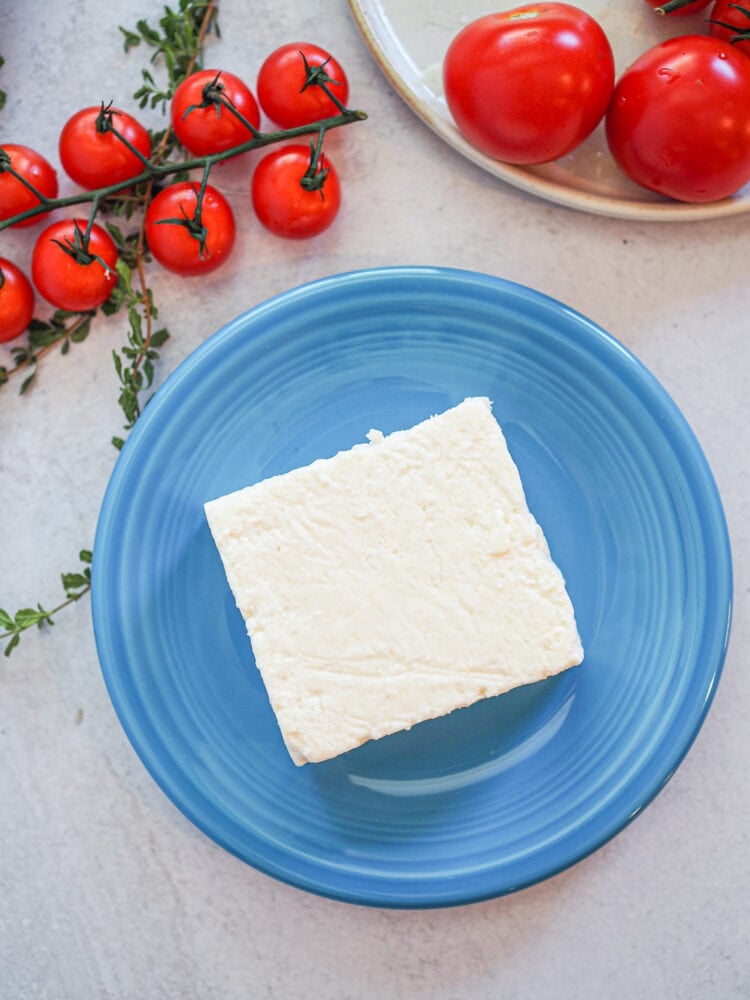 How To Choose A Good Feta Cheese
Choosing good feta cheese is essential for making delicious dishes like Dakos or even a regular Greek Salad! Here are some tips to help you pick the best feta:
Look for Authenticity: Try to find feta cheese that's made in Greece if possible. Authentic Greek feta tends to have a more traditional and robust flavor.
Check the Ingredients: Read the label. Feta cheese should have just a few basic ingredients: milk, salt, and cultures. Avoid ones with a long list of additives.
Texture Matters: Pick a whole block of feta, not one that is pre-crumbled. If it is already crumbled, it will have extra additives to keep it from sticking. Good feta should break apart easily when you crumble it, but not be dry. Avoid feta that's too soft and gooey.
Color: High-quality feta is typically white. Be cautious if it has a yellowish hue, as this might indicate artificial coloring.
Aroma: Feta should have a fresh, slightly tangy aroma. If it smells overly pungent or unpleasant, it might be past its prime.
Brine or Vacuum-Sealed: Feta cheese can come in brine or vacuum-sealed. Both are fine, but brined feta can have a saltier taste, so it depends on your preference.
Storage: Check the packaging date to ensure you're buying a fresh product. Feta cheese can be stored in the refrigerator for a reasonable period, but fresher is usually better.
Ask for Recommendations: If you're shopping at a specialty cheese shop or a local deli, don't hesitate to ask for recommendations from the staff. They often have great insights.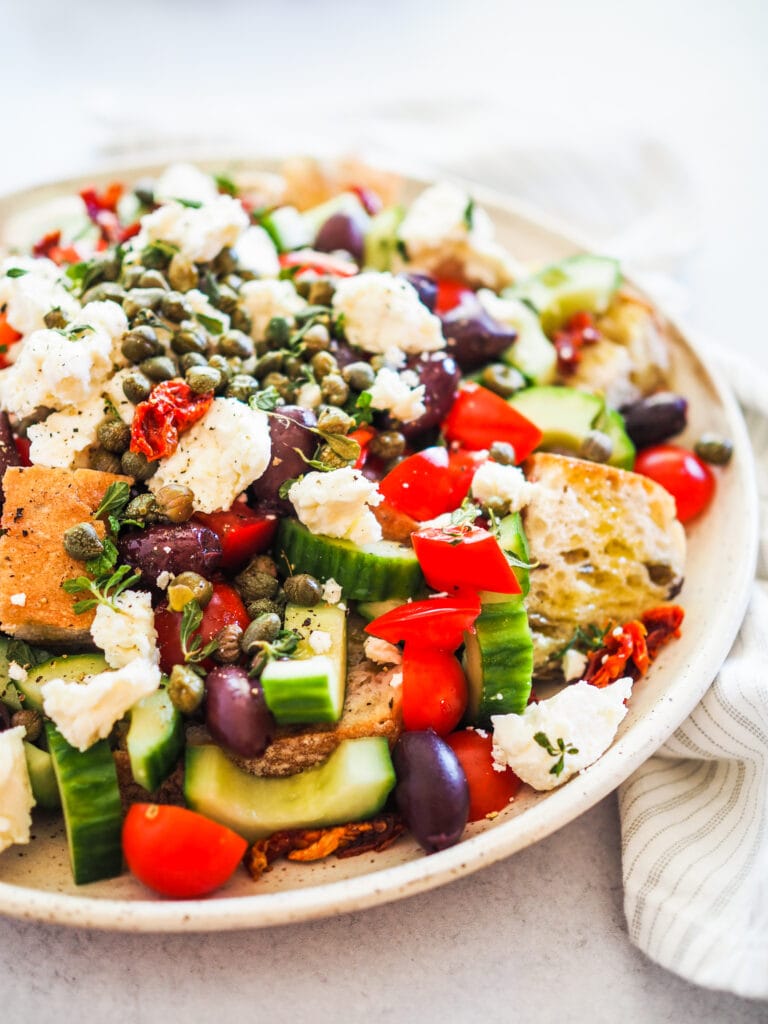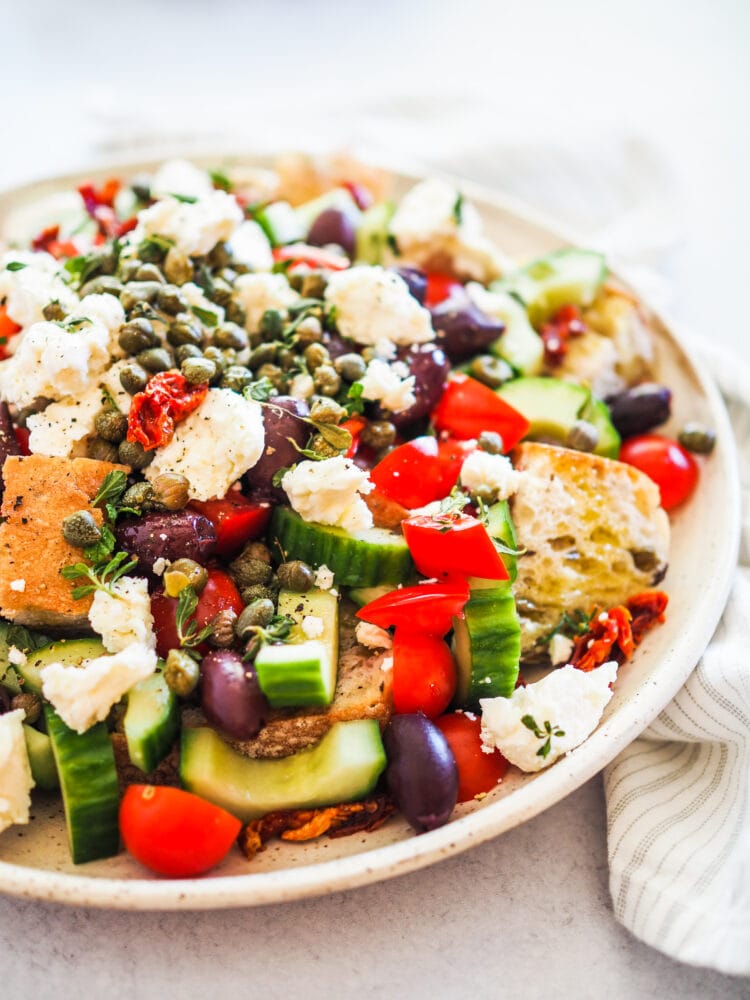 Serving Dakos
Dakos is incredibly versatile. While it's often enjoyed as a starter or a light lunch, it can also be served as a side dish alongside grilled meats or seafood. It's the ideal accompaniment for a sunny picnic or a leisurely al fresco meal.
Pair Dakos with a glass of chilled white wine to complete the experience. The acidity of the tomatoes, the creaminess of the feta, and the robustness of the olive oil make it an excellent match for a wide range of beverages.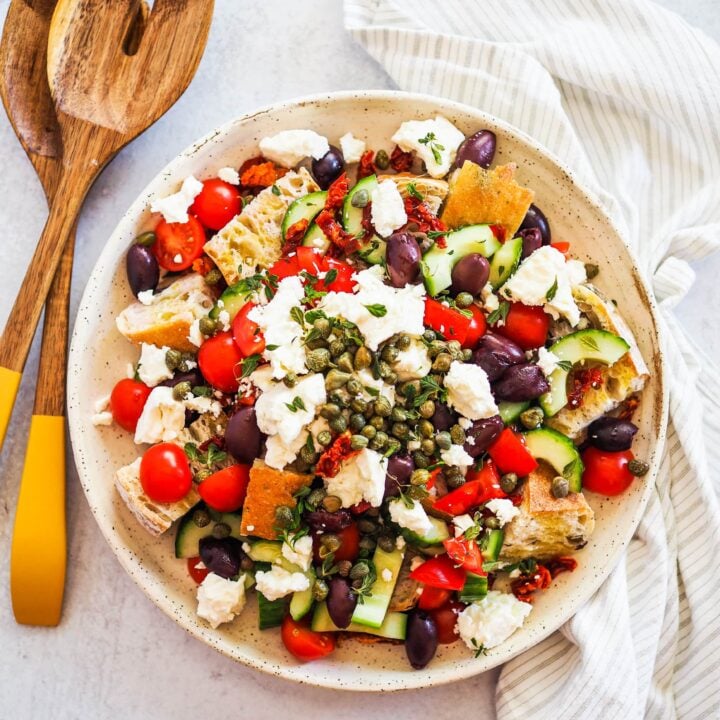 Dakos Salad
Discover the essence of Mediterranean cuisine with our Dakos Greek Salad recipe. Crispy rusks, ripe tomatoes, creamy feta, and more – a taste of Greece in every bite!
Ingredients
1/2 loaf crusty bread
4 oz block Greek feta cheese
1/2 cup Kalamata olives
1 cucumber
2-3 campari tomatoes (can also use plum tomatoes), diced
1/2 cup cherry tomatoes, halved
1/4 cup sun dried tomatoes
1 1/2 Tablespoons capers
1 Tablespoon oregano
2 Tablespoons olive oil
1 Tablespoon red wine vinegar
salt and pepper to taste
Instructions
Chop or tear the bread loaf into bite sized pieces and set onto your serving plate.
Whisk together the olive oil and vinegar and generously pour over salad, making sure to let it soak into the bread pieces.
Add the diced tomatoes, halved cherry tomatoes and sun dried tomatoes on top of the bread.
Slice the cucumber in half and scrape out the seeds with a spoon. Cut into half inch slices and add to the top of the dakos salad.
Add the remaining ingredients including olives, capers, and oregano. Season with salt and pepper, and serve!
Notes
For crusty bread, I typically use an olive loaf and it tastes amazing! But sourdough, a baguette, or even Cuban bread will do great. Just use what you can find at your local grocer as simple local ingredients are the essense of dakos salad.
I found that campari tomatoes work best as their sweet and juice, but plum tomatoes will also work well if you need a substitue.