Want to know why river cruising is one of our favorite ways to experience Europe? Because you get a chance to see multiple cities and towns while only having to unpack your luggage just once. It's like traveling on a floating hotel where you wake up in a new destination each morning. Doesn't that sound lovely? That is why Pete and I were so excited to be invited on a press trip with Viking River Cruises to France.
This specific Viking River Cruise itinerary sailed from Lyon to Avignon along the Rhone river. And it is perfect for travelers who love food and wine as Lyon is known as the gastromic capitol of France and the Rhone river valley is lush with vineyards. Here's our reveiw of the Viking River Cruise Lyon to Avignon itinerary as well as tips for each city and our favorite exursions.
A little fact from our Viking Daily: "the name 'Rhone' comes from the Celtic Rodo or Roto, meaning 'something that rolls.'"
DAY 1: LYON
Our first day was spent adjusting to jetlag and getting checked-in to our room aboard the Viking Hermod. Can I tell you how nice it is after an overnight flight to have a ride waiting for you at the airport? Viking does this for all their passengers and I think it's a nice touch.
After getting our luggage checked-in at the dock, we were able to get a coffee and some breakfast on board the ship in the Aquavit Terrace. Then we went for a leisurely walk around Lyon while waiting for our stateroom to be ready for us to check-in for a restful night aboard the ship.
TASTE: Salade Lyonnaise, Beaujolais Wine, Brioches aux Pralines
DAY 2: LYON
On day 2 of our Viking River Cruise, we practically ate our way through Lyon, including Lyon's brioches aux pralines roses, a buttery brioche layered with crispy almonds coated in caramelizad pink sugar to represent the roses on the Rhône. Back on board the ship, we ordred a salad lyonnaise and a salad Niçoise to balance out all the pastries, of which, I'm certain there's an entire stick of butter in each. Our delightful surprise for the day was the Religious Art Museum of Fourvière that included gorgeous sculptures made of recycled glass.
We had two excursion options to see Lyon. One was "Panoramic Lyon" by bus. And the other was called "Trek Vieux Lyon," which was a bit more of a walking tour. We opted for the first tour as it was included with price of the cruise. Plus, it was nice to just bring a coffee, hop on board a bus, and ease into our first morning.
Fourviere Hill
The city of Lyon is the third largest city in France and is divided by two rivers, the Rhone and the Saone. Our tour began with a drive to the top of Fourviere Hill for a panoramic view of the city overlooking both rivers as well as Vieux (Old) Lyon. We also had some free time to walk around and take a peek inside Basilica of Notre Dame of Fourvière, which is known for colorful tile mosaics. The tour then brought us back down the hill via bus and dropped us off for a guided walk around of Vieux Lyon.
Vieux Lyon
In Old Lyon, our guide aquainted us with the "traboules," historic hidden passageways through buildings that help connect parallel streets. They're a sort of cut-through for pedestrians to easily navigate the city, as Lyon's silk traders once did.
By the time we were in the center of Lyon, we were all eager for lunch. But in France, you'll never be hungry very long. Our tour also took us to a patisserie known for baking Lyon's legendary Brioche à la Praline.
These pink pastries are decedant buttery brioche buns layered with pink candied almonds that have been crushed and incorporated into the batter. The pink color is said to have been created by a Lyonnais pastry chef in the 18th century who was inpsired by the rose gardens in the regions and tinted his pralines a similar pink. These pink pralines are now a specialty in Lyon, so definitely taste them if you get the chance.
LYON TRAVEL TIP: There are at least 20 Michelin Star restaurants in Lyon. If you have your heart on dining out, I would arrive a day or two early since the cruise typically starts on a Sunday (and most restaurants are closed Sunday and Monday). Also, research where you want to dine and make a reservation in advance.
Afternoon On Our Own In Lyon
After a light lunch aboard Viking Hemrod, we spent the afternoon taking a ride on the funicular back up to the top of Fourviere Hill. The fare was only 1.80 euros, and that was worth it to go visit the glass exhibit at the Fourviere museum and to get another view of the city of Lyon close to sunset. Afterward, we took the funicular back down the hill to meander around old town one more time, visit the shops at our leisure, and pick up some souveniers.
TRAVEL TIP: Stop inside a grocery store to look for Lyon's famous pink pralines as a souvenier. We found them at the local grocer for 4 euros, as opposed to the 12 euros at the candy shops in the touristy part of town.
DAY 3: Beaujolais & Truffles
On the third day of our Viking River Cruise in France we indulged in goat cheese, truffles, and wine! We opted for one of the food-themed excursions: Beaujolais and Truffles. This option was one of the pricer choices at $269 per person (at the time of this posting). But it was so worth it! We spent a full day immersed in French food and wine, traveling with just a small group that made it fun and memorable.
Goat Cheese Farm
Our morning started with a drive out to the mountains of Burgundy to meet a goat cheese farmer. We stopped for a few pictures by vineyards near Roche de Solutre (Rock of Solutre), then continued to ascend up winding mountain roads in what felt like driving into a cloud.
The weather was misty, so when we arrived the goats were huddled together in the warmth of a hay filled barn. We tasted a variety of goat cheeses, from fresh to dry aged. Tasting the aged goat cheese was a first for me and reminded me of the taste and texture of parmesan.
Burgundy Black Truffle Farm
The goat cheese tasting was an appetizer compared to the feast awaiting for us a the next farm. Truffle farmer Oliver Devevre has a Ph.D. in microbiology specializing in mycology (study of mushrooms/fungus).
Not only is he a farmer and scientist, but also a great chef. He invited us into his home and cooked everything for our small group himself. Beef stew slow cooked in local wine, vegetables from his garden, and a "cheese cake" of brillat-savarin layered with truffles.
Burgundy Wine Tasting
From there, we rounded out our day with wine tasting at Chateau de Poncie and were lulled into a light nap on the bus trip back to the Viking Hermod docked at our next port, Vienne.
And while I didn't think I could eat a single morsel after our food-filled day, I couldn't pass up the "Taste Of France" themed dinner on the ship. It included French specialties like coq a vin and quite the spread of local pastries and desserts.
After dinner, Pete and I went for an evening stroll around Vienne just to settle our full bellies and to see the town with a different perspective at night.
DAY 4: Vienne & Tournon
Vienne is a small riverfront town, so our morning was spent on a walking tour getting to know more about the Roman history here and learning more about the Temple of Augustus & Livia, an incredibly preserved 1st-century structure, that we saw the night before.
The rest of the afternoon was restful, sailing down the Rhone through France's Burgundy and Beaujolais regions. This is where having a balcony stateroom is worth the splurge.
To sit, sip, and dream while watching the coastline roll by dotted with villages, vineyards, and castles. It was a restful day, the kind you need on vacation in-between long stretches of sight-seeing.
At night, we docked at Tournon-sur-Rhône, another picturesque riverfront town that was too inviting not to go for an evening stroll. It was the kind of place where you walk around and proclaim, "I could live here."
DAY 5: Tournon & Ardeche
The weather cooled on the fifth day of our cruise. So we packed a daypack with raincoats and hats to spend a full day sight-seeing around Ardeche, visiting the gorge, lavender fields, and the charming down of Vogue.
Lavender Farm
Our first top was a visit to see the lavender Museum and distillery. It smelled heavenly and had a wonderful little shop for souveniers. But if you have your heart set on seeing lavender fields in bloom, you must book your cruise at the right time of year. The lavender buds were just begining to grow when we visited at the end of May.
Ardeche Gorge
After the lavender farm, we took a scenic drive to the top of Ardeche Gorge, a deep ravine known as the "Grand Canyon of Europe." Then, drove to the bottom of the ravine to see the Pont d'Arc and have lunch by the river Ardeche.
A sip of local chestnut liquor and hearty bowl of beef stew, followed by a cup of coffee and slice of chestnut pie, warmed us up after spending the morning outdoors in the rain.
A Walk Around Vogüé
For our final stop along the tour, we visited the village of Vogue (Vogüé). Located on the Ardeche river, this little historic town is listed as an Ardeche "village of character" and also a national "beautiful village of France."
Walking around the centuries-old streets and taking photos of the stone architecture made us feel like we were in a storybook village.
Visiting Medieval Viviers
That evening we set sail, but stopped briefly for an evening tour of Viviers. There are some travel moments that feel magical, and this tour was one of those moments.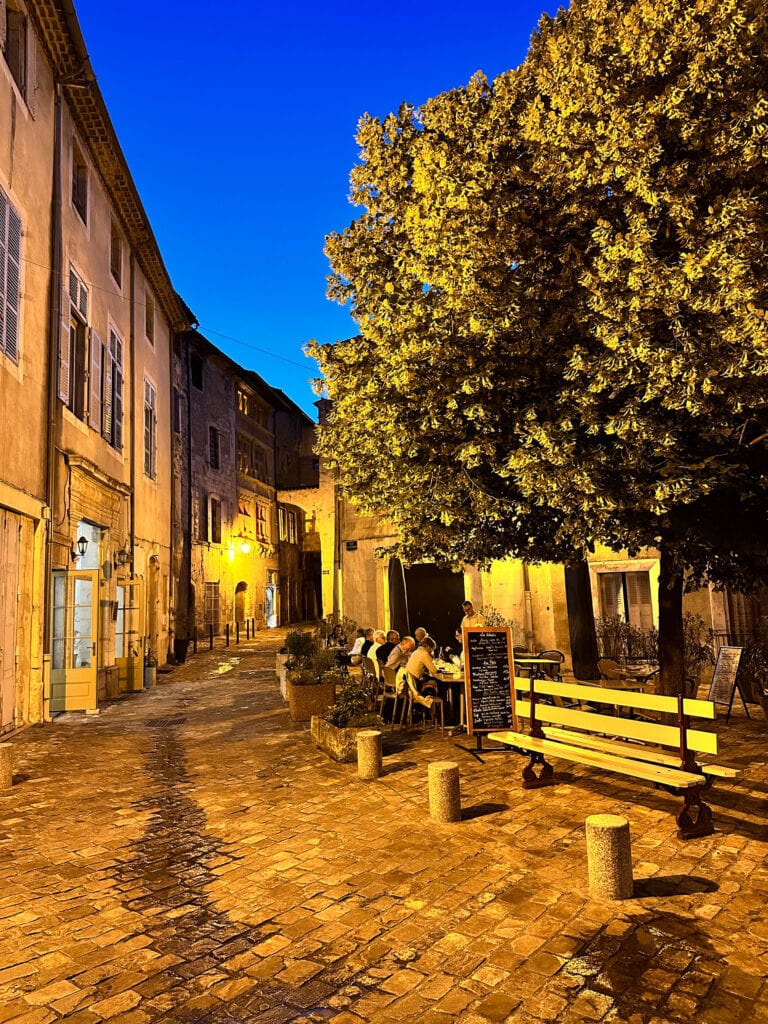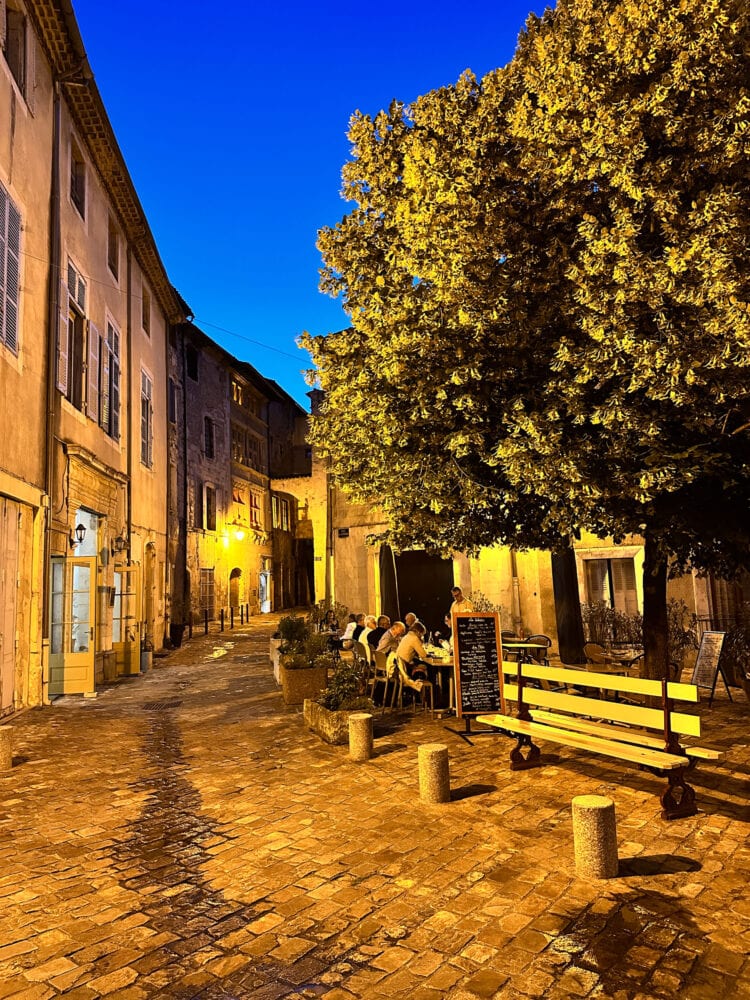 We docked for a twilight tour of the medieval village of Viviers. The lanterns casting a golden hue on the ancient stone buildings amid a saphire sky felt like walking through a Van Gogh painting.
Throughout the leisurely walk, we listened to heartwarming stories from our guide, Ginette, who grew up in the village. We were welcomed back onboard the Viking Hermod with a cup of warm mulled wine.
The temperature was a perfect 60 degrees. Just cool enough for a light jacket. So we sat in the wooden rockers in the Aquavit Terrace, sipping mulled wine while sailing into the night to our next destination.
TASTE: Lavender Ice Cream, Chestnut Liquor, Chestnut Pie
DAY 6: Arles
On day 6 of our Viking Cruise from Lyon to Avignon, we woke up in the city of Arles. Surrounded by medieval walls, with church spires and tiled roofs peeking above, this was a city I couldn't wait to explore.
After breakfast on board the ship, we went out on a guided walking tour through Arles to the Roman amphitheater, Les Arenes. Built in the 1st centurey AD, our guide told us stories of gladiator contests, chariot rides, and bull fights in the stadium.
We had time for a refreshing glace (French style ice cream) before walking back through a maze of narrow streets to see some of the cafes and vibrant colored buildings that inspired Van Gogh.
Delights of Provence
After lunch, we boarded a bus for our paid excusion, Delights of Provence, to visit a family-run olive mill in the village of Fontvieille. To be perfectly honest, I wish we would have skipped that tour so we could have more time in Arles. I didn't realize how much I'd enjoy the city. But I guess that is one of the feautres of cruising, getting to experience a lot of different places and finding ones you want to travel back to spend more time in. And Arles is definitely a place I want to visit again.
Visiting the olive oil farm was delightful. We walked through the olive tree groves while the farmer showed us some of the flower buds blooming into tiny olives.
We then gathered under the shade to taste olive oil, olives, and two types of Provencial tapenade on mini toasts.
Rather than going back to the ship, the second part our our tour took us to Saint-Rémy-de-Provence. We only had an hour there, and it seemed a bit touristy. Overall, while I enjoyed the olive oil and tapenade tasting, in hindsight I think I would have preferred to skip this excursion and spend the whole day in Arles.
Day 7: Avignon
Our final day on the Rhône Viking River Cruise was spent in Avignon, the "city of popes." After our tour we spent the afternoon on our own to explore the city, shop, and get ready for our flight back. I was actually sad the trip had come to an end! Here's what we did on our final day.
City Of Popes
A UNESCO World Heritage Site, Avignon is known as the "City of Popes" because the papacy was relocated here from Rome, amid great controversy, from 1309 to 1377.
This medieval walled city was charming to walk through and explore. And our local guide gave us a tour of the Palace of the Popes before the crowds set in, so it felt like we had it to ourselves for awhile.
Fun Fact: Châteauneuf-du-Pape means "Papa's New Castle" in French.
Food Hall
After the Palace, we walked to the Market Hall, an iconic indoor market with stalls selling local fruits, vegetables, meats, and cheeses.
It is the perfect place for picking up some wine, Herbs de Provence, or flavored salts as a souvenier. I really enjoyed walking around the hall, tasting a few things, and picking up some recipe inspiration too.
After the food hall, we slowly meandered through the city, stopping at the Place de l'Horloge, the city's central square. It was a great spot for buying localy made art and jewelry. (I got a few watercolors for my office!) Altough, the restaurants along this stretch seemed a bit touristy, so I'd walk a little further out for a more relaxed local dining experience.
TASTE: Châteauneuf-du-Pape, Provencial Tapenade
After getting our luggage in order, we enjoyed a French themed dinner on the ship and then strolled through the city again one last time to soak in the ambiance of France. And we wanted to see Pont d'Avignon, a medieval bridge across the Rhône, lit up at night too.
Overall we really enjoyed our Viking River Cruise in the south of France! Would definitely recommend this itineary to anyone who loves food and travel.
Have any questions about this Viking River Cruise itinerary? Let us know in the comments below.