I confess, I have a spice addiction. And this recipe for blending homemade Herbs de Provence is one of my favorites. Thankfully, you don't have to travel to France for this aromatic spice blend. And you also don't have to pay a lot of money for one of those expensive jars either. Read on below to find out more about Herbs de Provence and learn how to make your own at home.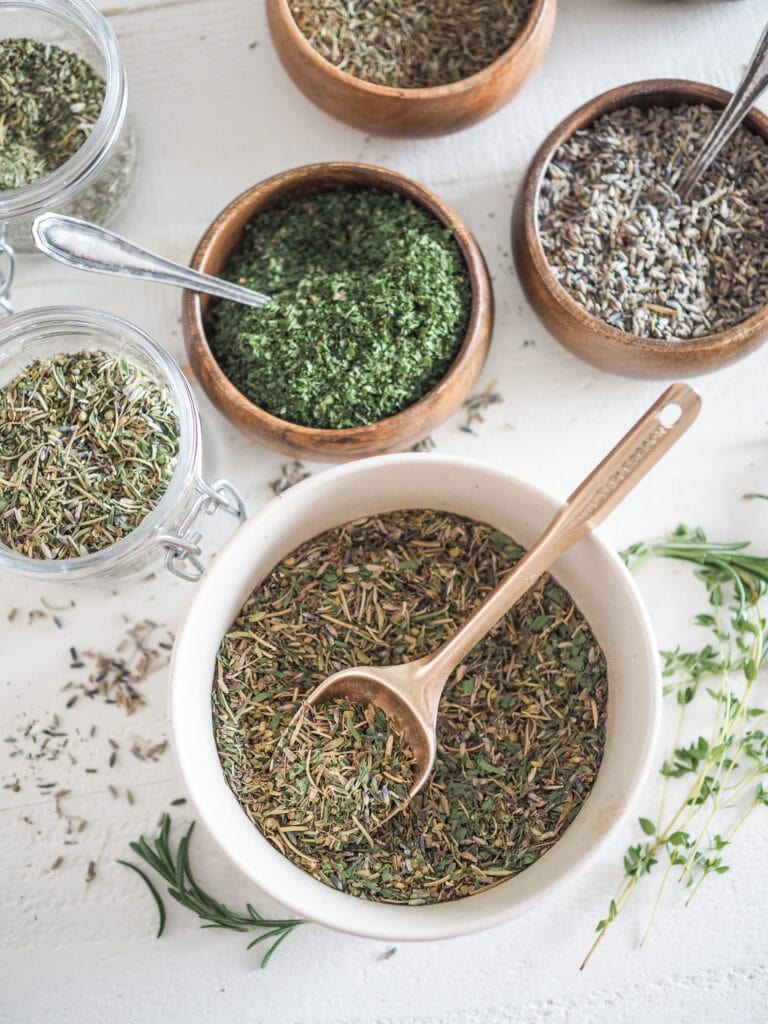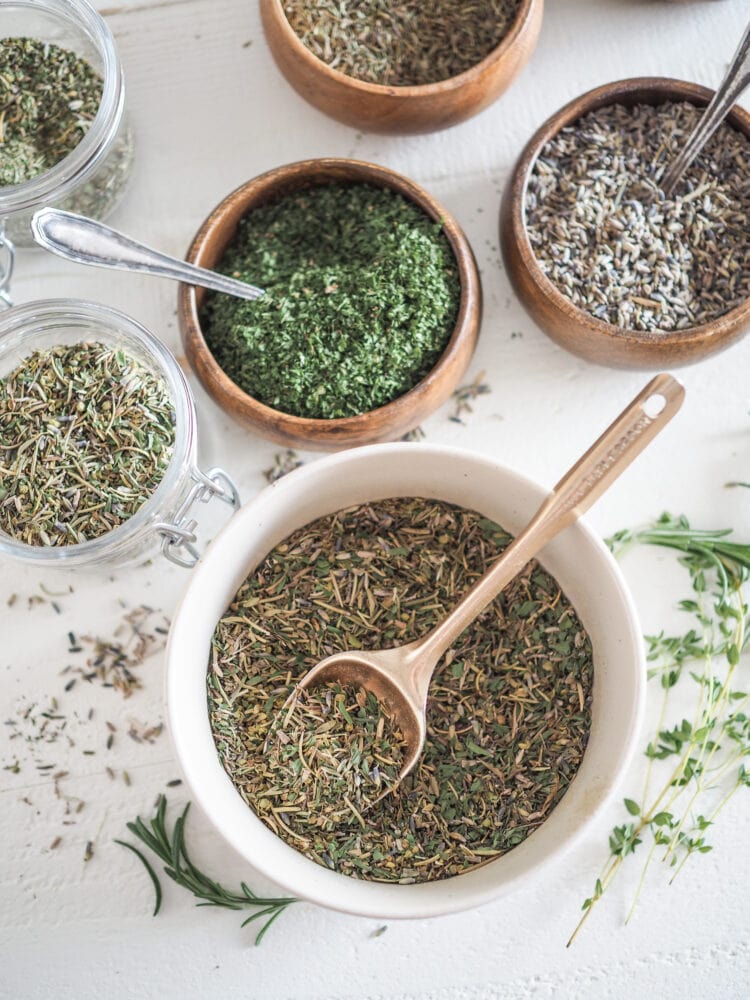 WHAT DOES HERBS DE PROVENCE MEAN?
So, what exactly is in herbes de Provence? It's an aromatic blend of herbs and spices from the Provence region of France. This spice blend is usually spelled in French as Herbes de Provence and translates to "herbs of Provence."
It's a popular French spice blend, but the types of herbs used can vary depending on where you buy it. For instance, lavender is something you'll typically only find in Herbes de Provence blended for the United States market.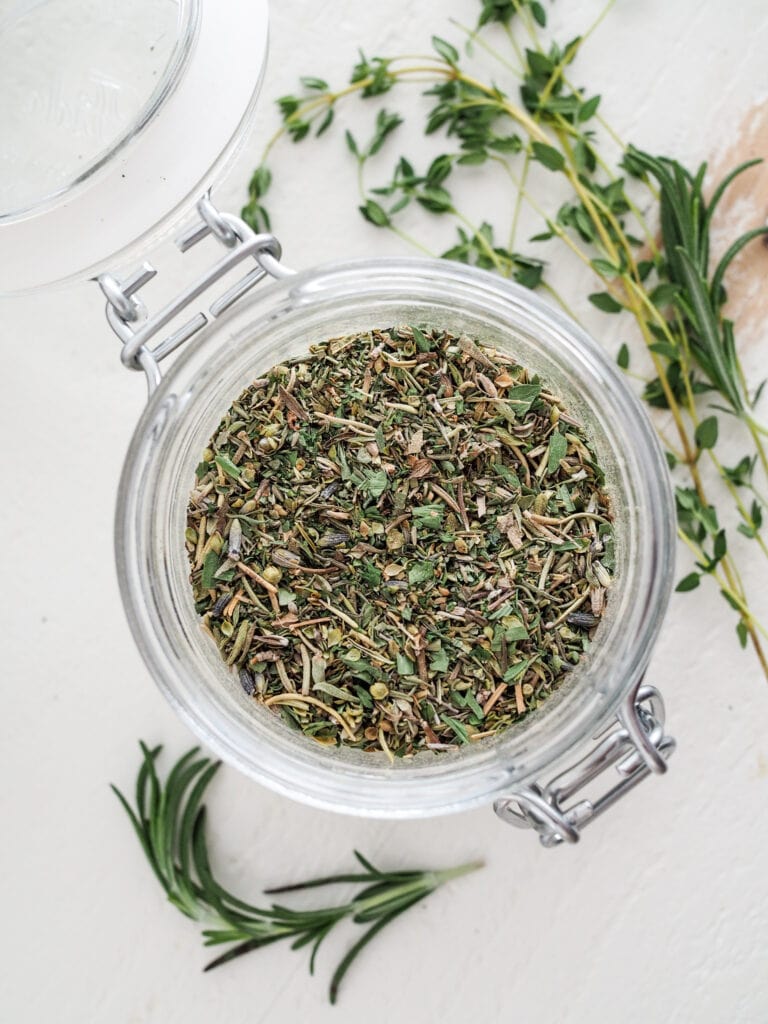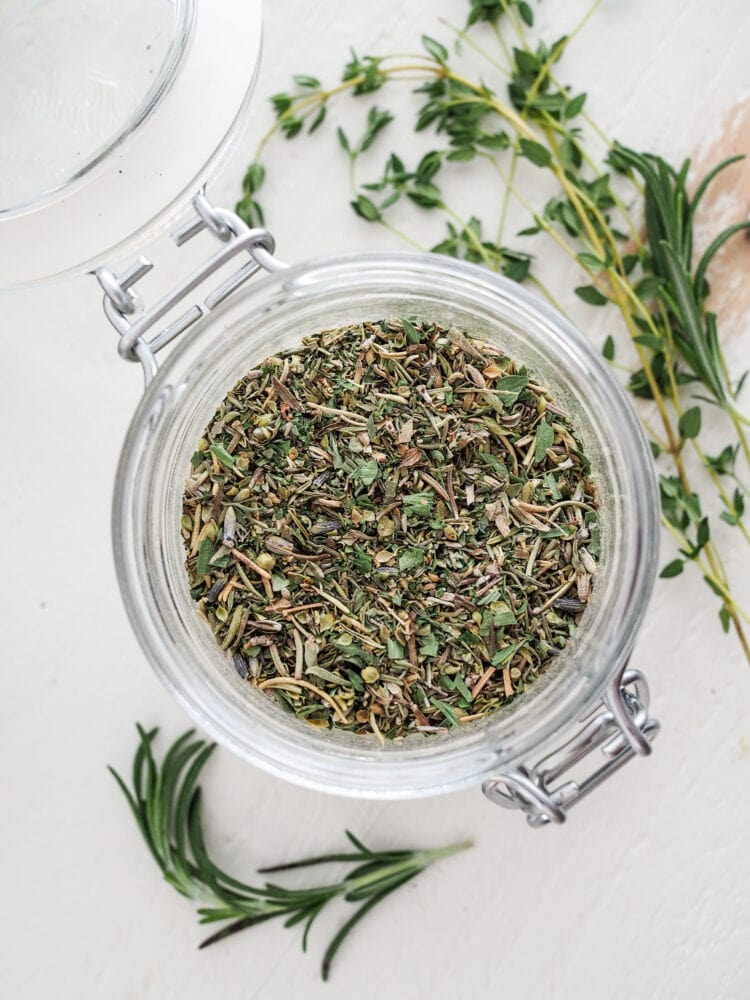 And although lavender is grown in the Provence region, in France, you'll rarely find lavender included in a herbes de Provence blend. Both blends are aromatic and wonderful, though. And because the name, "Herbes de Provence" does not have protected geographical status, there are many different variations of herbs de Provence.
WHAT IS HERBES DE PROVENCE MADE OF?
Herbs de Provence is a blend of quite a few aromatic Provencal spices! Typically, herbs de Provence will contain thyme, savory, marjoram, rosemary, oregano. And I've noted those must-have spices below with an asterisk. But I've seen the addition of many others spices too! Since you're making your own blend at home, you can customize it to your liking.
French Thyme**: French thyme is slightly more sweet and less robust than English thyme. It's flavor can be describe as earthy and woody with some floral notes. Regular thyme can be used in your blend too if you can't source French thyme. It will have a more peppery flavor than the French variety.
Savory**: Savory is an herb, not just a flavor descriptive! And Summer Savory is commonly used throughout Europe and has a distinctive peppery flavor.
Basil**: Basil is a broad leafed herb typically grown in areas close to the ocean, such as tropical regions or around the Mediterranean. It has a very fragrant scent and sweet flavor reminiscent of mint, pepper, and anise. It can sometimes be a bit citrusy too.
Marjoram**: Marjoram is a European herb of the mint family and tastes like sweet pine and citrus. It is the same genus oregano but it is a different species and has a softer flavor than oregano.
Rosemary**: An evergreen shrub with needle-like leaves, rosemary is native to the Mediterranean region. It has a woody, lemon-pine flavor with some balsamic notes as well.
Oregano**: Oregano is in the mint family. It is native to temperate Western and Southwestern Eurasia and the Mediterranean region. It has a peppery, earthy flavor.
**Most commonly included in a Herbes de Provence blend.
ADDITIONAL HERBS USED IN HERBES DE PROVENCE
Tarragon: Tarragon is related to the sunflower family and has a floral, licorice-like flavor similar to star anise. It's used a lot in French cooking and with chicken dishes.
Bay Leaf: Bay leaves are from a laurel tree and can be used whole, though typically in spice blends like herbs de Provence they are typically ground. Bay leaves add a slightly earthy and floral flavor to dishes.
Fennel Seed: Fennel is actually a member of the carrot family! It's indigenous to the Mediterranean and is used to add a warm, slightly sweet flavoring to dishes.
Sage: Sage is an evergreen shrub with grayish leaves. It's native to the Mediterranean and related to the mint family, though it has a more woodsy, smoky, almost eucalyptus-like flavor.
Chervil: Chervil is related to parsley, but with a more subtle flavor. It tastes like parsley too, but is more mild. It's commonly used in French cooking.
Lavender: Lavender flower buds are edible and add an earthy, floral flavor to dishes. It is typically included with herbs de Provence blends in the North American market, most likely due to the association of Provence with its fields of lavender.
WHAT RECIPES CAN I USE HERBS DE PROVENCE
Herbs de Provence is a great seasoning to use for any Mediterranean dish. It goes great in homemade salad dressings, grilled chicken or fish, and even a pork roast.
The spice blend is very fragrant and aromatic! My favorite way to use it is on a whole roast chicken, or blended with a little red wine vinegar, honey, lemon juice, and olive oil to make my own salad dressing.
Plus, I love ordering spices in bulk and then blending together my own herbs de Provence to put in cute jars as gifts.
I ran out of the herbes de Provence I picked up in France, so I ordered all the spices listed above in bulk and blended my own. Now that my pantry is restocked, I'll be bestowing these little jars to friends and relatives to add to their kitchens.
WHAT IS A SUBSTITUTE FOR HERBS DE PROVENCE?
Herbs de Provence is easy to blend on your own. And, you probably have a majority of the spices already in your pantry. If you are cooking a recipe that calls for herbs de Provence and you don't have all the spices or your own blend ready, use at least 3 of the spices that are noted with an asterisk above in the spice list, such as thyme, rosemary, and oregano.
WHAT IS THE DIFFERENCE BETWEEN ITALIAN SEASONING AND HERBS DE PROVENCE?
While Italian seasoning and herbs de Provence may look similar at first glance, there is a difference. Herbs de Provence is a blend of herbs that are commonly found in the Provence region of France. And Italian seasoning is actually an American creation, a blend of common Italian spices such as basil, oregano, and rosemary with garlic powder and red pepper flakes.
Herbs de Provence is a seasoning you'd use on grilled meats or salad dressings, while Italian seasoning might be something you add to tomato sauces or marinades.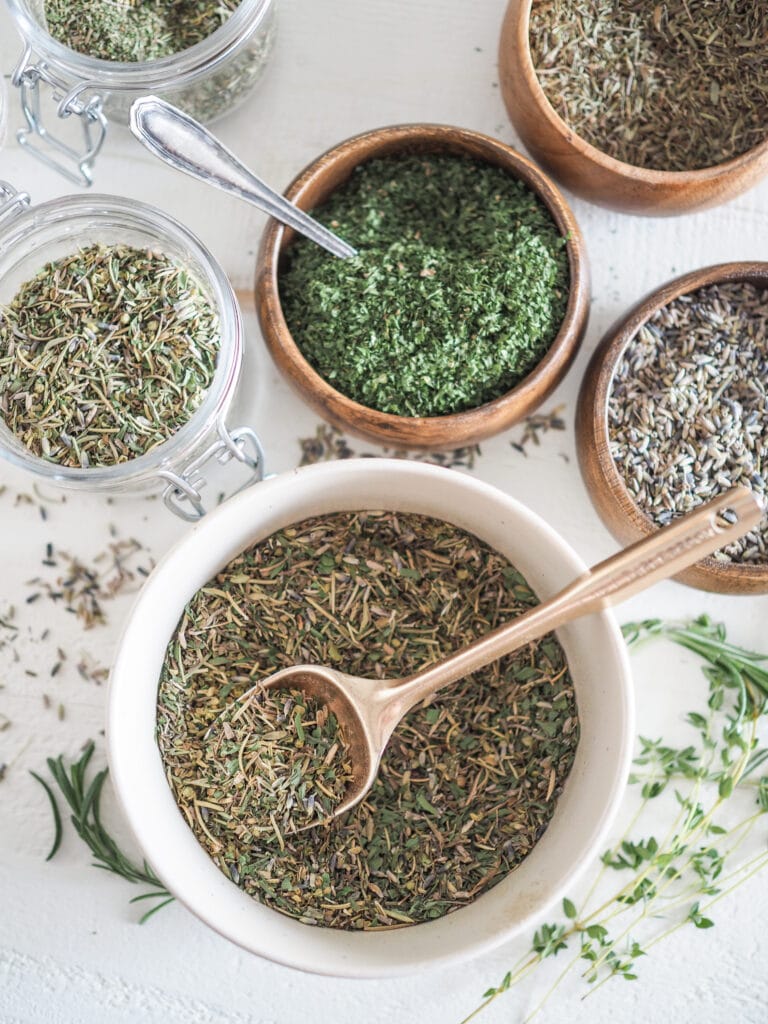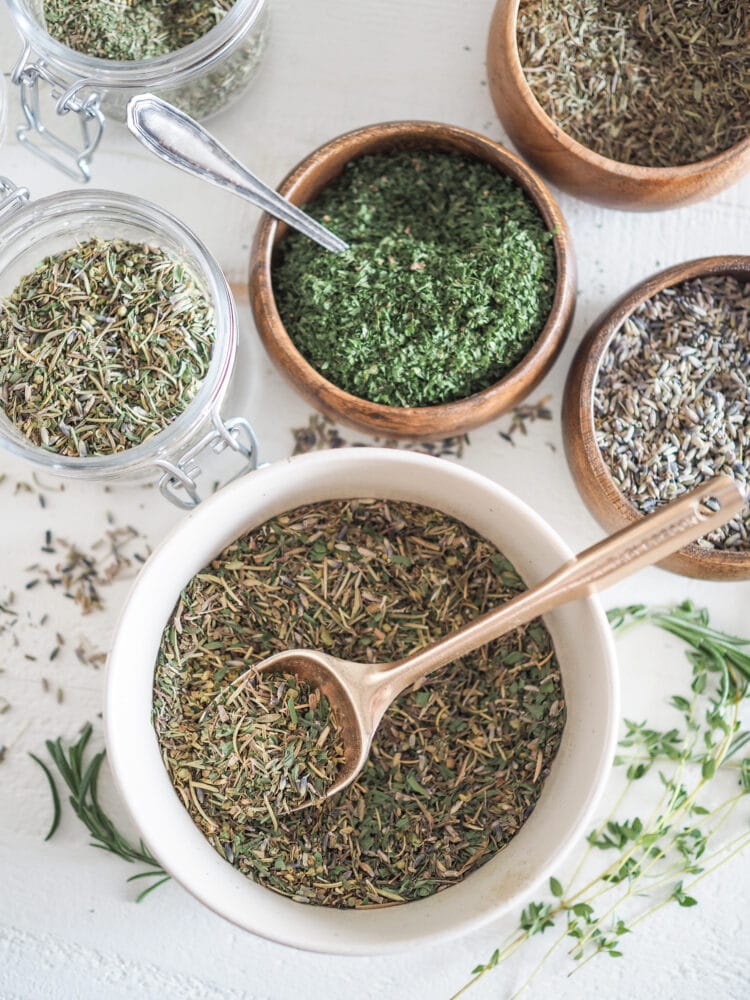 HOW LONG WILL HERBS DE PROVENCE LAST?
Most herbs don't necessarily "go bad," but they do loose their strength and flavor over time. A good rule of thumb is to refresh your spices every six months to a year. If your herbs de Provence blend is stored in an air-tight container, it should be fragrant for at least six to eight months.
STORING HERBS DE PROVENCE
I like to store my own herbs de Provence blend in an air-tight glass jar with a clamp lid that has a seal (as opposed to cork). That way it's easy to use and store, but also keeps it fresh for as long as possible. Take a look at your local kitchen store or Amazon for Weck jars, or an Italian brand called Fido. Even mason jars with screw top lids are great!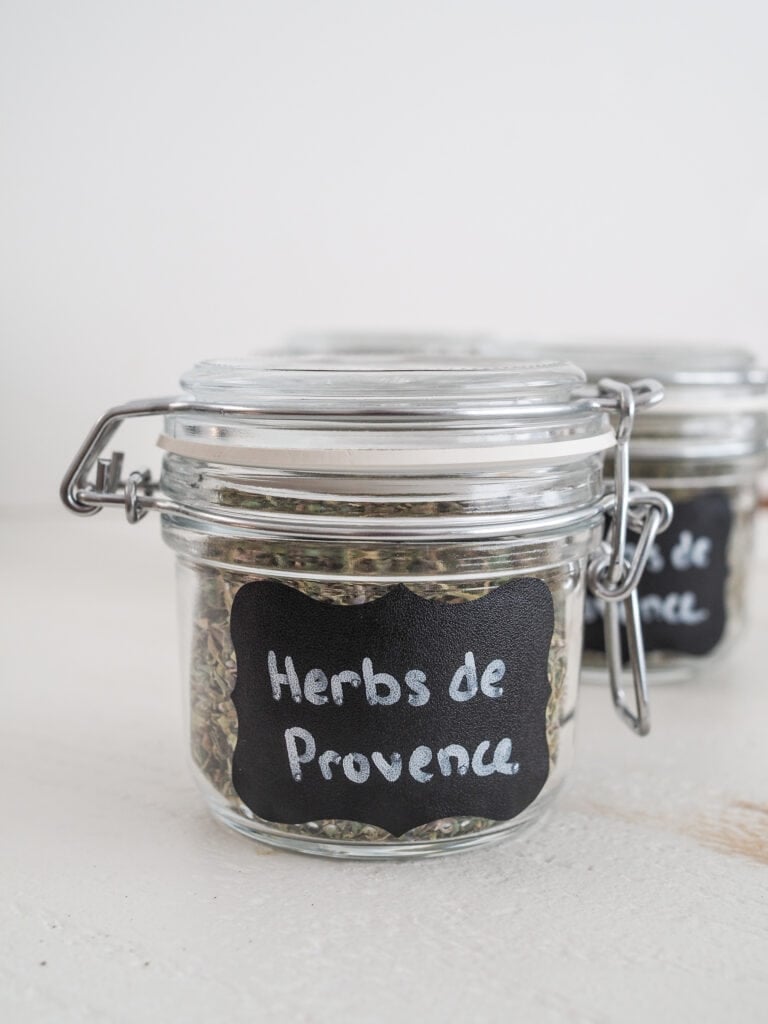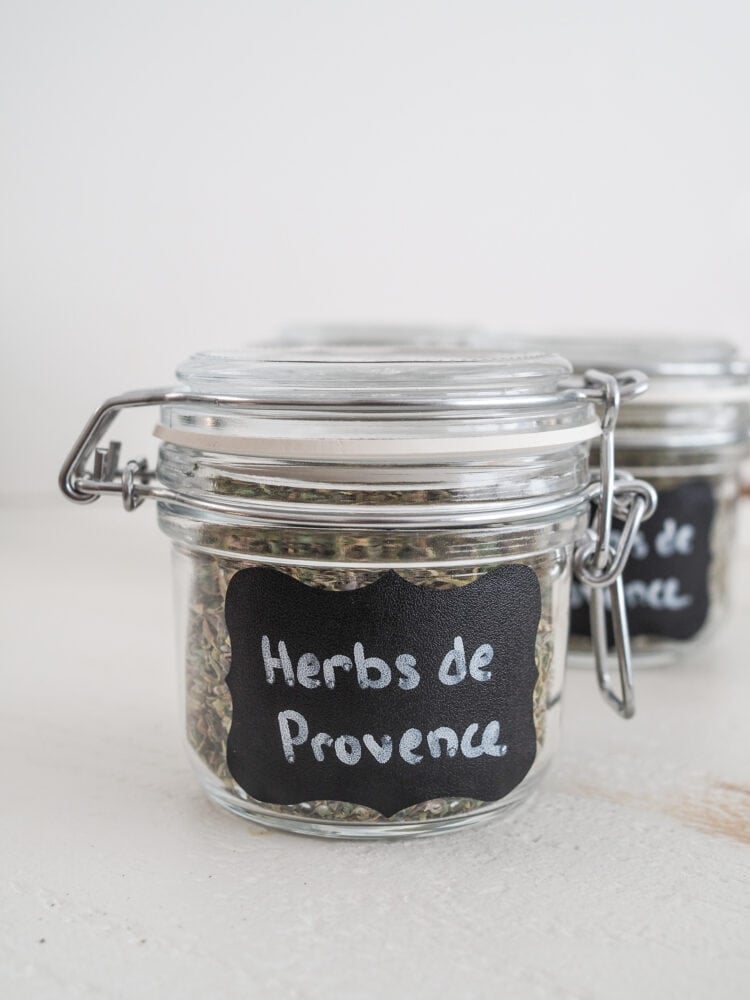 The recipe below blends together approximately 6 ounces of herbs. So you'll need at least a 6 ounce jar, or two 3 ounce jars. I also like to double and triple the recipe when blending in bulk to make as gifts for the holidays or a garden party.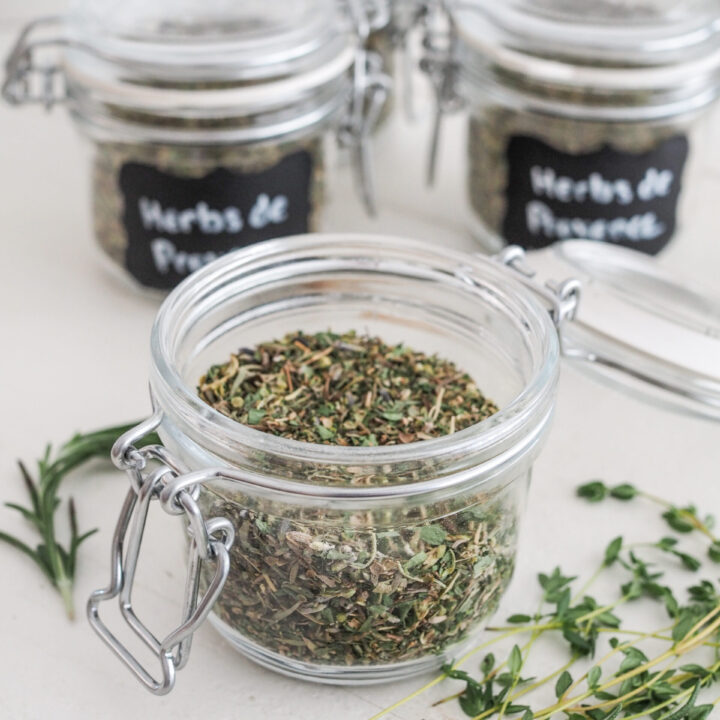 Herbs de Provence Recipe
Ingredients
2 Tbsp French Thyme
2 Tbsp Oregano
2 Tbsp Rosemary
2 Tbsp Savory
1 Tbsp Marjoram
1 Tbsp Tarragon
1 Tbsp Chervil
1 Tbsp Lavender
Instructions
Add all herbs to a large bowl and mix well.
Using a small spoon, scoop the blend of herbs de Provence into a glass storage container.
Keeps for 6 months! Use your homemade blend of herbs de Provence for grilled meats, roast chicken and fish.
Notes
French thyme can be substituted with regular English thyme.
Chervil can be stubsituted with dried parsley.
Other Recipes and Stories You'll Enjoy