We all need a few travel beauty hacks to save us time while traveling (and packing space too!). Whenever I'm on the road, I lighten up my morning routine so I can spend less time getting ready and more time out having adventures. With just a few tweaks to your make-up bag along with these four tips below, you'll feel like a travel pro!
4 On-The-Go Travel Beauty Hacks
1 – MAKEUP
Streamline your makeup routine by bringing only your absolute must-haves to get ready in the morning. For me, that's a really good eyebrow pencil, mascara, and a powder foundation with built-in sun protection. Think of ways you can minimize the liquids you pack, such as a powder foundation instead of a cream. This will help you easily get your makeup kit through airport security. Also, any item that can multi-task is a plus! Such as an eyeshadow or shimmery bronzer you can also wear as a blush, etc.  I also like to collect trial sizes of my favorite products through monthly mail-order subscriptions such as Birchbox and Ipsy. They're perfect for creating a
travel makeup kit
!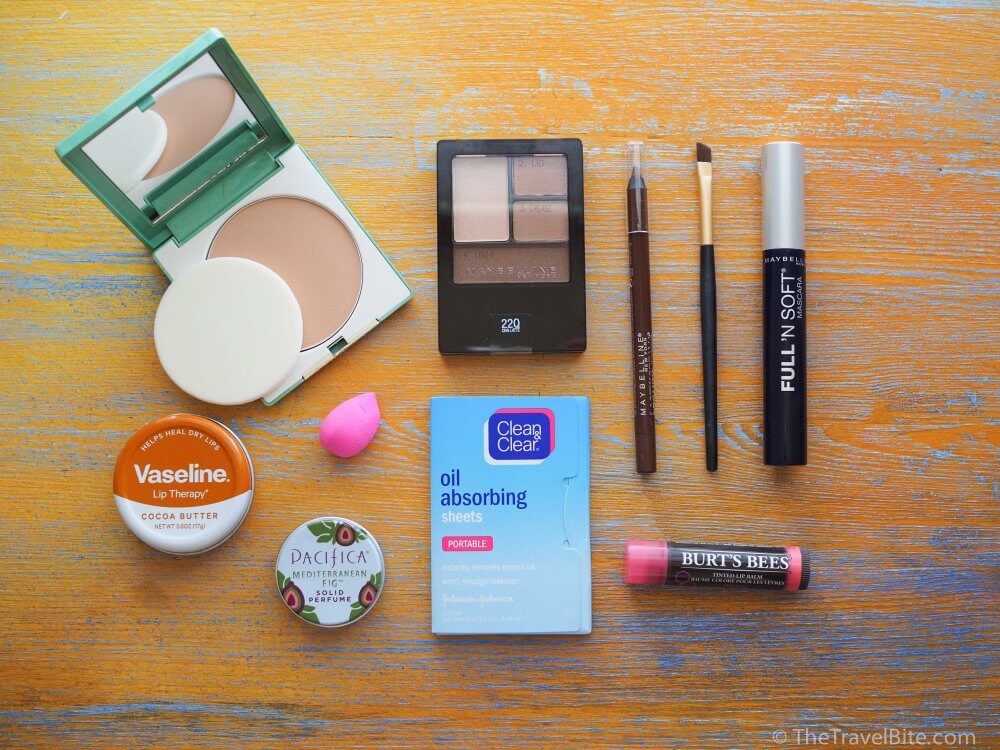 2 – HAIR
My favorite travel beauty hacks for hair is simply a pony tail holder and a great hat! It's so easy, looks fun in photos, shields your face from the sun, and covers up a multitude of hair sins (frizz, roots growing out, etc). I confess, I'm not one of those girls that is blessed with hair that dries naturally beautiful. If I don't do anything to it at all, it ends up looking like Roseanne Roseannadanna! (Google her if you don't know what I'm talking about … lol!).Seriously, low maintenance hair will save you time in the morning (more precious sleep!) as well as packing space. So, leave the hair dryer at home as most hotels and vacation rentals have them. Flat irons pack better since they're slim, so you can shower at night, let your hair air dry, then use a flat iron to tame any unruly pieces in the morning.If you do spend time doing your hair in the morning, a travel-sized dry shampoo is great for extending the style an extra day. Plus it's perfect for a little refresher after a long flight when you can't check into your hotel right away.One more travel beauty hack hair tip is to bring one or two packets of your favorite hair mask, comb it in after you shower, then twist your hair into a bun. That way you're multi-tasking with a hair treatment that also tames fly-aways and your bun will stay put.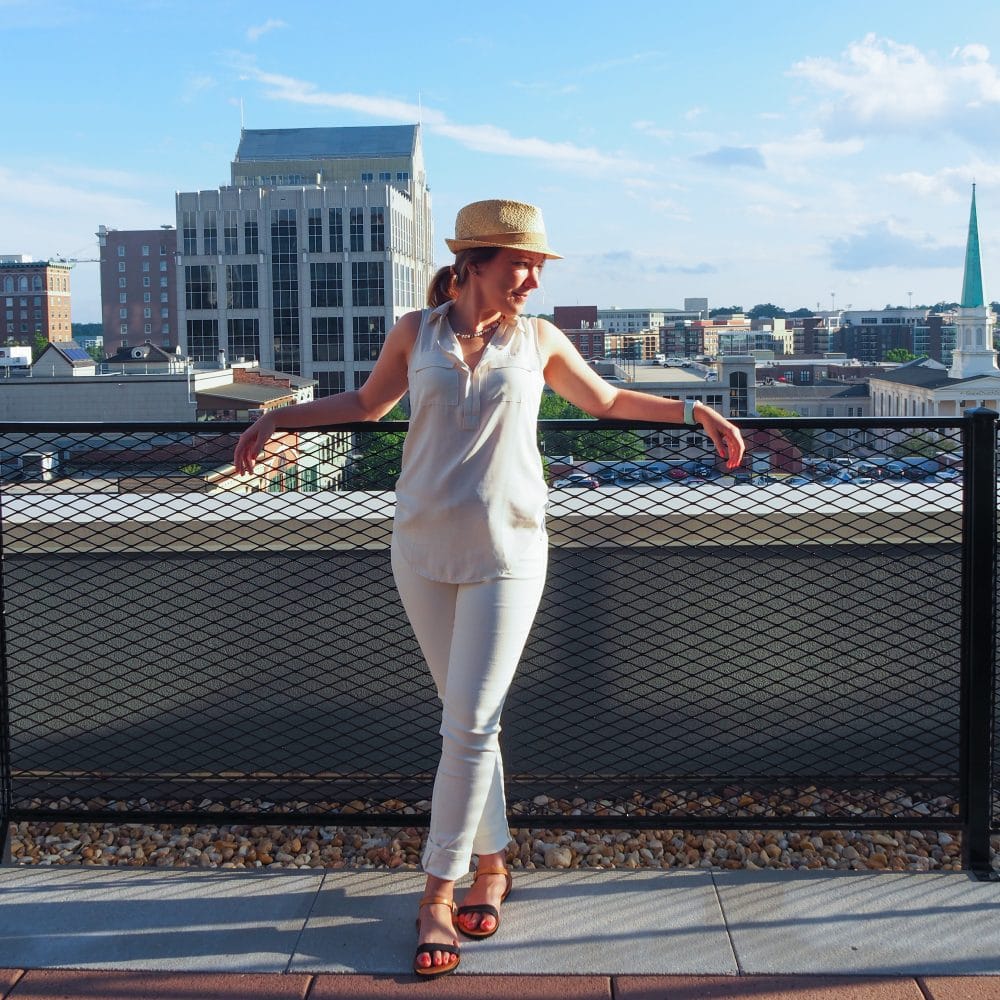 3 – NAILS
Nails take a beating when you travel with all the packing, unpacking, and hand sanitizer. One of the best tips I received from a celebrity manicurist while interviewing her for my podcast was to constantly keep your cuticles moisturized. That one tips alone will keep your manicure looking fresh and prevent painful hangnails or cracks. Pack a small hand moisturizer and keep it with you throughout the day to re-apply — even if only to your nail beds.Make a liquid-free on-the-go nail kit with a emery board, single-use polish remover packet, and
Color Street nail strips
. I'm so thankful to my friend Liz who introduced me to these as they're easy to apply and instantly dry which is such a time saver.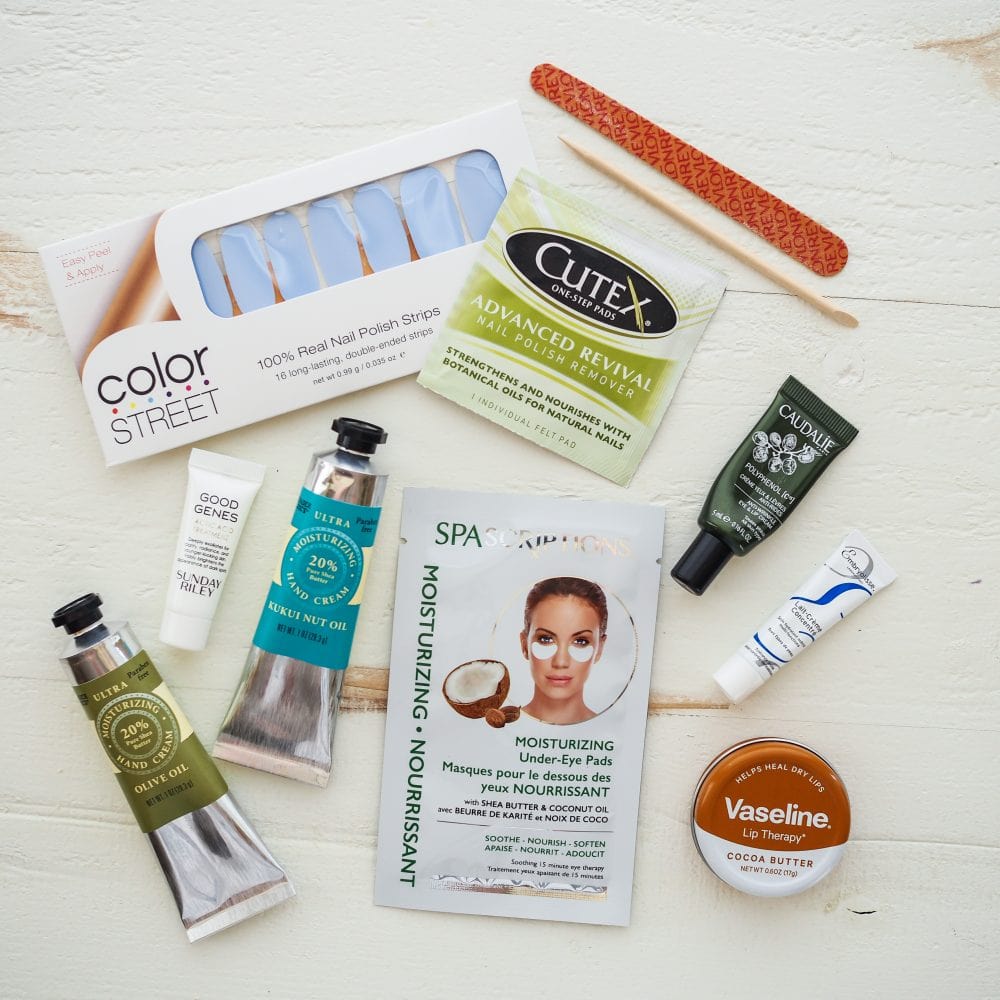 4 – DAY-TO-NIGHT
The last of my beauty travel hacks is a tip for how to do quick touch-ups to go from daytime touring to dinner without stopping. Travel itineraries are usually jam packed, so if you don't have time to go to your hotel before dinner, here's a few ways you can freshen up.First, I recommend bringing oil absorbing paper sheets to dap away any shine and sweat. Second, have a darker lipstick or gloss tucked away in your bag. And last, pack a solid perfume for a quick refreshing scent that's not going to spill all over your bag. Bonus … it's usually great for cuticles too!
Have any travel beauty hacks of your own? Let us know in the comments!
Want to save these travel tips? Pin it!