While visiting Seoul, we frequently indulged in the ultimate Korean comfort food – Bibimbap. The name bibimbap literally translates to "mixed rice" and consists of sautéed meat and vegetables arranged separately, and sometimes rather artfully, over a bowl of rice. Some are served with a fried egg on top along with a sweet and spicy chili pepper paste called gochujang. The egg is meant to be broken to allow the yolk and chili pepper paste to mix with the sautéed ingredients, creating a flavorfully sauced rice bowl.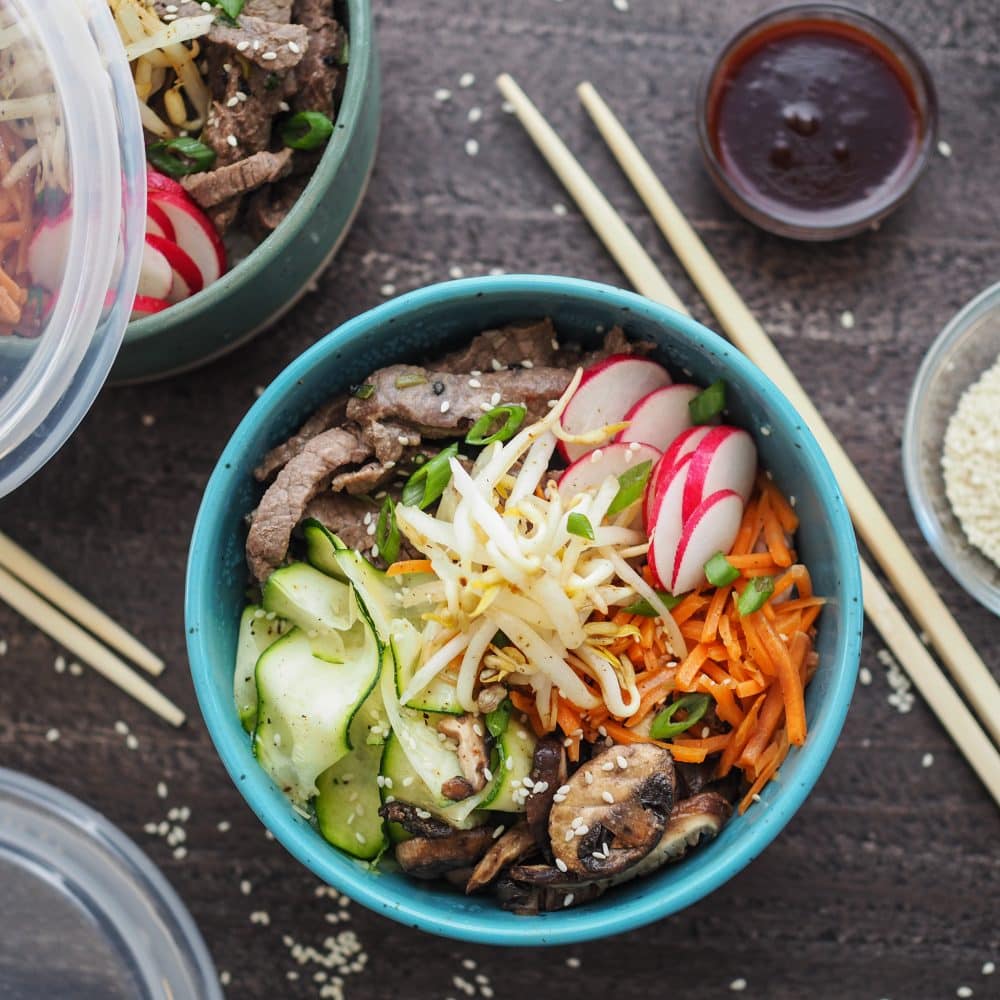 There are different regional variations of bibimbap all throughout Korea, and if you'd like to try an authentic recipe and even make all your sauces from scratch, I recommend taking a look at Maangchi. This recipe I have below is a bit more simplified for quick meal-making as I like to cook a big batch for lunchtime rice bowls.
Read This: A Culinary Week In Seoul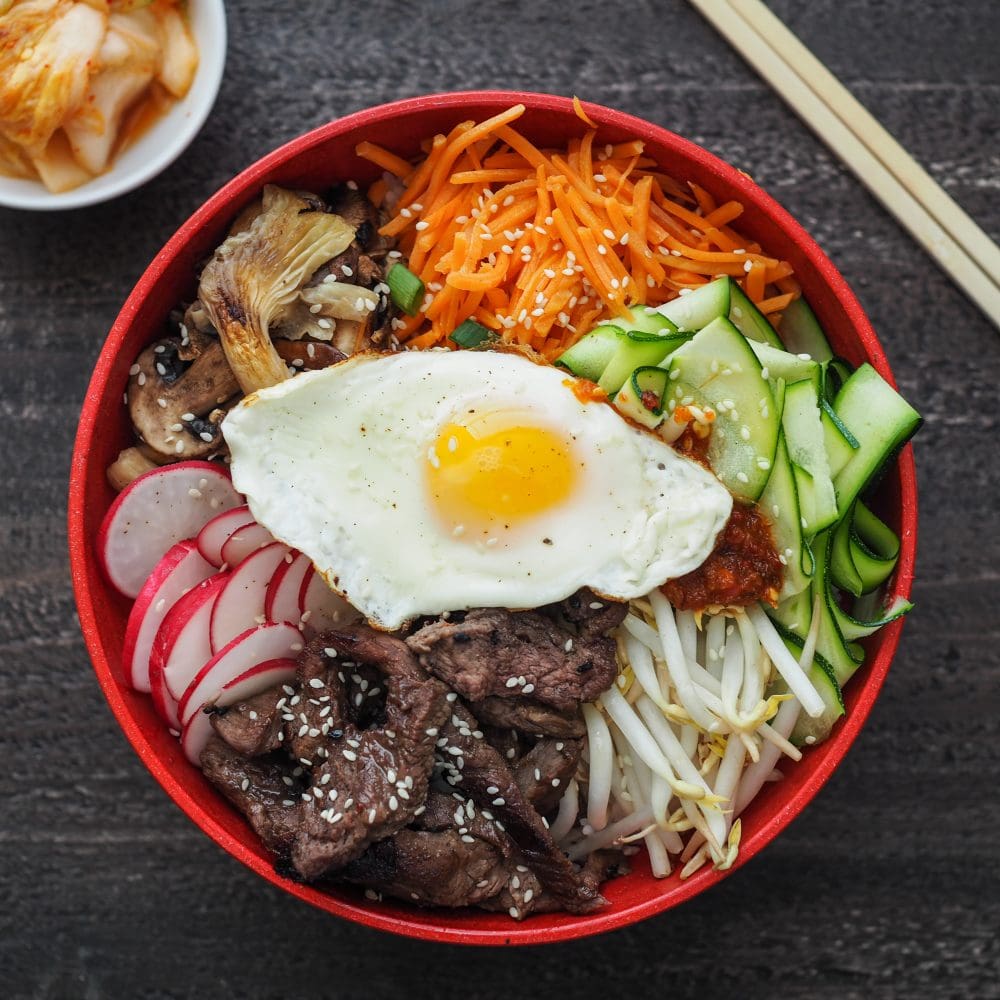 A Few Extra Items You Might Need:
Sesame Oil
Bowls with lids if you plan on making a batch of rice bowls
Korean BBQ Spice – (I really like The Spice Hunter Global Fusion Rub)
Chilli Pepper Paste – Gochujang Sauce.
Easy Bibimbap Recipe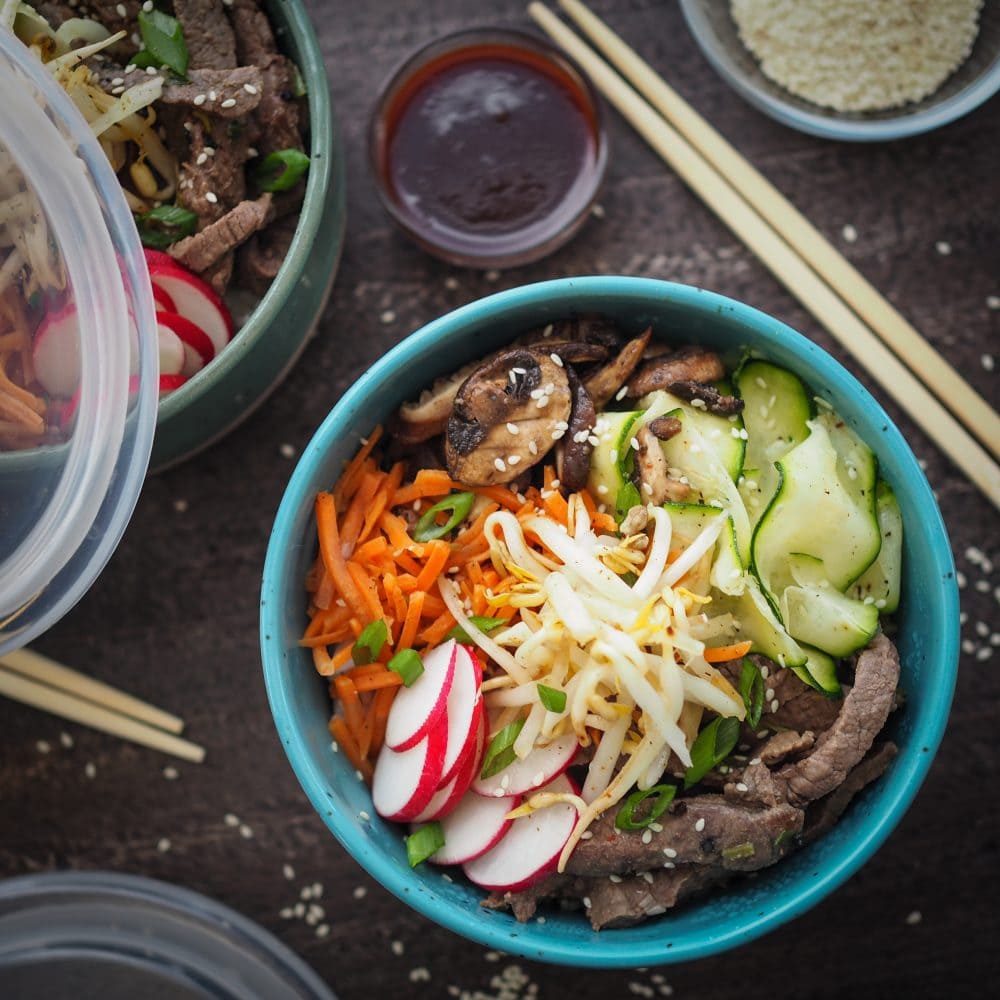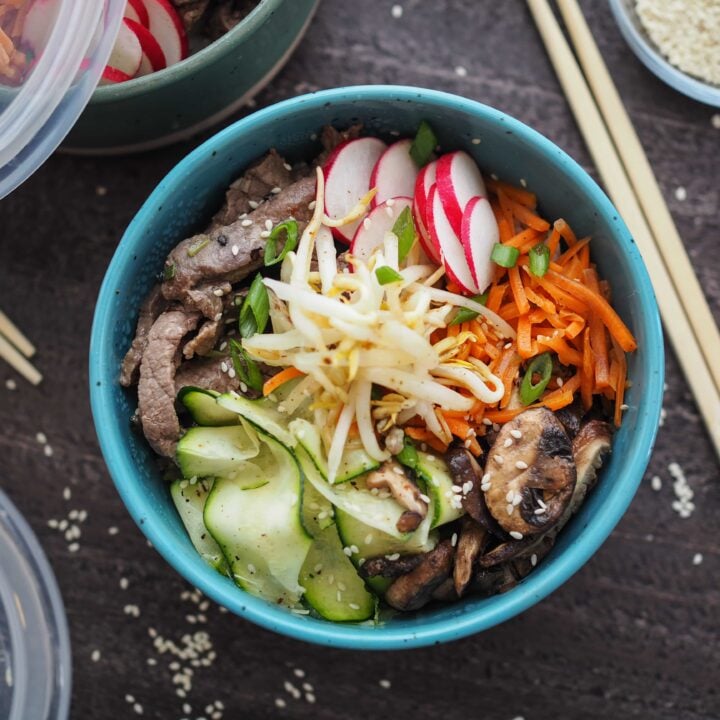 Bibimbap - Korean Rice Bowls
Ingredients
2 cups uncooked rice
beef broth
6-8 ounces soy bean sprouts
radishes
carrot sticks
2-3 small zucchini
3-4 green onions
mushroom blend
1 pound fresh lean cut of beef
sesame oil
sesame seeds
korean bbq spice
korean hot and sweet sauce
Instructions
cook rice in beef broth
while rice is cooking, wash and prepare vegetables.
Set aside a large plate for ingredients.
Slice the zucchini into ribbons using a carrot peeler. Set aside.
Rinse and drain the bean sprouts. Set aside.
Wash the green onions. Remove the roots, then slice in thin slices, including the white bulb.
Heat sesame oil. Cook carrots to soften. Remove from pan and set aside.
Cook mushrooms.
stir fry beef.
Assemble bibimbap korean rice bowls. starting with 1 cup of rice per bowl. assemlble ingredients individually on top of rice.
sprinkle with sesame seeds.
Add a teaspoon of hot and sweet sauce.
If eating immediately, serve with an over easy egg.
Nutrition Information:
Yield:

6
Serving Size:

1
Amount Per Serving:
Calories:

648
Total Fat:

24g
Saturated Fat:

8g
Trans Fat:

0g
Unsaturated Fat:

13g
Cholesterol:

79mg
Sodium:

526mg
Carbohydrates:

72g
Fiber:

5g
Sugar:

12g
Protein:

36g
Nutritional information provided is only an estimate.