Who knew Seoul had such a thriving food scene? Pete and I stopped in Seoul on our way home from Thailand for a week of culinary indulgences. We were really looking forward to tasting authentic Korean BBQ and other regional delicacies, but were surprised with so much more.
From the best fried chicken we've ever tasted, to purple sweet potato lattes (yes, that's a thing, and it's delicious), to elegant steak dinners with a remarkable city view, and amazing street markets — Seoul is definitely a city for foodies.
We have A LOT of photos to share, so there's a PRINTABLE LIST at the end of the post if you'd like to download the plain text itinerary to help you with trip planning. In the meantime, here's an outline our culinary week in Seoul with tons of tempting photos too.
Read This: Korean Food Terms To Know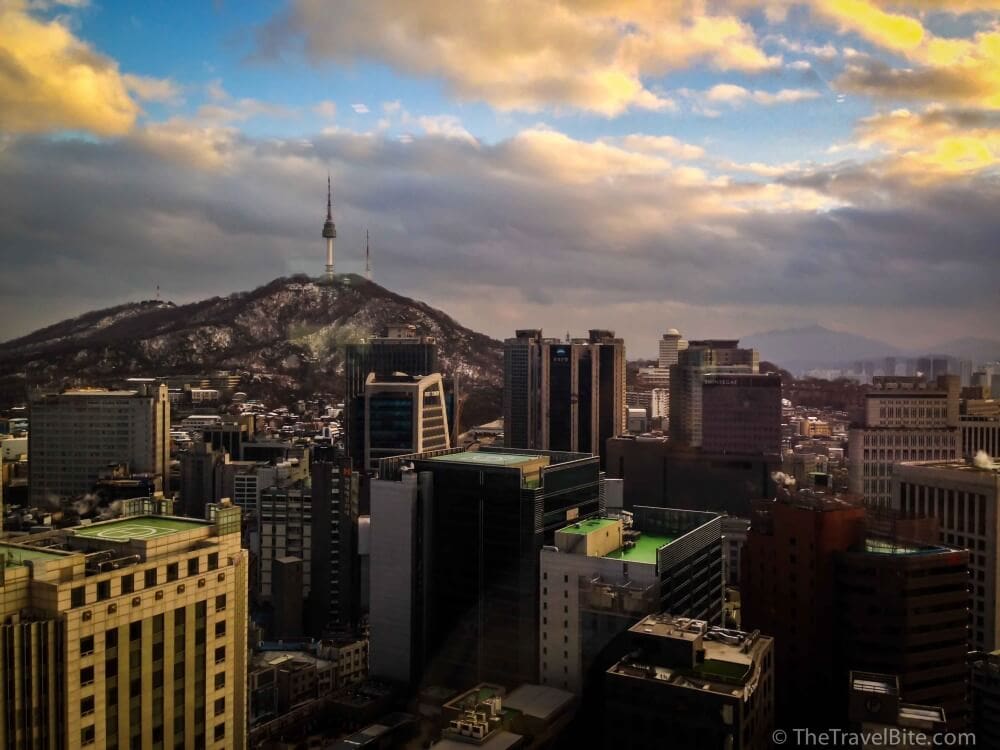 Seoul Food Day 1 – An Introduction To Korean Cuisine
Upon arriving at Incheon Airport (Which, by the way, is one of the cleanest and most modern airports we've traveled through. Took us awhile to get to customs because we kept stopping to look at the art.) we met our guide, Angela, and rode into the city for dinner.
Coming in from Thailand on Korean Airlines, we felt a bit underdressed as the temperature difference in December was at least 40 degrees. But that didn't matter at all since our first meal was at a Bongwoori Hanjeongsik, traditional Korean restaurant where you get your own private dining room. It felt more like dining at a friend's house than a public space.
A "hanjeongsik' is a multi-course Korean meal with an array of tapas-style side dishes and Bongwoori Hanjeonsik adds a modern spin to this traditional Korean meal. With a pot of tea, pitcher of rice wine, kimchi, and loads of other healthy eats, it was perfect for our first meal in Seoul after a full day of travel. Since we were all packed for our flight, these first few photos were from Pete's iPhone.
After dinner, we retreated to our hotel, Lotte Hotel Seoul, just across the street from the Gran Seoul skyscraper on Jongno (Bell Street) where Bongwoori was located. Since it's in the center of Seoul, we had an epic view of the city skyline and Seoul tower from our room.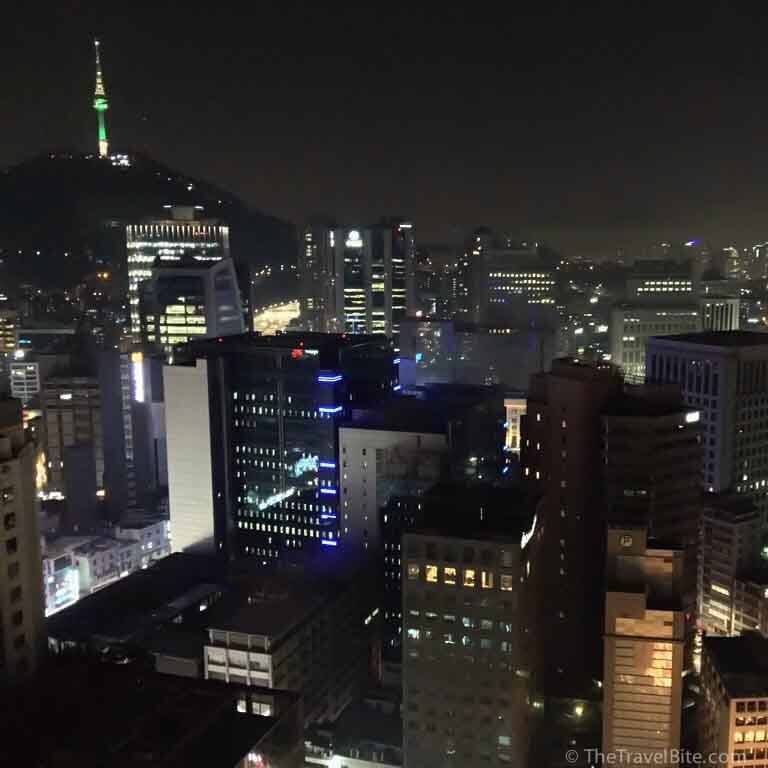 Seoul Food Day 2 – Bukchon Hanok Village And Korean Tea Houses
After a hearty breakfast with a view at the club level at Lotte Hotel, we began our first morning in Seoul by visiting Bukchon Hanok Village, a historic neighborhood known for it's winding roads and traditional architecture. The houses here are so distinctive, it's often used as a filming location for movies. You might even run into a production team!
It's good to note that the term "hanok" is used to describe traditional Korean houses and architecture, so you might see it throughout Seoul for cultural or historic sites.
After our walk through Bukchon Hanok Village, we took a break at a traditional teahouse in Bukchon, Cha-teul on Bukchon-ro. It was a lovely place to slip off our shoes and warm up with some tea while enjoying a view of the mountains surrounding Seoul. They had quite a few tempting selections, including Korean Green Tea, Jujube Tea (tastes kind of like dates and is very dessert-like), Persimmon Leaf Tea, Lotus Leaf Tea, Red Ginseng Tangerine Peel Tea, and many others. It made it difficult to narrow down a selection, so we each ordered a different one to try.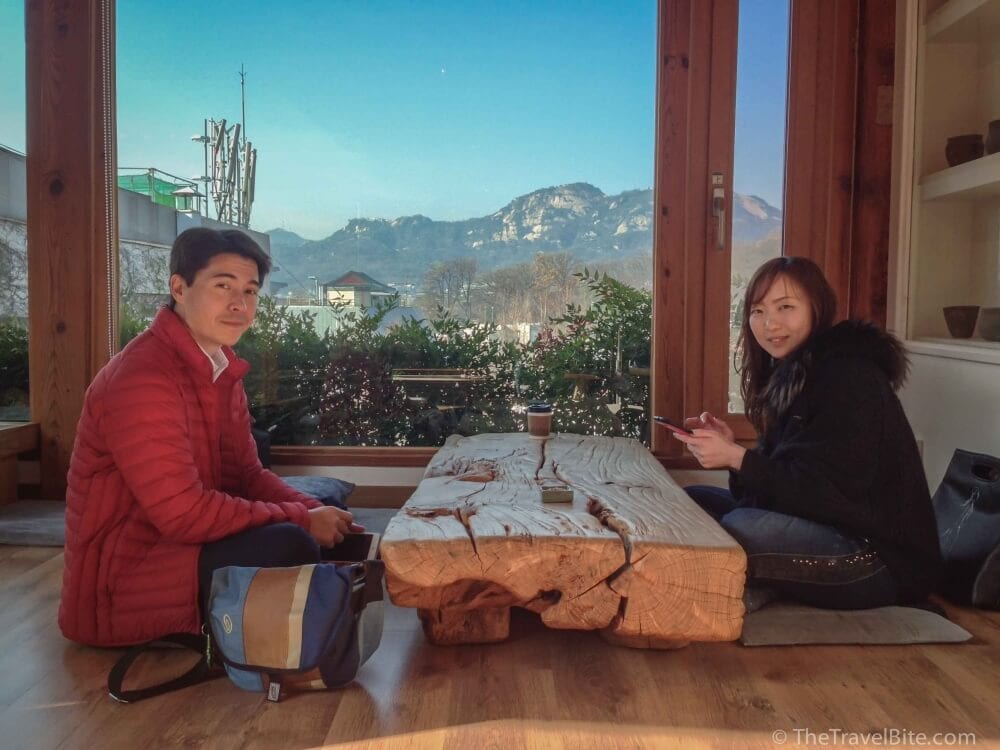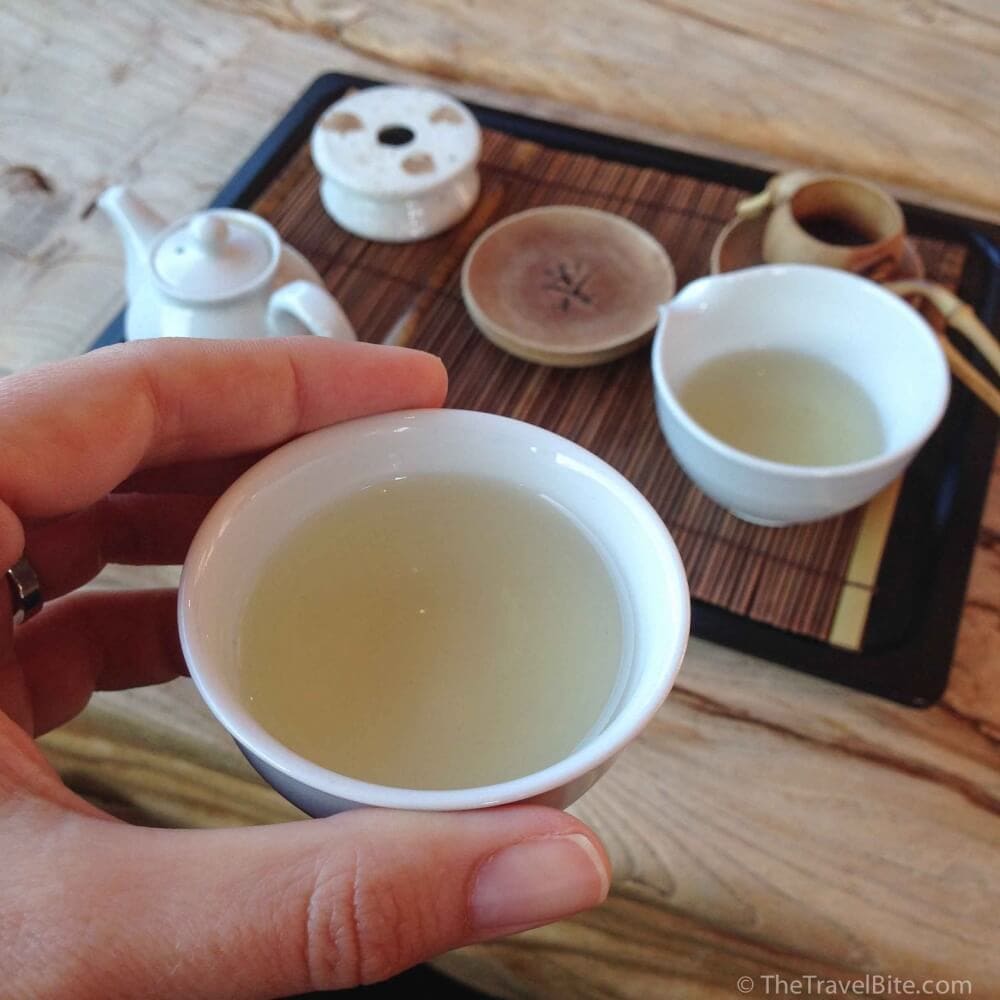 After tea, we walked down to nearby Samcheong Dong to browse through the art galleries and shops. We really loved the quirky modern style of some of the artisans and found it was the perfect spot to shop for gifts.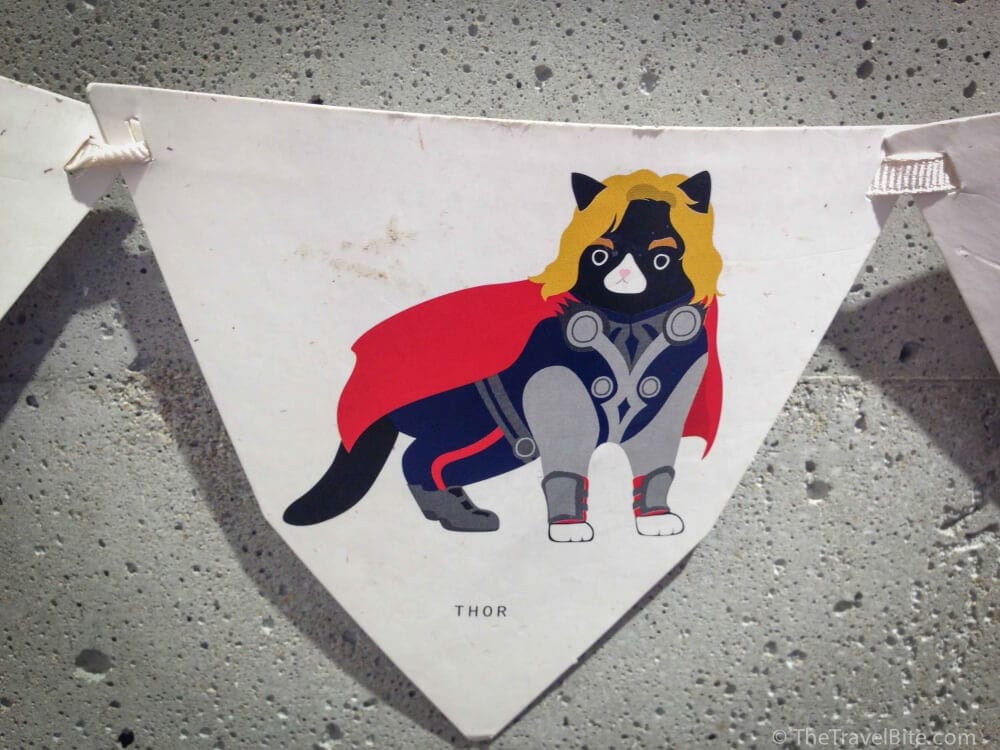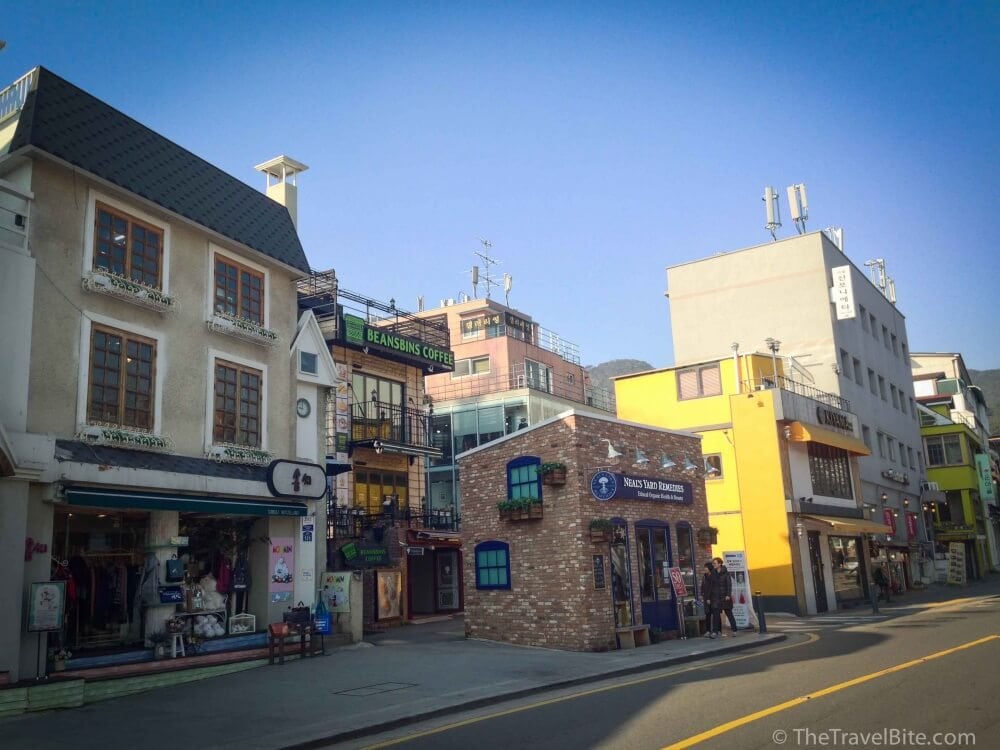 There's also quite a few modern cafes and restaurants in Samcheong Dong and tons of SWEETS! We found eveything from chocolate coated churros dipped in peanuts to an endless variety of dessert-style waffles.
We finally saw a cafe that really caught our eye and we couldn't resist the temptation any longer. We tucked into the cafe to take a break from the cold weather and shared a waffle dessert while sipping gourmet hot chocolate and purple sweet potato lattes.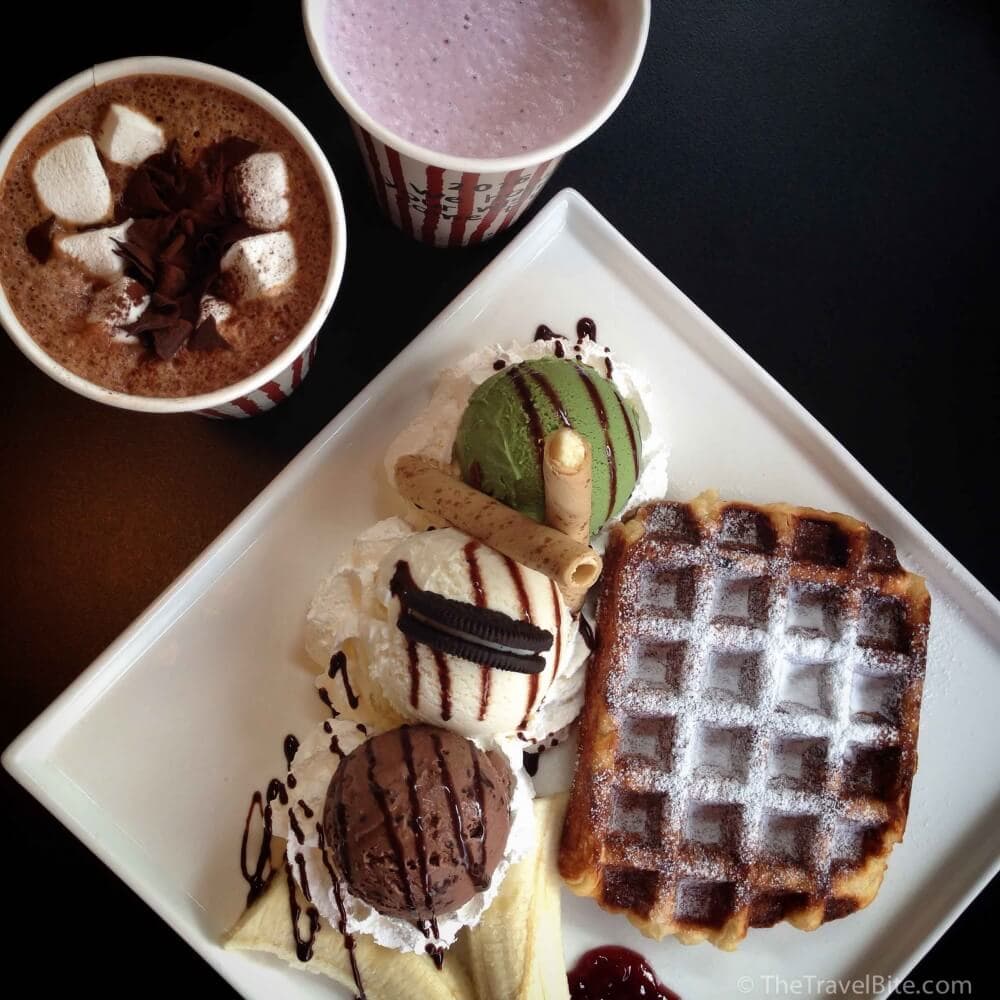 The purple sweet potato latte, I admit, sounded strange at first. But it was soooo delicious and the flavor reminded me of a sweet potato pie.
After such an indulgent treat, we drove over to Insadong to go for a walk and check out more of the shops and tea houses. One really unique gift we found were marble stamps. Korean's used to use this as their signature instead of signing their name. The vendors on Insadong can carve any name into the marble and even have it in Korean and English. We thought they made a really unique gift to bring home for the holidays. Since it takes about an hour for them to carve carve the marble, we placed our order than then found a teahouse to retreat to while we waited.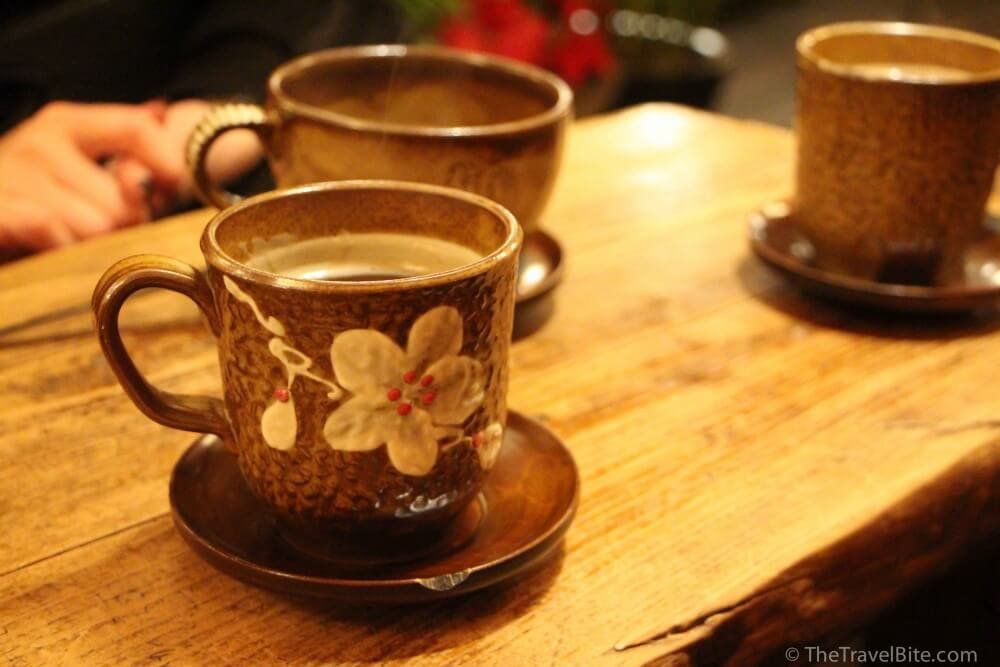 After dropping off our gifts and freshening up at the hotel, we went for a stroll through the night market at Gwangiang. Filled with food stalls carrying everything from vegetables, to meats, and handmade dumplings, Gwangiang Market is also the place locals go for a casual dinner with friends.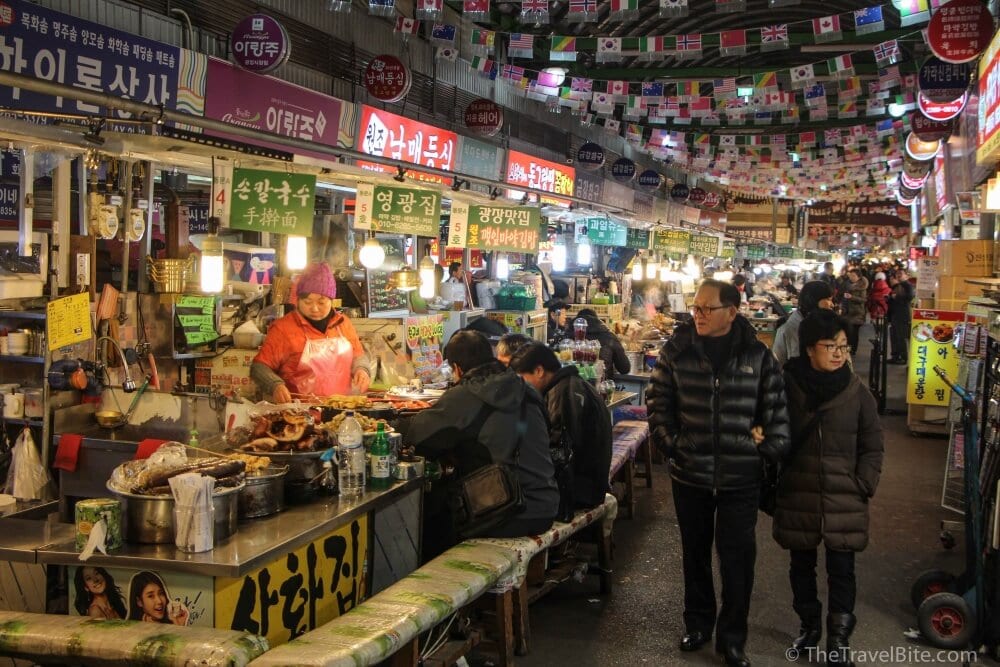 We definitely worked up an appetite walking through the market, so we quickly headed up to Seoul Tower for dinner. There's a fabulous view of the city from the observatory and the slowly-revolving restaurant provides a panoramic glimpse from every angle.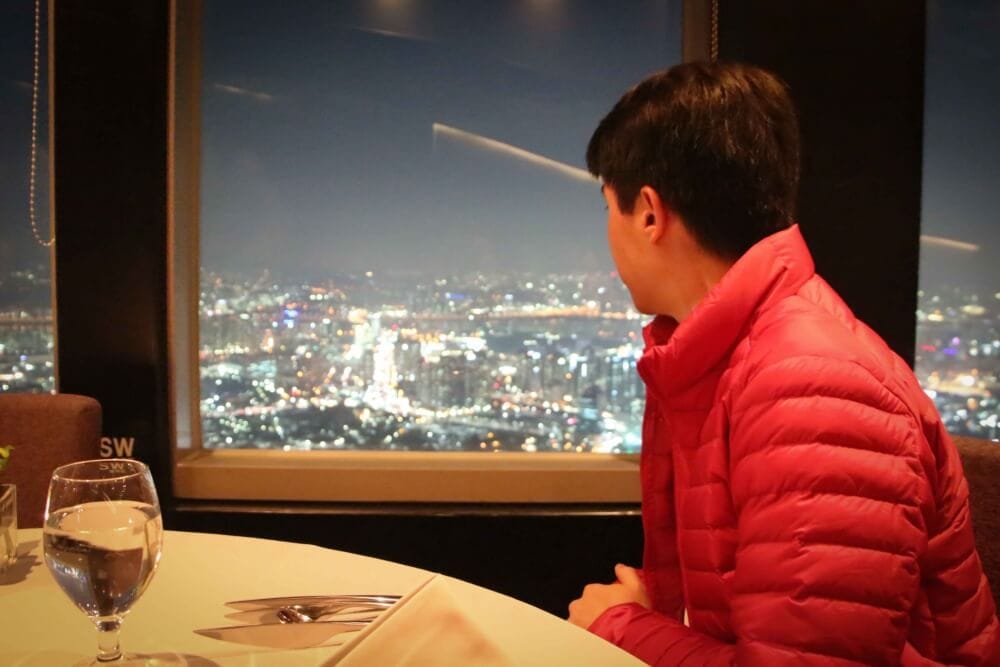 Seoul Food Day 3 – Korean Cooking Lesson And Modern Art
Today was all about two of our favorite things … food and history! We spent the morning at Korea House, a cultural center that offers cooking lessons, theatrical shows, and an authentic Korean dining experience. After getting dressed in traditional clothes, or "hanbok" as they're called, we walked into their classroom kitchen for a kimchi making lesson.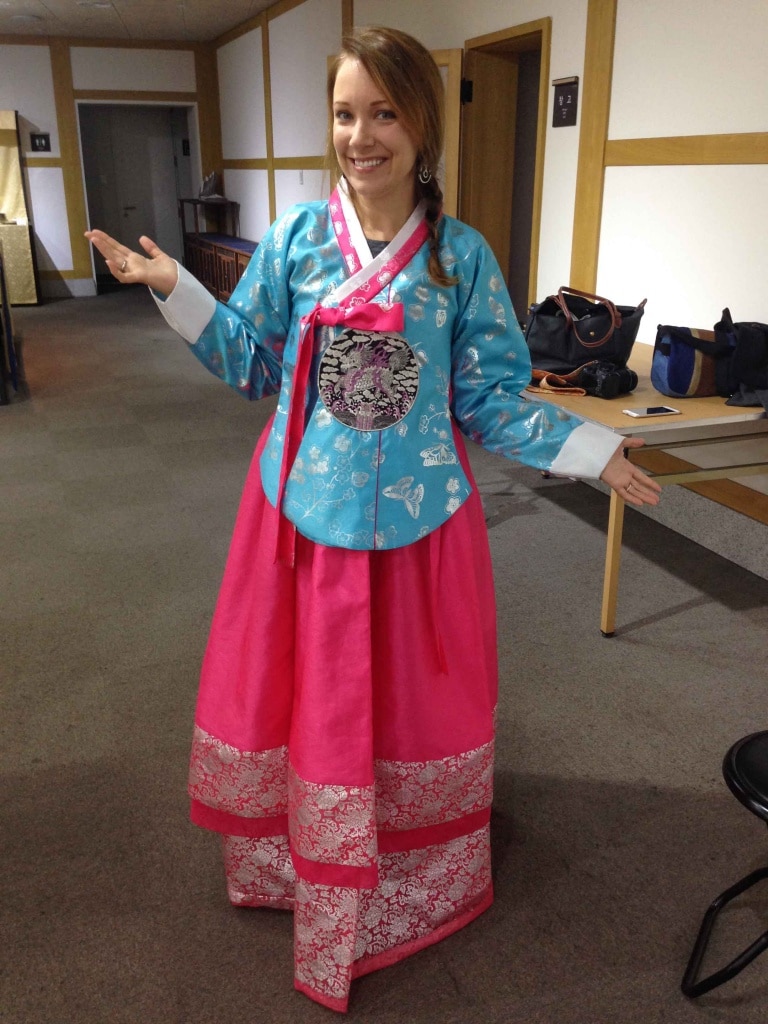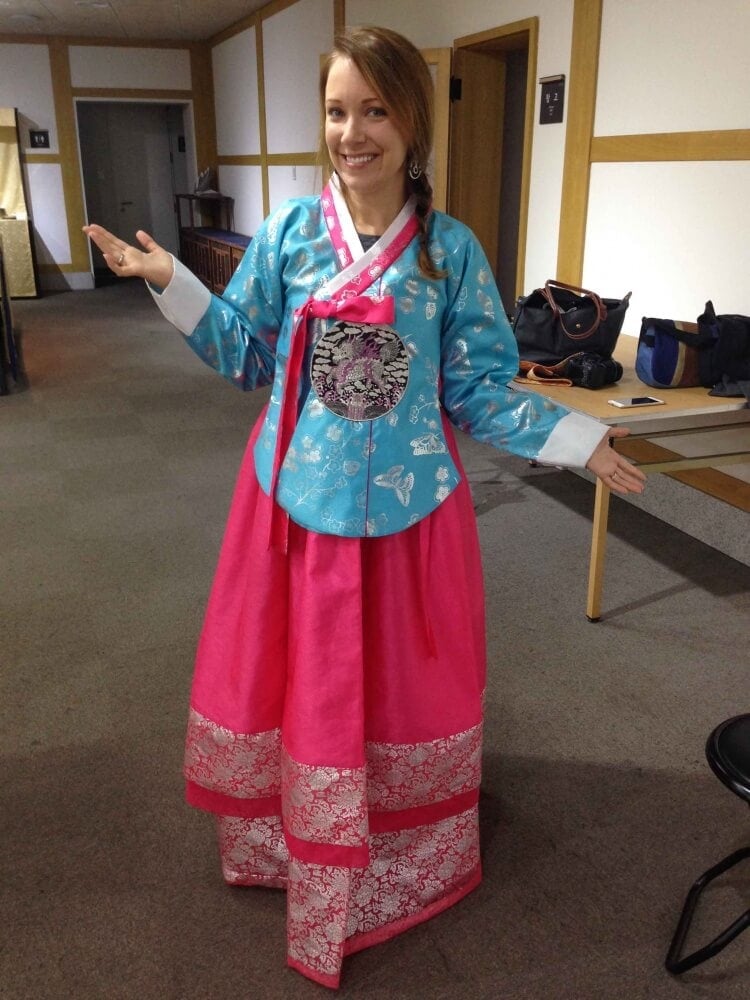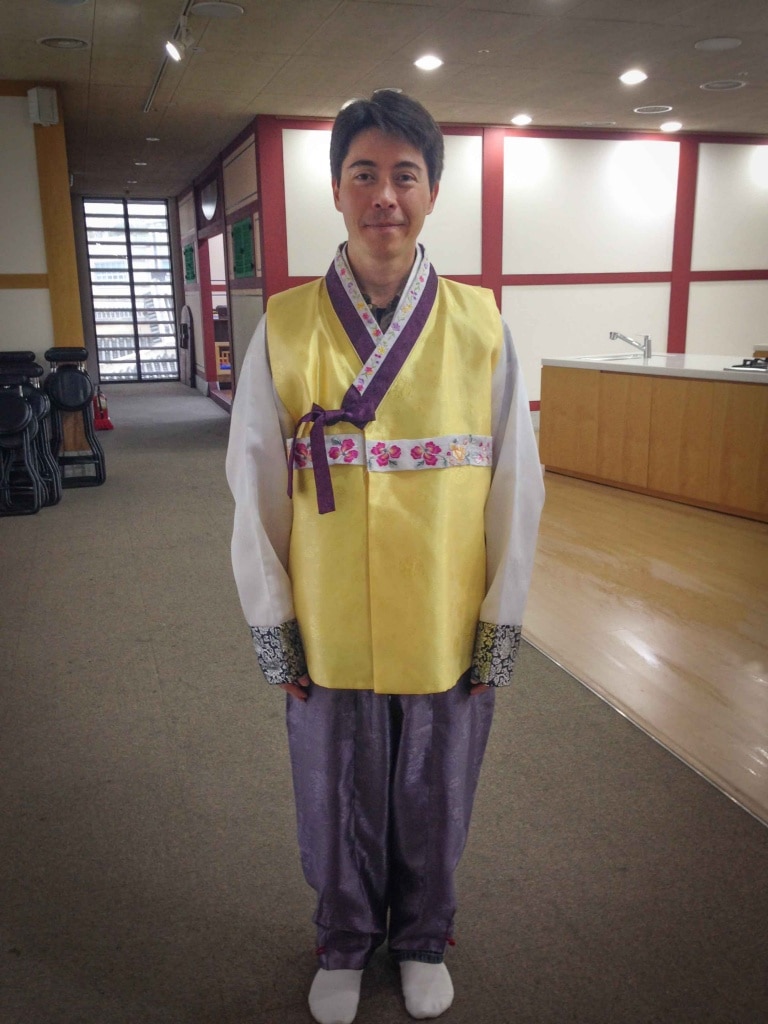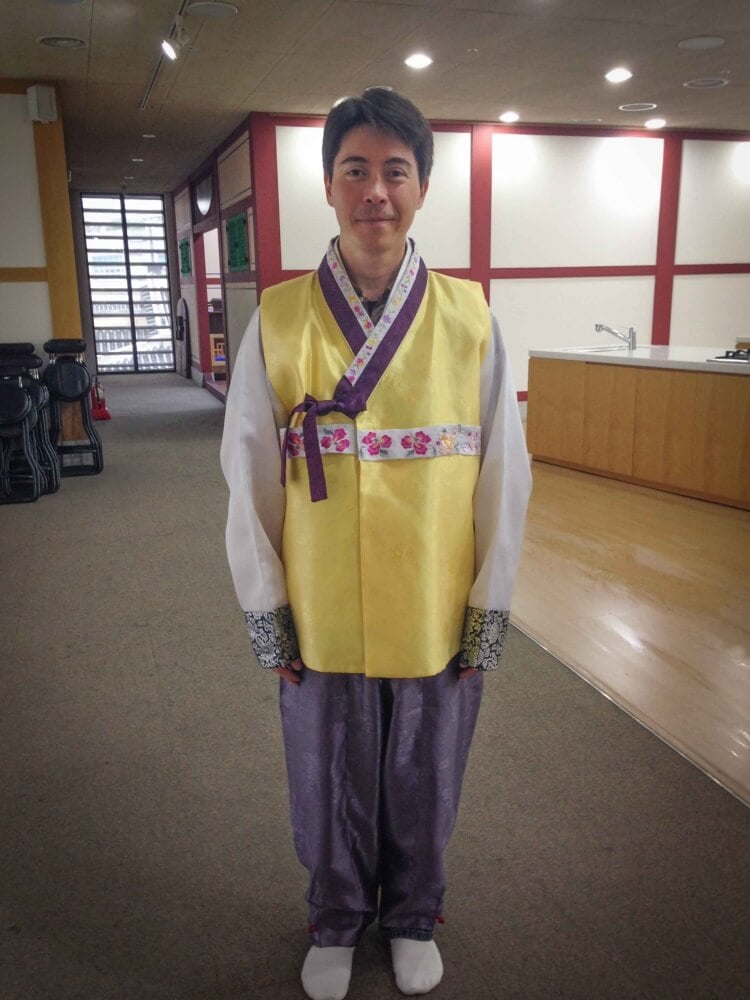 I have to admit, I was a little nervous about getting next to a gas stove with three layers of clothes on (my own dress, a sweater, the hanbok, and then an apron). So I was thankful we were just making kimchi. My instructor handed me a knife and some radish, cabbage, and other vegetables to chop for the kimchi. Once she saw my knife skills, she kept saying "she's a great daughter-in-law." I take it cooking skills are a desirable trait. 😉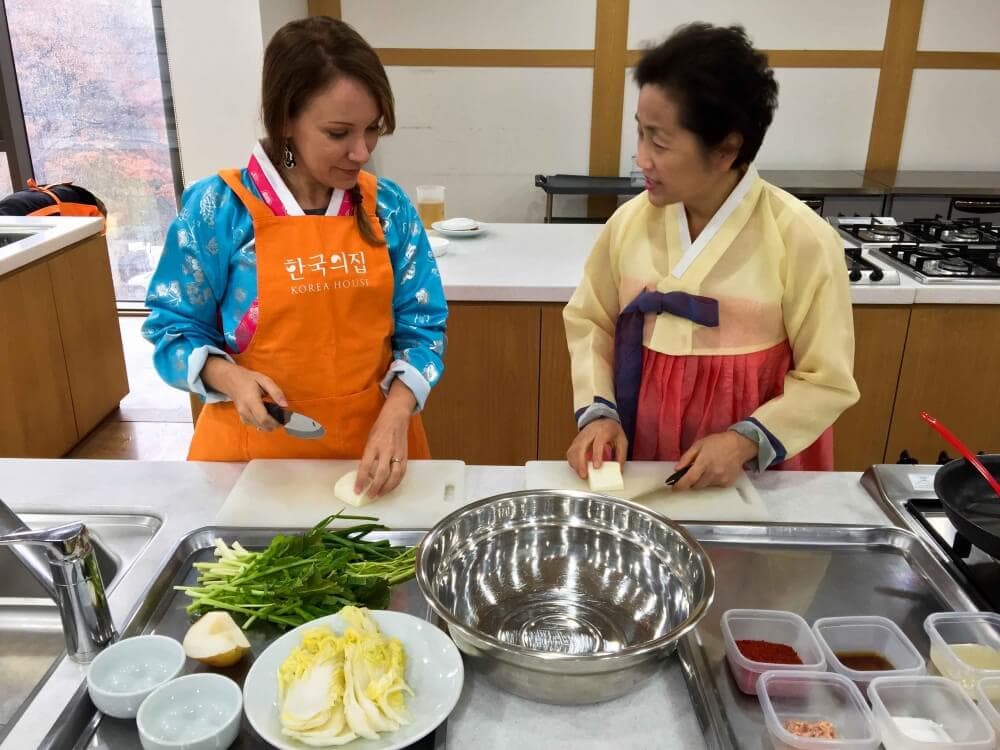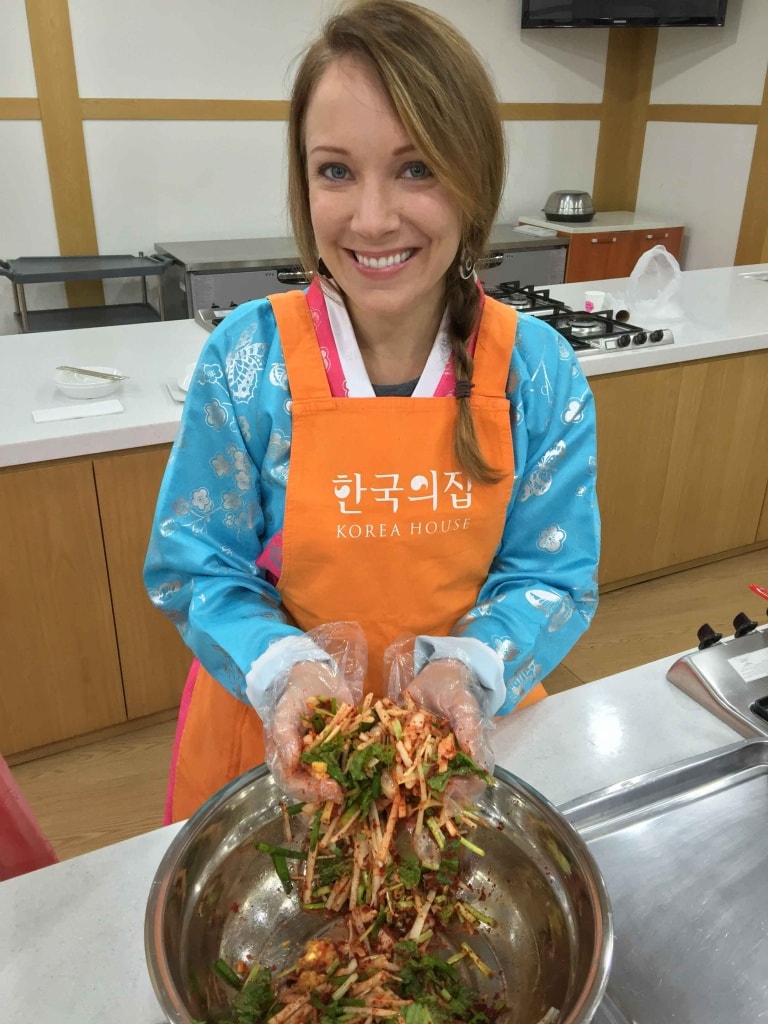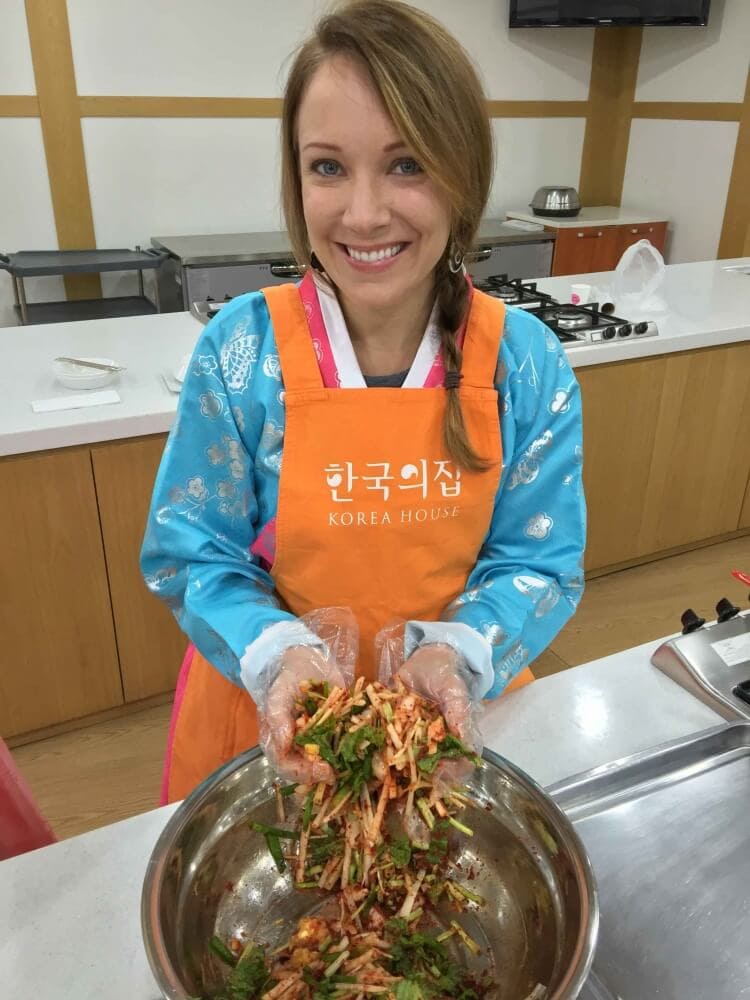 One thing I had to get used to was using chop sticks for everything! Using chopsticks to pick up everything was definitely a fun challenge.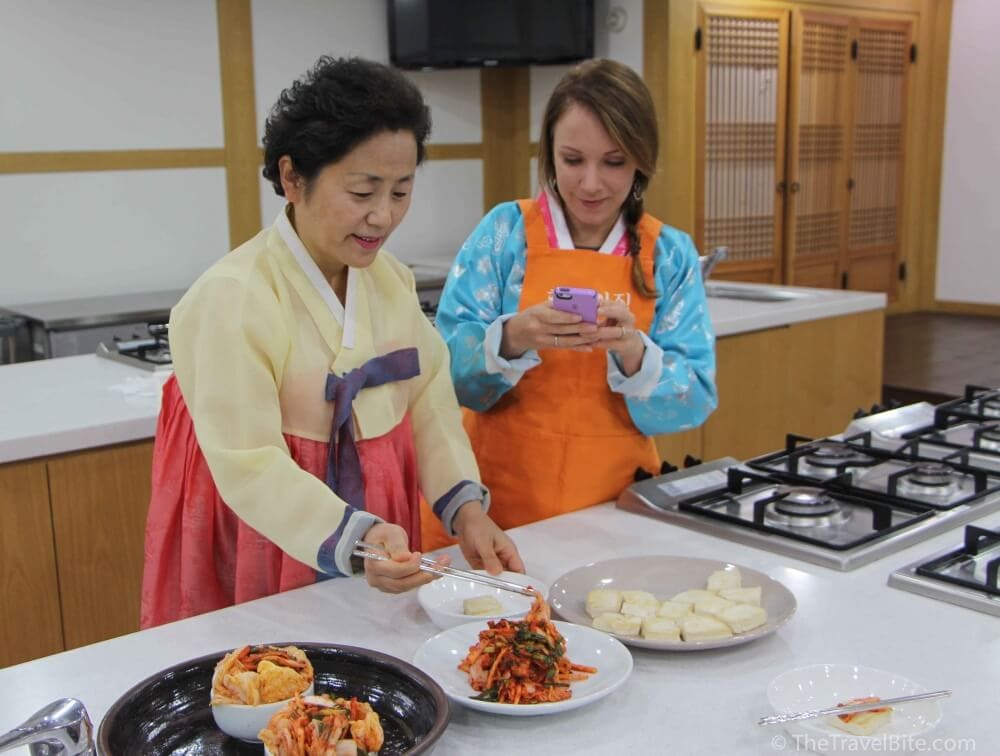 Once we were done with the kimchi, we fried some tofu to go along with it and I couldn't refuse when my instructor asked me to taste what we made while again saying, "you make a good daughter-in-law."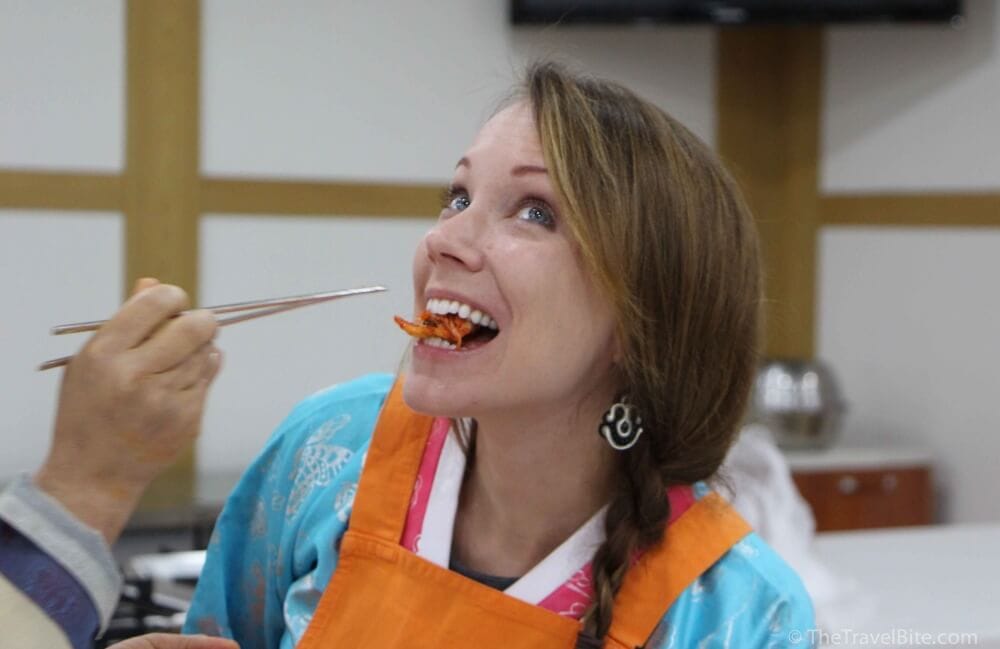 After our cooking lesson was over, we had a reservation for lunch to try traditional court cuisine at the Korea House restaurant.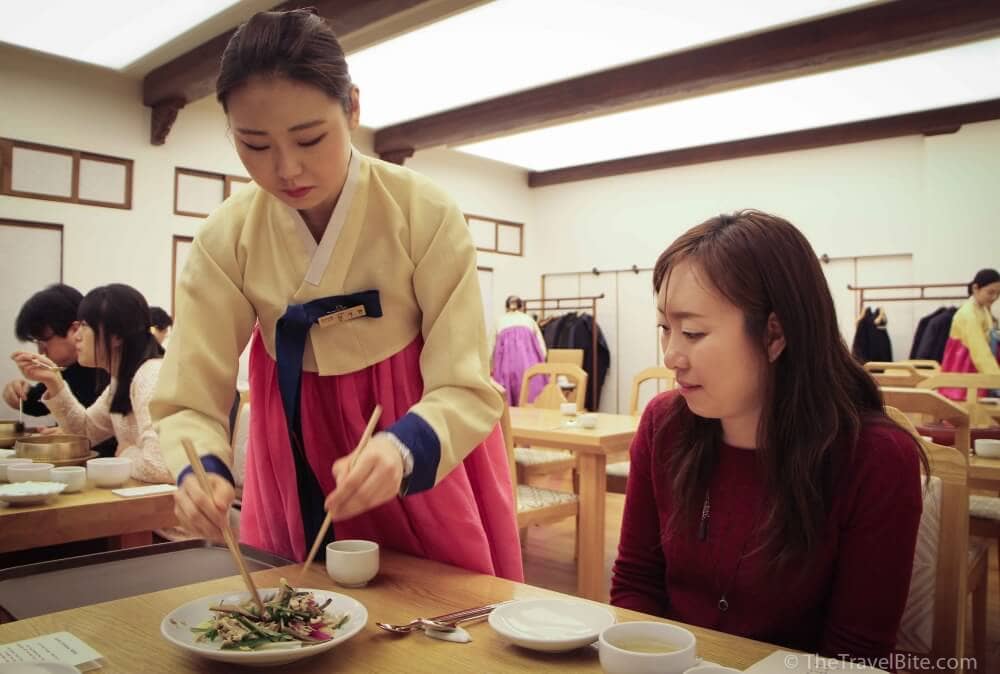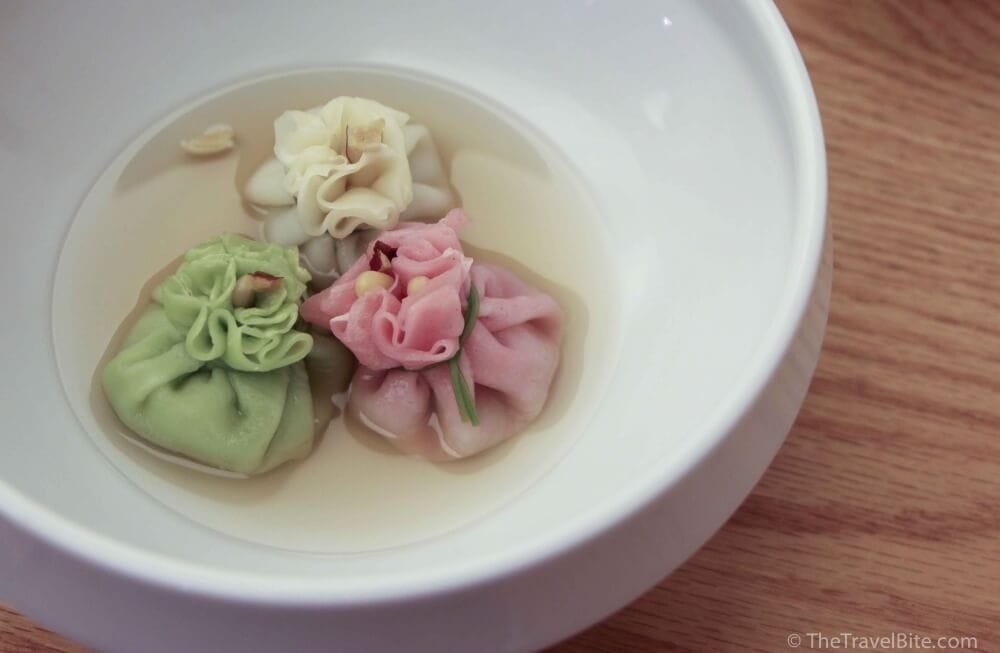 Since the afternoon was a bit rainy, we went to Dongdaemun Design Plaza, better known locally as the DDP. Part museum, part exhibition space, and part artisan market, the DDP is a modern art and design enthusiasts dream and certainly adheres to it's tag line of Dream Design Play. The architecture is ultramodern and futuristic, feeling a bit like you've time warped ahead by 500 years. One great tip we received was to take an elevator to the top, then walk the spiral-shaped hall down while looking at the different art and design projects on display.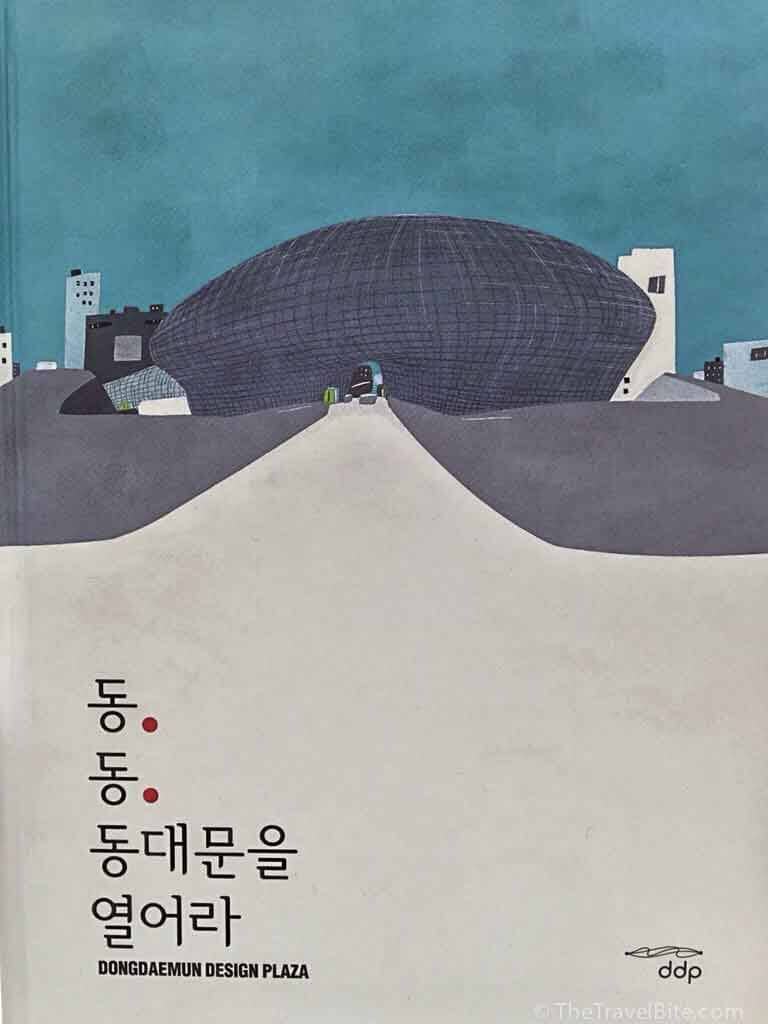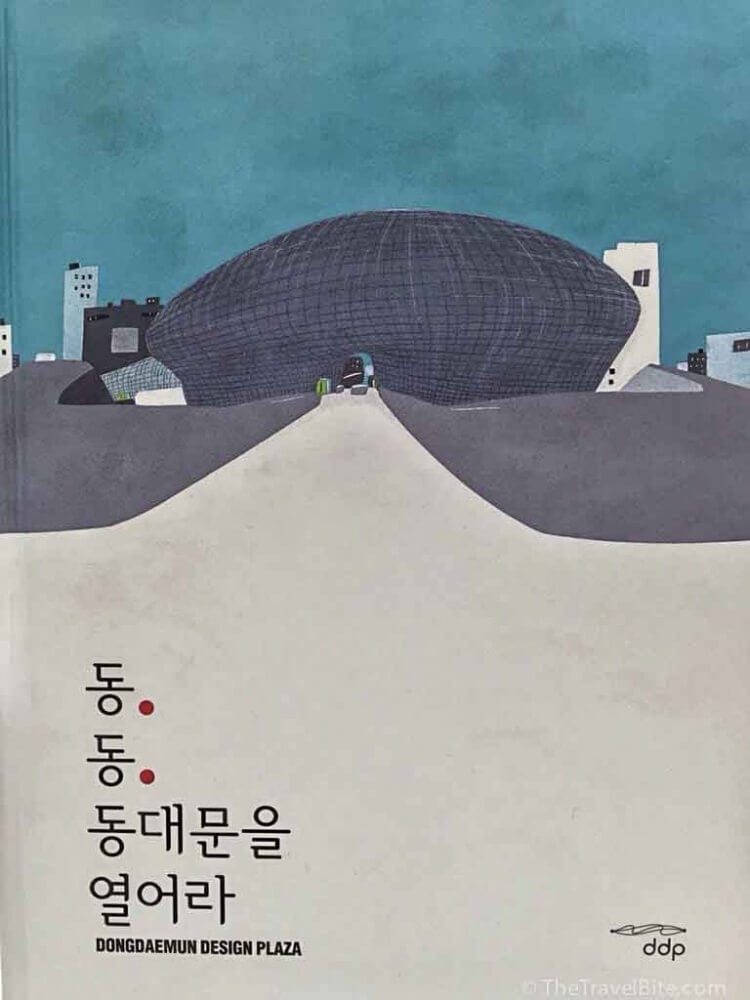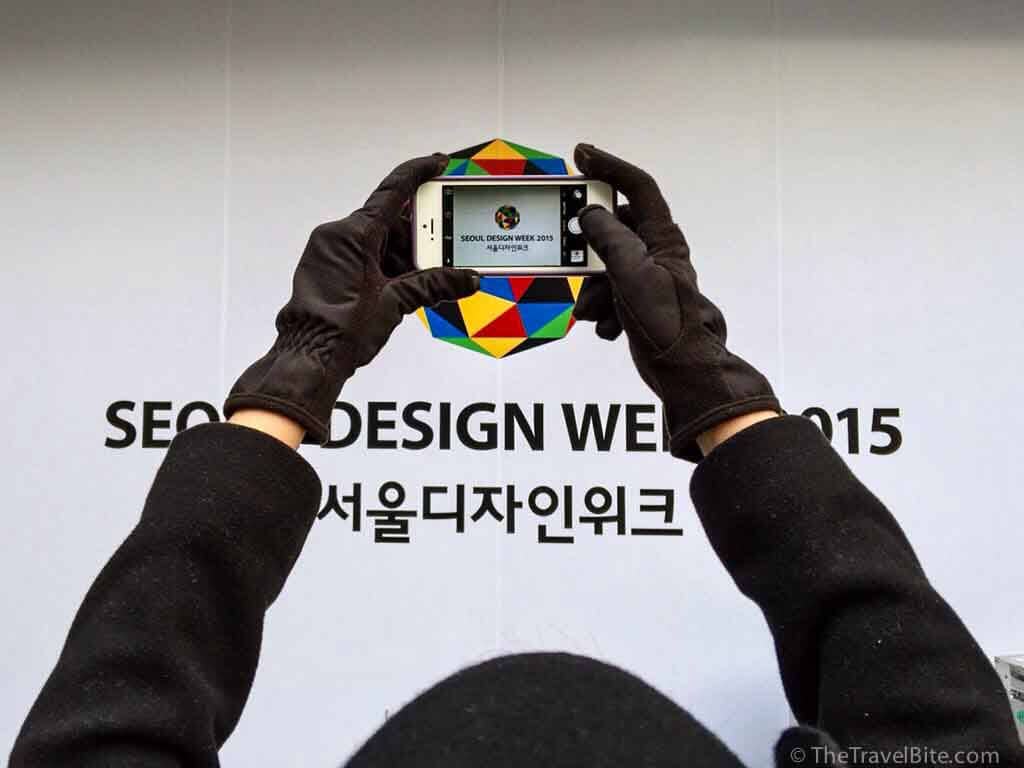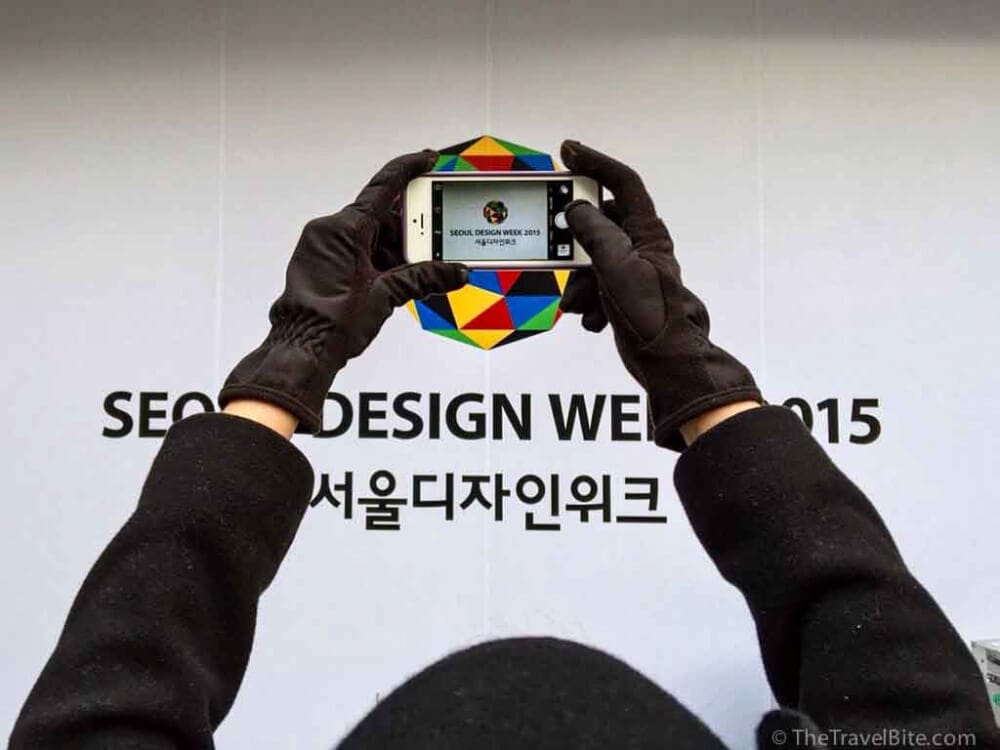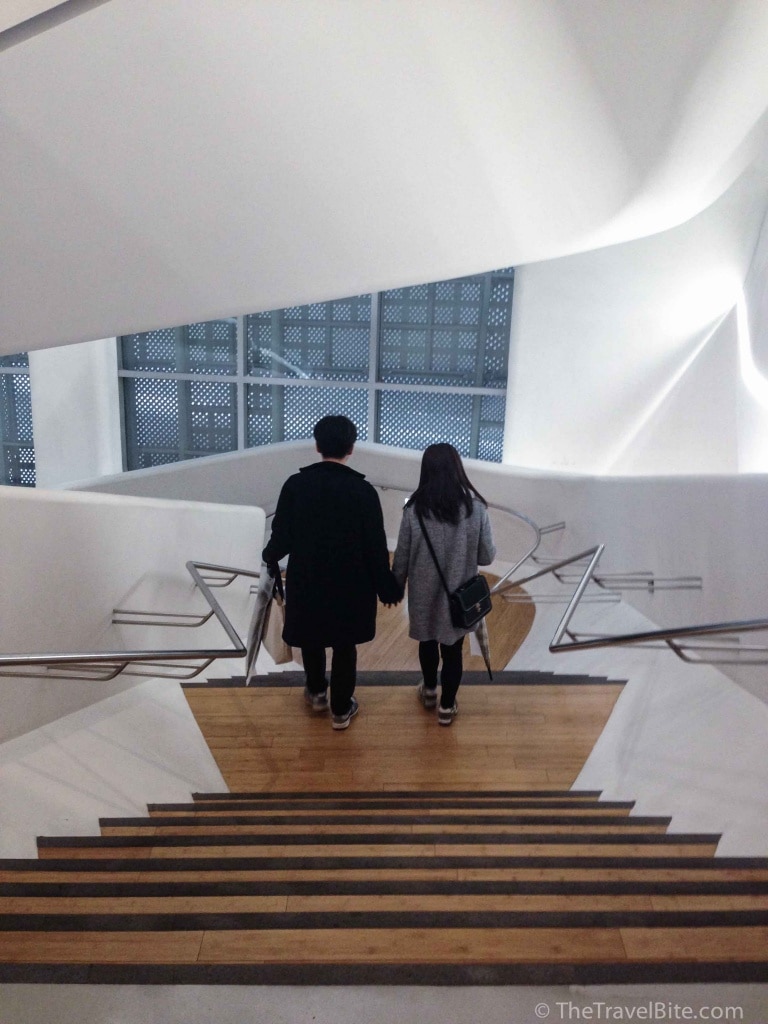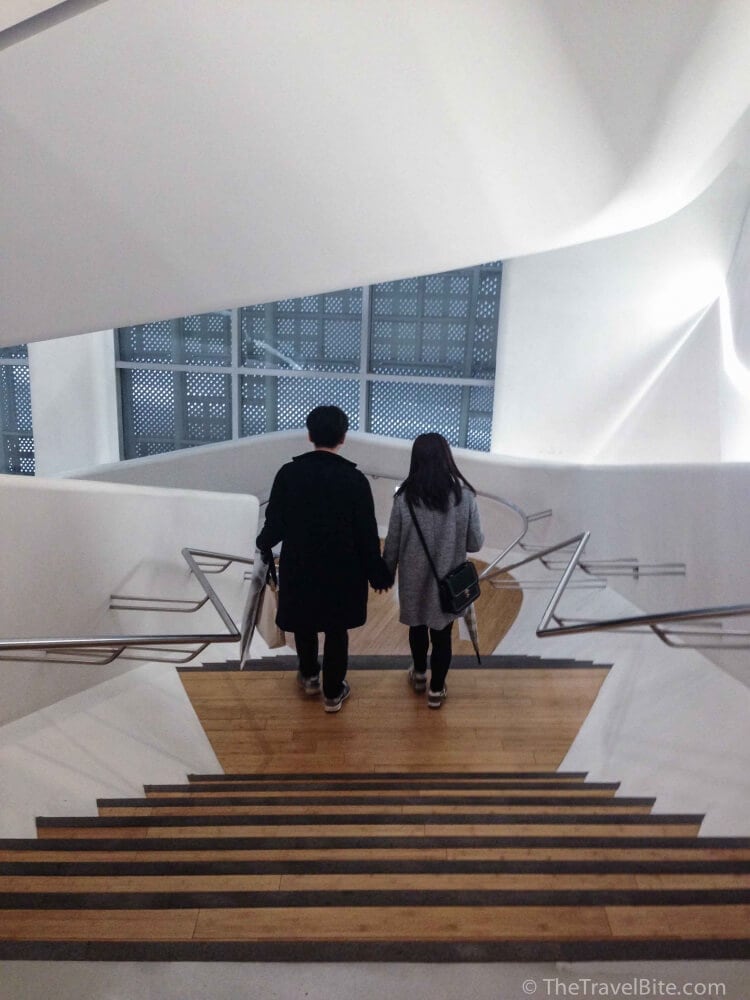 Shopping here is nothing but fun, with all kinds of unique items including funky unicorn horn shaped cork screws and elegant hand-dyed silk scarves. Besides the custom marble stamps on Insadong, the DDP is another fabulous place to shop for unique souvenirs and gifts to bring home. There's much to see here and it's perfect for a rainy day when you want to be indoors. One added bonus is that they're also a coffee shop on the premises so that you can keep your energy up since it can be a little sensory overload.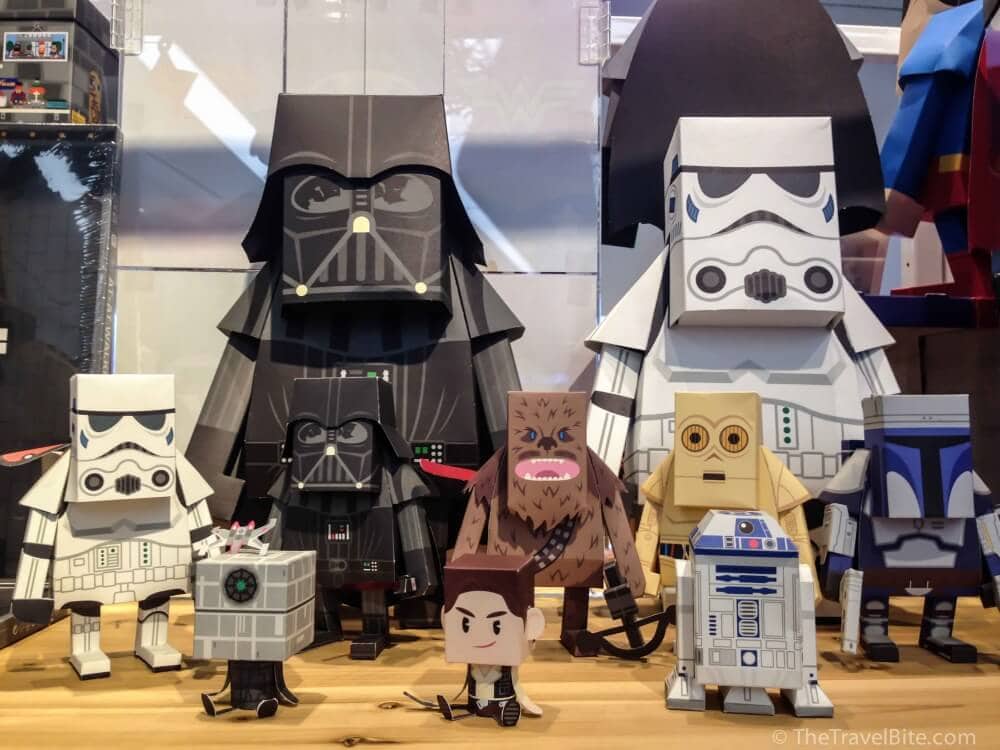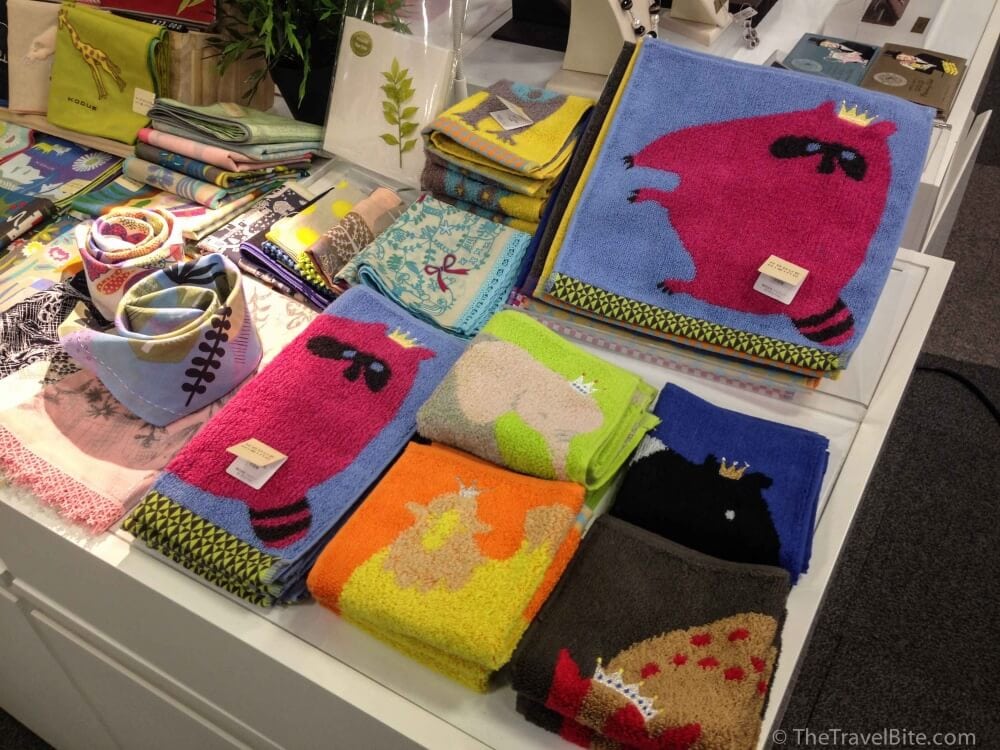 After the rain let up, we went over to the Cheonggyecheon Stream to go for a walk. It's a beautiful park, running 11km through downtown with picturesque garden areas and foot bridges to go across. Because it's at a lower elevation than the busy city streets above, it's a nice peaceful reprieve in the middle of downtown and perfect for walking or going for a jog.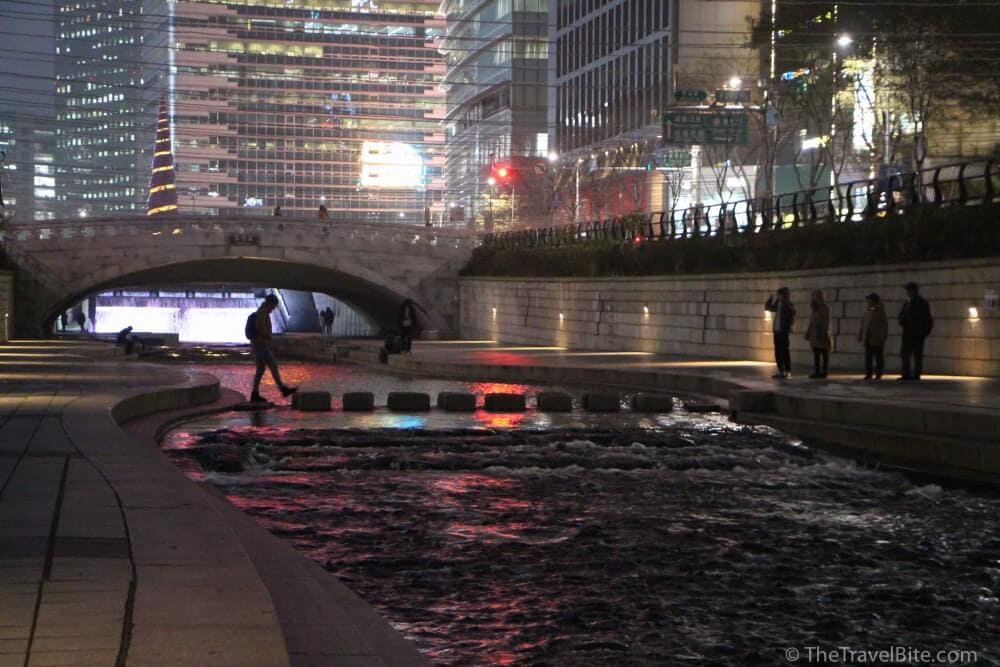 We drove from the stream in the center of town back up to Samcheong Dong (where we had the waffles) for dinner at the original Maple Tree House and the meal we had been looking forward to all week – authentic Korean BBQ!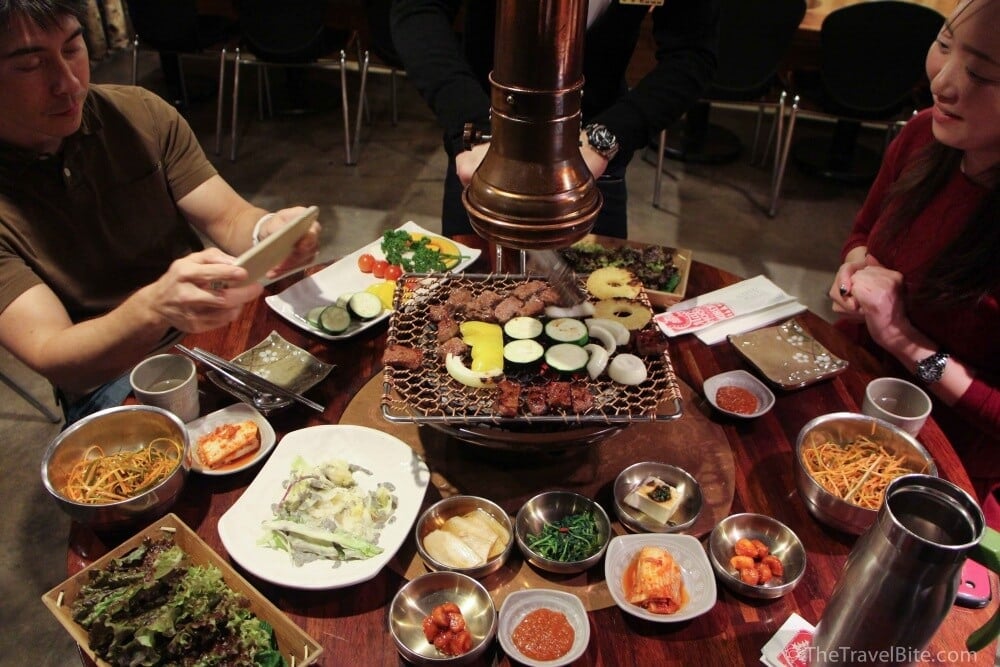 I mean, just LOOK at this grill in the center of our table!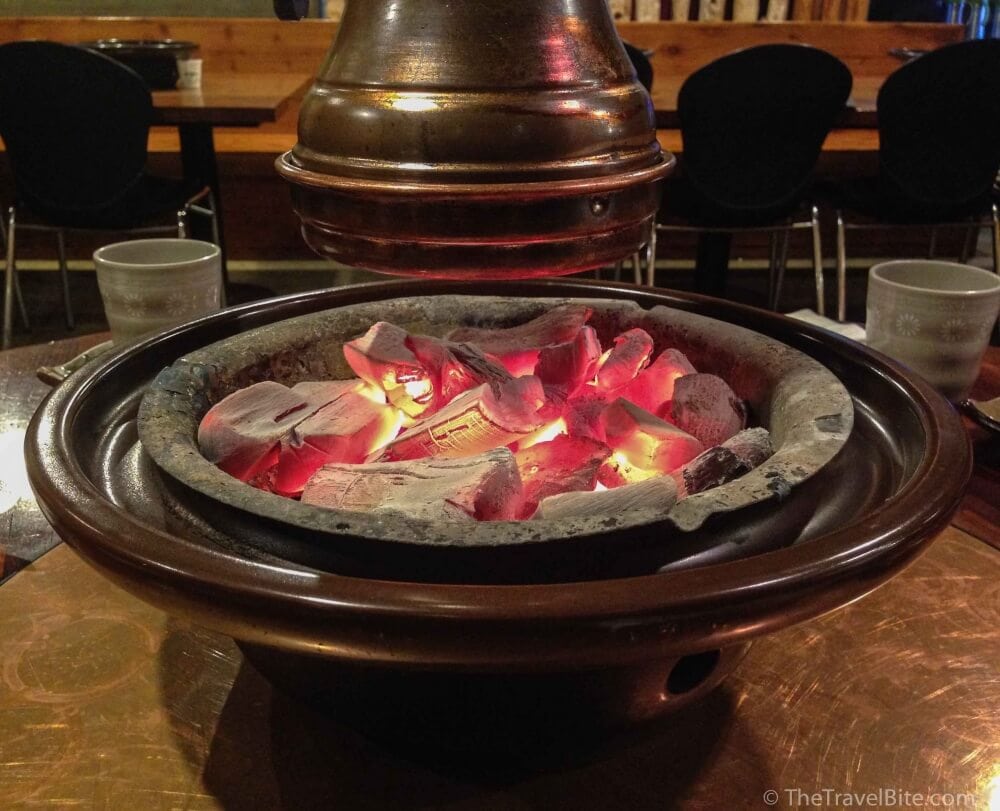 We learned one popular way to eat Korean BBQ is to place the grilled meat on a sesame leaf along with some green onion marinated in hot pepper paste, sugar, and vinegar. I also added a bit of grilled yellow bell pepper.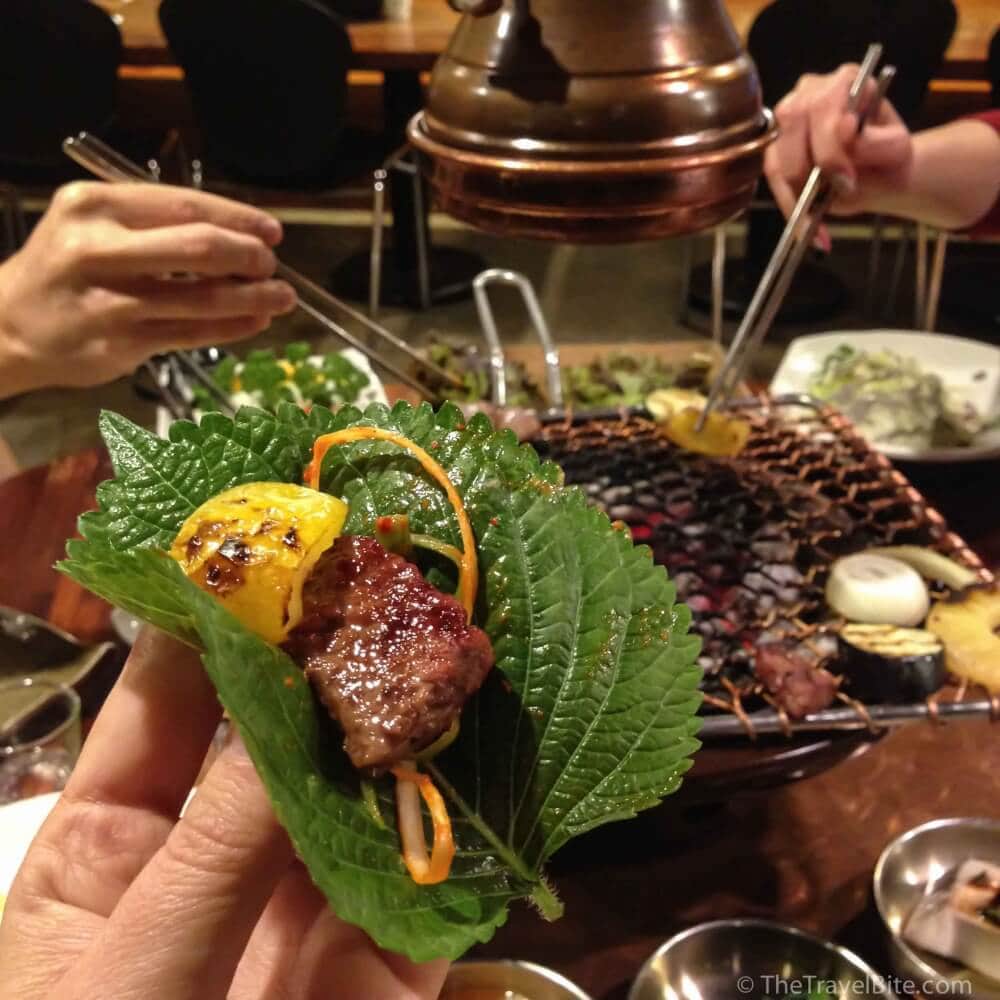 For dessert, we visited another night market close to our hotel, Myeongdong Market. There we discovered some tasty goldfish cakes called bungeoppang. It's sweet, kind of like a filled donut. Warm and crispy on the outside with sweet red bean paste in the middle. Throughout the market, there where there's all sorts of street foods, but these cuties kept catching our eye.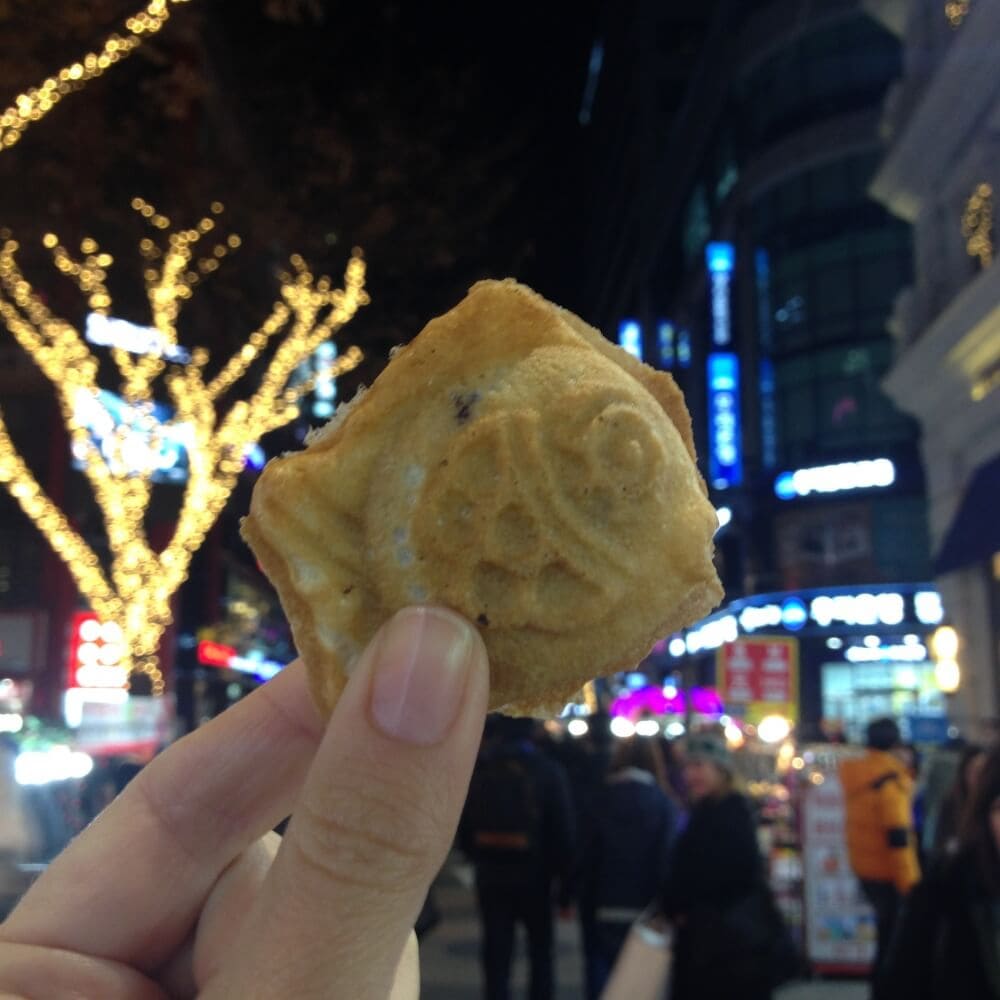 Seoul Food Day 4 – Palaces & Temples
The next day we went for a walk around Gyeongbokgung Palace. The grounds are beautiful (and vast!) and there's much to see. We were thankful to have our guide with us since the history here is layered with stories spanning over several centuries.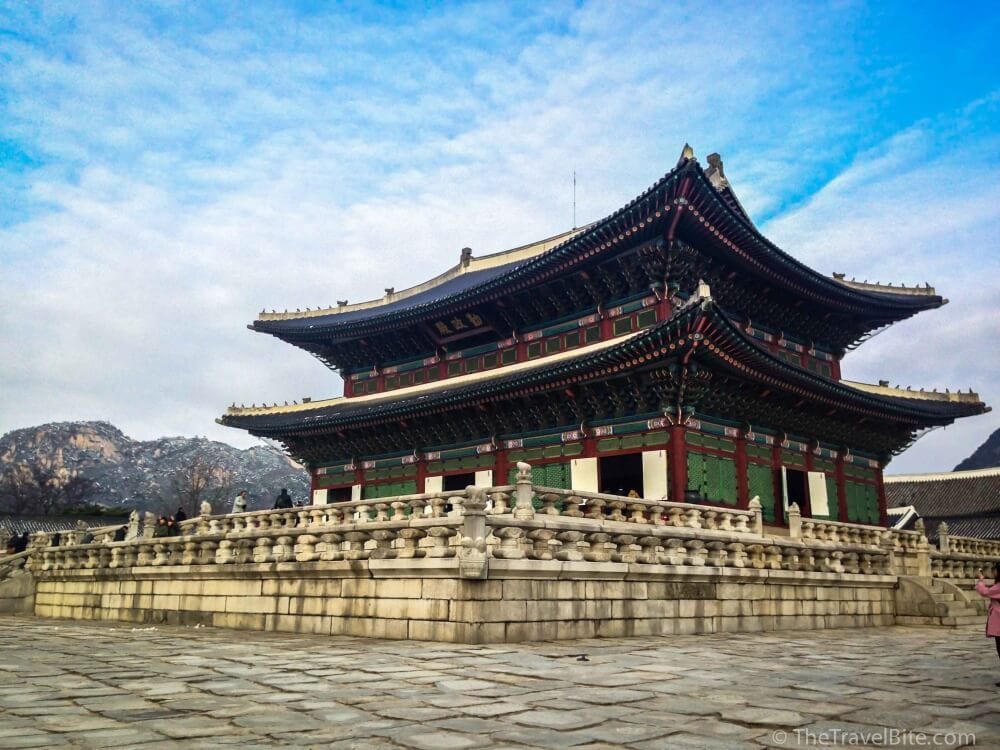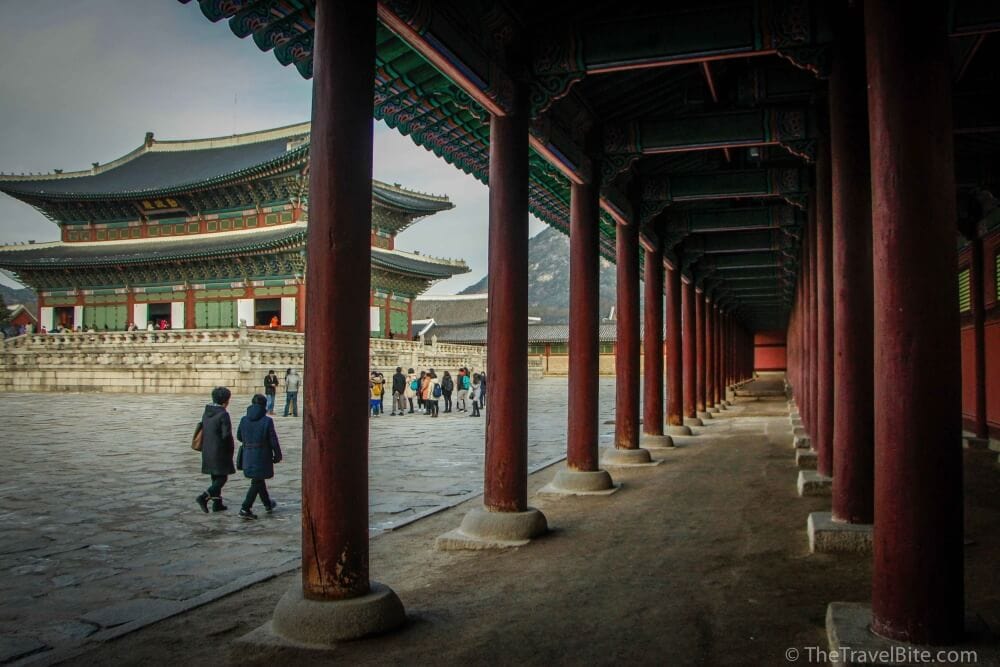 Mid-morning, were in for a fun surprise as Pete had the opportunity to participate in the Changing Ceremony of the Royal Guards at Deoksugung Palace. It's free to for anyone to participate, but you have to arrive early enough since the activity is limited to only a few guests.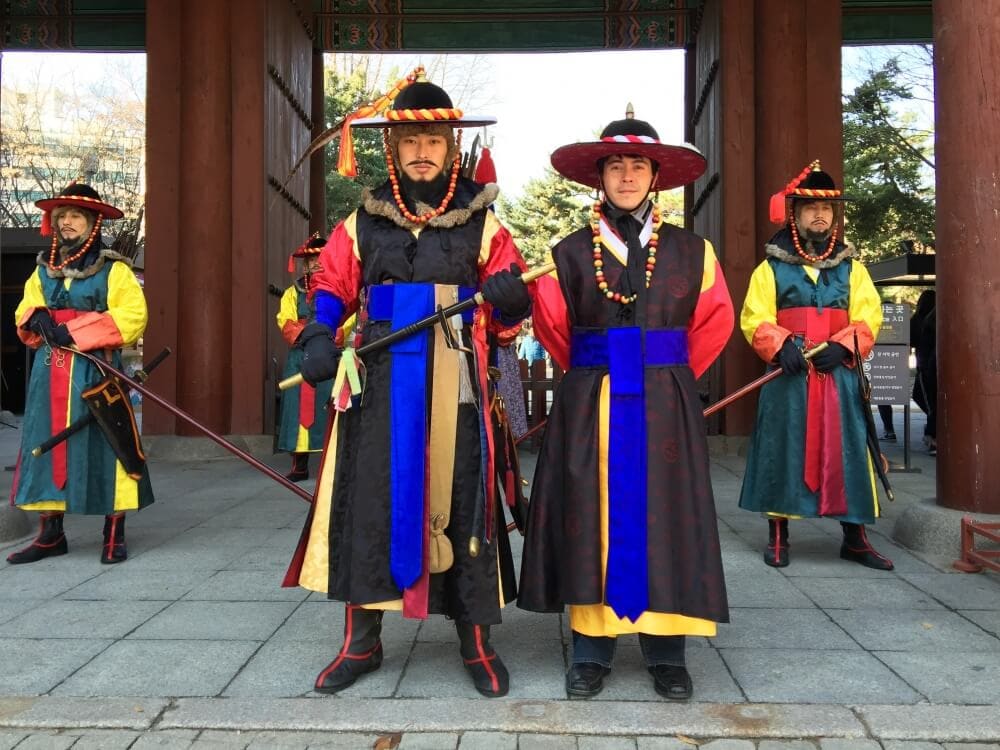 After visiting two palaces, we went for brunch at a European style restaurant called Wood & Brick. It was a great mix of French sweets and Italian comfort foods with a tempting bakery on the first floor making all kinds of French delights, and a restaurant on the second floor serving pastas, brick oven pizzas, and other Italian-influenced dishes.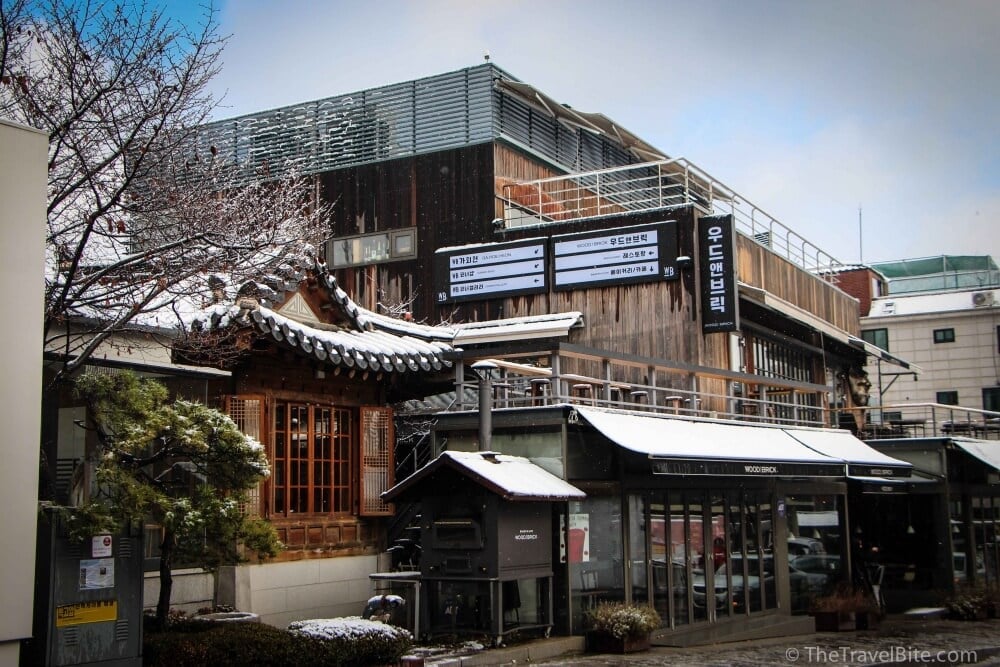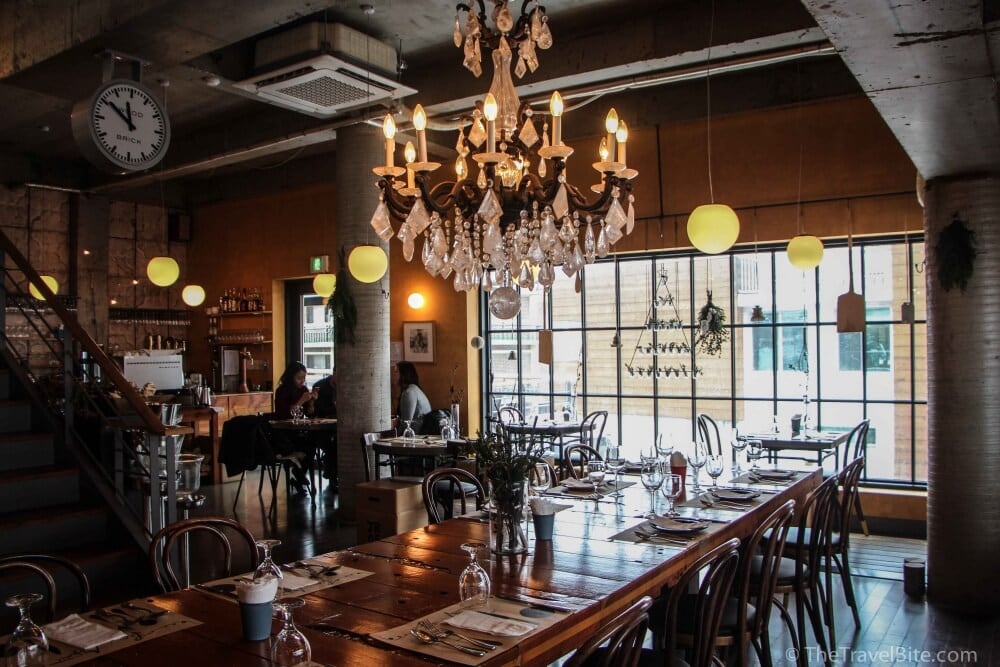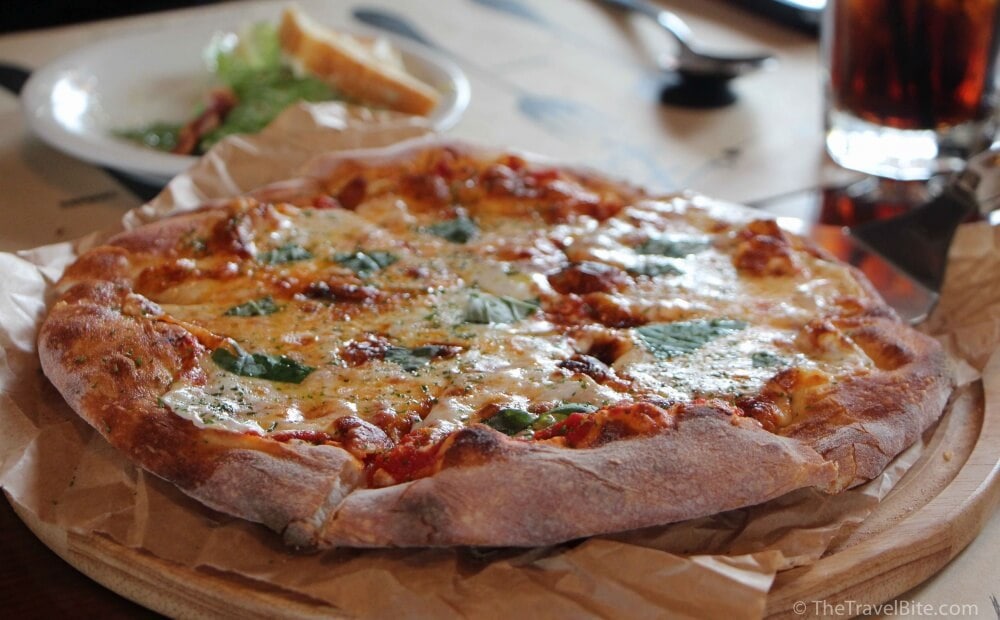 After the three deadly sins – pastries, pasta, and pizza – for lunch, it was time that we meditated on our overindulgences. So, we headed over to the Gangnam district for an afternoon temple stay at Bongeunsa Temple.
At this point in the day, it began to snow again and it gave the temple a sort of etherial feeling. In the middle of the city, here was this beautiful ancient temple founded in the 8th century, with it's hand-painted panels and snow quietly dusting rooftops and trees. With the chime of the Buddhist bells and the faint sound of a children's choir practicing somewhere on the premises, walking around the temple is one of the most peaceful and inspiring experiences I can remember.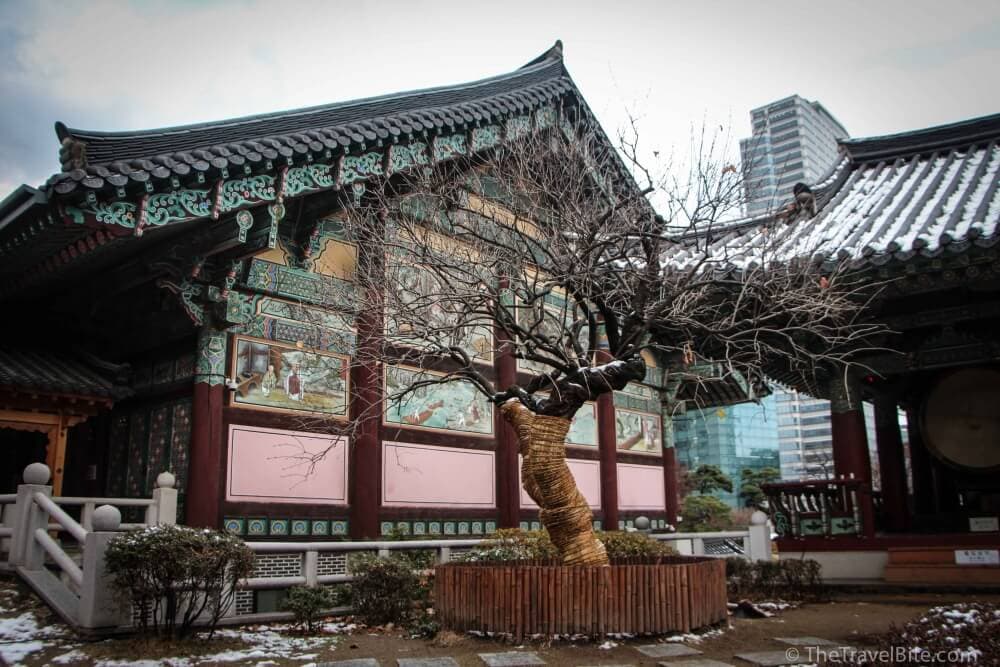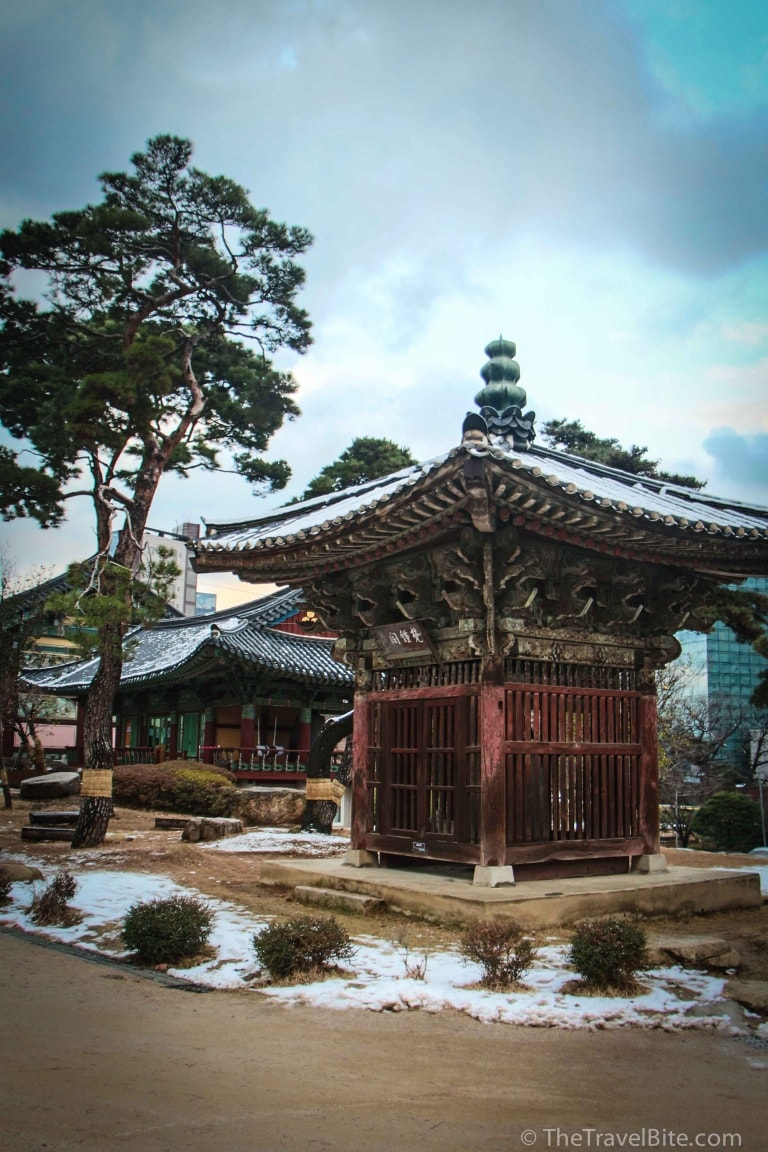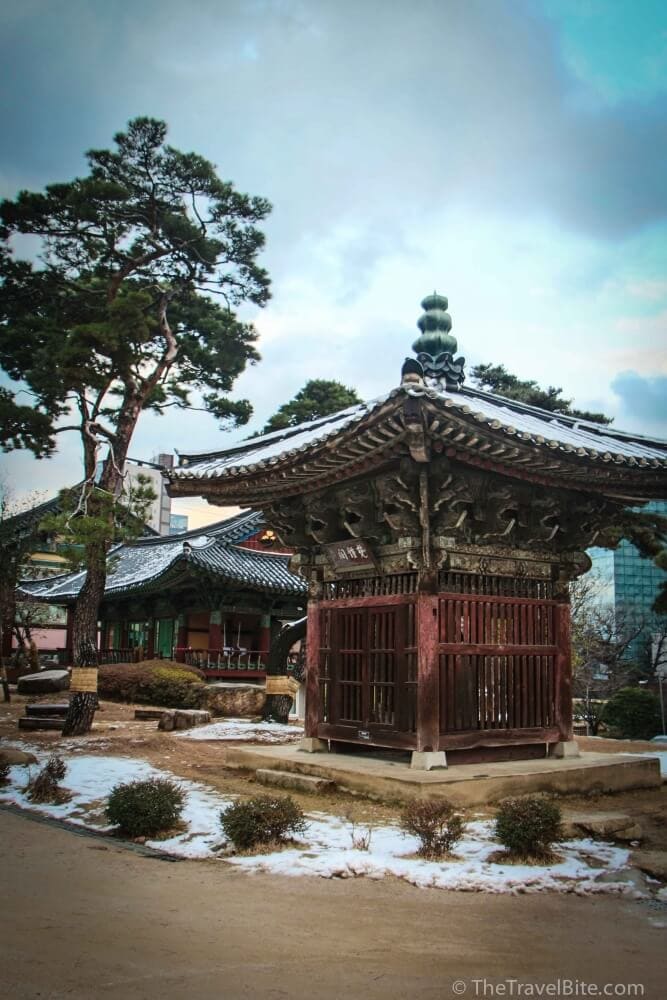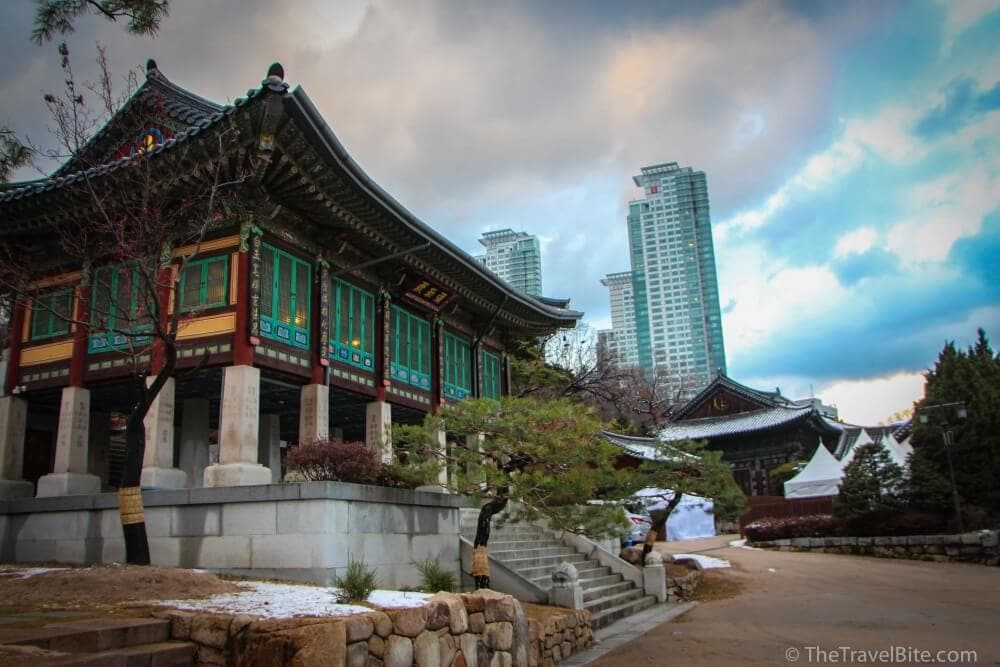 During the afternoon we watched a beautiful tea ceremony where the women's movements seemed to flow like a dance. We then had a little craft time while learning to make paper lotus lanterns and then were guided in a meditation by a Buddhist nun. At the end of the program, the snow outside had cleared unveiling a beautiful blue sky and letting us see the contrast between the traditional temple architecture and the city.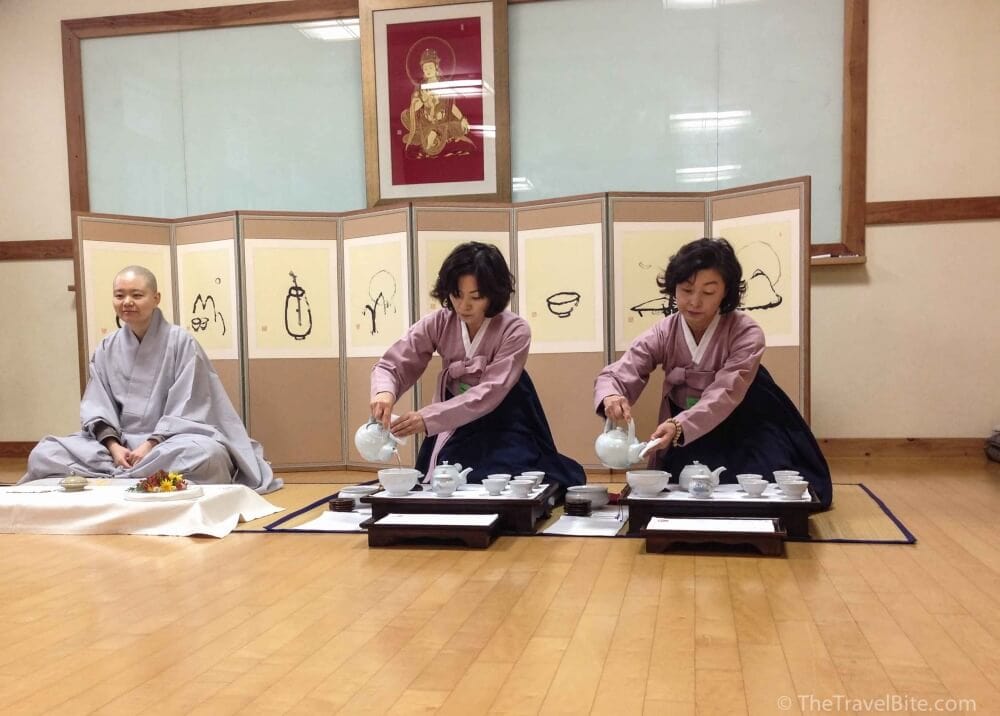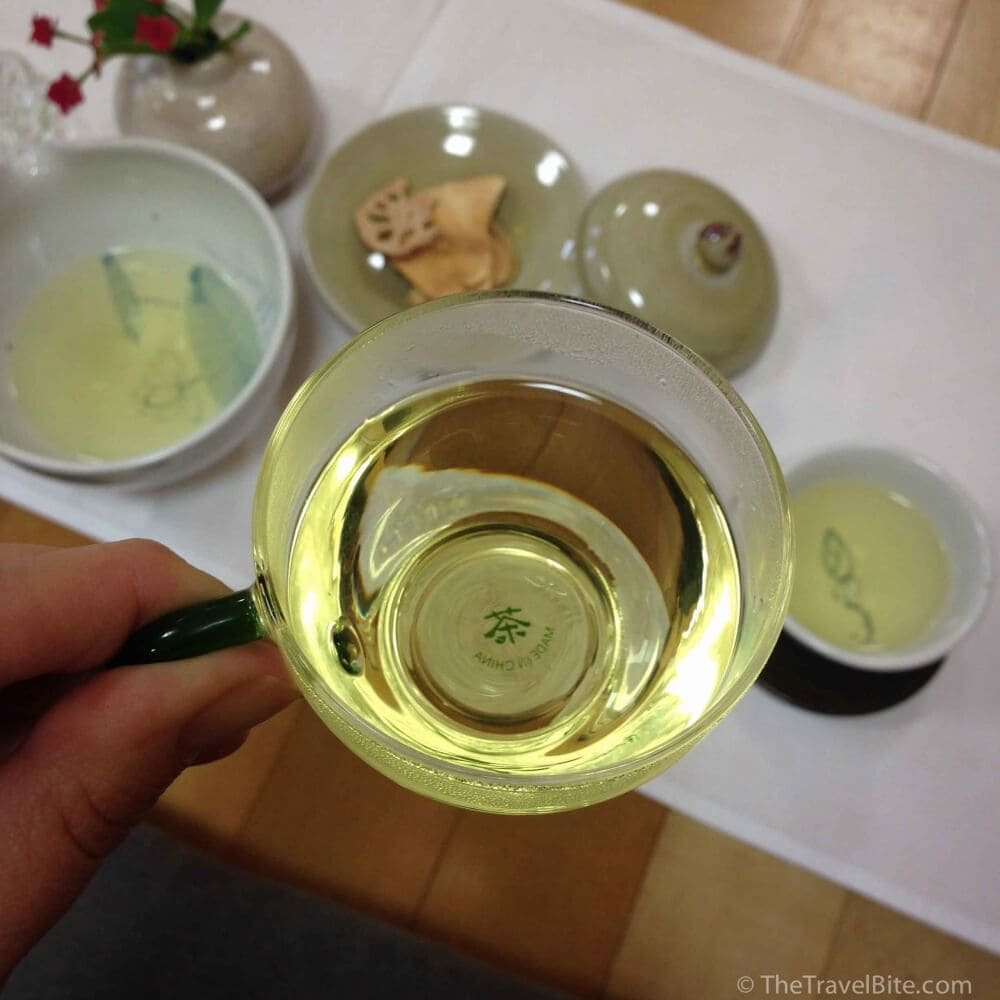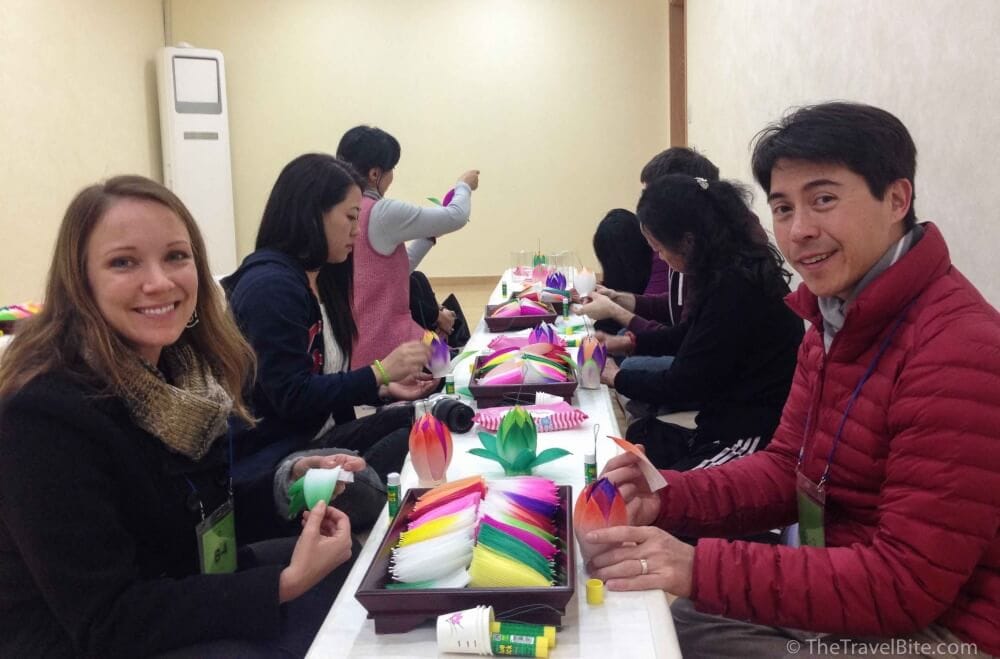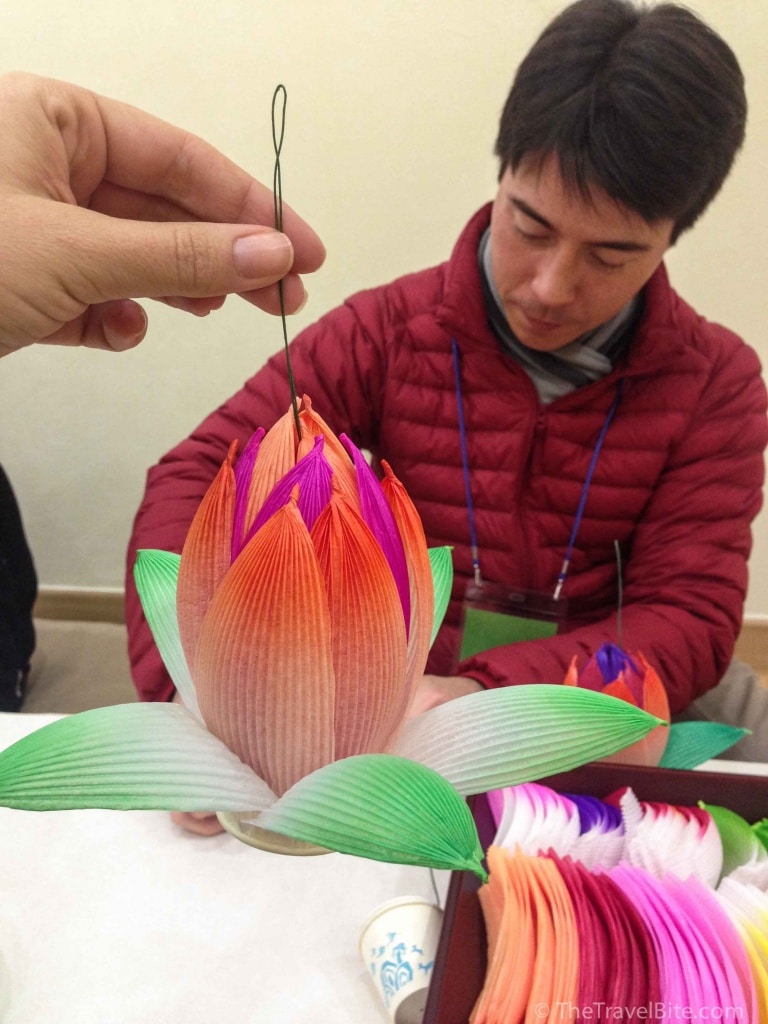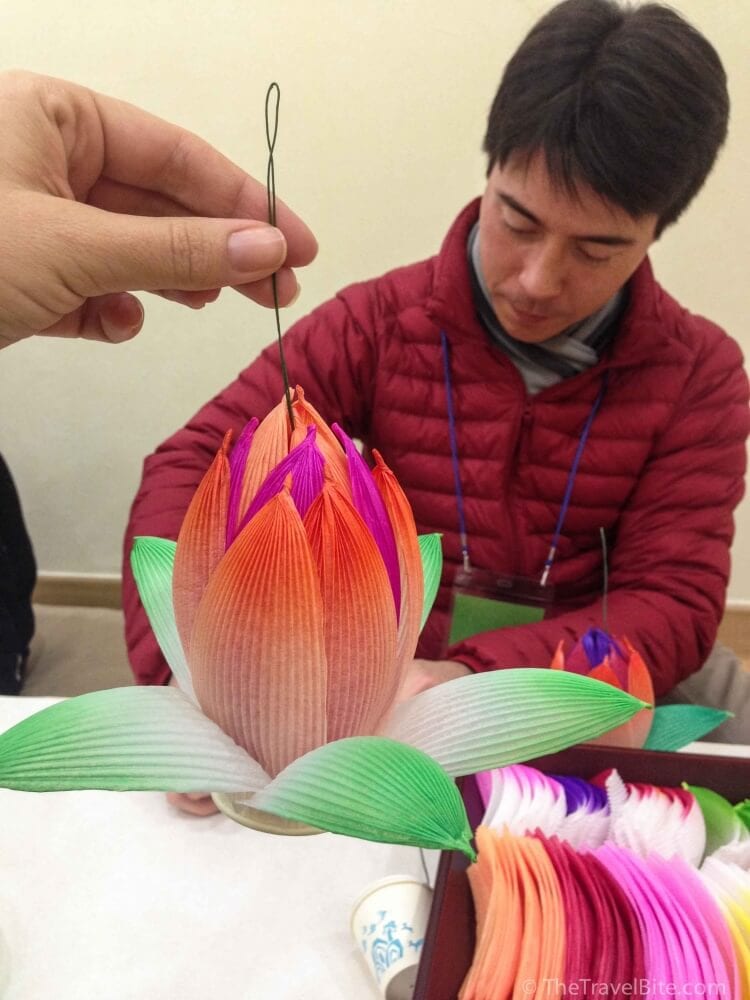 I think what surprised me the most was how gracious and kind everyone was. I mean, I know it's a Buddhist Temple, but still, we felt so welcomed and at ease. I do have to confess, the meditation was hard. It was only 10 minutes, but it felt like an eternity and I grew uncomfortable sitting on the floor. I'll have to practice more at home.
After our temple stay program, we went out for coffee at a dessert restaurant that came highly recommended by our guide, Angela. She'd read about it in local Korean food blogs and thought we'd love to see it. She was so right!
Dessert Tree is known for doing multi-course "dessert meals" with an appetizer, main dish, palate cleanser, and "dessert" dessert. We split one of the three course meals (of course we had to do more than coffee!) to share and taste a bit of each sweet course.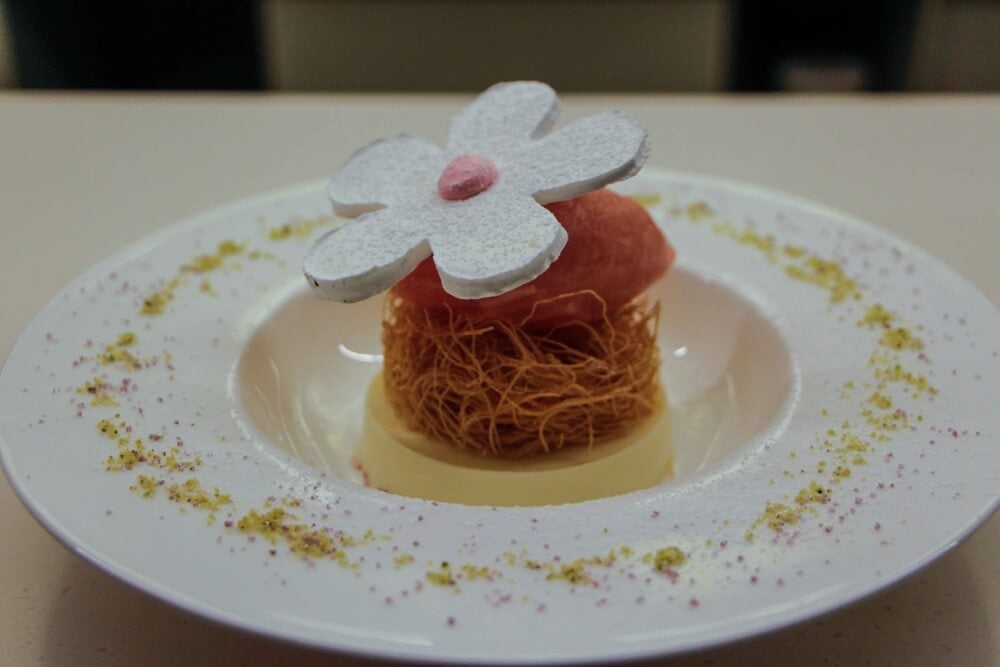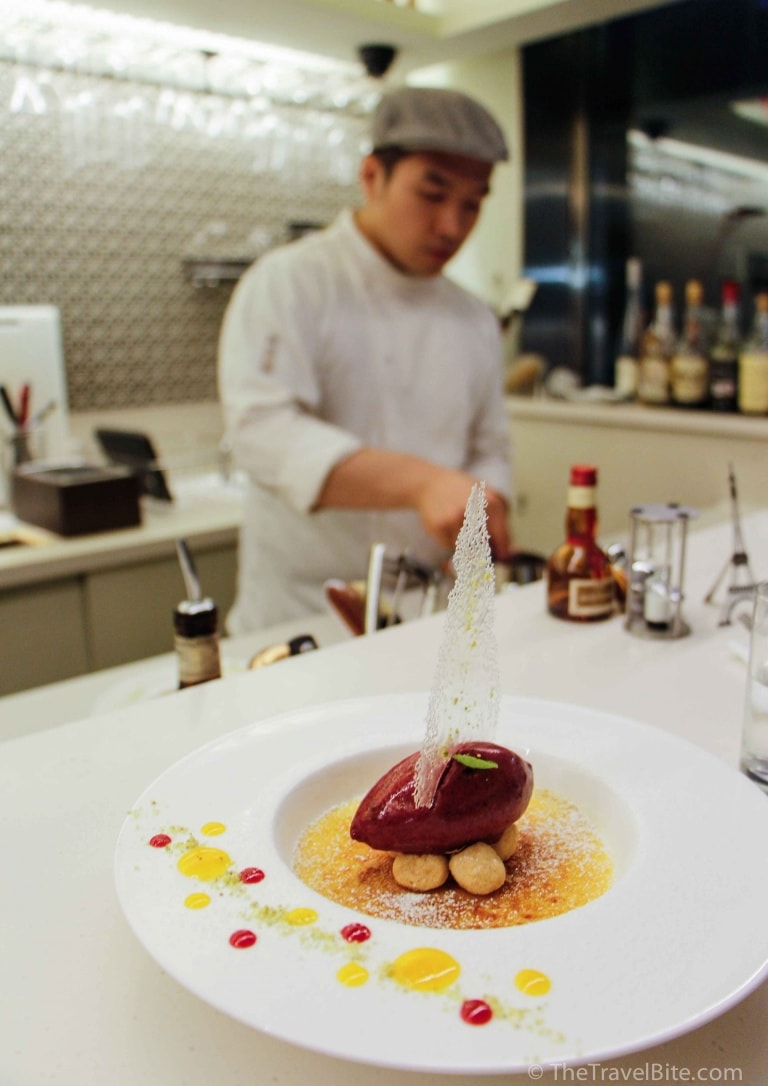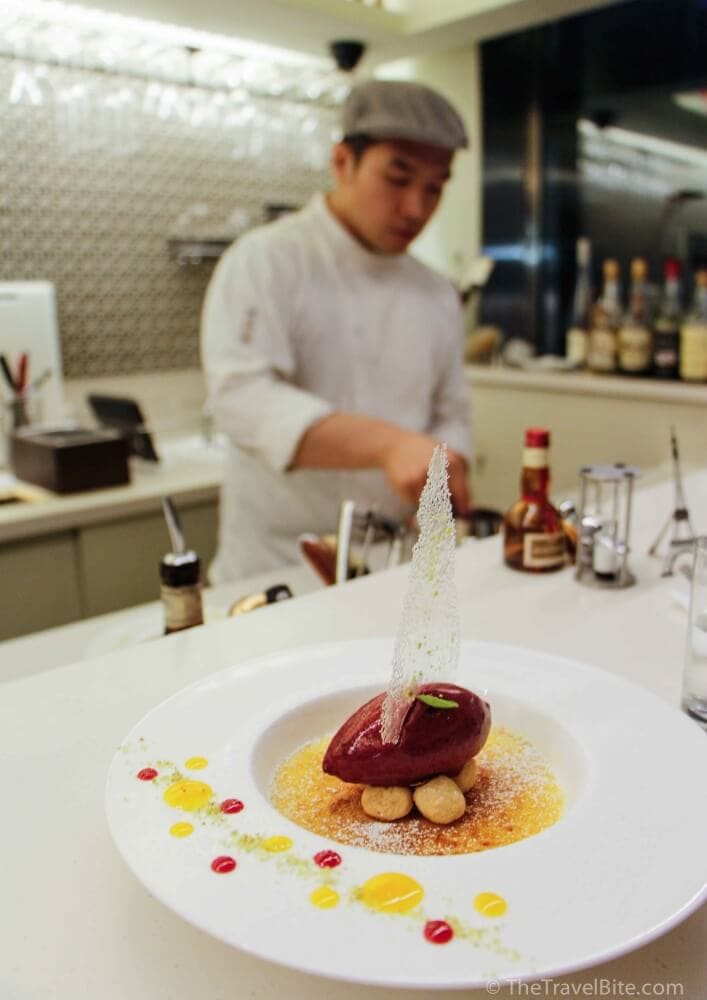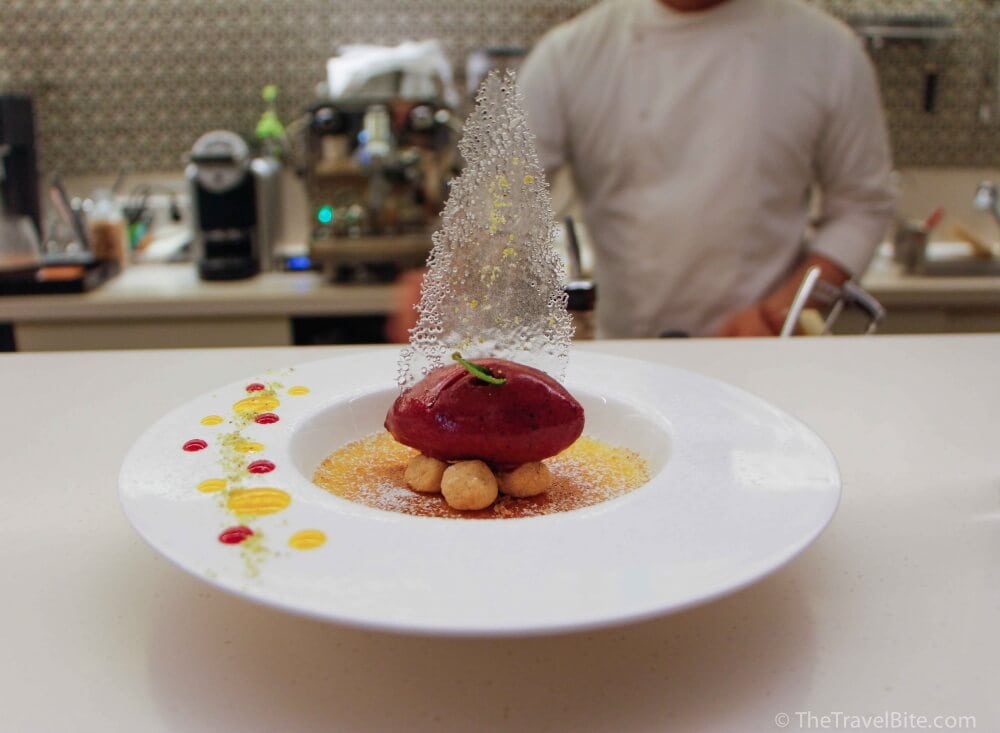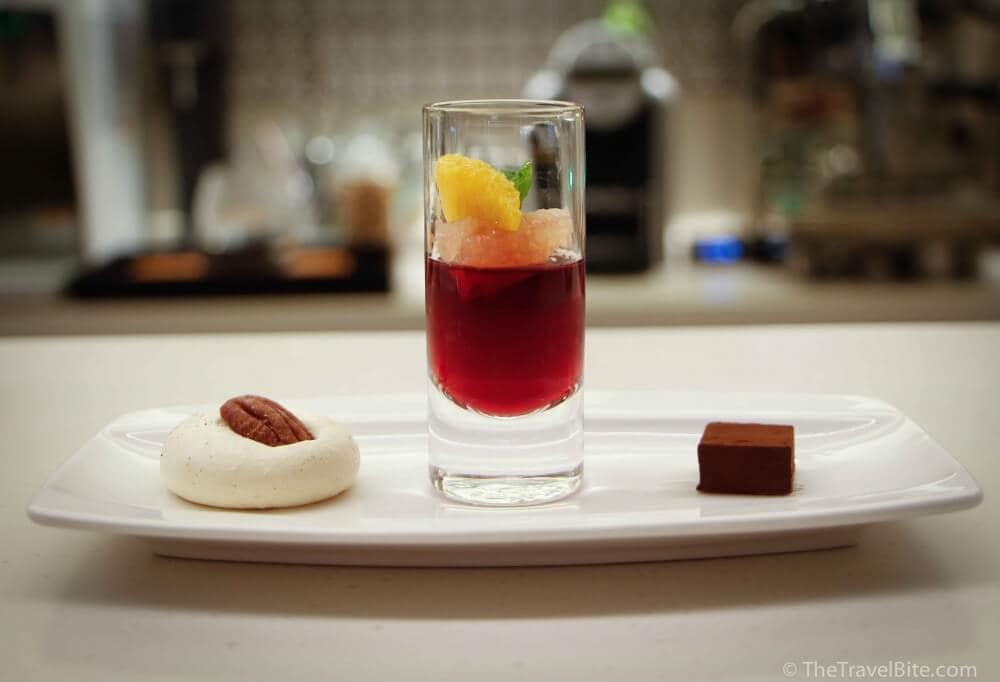 After an indulgent morning and an afternoon full of desserts, we chose a light dinner…
Now, don't laugh. We had much more than just ginseng root and tea at a very modern and minimalist healty restaurant. Although, I can't tell you the name of this restaurant or where it's located as the business card, the name, the menu — everything was in Korean. Truly, it's a local secret and you should go with a guide. (They do have a website if you can translate it … diningry.co.kr) We rode up an elevator in a posh building on Samseong-ro, and upon reaching the top floor, were ushered into a private dining room in true Korean style. We loved it! And it was a nice break from all the heavy foods we'd had earlier in the day.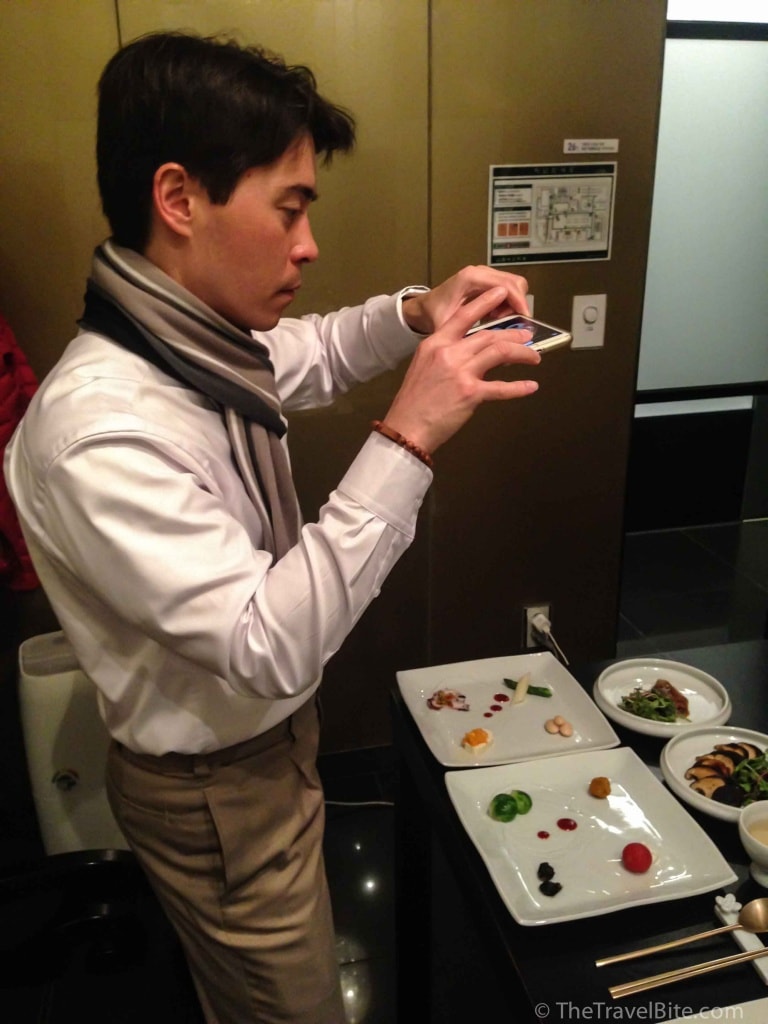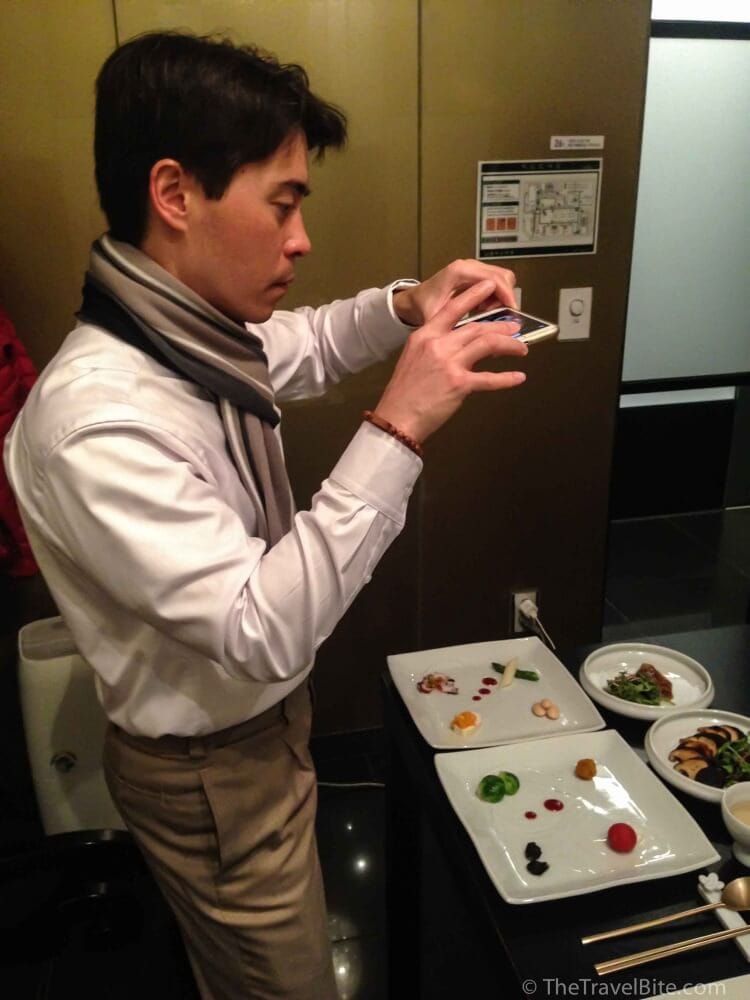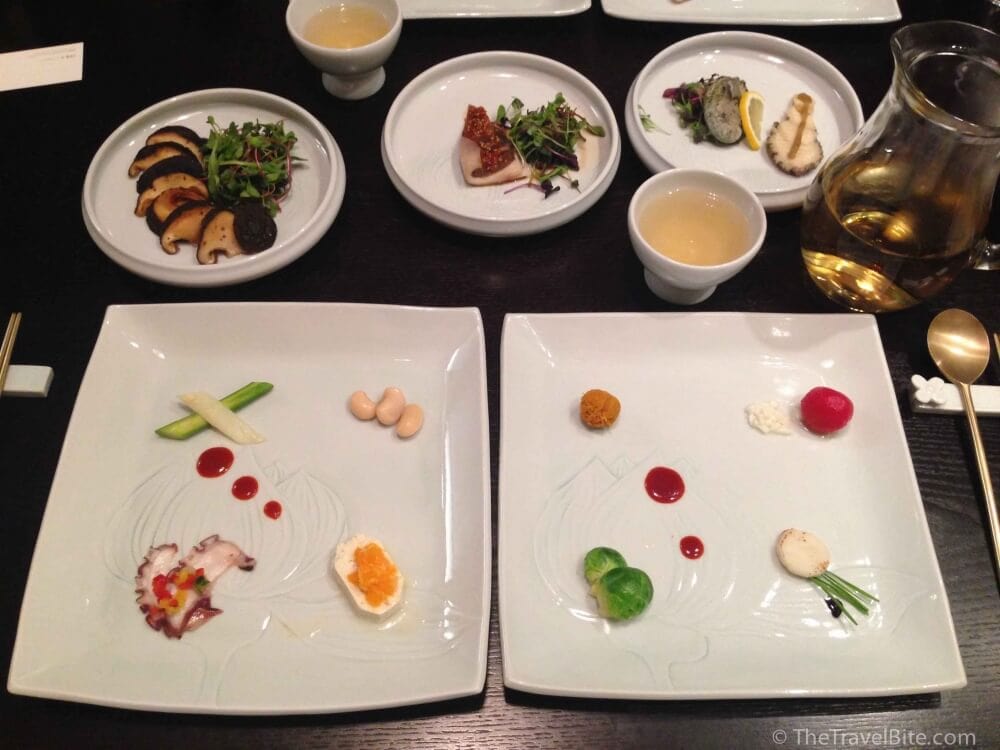 Seoul Food Day 5 – Food, Glorious Food!
On our last day in Seoul, we tried to visit any must-see restaurants left on our list and pick up any last-minute souvenirs before heading home. One of the neighborhoods we visited, Itaewon, was full of trendy restaurants. Everything from Mexican tacos to a cafe specializing in dishes made with honey. We ended up at a small fusion restaurant, Maruku Kitchen, that combines classic American dishes with traditional Korean flavors.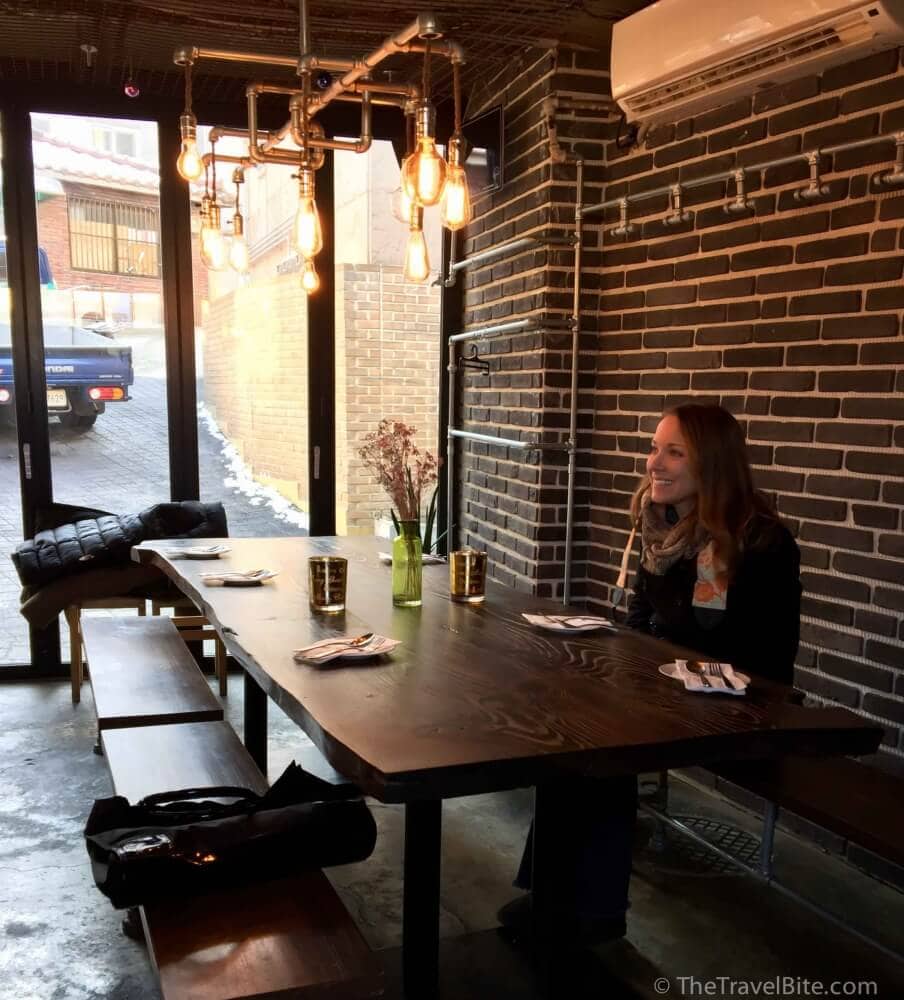 It's a tiny place with a big reputation. They don't take reservations, so we were told to arrive early. At 11:30 we had our choice of a handful of tables, but by noon they were packed. The chef is known for adding a Korean twist on American classics — like a burger smothered in cheese and roasted garlic with red bean rice and black sesame. We also shared a pasta with spicy chicken and sesame leaves and an omelette made with a housemade Korean sweet and spicy sauce. If you're interested, bring a guide or be prepared to use Google translate or Word Lens as everything is in Korean. So worth it!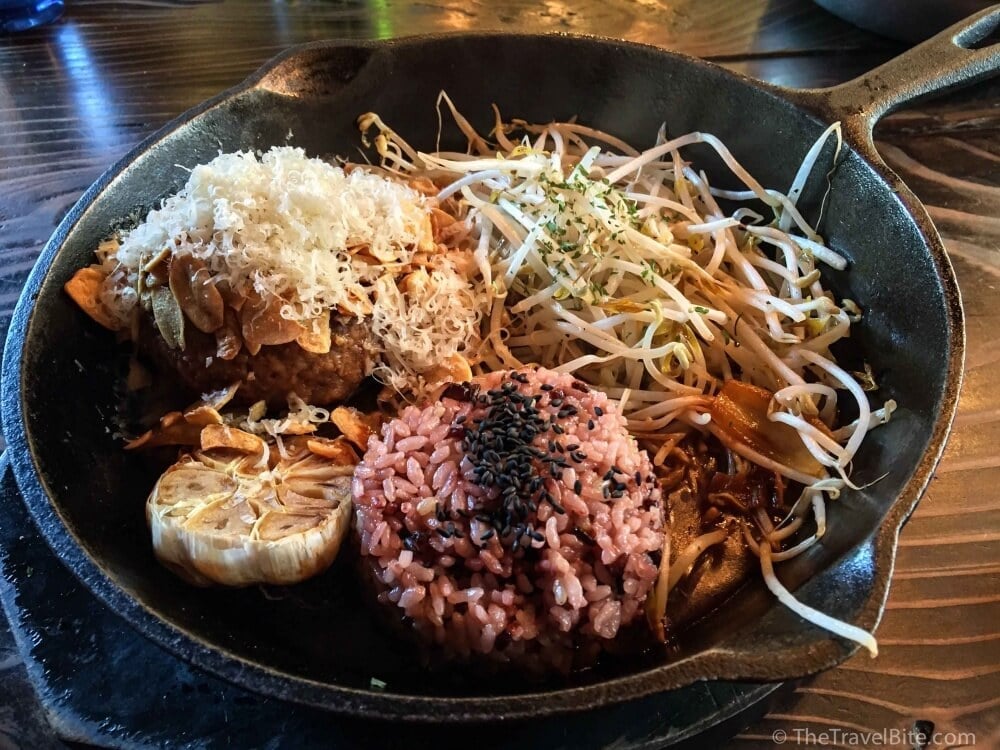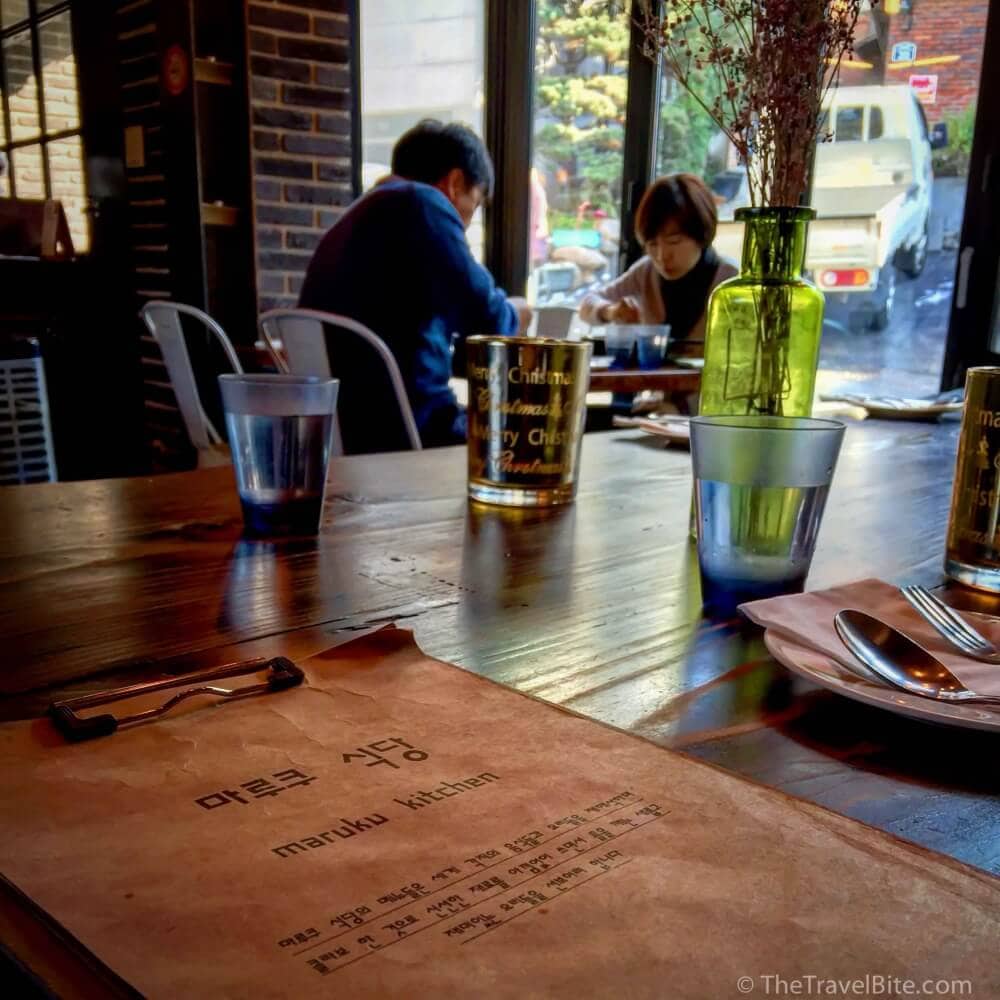 Afterwards, we walked around the Itaewon neighborhood a bit, and then headed back to Insadong to pick up more marble name stamps and have some tea. We visited so many wonderful tea places, I'm going to have to do a separate guide on just Seoul teahouses.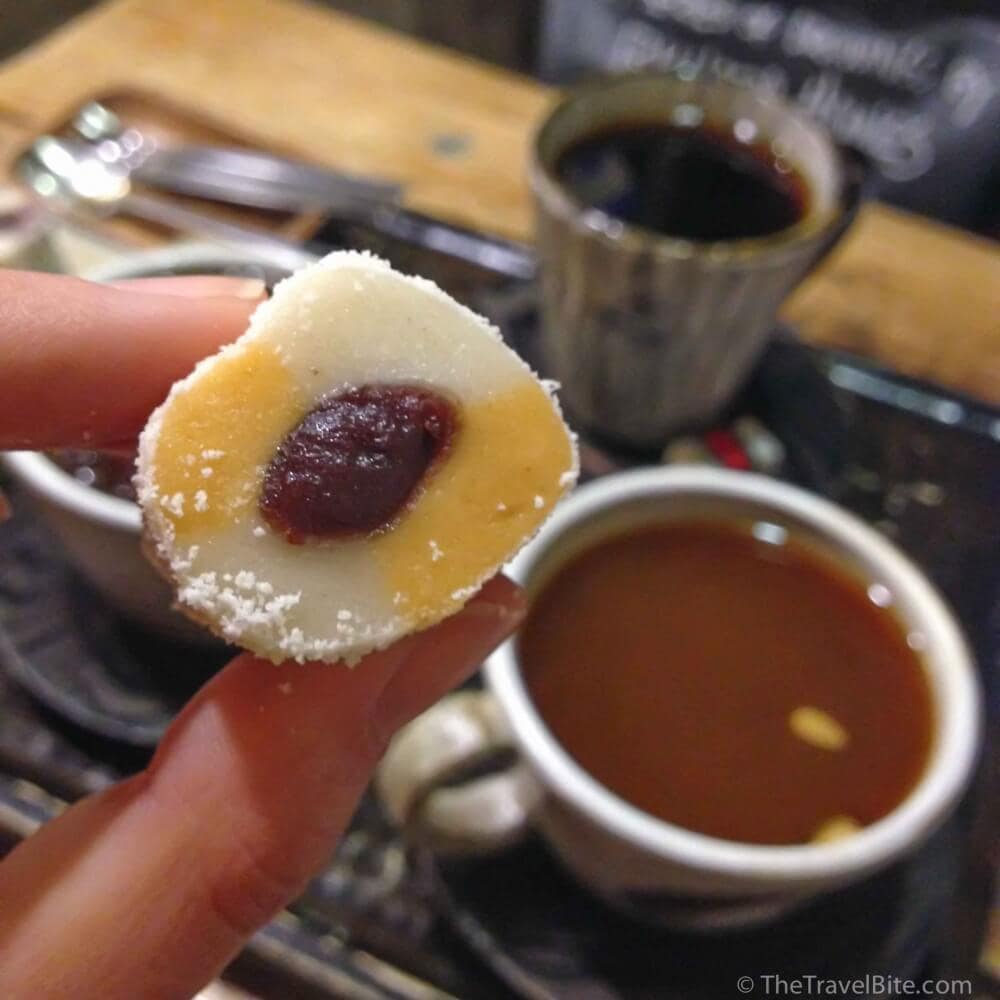 After a bit of shopping, packing for our flight home in the morning, and recording a podcast with our guide about Korean food and helpful phrases – we were hungry for dinner. The two restaurants left on our list couldn't be more contrasting — elegant dinner with a view at Top Cloud Restaurant, and then fried chicken at a local chain near the university. Yes, we had TWO dinners planned. I guess you could say fried chicken was for dessert? 😉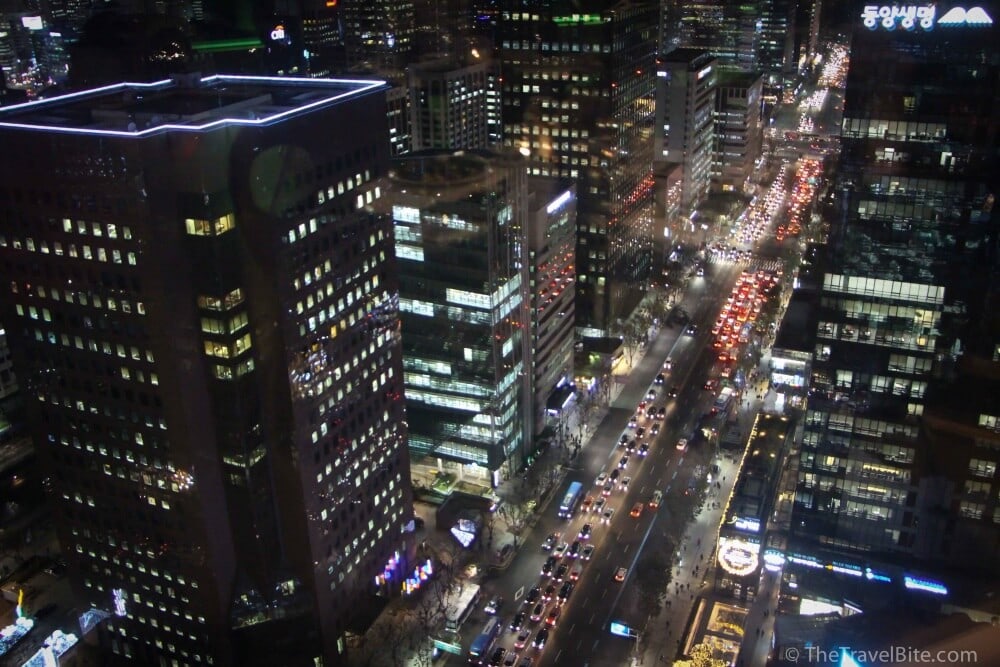 Top Cloud had an incredible view of the city. Not as panoramic as Seoul Tower, but more urban feeling. They had a section for more private dinners with live jazz musicians as well as a more family-friendly section with a gourmet buffet.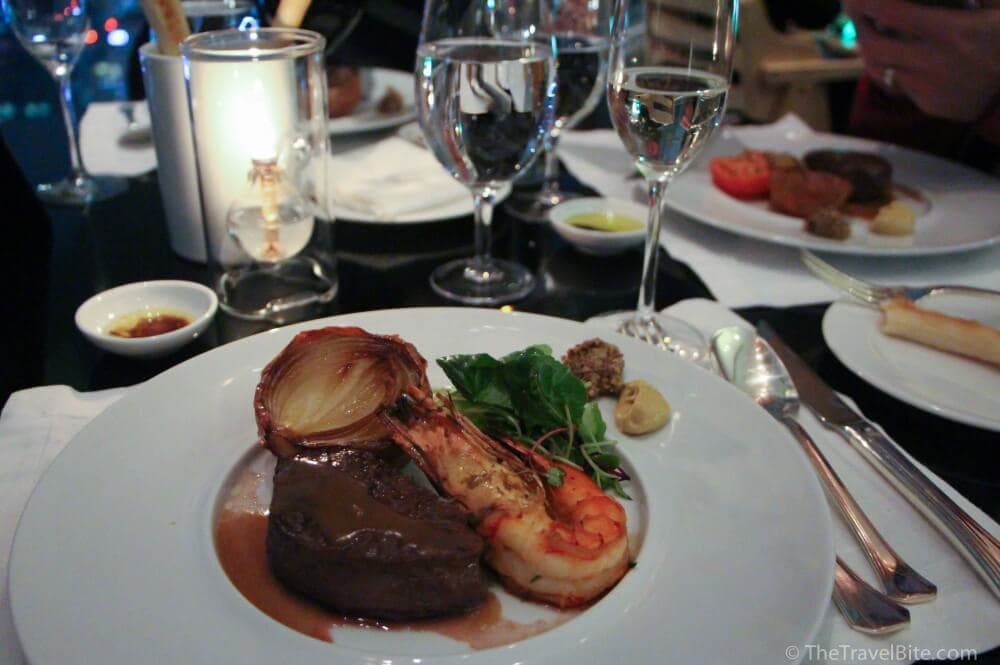 The cuisine was more American-style, with surf and turf, salads, and pastas. They had an amazing wine list, and with the jazz music and birds-eye view of the city, this is definitely a great place to meet up with friends for an evening.
Now, our "second dinner" was also a great place to spend time with friends. But it was a much younger and more casual crowd. Even though we were so full and couldn't possible think of eating a second dinner, we were told that we couldn't leave Seoul without tasting the true "KFC" – Korean Fried Chicken. It's so popular, there's even a hashtag dedicated to #KoreanFriedChicken.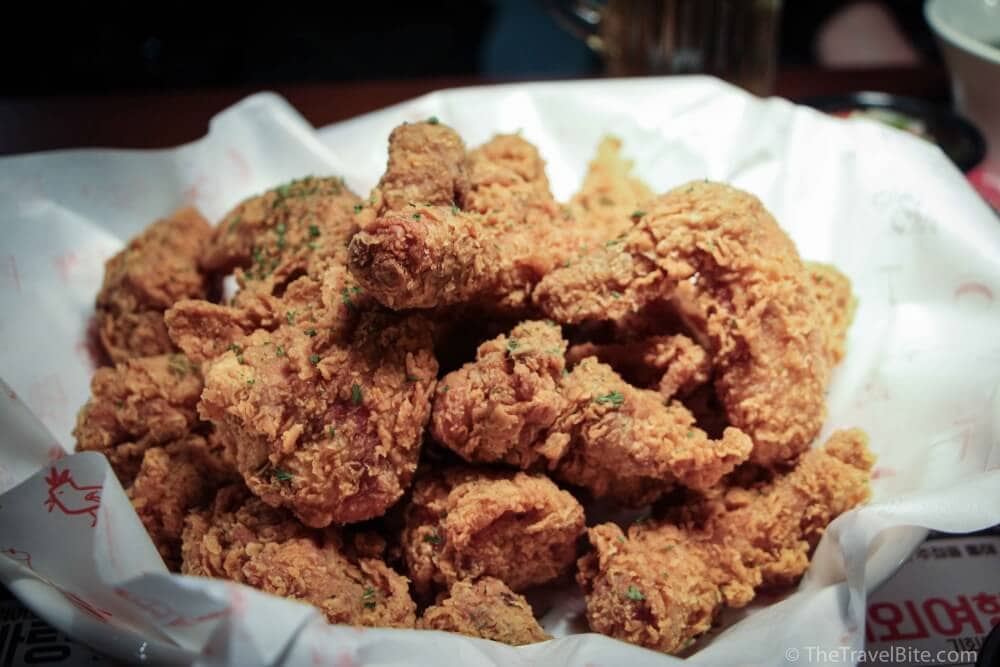 We went to Fish-n-Grill ChirChir near Hongik University and ordered a table-full of their most popular items. I have to admit, the chicken was phenomenal. Crispy, but not greasy, and full of flavor.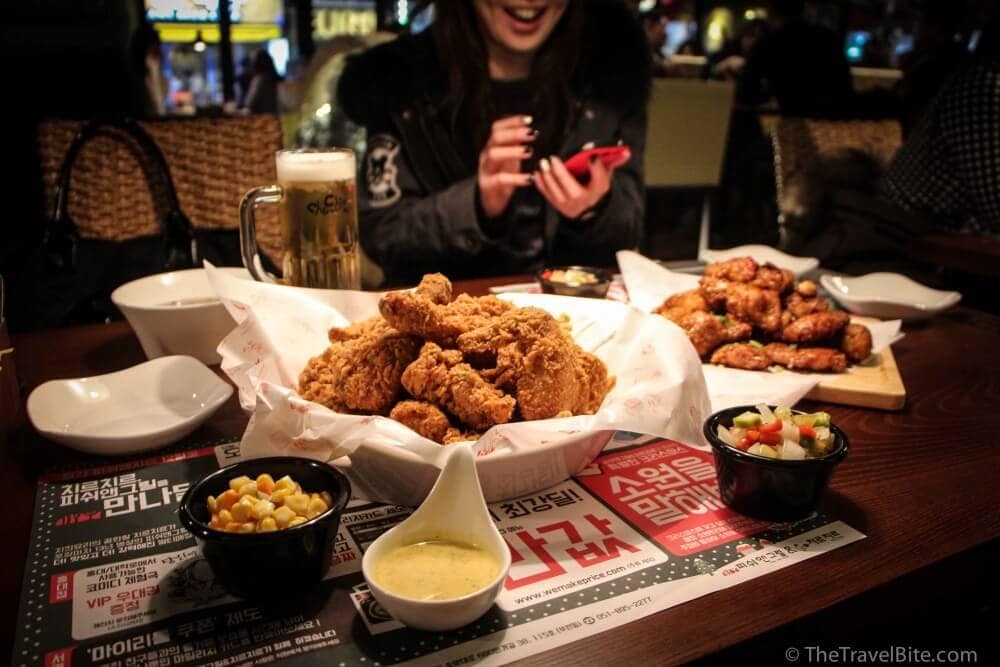 The menu also had all kinds of nutty items, a fusion of bar-foods with Korean flavors. Certainly the kind of cheesy, hearty food to sober up a college crowd, but really delicous too. There was this bread bowl stuffed with topokki, a kind of soft egg noodle with sweet chili sauce. It was topped with cheese and tempura fried kimchi. Talk about fusion!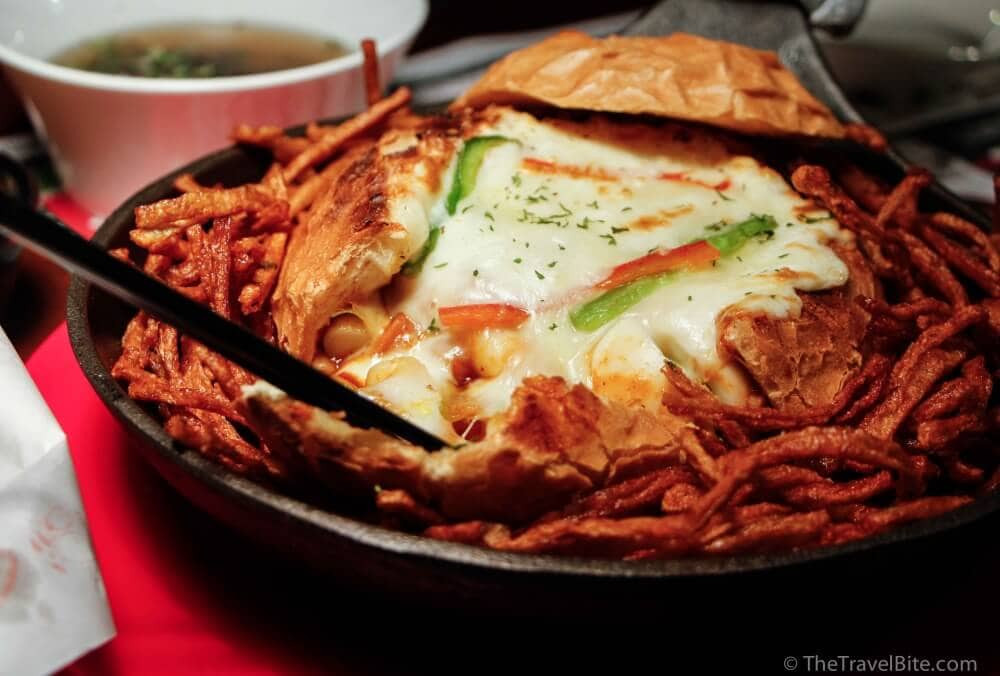 They also had traditional bibimbap dishes, spicy garlic wings (appropriately called "vampire killer"), and enough cocktails and beers to make you think you were on vacation in the Caribbean.
Since we were pretty full and just wanted a "taste" of everything, we made friends with the students next to us and shared the bounty of fried foods.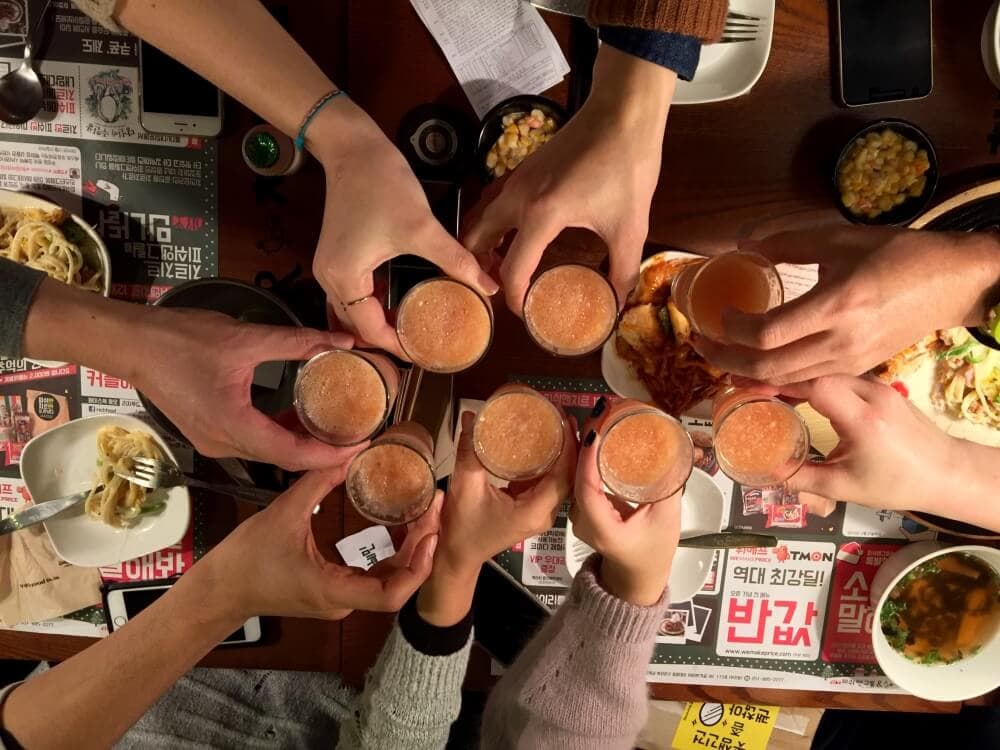 And that wraps up our culinary week in Seoul! There's so much good food, it would take a year to visit every place we wanted to see. I flew home swearing I'd need to do a week-long tea-only diet just to recover from it all. But it was worth it.
Disclosure: Our trip to Seoul was sponsored by the Korean Tourism Board. As always, thoughts, opinions, and enthusiasm for food are entirely our own.
Want to save these travel ideas for planning? Pin it! 🙂