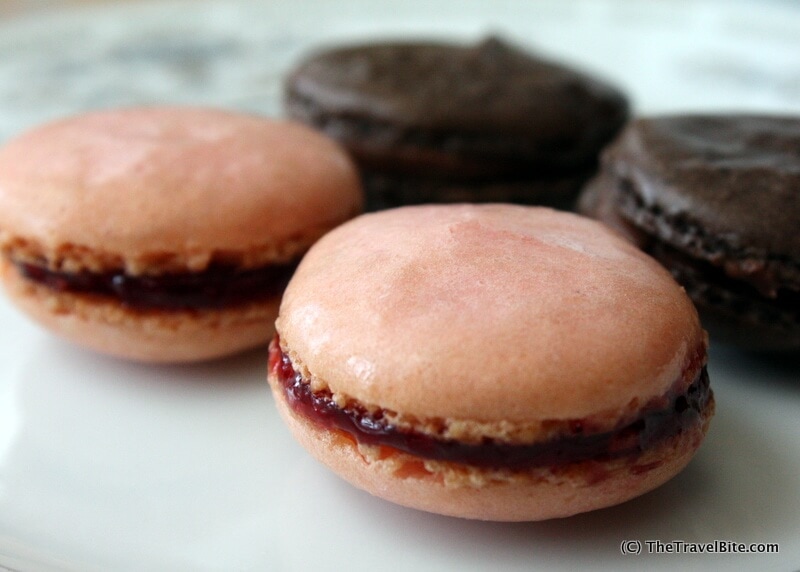 Ah, le macaron.  If you're looking for good French macaron recipe, you'll find it here.  My fascination with these delicate little cookies began while roaming the streets of Paris.  I was lost somewhere around the Latin quarter, intentionally so.  I must have walked miles that day exploring the city of romance and my tired feet were starting to not be able to keep up with my intrigue.  Then I saw them.  Brightly colored petite little gems in a bakery window.  They drew me in and I was instantly hooked.  I paused my self guided tour of the city for the rest of the afternoon, sipping espresso and nibbling on macarons.
Back home in the United States, macarons are difficult to find.  (And after making them, I can understand why!) When I inquire about them in bakeries and pastry shops, sometimes they're confused with the American coconut macaroon.  There's a big difference between a 'maca-rahn' and a 'maca-roooon.'  Recently, I found a new French bakery making 'le macarons' in my hometown with owners that just moved here from Fraaaahnce.  Hallelujah!  True, authentic French macarons!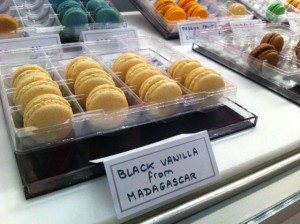 They had quite the assortment of colors and flavors including blue cassis, green sicilian pistachio, and creamy caramel and salted butter.  I picked one up and looked at it for a moment thinking, "I wonder if I can make this at home?  Haunh, Haunh, Haunh!"

I requested a few recipes on Twitter and looked up a few more online, then raced to the store to pick up the needed ingredients.  They were quite simple actually.  Just egg whites, salt, granulated sugar, powdered sugar and almond flour.  Because of the gluten-free diet fad now, the almond flour was easier to find then I expected.  I also picked up some cocoa powder, Nutella, food coloring, and raspberry jam to make some Valentine's Day worthy flavors.
Back home in my kitchen, I dove right into my macaron making project and discovered that while they might be little cookies, one cannot be deceived by their limited ingredients and tiny size.  These suckers were challenging to make.  In fact, a full blown wedding cake might be easier.
I tried not once, not twice, but five times to bake these delectable little treats.   Right before I was ready to throw in the kitchen towel and quit … I made … macarons!
I ended up testing three different recipes to make sure it was possible to do with ingredients and equipment accessible to the home cook.  There are only two special things you need, and you can probably find them easily online or at your local large franchised kitchen or craft store.  They are a silicone baking mat and a cookie pump (or pastry bag if you want to pretend to be fancy, but I found the cookie pump to be easier and less messy)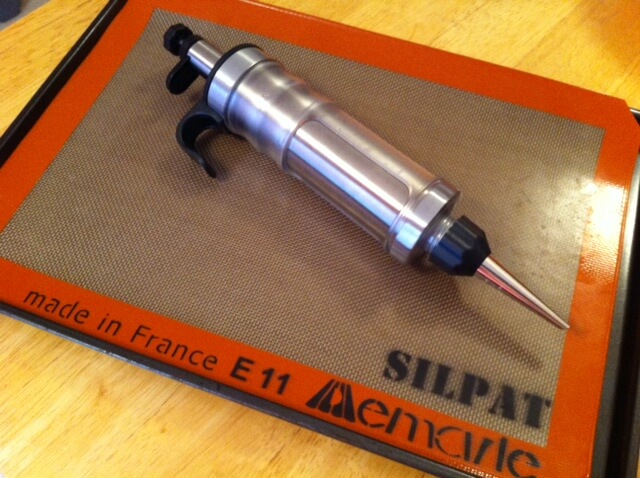 If you'd like to try this at home, despite my drama and complaining, they're fun and simple to make.  Even my "dud" cookies tasted good.  I was just going for that perfect light shell with a melt-in-your-mouth middle.  It is possible to do at home.  I've included 5 tips for making macarons that I've learned as well as the recipe below.
1. Sift your flower and sugar. This will remove any large chunks and make the batter light and fluffy without having hidden gobs of sugar.  Toss out what is left in the sifter.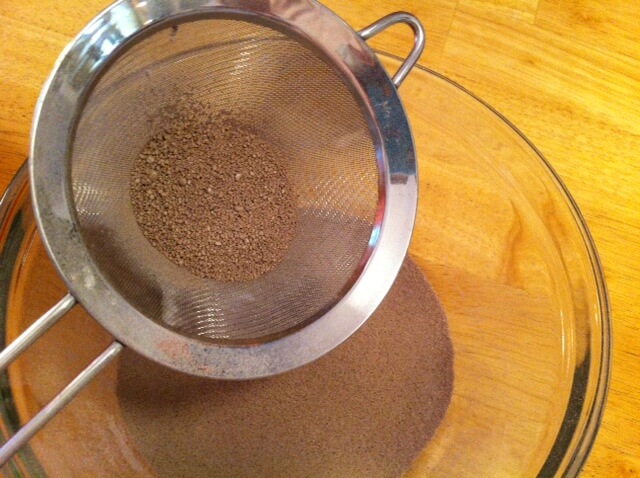 2. Mind Your Eggs
This is where I think I messed up the first two or three times.  I wasn't patient enough.  Like anything worth having, it takes a little time.
The instructions said to "whip eggs until foamy."  Bubbly is good …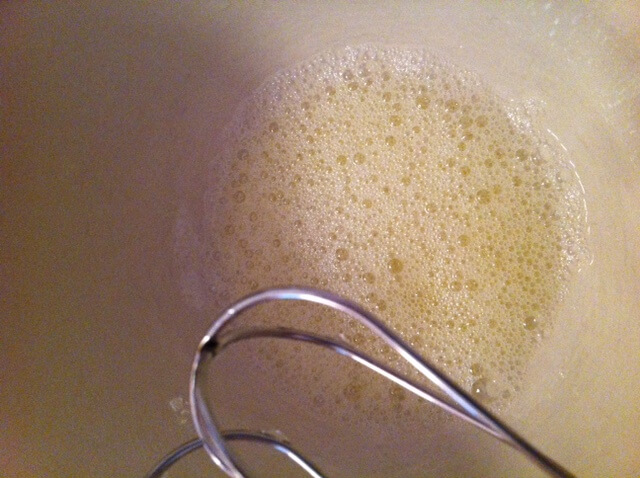 Next it said to add the sugar until "soft peaks" form.  As a non-pastry chef who has never made merengue, I did say aloud, "what in the hell do they mean by 'soft peaks?'  Well, after about 4 to 5 minutes of whipping, I my eggs looked like whipped cream and would form vampire fangs on the beater.  (Sounds dirty, doesn't it?  Soft peaks, whipped cream and vampire fangs … told ya this was perfect for Valentine's Day!) Anyway, I assume this is what they meant by soft peaks.  If you're going to add some food coloring, now is the time to do it.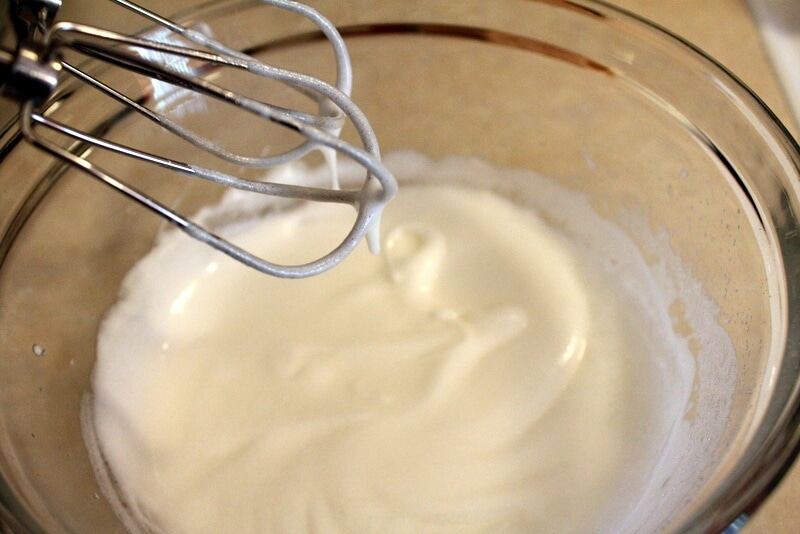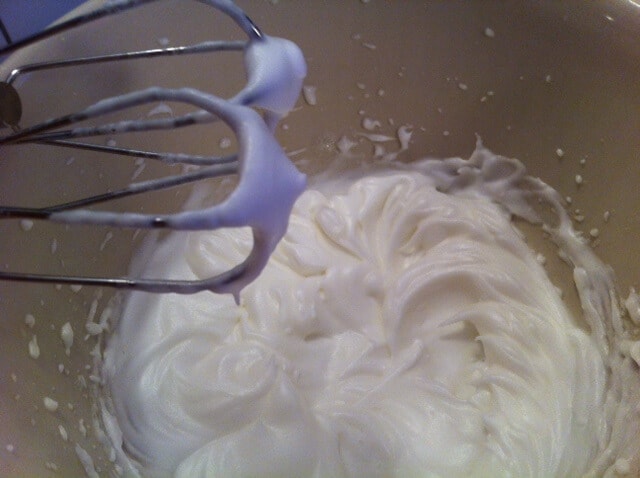 3.  Folding Doesn't Mean 'Mixing'
After you have your sifted dry ingredients, and you have your whipped eggs and sugar, gently fold them together.  Resist the urge to vigorously stir and mix.  I know you want your macarons as quickly as possible, but take your time.  The batter might be a bit lumpy.  That's okay.  Here's my pink batch for the raspberry macarons …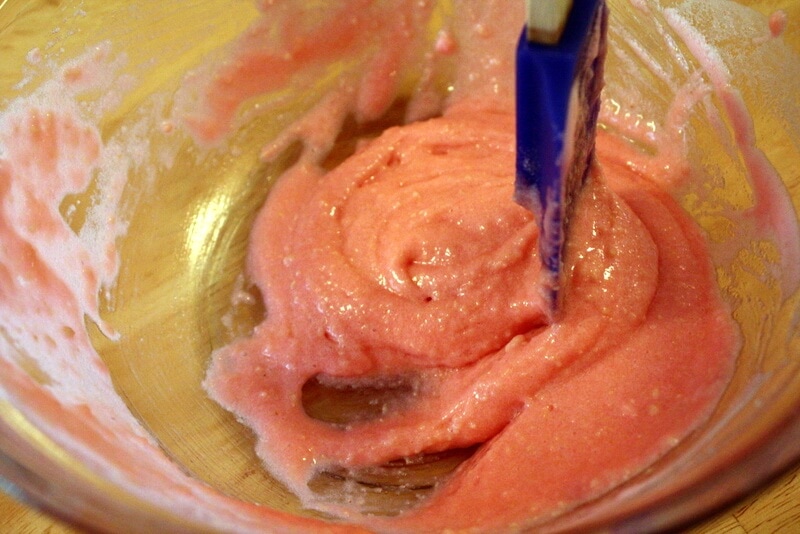 4.  Size matters.  The smaller, the better.
I tried a couple of different sized cookies, and the smaller, quarter sized dollops of batter always worked better. Remember to try and make them all approximately the same size since you'll be sandwiching them together.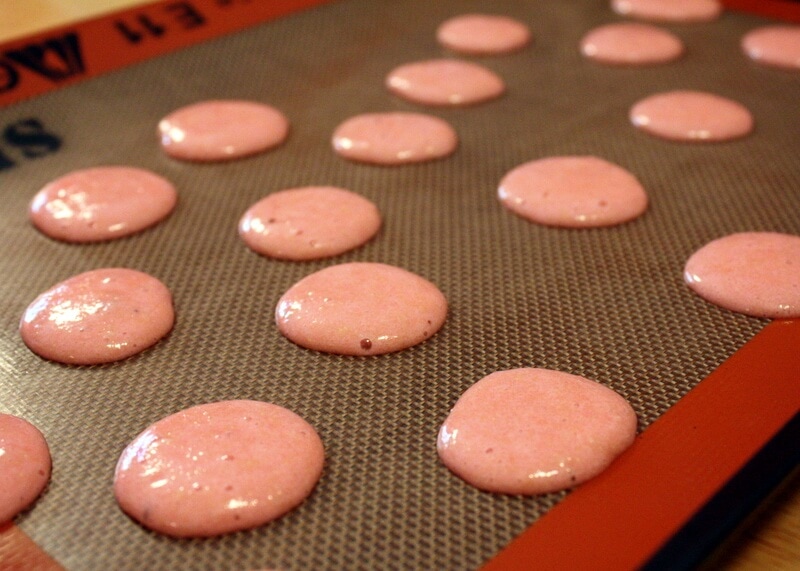 5.  Look for soft skin?
Best tip I found?  The first was to leave the macarons out for 15 minutes before adding them to the oven so that a soft skin forms along the top of the batter.  Only, as I waited for 15 minutes … then 20 … then 25 … and no soft skin was forming.  The next best tip I discovered was adding them to the oven, but then leaving the door ajar to allow moisture to escape and the cookies to dry.  That seemed to work!  But just because I'm superstitious and because these final two batches turned out great … I'd let them set for 15 minutes and also do the oven airing thing.  Voila … perfect little pink macarons …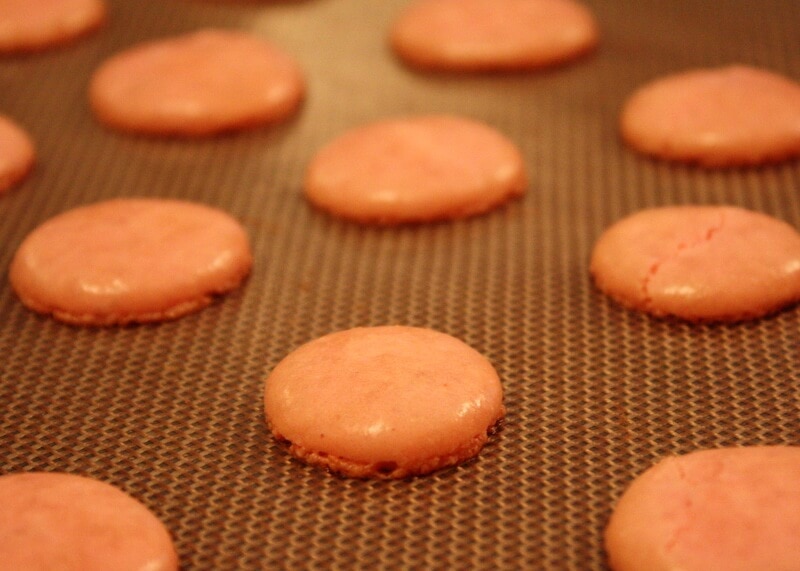 They pop off of the silicone mat quite easily.  Just be careful, because they're as delicate as paper.  Just tasting them on their own, they'll be a bit crispy.  But once you sandwich them together with a filling, they have a perfect melt-in-your-mouth center.  You can get fancy and make your own filling from scratch, but I prefer to keep it simple and just use fruit jams or nutella.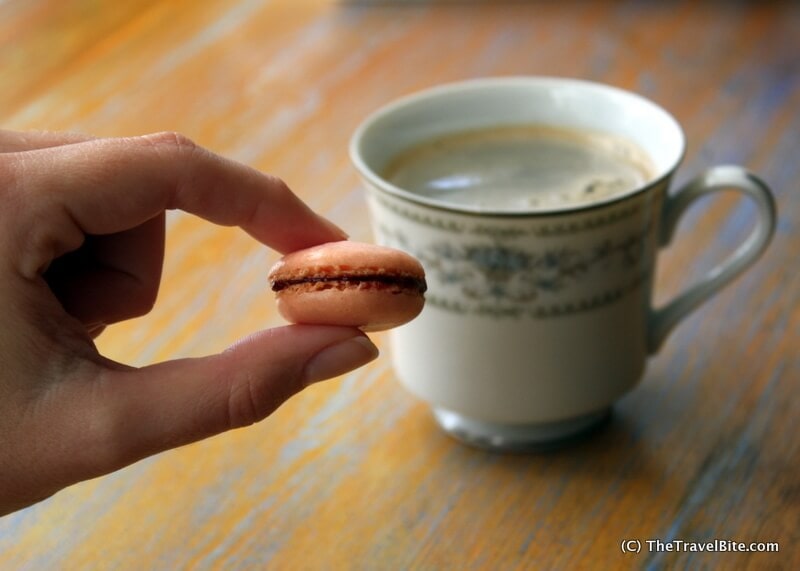 I was so excited that I had finally made macarons, I went paparazzi on them in my dining room …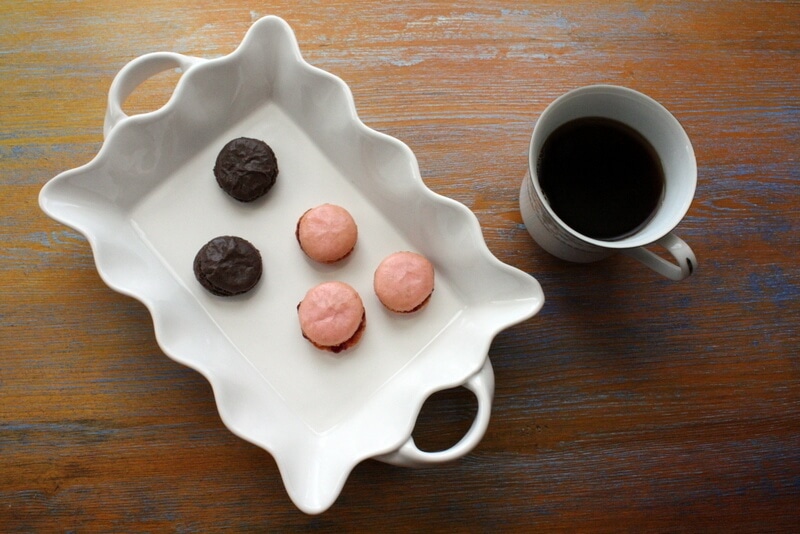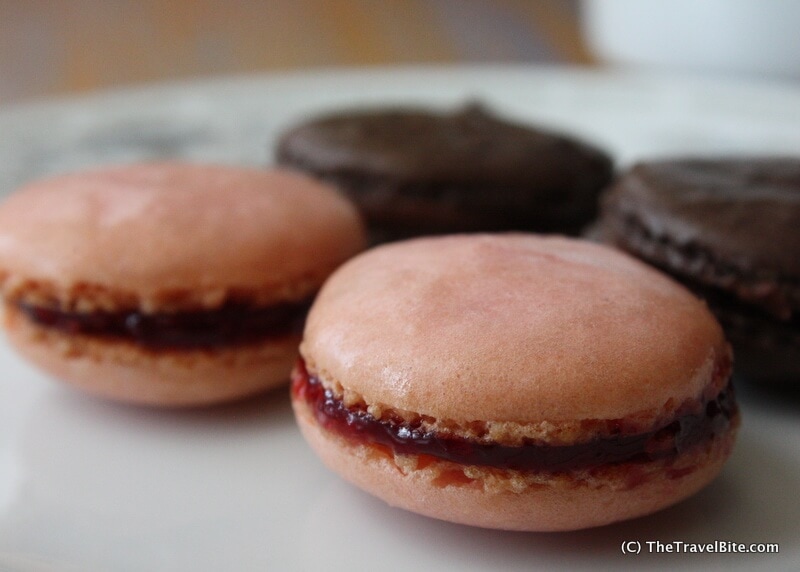 French Macaron Recipe
adapted from this Parisian Macaron Recipe
Ingredients
1 1/4 cups plus 1 teaspoon confectioners sugar
1 cup almond flour
6 tablespoons egg whites
(If you're using fresh eggs, the whites from about 3 large eggs)
Pinch of salt
1/4 cup regular granulated white sugar
Directions
1. Preheat oven to 350 degrees and line baking sheet with silicone baking mat or parchment paper.  In a medium bowl, add confectioners' sugar and ground almonds through a sifter.  Then, whisk sugar and flour together.
2. In a separate bowl, whip egg whites with an electric mixer on a medium to high speed until foamy.  Then, gradually add the granulated sugar and continue to whip until it has the consistency of whipped cream.  If you're making a specific color macaron, add one or two drops of food coloring and whip until color is blended.
3. Gently fold in the confectioners sugar and almond flour mixture with a spatula until well blended.  Add macaron batter to cookie press and pipe quarter-sized disks onto baking sheet leaving about an inch between the cookies.  Be sure to make them roughly the same size as you'll sandwich them together to make your macarons.  Let the batter sit at room temperature for about 15 minutes.  A soft skin might form on the top.
4. Bake macarons with the door of the oven slighly open for about 3 to 5 minutes until they form a skin and start to rise.  Total baking time is approximately 10 minutes.  Watch your cookies!
5. Remove baking sheet from oven and allow the macarons to cool, then carefully peel the cookies off the silicone baking mat.  They're delicate, so be sure not to crush their shell.
6. Turn half the macarons face up and add a 1/2 teaspoon of your preferred filling (nutella, fruit preserves, etc.).  Sandwich a matching sized cookie on top and press so that the filling spreads out to the edges.
**Variations:
Raspberry Macarons: Add 2 to 3 drops of red food coloring to whipped eggs for batter.  Use raspberry preserves for the filling.
Chocolate Hazelnut Macarons: Add 2 tsp cocoa powder to almond flour mix for batter.  Use Nutella for the filling.