Mango sticky rice is pretty much ubiquitous with the city of Chiang Mai. Everywhere you go in northern Thailand, from restaurants to small stalls at the night markets, you'll find this sweet coconut milk soaked dessert. It is such a simple dish with only three ingredients: fresh sliced mango, rice, and coconut milk.
While I've always loved indulging in mango sticky rice when visiting Thailand or dining out at a Thai restaurant, I'd never tried making sticky rice at home as I assumed the sticky rice would be complicated or time-consuming. I was recently pleasantly surprised to find out how easy it is to make.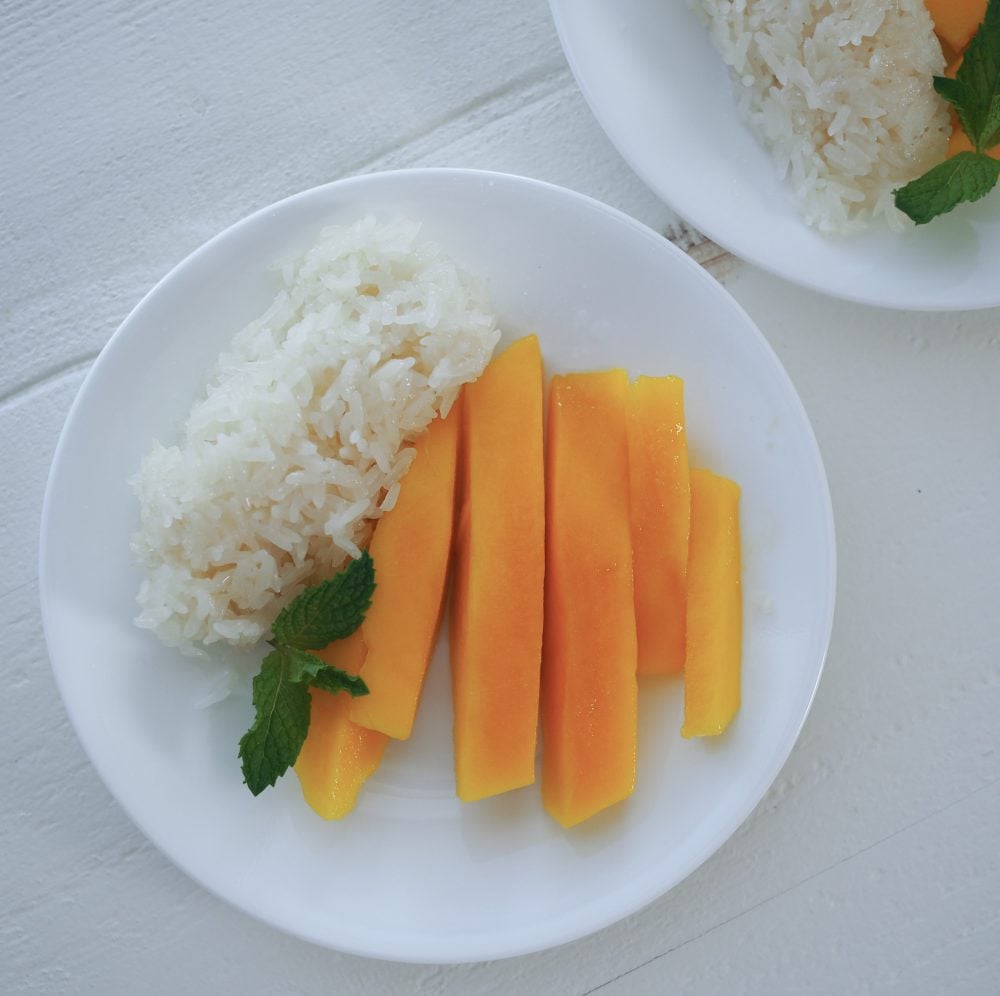 Pick The Right Kind Of Rice – Glutinous Rice
Back home in Florida, summertime is mango season and my mother-in-law always shares with us the bounty of mangoes that grow in her yard by the coast. So this summer, I thought I'd give homemade sticky rice a try.
First, you've got to find the right type of rice. Plain long grain white rice that you normally find at the grocery store won't be the same. Look for glutinous rice at your local Asian market (they sell glutinous rice on Amazon too). It looks a bit opaque and feels lighter and a bit hallow. It's named glutinous, not because it contains gluten, but because it is sticky when cooked. (In addition to mango sticky rice, you can also toast it and grind into a nutty-flavored powder to add to laab — that that's another Thai cooking story)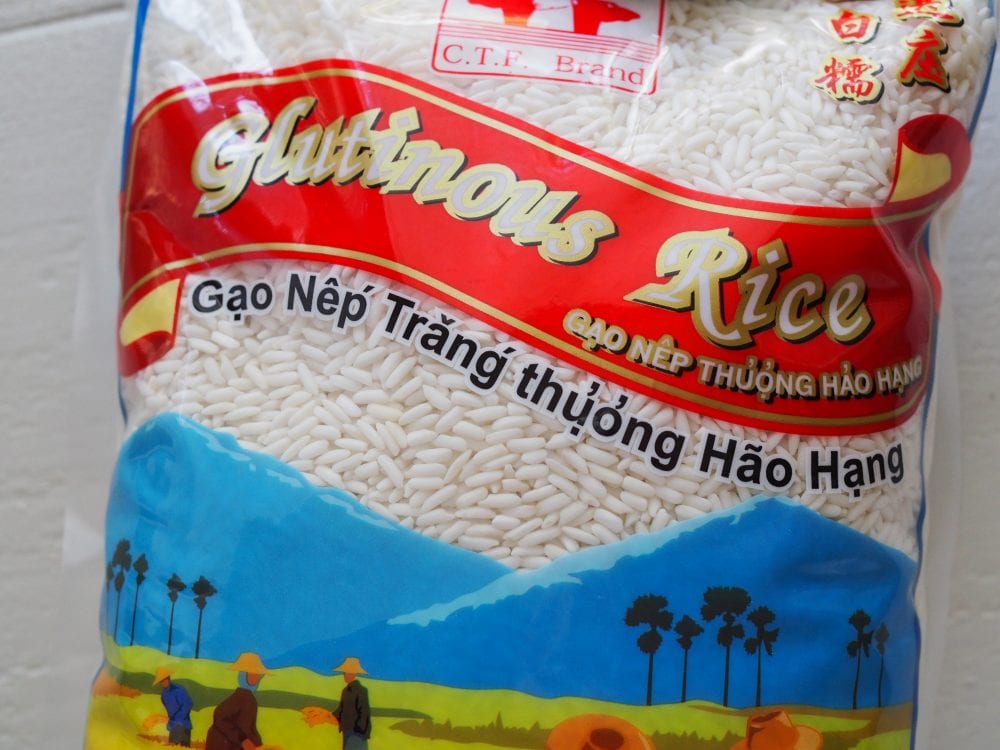 Sticky Rice Steamer Pot
When I was researching sticky rice, I was a little intimidated by the sticky rice steamer pot. And I have to confess, I just did a major purge in our kitchen in the name of wannabe minimalism. But I'm considering this a "necessity," and when I flip the bamboo cone over the pot for storage, it looks like I have a little kitchen samurai hiding in the corner. Now I just need to name it.
You can also just cook it in your rice maker or pressure cooker and follow the manufacturers instructions for short grain rice.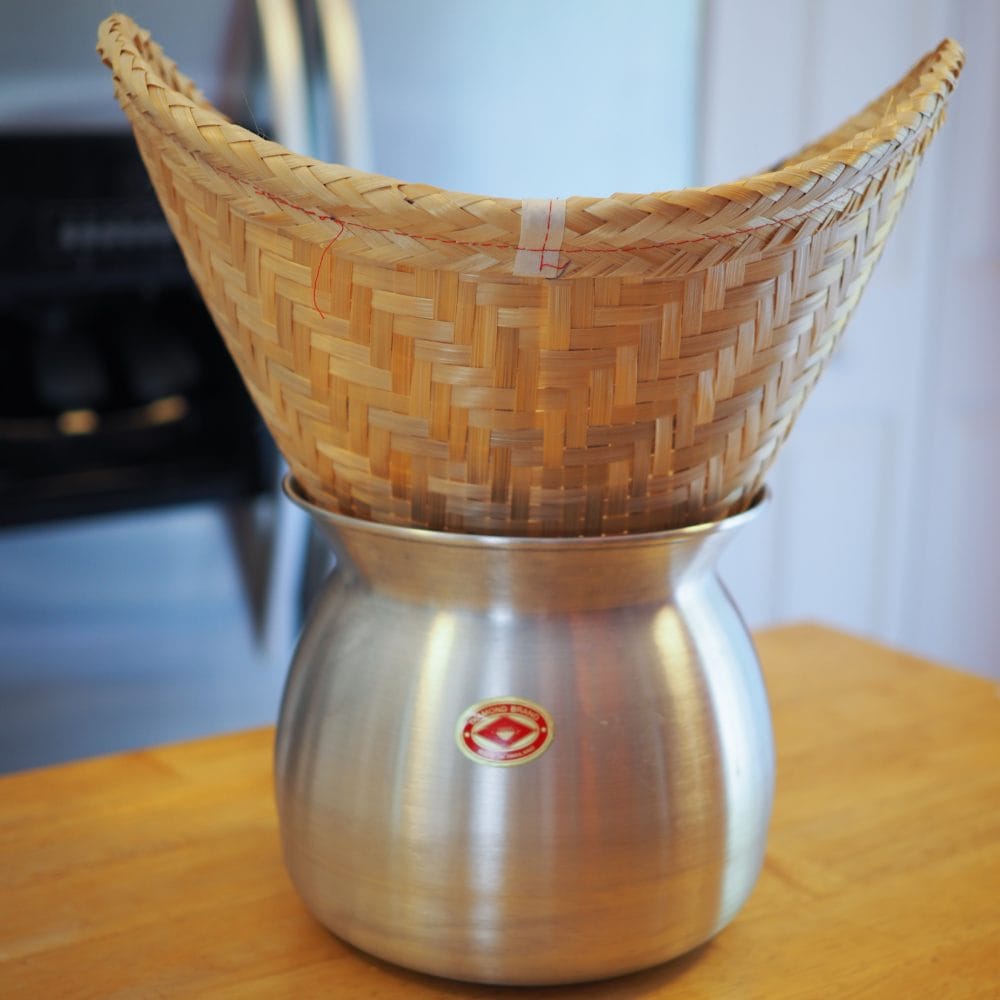 Making Sticky Rice
To make mango sticky rice traditionally with the bamboo steamer, you'll need to soak the rice for 6-8 hours. So either prep it to soak overnight or set it to soak first thing in the morning to be ready around dinner time. I usually pour a cup of glutenous rice into a measuring bowl, add water until it reaches two cups, then cover it with a paper towel. It takes less than a minute.
Once the rice as soaked, it takes about the same cooking time as making regular rice. Add water to the steamer pot until it's about two inches deep (you don't want it to touch the cone … your steaming the rice, not boiling it.) Bring the water to a boil, than add the rice to the cone, and place the cone on the pot, then cover with any small lid from one of your other pan sets. Let it steam for 30 minutes, and then you're done!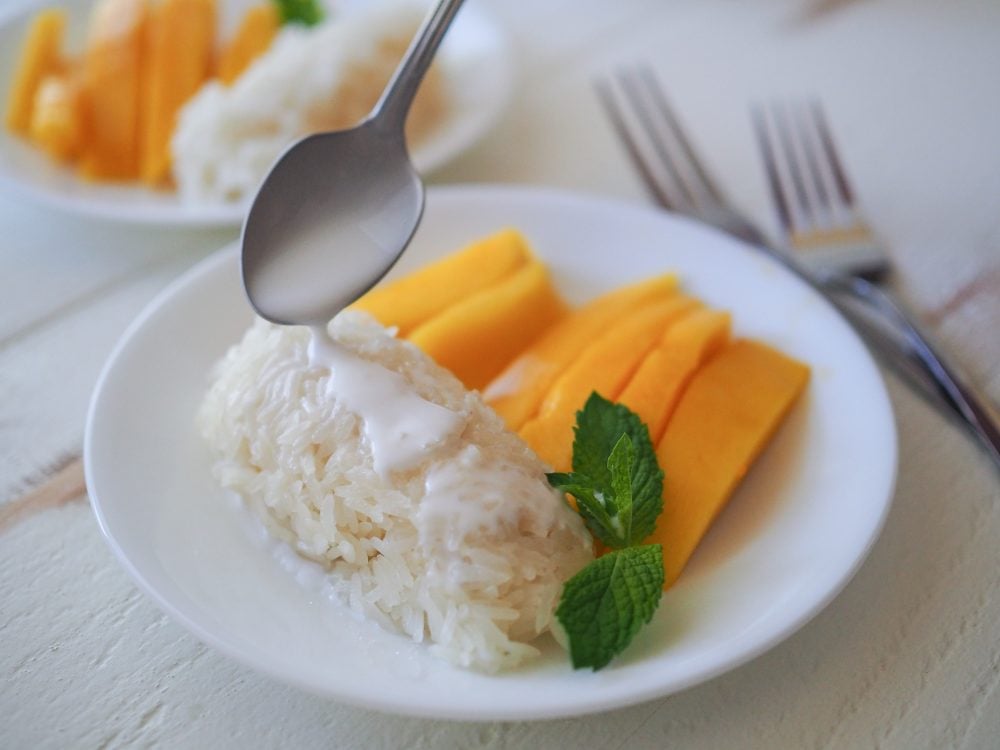 TIP #1: I've made the rice using just the bamboo steamer basket, and I've also wrapped it in cheesecloth and then put it in the bamboo steamer. The cheesecloth makes it a bit easier to handle and to clean up. Plus, you'll need to flip the rice about 20 minutes into cooking, and picking up a ball of cheesecloth-wrapped rice with tongs makes it easy.
TIP #2: Use oven mitts and tongs when handling the steamer after the rice has cooked. The steam releases pretty quickly, but this will prevent burning your fingertips and make it easier to handle the rice.
Make a whole Thai dinner night with our recipe for Chiang Mai Curry Noodles, Thai cucumber salad, or Nam Sod (Ginger Lime Pork).
Print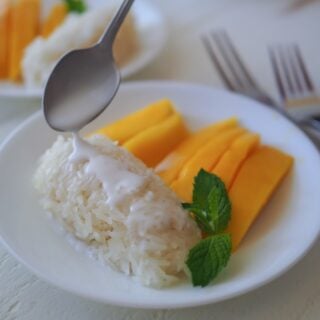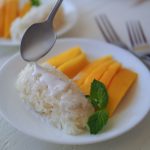 Mango Sticky Rice
---
Author:

Prep Time:

5 mins

Cook Time:

25 mins

Total Time:

30 mins

Yield:

2

-

4

1

x
Scale
Ingredients
1

–

2

Fresh Mangos

1

can coconut milk

1 cup

glutinous rice
sugar to taste
---
Instructions
Soak the glutinous rice overnight in 2 cups of cold water.
Place a square of cheesecloth over a strainer and pour soaked rice into cheesecloth.
Tie cheesecloth into a knot over the rice, leaving some extra room for the rice to expand as it cooks.
Add water to the steamer pot and bring water to a boil.
Once water is boiling, add cheesecloth rice ball to bamboo cone basket, and place cone basket into pot.
Cover with a lid (from any other pan set) and steam for 20 minutes.
While the rice is cooking, peel and slice the fresh mangoes.
If you like the coconut milk sweetened, add 2 to 3 tsp of sugar to the coconut milk and stir until dissolved
After the rice has cooked for 20 minutes, carefully remove the lid (I usually wear an oven mitt) and flip the rice ball in the bamboo basket using a set of tongs. Cook for an additional 10 minutes. Then set aside to cool.
Cut the cheesecloth away from the rice, shape the rice into a ball using two spoons.
Place the rice next to the mango, drizzle with coconut milk, and serve!
---
Category:

Dessert

Cuisine:

Thai
Directions On Back Of Rice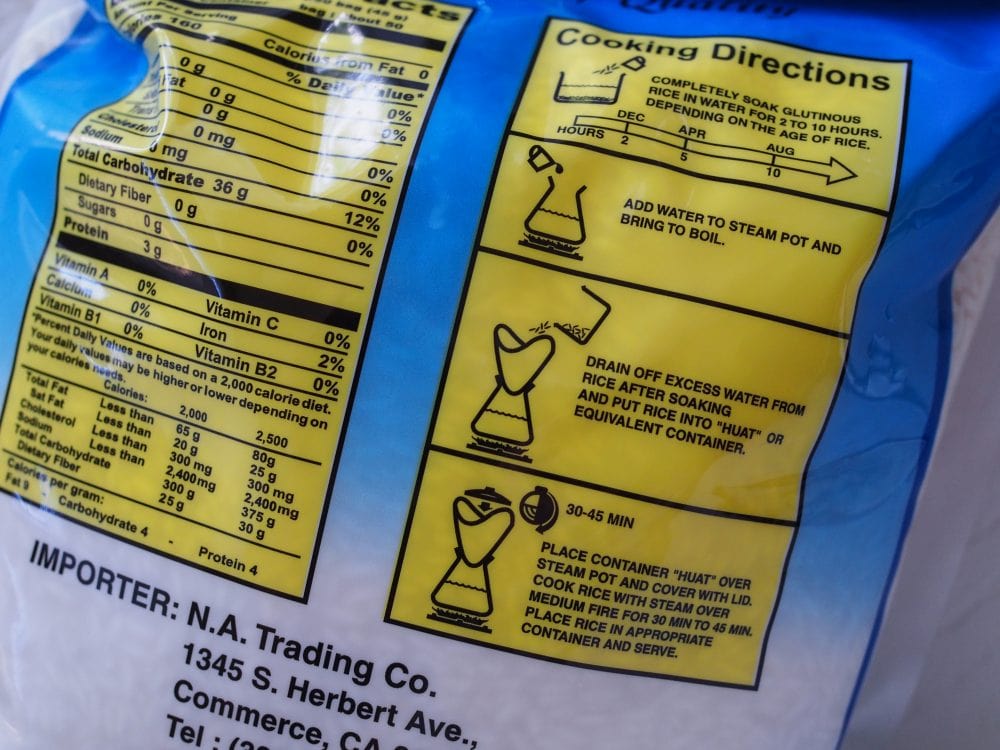 Disclosure: Some of the links above are affiliate links. If you make a purchase through Amazon using those links, The Travel Bite will receive a small commission at no additional cost to you. Thank you for your support!
Want to save this recipe for later? Pin it!