One of my favorite weeknight meals is a Thai ginger lime ground pork recipe called Nam Sod. Not only is it easy to make, but it's light, healthy, and has that big multi-layered "pow" of flavor that Thai food is known for.
While visiting Thailand, I loved how fresh the food looked and tasted and it seemed that with each dish, there was a mountain of fragrant herbs like cilantro, mint, lime wedges, and green onions.
This dish is pretty versatile and while it's a ground pork recipe, you could also use chicken. It can be served warm with rice, or chilled like a salad. In fact, I love having it for left overs for lunch! Though, if you decide to chill it overnight, I recommend keeping the peanuts separate and mix them in before serving or share them on the side so they don't loose their crunch.
You can also serve Thai nom sod in lettuce wraps. And we've even done "Thai tacos" and had them in corn tortillas before with a little sriracha or hot sauce on the side. If you're having friends over, having all the ingredients out on a plate makes lettuce wraps or tacos a fun shareable meal.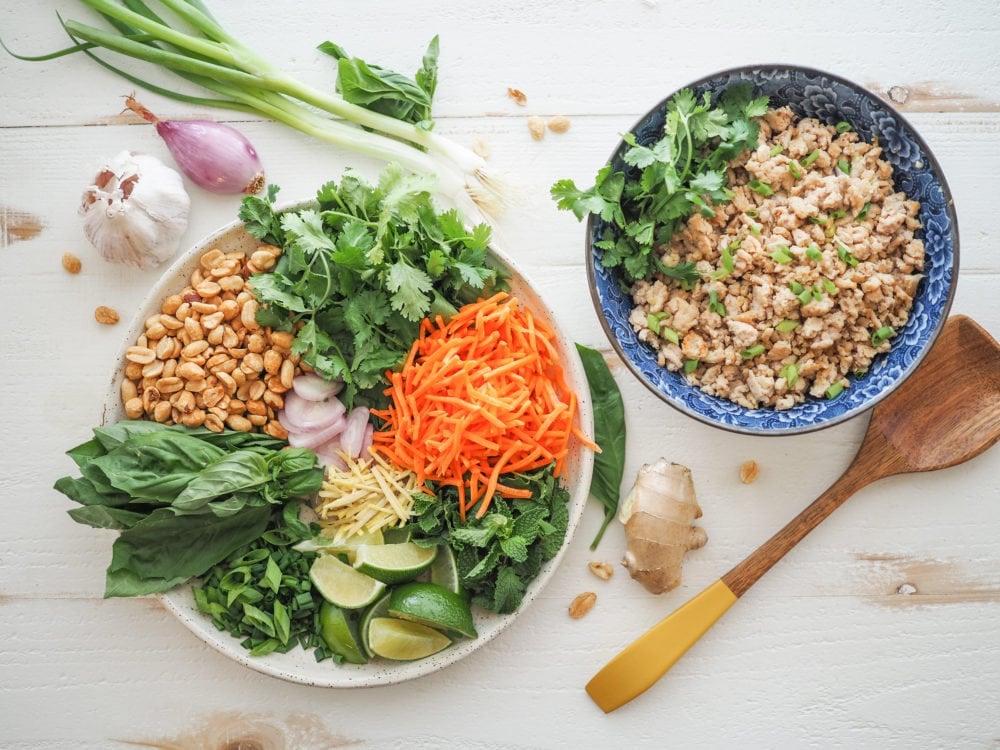 Cooking the ginger lime pork is quick and easy. It's essentially browning the meat in a large pan along with chopped green onions. Then, adding more of the flavorful ingredients like ginger and lime juice toward the end of cooking. The only thing that takes a little time in making nam sod is prepping all the fresh ingredients to serve on the side. But it is SO worth the effort.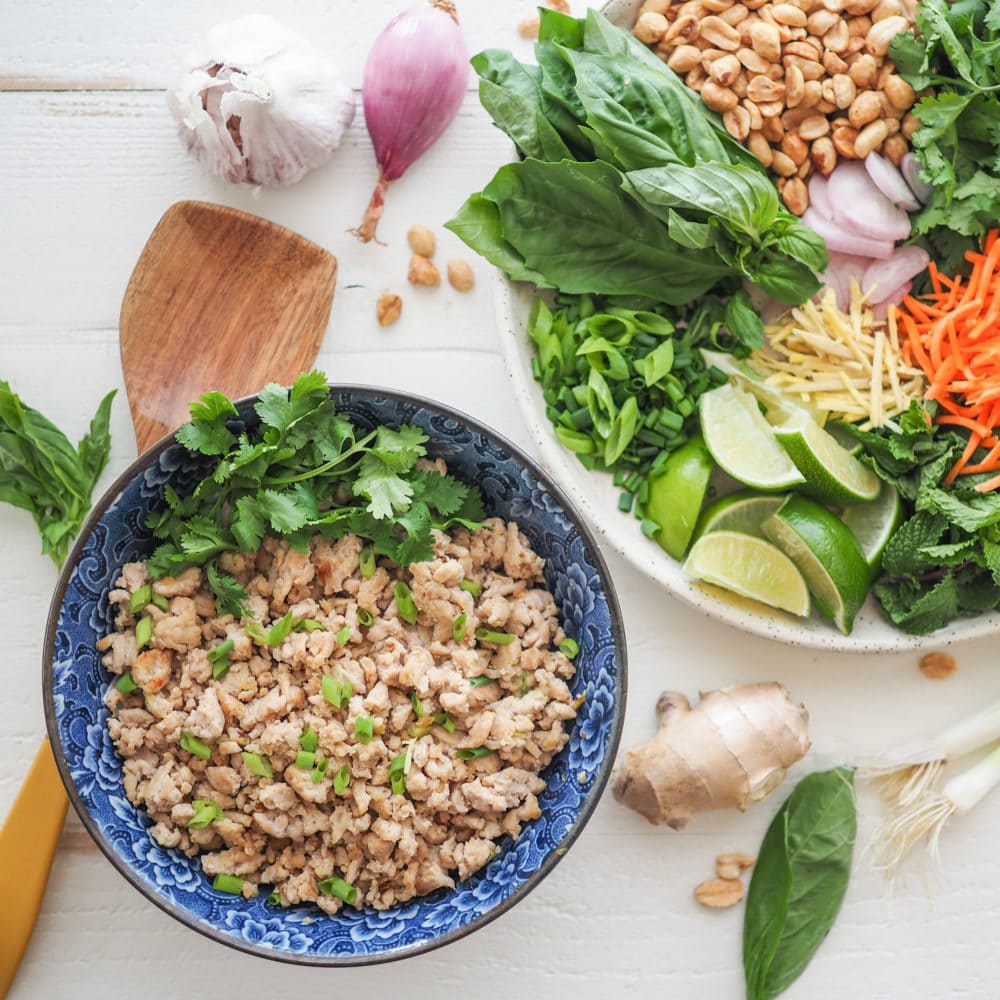 Thai Nam Sod: Ginger Lime Ground Pork Recipe
In Thailand, Nam Sod commonly served in one big bowl family-style as an appetizer as pictured here. I hope you enjoy all the fresh flavors of ginger, lime, and cilantro in this ground pork recipe for Thai Nam Sod. It's one of our favorites!
Looking to make it into a meal? You can serve nam sod with Thai cucumber salad. And for dessert, mango sticky rice.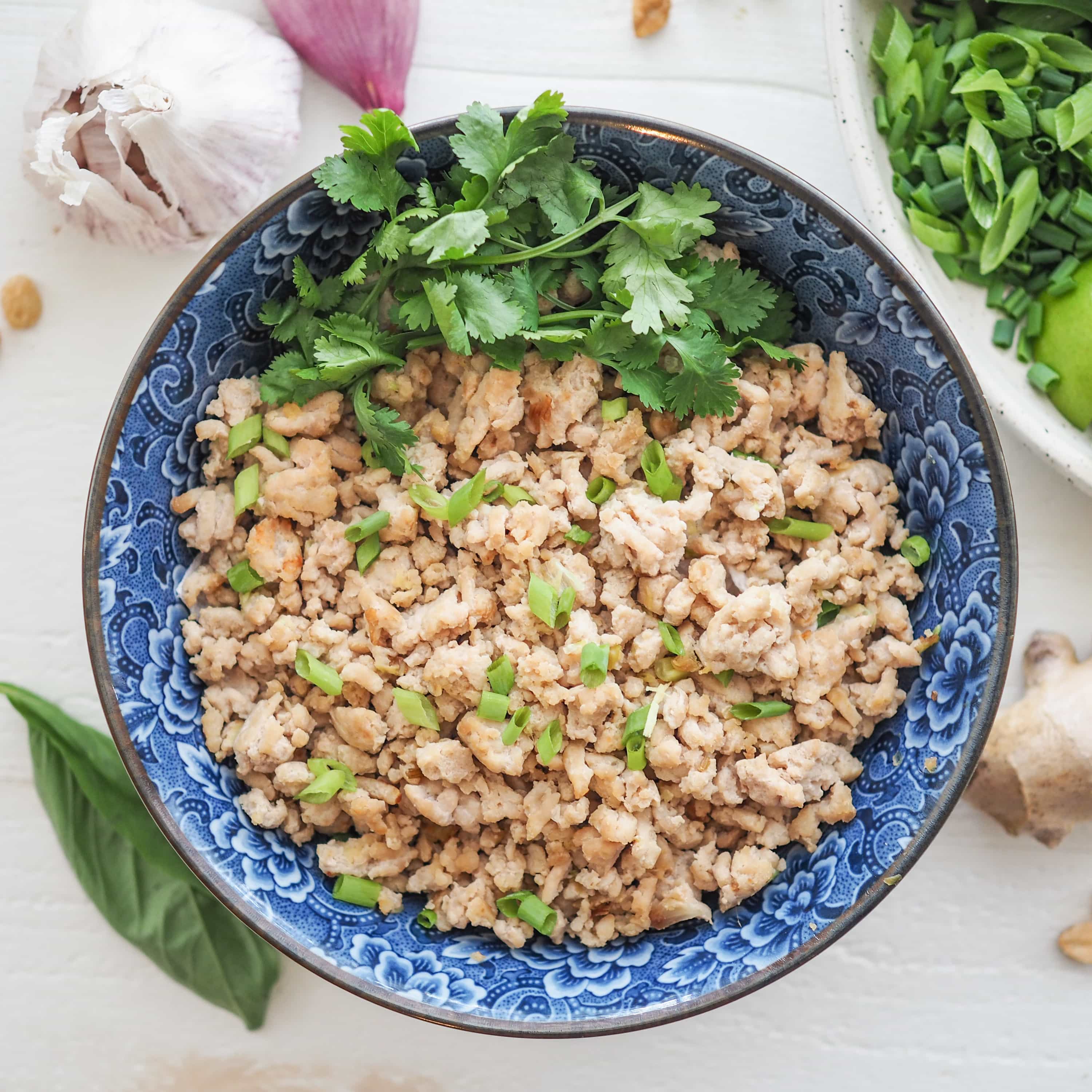 Thai Nam Sod: Ginger Lime Ground Pork Recipe
Ingredients
1 cup fresh cilantro
1/4 cup fresh mint
1 cup fresh lime juice (3-4 limes)
3-4 purple shallots, sliced
3-4 green onions, sliced
1/2 cup roasted peanuts
1/4 cup of finely sliced ginger
1/2 cup minced ginger
1.5 pounds ground pork or chicken
2 garlic cloves, minced
2 Tbsp fish sauce
2 Tbsp cooking oil
Instructions
Start by prepping all of your fresh ingredients -- removing the stems from the cilantro, juicing the limes, and slicing the green onions, shallots, and ginger. For the green onions, you're going to use the whole onion - the white bulb will be sliced and sautéed while the green part will be sliced and served as garnish. For the ginger, it's easiest to peel with a carot peeler, then slice into smaller pieces to add to a food processor to mince and/or slice thinly for the garnish. I have some great tips about ginger in the video below. Once you're ingredients are prepped, the recipe comes together really fast.
Heat the oil in a medium sized sauté pan, then add the sliced white bulbs from the green onions, garlic, and minced ginger and sauté until translucent.
Next, add the pork or chicken and cook thoroughly. When it's about half way done cooking, add the fish sauce and half the lime juice. Save the other half cup.
Once the pork is done cooking, add it to a large mixing bowl, pour the remaining lime juice on top and stir together.
Top with mint, cilantro, shallots, sliced ginger, sliced green onion, and peanuts and mix together. Serve with a side of Thai jasmine rice to complete the meal.
Tip: If you're chilling the salad to serve later, or think you might have some left overs, I'd serve all the garnishes listed above on the side to keep them crisp and fresh.
Want to share this recipe? Tweet it:
Want to save this Thai Ginger Pork recipe? Pin it!