Pork carnitas, a Mexican-style slow cooked pulled pork, are probably my absolute favorite street food. Carnitas literally means "small pieces of meat" which makes them perfect for tacos. I've had them while visiting Mexico in Puerta Vallarta as well as many parts of the southern United States. At home, pork carnitas are a dish that's easy to cook for a crowd and fun to serve with a taco bar to take the stress out of entertaining.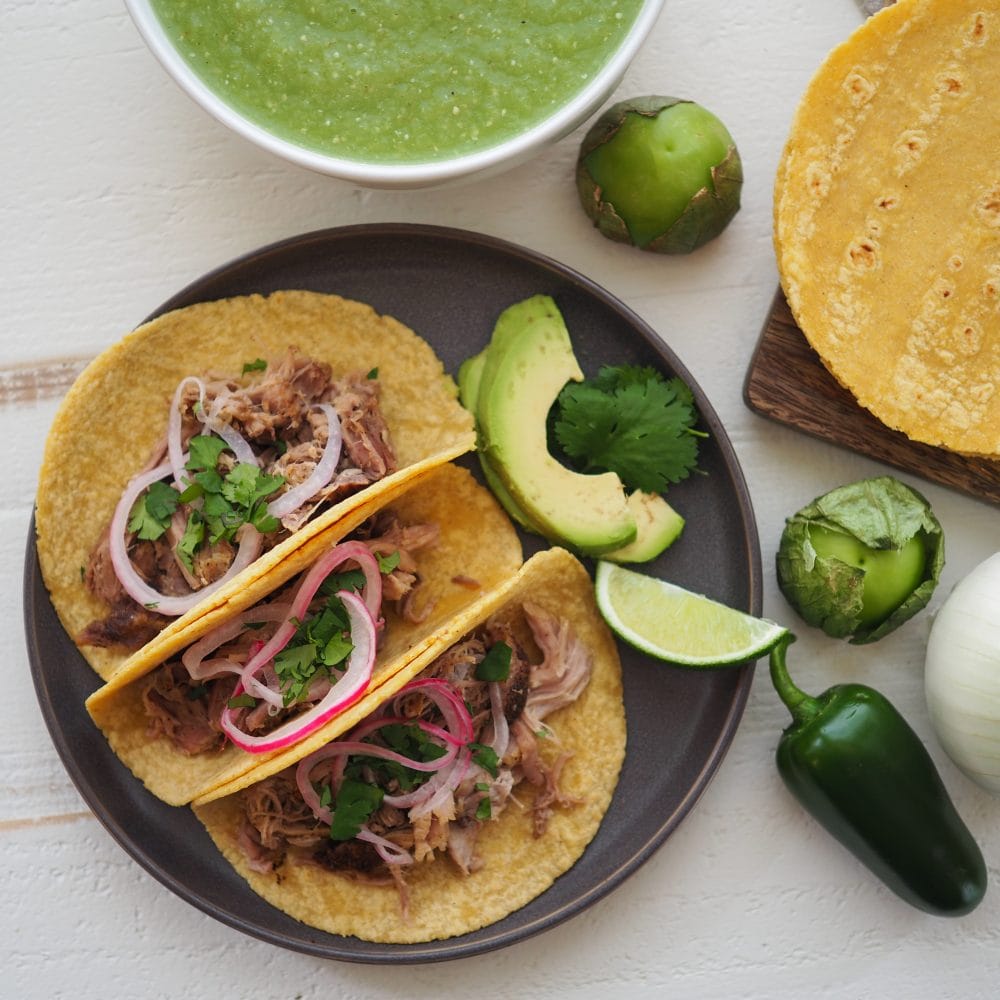 What Kind Of Meat To Use To Make Carnitas
When shopping for meat, look for a 2lb to 6 lb pork shoulder. You'll typically need half a pound per person. If you're in the United States, pork shoulder might be labeled as "Boston Butt" which, I confess, does make me giggle. I learned on Mental Floss, though, that the name comes from the history of storing cheaper cuts of pork in barrels called "butts." Since most came from New England, that's how it became known as a Boston Butt.
Authentic pork carnitas are usually baked low and slow with lard, resulting in a tender roast that has delicious crispy bits from the fat. To save calories (and some time), the recipe below includes broth instead of lard and is roasted in a slow cooker. Though, you could also pop this into your Instant Pot too.
If you wanted to get the edges crispy, you could add it to a skillet to finish it off, but I find that the aroma coming from my crock pot is too tempting to wait. The pulled pork tends to go straight from pot to plate.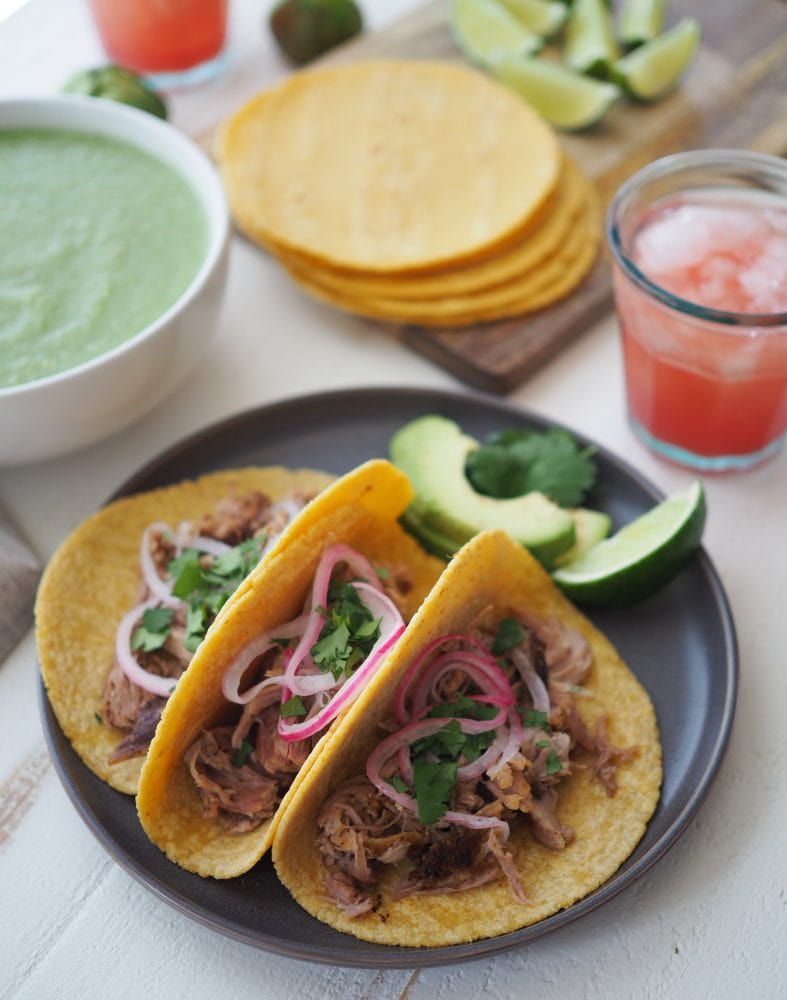 What Goes On Pork Carnitas
Typical street-style pulled pork tacos are fairly simple with fresh ingredients. If you're serving family or friends, prep the following ingredients and arrange them on a plate or cutting board to make a "taco bar" so everyone can assemble their own tacos.
corn tortillas
pickled red onions
fresh cilantro
avocado slices
lime slices
queso fresco
tortilla chips
tomatillo salsa
How To Make Pickled Onions
I listed pickled red onions above, and if you've never made them before, you're in for a tangy surprise. Pickled red onions are so easy to make that once you make them, you'll always keep a jar in your fridge to top sandwiches, tacos, etc. I prefer them to raw onions since pickled onions are less acidic and sharp.
To make pickled onions, thinly slice one red onion using a sharp knife or mandoline. Place in a quart sized glass jar and add 3/4 cup white vinegar and a pinch of salt. That's it. Easy, right? Pickling them just for 15 minutes will take some of the sharpness out of a raw onion, but they're best when marinating in vinegar for a few hours or overnight.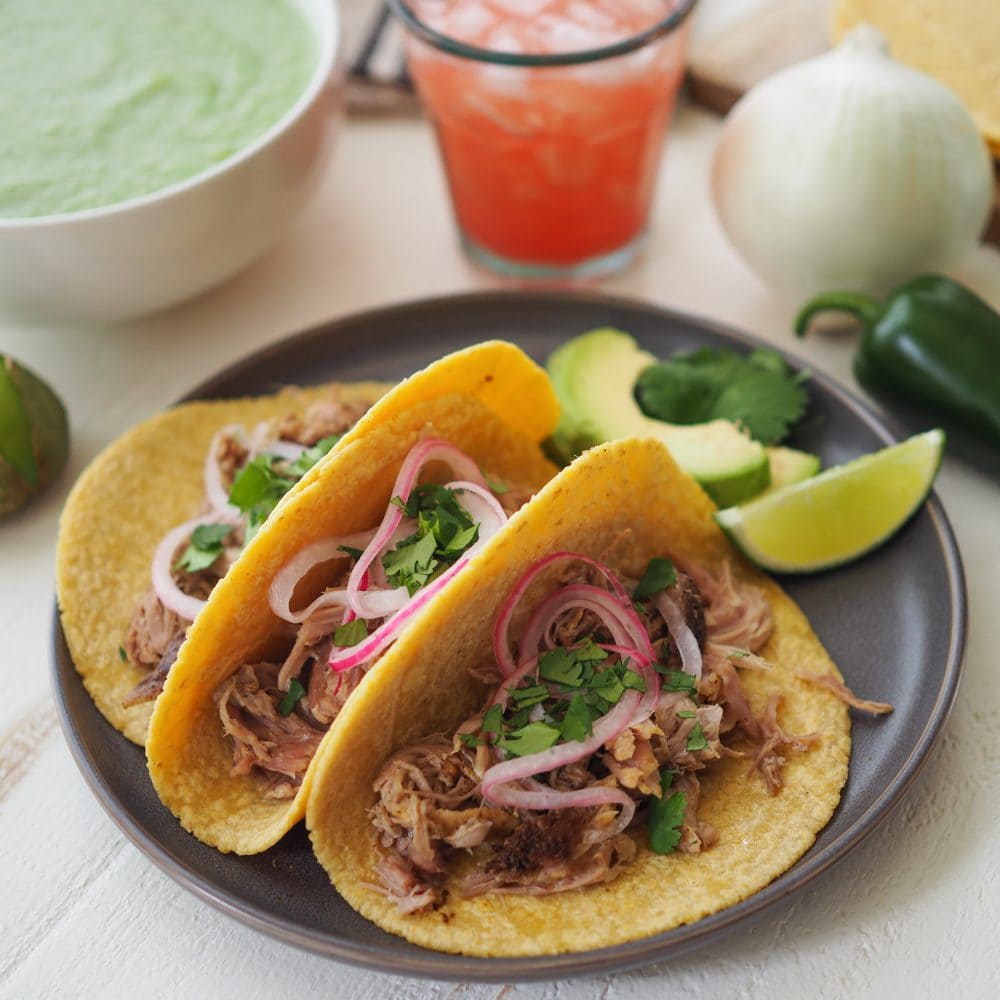 Pork Carnitas – Mexican Style Pulled Pork Tacos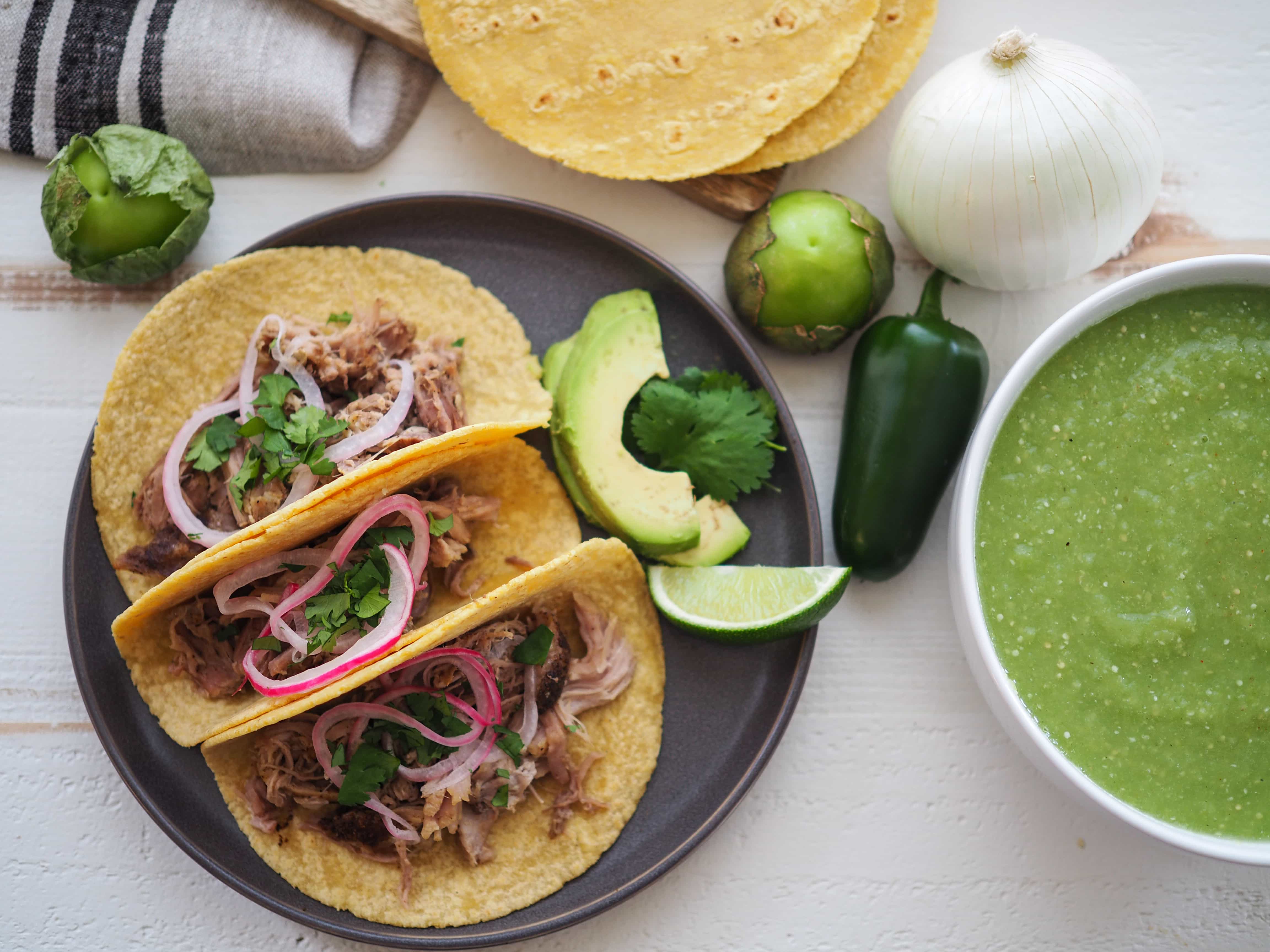 Pork Carnitas
Total Time:
4 hours
10 minutes
Ingredients
2 - 4 pound pork shoulder
2 cups vegetable or chicken broth
1 white onion, coarsely chopped
4 - 5 garlic cloves, minced
2 Tbsp olive oil
1 tsp cumin
1 Tbsp chili powder
1 tsp salt
1 tsp pepper
2 bay leaves
2 avocados
1 red onion
1 bunch cilantro
3 limes
8 -10 corn tortillas
Instructions
Add the olive oil to your slow cooker and turn heat to high.
Rinse the pork shoulder, then dry with a paper towel.
Mix together the spices -- chili powder, cumin, salt, and pepper in a small bowl. Then rub the spice mix all over the pork shoulder and place in slow cooker.
Add 2 cups of broth, coarsely chopped white onion, and bay leaves. Slice one lime in half, squeeze the juice into the slow cooker, then add the two lime halves too.
Cover and cook on low heat for 8 hours, or high heat for 4 hours. Pork is done when it can easily be pulled apart with two forks.
When ready to serve, slice the avocado, red onion, and remaining limes. Arrange the avocado, red onion, cilantro, lime, and tortillas on a large plate or cutting board for taco assemly.
What To Serve For Dessert
Here are a few easy desserts that you can make ahead of time and have chilled in the refrigerator ready to serve.
Save this recipe and Pin it! 🙂