This Thai-inspired mango pumpkin soup is SO delicious! The layering of flavors between the creamy pumpkin, the sweetness of the mango nectar, the freshness of the ginger and citrus, it is packed with flavor.
The recipe is back from my innkeeping days, to the photos are a little old, but the flavor is all there. Hope you enjoy it! I've kept the story, but you can skip down to the recipe if you want to just get to it. There's also step-by-step photos for how to make this pumpkin soup in case you get stuck on any of the steps. Enjoy!
THAI PUMPKIN SOUP BACKSTORY
Even though breakfast is my favorite food group, I do eat other foods. For instance, I love fish. I just don't usually cook them. f it wiggles, has scales, gills, tales, and ESPECIALLY eyeballs. I can't see it until it's prepared. Call me squeamish, but I just can't look my food in the eye. I know, some day I'll have to face my fear and chop off a fish head and roll some sushi, but today is not that day.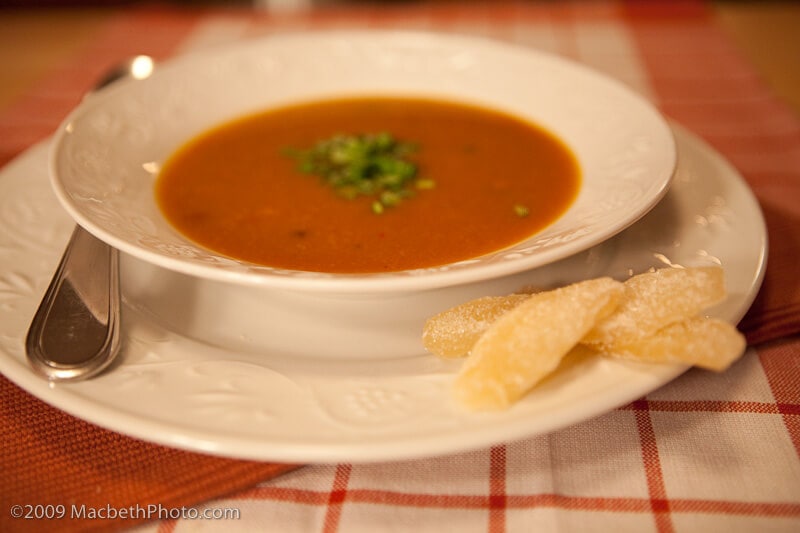 So that made things real interesting when I received a couple of recipes from Elisse at the Elkhorn Inn in West Virginia. She refers to her husband, Dan, as Hot Chef. He's definitely a huntin-fishin-spear-em-up-cook-em-out-on-the-grill type of manly man. Retired from the US Army and a chef, he's the type that you'd want to be-friend on the show Survivor. When it comes to smokin, roastin and grillin … guests from NYC say he can kick Bobby Flay's butt any day.
But I'm a girlie girl. I can't look my food in the eye. I was even considering buying a barbie pink grill yesterday … and unless my foodie friends came over it would probably only see vegetables. So, I tackled the one recipe that didn't involve prepping fresh fish or smoking ribs (although I'll love eating them both!). Pumpkin Mango Soup.
Pumpkin and mango are two ingredients I can handle and I've never had them married together in one dish before … so this is the dish I tried. Call it a "brunch" recipe. It would actually make a great Thanksgiving appetizer so it fits perfectly with the season.
This is a signature dish at the Elkhorn Inn and the ingredients are simple, fresh and it's one of my favorite regional cuisines … Thai. Call me a nut for peanuts, but it's pure comfort food for me.
WHAT YOU'LL NEED FOR THAI PUMPKIN SOUP
2 Cups chicken broth
2 cups pumpkin puree
1 1/2 cups mango nectar
1/4 cup chunky peanut butter
2 teaspoons rice vinegar
1 1/2 tablespoons minced green onions
1 teaspoon grated fresh ginger
1 tablespoon chopped fresh cilantro
1/4 teaspoon crushed red pepper
1/2 teaspoon grated orange rind
1 garlic crushed garlic clove
candied ginger for garnish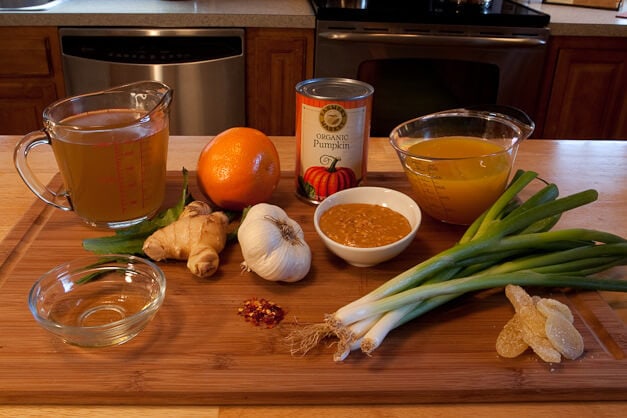 Thai-Inspired Mango Pumpkin Soup: Step-By-Step Photos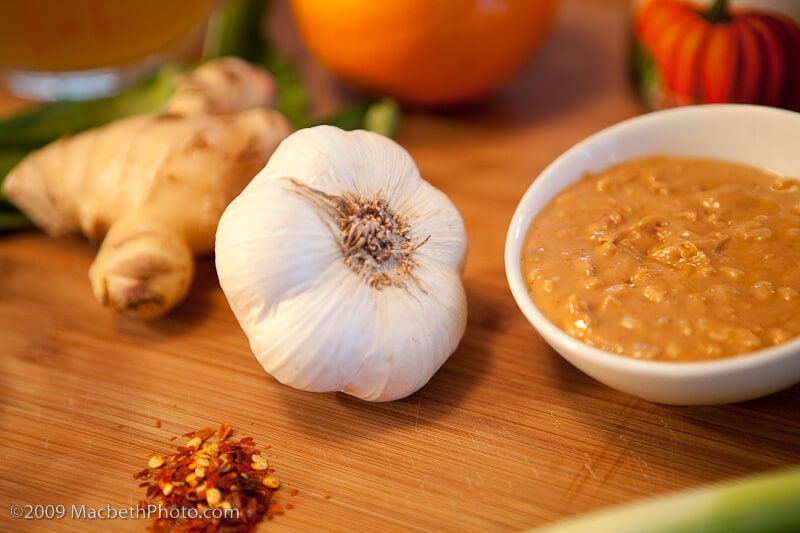 There are a lot of ingredients in here that individually are my favs: ginger, garlic, peanut butter, pumpkin, mango. So it's gonna be real interesting to mix them all together. Similar to gathering all your unique friends over for a party, you wonder, will they all get along?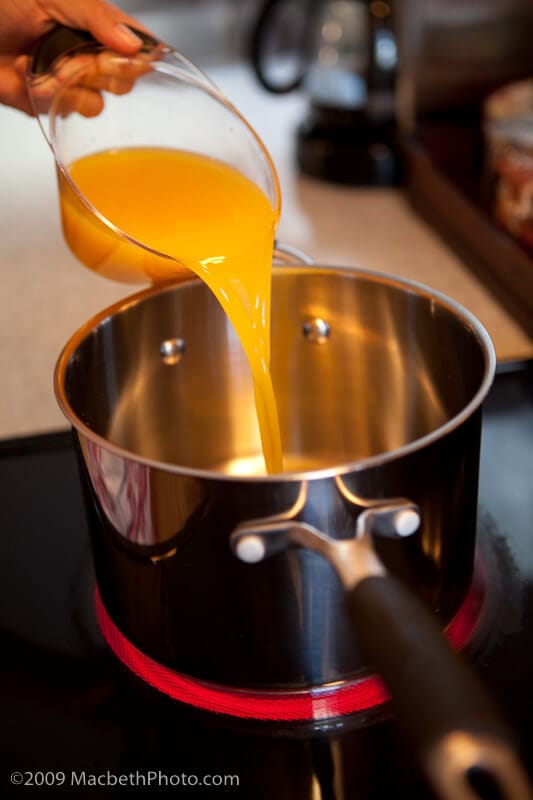 Combine the chicken broth, mango nectar and pumpkin puree in a large pot.
(Make sure to get plain pumpkin, not pumpkin pie filling!)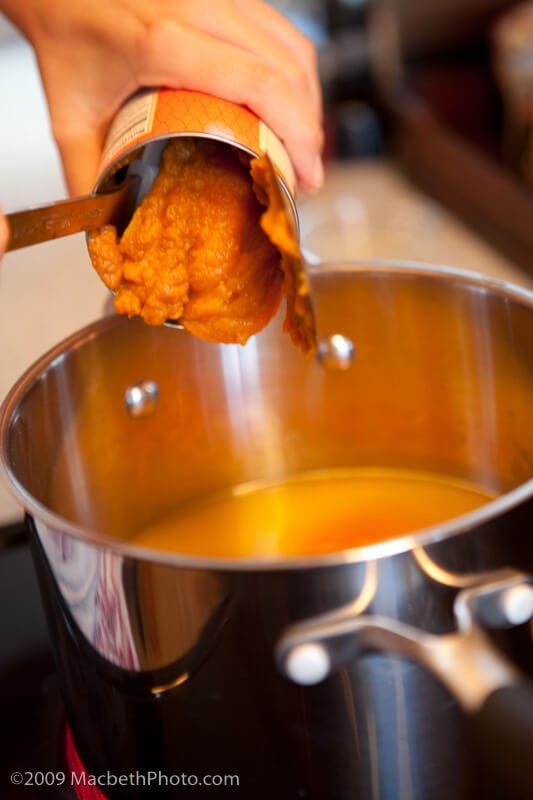 Mmm. It's getting steamy. Can you smell it? Yum! And we haven't even added the good stuff yet. Cover, reduce heat and simmer for about 10 minutes.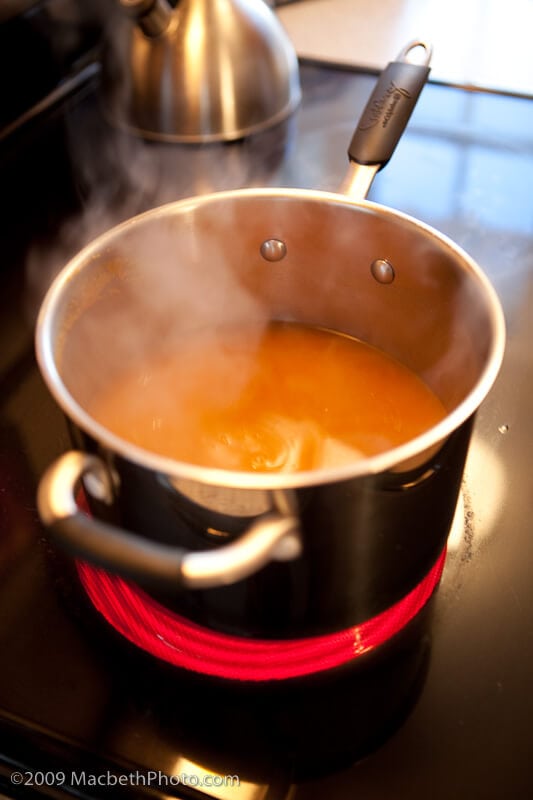 While it's simmering, you can prep the other ingredients. Such as chopping your green onions …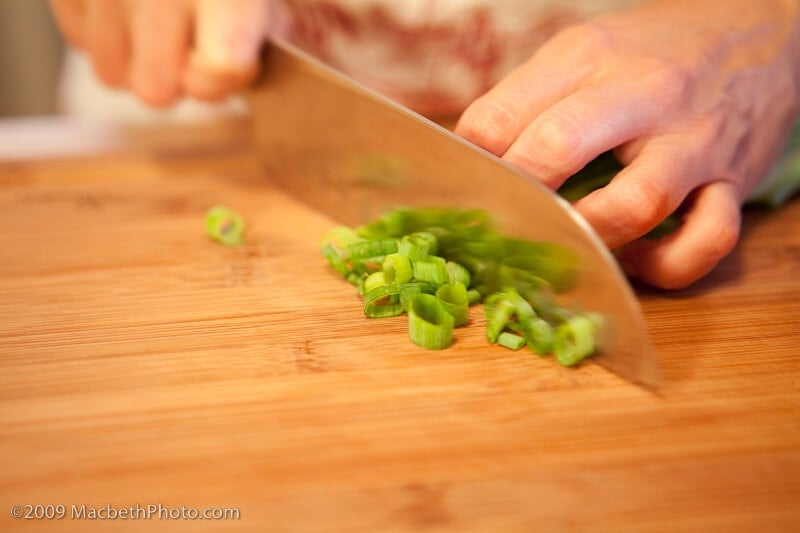 And grating fresh ginger. Jaden with SteamyKitchen.com actually shared this little secret trick with me last weekend when we were playing around in my kitchen. She had an awesome recipe for wings that had a hint of ginger. And all this time I had been "chopping" my ginger. Sheesh! What was I thinking? This was one of those "aaaaaaah" moments where I realized I could save a ton of time AND pull out a lot more flavor. Take off the skin/bark …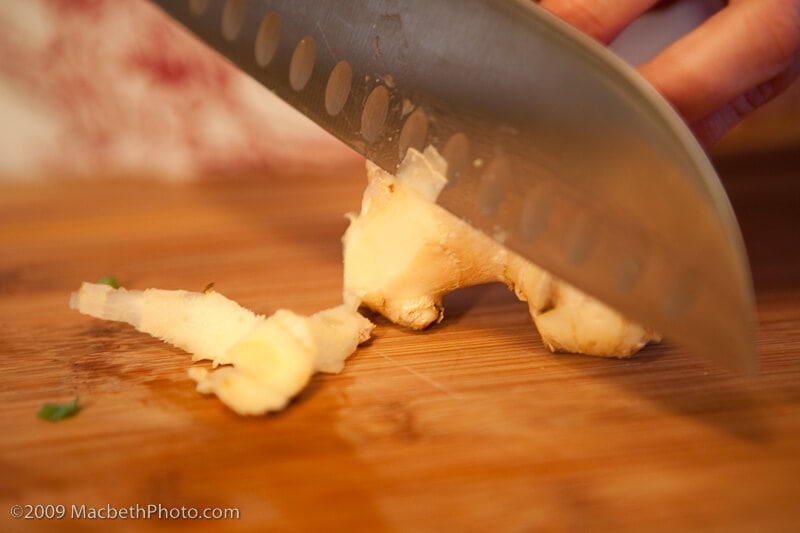 And then grate. (I use this trick now when making ginger tea or ginger limeade.)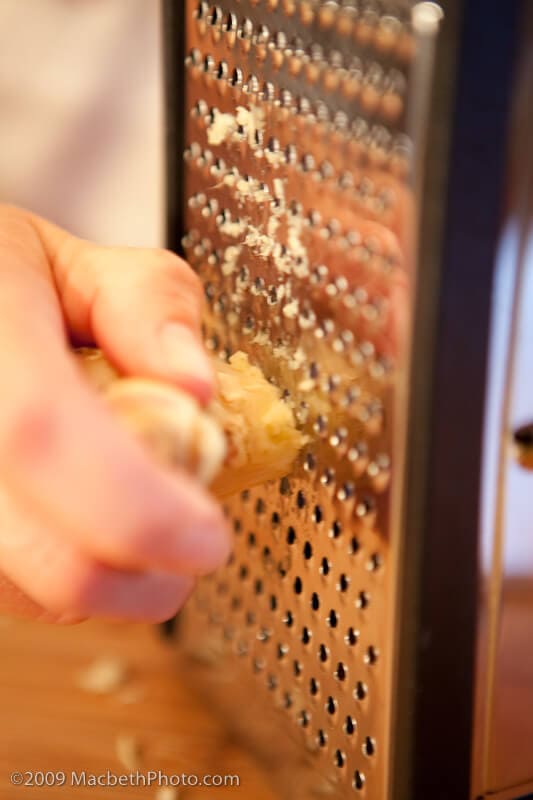 Then some orange …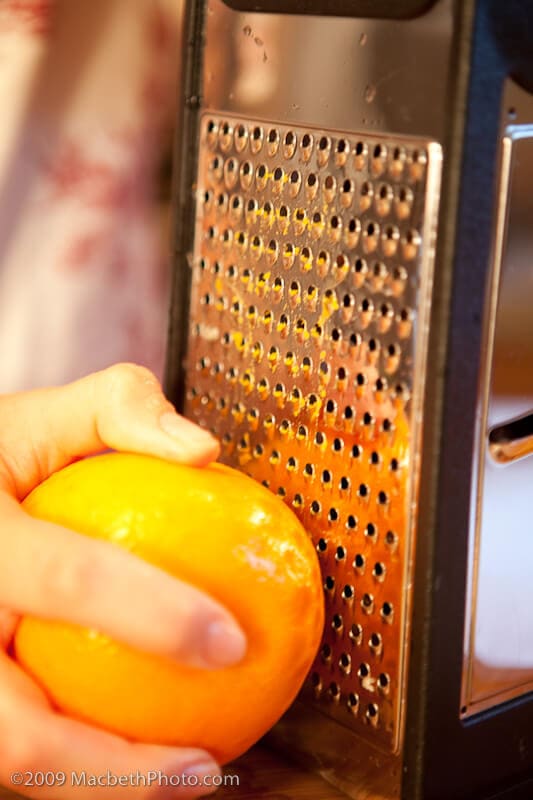 Now your kitchen should smell fresh and clean … orange and ginger zest molecules floating all around.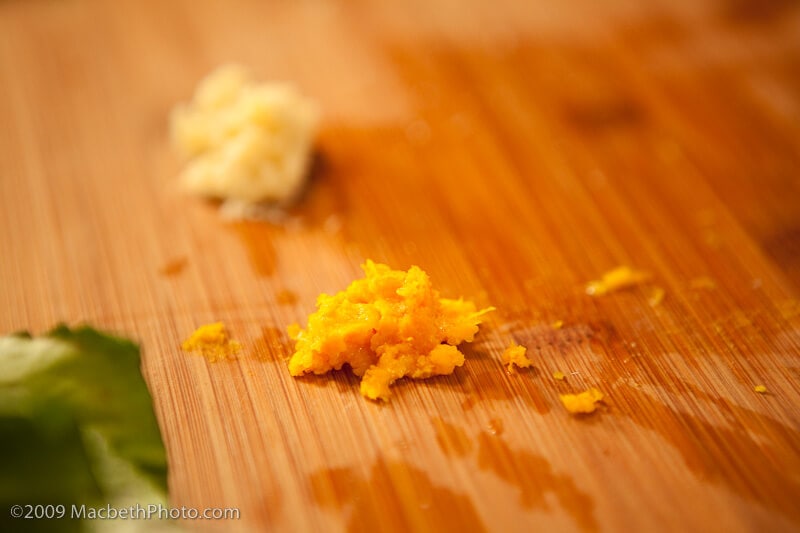 Scoop out about a cup of the soup mixture into a bowl or measuring cup.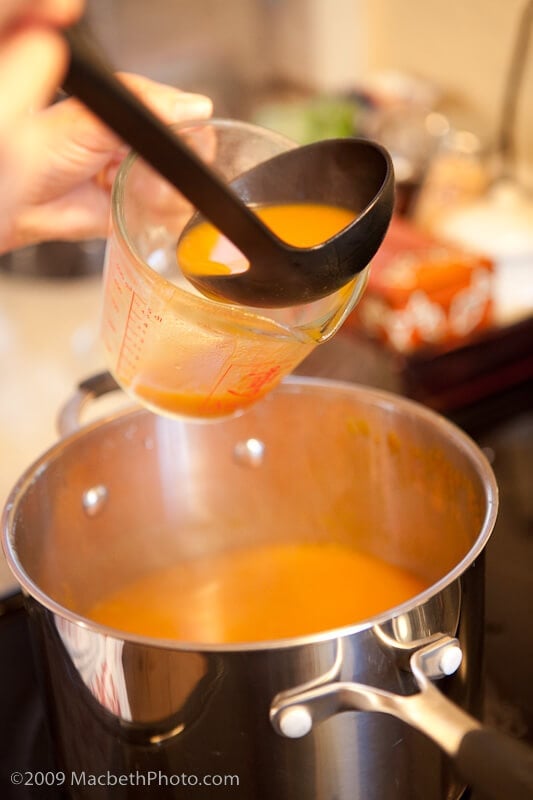 Then add in the chunky peanut butter and stir until dissolved. Add back into the soup pot.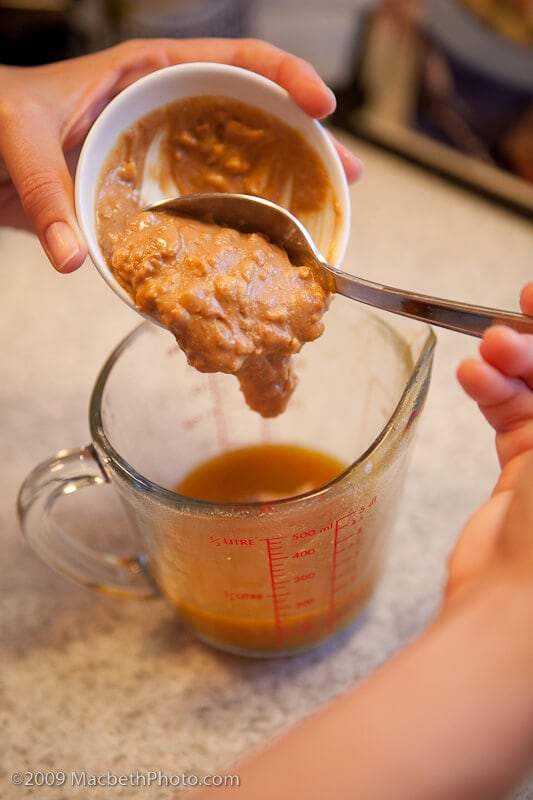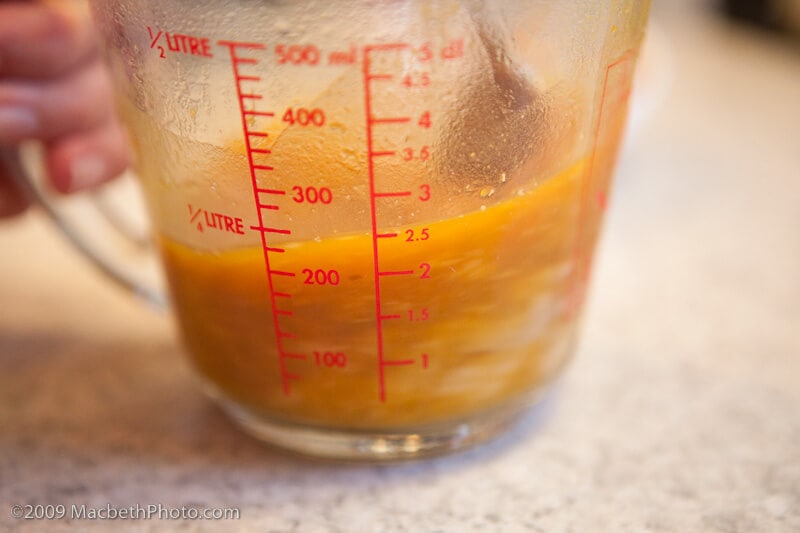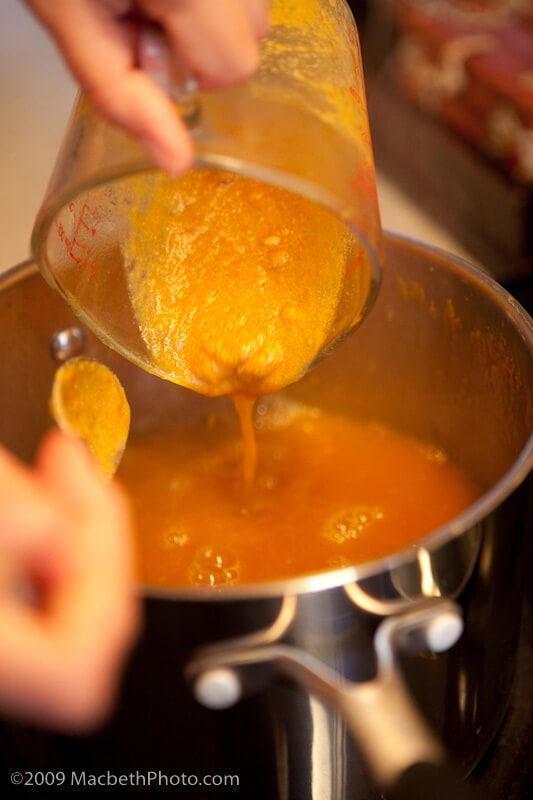 Stir in the rice vinegar …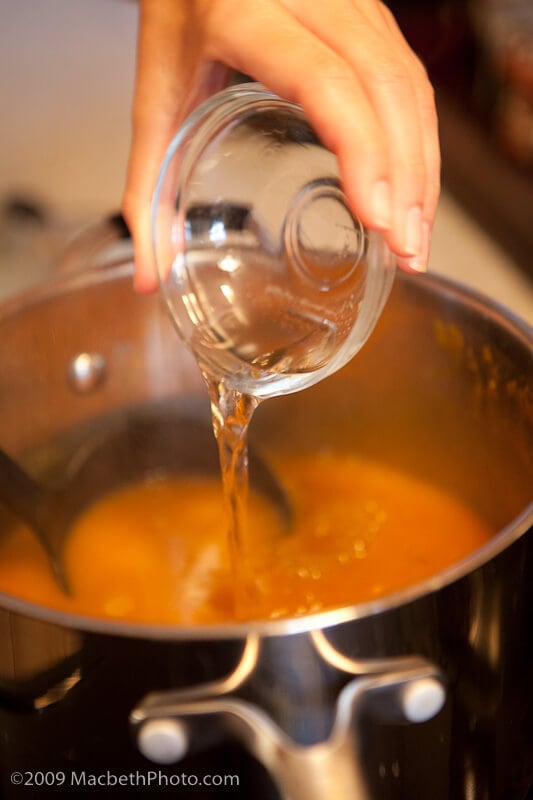 green onions …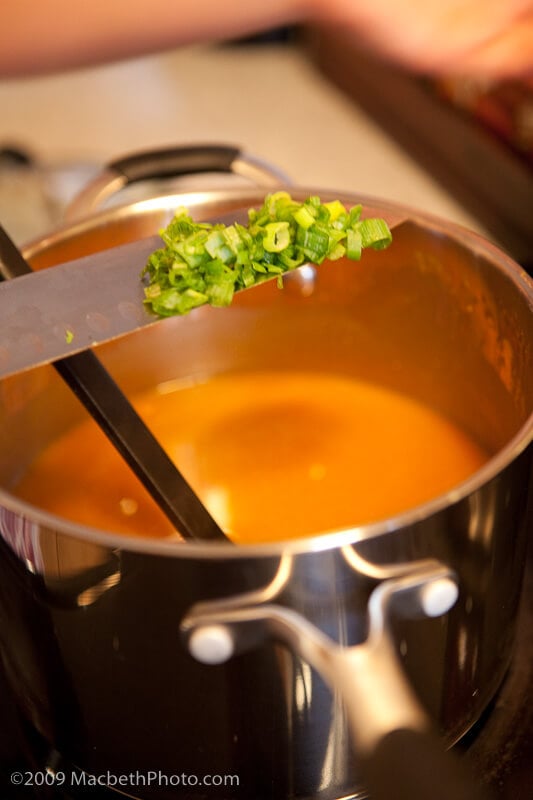 ginger and orange …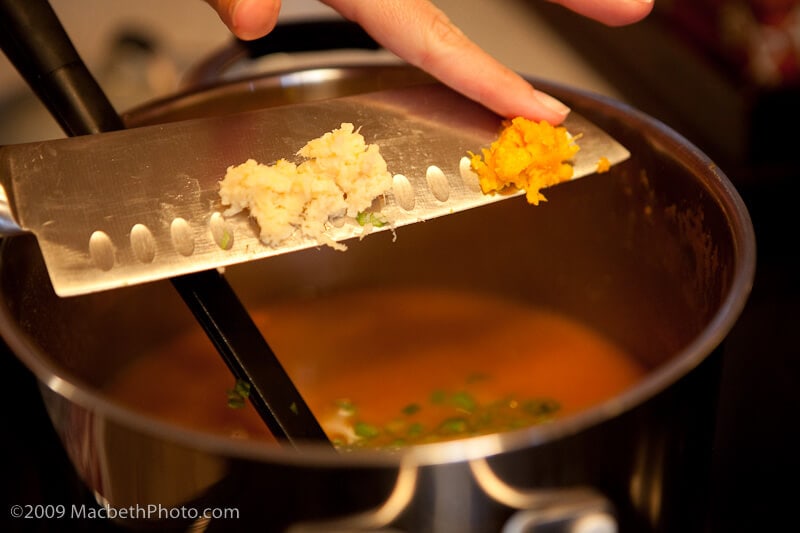 red pepper …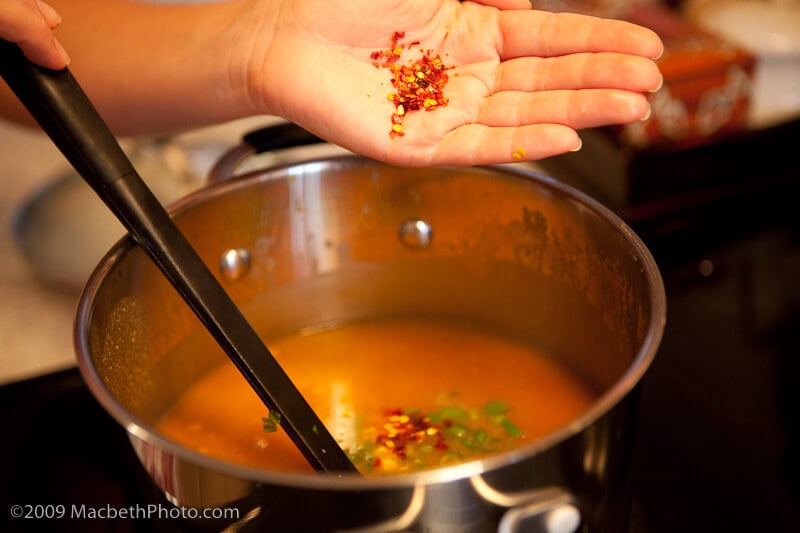 … and garlic. Just use a garlic smasher and squeeze it right into the pot.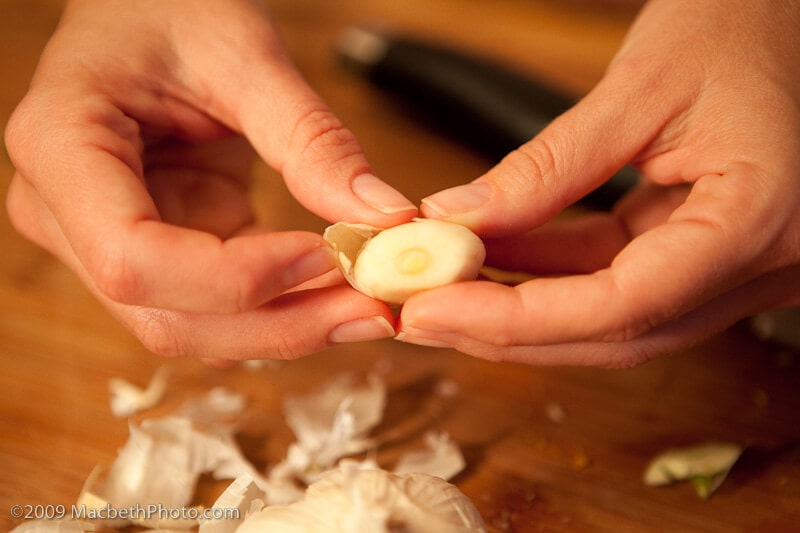 Stir together an let it simmer for about 3 to 5 minutes.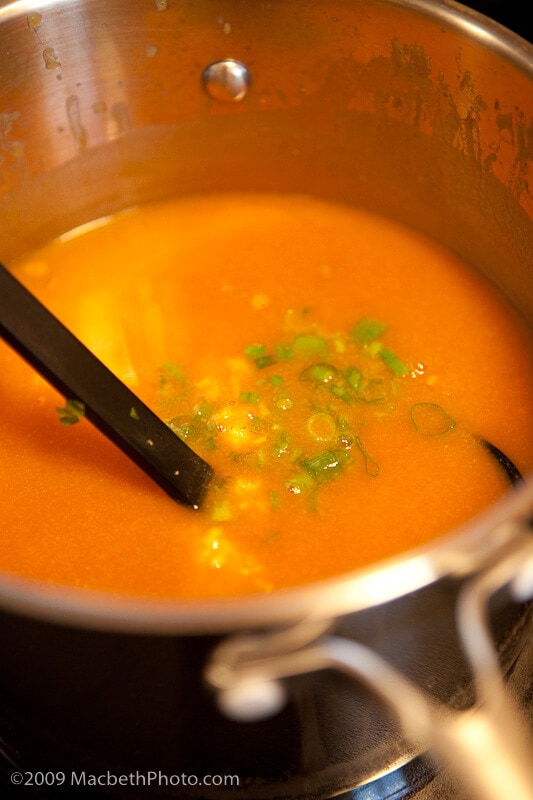 Chop up some fresh cilantro.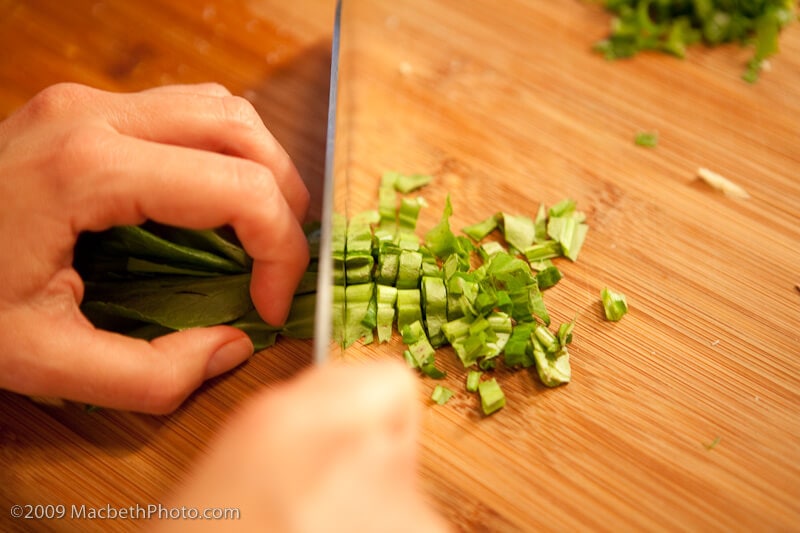 Garnish and serve!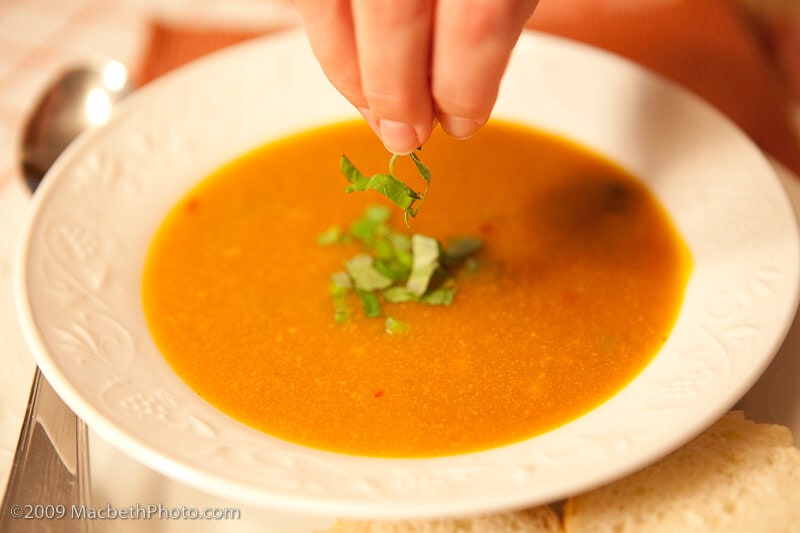 This soup was really fabulous. You can really taste all the flavors and they DID get along! First the mango, then the bite of ginger, then creamy peanut, and then a latent heat from the red pepper. Yum!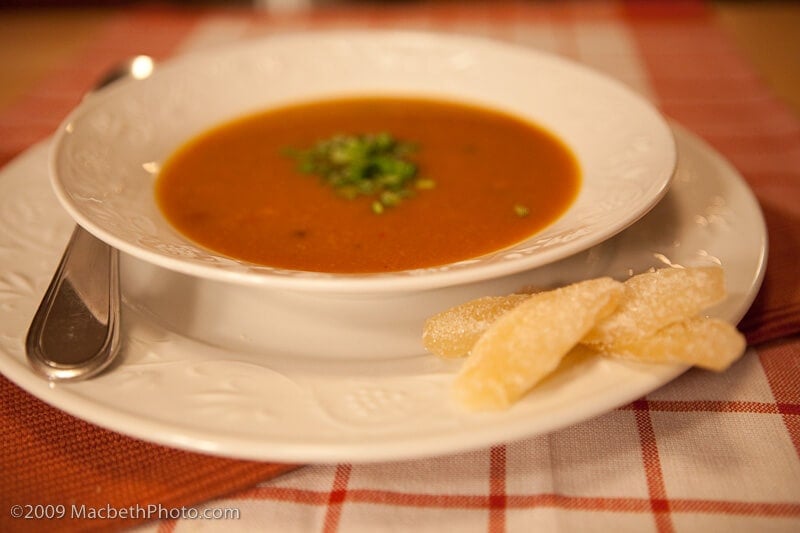 Elkhorn Inn's Asian-Style Mango Pumpkin Soup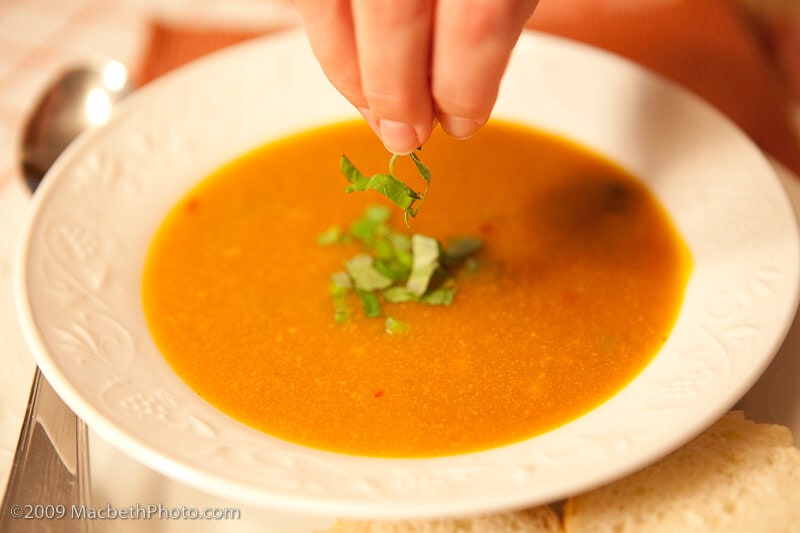 Mango Pumpkin Soup
Ingredients
2 Cups chicken broth
1 1/2 cups mango nectar
2 cups pumpkin puree
1/4 cup chunky peanut butter
2 tablespoons rice vinegar
1 1/2 tablespoons minced green onions
1 teaspoon grated fresh ginger
1 tablespoon crushed red pepper
1/2 teaspoon grated orange rind
1 garlic clove, crushed
Garnish:  fresh chopped cilantro, sugared ginger slices, mango slices
Instructions
Combine chicken broth, pumpkin puree and mango nectar in a large pot and bring to a boil. Cover, reduce heat and simmer for 10 minutes.
In a large cup or bowl, combine 1 cup of the hot pumpkin soup mixture with the peanut butter and stir until well blended, then return mixture to pot.
Stir in vinegar and the rest of the ingredients and simmer for 3 minutes until the flavors have blended and it's heated through.
Pour into soup bowls and sprinkle with chopped cilantro. Serve with a thin slice of mango and sugared ginger.
Originally published Sep 18, 2009. Updated 2019.