Originally, chocolate was not served sweet at all, but spicy. This recipe for a spicy tomato chocolate soup from Chestnut Street Inn really highlights chocolate in it's most original form, savory and multidimensional.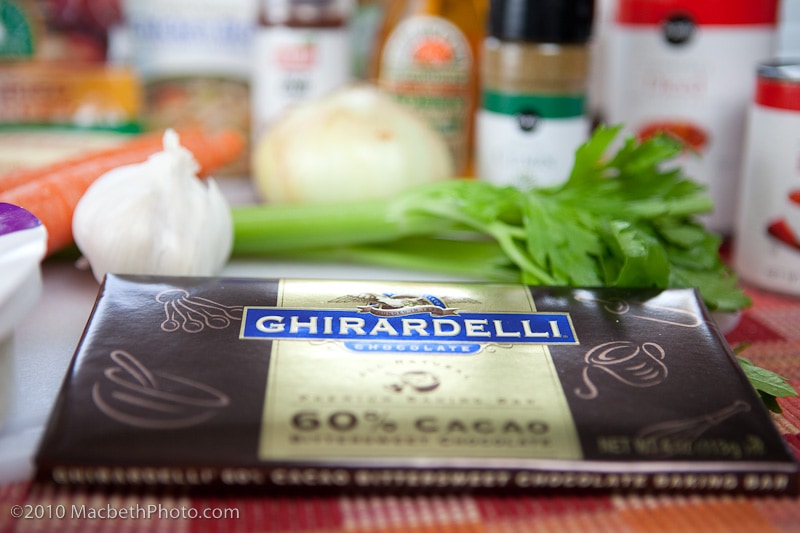 The Origins Of Chocolate
I found the word Kah KOW when I looked up the origins of chocolate — the phonetic spelling of cacao. It just sorta jumped off the page at me. Sounds like a cartoon, "pah POW," doesn't it? As if it should be in a little cloud star burst in a comic strip when all hell is breaking loose. I think I'll add it to my repertoire of socially acceptable food expletives. Instead of yelling something profane, I'll really just be screaming CHOCOLATE! And since chocolate is a great comfort food, it can also be a silky comforting expletive slipping across my tongue.
The last time I screamed expletives while cooking, it was simple 6 ingredient recipe that went awry. One that I had previously done countless times just perfectly, but then really "Kah KOW'd" it up. So then I dove into this 20- ingredient, multi-step, hard-to-find-spices recipe and it turned out great. Go figure?! I guess because some of the ingredients (like Harissa and Hungarian Paprika) were not in my spice rack, and the fact that I'd be combining chocolate with tomatoes, maybe that gave me pause and I paid more attention to what I was doing.
This Chocolate Tomato Soup Is Worth The Effort
The multiple steps are worth it. And act of cooking this unusual combination of flavors unfolds like a TV drama. Make this savory tomato chocolate soup as an appetizer to spice up any dinner. Enjoy!
I had a heck of a time finding Harissa. I looked all over the supermarket. This is one spice you might need to purchase online. In my creative zen at the grocery store, since Harissa is a type of chili paste, I figured I could make a substitute at home. And while it tasted great, it's not really the same thing. So here are some references for you. There's Harissa you can buy online, or you can make Harissa at home.
After reading the Harissa descriptions as "hot" and "pain is good," I'm kinda glad I went with my homemade version. I like the taste of a little kick, but not so spicy that I can't feel my tongue. This can definitely be adjusted to accommodate your comfort level of spiciness.
Step-By-Step Photos
On with the recipe! Heat oil and butter in a stock pot over medium heat. Add chopped onion and sauté until translucent. (Get out the Kleenex, chopped onion is a sure tear jerker.)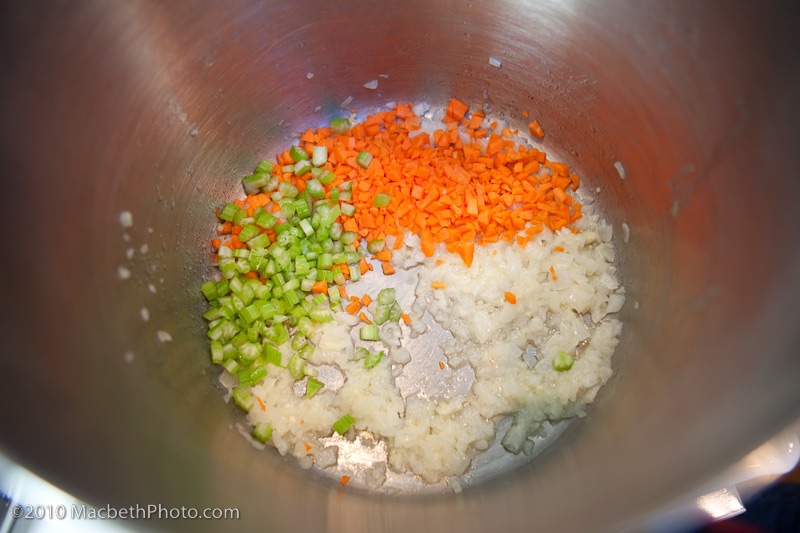 Now the Italian favorite comes in and makes a squishy (but well scented) mess of things — 3 garlic cloves. And now all the characters are getting thrown together in the same plot … I mean … pot.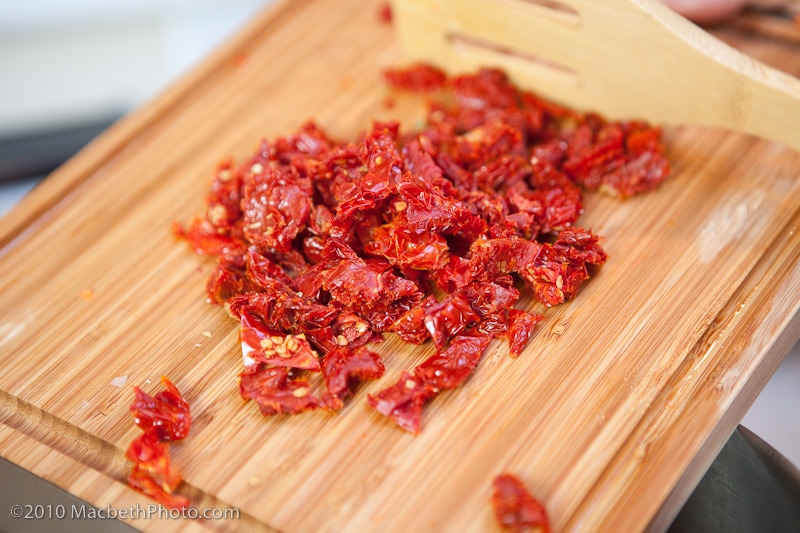 Here comes the heroine of this savory tomato chocolate soup story — Hungarian Paprika. She's also a bit spicy and mysterious, but words like "pain" are not associated with this spice. I happen to think paprika has a sort of bacon flavor to it.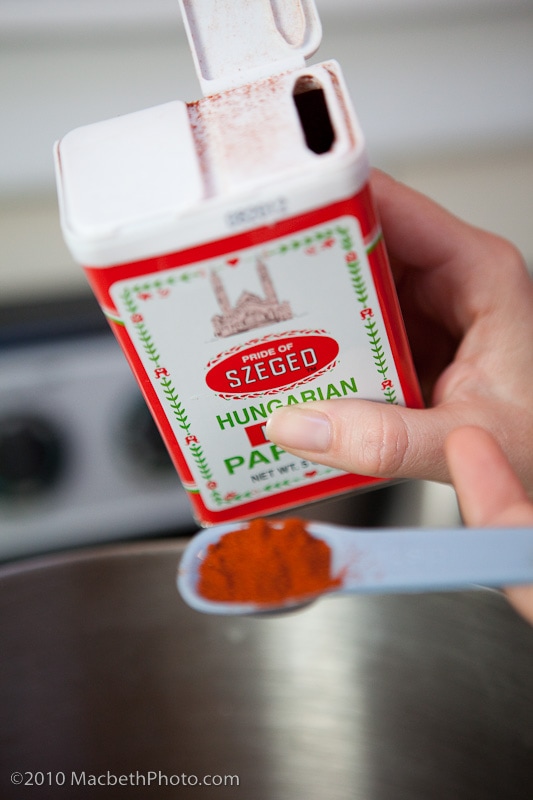 Add a little wine to the moment and the plot thickens. Funny tangent … I was cooking at my friend Beth's house and had called and asked her if that Magnum of chardonnay I saw in her fridge only a couple of days ago had about a 1/2 cup left in it that I could cook with. Nope. Lush. I told her I'd bring over a fresh bottle … she said she'd drink that too!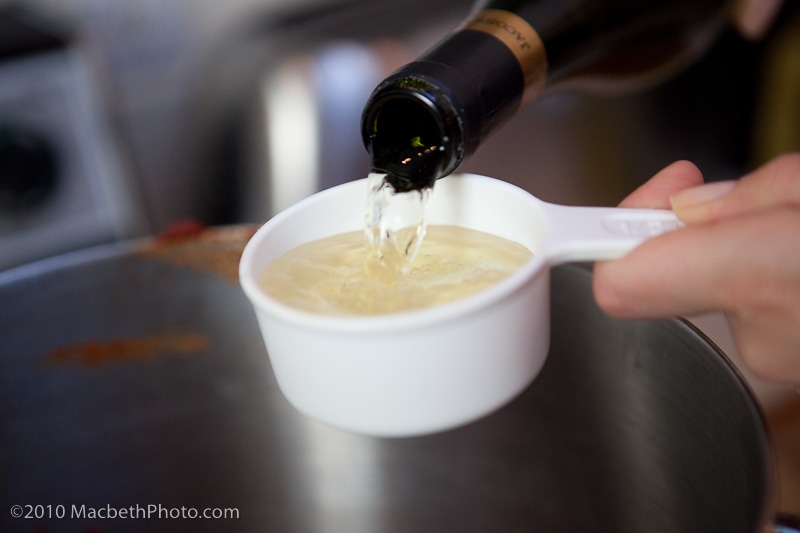 The plot thickens … add the rest of the ingredients listed in the recipe and let it simmer for 45 minutes to an hour.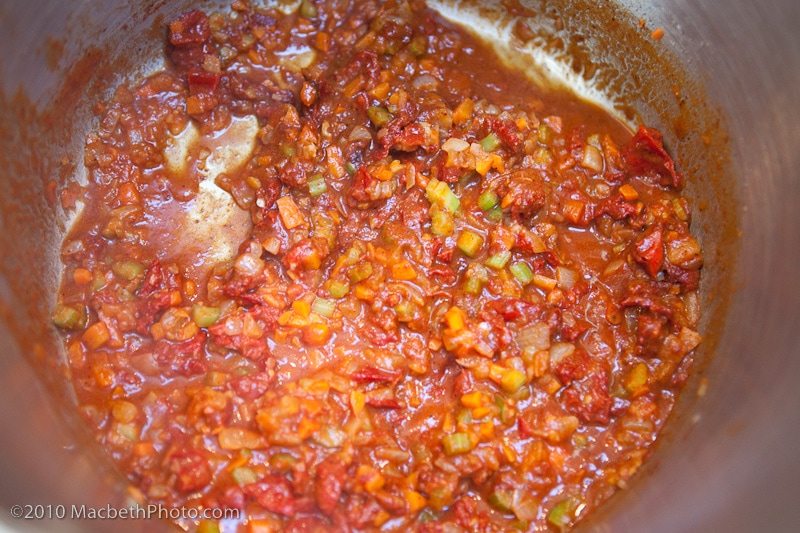 Side note/Sub-plot … I actually had to blend twice. The volume of the soup was too big for the blender So while you may SEE one blender shot, know that it took two rounds of blending. And because it was hot it sort of exploded (just a little) and got bits of red soup all over the place. Told you there was drama.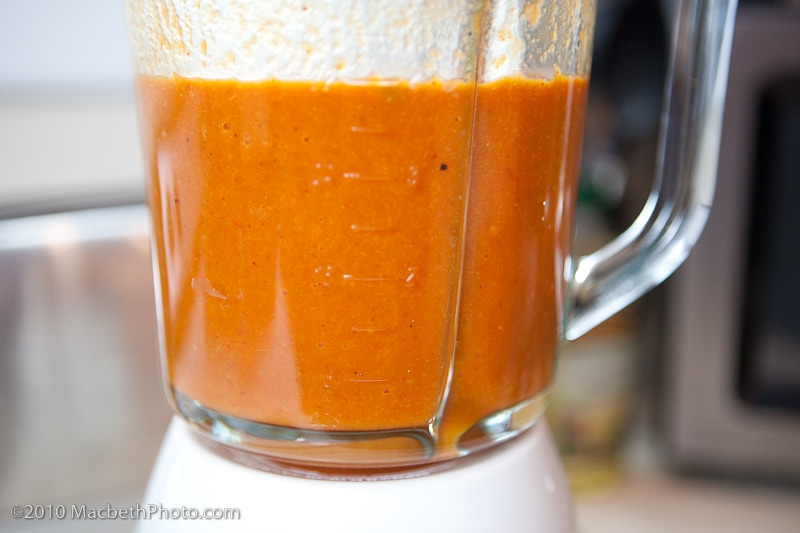 Add the blended soup back to you stock pot … add the greens. Then add the hero … kah KOW! Otherwise known as chocolate.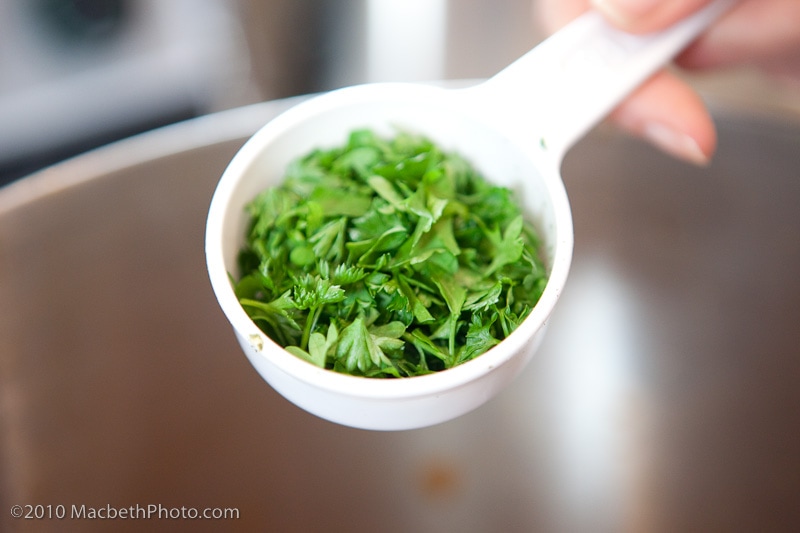 He's smooth and rich, and while a bit bitter, he still absolutely melts with the other characters. Add a little honey to sweeten it up and cut the acidity.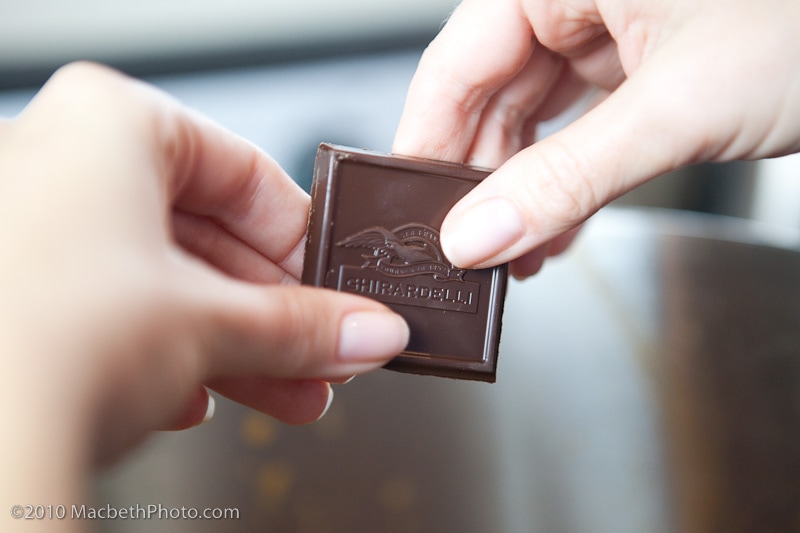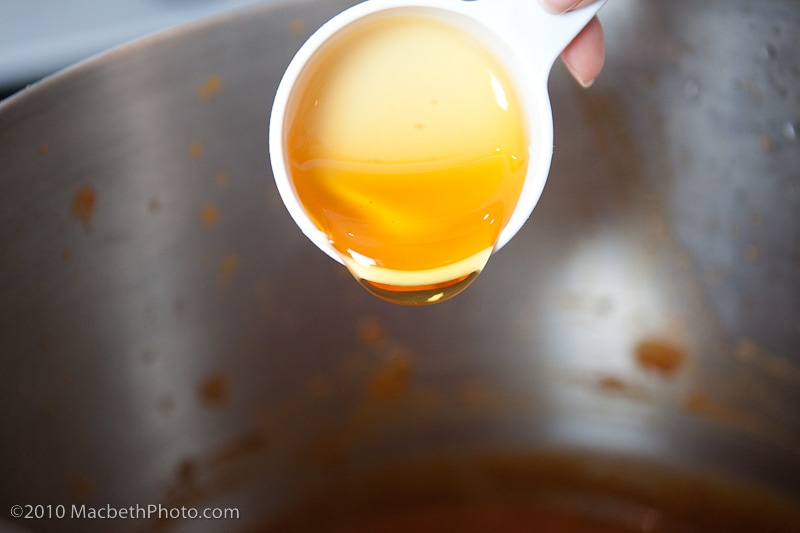 Sprinkle on the cheese for a nice happy finish! The End! Enjoy!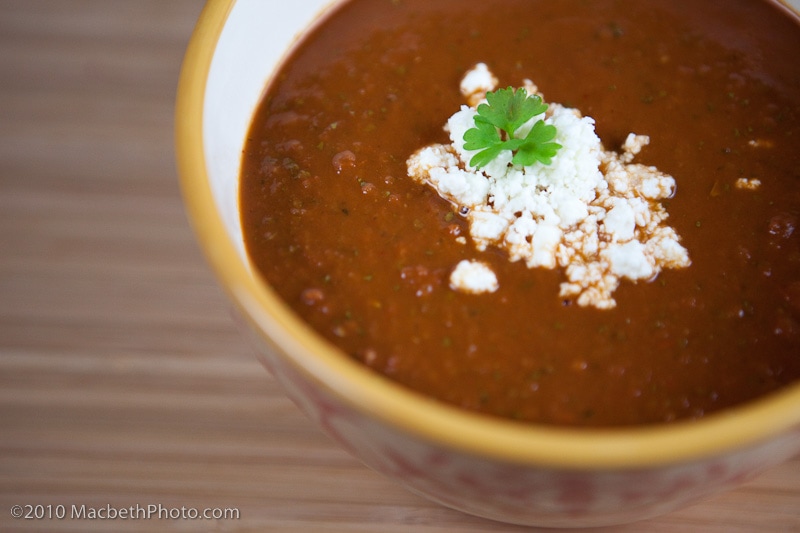 Spicy Tomato Chocolate Soup
from Chestnut Street Inn, Sheffield IL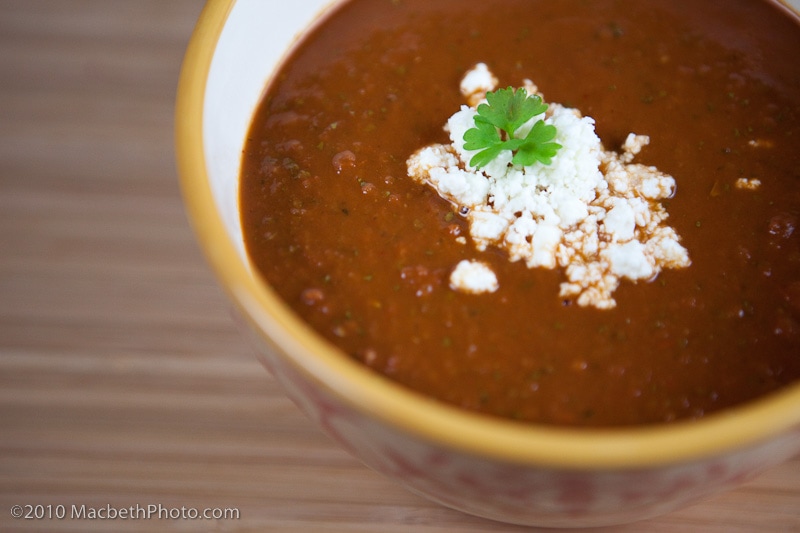 Spicy Tomato Chocolate Soup
Total Time:
1 hour
15 minutes
Ingredients
2 Tbl Extra Virgin Olive Oil
2 Tbl Unsalted Butter
1 Onion, Diced
3 Cloves Garlic, Minced
2 Carrots, Peeled and Diced
2 Celery Stalks, Diced
1 Cup Sun-Dried Tomatoes, Sliced
Kosher Salt and Freshly Ground Pepper to Taste
3 Tbl Harissa (North African Chili Paste)
2 tsps Hungarian Paprika
2 tsps ground Cumin
1 tsp ground Coriander
½-3/4 cup Dry Sherry or White Wine
1-28 oz Can Diced Tomatoes
4 Cups Chicken Broth
¼ Cup Cilantro, Chopped
¼ Cup Italian Parsley, Chopped
3-4 oz Bittersweet Chocolate
2 Tbl Honey or to Taste
Queso Fresco, Goat Cheese or Crème Fraiche to Garnish
Instructions
Heat oil and butter in a stock pot over medium high heat until butter melts.
Add onion and sauté until translucent, approx. 5 mins. Add garlic, carrots, celery and sun dried tomatoes.
Season with salt, pepper, harissa, paprika, cumin and coriander. Saute for a couple of minute to toast spices and soften vegetables.
Add wine and continue cooking on high until all of the liquid has evaporated. Add tomatoes and chicken broth. Bring to a boil. Cover and reduce heat to a simmer. Cook for 45 mins or until the vegetables are tender.
Pass soup through a food mill or blender to puree and remove any large particles. Return soup to pot and place over low heat.
Add parsley and cilantro. Add chocolate and enough honey to balance acidity. Adjust seasoning to taste.
Serve hot, garnished with queso fresco, fresh goat cheese or crème fraiche.
Originally Published On Inn The Kitchen – Jan 27, 2010