As a newlywed, I've been showered with gifts and well wishes to begin our new lives together, including a family recipe for Thai Chicken Curry.  The one gift in particular I'm especially grateful for is the gift of flavor!  My family is of French-Canadian descent.  My husband's is Thai-American.  Our two families combined create quite the delicious blend of flavor.
My mother-in-law was kind enough to share her secret recipe for Thai Chicken Curry.  Since Thai food is one of my favorite cuisines, and my husband refuses to have Thai food unless it's in Bangkok, I'll have to start learning to make more of these dishes at home.
Thai Chicken Curry
1 lb. sliced chicken
2 cups coconut milk  (*To make a lighter dish, mix 1 cup of coconut milk with 1 cup of water)
1 tablespoon curry paste (or more if you want it more spicy)
2 Japanese eggplants (or 1 American eggplant) cut into one inch cubes
3 green chilies seeded and cut lengthwise
1/4 cup fresh basil leaves
2 tablespoons fish sauce
1.  In a sauce pan heat coconut milk in medium high heat, add curry paste and mix together till it bubbles.
2.  Add chicken and stir together until chicken is cooked. Then add eggplant and cook until it is almost tender (about two more minutes).
3.  Next add basil leaves, green chilies and fish sauce.  Stir together and bring to boil.  Cover and turn heat off.  Let it sit for 5-10 minutes.  Serve over rice or noodles.
Want to try a few more Thai recipes at home? Here are a few more: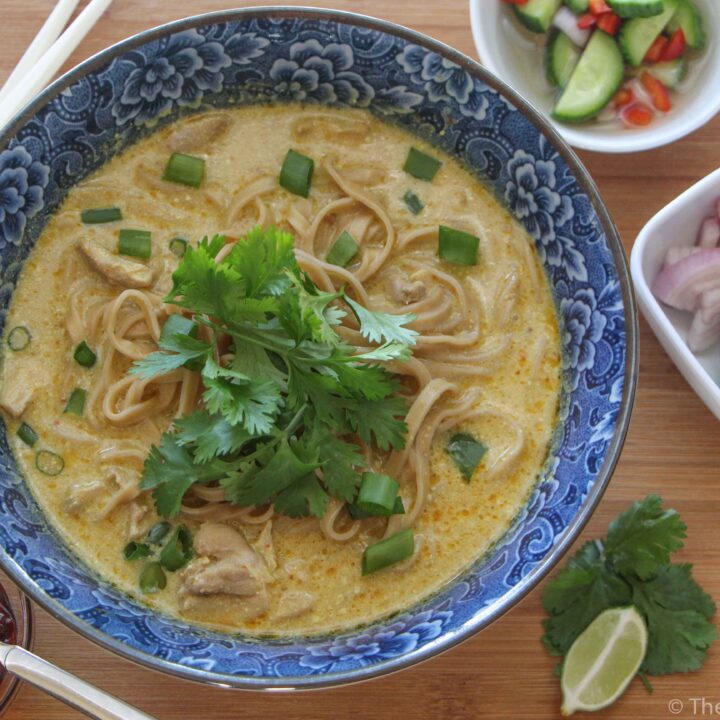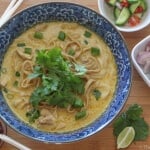 Crock-Pot Khao Soi
Khao soi – the coveted coconut curry noodle dish popular in Northern Thailand.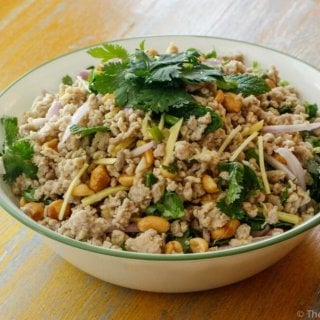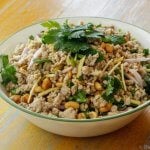 Nam Sod: Ginger Lime Ground Pork
One of my favorite weeknight meals is a Thai ginger lime ground pork recipe called Nam Sod.  Not only is it easy to make, but it's light, healthy, and has that big multi-layered "pow" of flavor that Thai food is known for.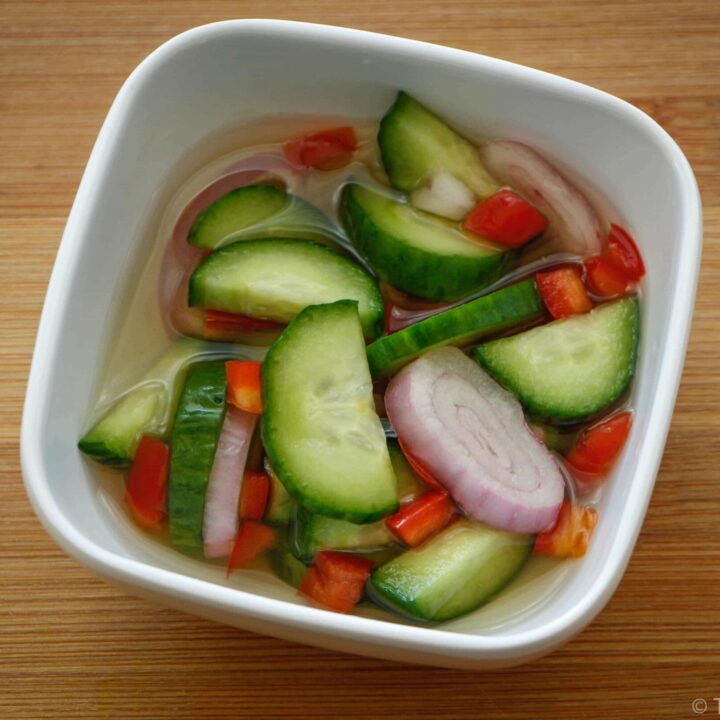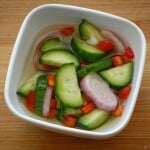 Thai Cucumber Salad
After out trip to Thailand, when I was looking for a bit of guidance on how to make a simple Thai cucumber salad as a side dish, I turned to my mother-in-law's cookbook.  The thing about Thai cucumber salad is that it has a perfect balance of sweet and sour.