Between packing and last-minute travel planning, it is sometimes easy to forget that you should prep your home for vacation too.  But just a little work ahead of time will help bring you peace of mind while away. Here's a great checklist to go through the week before your travel. From filling your freezer with a few of your favorite foods, to tips for home security, here's our home prep checklist.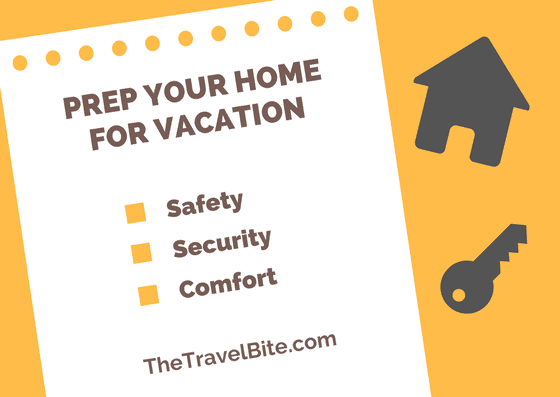 Home Prep Vacation Checklist
KITCHEN
— Empty Fridge
Right before you go out of town is a great time to completely empty out and clean your refrigerator. Remove all perishable foods that will expire or won't last while you're away. Then wipe down and clean the shelves and drawers. When I come home from a trip, I love filling an empty fridge with healthy foods to get back on track after indulging during a trip.
— Empty The Trash
This kind of goes without saying, but also wanted to add the suggestion that it's also a great time to give your garbage cans a good rinse. We usually coordinate cleaning out our refrigerator the same day as our neighborhood's garbage and recycling pick-up too.
— Fill Freezer With Post-Vacation Food
There's no shame in the frozen game. When you come home jet-lagged our exhausted from a day of travel, it's nice to have a few things to eat at home. Add a handfull of frozen meals to your freezer for those first couple of days you're back from vacation. Think of things like frozen pizzas, waffles, and even a handful of Amy's Organic bowls to tide you over until you've had time to get groceries. Just make sure to follow our next tip!
— Freeze A Cup Of Water
This is a little trick I picked up from living in Florida most of my life and having to go through hurricane preparedness each year. Freeze a cup of water (any plastic cup will do), add a quarter on top of the frozen ice and keep the cup in your freezer. If you come home and quarter has sunk to the bottom, you'll know that your power went off and the food in the freezer isn't safe to eat.
— Clean Garbage Disposal
Popping in a couple of lemon fresh garbage disposal cleaner pods, or even a bit of baking soda and vinegar, will ensure that you come home to a fresh-smelling house.

DATA
— Back Up Computer Harddrives
Make sure your home computers are backed up. Use cloud storage, or keep a seperate harddrive in a different location in case of fire or theft.
— Back Up And Prep Smart Phones
The night before you leave is not the time to make sure there's enough storage left on your phone for new vacation photos. A week before your trip, back up your phone photos to a cloud device like Google Photos or Amazon Prime Photos. This sometimes takes 24-48 hours to complete. Once you're all backed up, check your cloud settings for the option to automatically back up your photos while on vacation too. Also make sure your apps are up-to-date, your vacation music is downloaded, and any extra battery packs you want to bring are fully charged.
Read This: Our List Of Best Packing Tips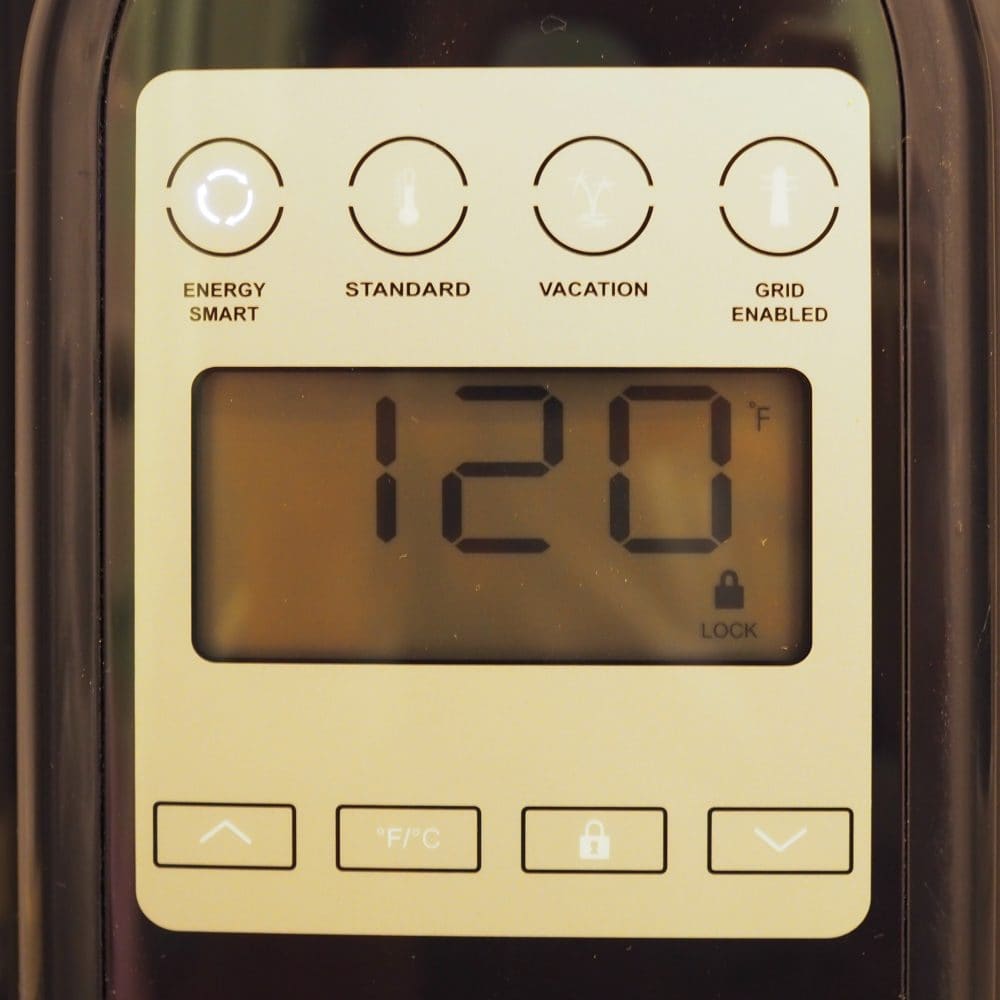 WATER/POWER
— Turn Water Heater To Vacation Mode
Turn your home water heater off or set it to vacation mode. If you're upgrading your water heater any time soon, I'd invest in a programmable one if you travel a lot. Programmable water heaters help save power by not heating water when you don't need it. Plus, you can set it to turn back on few hours before you get home so the water is hot for a refreshing shower after arriving home from the airport.
— Add Bleach To Toilets
If you plan to be gone for longer than a week, adding a 1/4 cup of bleach to your toilets will prevent the bowl from getting moldy while you're on vacation.
— Turn Off Water Valve
For piece of mind, turn off individual water valves under sinks and at the washing machine. I've known more than one person that's come home to a flood room from a pipe burst.
— Unplug Major Electronics
Living in Florida, the lightening capitol of the world, this is something we do regularly even if it is just a short weekend away. Sometimes, not even the best surge protectors can protect your electronics. Having major appliances and electronics unplugged adds a bit more piece of mind when you're not home.
SECURITY
— Hold Mail
Schedule a Hold Mail service with USPS. It's free! And will keep your mailbox from getting overstuffed while you're away.
— Notify Your Bank
If you're traveling internationally, notify your bank and credit cards where you'll be traveling. Also, write down the phone numbers listed on the back of  credit and debit cards and store separately in case your wallet is lost or stolen and you need to call your bank.
— Add Timers To Lights
Pick a few lamps in your home, especially if they're visible from the street, and add an automatic timer to them. Adjust seperate times for each lamp and this will give the appearance that someone is home while you're away.
— Be Neighborly
Ask a neighbor to keep an eye on your home. They can pick up any packages or newspapers that end up on your driveway. Also, check with your city or county since some law enforcement offices offer vacation home checks too.
Want to save this check list? Pin it! 🙂