Whether you're visiting for business or for pleasure, there are are ton of delicious Zurich restaurants to try. From lakefront dining with a view, to traditional Swiss comfort foods, and even a restaurant that holds the world record for being the first vegetarian restaurant.
I was quite impressed with the variety available, the gourmet coffee shops, and even Swiss made wine! Here's a list of cafes and restaurants in Zurich to add to your itinerary next time you visit.
7 Zurich Restaurants To Try During Your Next Visit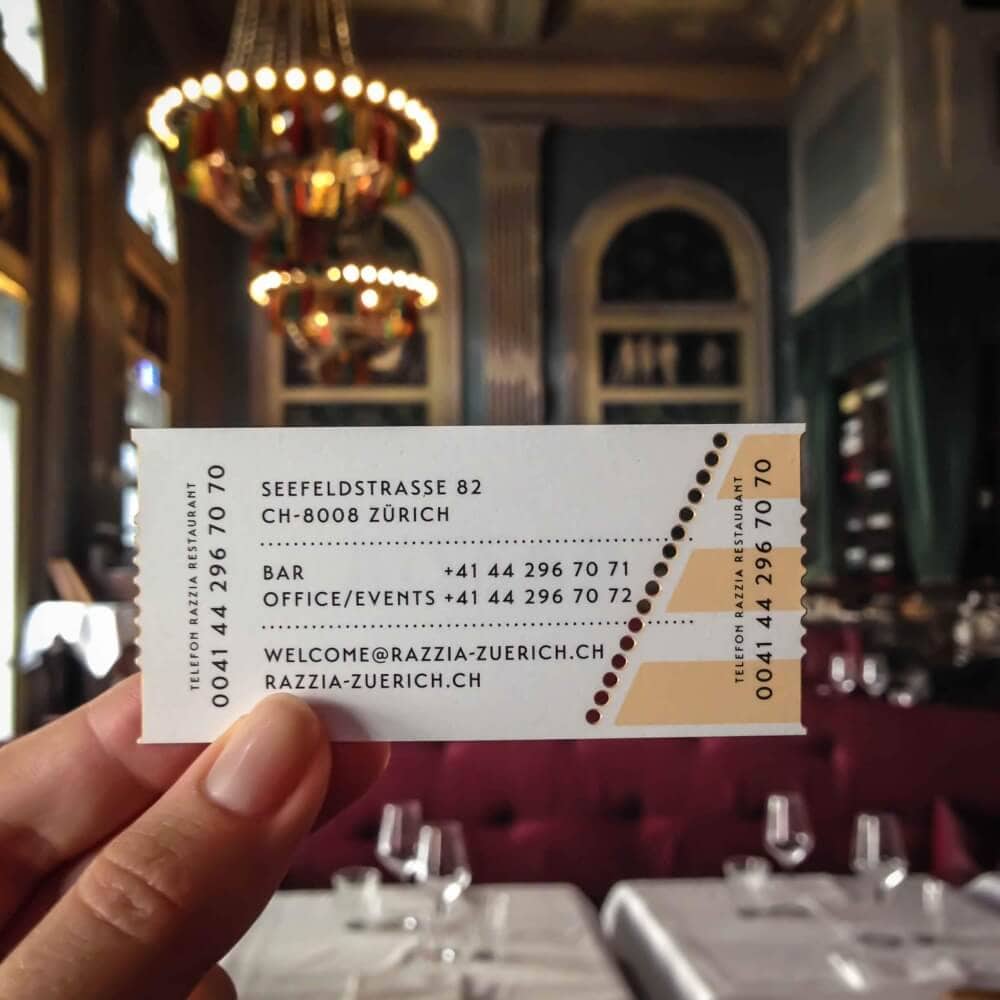 This restaurant is beautiful. Built in 1920 in a neoclassical style, it was Zurich's first cinema. The raised theatre style wood seating platforms now cascade toward the bar with inviting cranberry hued sofas and tables for four surrounded by wing backed chairs perfect for private dinner conversations. And their business card … a movie ticket.
Taste: Their Tarte flambée. It's basically a fancy word for "pizza" and a lot more gourmet. Think melty local cheeses and fun toppings like trout and capers.
Location: Seefeldstrasse 82, 8008 Zurich
Website: razzia-zuerich.ch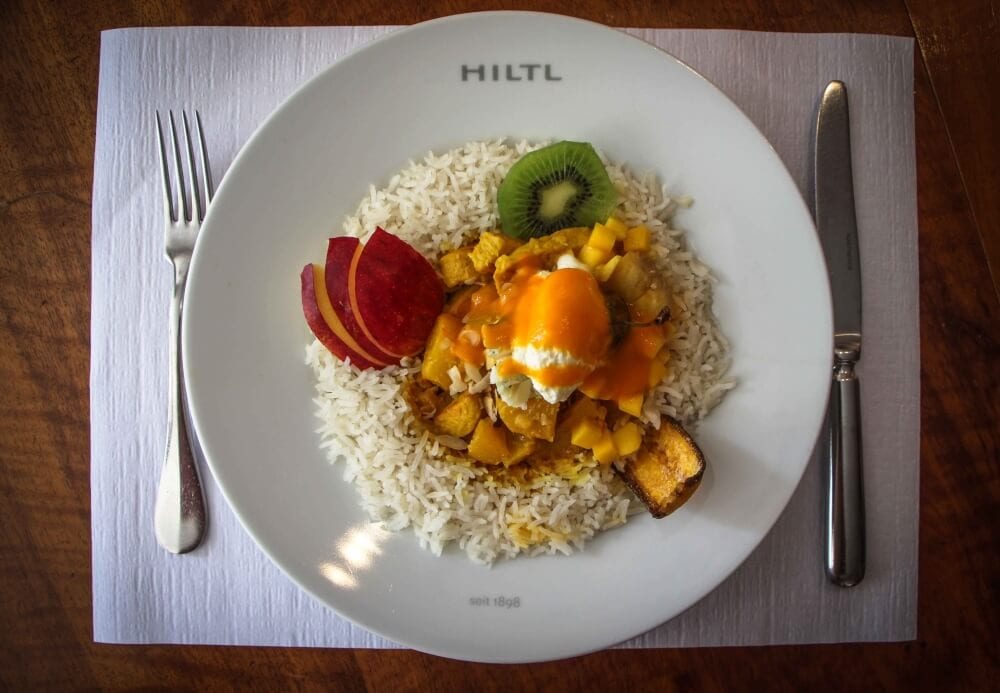 The world's first vegetarian restaurant opened in 1989 by Abrosius Hiltl. But this Zurich restaurant offers much more than salads and fresh-pressed juiced. And it's much bigger than you could imagine! Head up the stairs to their buffet and take a peek inside the kitchen through the floor-to-ceiling windows that turn their kitchen into a theatre. Be sure to check out their vegetarian butcher shop. Yes, I said vegetarian and butcher in the same sentence. You'll be amazed.
Taste: The Hiltl Tarar, a homemade vegetarian version of beef tartar served with whole wheat toast. You won't beleive it. Ginger lemonade spritz, and Fruit Casimir with curry sauce, quorn, coconut chutney, almonds, and mango whipped cream.
Location: Sihlstrasse 28, 8001 Zurich
Website: hiltl.ch/en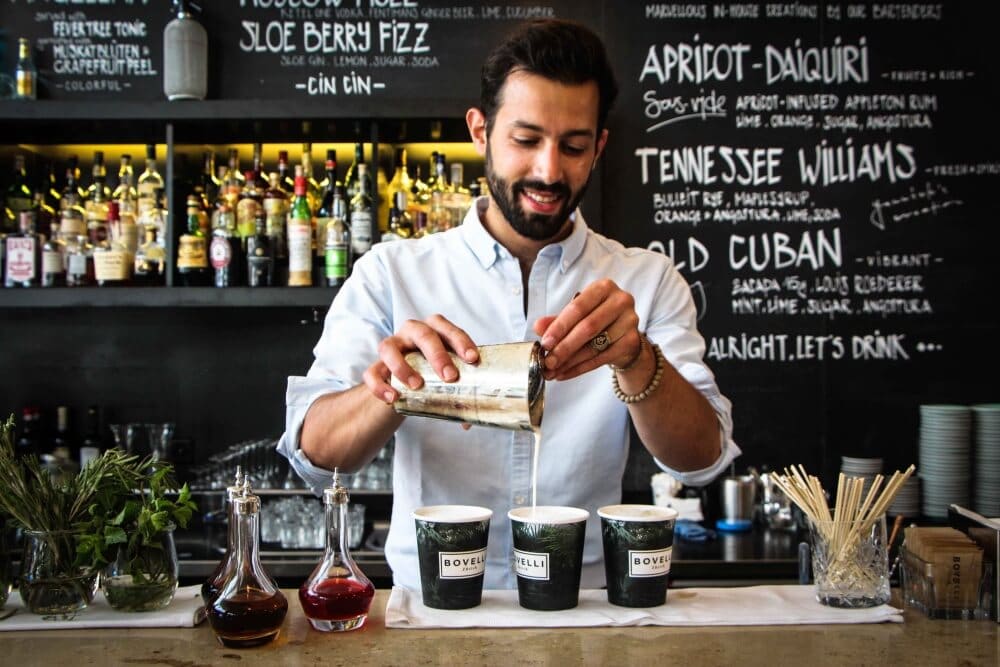 On our way to lunch at Hiltl, we noticed a cafe with an earthy relaxed vibe. So, after our meal we went back to have coffee and fell in love with Bovelli. They're a coffee and cocktail bar. I know, awesome, right? So whether your afternoon needs gin and tonic or handcrafted coffee to get you through the rest of the day, Bovelli has you covered. The most unusual drink I tried from the menu was a coffee tonic with thyme. So refreshing! Coffee with fizzy tonic water and some fresh crushed herbs will perk up any afternoon.
Taste: Coffee Tonic or Cafe Freda
Location: Sihlstrasse 20 8001 Zürich
Website: Bovelli.ch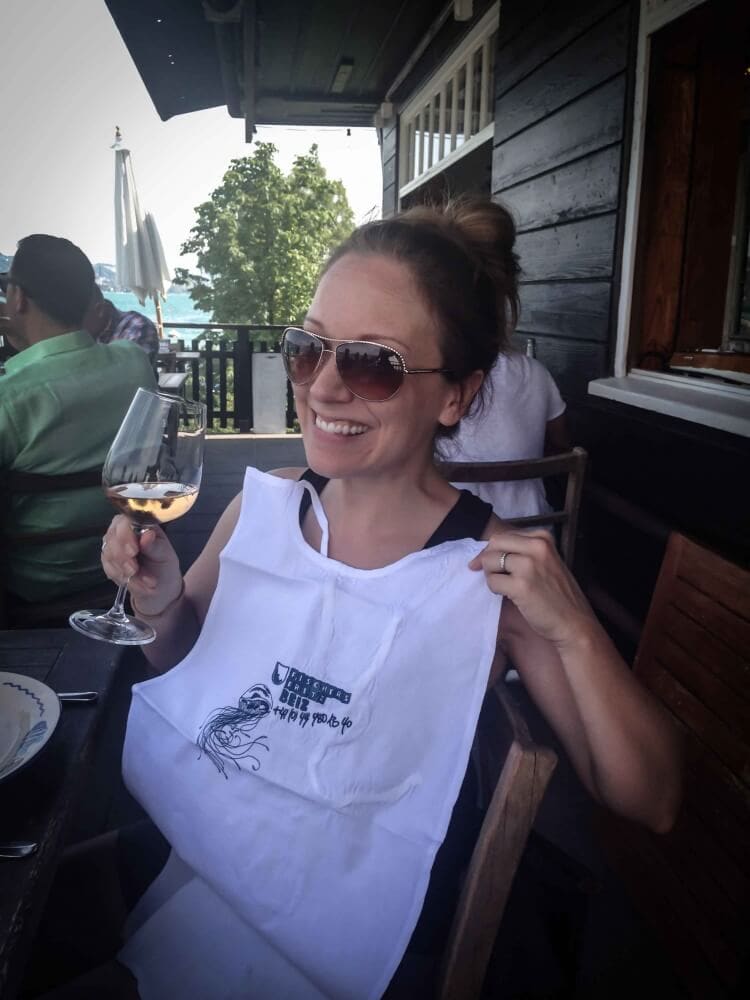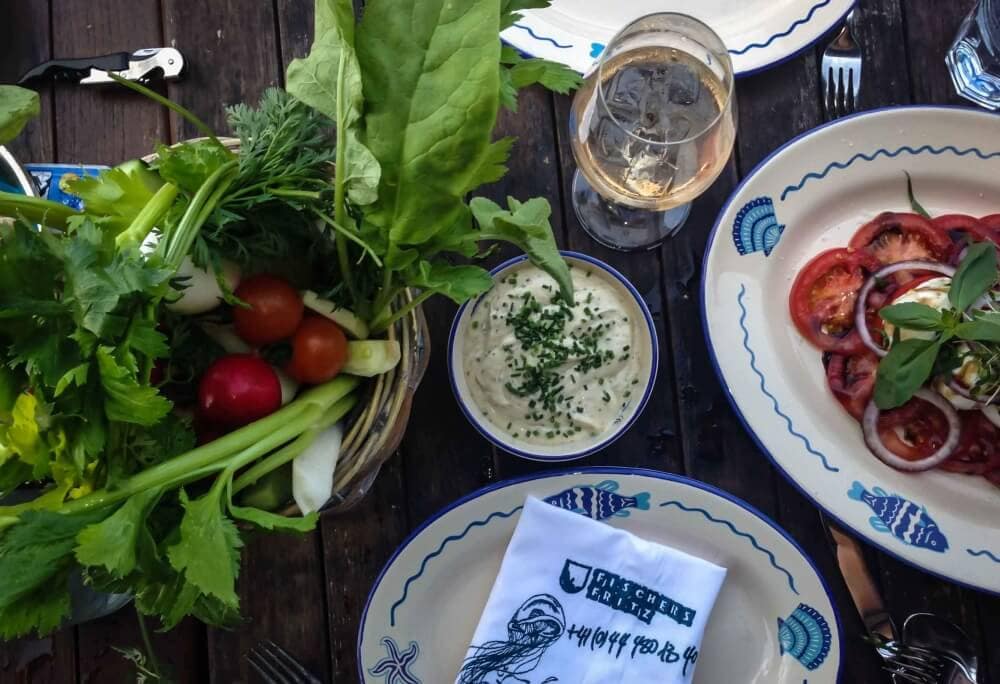 Did you know you can go camping in the city of Zurich? I love how much this major city embraces the outdoors. The campsite is called Fischers Fritz and they happen to have casual restaurant right on the water with a relaxing lake view that makes you sort of feel like you're at a beach house. The food is a healthy mix of seafood and local favorites like veal schnitzel. Personally, I was impressed when instead of bringing us a bread basket, we were presented with a bucket of veggies to nosh on while we waited for our lunch.
Taste: Fischer Fritz house wine. We sipped a delightfully luscious and complex rose.
Location: Fischers Fritz, Seestrasse 559, 8083 Zurich
Website: fischers-fritz.ch/en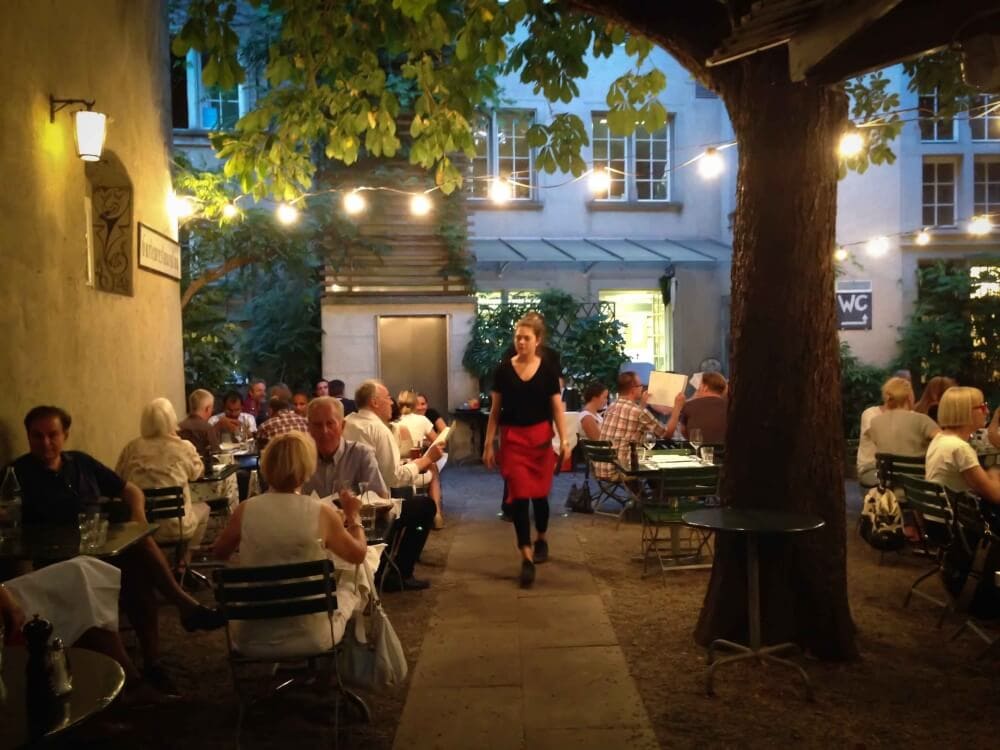 You almost need to know a local to guide you here as it's a secret garden well hidden within the city. Neumarkt describes themselves as a Midsummer Night's Dream Garden turned Swiss Weingarten since they're known for their ambiance and extensive wine list. And as if the twinkling market lights and cafe tables sprawled about underneath the shade of trees isn't charming enough, the alleyway to get here is narrow and inconspicuous which makes finding the restaurant even more of a delightful surprise. The menu at this Zurich restaurant is a mix of gourmet farm-to-table fare and it's the kind of place you want to stay all night chatting with friends over a few bottles of wine.
Taste: Check out their seasonal Chef's Menu with items like Organic Goat Cheese with Lindenblossom Honey and marinated zucchini.
Location: Neaumarkt 5, 8001 Zurich
Website: wirtschaft-neumarkt.ch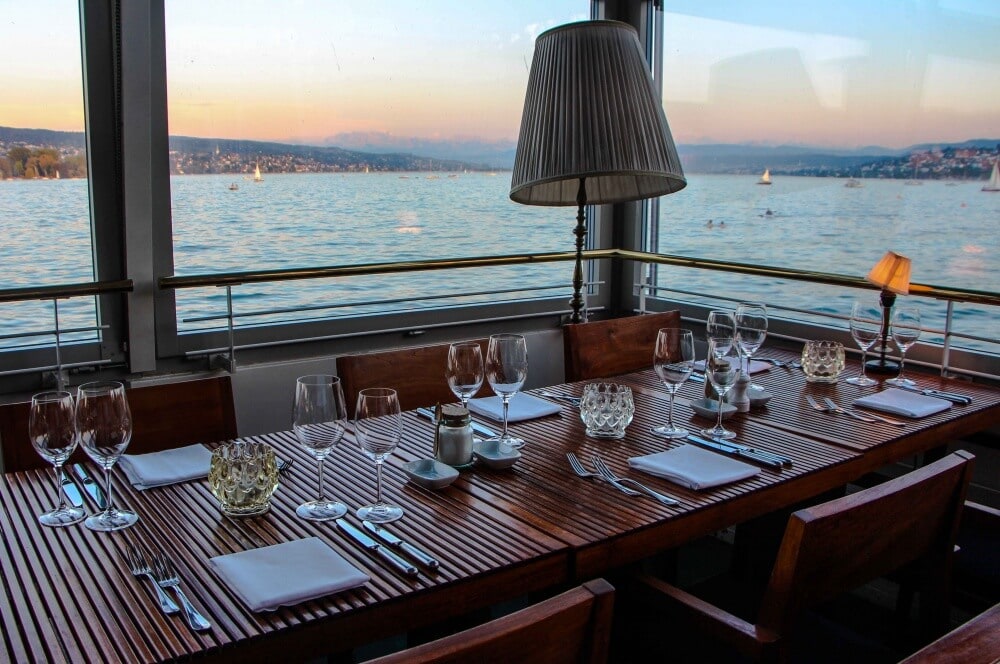 For a casually elegant evening right on the water with a great view of the sunset painting relaxing pastels along the shoreline, Quay 61 is the place to be. They make delicious craft cocktails and have a creative menu with things like honey marinated goat cheese served on a quinoa-apple salad with mint (pictured above) or a dessert called Hendricks To Eat with a cucumber-asssam pepper sorbet arrogated with Hendricks Gin like a sophisticated grown up version of a root beer float. If you don't want the conversation and cocktails to end, upstairs you'll find a sundeck (I guess after dark it should be a moon deck?) where the party continues after dinner.
Taste: Their Swiss-reared Grand Cru Pork is amazing.
Location: Mythenquai 61 8002 Zurich
Website: quai61.ch/en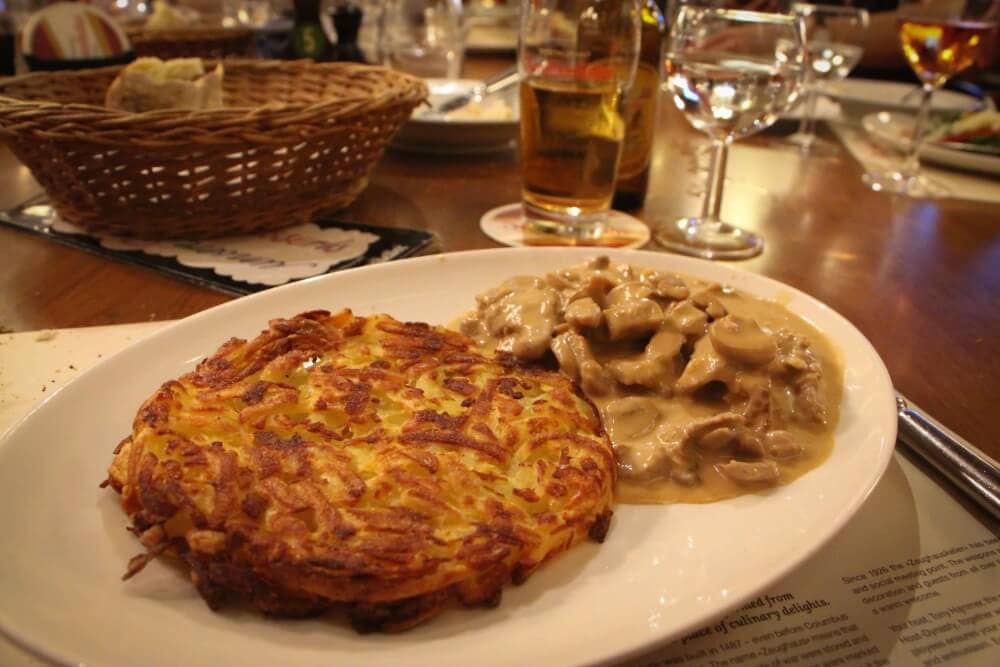 For hearty traditional Swiss comfort foods and beers, this armoury-turned-restaurant with it's rustic wood beam ceiling and antique weapons adorning the walls feels like a medieval pub. You'll find cold platters like air-dried mountain beef and shaved Swiss Gruyere cheese. There's also a dish that really sticks to their historic theme called the Mayor's Sword. It's 400 gr of baby-beef steaks, pounded thin and wrapped around a sword blade to be grilled. You can have it with rosti (traditional Swiss hashbrowns), or get their French fries served with a curry-garlic sauce.
Taste: Kalbsgeschnetzeltes with rosti (also called Zuri Gschnatzlets), pictured above. It's a traditional Swiss dish of thinly sliced veal with a mushroom gravy sauce, served with rosti.
Location: Bahnhofstrasse 28A, 8001 Zürich
Website: Zeughauskeller.ch
Want to save this post for travel planning? Pin it!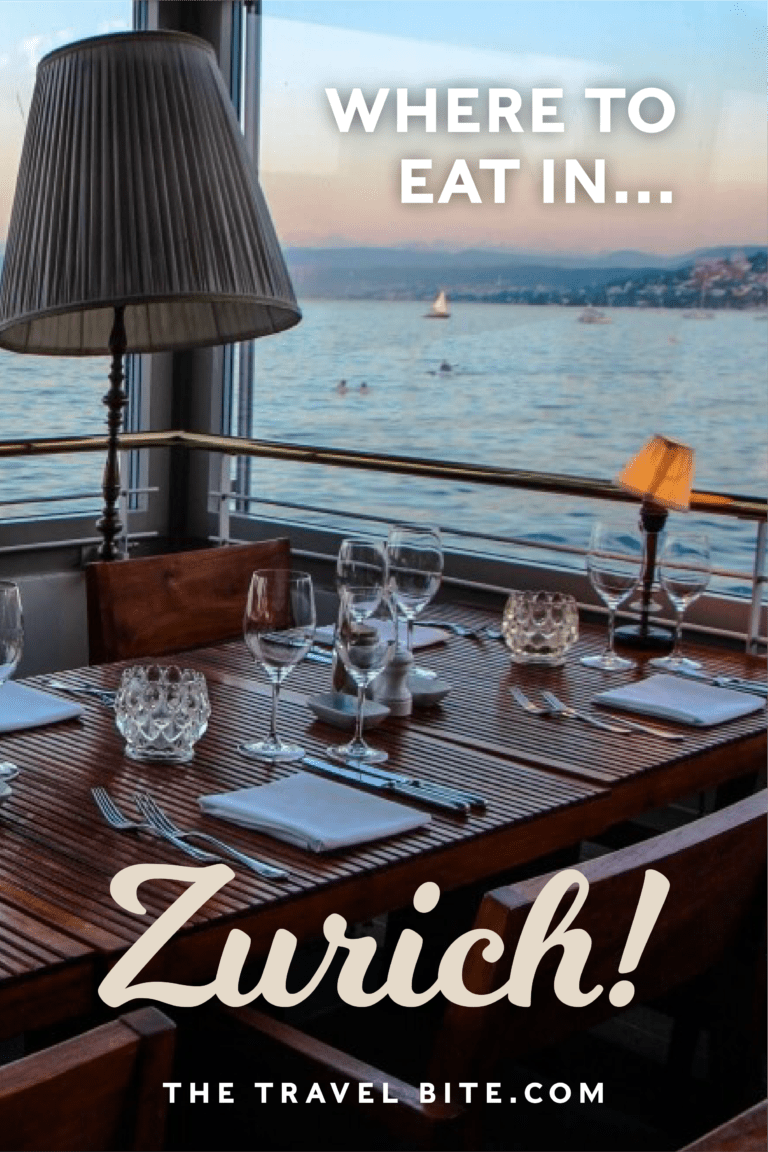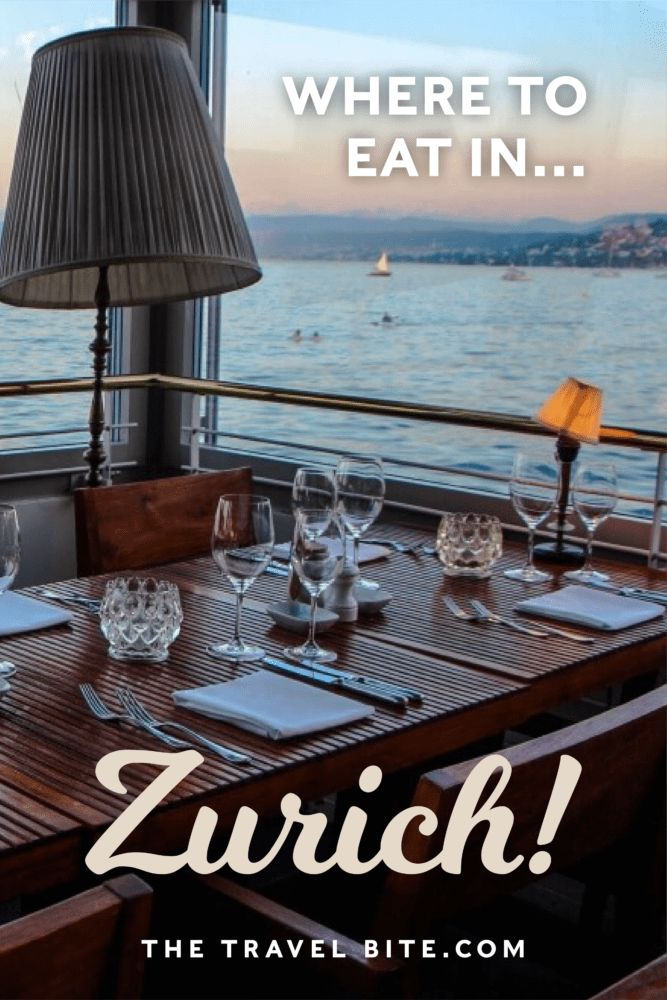 This trip was sponsored by Zurich Tourism. The Travel Bite maintains full editorial control of the content published on this site, and as always, enthusiasm for travel and food are entirely my own.