If you're looking for a gift idea for the foodie in your life, but you're pretty sure they already have every cookbook and kitchen gadget under the sun, then this list is for you. It's my collection of the best books for foodies!
Lately, I've been on such a reading kick. Perhaps it's because I set a goal of reading 40 books this year, and it's already autumn so I have some catching up to do. But I also love curling up with a cup of tea and a good story while listening to the end-of-summer thunderstorms we've been experiencing.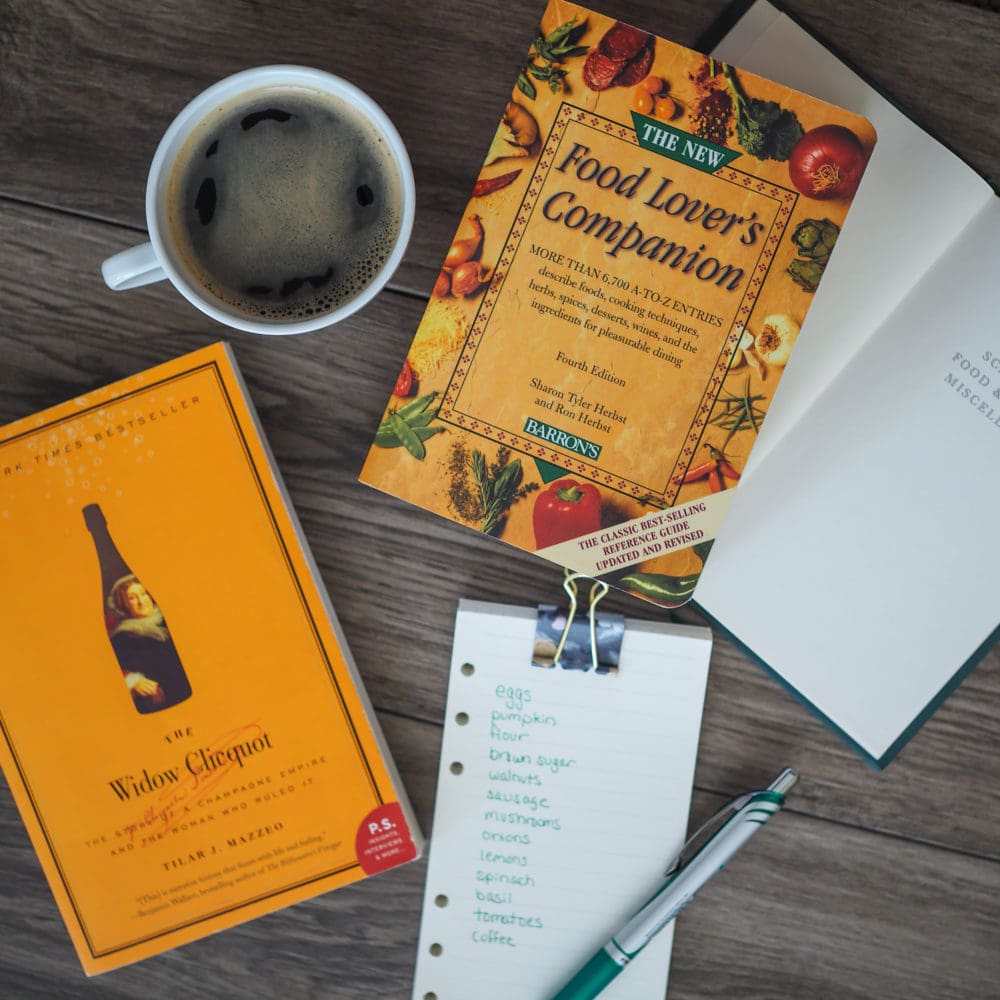 A few of these recommendations are new reads I discovered this year, and others are old favorites on my bookshelf that I love going back to read. Here's a list of the best books for foodies – for gifts, your coffee table, or your own inspiration!
Best Books For Foodies

The Food Explorer – This was my favorite book of 2018 and one of my top book recommendations for food lovers. As a food explorer myself, I just couldn't put it down. It tells the real life story of David Fairchild, a botanist in the nineteenth century that traveled the world overland to introduce new crops to the United States. Author Daniel Stone made this biography about plants a page-turner, sharing adventurous tales of what travel was like at the time, but also taking readers on a journey to imagine what it must have been like to taste bananas, mangos or avocados for the very first time. On Amazon: The Food Explorer
The Hundred-Foot Journey – Yes, this is also a popular movie with Helen Miran and Manish Dayal. But the book is so worth the read! With the enticing descriptions of Indian and French cuisine, plus the heart-warming story of making new friends and learning about different cultures, it will put you in a good mood and inspire you to cook. On Amazon: The Hundred-Foot Journey
Schott's Food & Drink Miscellany – This is a fun little coffee table book and a great conversation starter over cocktails with friends. Schott's is not a book you read cover-to-cover, but one you thumb through when you're in the mood for an intellectual adventure. In the cover, the book's purpose is descibed as "to sweep up the crumbs strewn carelessly across the converastional tablecloth." In it, you'll find fun random food facts (in no particular order) such as unusual pizza toppings in sixty countries, the etiquette for Japanese tea ceremonies, menus for historic events, and more. Truly, one of the best books for foodies. On Amazon: Schott's Food & Drink Miscellany
Food Lover's Companion – This reference book should be in every cook's kitchen. Google, after all, doesn't know everything. Organized like a dictionary from A-to-Z, the Food Lover's Companion describes everything from French food terms to different types of cooking techniques. If there is something in a recipe you're unsure of, this book will have the answer. There's also handy charts in the back for measurement conversions, cuts of meat, pan size volume, and more. On Amazon: The Food Lover's Companion
My Life In France by Julia Child – A wonderful read about one of the most loved chefs of all time, Julia Child. With the help of Alex Prud'homme, Julia shares her story about life in France and how she became enchanted with food and cooking. It's truly a love story about her marriage and her work, and it's almost as if you can hear her voice reading it to you. On Amazon: My Life In France
Cooked – Michael Pollan has quite a few wonderful books on food, but this one is my favorite. In it, the traces the history and traditions of cooking methods using he four classical elements—fire, water, air, and earth. And there's a recipe included for each one! Throughout his journey of researching food — from North Carolina barbecue pit masters to fascinating alchemists in the kitchen — he also weaves an underlying theory that I wholeheartedly agree with, that cooking food from scratch nurtures our bodies, our relationships, and our soul.
On Amazon: Cooked: A Natural History of Transformation
The Widow Clicquot – I always say a wine tastes even better when you know it's story, and this fascinating biography is a must-read for anyone with an interest in champagne! It's the story of widow Barbe-Nicole Clicquot and how she built an empire producing Champagne at a time when women typically didn't work and especially didn't run an international business. On Amazon: The Widow Clicquot.
Food Journey's Of A Lifetime – This is one I recommend getting in hardcover and proudly displaying on your coffee table. Food Journey's Of A Lifetime is beautifully illustrated with gorgeous photography and stories from around the world. It's the kind of book you pick up on a rainy day, pour a glass of wine, and daydream about your next vacation. This book can be your own personal foodie bucket list. On Amazon: Food Journey's Of A Lifetime.
The Lost Vintage – This novel was an enjoyable page-turner. Immersed in the Burgundy wine region of France, the story is about a woman who returns to France to visit family while studying to become a Master Somm. While there, she finds a lost journal that uncovers a few family secrets. If you love wine, food, and France, you'll enjoy this story.
The Flavor Thesaurus – Pretty much a go-to guide for any foodie's kitchen. It includes a wheel of the best food pairings to help cooks get creative in the kitchen.
The Art Of Eating Well – First published in 1891, Pellegrino Artusi's La scienza in cucina e l'arte di mangier bene has come to be recognized as the most significant Italian cookbook of modern times. It's actually the very first Italian cookbook … recipes collected by a businessman during his travels throughout Italy before it became a unified country. There's even a Casa Artusi cooking school in Forlimpopoli if you'd like to add that to your culinary travel bucket list.
Julie and Julia: The bestselling memoir-turned-movie in which one of the very first food bloggers, Julie Powell, resolves to reclaim her life by cooking in the span of a single year, every one of the 524 recipes in Julia Child's legendary Mastering the Art of French Cooking.
What Food Books Do You Love?
Are there any other great books for food lovers that you've read? Tell me in the comments below! I'd love to add a few new ones to my reading list.