At the top of the Rocky Mountains in the central part of Alberta, along the treeline where the forest meets snow-dusted granite and slate, there's a remarkable tree showing off it's autumnal colors — the golden Alpine larches.  While spending a long weekend at Lake Louise, Pete and I embarked on a half day hike up to Saddleback Mountain to see these trees up close. What makes the Alpine larches unusual is that unlike the similarly hued trembling Aspen, it's a conifer.  Most evergreen-style trees live up to their name, remaining vibrant and lush all winter long. But the larches turn shades of yellow and orange in the fall, shedding their needles for a bare bark winter.
Getting Outfitted For A Hike
We met our guide, Paul, early one morning at the Mountain Guide outpost in the lobby of Chateau Lake Louise.  Inside, his office was decorated like a lodge, with wood paneling, a wrought iron fireplace, and rustic furniture.  It was as if we'd walked into a cabin in the woods, a stark contrast from the opulent lobby of the Fairmont and a cozy and welcome setting for a misty day.
We geared up for the trip, layering on warm coats, donning rain gear, and loading up backpacks with water and snacks. Paul had a closet full of any type of equipment we might need, from bags to pants and even hiking boots. Coming from Florida, my "outdoor wear" consists of flip flops and sarongs, so I was thankful for the rain pants. Though they were an unfashionable shade of electric blue, they were certainly better than hiking a couple of hours through the mist and rain in wet blue jeans.
Starting Up Saddleback Pass
When our small group was ready, we walked to the trail head at the bottom of Lake Louise, taking in the view of the breathtakingly blue lake with a mysterious looking white fog hugging the mountains surrounding it. Our hike was a challenging one, 2000 feet strait up to the gap between Mt Fairview and Saddle Peak. Even if you're in the best of shape, that's still quite a climb.
Slow Climb Above The Clouds
Paul's soothing voice and knack for storytelling kept us distracted as the elevation and deceptively steep trail caught our breath. Always quick with a fun fact about nature or sharing a comforting Wurther's Original hard candy, he kept us motivated step-by-step. And despite the rain and the uphill effort, the experience was invigorating.  The scent of fresh pine and damp soil. The light tapping of rain on the hood of my jacket. The peacefulness of being up on a mountain inside Banff National Park.  The brisk air chilling the tip of my nose and refreshing my lungs. It's a feeling of being alive that you just don't get while being indoors.
Though it took some effort, the fresh earth-scented air and stunning views were worth it and left us with a sense of gratification.  We climbed a mountain!  We touched the golden larches.  We got above the clouds and rested on a boulder overlooking Mt Temple.  And the the hike down was certainly a breeze after climbing up.  Over all, it's 7.4 km and four hours round trip.
A Rewarding View At The Top Of Saddleback Mountain
This was the shot I got on Instagram, the moment Pete captured above ..
View on Instagram   At the bottom of the mountain, a well-earned reward – tea at the Chateau with a view of Lake Louise.  A warm cup of loose leaf kyoto cherry rose to warm our hands.  Finger sandwiches and house made pastries to appease our appetite after hiking up a mountain.  Overall, one of our more memorable days this season.
Interested in taking the same hike?  The views change with the seasons, but there are guided hikes available all year long.  To schedule a hike with a guide, visit Fairmont.com/lake-louise/guided-half-day-hikes.
Kudos to Pete for the amazing photos.
Want to save it?  Pin it! 🙂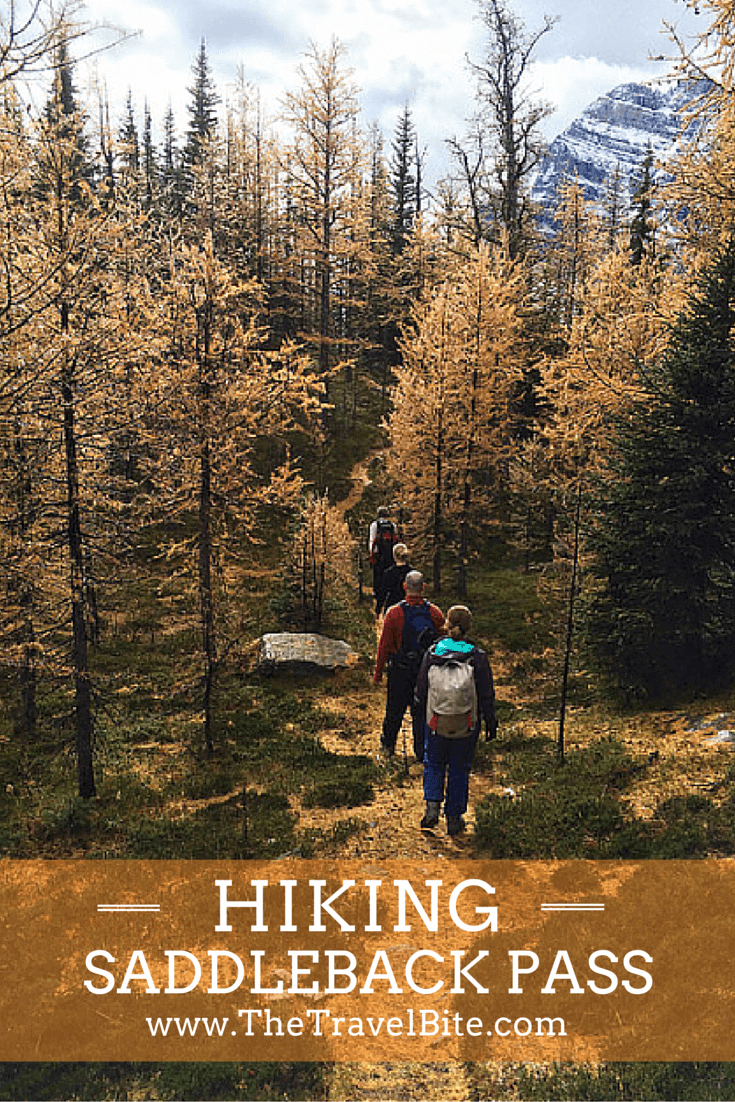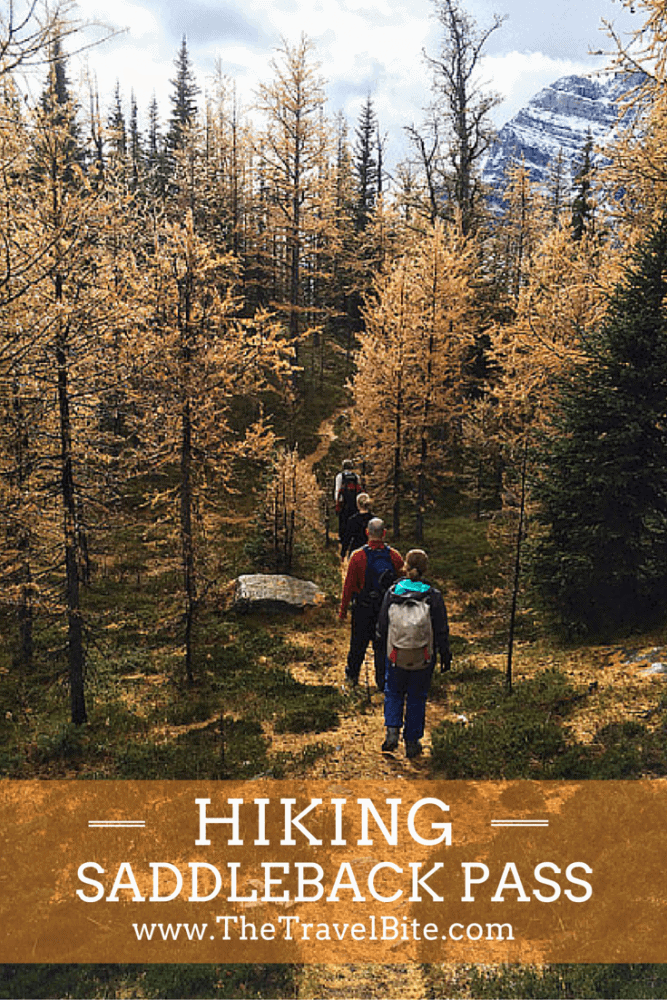 Our trip to Banff and Lake Louise was sponsored by Travel Alberta.  However, The Travel Bite maintains full editorial control of the content published on this site.  As always, all thoughts, opinions, and enthusiasm for travel are entirely my own.