Notes from the table …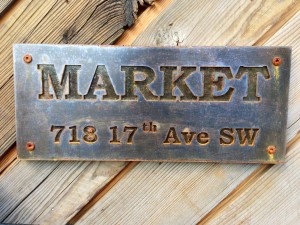 It's lively, bustling atmosphere brings outdoor vibrancy indoors from the patio seating out front to the kitchen in the back with tables spanning the gap and a bar running the length of one side. With a singular focus on providing the highest quality meals using only the freshest ingredients, MARKET has taken the farm-to-table ethos to heart in growing, producing, harvesting, and curating their own greens, meats, and drinks. Bottom line: The food is honest and authentic, not exactly what I'd call inexpensive but easily worth double the asking price to enjoy wholesome foods that retain their natural flavors, are served in hearty portions, prepared by daring and creative chefs, and served by gregarious and helpful staff.
MARKET Root Beer
To my palate, this tastes like a healthy dose of sassafras blended with a dash of vanilla, hint of cinnamon and nutmeg, and perhaps a dribble of agave nectar resulting in a small-bubbled root beer that is smooth and sophisticated with a mildly spicy flavor ending in a clean finish.
MARKET Ginger Ale
Subtlety is thy name. The ninjas turned mixologists at MARKET created a mash-up of a traditional ginger-flavored ale but turned the volume down to a whisper of ginger with a vague recollection of lime. If you thought you were drinking a weak lemonade, have another sip and concentrate as the true nature of this beverage reveals itself slowly. If you're patient, you will be rewarded with a delightfully simple and rewarding ginger ale that quietly conveys its essence while quenching your thirst.
Carpaccio
Thin cut but full-bodied, this plate of carpaccio delivers the hearty flavor of bison with a delightful complement of aioli and juniper coupled with croutons for texture. On the balance, this was a refreshing dish that provided some rich flavor without the bulk.
Foie gras
If you know what this is and order it anyway, you're in for a first class trip to the inner sanctum of flavor; this has the texture you've come to expect from a lightly seared but soft-centered cut but the taste virtually transcends words. It has the delightfully elusive flavor of freshly cured meat, actually the essence of meat, to whit a mildly salty, slightly gamy cut of meat possessing the texture and consistency of warm butter with everything that is delicious about the flavor of meat.
Pair with a sweet wine and be prepared to make friends for life.
Duck
Inspired by the title of the 1859 Dickens classic, this dish could be called "A Tale of Two Ducks." While the plot differs between the novel and the entree, MARKET presents you with two expressions of duck in the form of a sophisticated, almost steak-like, cut of duck meat along with an explosively brash and gamy flavor of duck balled into a croquet.
With a cast of fresh vegetables playing a supporting role in this dish, it provides for a well-rounded entree with delectably distinct and honest flavors.
Citrus dessert
3 scoops of intense citrus ice cream beneath a thin bridge of pistachio bread accompanied by kisses of toasted meringue. Spicy, citrusy, refreshing and delicious.
You Might Also Like:
It's rustic. It's intimate. It's exactly the type of place you'd want to invite your friends on a Friday night. Three Boar's offers small plates and simple gourmet inspired by what's in season and offered by their proud list of farmers they call their "Friends." (Read more …)
Cowboys In The Kitchen: The Maverick Chefs Of Calgary
Calgary is known for its wide open spaces, wild west attitude, rolling prairies, and of course, their famous Stampede. It's also the gateway into outdoor play in Banff and corporate headquarters for some pretty big companies. But after my quick visit there, I'd venture to say that Calgary is also a culinary mecca. (Read more …)