Can you imagine what buying coffee or wine must have been like in the late 1600s? In this episode, Rachelle chats with Amanda from Berry Bros & Rudd, the oldest wine merchant in the world — and they happen to sell spirits too. Located on St. James's Street in London, their original store and cellars still stand. They chat about the store's history as well as their signature London Dry Gin.
Berry Bros and Rudd – Oldest Wine Merchant In The World:
Today's episode of The Travel Bite Podcast was recorded live in London. I was there for London Cocktail Week and had the chance to visit the oldest wine merchant in England – Berry Bros and Rudd. If walls could talk — Berry Bros and Rudd opened in the 1600s, they've had so many famous faces walk through their doors, and from the ancient hardwood floors, to their cellar, to the giant scales they used to use to weigh coffee — oh, the stories they'd tell.

I'm going to let Amanda from Berry Brothers and Rudd share these stories and she's also going to tell us a little bit more about their specialty gin. So, enjoy the show.
Rachelle: Welcome back to The Travel Bite. I'm here with Amanda who gave me a tour of one of the oldest wine merchants in England earlier this week — Berry Bros and Rudd. So, I had to come back and talk to her about the history of this wonderful building and all the wines and spirits that they have here. So, let's start maybe by talking about the history of this building and of the company, it is a lot of history to get into.
Amanda: So, we started in 1698. So that's 317 years ago. We set up as a wine and spirit merchant, but also, we were actually selling teas and coffees and spices and we chose this location at number three 1st James's Street because it was right next door to St James's Palace, which still stands today as a royal household, but it was the primary household in those days where King William the third had just set up. 

So rural customers right down the street. Absolutely priority. You got to get your customers right and we set up this shop originally selling teas and spices and then to buy a pound of the most expensive tea that we sold here. You would actually have to work a whole year as an average worker.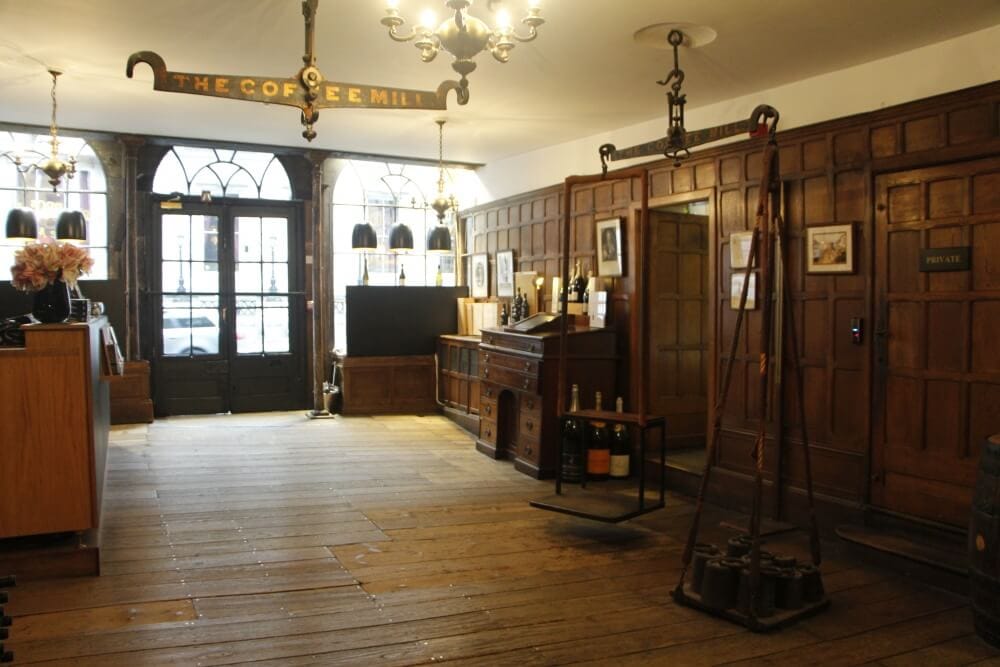 Rachelle: Wow. So, I remember seeing when you first walk in, it's just beautiful and you can sense the age of the place and that the floorboards are kind of sweeping into one side and then you've got this huge weight there. What is that for?
Amanda: We're also the oldest shop in the UK. So, when you walk in, the first thing you see are these sets of scales which actually say the coffee mill across them to represent where, what we used to be as the sign of the coffee mill. 

And of course, they were used to weigh the goods that we sold to our customers. Now in 1765, the laws changed and all the scales and the whole of the UK had to be checked for accuracy and then certified by the government with a stamp and they couldn't stamp into ours this mark of certification because the iron was so hard. So, they said, you're going to have to take your scales down.
And at the time a member of the royal family happened to be in the store and he said, you know, it's Berry Bros and Rudd. We've been shopping with them for a little while. Let's leave the scales up. So, scales remained.
And we started to weigh people. It might sound strange, but in 1760, no one had bathroom scales and if you wanted to keep track of your weight and as a gentleman, because most of the weights that we took were actually of gentleman, you probably didn't have that many clothes in that day. 
You've had a few pairs of trousers, you know, your winter jacket, a summer jacket, maybe something particularly smart. So, if you put on a bit of weight, it was quite expensive to get your clothes. A whole new wardrobe.
Rachelle: So, you definitely needed to mind your weight.
Amanda: Exactly. It wasn't the days of popping out and grabbing something new. It was the days of tailored and so, we started weighing our customers and we've got some quite famous names on our books there so.
Rachelle: I found that so interesting interesting. So, they (Berry Bros and Rudd) have a set of books downstairs with the actual ledger of the weights of people that have come in. And you said you have Matt Damon in there.
Amanda: He has been here, but really, we focus on the more historical famous historical ones. People like Lord Byron, Beau Brummell, who was kind of a supermodel of his day, he was one of the first dandies who was well dressed and people recognized him and we've got some characters like a customer who was nicknamed Blue Hanger, whose name was actually a William Hanger blue because he always wore blue clothes and he has since we've borrowed his name for one of our whiskeys. So, we try and delve into our historical records and take inspiration from them for what we do nowadays as well.
Rachelle: I love it. So, in the building that we're in, I remember we walked down into your cellars and one of them was, it's used primarily for our classroom right now, but it has some neat stories too about Napoleon, right?
Amanda: Yeah, they're very unusual. We've got this fabulous setup of two levels of sellers here, which is very unusual. The first level is called Pickering, and that's the wine school. So, we're, as you say, classroom setups that we can teach people whatever you would like to know about wine and spirits. It's got two different types of flooring. The flagstones wherever used historic casks, and in those days, Napoleon who was a good friend of the barriers at the time used to come into the cellar, knock on all the cast to check, he could hear the echo back if someone was lurking inside one, he was convinced someone was going to try and assassinate him in his lifetime.
Rachelle: Oh boy.
Amanda: And when he was happy that the room was safe, he would meet newspaper editors at the bag and spread his message and his ultimate attempts to get back to France. 

Rachelle: Interesting. And then what is the courtyard known here for? It's the smallest?

Amanda: It's the smallest public square in Britain still lit by original gas lamps. It's beautiful. It's beautiful. Yet in fact, in all the buildings in the area have these wonderful stories, several of which have been exaggerated and spun off into stories of their own, which might not be entirely true, but it's all fun. And part of the history and the legend that develops over time.
Rachelle: Now there's a story about a duel there, right?
Amanda: Absolutely. You know, go and try and find traces of the duel in our little public square, the last public duel thought in Britain. Actually, the last, a film called The Last You, made in 1922, a silent film. It filmed in that courtyard, which has led to certainly some of the stories. But as with everything, there's probably something underneath it all. I'm sure if there was fighting going on, there probably wasn't people being how small the square is but there might have been animal fighting in the days. It was a different form of entertainment for the gentlemen who were on St James's Street.
Rachelle: Wow. And then in the little alleyway you can walk from St James Street to the public square, you've got these beautiful panels and it looks Tudor style. It almost doesn't look like part of the city, how it's brick in the front. And you said those are panels for the windows there?
Amanda: Yeah, we have two sides of that alleyway. You mentioned the Tudor style and that's actually we think from the ground plans, the back wall of Henry The Eighth's tennis court. He was the one who originally built some James's Palace and he was a big fan of tennis, certainly watching, if not playing.
The panels on the other side, you will hear buster is going past us in London saying that there are blistered from the fire of London. It didn't actually get this far because panels are just really old. They've been with us from the minute we put glass into the front of the shop and they're there to protect the glass in the original design. They were there to protect the glass when we were the first shop to have it. And it was an expensive commodity. Nowadays, occasionally we need to put them out for security. If there's a big parade going past, then we just look to protect the windows.
Rachelle: I love it. So, let's talk about some of the wine! We've talked about the history and Napoleon and the sellers and things. And when did they start going from coffee into wine?
Amanda: Well, I read a book on the history when I first joined and it says that the last ever groceries we sold in terms of spices and teas was actually in 1920.
Rachelle: Oh Wow.
Amanda: We specialized in wine and spirits, towards the end of the 1700s. So, it took us about a hundred years to really get that full specialization. But there's always some of the traditionalist who like to hold onto some of that. So, it's interesting that, that kept going for so long. And when we first started, of course there were more traditional wines to deal with, you're Bordeaux's and Burgundy's the classic claret Champagnes. We are called Berry Brothers and Rudd, and the Rudds actually joined at the end of the First World War. And what they brought with them was an unprecedented knowledge of German wines. So built into the company. And as we've continued to grow in the last few years, we've expanded into new world wines as well, a little bit more focus on those. So, I'm really making sure that we offer access to everything our customers would like.


Rachelle: And you were actually saying too that there this is this a bit of law history, that was new to me, that people will pass wine from family generation to generation and it's like an actual investment that you can make that's not, doesn't have an estate tax and so people keep their wine with you for that?


Amanda: Yeah, I mean certainly a wine is one of the few things in Britain that you can actually inherit without paying a tax on. Wonderful, lately, do you need to know a few things? You know, we need to make sure you know what you're meant to be investing in what will work in the long run. 

Of course, some wines are just designed to be drunk and enjoyed immediately. Not everything sits there for decades and improves, but where it does improve then. Yeah, absolutely. It's something which a lot of people are looking into. A lot of people are really interested in storing wines properly, so not just putting it in their cellar, whereas probably quite damp, not just tucking it between the radiator and the TV where there's a space at home, but looking at proper storage, humidity-controlled climate controlled like we offer in our warehouses, not here in central London. That would be very difficult to do. We hold them just outside London.
Rachelle: Well you actually have a wonderful collection though too, from the many years that you've been in business? I remember we went down and looked at some of your older wines that are pre-phylloxera era.
Amanda: Yeah, it's fascinating. These cages of wine that we have that are actually not for sale. They are this wonderful selection of wines that go back to from previous generations of the family. So, Tokaji, cognacs, whiskeys, all of this predating the phylloxera era, which was around the 1860s, which means basically wines that will never exist again because those particular vines have been wiped out in Europe. So amazing. And there are people in the company who've got to try those wines as well.
Rachelle: Lucky them!


Amanda: Not me yet, but we've had some people in our side of the company, the spirits side actually trying some really old King's Ginger Liqueur going back to the original bottling as well.
Rachelle: What is the King's Ginger Liqueur? Let's talk about that.


Amanda: So, it's a ginger liqueur so fresh root ginger. It's 41 percent alcohol, so a little bit higher than most people think of when they first come to liqueurs, but that's all balanced out.
And it was a creation of Berry Bros and Rudd for Edward the 7th, who was the king from 1901 to 1910. We created this for him in 1903. And it was designed to restore him, uh, to use the word "revivify." He was a huge fan of hunting and shooting He was one of our, one of my favorite kings because he was good fun. He was a man of the people and he also had the first ever cars. So, you can imagine this fleet of Dame blue's and he was flying up and down St James Street at 40 miles an hour. It's a whole 20 miles faster than he should have been going.
Rachelle: Oh boy.


Amanda: And his doctor said, oh, quite worried about the king, you know, all this fresh air and hunting and shooting and fast lifestyle. What can we do to make sure that he's got a restoring dram at the end of these exertions? And what we came up with was this ginger liqueur that has carried on ever since. So, we've been making it ever since. Obviously, it's not used so much with the king and the hunting crowed. I'm still very popular, but we've tried to get it into cocktail bars as well.
Rachelle: Yeah. I love that taste of ginger. So, it's one of my favorites after we tasted it downstairs. I really enjoyed it.
Amanda: I think it's a flavor that a lot of people just really love. And Ginger beer is taken off in the UK recently. Ginger Ales and you know why not a delicious king, India, especially with the weather today, being a little bit chilly outside, doesn't hurt to have something warming and little bits of ice as well. It actually got us our first Royal Warrant. 

We've been dealing with the royal family for well over decades. And it took us the king's ginger to get that, Royal Warrant, which we now hold to.
Rachelle: Explain what a Royal Warrant is?
Amanda: So a Royal Warrant, there's a handful of companies and it basically means that you are a purveyor of a particular type of goods to the royal family. So, within all the house holds, the two royal warrants you see nowadays are from the Queen and Prince Charles and we have them as a wine and spirit merchant, so, we actually have them from both the Queen and Prince Charles. 

And on top of that, Simon Berry, who is the current chairman of our company and a member of the family, the name gives it away there. Simon Berry is a Clark of the Royal Sellers, which means that he actually is involved in the decision process of a part of the team which decides what goes in and out of the royal household cellars.
Rachelle: So, he gets to decide what kind of wines they …


Amanda: He does, and they're not allowed to talk about it. Top secret. [laughter] We can't have that kind of information going up, but I'm sure if you ever get invited to a state dinner, then you can look along the table and know that we might have had something to do with that.
Rachelle: You also have an award-winning gin that you've been developing. Let's talk about No. 3 gin.
Amanda: Yeah, No. 3 gin, where we're sitting today in the name of our gin. It is five years on the market here now and it was designed as a concept, to be a London dry gin that a lot of people recognize nowadays as a good mark of quality to be traditional because that's what we do after 300 plus years here and to be the best in the world for dry Martini. That's what we set out to do.
So, when we came up with a recipe, it's got three fruits and three spices. That was by chance. It wasn't something we were going with. We actually had those developed between our team and a gentleman called Dr David Glutton. He's the only man in the world with a PhD in Gin.
Rachelle: Wow. I didn't even know that existed.
Amanda: It's a tricky one. You know, when you're the only person in the world with one. But he helped us put together this recipe. So really classic and most recently we won best in the world at the International Spirits Challenge.
Rachelle: Congratulations.
Amanda: Thank you. It was the third time. So, we're very pleased with that. It was a really lovely moment for No. 3 to win for three times, so we're very proud of that and it's just, it's an embodiment of everything that we think a gin should be. It's a simple, it's great taste and its 46 percent as well, which gives it a nice roundness if you're a fan of the dry Martini and I'm sure with James Bond film, the new film coming out in the next few weeks, it's going to be all the interest comes out again and the Martinis and it's great to encourage people to try this drink and to really understand the classics that there so popular and that we've built so many of London's bars and drinks and our genomes. 

Rachelle: So, I've been tasting a lot of gins this week, but No. 3 was one of my favorites. What were some of the botanicals in No. 3 gin?
Amanda: Of course, we got juniper. You have to have juniper to be a gin. The other two fruits as we call them, are pink grapefruit and orange. 

And the orange is a sweet orange. So, some people pick that up on the taste. And the spices are cardamom and coriander seed. Both give a little bit of spice in there. And also, Angelica root, which is something most people don't come across unless they're in the alcohol world. But it's a flavor which holds different oils together, different volatiles together. And it also brings dryness to the gin that people are looking for in a London dry style.
Rachelle: I've tried some; I think it was angelica root. Or, I guess I should say I smelled it. 
It was very woodsy and earthy.
Amanda: Some people say like walking through a forest. But it's an interesting flavor one that once you've tried, you can often pick up in the gin, but you weren't quite sure what it was before. It's got quite a few uses in the alcohol world for vermouths and herbal liqueurs, but and especially gin of course, but outside of that, it doesn't get a lot of use.
Rachelle: I absolutely love it. So, on the No. 3 bottle, there's a key there that is tied into the business, into the building here. Let's talk about the key.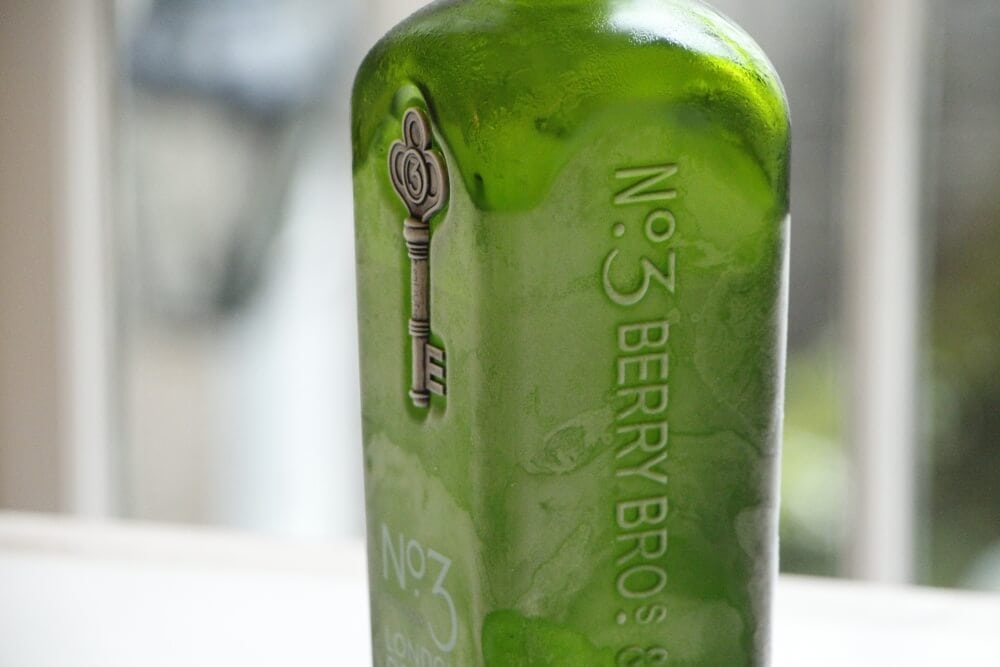 Amanda: It is the key which will market that bottle on a shelf when you're in the bar for you. The key is a replica of the key of the room, which opens the parlor. They were sitting above the parlor, just now. The parlor is quite a small room, perhaps surprisingly small. It's the old director's dining room. And where you might expect glamorous mahogany flooring and beautiful wood panels, that's actually, it's a very well used room and it still used up to this day. Although more for meeting room. And that room is got pictures over every single square inch of wall.
Those pictures come from a magazine called Vanity Fair, which I'm sure a lot of people have heard of. A really talented cartoonists called Spy, used to lampoon the famous people of the day, which was not your pop stars — it was your cricket players, your judges, your royal family in some cases. He would, take an image, he would do a kind of caricature. And when we saw these in Vanity Fair, the Barriers of the time would actually tear it out of the magazine, send it to the customer if they shopped with us and ask them to sign it. 

So, it was just a little, kind of a little bit of sense of humor, really. Just to show that we're lighthearted.
Yeah. And then we actually framed them. They're on the walls now and the people who are on the walls of the parlor, they're there because their grandchildren, great grandchildren still shop with us today. So, they get pride of place on those walls.
We also have pictures of the family. Of course, this is, you know, in some ways a family home. So old bits of history around that, and we have even a letter from pussyfoot Johnson, a nickname for the gentleman who was a key member of prohibition actually advising the Berrys, who we met in 1920s to send their children out of the wine trade and into the church for trading because he said that prohibition was coming to the UK.
Rachelle: [laughing] and that wine sales would end. He didn't know. You also have a letter, from the, is it the White Star Line from the Titanic?


Amanda: Absolutely, yeah on our wall pride of place in the shot so anyone can actually see it when they popped down. It is a letter for the day after the Titanic sank, actually informing us that it had gone down and it hit an iceberg and it says; please see the bottom of this letter for the loss. And we had lost 69 cases.
Rachelle: Oh Wow.
Amanda: Which is, you know, absolutely unimportant in the grand scheme of things?
Rachelle: Yeah, I thought it was interesting that the letter didn't talk about, "Oh, we've had this huge tragedy." It was like, "we're so sorry we lost your wine…"
Amanda: But you know, it doesn't matter because for us we managed to get that delivery back out a few months later and we know that because we actually have all the original records, leather bound books held out in our warehouses slightly further out of London in Basingstokes. So, we like to keep all these records because it's little pieces of history, if anything else.


Rachelle: It's fascinating too, like it's just, I love reading all the different stories and seeing how things have come together, but with all the history and being on this wonderful street. Do you find that people are intimidated to come here and what do you encourage people to do when they visit? If they're not quite sure about wine and they want to maybe some advice on what to buy?


Amanda: Absolutely. Just first of all — come in. You know, we do get quite a few tourists just who want to, you know, you've read about it in a guidebook, you want to come and see the shop. And of course you do, it's open for, reasons that people can come in and, and you know, experienced a little bit of our history.
And then we've got this really young dynamic sales team in the shop. They are all taken wine exams and they take in those so they can share the knowledge. So, don't be scared to ask. I have a wine background myself, but actually I always defer to these guys. They really know their stuff and there has not been a single bottle of wine where they have steered me wrong. So, if you go in and you want a bottle of wine and a set price, do not be scared to ask. And just like with our own spirits, our gin, our whiskey, or rum, we do have wines bottled under the Berry Bros And Rudd name as well. So Nice. So, you can get something to take home.
Rachelle: That's a nice souvenir with the Berry Bros And Rudd name.
Amanda: Absolutely. You know, you go to museums, you know, in my day when I went to museums as a kid, he used to come away with a little rubber, a little eraser. These are a little sticky, something that you would kind of put it on your mirror with a little tagline saying I went to this museum. But you know, here in Berry Brothers you can go away with a bottle of wine.
Rachelle: That's wonderful. Something you can taste.
Amanda: Exactly. Experience a little bit of London, of the heritage of Berry Brothers and Rudd when you come home.
Rachelle: Wonderful. I was really impressed by the prices too. They're not intimidating. There are affordable wines. There are some really luxurious wines. So, it's a wide range of selection.
Amanda: Yeah. We can help you for something you fancy just openings evening with a friend for you know, over a nice bottle of bottle of wine and a bowl of pasta or we can give you advice on perhaps find something really special. Perhaps you want to lay something down for your brand-new niece who was born and you want her to have something when she turns 18, we can help with that and make sure it's stored properly as well.
Rachelle: Wonderful. So how do people find you? What's your website and then maybe what are some directions to get here? I found it very easy. I had wonderful walk through, I think the park next door here to get here this morning. So, it was a beautiful walk.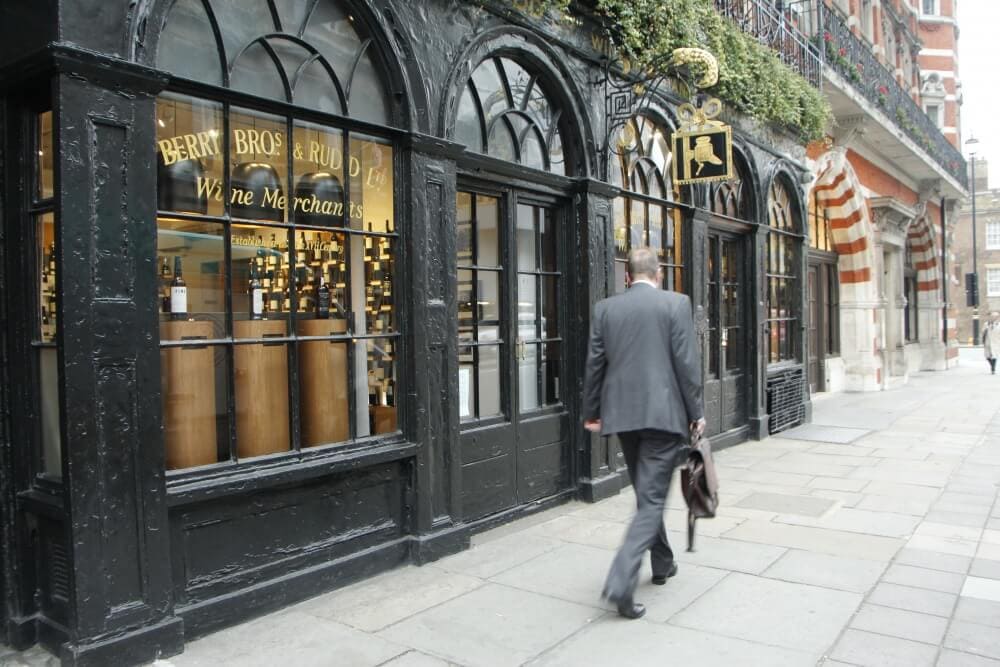 Amanda: Yeah, absolutely. Well the website is www.bbr.com. We have got the twitter links, the Instagram, the Facebook, you can find this there. You can find all of our spirits as well. Number three, gin or whiskey. Glen Roth is the king's ginger that you enjoyed. All of that is available through the websites. And we've also got cocktail recipes if your listeners are interested in ads and on the Facebook, we actually have videos as well. Personally, I find that it's great to see someone making something as well as actually reading the instructions.
And if you're trying to find us, it couldn't be easier really. We're just off Piccadilly, which I think most people certainly pass through when they're visiting London.

We're a couple of streets along from the Ritz, which is a very famous landmark as well. And of course, you've got Buckingham Palace five minutes away and St James's Palace on our door step. So not difficult to find us. Just heads down and James the street pass some of the old shops that sit alongside us, the oldest hat shop field, bootmaker John Lobb, and Lock & Co hat makers. And you'll find us sitting at the bottom of the street waiting to welcome you in, answer all your questions on wine and spirits and to offer you perhaps little dram of something you're interested in, some of our wines and some of our spirits.
Rachelle: Wonderful. Definitely, this has been one of the highlights of my trip is to visit the shop here, and to hear about the history and then of course taste all the liqueurs and the gin. So, I thank you so much for sharing these stories with us today.
Amanda: Thank you for coming. And please come back anytime and share, share our stories.