There are so many delicious journey's to take through Italy! Having traveled through the Emilia Romagna region and Tuscany multiple times, we were so glad to finally make it down to Sicily and Southern Italy while working with EF Go Ahead Tours to highlight their southern Italy food tour.
While we anticipated indulging in amazing food, there were quite a few unexpected surprises including the breathtaking coastline of Tropea and the remarkable cave dwelling city of Matera. Take a scroll through our journey below to see the highlights of our Sicily and Southern Italy food tour.
CATANIA
"This magical, marvelous food on our plate, this sustenance we absorb, has a story to tell. It has a journey." -Joe Salatin
During our first full day in Sicily, we set our alarm to wake up early and get a glimpse of Mt Etna before any clouds covered her. Jet lag made it so tempting to want to sleep in, but sipping coffee on the rooftop of our hotel at Una Hotel Palace to see the sunrise over the city with Mt Etna on the horizon was worth getting up before dawn.
Afterward, we went for a quick visit to the Museo Storico dello Sbarco for a bit of history, then spent the rest of the morning strolling through the market, visiting stalls of fresh grapes, blood oranges, purple cauliflower, and cactus pear. Toward the end, we hustled through the fish market which was filled to the brim with eager buyers that made it feel a bit like walking through the New York stock exchange.
For lunch, we hunted down the best arancini in the city just down the street from our hotel. Sicily's legendary arancini, stuffed rice balls named so because of how the shape and color are similar to an orange (arancia), are historically popular for celebrating the Feast of St Lucia to commemorate the arrival of grain to the island and are a must-try for any tourist visiting the island.
At sunset, we drove about a third of the way up to Mt Etna to Barone di Villagrande for wine pairing, tour of the cellar, and a parade of food including local cheeses, olives, focaccia, pasta, and veal. In the USA, pasta *is* the meal. But in Sicily we were reminded that it's just a starter for Italians, with two or three more courses to go.
NOTO & AVOLA WINE REGION
"Remind me that the most fertile lands were built by the fires of volcanos" — Andrea Gibson
Mt Etna is one of the most active volcanoes in the world, and the Sicilians call her "mother" for the way she influences the weather and fertilizes the land. We got to taste some of that influence with a wine tasting at Zisola while under the shade of pomegranate and olive trees along the vineyard. This year's vintage was just harvested, the grape leaves are turning the rustic colors of autumn, but the October sun was still warming as though it was still hanging to summer.
In addition to tasting a Nero d'Avola wine for the first time, we also indulged in another Sicilian specialty — Almond Granita. Almonds are in abundance here, as are pistachios, blood oranges, olives, and wine. As for granitas, they're a frozen dessert made with sugar and fruit juice (or likely marzipan for the almond one). They're refreshing on a warm day, and are often served with a straw since their semi-frozen nature makes them similar to a slurpee.
Try This: Almond Granita Recipe
Autumn felt a bit like summertime, so in addition to granitas, we paused for a moment at a cafe to sip iced coffee and enjoy the afternoon on the main street of Noto.
For dinner, we drove up to Azienda Casabiana, a farm house owned by a Contessa that our guide has known for over 20 years. She fed us as though we were family returning home to celebrate a special occasion — brick oven roasted calzones filled with potatoes and spinach, bruschetta, focaccia with caramelized onions, peppered pecorino, lemon linguine (we have the recipe!), bow tie pasta with ragu, homemade meatballs, fried eggplant, and then fresh fruit cups for dessert.
As the dinner conversations were winding down and our wine glasses were starting to empty, the Contessa invited us outside to the garden for apple cake and coffee (yes, that's dessert #2). The whole meal was bigger than an American Thanksgiving feast. We certainly experienced the hospitality and abundance of Catania.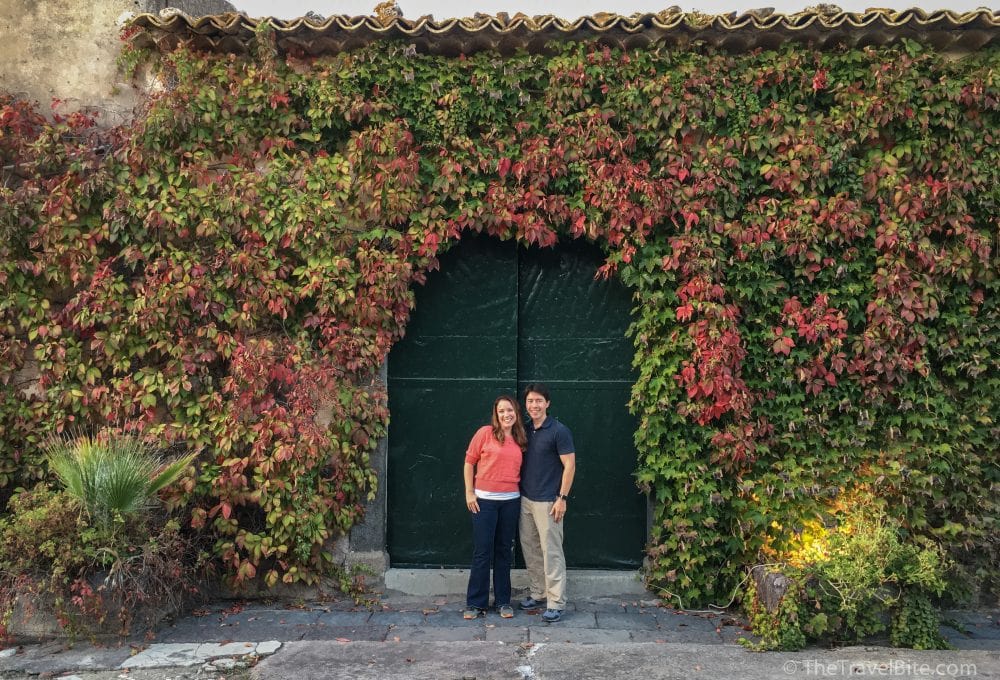 MESSINA
After a few days in Sicily, we began our drive to the main peninsula, making a brief stop to see the Duomo di Messina & Orologio Astronomico di Messina Automata in action at noon. The artistry and precision of the clock is magnificent!
We took a ferry across the Straight of Messina and drove deep into the Calabrian countryside. Our hotel, Popilia Country Resort, was located up on a hilltop overlooking the sea, and surrounded by olive groves, young fig trees, and farms. There's a few donkeys, some adorable bunnies, and a vocal wild boar who has made his presence heard, but thankfully not seen.
It was so quiet you could hear a pin drop during the night. The weather was cool and fresh, the kind of air that makes you want to breathe deeply. The internet was slow, and sometimes non-existent. However, we didn't mind the forced digital detox — it's a true getaway from the world.
TROPIA & PIZZO
"In every outthrust headland, in every curving beach, in every grain of sand there is the story of the earth." -Rachel Carson
While everyone seems to know Italian food, it's interesting to taste the subtle regional differences. Sicily, to me, seems to be filled with comfort foods — the arancini is essentially fried risotto. But in the Calabria region, the food is spicier. Everything seems to have a little kick. We were welcomed to our hotel with a plate of cheeses and meats, including 'njuda, a local spicy sausage spread on toastettes. It makes you thirsty for more wine, that's for sure.
During the day, we left our tranquil country cottage and drove down to the coastal town of Tropea. At first we sped through the winding stone streets, getting acquainted with every alley, corner, and look-out point. And then we went for a picturesque stroll, slowly taking it all in. The old Duomo with its simple Norman style architecture and solumn WWII bombshells flanking the door … two pasts colliding in the present. The ornate Baroque churches with such color and detail that I found myself holding my breath.
And then, the labyrinth of stone streets opened up to a turquoise sea — not at all what I imagine when I think of Italy.
In the afternoon, we drove over to another coastal village, Pizzo, for their famous ice cream — chocolate wrapped in gelato and dusted in cocoa powder. We stopped by a local grocer on our way back up the hilltop farm and picked up some cheeses, meats, crackers, grapes, tomotatoes, and an abundance of wine to have a little patio picnic for dinner with our new friends and villa neighbors. Living la dolce vita … taking it all in just one day at a time.
MATERA
"Imagination makes us aware of limitless possibilities. How many of us haven't pondered the concept of infinity or imagined the possibility of time travel?" – Alexandra Adornetto
After a road trip through Calabria up to the next region on our southern Italy food tour, we arrived in Matera and it was like stepping back in time a few millennia. Cliffside cave dwellings dating back to 12,000 BC, a terraced stone city with so many layers of history that last year's renovations unearthed newly discovered frescoes to preserve, and a modern piazza with an Art Deco bank.
A UNESCO World Heritage site, every corner of Matera has an architectural surprise and story to tell. The old part, the Sassi, looks nothing like Italy, and more like the Middle East or Bethlehem. It's no wonder movies like Richard Gere's King David, or Mel Gibson's Passion of Christ were filmed here … it's better than any movie set you can imagine.
As for the food, local residents made us feel right at home. There was the small coffee bar where we sipped Prosecco and watched Italian music videos and soccer while the owners kept feeding us sweet snacks of chocolate filled cones, salted almonds, and meringue cookies. They recommend a restaurant around the corner from them for dinner, Trattoria Lucana, which instantly became such a favorite that we went back the next day for lunch as well. Our table was filled with fresh baked Pane di Matera, melt-in-your mouth ricotta, homemade marmalade, a bottle of house wine, fried dough balls (which I still need to find the proper name for), mozzarella, and the kind of fresh al dente pasta and ragu you crave the moment you first set foot in Italy. It was heavenly!
After dinner, we went back to the coffee shop for dessert and espresso (because, it's Italy) and made a new friend, Franco, who gave an impromptu tango lesson and charmed us with his stories of making pizza for American soldiers.
On our final evening in Matera, we ventured out to Puglia for a wine tasting dinner at Polvanera winery and indulged in seven sinfully delicious courses that further proved that Italians show their love and hospitality through food.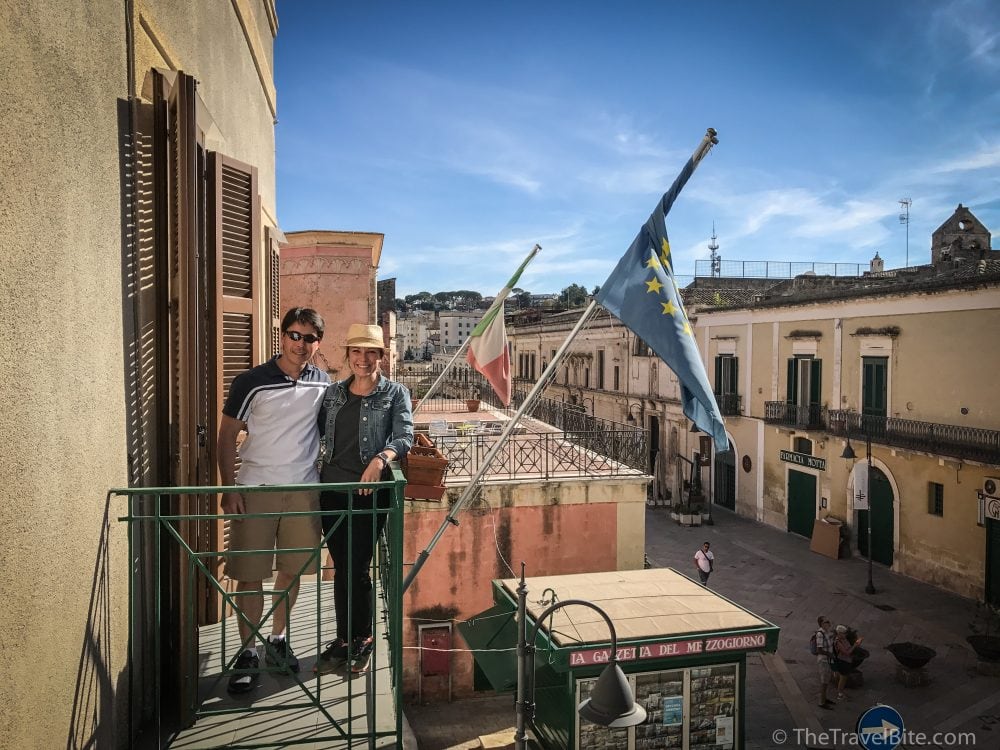 BENEVENTO & GUARDIA SANFRAMODNI
"If the sight of blue skies fills you with joy, if a blade of grass springing up in the fields has power to move you, if the simple things of nature have a message that you understand, rejoice, for your soul is alive." -Eleonora Duse
As you do on most road trips, we've been making a lot of stops on the way to our final destination. When in Italy, it seems every corner has another quaint town, scenic overlook, and picturesque vineyard. From Matera, we rode up to Benevento to visit a few wineries and make a chocolate stop in the Campanian region.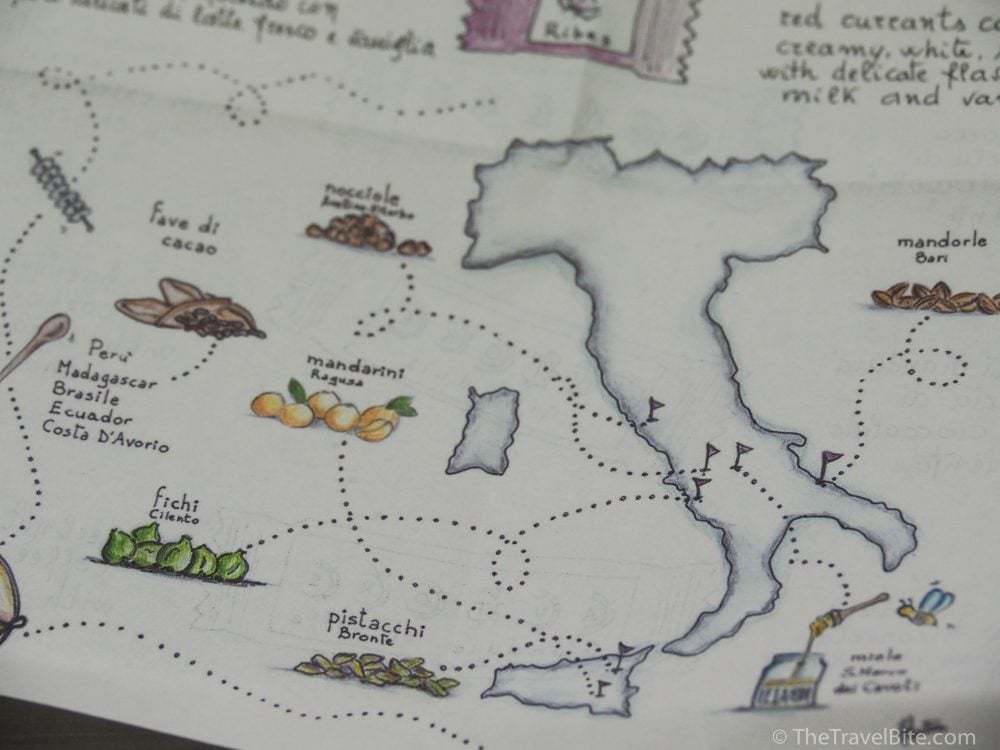 For chocolate, we stopped in San Marco Dei Cavoti to visit the artisan factory for Autore Chocolate and see how they make a croccantino, a regional chocolate bar with a crunchy core of almonds, hazelnuts, and caramel. Upon arriving, we were greeted by the owner and his mother and invited inside to see their small operation putting together pieces in preparation for the Christmas season. Of course, we sampled a few too!
And no southern Italy food tour would be complete without a cooking class, so we also stopped at Kresios for a hands-on lunch and learn where we made capunti pasta by hand, and tasted a few new-to-us grapes, including Falanghina and Aglianico. It's been a delicious ride!
To balance out all the food, we've taken a few walks too. From the UNESCO site, Church of Santa Sofia, to the winding medieval streets of Guardia Sanframondi, there's bits of history and remnants of ancient Rome around every corner.
TAURASI WINE REGION
"Wine is sunlight held together by water." -Galileo
Have you ever visited a place with such beauty that it felt like a spiritual experience? Our visit to Feudi di San Gregorio felt like heaven on earth — being welcomed with a walk through a gorgeous rose garden overlooking vineyards cascading down the valley, and then sipping wine in the cellar while listening to a local a cappella choir echo through the room like the music of angels. I could have spent an entire day here, but we had a little further to drive in order to reach our final destination — the Amalfi Coast.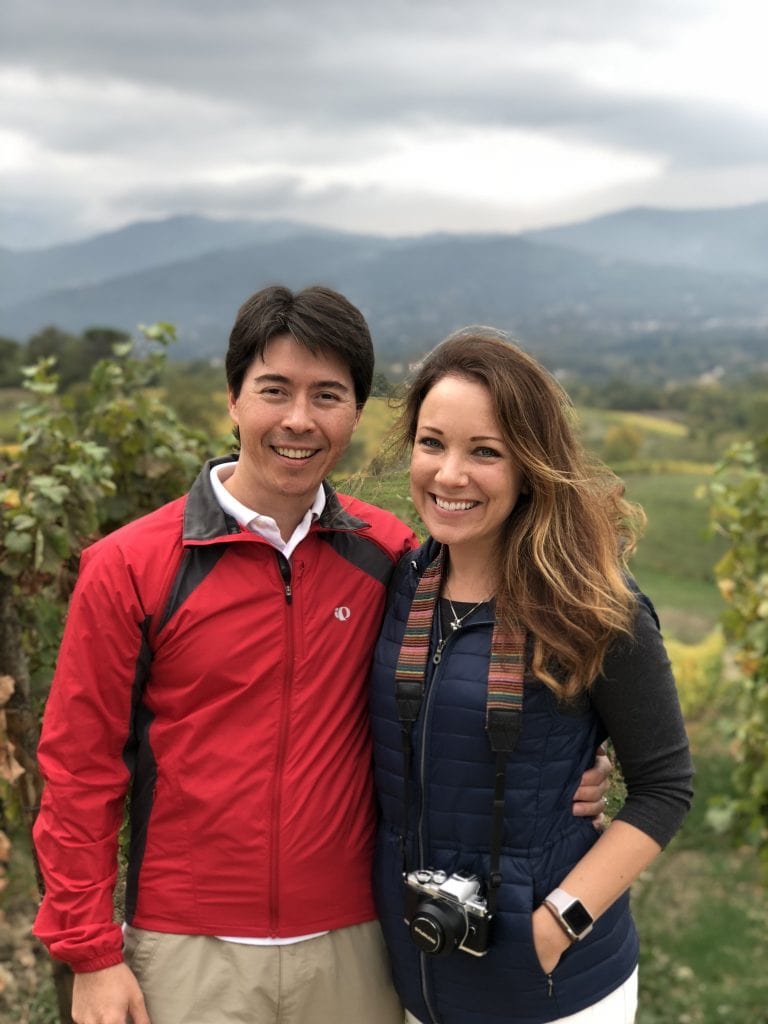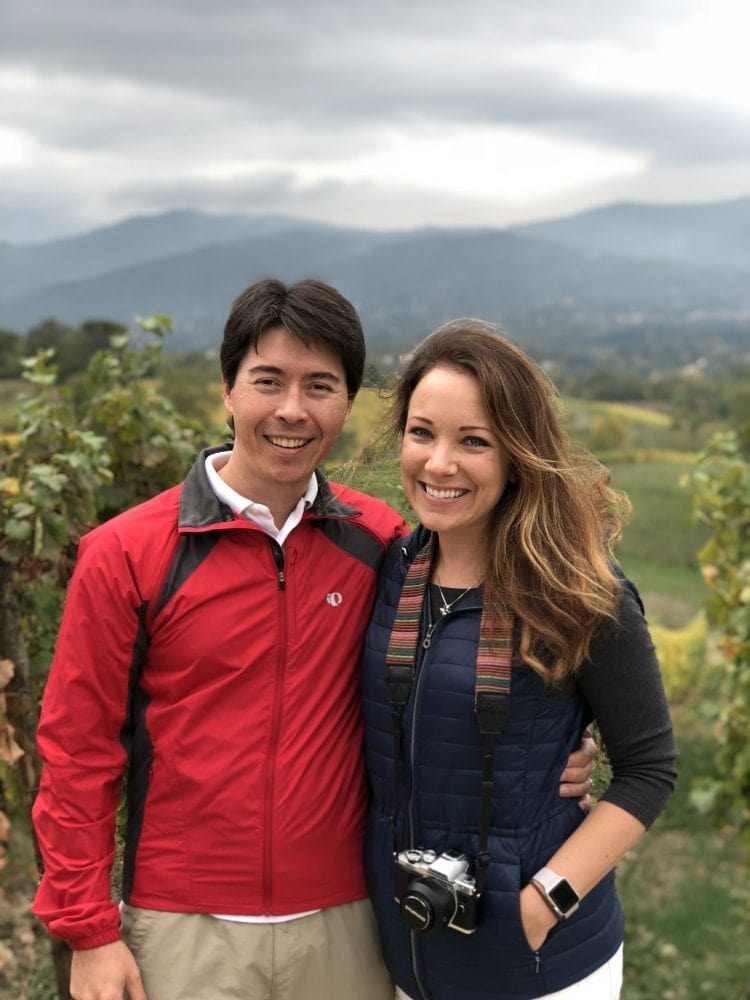 VIETRI
"The pale stars were sliding into their places. The whispering of the leaves was almost hushed. All about them it was still and shadowy and sweet. It was that wonderful moment when, for lack of a visible horizon, the not yet darkened world seems infinitely greater—a moment when anything can happen, anything be believed in." ― Olivia Howard Dunbar
We arrived in the village of Vietri on the Amalfi Coast just before sunset with just enough light to go for a walk through town to get a better view of the coast while peeking inside all the ceramic shops along the main road. Our hotel was just at the end of the village, with relaxing views of the Mediterranean right outside our balcony window.
With Vietri as our home base, we ventured out to an organic dairy farm, Tenuta Vannulo, to see how Mozzarella is made and, of course, taste some too. The buffalo on the farm are treated like royalty, with opera music played in the barn and even their own massage machine that they can walk up to anytime they want their back rubbed. After our tour, we enjoyed a simple Mediterranean diet inspired lunch of fresh lettuce and tomatoes drizzled in olive oil and cracked pepper with a side of ricotta and mozzarella from the farm.
PAESTUM
Our biggest surprise was left for the last day of the tour, the ancient Greek city of Paestum. While we often think of Roman history in Italy, the Greek ruins were unexpected. The remains of Paestum's city streets and buildings lead to three remarkably intact temples dating back to 600-450 B.C. There's also the Archaeological Museum of Paestum where we viewed of the antiquities found on site, including the famous frescoes of the Tomb of the Diver.
After nearly two weeks traveling on a Southern Italy food tour, we go brave and tried ordering the check in Italian, but ended up saying the word for "cut" instead. With hand gestures, you can imagine how hilarious this was to our waiter when he finally figured out what we meant. Thankfully, he spoke pretty good English.
This reminded me of my first trip to Italy, when I thought I was ordering water since it sounded like the waitress said "wah wah" and made a hand gesture that I *thought* looked like drinking. Well, instead of water, I ended up receiving a fried egg … uovo. Imagine my surprised look when a single fried egg was placed in front of me on a thirsty afternoon.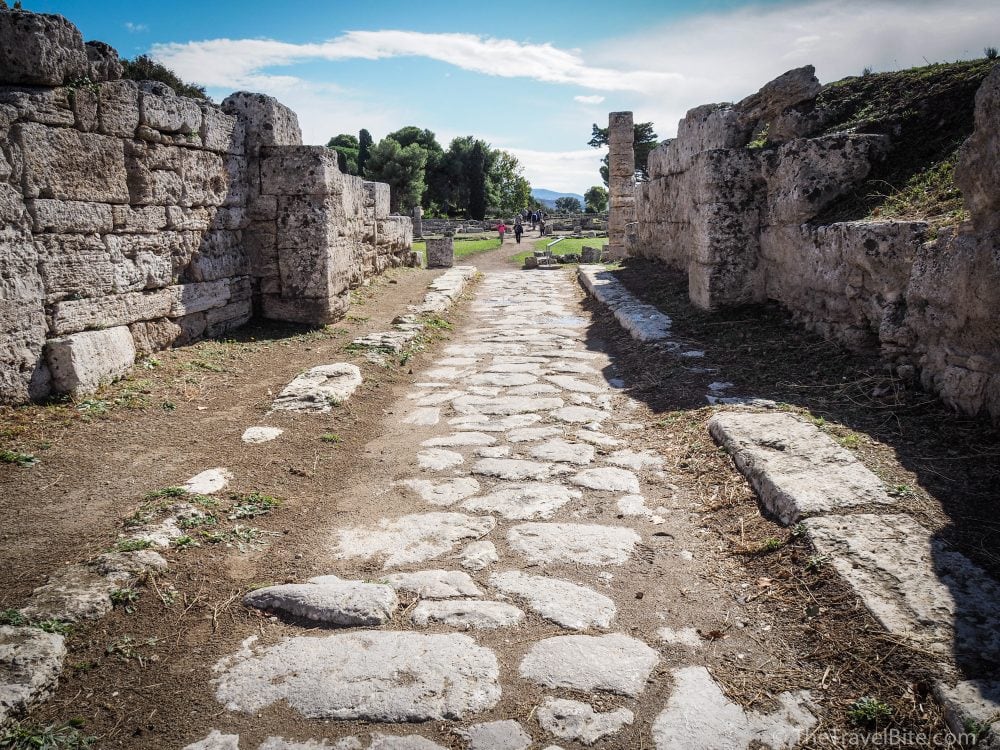 During our last night in Italy, the sun set on our delicious journey with a gorgeous lavender sky and crescent moon. Our hearts felt lighter, our pants a little tighter, and saying goodbye was bittersweet. Though, we came home with new recipes to try and new friendships forged over adventures and wine.
Want to save this travel idea? Pin it below! 🙂