I feel like I can still smell the scent of pine mixed with salty sea air from a recent Alaska cruise. It was a cool and refreshing break for an otherwise hot summer, and the memories we made on the cruise are ones we'll be talking about and sharing for years to come.
Summer Alaska Cruise – Review, Best-Of Highlights, & Photos
An Alaskan cruise is a bucket list dream for many, and it's so easy to see why with the great outdoors and adventurous excursions being a huge draw. One of the best perks to cruising this state is the chance to see countless glaciers and wildlife that you wouldn't otherwise get the chance to see by traveling over land. Each port has something unique to offer, so I've outlined some of the highlights for each port below.
SEATTLE
Carnival's Alaskan Cruise departs out of Seattle, which, if you've never been, is a fun port city to visit. There's the iconic Space Needle from the 1962 World's Fair, the very first Starbucks Coffee Shop at Pike's Market, plus Seattle Center that's full of museums, interesting architecture, and fun entertainment. Since we flew in from the east coast, we were a little worried about jet lag, but the city's coffee culture that birthed the iconic green mermaid icon is still booming, with countless independent cafes on nearly every corner. A brisk walk through the hilly city and a few cups of java perked us up and got us on west coast time fairly quickly.
DAY AT SEA
Throughout our cruise, my husband and I would grab a cup of coffee and go for a walk out on deck to fit in some exercise while taking in the views. We saw countless humpback whales, hanging glaciers, waterfalls tricking off the mountains from the summer snow melt, and more bald eagles than I've seen in my life. Whether we were going for one of our walks, or simply enjoying the scenery from our stateroom balcony, watching the scenic coastline of Alaska was one of our favorite parts of the cruise.
Cruising The Fjords & Hayes Glacier
Cruising Tracy Arm Fjord was an all day on-deck adventure as we never had to leave the comfort of the ship. No matter where we were, having a meal in the Unicorn Cafe, sipping coffee out on the Serenity Deck, or just watching the world go by from the privacy of our balcony, we were surrounded by lush landscapes, dense forests, and waterfalls. As we got closer to the main glacier, we'd even spot sea lions floating on small ice bergs slowly drifting by. It was hard to take your eyes off the scenery, but thankfully, there was a great view no matter where you were on the ship.
SKAGWAY & WILDERNESS SAFARI
Skagway was our first on-shore adventure, the Glacier Point Wilderness Safari, that included a whole day of activities including boarding a smaller boat to a private island, a picnic lunch amid wildflowers and mountains, a hike through a rain forest, a canoe ride, and an epic finale at the face of a glacier we could actually touch. The photo of us from this excursion with the vibrant blue glacier in the background is the one that's definitely going in a frame for my desk. I actually wrote a whole post about the experience that you can see here: Skagway Alaska – Davidson Glacier A Must See.
MENDENHALL GLACIER & DOWNTOWN JUNEAU
Juneau is not only Alaska's capitol city, but it is also where a 37 square mile ice field begins, making it one of the few capitol cities that's only accessible by boat or plane. We spent the morning on an excursion to Mendenhall Glacier, going for a few hikes to see waterfalls and wildlife, with plenty of time in the afternoon to explore downtown Juneau's shops and restaurants too. You can check out more of our Mendenhall Glacier pictures and tips for what to see in Juneau in our Mendenhall Glacier post.
KETCHIKAN
Ketchikan has a lot to see in town, including their historic Creek Street and the Park District. We spent the day here going for a walk around town, taking salmon selfies with a sculpture by the creek, and enjoying some local Raven's Brew coffee at the Good Coffee Company. We also climbed the stairs at the edge of Creek Street up to the Civic Center and Cape Fox Lodge to take a look at the elaborately carved Native Totems.
VICTORIA
While Victoria was the shortest of the stops, it was still very memorable. As the capitol of British Columbia, there was plenty to see in the downtown area. After dinner on the ship, Pete and I went for a stroll along Ogden Point and Fisherman's Wharf, marveling at the adorable house boat village and taking pictures in front of the landmark Parliament Building that was so beautifully lit against a late summer evening sky.
Overall, we loved our Pacific Northwest adventure. From watching the rugged shoreline, to whale watching, and exploring the wilderness to see glaciers all make a memorable Alaskan cruise.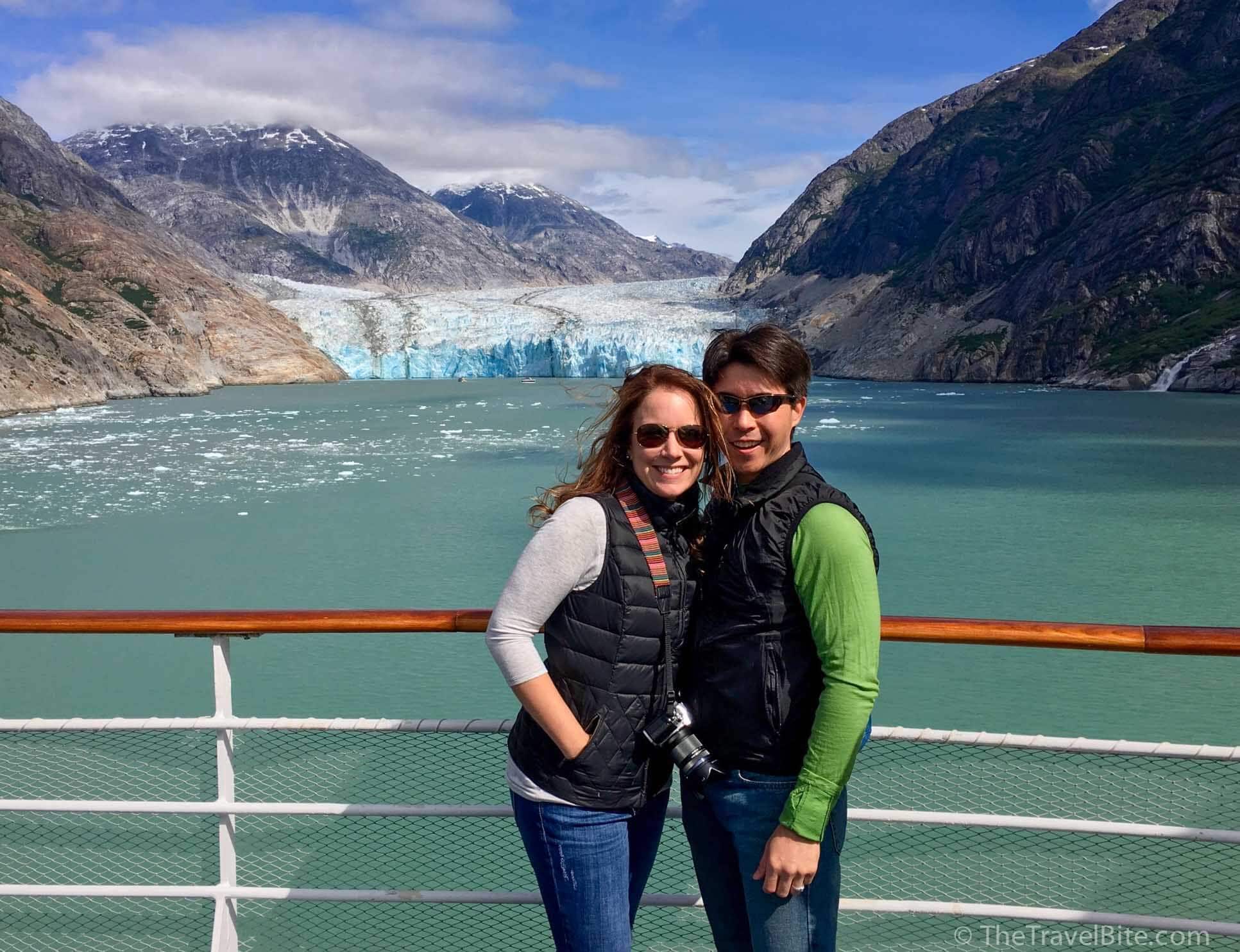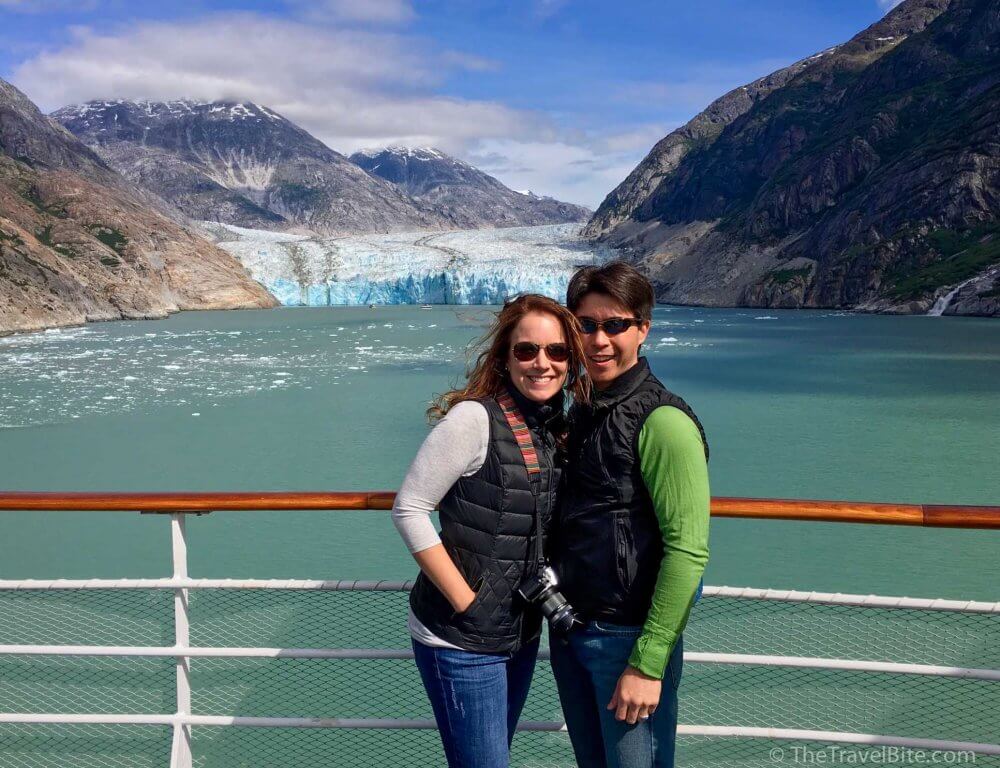 This post was created for Away We Go with Carnival, the destination for getting in the getaway state of mind.
More Stories We Think You'll Love!