Hot ham and cheese sandwiches are a lunchtime staple. And with just a few added ingredients, you can take the basic ham and cheese sandwich and make it extraordinary.
This recipe is inspired by one of our favorite cafes in Orlando, B3. It stands for Bikes, Beans, and Bordeaux and is a favorite among locals who enjoy cycling, good wine, and exceptional coffee. They have a sandwich on their menu called The Messenger that is dedicated to bike messengers in the Big Apple.
What I really love about this sandwich is the autumn flavors of sweet honey mustard paired with the tangy pickled onions, crisp sweet apple slices, nutty Swiss cheese, and salty ham all toasted warm in a skillet. We hope you enjoy it as much as we do!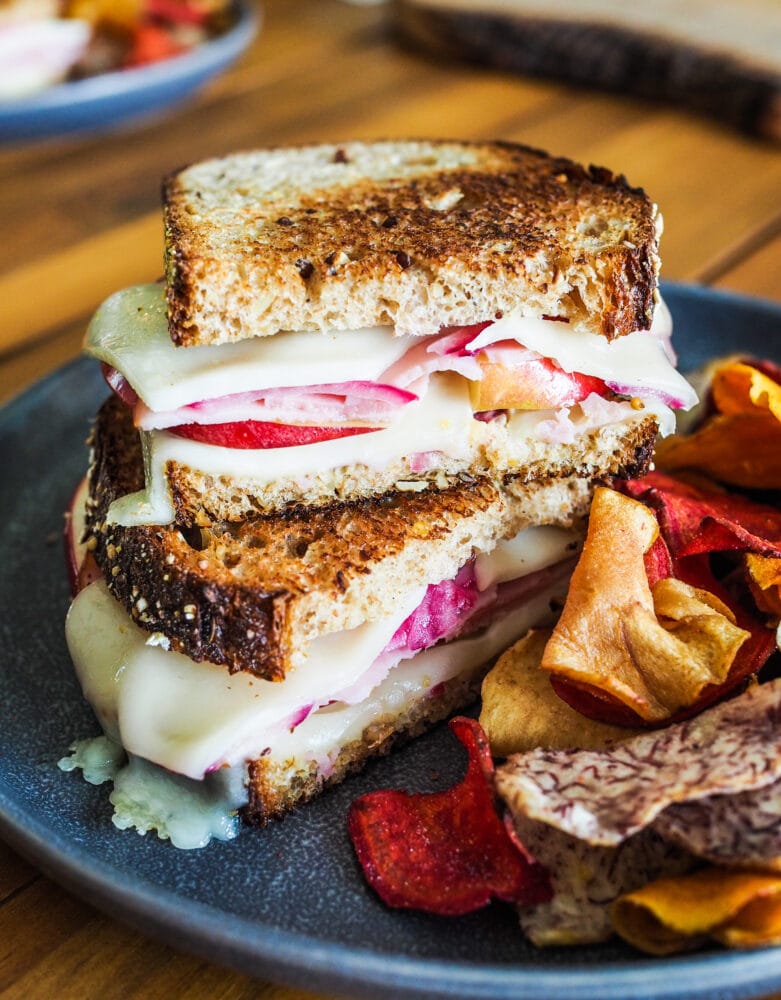 What Kind Of Cheese Goes Well With Ham?
You could use any type of sliced sandwich cheese you have on hand. But personally, I think a creamy cheese with a nutty flavor pairs well with the saltiness of ham. We like to use Swiss in our ham sandwiches. But you could also use cheddar, mozzarella, or havariti.
How Do You Make A Ham And Cheese Sandwich?
Top a slice of whole wheat or pumpernickel bread with with 2 slices of cheese and 3 slices of ham per sandwich. For this recipe below, we also add pickled red onions, apple slices, and honey mustard. Next, toast the sandwiches in a large skillet on medium heat and cook until the bread is golden brown and the cheese is melted. Alternatively, you could toast the sandwiches in an air fryer for 2-3 minutes.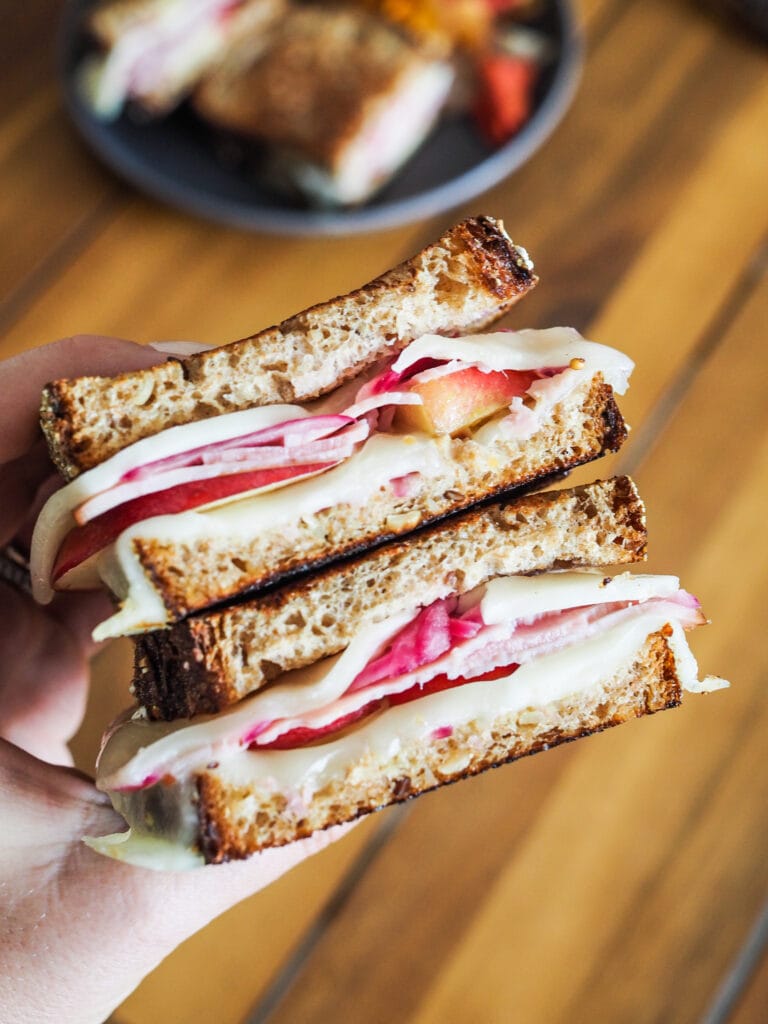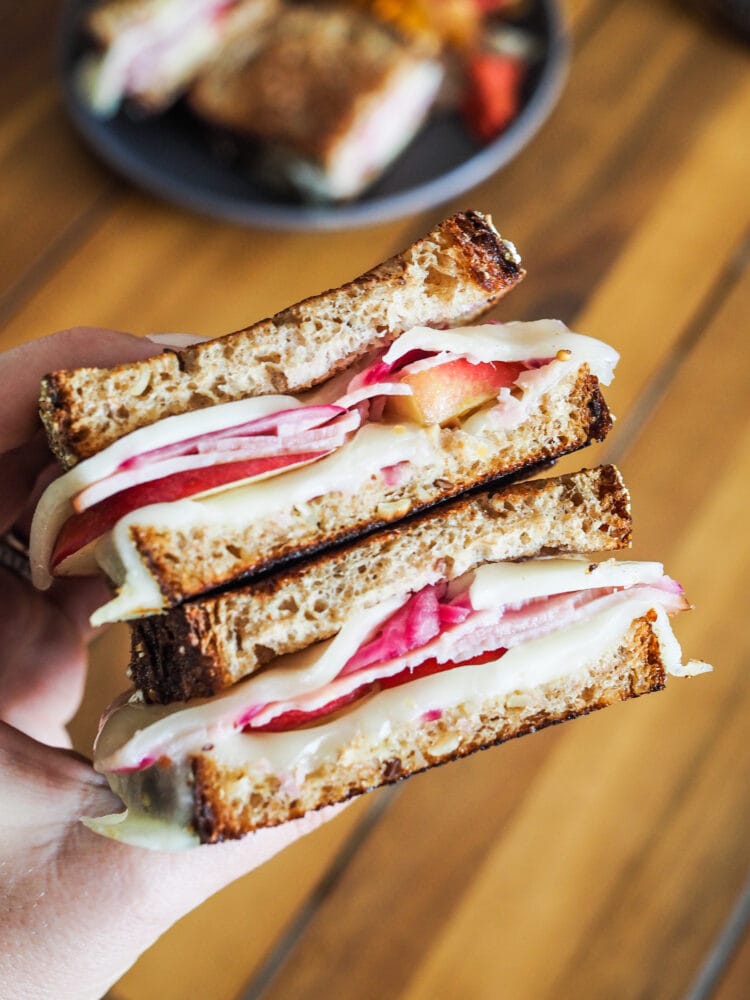 Ham and Cheese Sandwiches Around The World
Curious about how ham and cheese sandwhiches ever came about? The first known or recorded instance of these lunchtime favorites in the United States was in the late 1800s where they were the only food sold in New York baseball parks.
In the UK, ham and cheese sandwiches are often topped with a pickle or a sweet vinegary chutney.
The French version is called a croque-monsier, which translates to "crunchy mister." It's made with brioche and toped with grated cheese (gotta love the French for the extra cheese) and then pan fried or baked.
And in Brazil, a roasted ham and cheese sandwich is known as a misto-quente, which translates to "hot mix."
Also, in our home state of Florida as well as Cuba you'll find Cuban Sandwiches which are assembled with ham, roasted pork, Swiss cheese, pickles, mustard, and sometimes salami on crusty Cuban bread.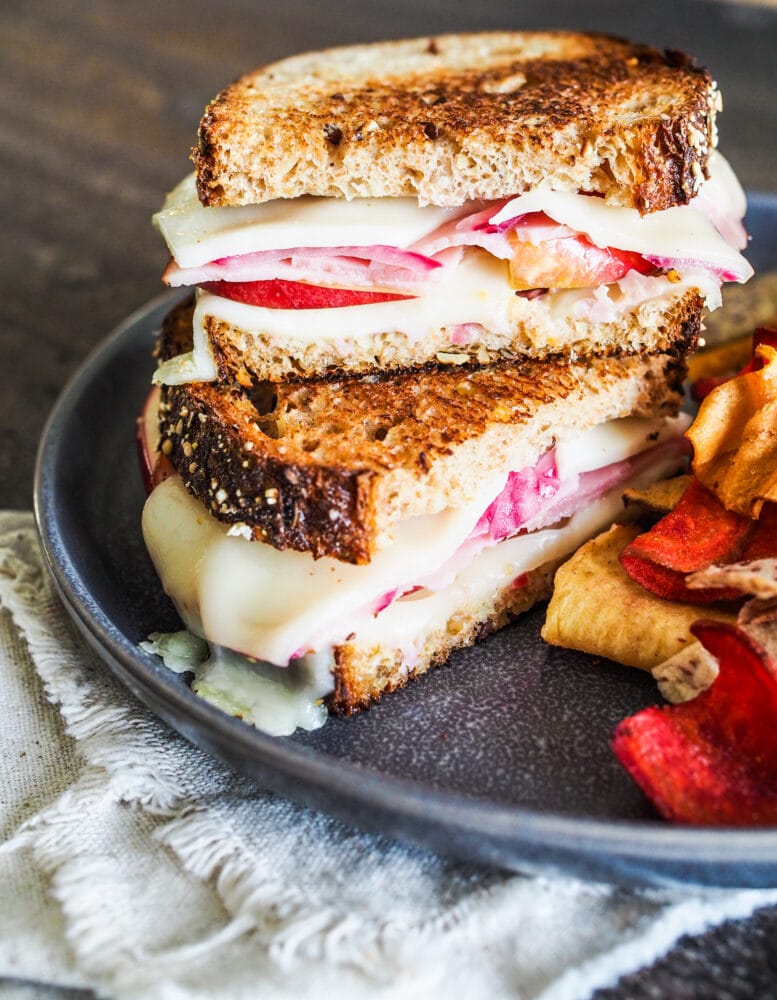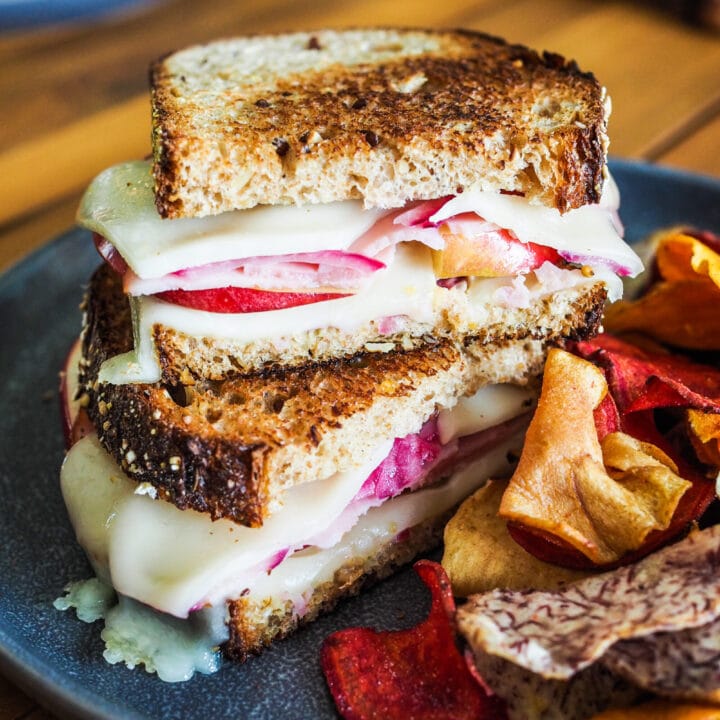 Apple Ham and Cheese Sandwich
Ingredients
4 slices whole wheat bread or pumpernickel
4 slices Swiss cheese
6 slices of ham
1 large apple
1 Tbsp honey mustard
1 red onion (for pickled onions)
3/4 cup vinegar (for pickled onions)
1 Tsp sugar (for pickled onions)
non-stick cooking spray
Instructions
Using a mandolin or sharp knife, carefully slice the red onion as thin as possible.
Add the vinegar and sugar to a small glass jar and stir until the sugar is dissolved. Add the onions and let them marinate for at least 15 minutes or overnight.
Next, wash and dry the apple. Cut the apple along the sides around the core, then chop the apple pieces into 1/4" slices.
To make the ham and cheese sandwhich, spread honey mustard on each slice of bread. Then top each bread slice with Swiss cheese
Next, add ham, a few pickled onions, and layer with apple slices.
Assemble the two sandwhiches and toast large skillet on medium heat with a little non-stick spray. Cook until the bread is golden brown and the cheese is melted, about 2 to 3 minutes for each side.
Nutrition Information:
Yield:

4
Serving Size:

1
Amount Per Serving:
Calories:

401
Total Fat:

17g
Saturated Fat:

7g
Trans Fat:

0g
Unsaturated Fat:

7g
Cholesterol:

92mg
Sodium:

1212mg
Carbohydrates:

27g
Fiber:

4g
Sugar:

11g
Protein:

35g
Nutrition information provided is only an estimate.
More Sandwiches We Think You'll Love