This apple cider chicken is the perfect autumn salad for balancing out all those sweet pumpkin-flavored indulgences. It's light, refreshing, eash-to-make, and has a great a autumn apple cider flavor with a bit of a sweet crunch from the crispy shallots.
I like to make this salad with cress since it's a nutritional power house packed full of vitamins to help give me a healthy boost during a hectic time of year. Cress is a bit tangy and bitter, so the sweetness of the apple cider complements it quite well. If you can't find cress at your local grocer, arugula is a good alternative.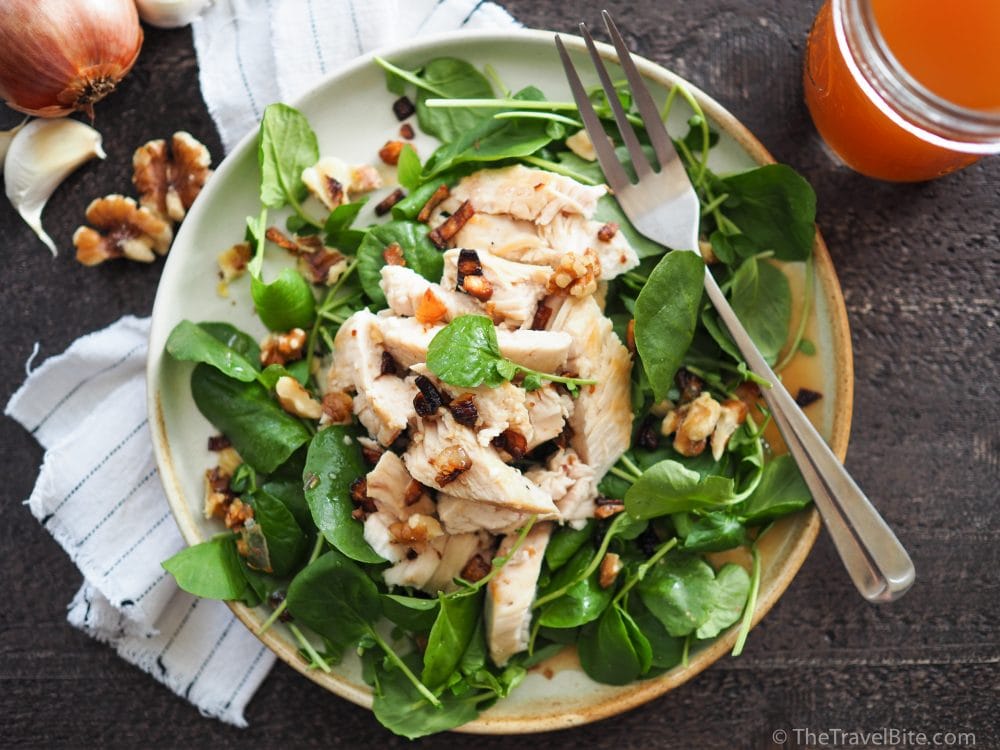 This apple cider chicken salad with homemade dressing, crushed walnuts, and crisp cress lettuce is perfect as we transition into fall. It has become one of our weekday favorites when we need a quick diner. I hope you enjoy this apple cider chicken autumn salad as we do!
Autumn Salad - Apple Cider Chicken
Ingredients
2 large chicken breasts (approx. 1 1/2 lbs)
1 bag (4 ounces) garden cress
1 1/2 cups apple cider
1 Tbsp honey (or agave nectar)
2 Tbsp butter
3 ounces shallots, coarsely chopped
3 garlic cloves, coarsely chopped
2-3 Tbsp olive oil
1/4 cup walnut pieces
salt and pepper to taste
Instructions
Heat the olive oil in a large non-stick skillet. Add the shallots and garlic cloves and cook on medium heat until brown and crispy, but not burnt.
While the garlic and shallots are frying, butterfly the chicken breasts so that you have four thin fillets. Sprinkle salt and pepper on both sides of each fillet.
Once the garlic and shallots are browned, pour them onto a plate layered with 2-3 paper towels to soak up the extra oil (similar to how you crisp bacon).
Add the chicken fillets to the same pan. Cook on one side for 3-4 minutes until browned. Turn the chicken over and cook for an additional 3-4 minutes on the other side until brownd.
Add 1 cup of the apple cider to the pan with chicken and cook an additional 4-5 minutes, occasionally spooning the apple cider over the chicken breasts.
After the chicken is cooked, remove from the pan and allow to rest on a cutting board.
Then, add an additional 1/2 cup of apple cider, 1 Tbsp of honey, and 2 Tbsp butter to the same pan and whisk until blended. Once butter as melted into the apple cider, turn off the heat.
This recipe is enough to feed four, but if you're making dinner for two, the left overs are delicious. Just hold off on the dressing for the left overs.
Place one cup of cress onto each plate.
Slice the chicken breast and arrange on the cress. Sprinkle with crispy shallots and crushed walnuts. Spoon on the warm apple cider dressing from the pan. Enjoy!
Nutrition Information:
Yield:

4
Serving Size:

1
Amount Per Serving:
Calories:

449
Total Fat:

33g
Saturated Fat:

7g
Trans Fat:

0g
Unsaturated Fat:

24g
Cholesterol:

66mg
Sodium:

171mg
Carbohydrates:

20g
Fiber:

1g
Sugar:

15g
Protein:

20g
Nutrition information provided is only an estimate.