When it comes to breakfast, few things can rival the mouthwatering combination of sweet and savory like bacon pancakes. Now, do I mean bacon and pancakes? Nope! I mean bacon ON pancakes!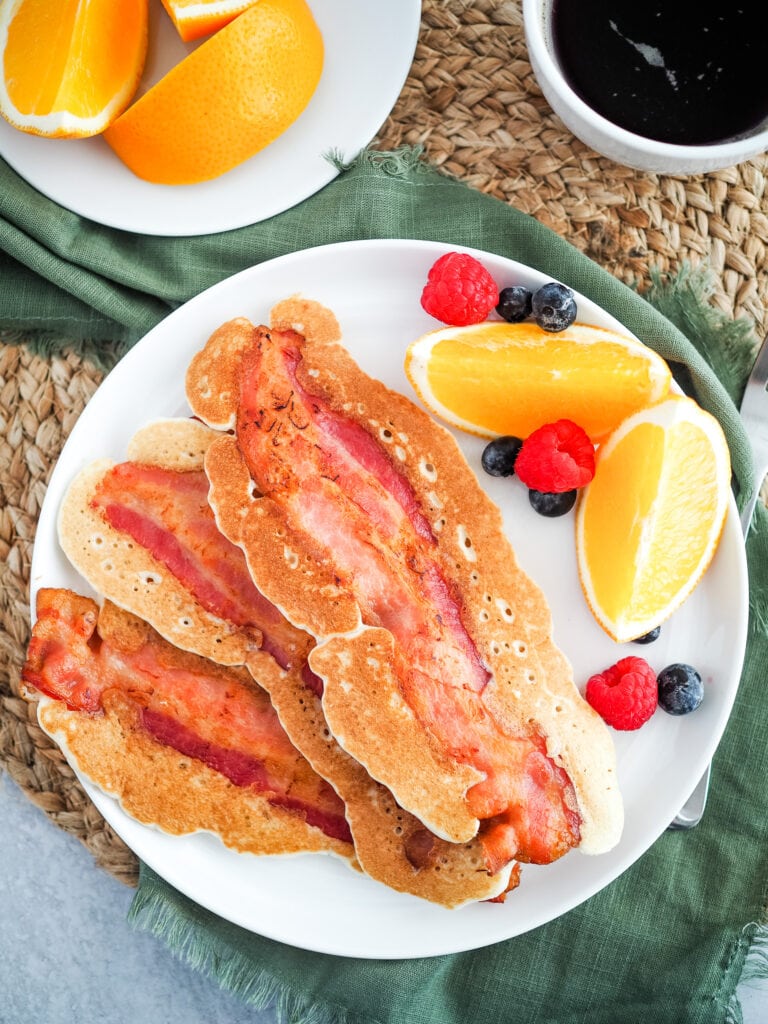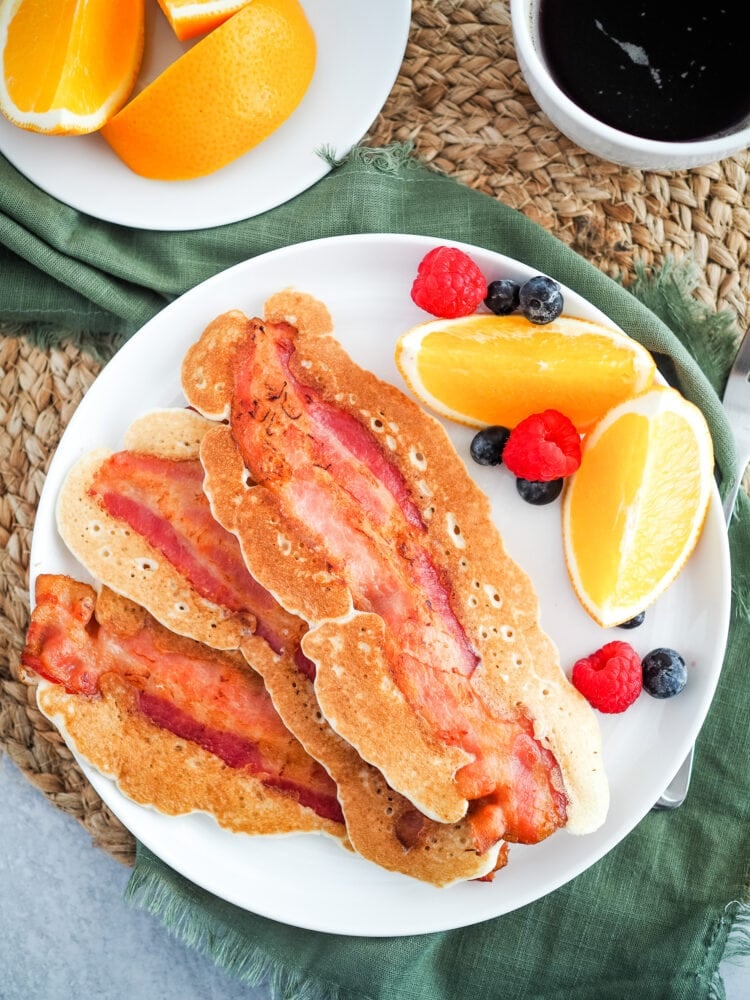 Crispy slices of bacon are added directly into the batter, giving these bacon pancakes a savory, smoky flavor that beautifully complements the sweet, fluffy pancake texture.
These delectable treats, a staple of brunch menus and breakfast tables around the world, are a testament to the culinary creativity of food lovers. Let's explore the magic of bacon pancakes, from their humble origins to the art of crafting the perfect stack.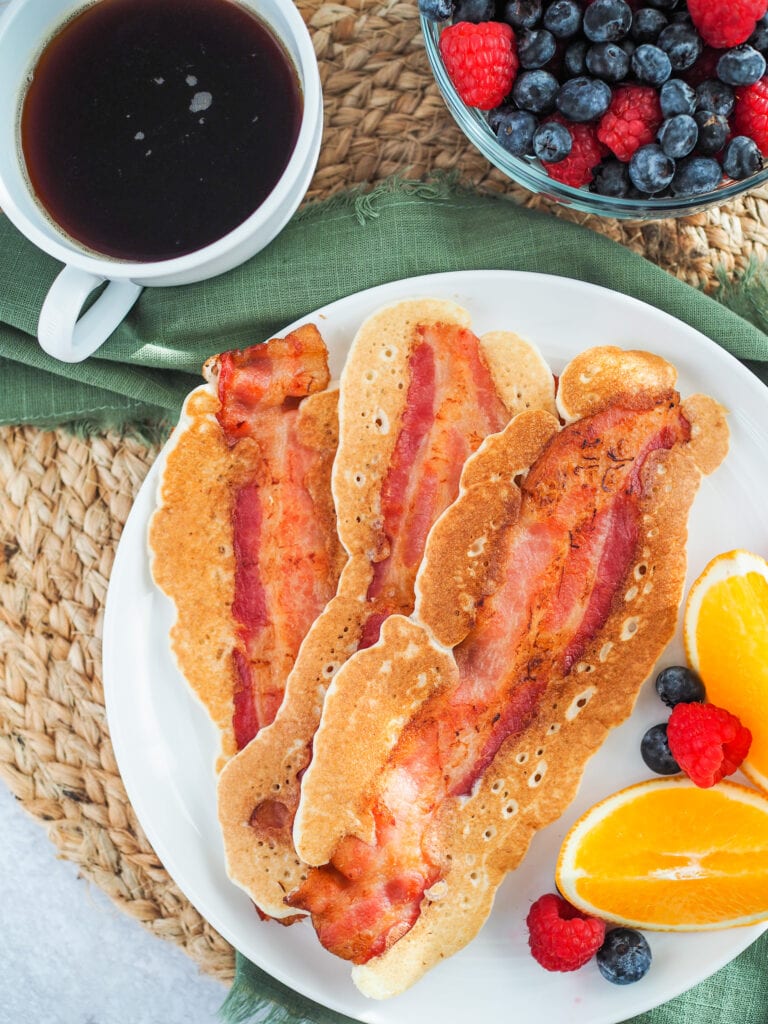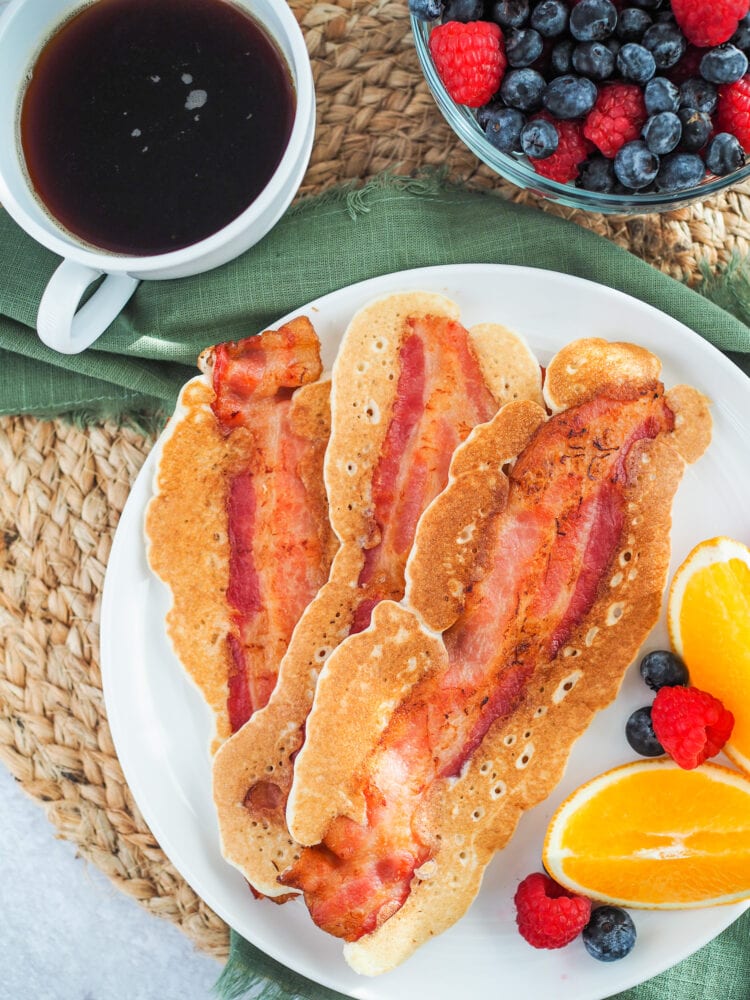 The Origins of Bacon Pancakes
Before we delve into the cooking and savoring of bacon pancakes, let's take a moment to appreciate their history. Bacon pancakes have a fascinating past, drawing from both American and European culinary traditions.
American Roots: In the United States, bacon pancakes have been a beloved breakfast dish for generations. They are often served with a side of maple syrup, creating that perfect balance of sweet and salty that so many of us crave. Whether enjoyed at a cozy diner or whipped up in your home kitchen, bacon pancakes are a quintessential American comfort food.
European Influences: Speckpfannkuchen, also known as "Bacon Pancakes" in English, is a delightful and savory variation of traditional pancakes that has its roots in German cuisine. These pancakes are similar to the American-style pancakes, but sometimes made with batter that's a little more thin like a crepe.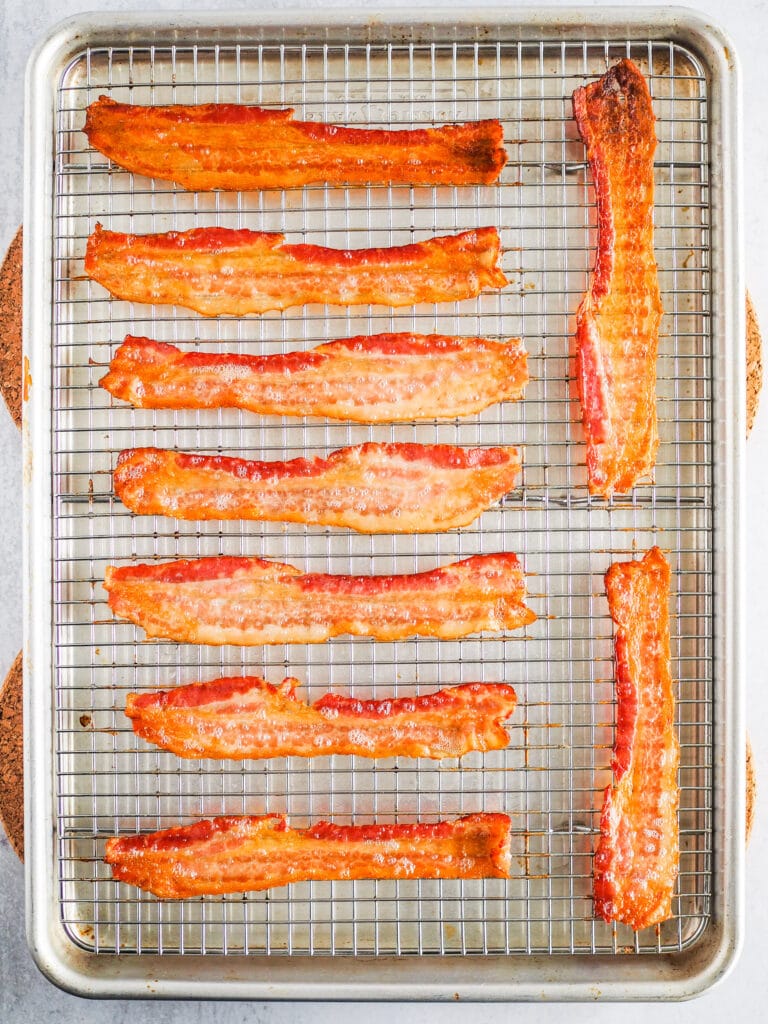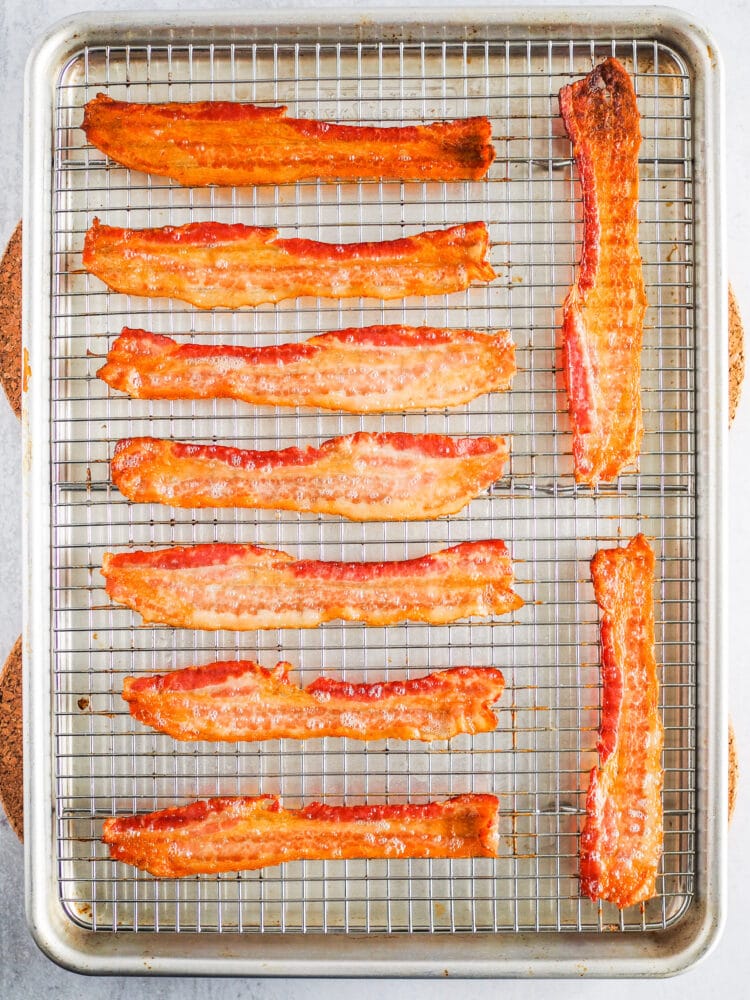 What's The Best Way To Get Crispy Bacon?
Making extra crispy bacon is a must for many bacon lovers! And it helps with creating bacon pancakes that can be dipped whole into syrup. Here's a simple way to achieve that crispy perfection.
Choose the Right Bacon: Start with good-quality thin-cut bacon. Thin-cut bacon tends to get crispier than thick slices. And crispy bacon definitely yields a more satisfying crunch! Just be aware that thin bacon tends to shrink significantly as it cooks, while thick-cut bacon maintains its size better.
Preheat the Oven: Preheat your oven to around 400°F (200°C). Using the oven to bake bacon (instead of pan frying) is a great method for even cooking.
Line a Baking Sheet: Line a baking sheet with aluminum foil or parchment paper. This makes cleanup a breeze!
Use a Rack: If you have a baking rack, you can place it on top of the baking sheet and lay the bacon on the rack. This allows the fat to drip down, resulting in extra crispy bacon.
Arrange the Bacon: Lay the bacon strips on the rack in the baking sheet. Make sure they don't overlap, as that can prevent even cooking.
Bake and Check: Pop the bacon into the preheated oven. Cooking time can vary depending on the thickness of the bacon and your desired level of crispiness. Start with about 12-15 minutes. Check it around the 10-minute mark, and then keep a close eye on it. You want it to be golden brown and as crispy as you like.
Drain the Fat: After baking, remove the bacon from the oven and place it on a plate lined with paper towels to absorb excess fat. Once it cools a bit, you'll have some seriously crispy bacon ready to use for your bacon pancakes.
EXTRA TIP: You can also cook your bacon in an air fryer! The air fryer will also yield extra crispy results. But since air fryers tend to be smaller than ovens, you might just have to cook the bacon in batches. To air fry bacon, lower the temperature to 375 and check on them at the 8 minute mark as bacon tends to cook faster than when in an oven.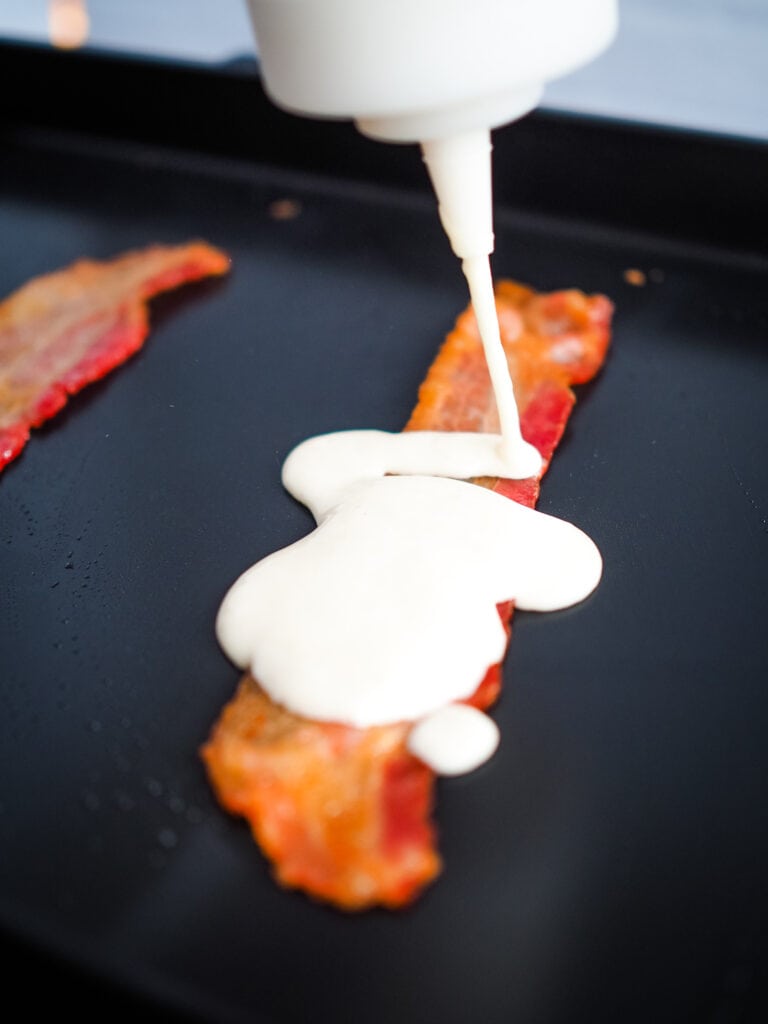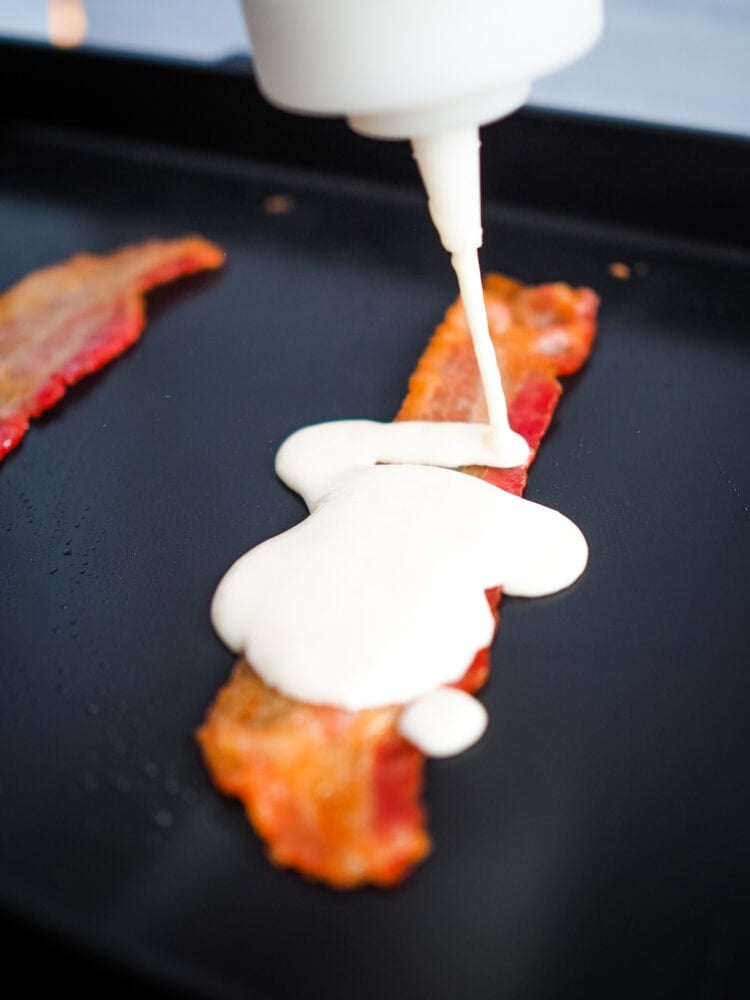 Bacon Pancake Batter
To create bacon pancakes that are fluffy and mouthwatering, you'll need the perfect pancake batter. Of course, you can always use store-bought pancake batter. I've used Bisquick before when traveling as I can just shake and pour. But we also have a homemade pancake recipe that is highly rated too.
The easiest way to make bacon pancakes (or to cook the pancake batter directly on the bacon) is to add the pancake batter to a squeeze bottle. You might need to thin the batter just a bit so it can pour easily through the nozzle. After making this bacon pancake recipe awhile, I can tell you that using a squeeze bottle gives you the most control when shaping the pancakes and ensures that you don't use too much pancake batter per slice.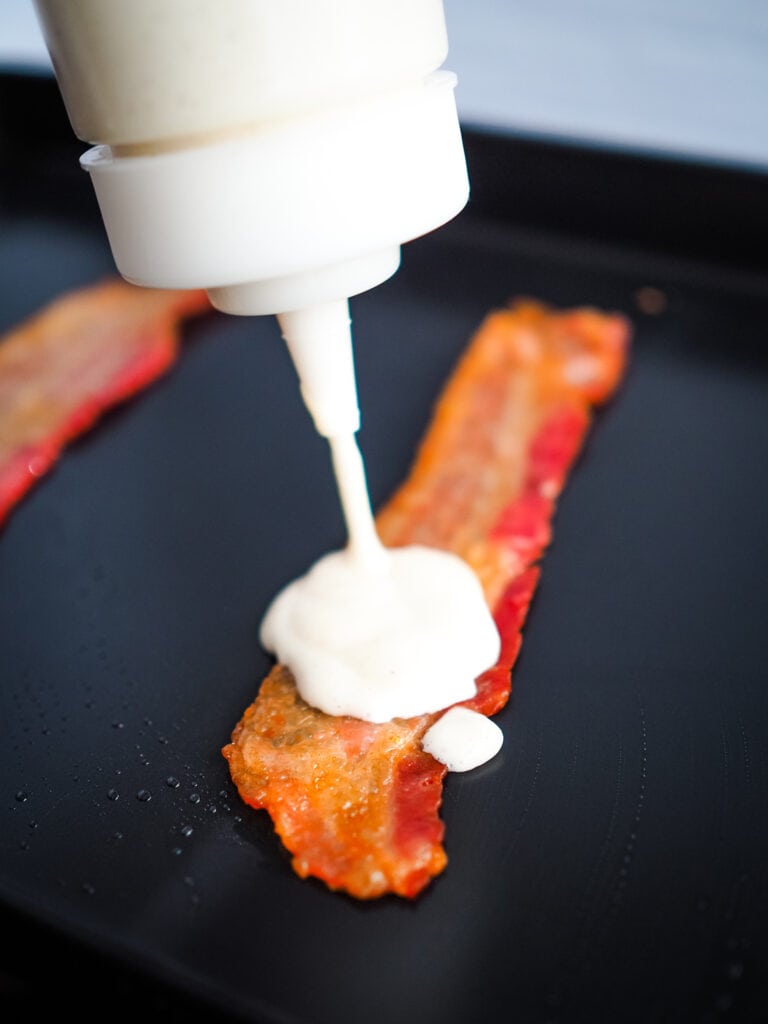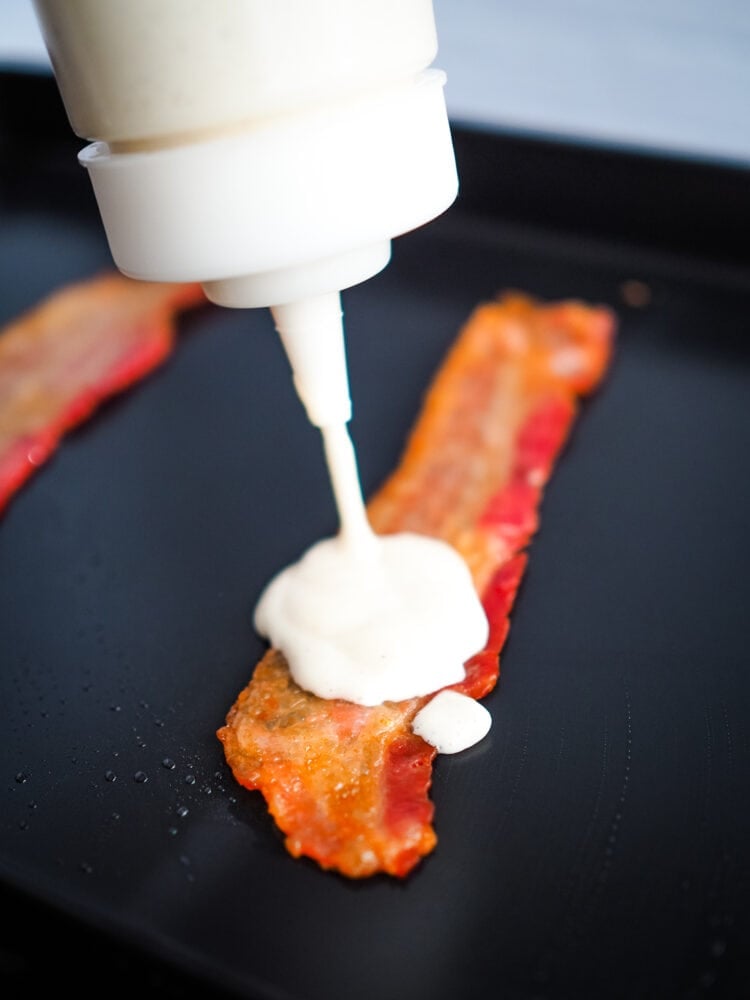 Bacon Pancake Serving Suggestions
The beauty of bacon pancakes is that they can be enjoyed in various ways. Here are a few serving suggestions that will take your breakfast experience to the next level:
Maple Syrup Drizzle: The classic choice. A generous drizzle of pure maple syrup over your bacon pancakes enhances the sweetness and complements the savory bacon.
Sour Cream and Chives: For a unique twist, top your bacon pancakes with a dollop of sour cream and a sprinkle of fresh chives. The tanginess of the cream and the herbal note of chives create a delightful contrast.
Fruit Medley: Fresh fruit is always a great companion to pancakes. A medley of berries, slices of banana, or a few wedges of citrus can provide a refreshing, zesty balance to the savory bacon.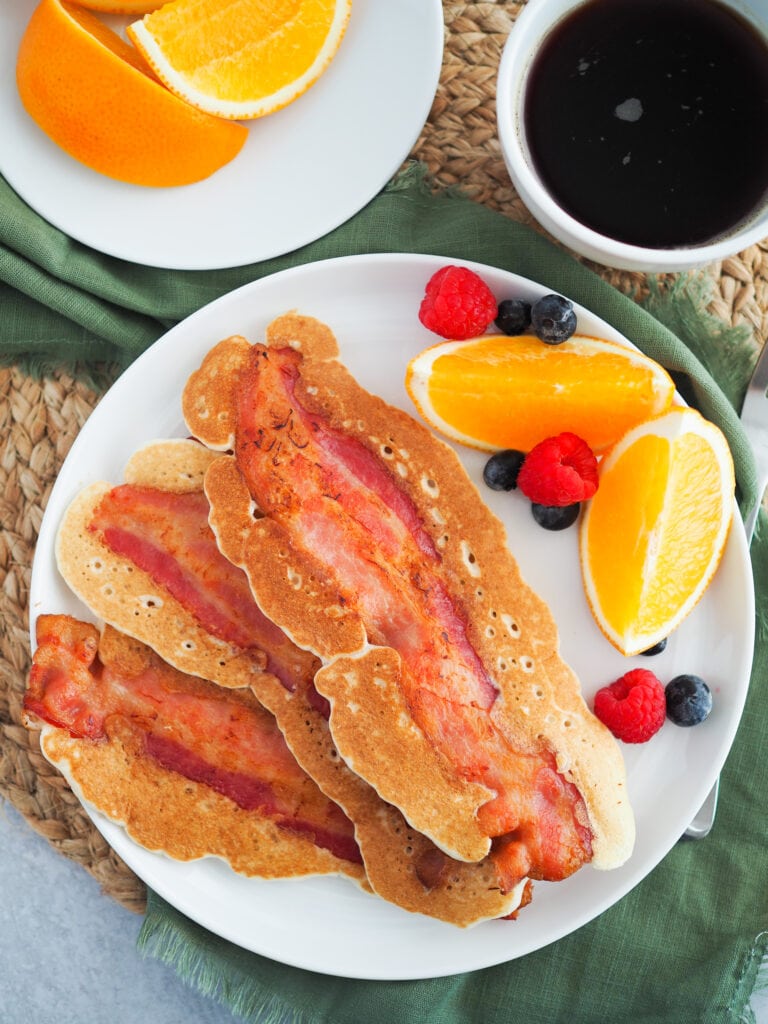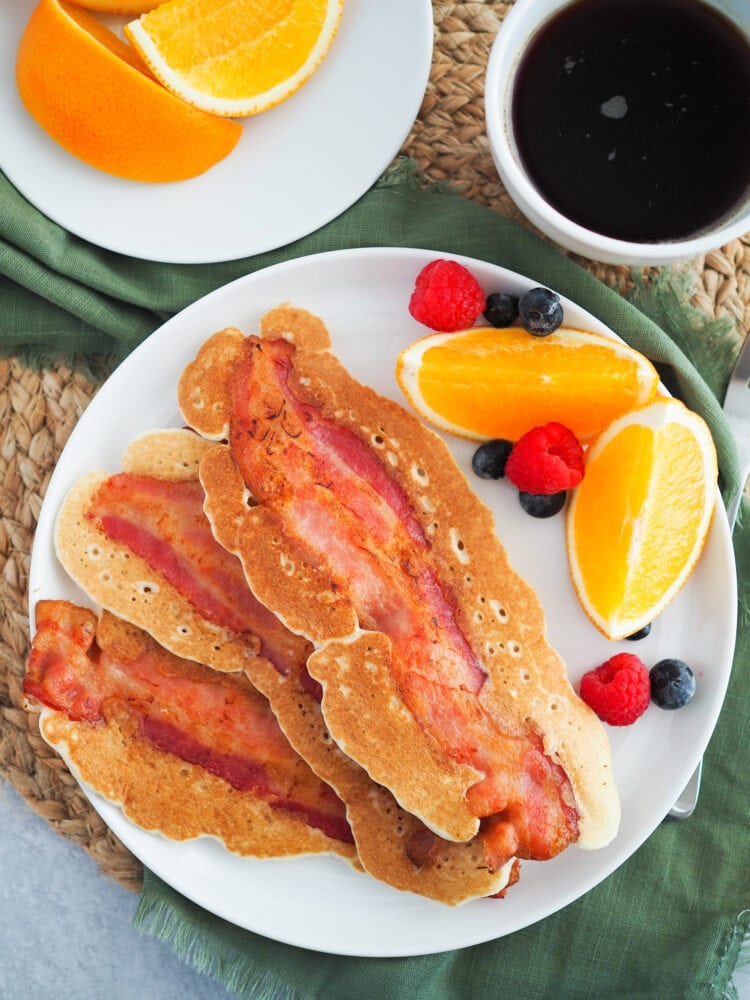 Cheesy Goodness: If you're feeling indulgent, add a layer of melted cheese between the pancakes. The melting cheese oozing between the layers creates a savory, delicious surprise.
Bacon pancakes are the embodiment of culinary creativity, blending sweet and savory flavors in one delectable stack. So, the next time you're in the mood for a breakfast that's a little bit sweet, a little bit salty, and a whole lot of delicious, give bacon pancakes a try. You won't be disappointed by the magic that happens when fluffy pancakes meet crispy bacon.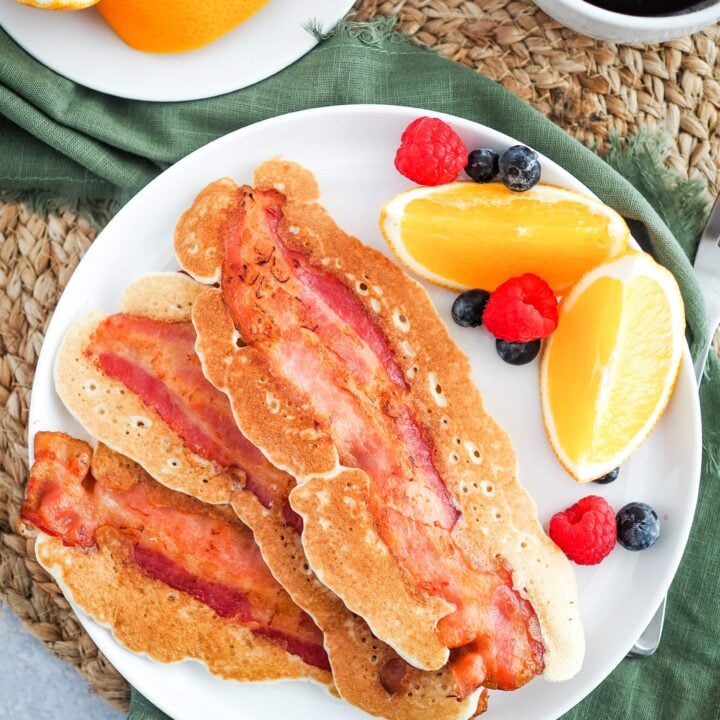 Bacon Pancakes
Additional Time:
5 minutes
Dippable bacon pancakes are perfect breakfast treat!
Ingredients
8-10 pieces bacon
1 1/2 cups all purpose flour
2 tsp baking powder
2 tsp sugar
1/2 tsp salt
1 egg (beaten)
1 1/2 cup milk
Instructions
Preheat your oven to 400°F (200°C) and line a baking sheet with aluminum foil.
Lay the bacon strips on baking sheet. Make sure they don't overlap, as that can prevent even cooking. Place bacon in the preheated oven and bake for 10-15 minutes.
While bacon is cooking, mix all the dry ingredients together in a large bowl. (Flour, baking powder, sugar, salt.)
Whisk egg in a small bowl and add to the above flour mixture along with the milk.
Stir together the whisked egg and flour mixture until well blended.
Remove the bacon from the oven and place it on a plate lined with paper towels to absorb excess fat.
Add cooked bacon to hot griddle or pan and pour pancake batter on top of each slice of bacon.
Wait until pancake batter is bubbling and cooked around the edges and flip.
Serve bacon pancakes with fresh fruit and maple syrup and enjoy!
Notes
If you have a baking rack, you can place it on top of the foil-lined baking sheet and lay the bacon on the rack. This allows the fat to drip down, resulting in extra crispy bacon.