This chicken enchilada bake is my new go-to for any occasion that needs a casserole. Or simply when I'm in the mood for something hearty and spicy, but don't want to make chili. It's a lot like regular enchiladas, but instead of rolling up the tortillas, they're layered like a lasagna.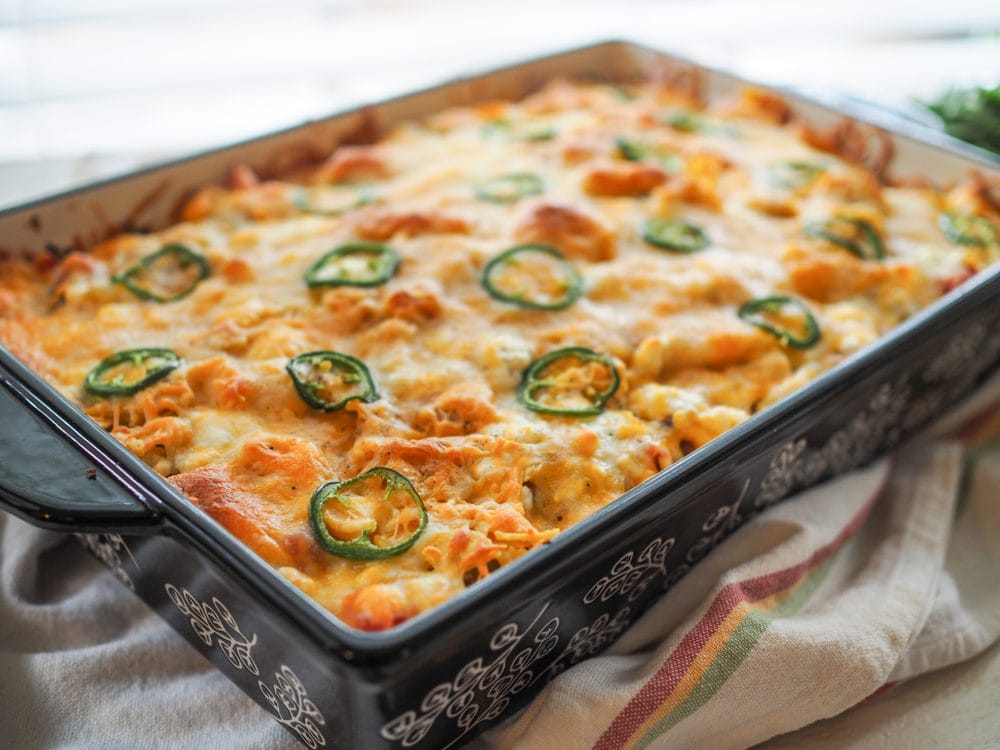 How'd this recipe come about? Lunch. With all the back-to-school photos of perfectly artful open faced sandwiches and bento boxes, I'm not sure how working moms do it. That kind of food prep takes a lot of planning and time, so my hat off to ya if you prep weekly meals that look like that.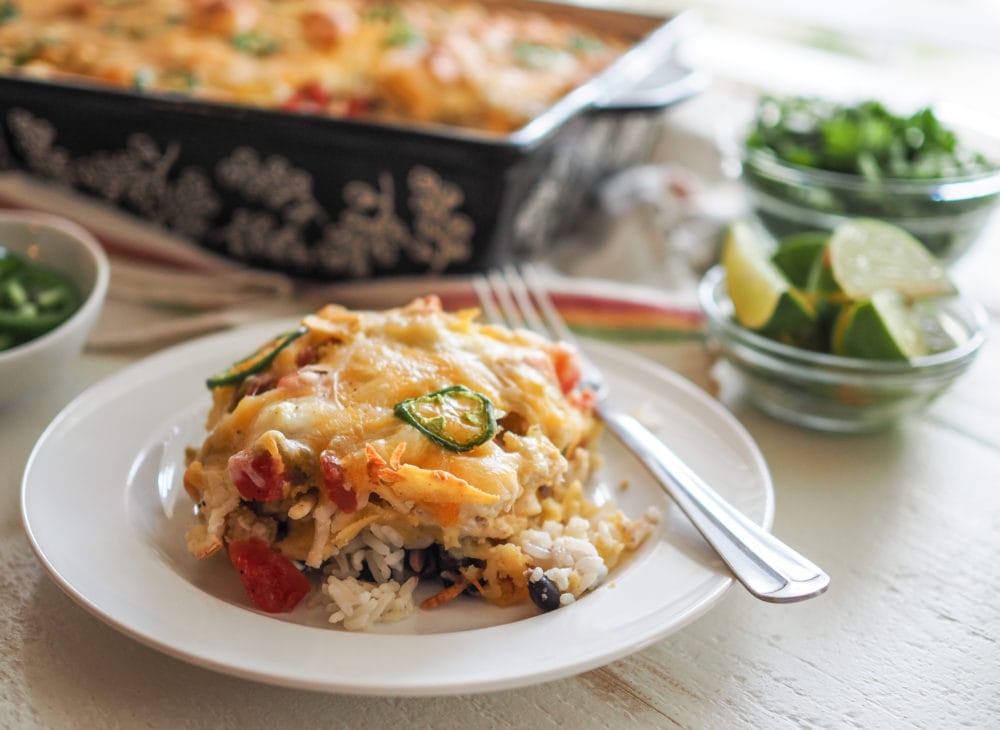 When it comes to lunches in my house, even though I work from home and write about food, my husband usually runs out the door with a pre-packaged frozen dinner. I'm not even joking. I try and pick healthy-ish things, like looking for organic or vegetarian meals.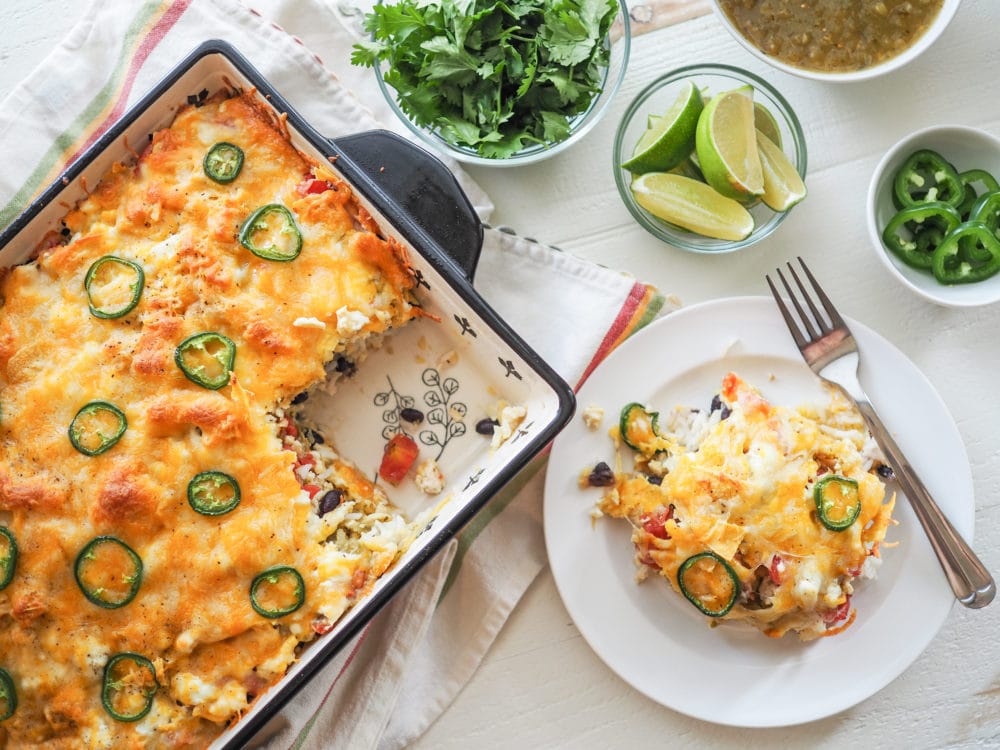 Sometimes I might get 'creative' and throw together what amounts to a charcuterie board without the wine (it takes all of five seconds to throw some nuts, meat and cheese in a to-go container.) But most of the time, it's a frozen pre-packaged meal. Does that make me loose my foodie card? If so, I will gladly go hang my head in shame.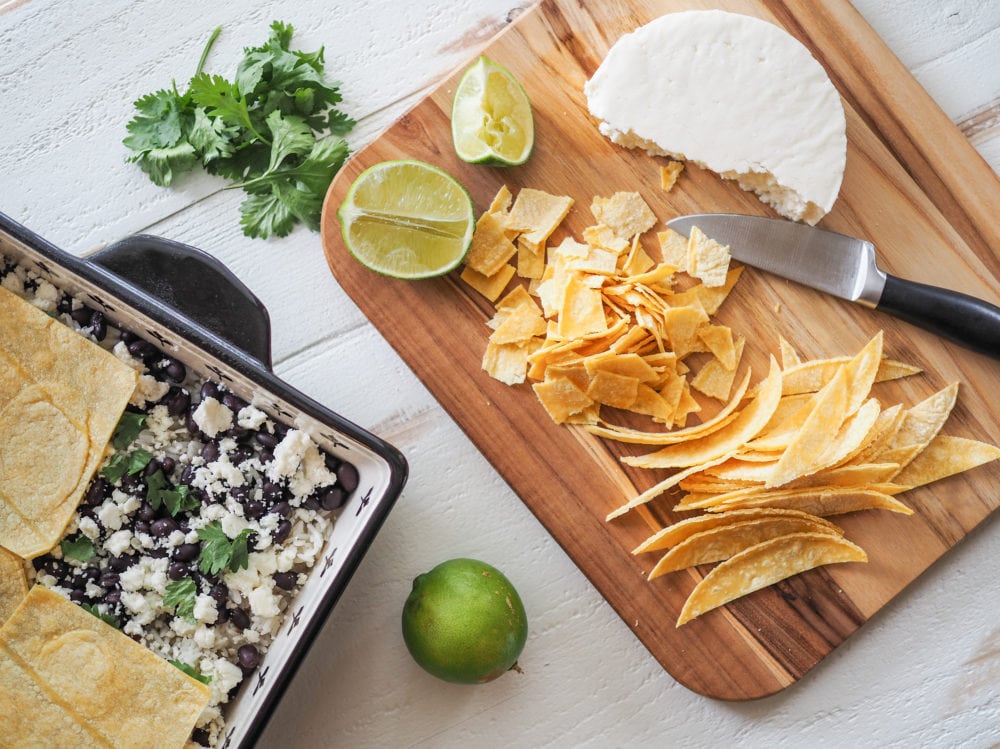 So, this chicken enchilada bake recipe is inspired by the EVOL frozen lunches. We both had a busy week last week and I was eating one of these three minute meals. And in an effort to not be on my phone during lunch, I succumbed to reading the back of the box and looking at all the ingredients. Chicken. Tomatillos. Cheese. Hey … I can make this! And I can make it bigger and better!
After lunch, I drove to Publix (seriously, my third time in 24 hours … because, hurricane prep), picked up all the ingredients and improvised just a bit. First, I steamed the rice in my foodi and sautéd the chicken with some onions and spices. Then I layered it all together and threw it in the oven with a "what the hell! Let's see how it turns out!" attitude.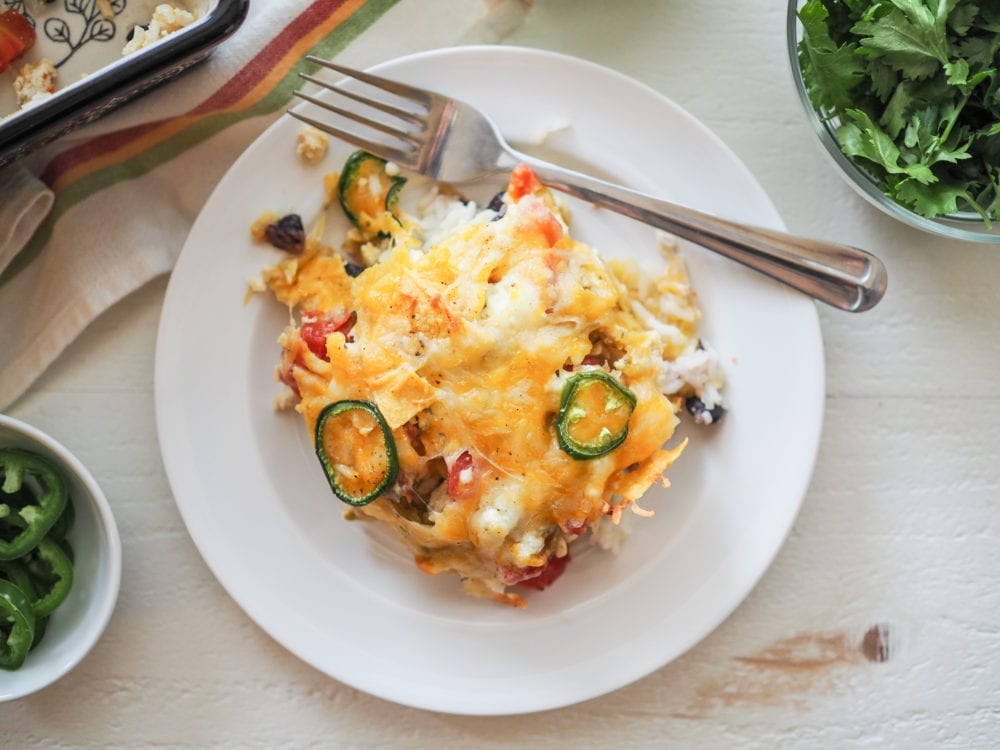 And it turned out … perfectly. Pete suggested cooking it a bit longer as the jalapeños were still a bit crunchy (and he also suggested excluding them all together because he describes them as a "a scorpion sting to the mouth" … but I ignored him. They're in the recipe.)
When the jalapeños are baked, they have all the flavor and kick without the sting. So I made the chicken enchilada bake again when my in-laws came over to evacuate Hurricane Dorian. And it was a hit! It's pure comfort food and enough to feed an army. Hope you enjoy.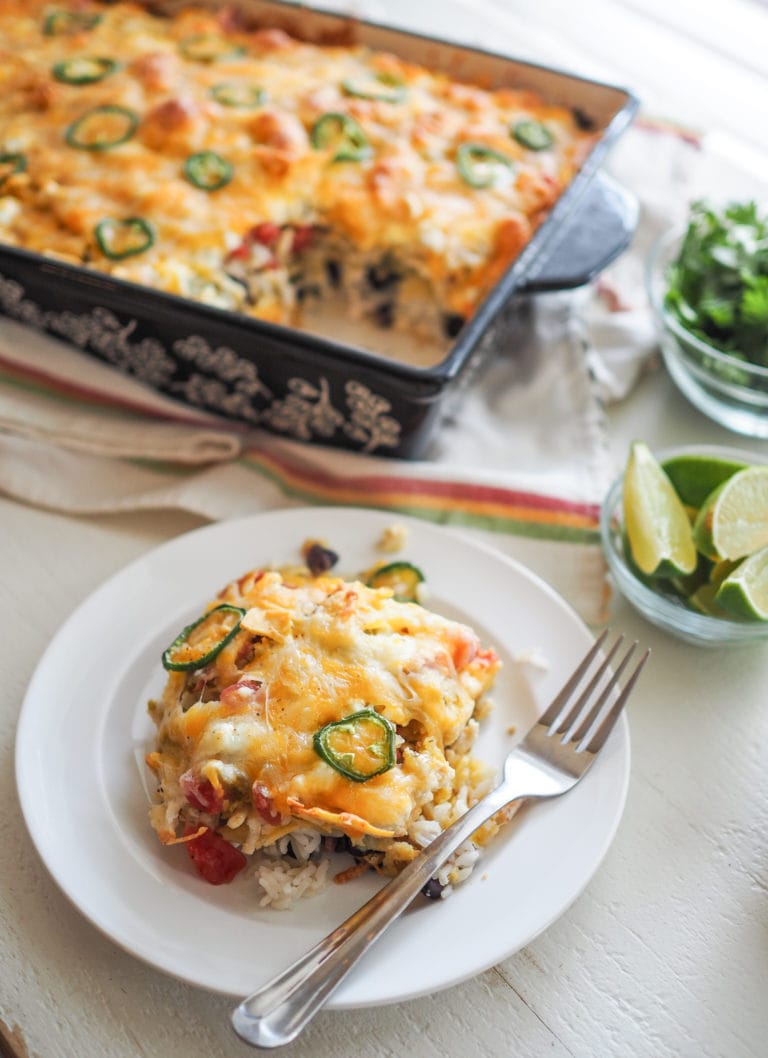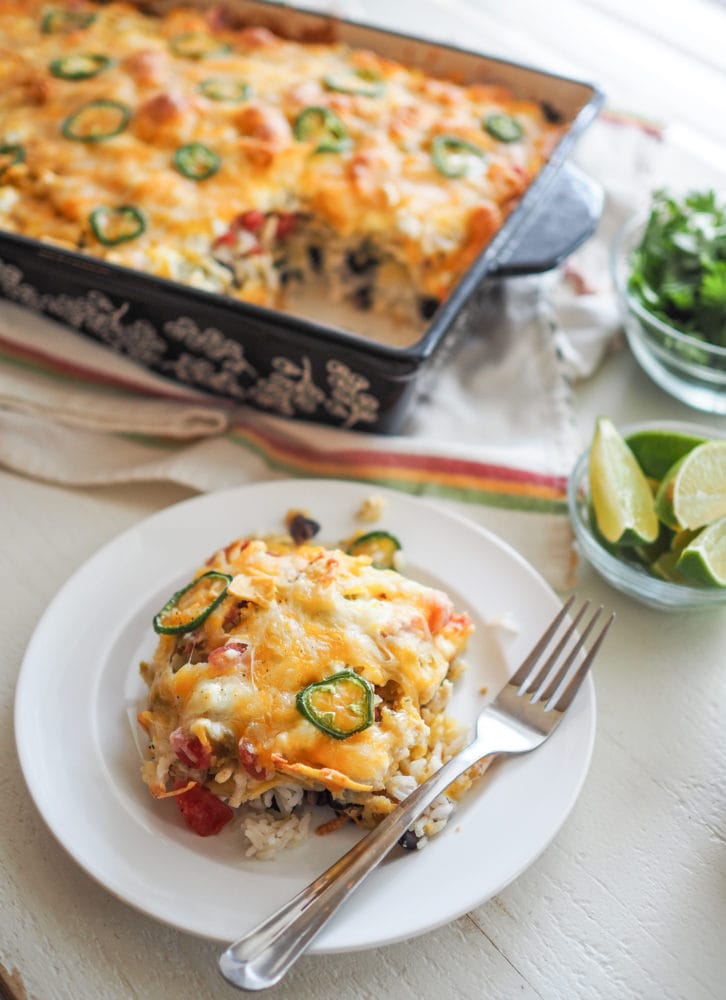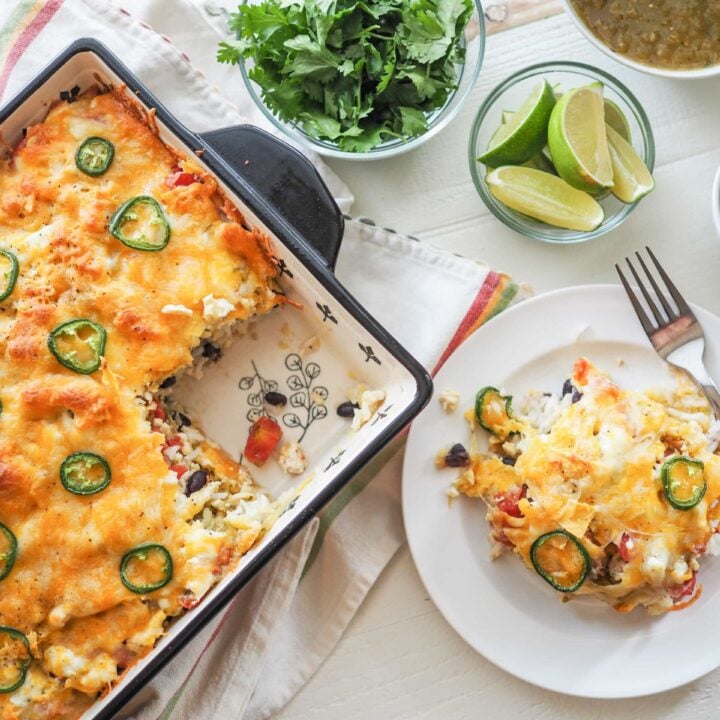 Chicken Enchilada Bake
Ingredients
1 cup white rice
2 pounds ground chicken
1 medium white onion, diced
12 oz queso fresco
1 can black beans, rinsed (15.5 oz can)
1 can diced tomatoes, rinsed (14.5 oz can)
2 cups shredded Mexican cheese
12 soft corn tortillas (6" taco-sized)
1 bunch cilantro
4 limes, sliced
2-3 jalapeños, thinly sliced with seeds removed
2  16 oz jars salsa verde
1 Tbsp vegetable oil
non-stick cooking spray
salt and pepper to taste
Instructions
Pre-heat oven to 350 degrees. Prep 9x13 inch baking pan by spraying it with non-stick cooking spray (I like to use avocado oil.)
Cook rice according to package directions. Either stovetop, microwave, or rice cooker.
While rice is cooking, sauté onion in a large skillet until translucent (approx. 2-3 minutes.)
Next, add the chicken, season with salt and pepper to taste, and cook until slightly browned. Remove from heat and set aside.
Cut tortillas into squares, keeping the rounded edges to use as topping.
Layer six tortillas on the bottom of your casserole baking pan, then sprinkle on the rice and beans. Next, crumble half of the queso fresco on top, and sprinkle on about a quarter cup of chopped cilantro. Squeeze the juice of half a lime over the rice and beans mixture, then layer on 6 more tortillas.
Next, layer on the cooked chicken and onions, tomatoes, and the other half of the queso fresco. Spoon 1 jar (approx. 2 cups) of the salsa verde over the chicken and tomatoes. (The second jar is for serving on the side.)
Tear or chop the left over rounded tortilla edges into half inch pieces and sprinkle on top of the chicken. Top with the shredded Mexican cheese. Then add the sliced jalapeños and cracked black pepper.
Bake at 350 for 30 minutes or until the cheese is golden in color.
Serve with salsa verde and any left over limes, cilantro, and jalapeños on the side.
Notes
If you're going gluten free, carefully read the labels for the corn tortillas and the salsa verde. You can also quickly and easily make salsa verde from scratch with our recipe here: Salsa Verde.
For extra lime flavor, zest 1 lime over the rice and bean mixture before juicing it.
If jalapeños aren't your thing, but you want to top your chicken enchilada bake with some sort of decorative flare, use mini bell peppers. The red ones will really add a nice pop of color without the heat.
More Recipes You'll Enjoy!
Want to save this recipe for later? Pin it!