I do love a good origin story when it comes to food, especially when a few legends are mixed in. And chimichurri is just the kind of condiment that'll get a friendly foodie debate going after a few glasses of Malbec are poured. If you're not familiar with chimichurri, it's most widely known as an Argentinian steak sauce made with parsley, oregano, garlic, olive oil and vinegar. Here are a few of this steak sauce's most popular legends from around the world.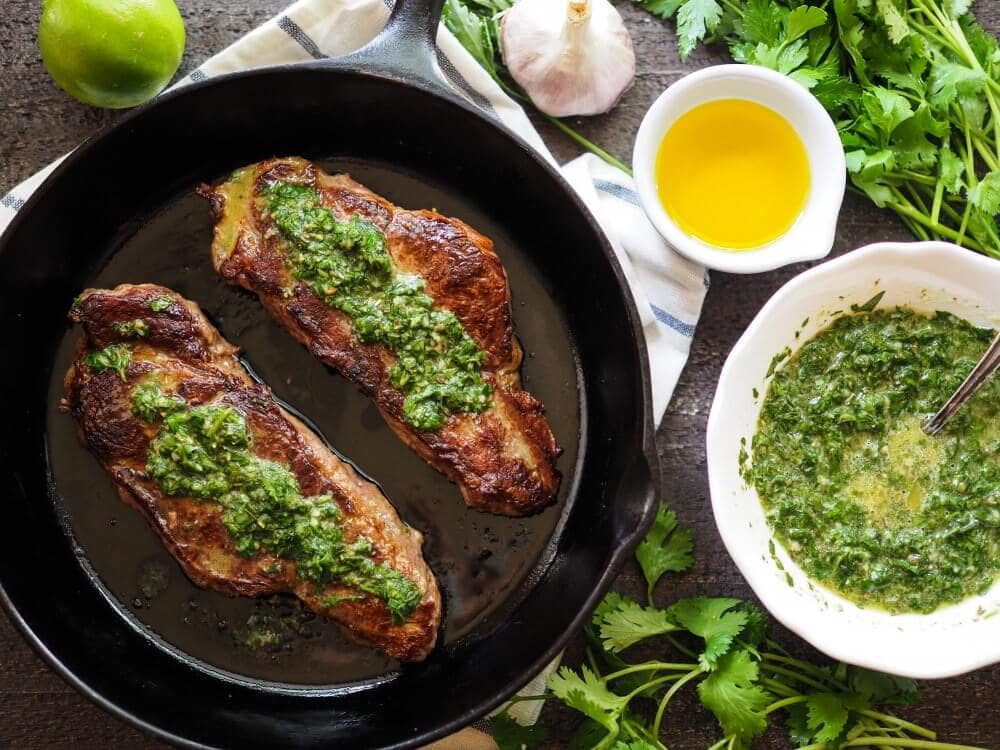 An Irish Legend
The most fascinating tale about chimichurri attributes the mean green sauce to an Irishman, Jimmy McCurry, and the most entertaining account of this story (including a few hilarious presumptions about how social media worked in the 1800s) is by writer, Mel Healy. However, Mel is also Irish, so I take that account with a grain of salt, entertaining as it is. I've also read that it could have been an Englishman named Jimmy Curry, so I think I might have to investigate this legend a bit more.
A Basque Legend
According to Wiki, chimichurri's entimology is Basque, with the term "tximitxurri" loosely translated as 'a mixture of several things in no particular order.' This would make sense at first glance since a lot of Basque people immigrated to Argentina. Well, to fact check Wiki, I popped tximitxurri into three different online translaters and got back, "mussels." I guess it would be delicious on mussels too, but that doesn't explain the name.
An Italian Legend
Chimichurri does look very similar to pesto, of course, without the nuts or cheese. And other writers have noted that it is also similar to Sicilian salmoriglio sauce, a condiment made of lemon juice, olive oil, garlic, oregano and parsley. Now, that combination is pretty close!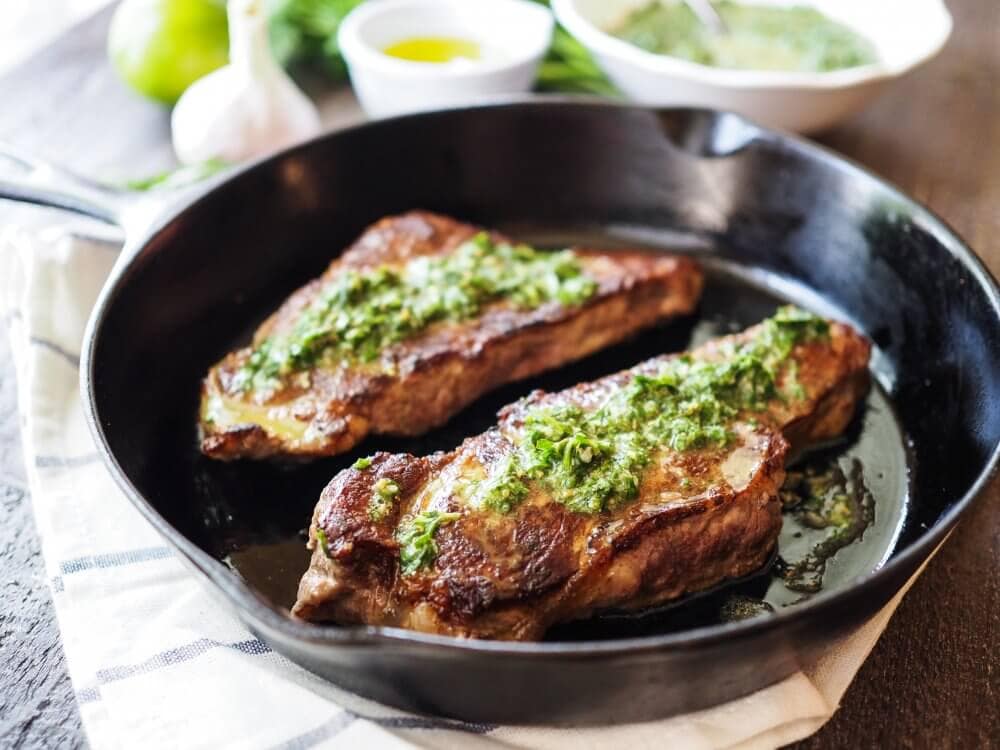 Chimichurri – An Argentinian and Uruguayan Staple
No matter where it originated from, chimichurri is known as "the" sauce of Argentina and Uruguay. It adds a bit of fresh-tasting zing to any grilled meat, and especially steaks. Just to mix things up a bit more, this chimichurri recipe I've created below has a bit of a Caribbean spin on it as I've subbed the vinegar for lime juice and also added cilantro (left overs from Thai cooking this week). The lime gives it a bit of zesty tang that tastes refreshing.
Home in Florida, we don't grill outside much during the summer because it's just too dang hot outside, so we usually pan sear them on the stove top and finish them off in the oven. For a quick reference on how to grill a perfect steak at home, check out my friend Julie's post on how to make steak! In addition to steaks, try chimichurri on burgers or chicken too!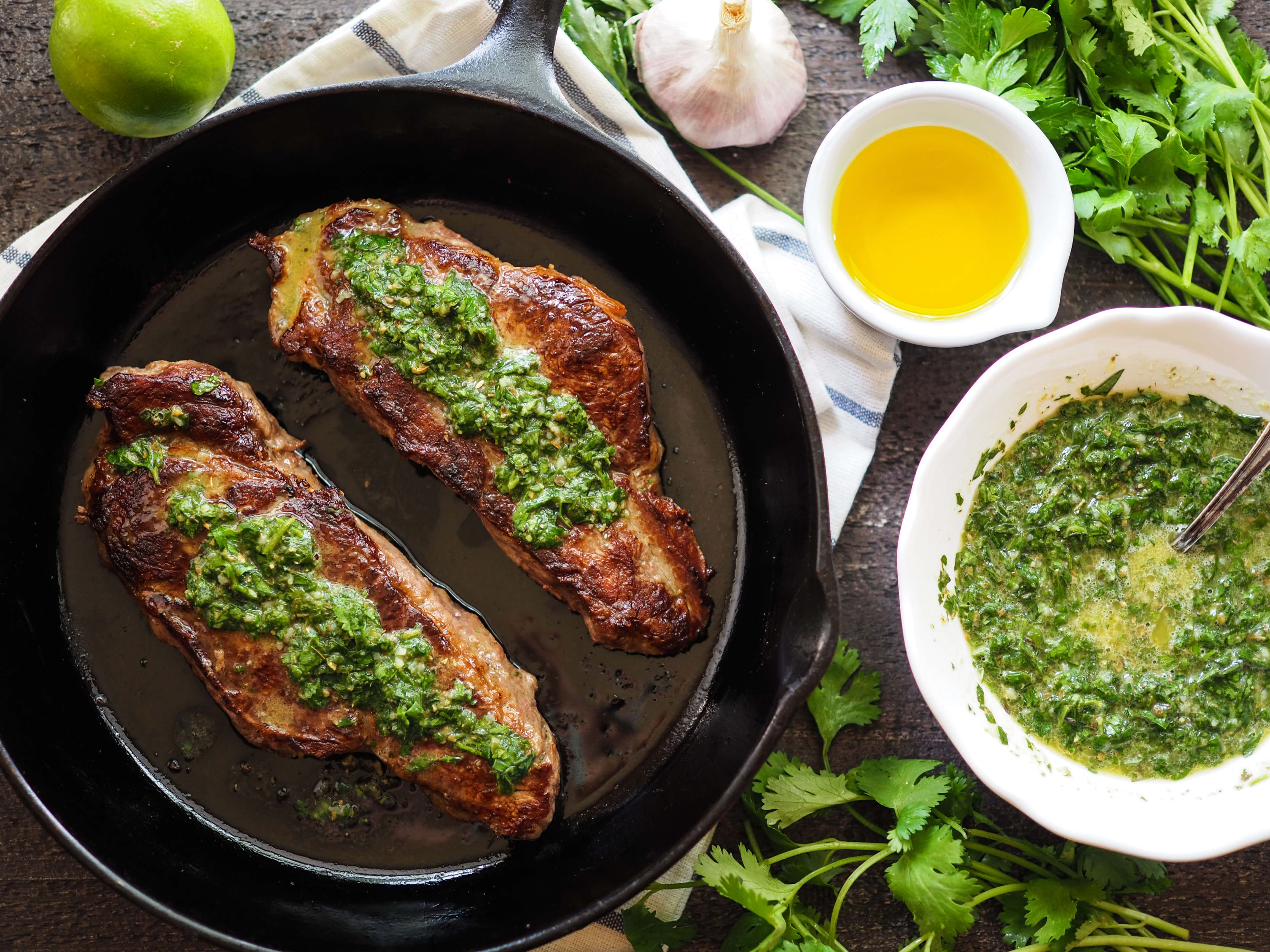 Chimichurri Steaks
Ingredients
1 Lime
1 cup Parsley
1/2 cup Oregano
1 cup Cilantro
3-4 Garlic Cloves
1/4 cup Olive Oil
Salt & Pepper
Instructions
Rinse and dry your fresh herbs (parsley, oregano, cilantro), pat dry with a paper towel.
Strip the parsley, oregano, and cilantro leaves from the stems and and finely chop the the leaves. Add the chopped herbs to a small bowl.
Zest and juice the lime over the herbs.
Remove the skins from the garlic cloves and mince the garlic into the bowl using a garlic press.
Add the olive oil and season salt and pepper to taste.
Mix well and serve with your favorite steaks! If you'd like the sauce to be a bit more fine, you can pulse the mixture a few times in a food processor.
Want to save it chimichurri recipe? Pin it! 🙂