I love a classic gin and tonic, but this is another gin cocktail that I love. Tasting like a liquid berry cobbler, it's like dessert in a jar. This is like "gin and jam" and is SO good. You'll need dark simple syrup, club soda, a handful of berries, and gin.
Inspired by one of the strawberry cocktails I tried in Belfast at the Belfast Bar & Grill while visiting Ireland, I tried making something similar at home and added blueberries, blackberries, and a big old mason jar to give it an American twist. Since it looks like dessert, I call it a Berry Cobbler Gin Cocktail.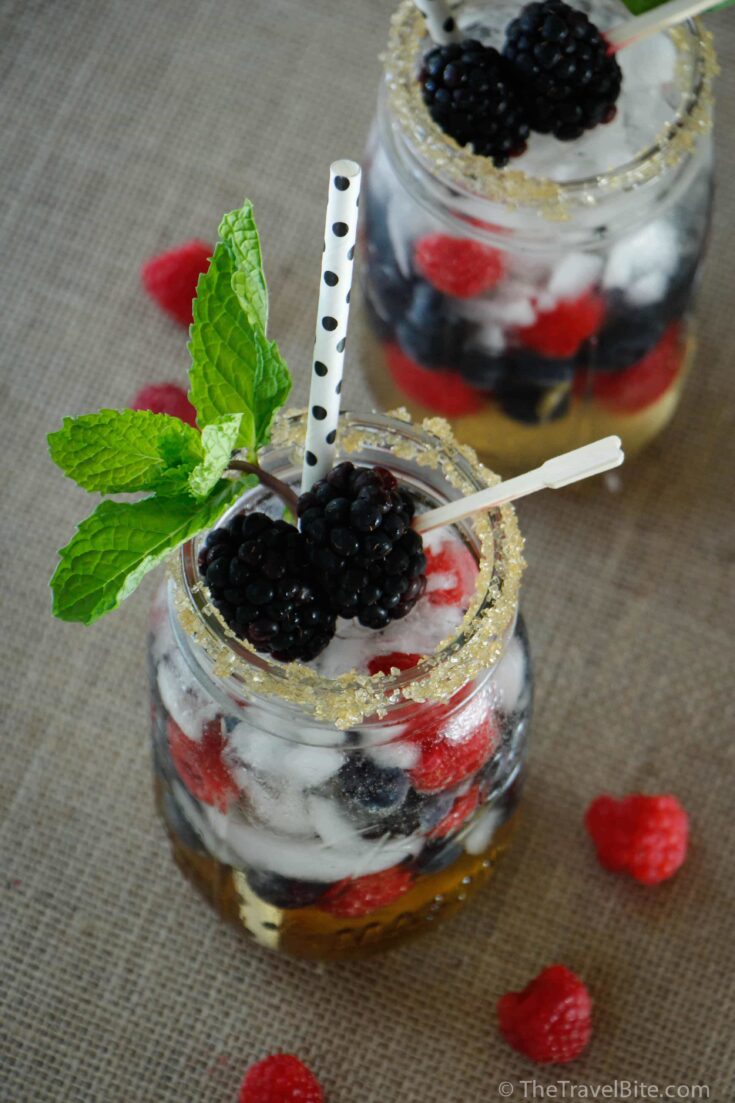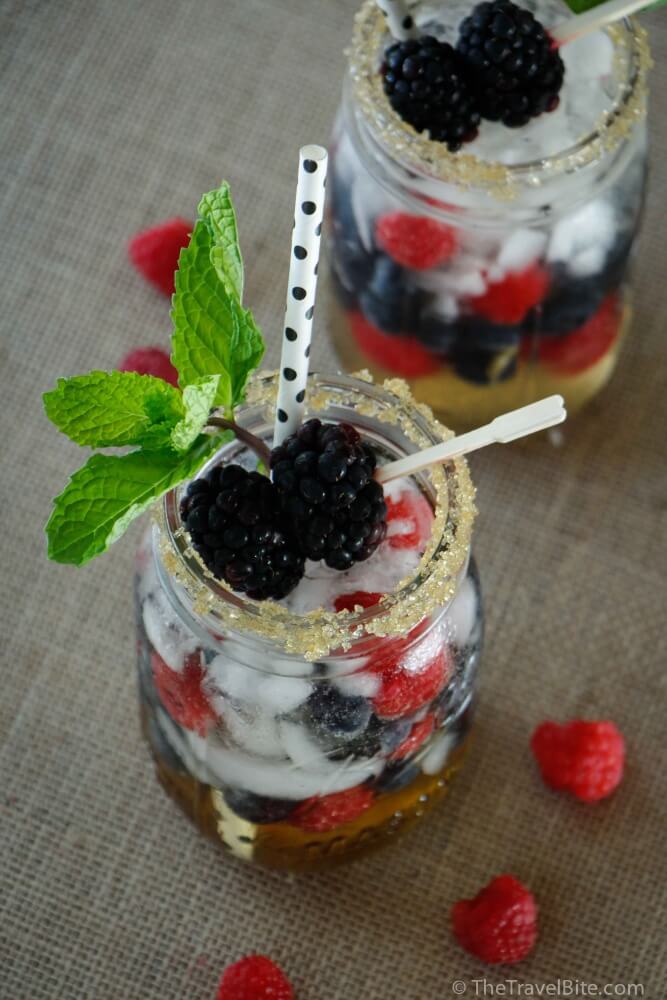 What You'll Need For This Gin Cocktail
Here's a quick list of ingredients you'll need to gather to make this cocktail at home. Also, you'll find the instructions to make your own dark simple syrup below too.
gin
dark simple syrup
club soda
crushed ice
fresh berries
turbinado sugar
mint for garnish
How To Make Dark Simple Syrup
One thing you'll need to make ahead of time for this cocktail is a dark simple syrup. Simple syrups are pretty easy to make, it's just a one-to-one ratio for sugar and water. Personally, I like to make a dark simple syrup with turbinado sugar for cocktails. To me, it has a bit more flavor and adds a nice honey color to cocktails. Plus, it looks like candy along the rim of a glass and it adds that cobbler flavor that I was looking for.
I tend to make a big batch of dark simple syrup for mixing cocktails with friends. Here's what you'll need:
1 Cup Turbinado Sugar
1 Cup Water
Heat sugar and water in a small saucepan on medium heat, stirring constantly until sugar is dissolved.
Let cool, then add recommended serving to cocktails.
That's it! That's all it takes to make homemade simple syrup. Pretty easy, eh? You'll just need for it to cook before adding to your cocktails. The ingredients above are enough to make a batch of dark simple syrup for four of these Berry Cobbler Gin Cocktails.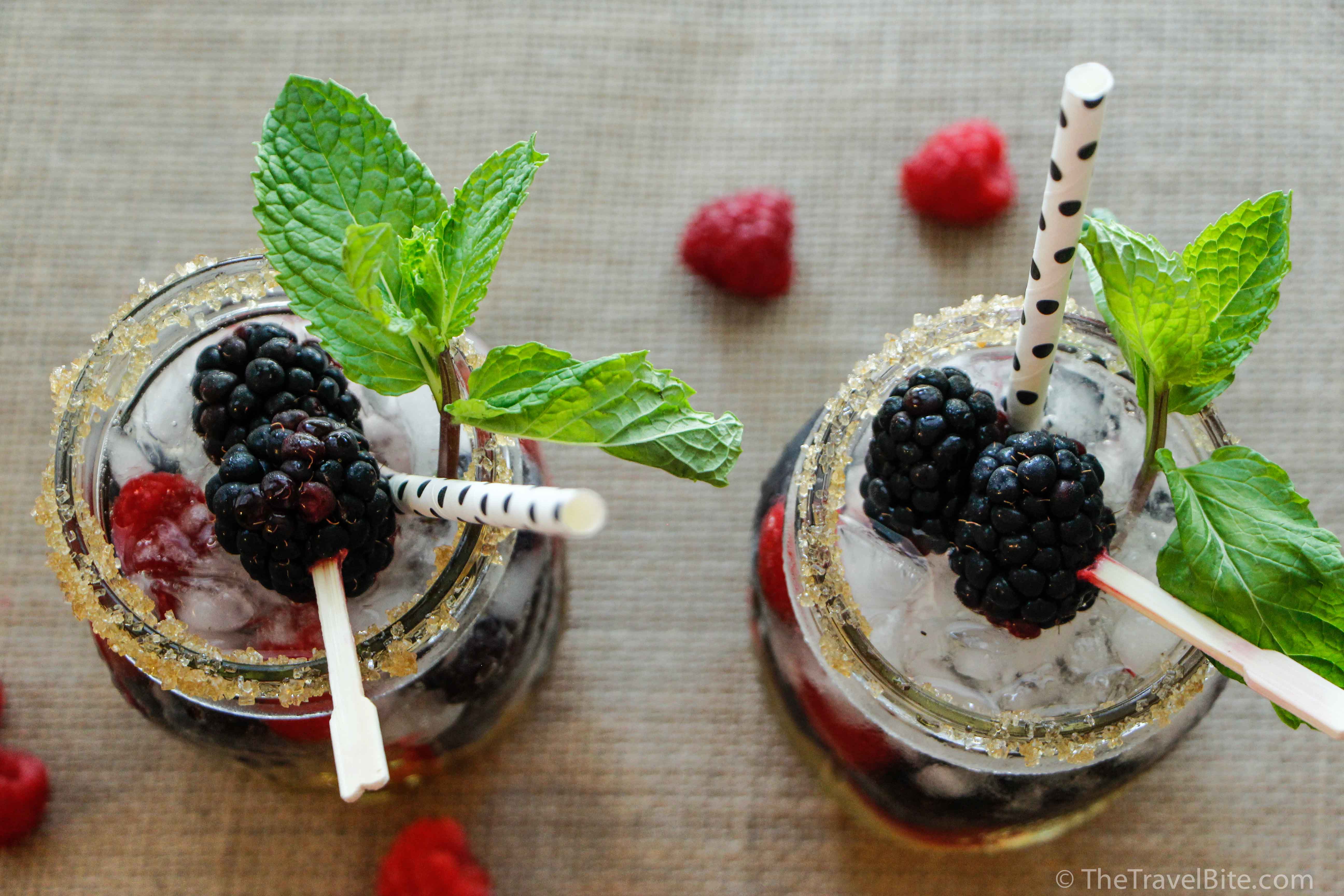 Gin Cocktail Tips
Experiment with different types of gin! Of course, they all have juniper (that's what makes it a gin). But some are a bit more forward with other herbal flavors. One I really like for this cocktail is Ophir gin since it tastes a bit more like cardamom.
If you'd like to make it more jammy, like a "gin and jam," mix in 1 tsp of strawberry or blueberry jam per cocktail.
To add the sugar to the rim of your glasses, simply add water to a shallow dish or plate, dip the rim into the water, and then into a bowl of sugar. They should stick while also adding a nice rim to the glass! Another trick is to use honey instead of water.
If you're hosting a party, or just want to make your own afternoon cocktails a bit more elevated, look for decorative paper straws to add some color and bamboo toothpicks to hold on to your berries for garnish.
You Might Also Like These Cocktail Recipes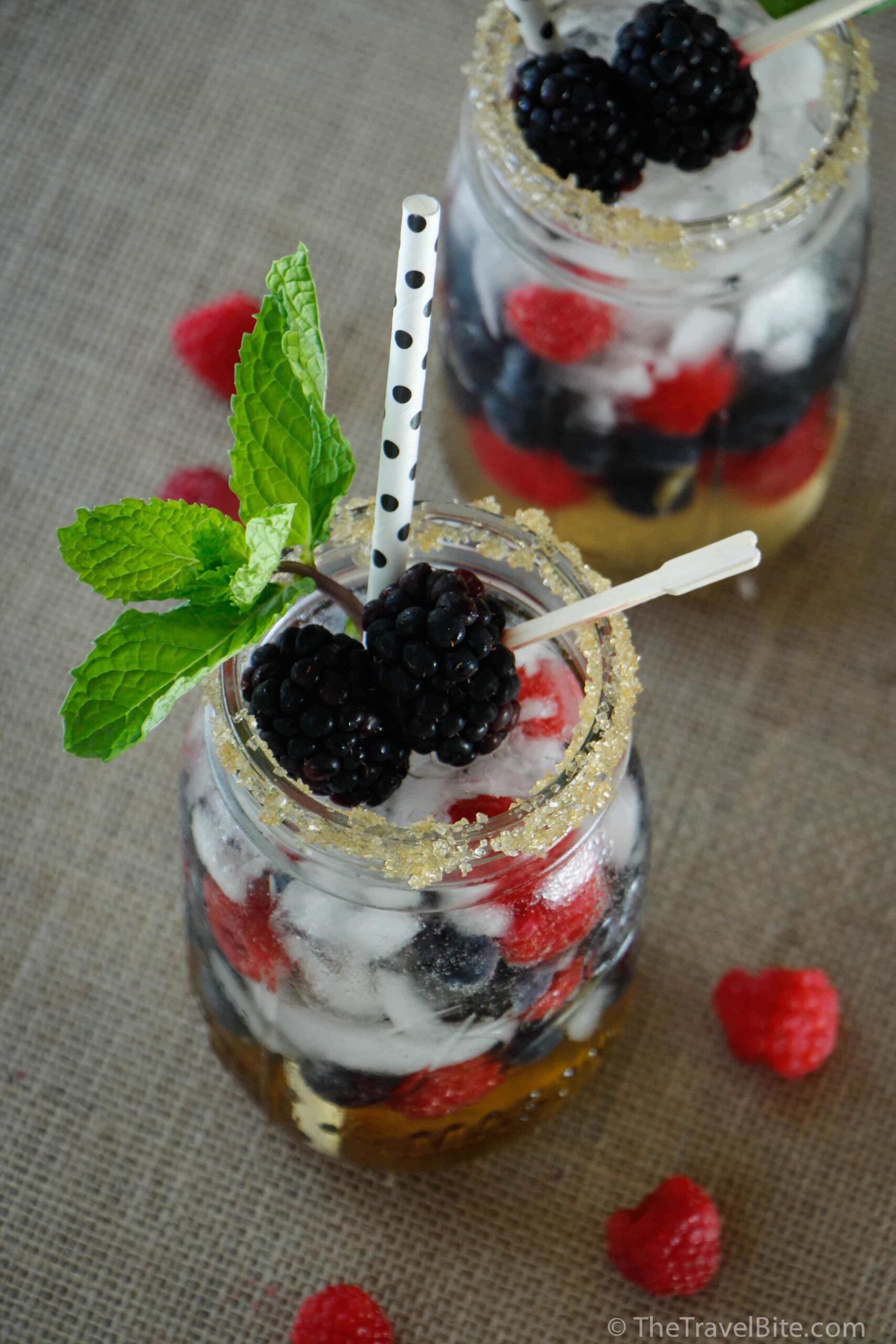 Gin Berry Cobbler
Ingredients
2 ounces gin
1/2 cup dark simple syrup
1/3 cup club soda
1 cup crushed ice
1/4 cup of fresh berries
mint for garnish
Instructions
Layer berries and ice in an 8 ounce or 10 ounce mason jar. Add the gin, dark simple syrup, and club soda. Stir with a straw and serve.
Nutrition Information:
Yield:

1
Serving Size:

1
Amount Per Serving:
Calories:

443
Total Fat:

0g
Saturated Fat:

0g
Trans Fat:

0g
Unsaturated Fat:

0g
Cholesterol:

0mg
Sodium:

6mg
Carbohydrates:

81g
Fiber:

1g
Sugar:

78g
Protein:

0g
Want to save it for later? Pin it 🙂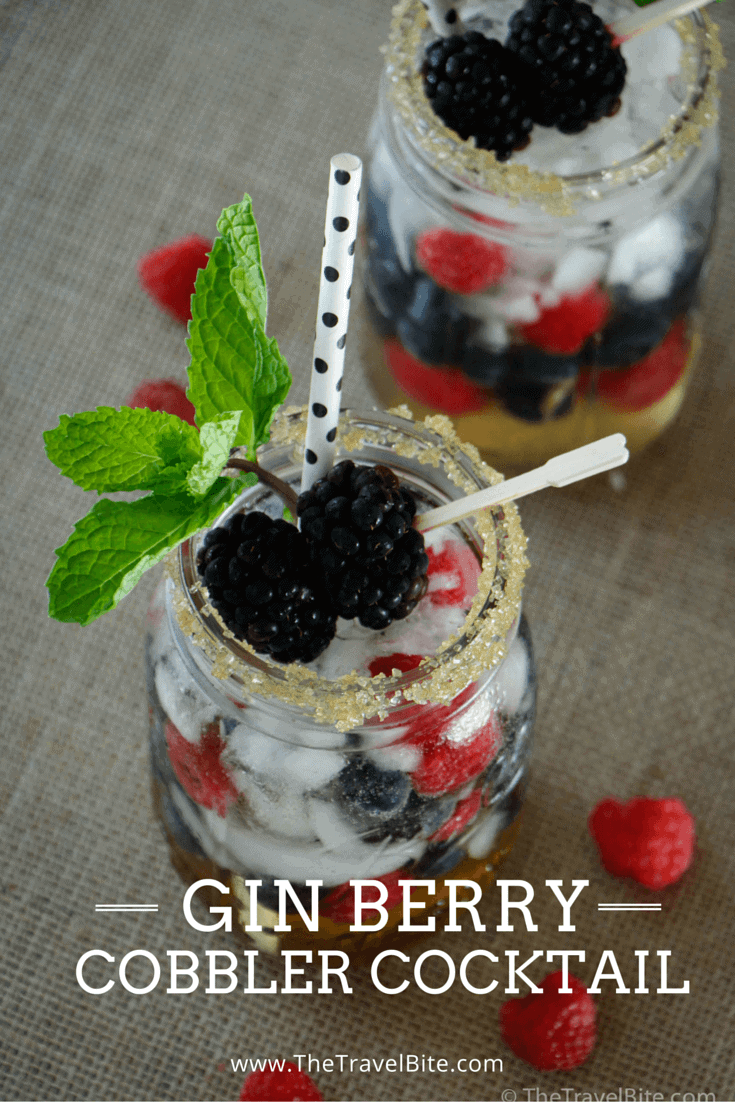 Originally published Nov 20, 2015. Updated 2020.